Top 10 most convenient ways to transport your children | Safe and practical
I enjoy writing these articles for my readers, you guys. I don't accept payment for writing reviews, my opinion on products is my own, but if you find my recommendations helpful and you end up buying something through one of the links I may be able to receive a commission on that.
More information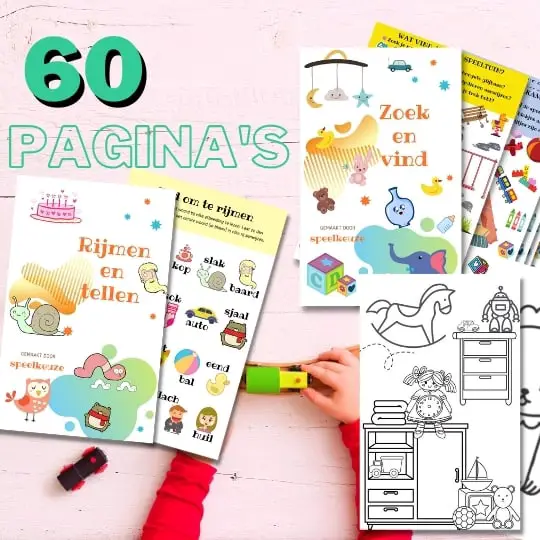 Always something to do for the holidays or rainy day?
Play Choice now has the ultimate activity book collection, with over 60 pages of fun coloring pages and educational puzzles.
It is quite a journey every day, your children have to be taken to school or daycare or to the nanny. In the afternoons, the sports and hobby clubs often come around the corner and you do your shopping.
So many kilometers are covered per day with our mini-people!
What is the easiest way for you as a parent to transport your children now? If you live in the city, it's definitely not the car.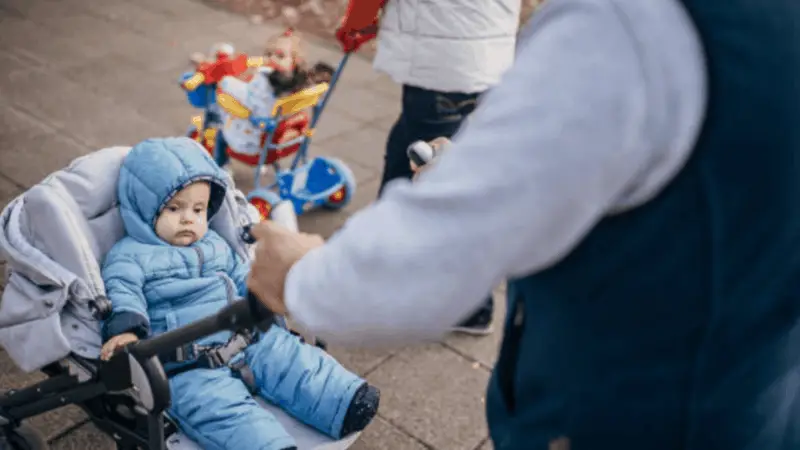 Fortunately, there are plenty of alternatives, and in this article I have just selected the best modes of transport for you!
I'll start with the wagon, which is always a nice way to transport young children, I have the Mac Sports handcart chosen for its foldability; you can easily take it with you in the smallest car and folding and unfolding is a breeze.
More on this later, now first to my top 5 different handy ways of transporting children!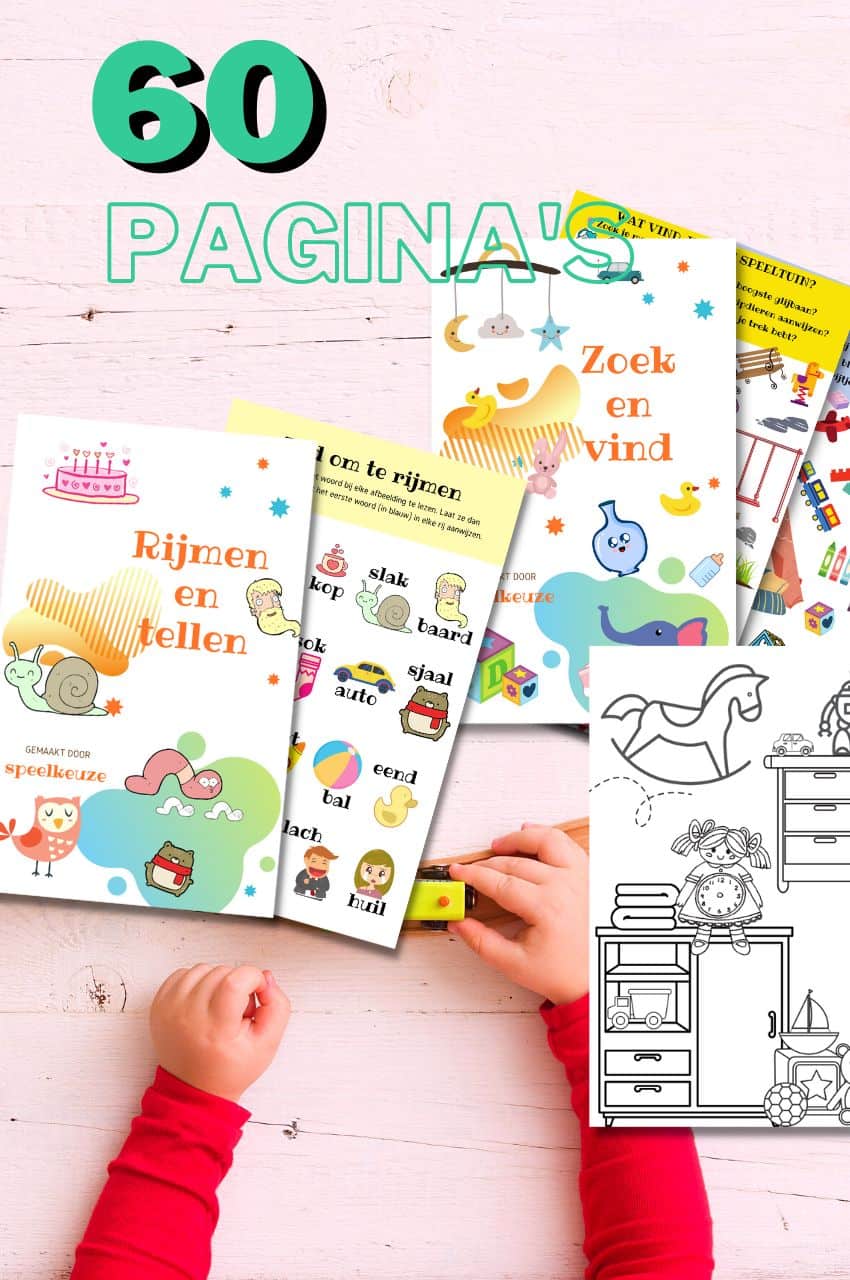 A play theme in your mailbox every month?
Fun play tips, activity books and more, with the first email being our free mini-guide "educational toys"
We will only use your email address for this newsletter and respect your privacy
How many children do you want to transport?
If you only want to transport one or two children, that is of course much easier, you can place 1 or 2 children on the bike, but no more.
If you are going to transport several children, you will have to be more inventive.
The handcart, trailer or cargo bike (or 4 or more!), it will be, if you want to leave the car.
Most convenient ways to transport your kids reviewed
I will show you the most convenient means of transport, for 1, 2 or more children.
Handiest handcart: Mac Sports handcart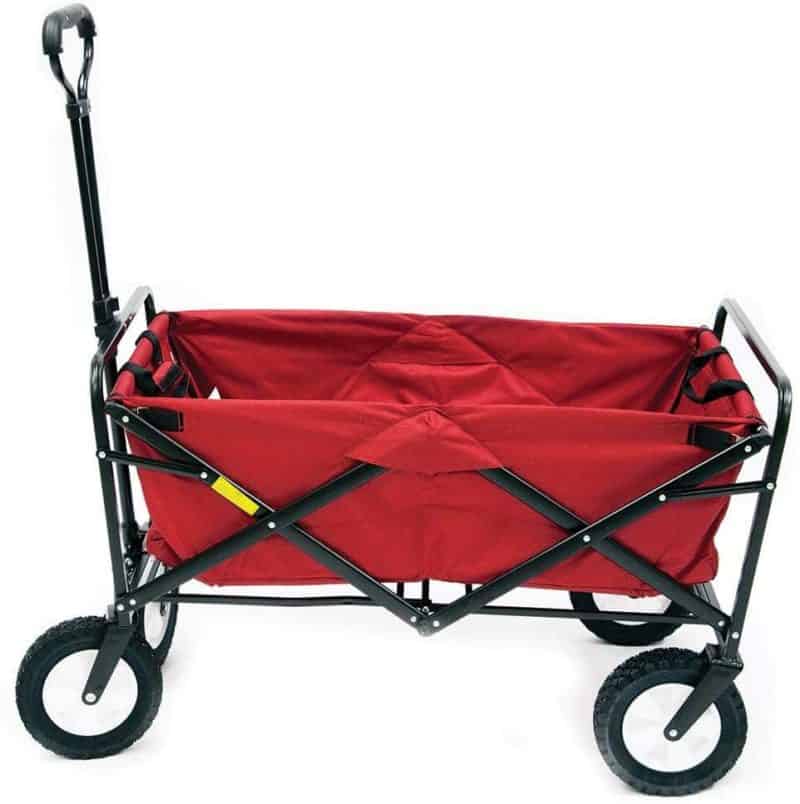 My handiest handcart is the Mac Sports handcart, lightweight and easy to fold.
Especially with two children, or even several children, this red cart can be a godsend for daily use and on vacation. It takes up very little space when folded.
With its swiveling rubber wheels, you can maneuver the (full) handcart through the streets with ease.
The cart is not yet suitable for a baby, just like bicycle seats are not; the car with a safe seat for your baby or simply a good pram is then the best solution.
Features
foldable
light
easy to drive
load capacity up to 70 kilos
up to 3-4 little ones (toddlers, toddlers) can fit in this cart, or 2 older children up to 6 years old
Check the latest prices here
Is this handcart not your thing? I have even more great options and tips for buying a handcart are listed here for you
Handiest front bicycle seat: Thule Yepp Mini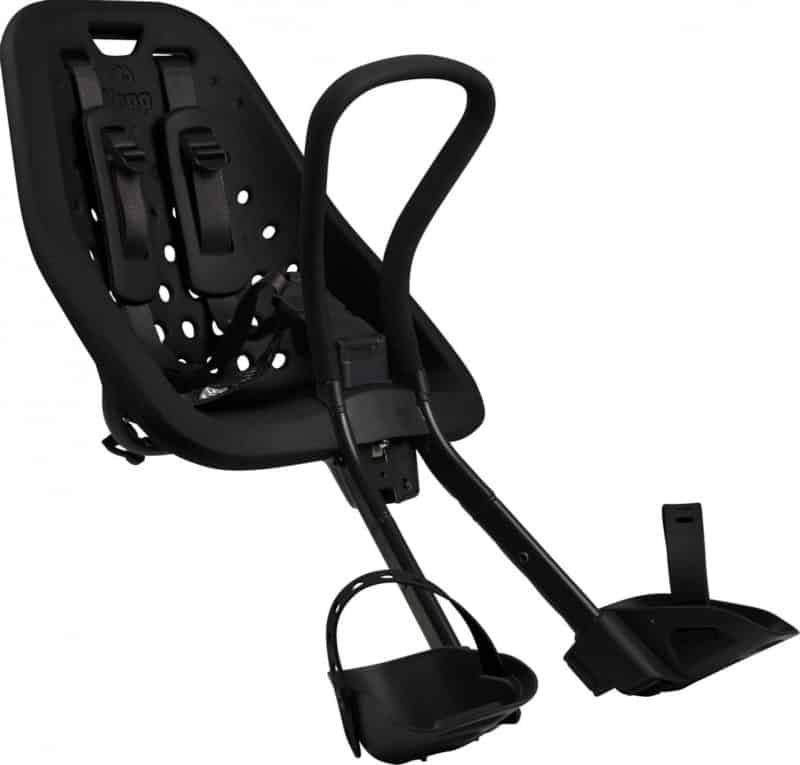 The Thule Yepp Mini bicycle seat is designed to be placed on the front of the bicycle, it has been tested and found suitable for children from 9 months to 3 years old and up to a maximum of 15 kg.
The shock-absorbing, soft Thule Yepp Mini is easy to attach to the handlebars using the Thule Yepp slimfit adapter and suitable for most bicycles.
Footrests and foot strap are easy to adjust. Your child will sit like a king in this safe seat, partly due to the good fit and the adjustable five-point belt with soft shoulder pads.
He can put his hands on the comfortable handle. This bicycle seat is equipped with a lock and is very easy to attach to your handlebars and also to remove.
Features
very safe
fits every bike
comfortable
good for 1 child, from 9 months to 3 years old and up to a maximum of 15 kg
On Bol.com he scores 4.7 stars, a happy customer wrote:
Our 9 month old son is very comfortable in it. Can hold onto the stirrup well. It is recommended to also purchase the screen for this seat. The chair is also modern in design. In one word: superb!
Check the latest prices here
Handiest bicycle seat: Schwinn child carrier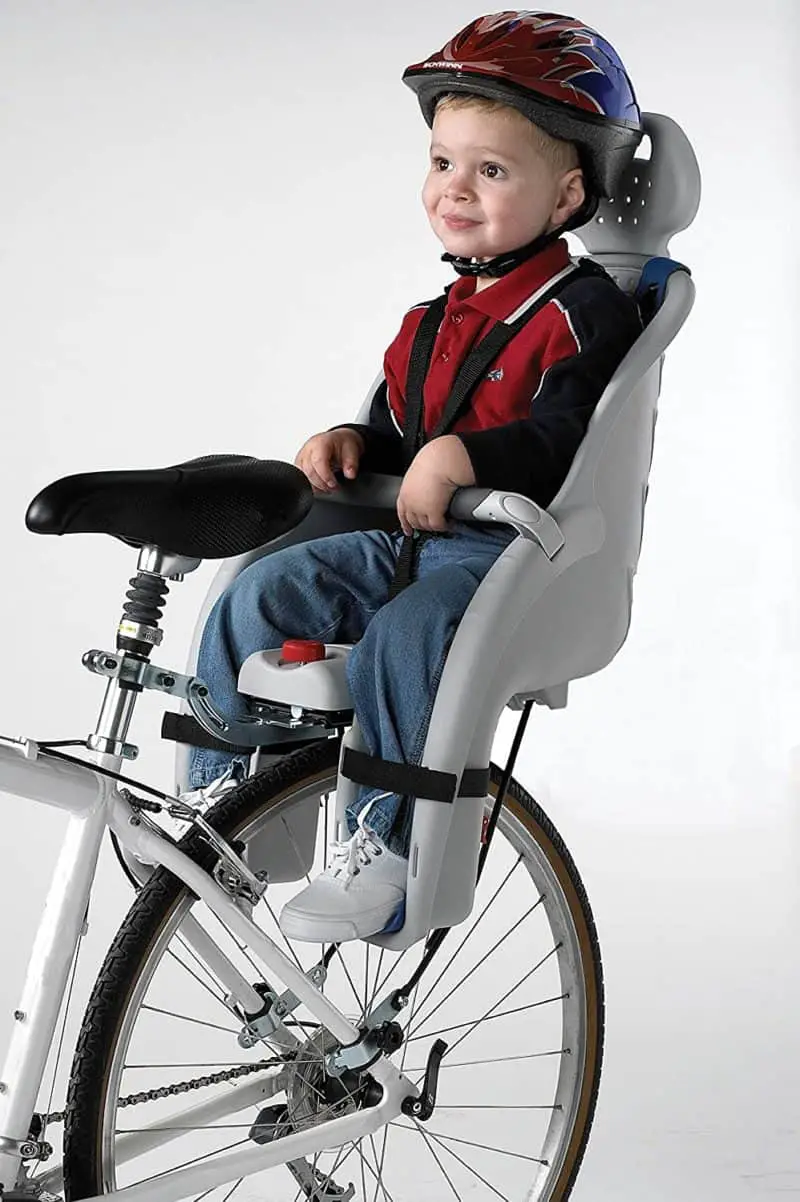 The most commonly used in the Netherlands is of course the bicycle seat. This is the most convenient way to transport your kids if they are not already with them a children's bike coped.
If you choose to attach a seat to the back, then the comfortable Schwinn Child Carrier bicycle seat is great.
The seat is suitable for children from 1 year old and can be taken along until your little one has reached a weight of about 20 kilos.
What is very nice about the Schwinn is that it has a headrest and supports for the feet, a safe soft bar for the hands, and handy (three-point) belts with a click system to fasten and loosen.
Compatible with almost any bicycle and is simply attached to the luggage carrier with a screwdriver. Then all you have to do is get on your bike!
It is of course also possible that you prefer to see your child and opt for a front seat. And if you want to transport two children on the bike at the same time, you can combine a front and rear seat.
Rating: 4.6 stars out of 5 on Amazon. The following customer gives the seat 5 stars, read the review:
"This product saved my child's life! A few days ago we were on the bike, me and my 2 year old son. He was sitting in the back of the seat when some strange man, also on his bike, ran into us. We fell and I had 2 shoulder fractures, had to go to the hospital and have surgery on my right shoulder. My child had only minor bruises. Nothing else! He was always stuck in the seat, even when the bike fell, and he was ok. He cried because he was scared, but he had no injuries. Thanks to this product, it is safe! Thank you!"
Features
very safe
fits every bike
comfortable
good for 1 child, from 1 year to 20 kilos (up to 4 years)
Check the latest prices here
Handiest seat mountain bike bicycle bar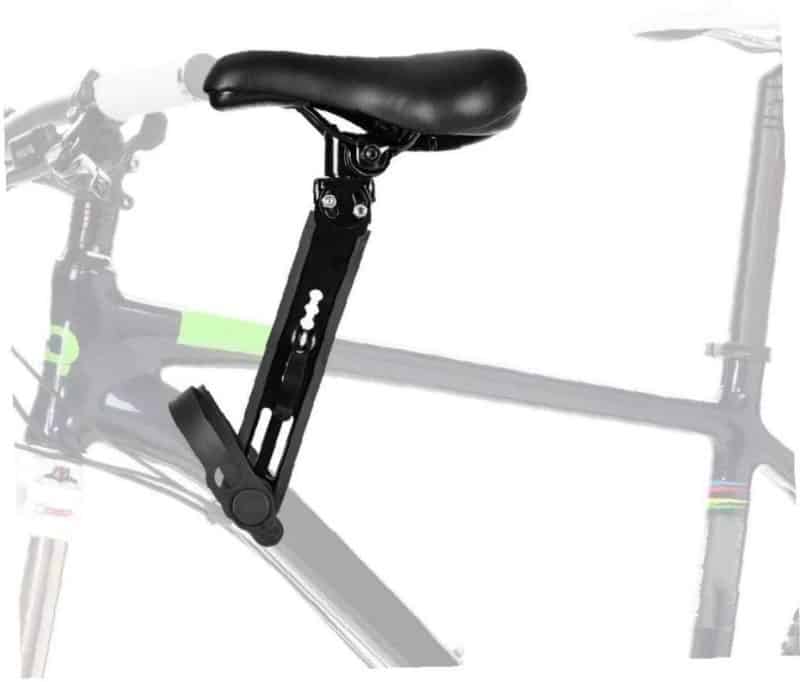 However, if you only have a mountain bike and you don't know how to properly and safely transport your child, go for this handy mountain bike front seat.
Your child will sit comfortably on it – even on the largest mountain bike. You simply attach the front seat to the bar of your bike and drive it to school.
Both your toddler from 2 to your little one from 6 years old is in good shape, after that they become too heavy, and the legs and feet too long…
Parents can expect this special cycling method to give their child a sense of security. The angle of the saddle can be adjusted and stands on the flat or angled bar of mountain bikes.
The fine saddle will not affect the balance while cycling. The children's steering wheel can be secured to your steering wheel.
This children's saddle offers rubber protection, also for your alloy or carbon fiber frame.
All children love this mode of transport, watch out!
Features
suitable for all mountain bikes (except electric)
easy to install and remove
won't damage your frame
good for 1 child, from 2 to 6 years
Check the latest prices here
Make sure your child is always safe on the road. I have the 5 best stunt, skate & bike helmets reviewed here for you
Handiest bicycle trailer: Burley Bee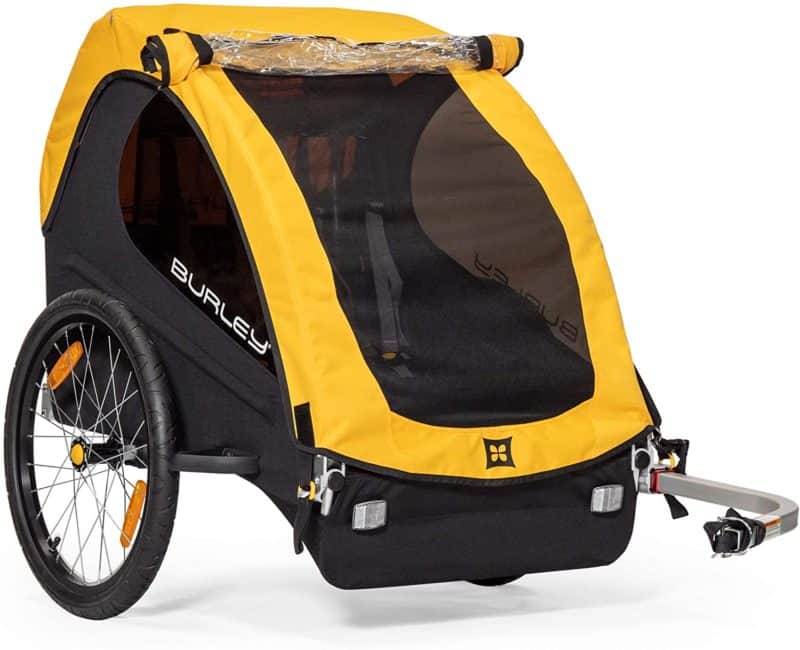 Your kids and baby will of course always be dry in this, you can't say that about a bicycle seat.
The Burley Bee bicycle trailer not only provides family bicycle transport during a long ride, but also safe transport for daily activities.
This light bright yellow cart has 2 comfortable seats, you can even take bags with you, and you can hang it on your bike in no time!
When folded, you can easily take this practical trailer with you in the car.
It has tinted side and rear windows and the front 'window' can be rolled up and closed in bad weather. However, there is always ventilation.
It is a durable trailer and its cover is water resistant.
On Amazon, the Burley gets 5 stars. A satisfied customer writes:
"Great product! While it may seem priced higher than other alternative bike trailers, it is well made and very handsome looking. The safety features outshine its rivals and there's plenty of storage space. Easy to carry too. My twins love it and so does my 6 year old because sometimes we go in it for Pokemon hunting"
Features
water-repellent cover
rear window ventilation
water-repellent fabric
discs with UV protection
flexible connector
fold flat
good for max 3 small children without luggage, 2 can be in the belts
carries between 50 and 100 kilos, the cart itself weighs 12 kg
Check the latest prices here
most useful electric cargo bike: Vogue Carry 3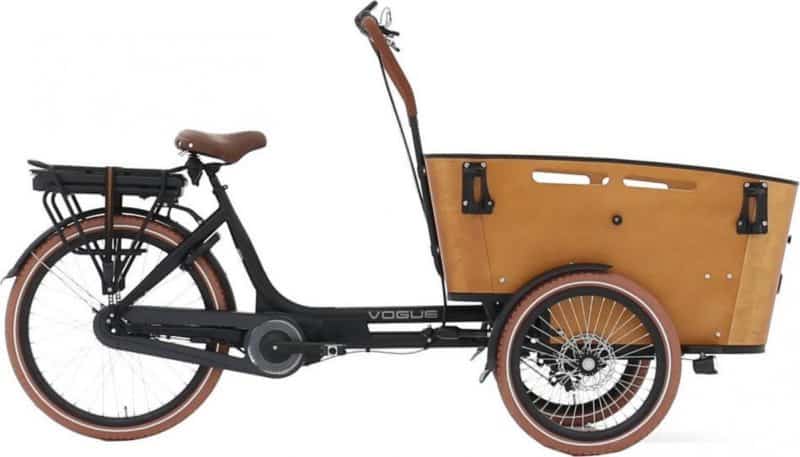 A cargo bike to transport children is extremely popular in the Netherlands, this sturdy electric cargo bike from Vogue is a gem.
It is matte black and has a wooden box for the children. Nice and open when the sun is shining and wonderfully sheltered from the rain when necessary.
Mom or Dad doesn't have to arrive at school sweaty, because it's a lovely electric cargo bike. Headwind or not, who cares?
Characteristics:
7 gears
Suitable for about 3 young kids or 2 bigger ones
Engine Position: Rear Wheel
Battery Position: Rear Carrier
Range: 0 to 75 km
aluminum frame
Brakes: front: Tektro disc brakes / rear: roller brakes
Aluminum Rims
Luggage carrier for 20 kg max.
Weight: 43 kg
Motor: Bafang central motor Max Drive G33.250 36V / 250W
Battery: Li-Ion battery 522 Wh (36 V / 14,5 Ah) (Samsung cells), 2A charger
Autonomy: < 40-60 km
Maximum speed: 25 km / h
Display
Modes: 5 modes
Has it been raining all week? Check out these 25 funniest rain games | For inside & outside in the rain
Handiest car seat: Maxi Cosi Rodifix Air Protect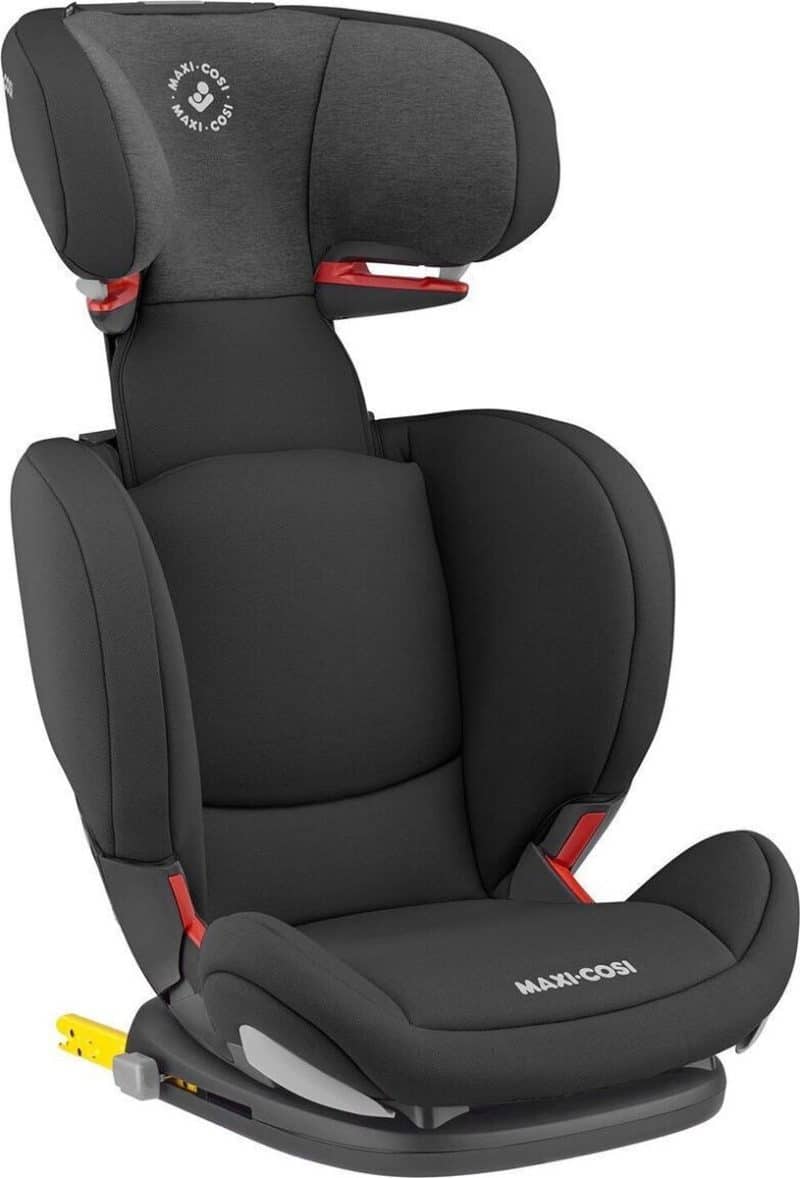 With the Maxi Cosi Rodifix Air Protect I also thought about transport by car. With a baby you often take the car for longer distances.
You are looking for a safe and practical seat – among the many models of seats on the market – in which your baby can be transported well and comfortably from a few months.
If you decide after the baby's time - for whatever reason - to purchase a car seat for your older child (from 3 years), the Rodifix is ​​a great:
The Airprotect technology reduces the risk of head injury in collisions from the left and right by no less than twenty percent.
The AirProtect also offers soft comfort for your child, and you can easily install the seat with the 3-point seat belt.
The headrest has several height positions and the side supports are adjustable in width. You can tilt it into sleep position, so that your child is transported while he can take a nap in the car.
Characteristics:
suitable for 1 child from 3 years to 12 years (15-36 kg)
extremely safe for head and neck
adjustable to your child's growth
washable cover
forward-facing car seat
not suitable for baby
Check the latest prices here
For more good and safe options, check my post with the best car seat in group 1, 2 and 3: This is how your child drives safely
Handiest Baby Carrier: Tula Free-to-Grow Coast Beyond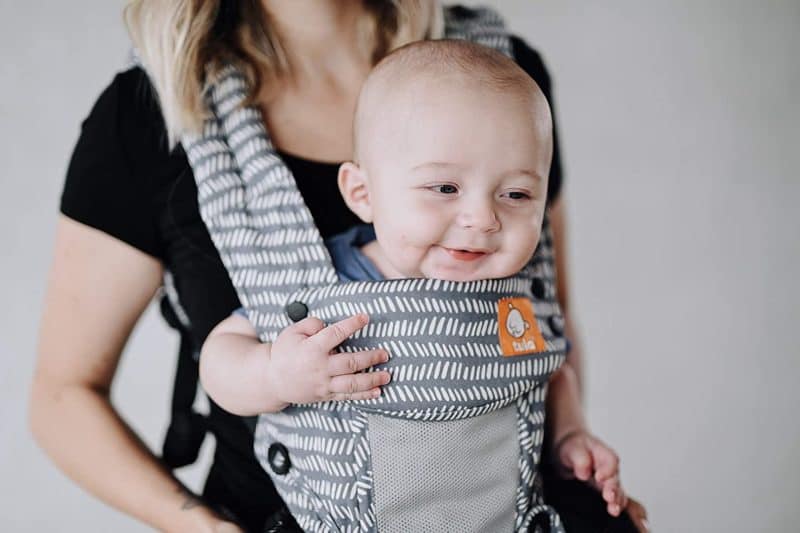 The Tula Free-to-Grow baby carrier is one of the best ergonomic baby carriers. The great thing is that you can use this baby carrier as a front and back carrier.
From birth (3,2 kilos) size 56, you wear your uk in the correct 'M-position'. The buttocks are lower than the knees and the back takes on a natural curve.
When your little one gets heavier, you can easily carry it on your back. The straps have soft pads.
The back of the baby carrier can be adjusted in width (3 positions) and length with handy buckles and a system with press studs.
You can use the carrier for children up to about 6 years old, up to 30 kg!
A 5 star rating from this customer:
Perfect carrier for my big daughter. My daughter weighs 16 kg. and is 8,5 months old. This is without a doubt the best baby carrier I could find, considering my daughter's thick legs. I am so happy with it! I am always amazed that I can wear her for so long. If you're looking for a baby carrier, just buy it!
Characteristics:
suitable for newborn babies up to children of 30 kg.
ergonomic for parent and child
wearable on back and stomach
straps are padded
Check the latest prices here
Handiest trailer bike: Burley Piccolo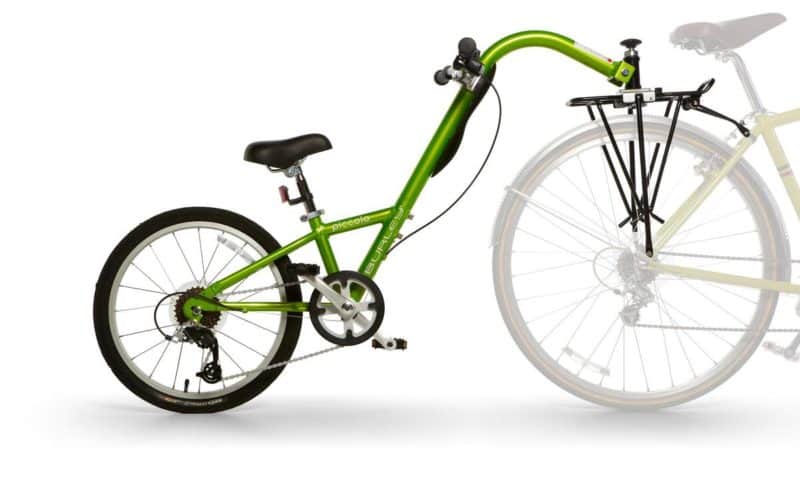 Cool, the BURLEY Piccolo bicycle trailer; This bright green trailer bike helps your child learn to ride a bicycle.
The saddle is easily adjustable in height and the trailer bike has a 7-speed gear system.
You may be wondering how firmly the trailer bike can be mounted on yours? An excellent mounting on the bicycle is possible with the included black Burley Rack luggage carrier, which replaces your original luggage carrier.
For mounting on a second bicycle you can purchase an optional black or silver 'Moose Rack'.
You get a mudguard and reflectors with it. The Piccolo offers enormous stability due to the Burley patented aluminum ball bearing guided coupling in the mounting.
Great for children who are not yet confident in traffic, or for children who like to cycle but need help.
It is made of aluminum and weighs 12 kg, it can hold a child of up to 50 kg.
Characteristics:
wheel size 20 inch
size: 147,3 x 54,6 x 91,4 cm
7 gears
suitable for children from about 5 to 9 years (or no more than 50 kg)
Check the latest prices here
Most useful wheeled board for pushchair: Bugaboo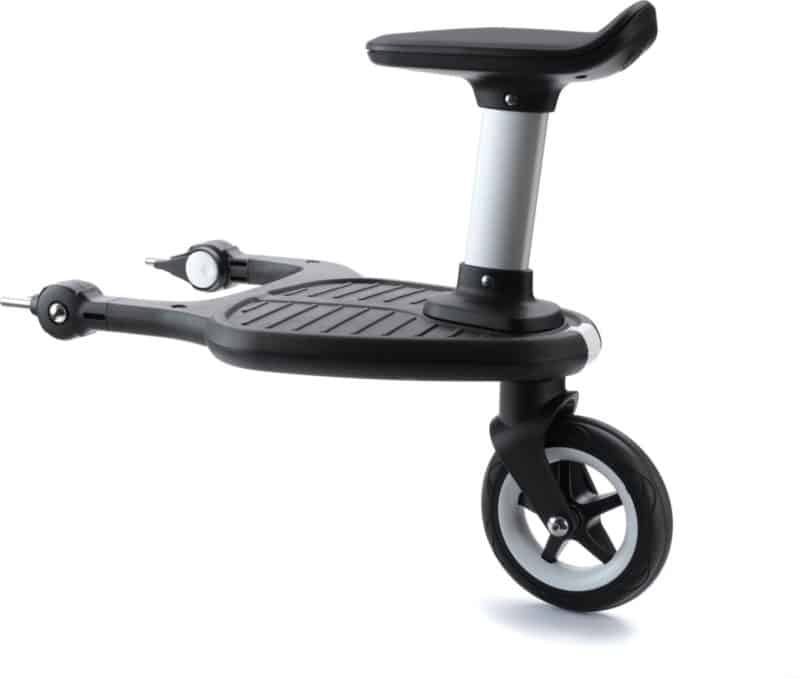 What an idea! Take a nice walk in the park, with your baby in the pram and your toddler on the Bugaboo wheeled board.
You can use it on all Bugaboo strollers, but for some Bugaboo models you still have to purchase separate adapters: on the Buffalo, Cameleon³ and Donkey.
The flexible placement of this Bugaboo comfy wheeled board – to the right or left of the center – provides you with sufficient walking space.
Your larger child can ride either standing or sitting, which is ideal. He can choose to walk, stand or sit!
When you're not using the shelf, you can easily fold or detach it.
Characteristics:
maximum carrying weight: 20 kg
suitable for children from about 1,5 to 2 years to 4 years
weight of shelf: 2,7 kg
walk comfortably with both baby and toddler/toddler at the same time
pricey
Check the latest prices here
Walking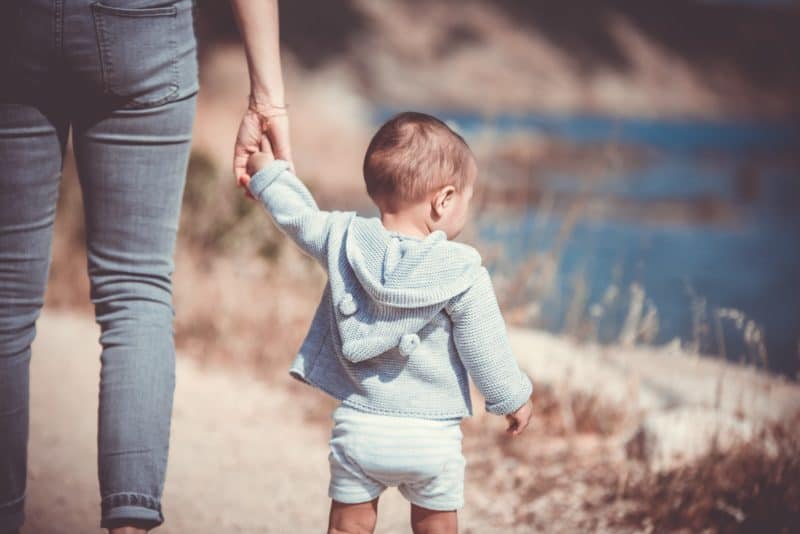 If you don't like these solutions, you can always choose to go for a walk. Especially if you live close to your child's school and close to the babysitter or supermarket.
If you live a bit further away from all the important points, walking is not always an option, but if you go on foot you will not suffer from traffic jams and hardly any problems from other road users.
Perhaps you dropped your child off at his school on foot as quickly as you would have transported him by car… think about it!
Is your child unable to walk long distances yet? Then give her a good children's scooter!
Bicycle trailer vs cargo bike vs trailer bike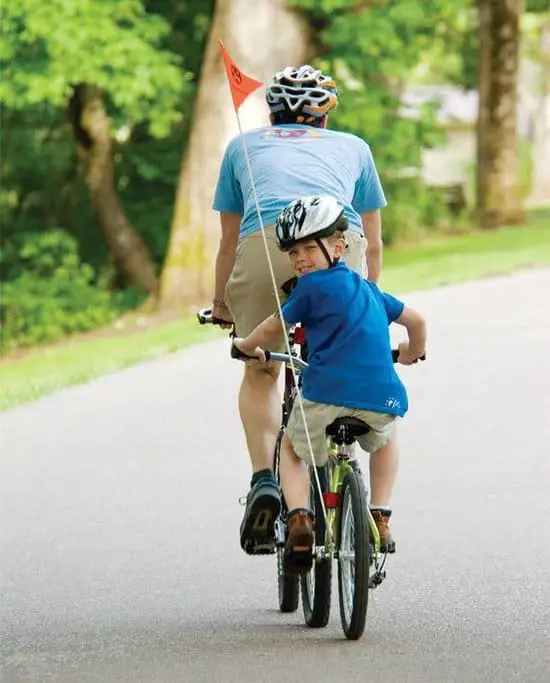 Having an bicycle trailer is a convenient and safe way to transport your child, every day, but also on vacation.
Several children can relax or play during the ride. Up to two children are also safe in the straps, dry and out of the wind.
If you don't use it, you put the trailer away and you have a normal, fast bike again.
Have your children outgrown it, then you can perhaps use the cart for transporting the dog or camping gear?
A nice alternative to the cart is a cargo bike. Very popular in Dutch cities, also at daycare centers.
With a cargo bike you take the child(ren) in a box for the cargo bike. The center of gravity of a cargo bike is low (safe) and the children are also fastened here with seat belts.
Of course it remains a 'clunky' bike that pedals a bit harder.
With both options, however, your child will slowly get used to the traffic rules. If your child does not yet cycle independently, or you do not want him to cycle yourself, then both the bicycle trailer and the cargo bike are a good alternative.
Then we have the trailer bike also called '3rd wheel'.
Suppose your 'little one' is too big for the cart or the cargo bike and cannot yet cycle independently in traffic, then the trailer bike is a wonderful solution.
It is also possible that your son or daughter has not (yet) developed a good motor skills and still wants to cycle, with the trailer bike that is simply possible.
Tips for even more safety
Before I close, I would like to add a few more tips for parents: You can consider a good helmet for your child, because if he is on the back of the big bike you want to prevent injury at all times.
Even if he is ready for his own first cycling trips, that's a good idea, even adults wear a helmet on their bike these days!
Everyone can contribute to road safety. Especially for parents and children, there are these 5 tips that help for more safety:
prefer to walk or cycle to the schoolyard
once by car to school? Park a little further away
always park your car where it is allowed and where you can get out safely
prevent smartphone use on the bike and in the car
practice the traffic rules together
FAQ's
Is there a bicycle seat for young babies?
As soon as your baby can sit up independently, you can take him on a bike ride in an approved bicycle seat. Usually this is when your baby is about 8 months old.
Many parents choose to transport their child in a front seat for as long as possible, although this is not necessary.
What age cart?
In order to be transported in a handcart, children must be able to sit upright independently. It is certainly not an alternative to a pram for babies, you can of course put the Maxi Cosi in it.
I'm comparing the handcart vs a buggy here to make the choice easier for you
Conclusion
As a parent you only want one thing; safety for your children, also in traffic. If they don't go with you on the regular bike yet, you can consider one of my safe options.
Of course you take your lifestyle into account when making your choice in transport. I hope you have found a way that suits you in my article.
Read also Playing outside: a complete guide | best games and stimulating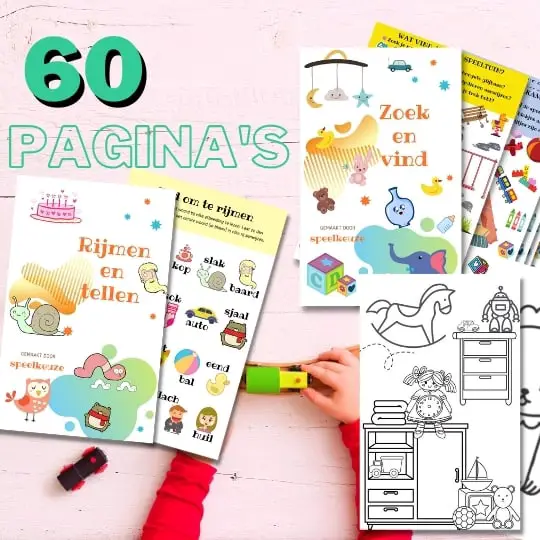 Always something to do for the holidays or rainy day?
Play Choice now has the ultimate activity book collection, with over 60 pages of fun coloring pages and educational puzzles.
Joost Nusselder, the founder of Speelkeuze.nl is a content marketer, father and loves trying out new toys. As a child he came into contact with everything related to games when his mother started the Tinnen Soldaat in Ede. Now he and his team create helpful blog articles to help loyal readers with fun play ideas.