12 Best Dutch Toy Brands: Find It Close To Home!
I enjoy writing these articles for my readers, you guys. I don't accept payment for writing reviews, my opinion on products is my own, but if you find my recommendations helpful and you end up buying something through one of the links I may be able to receive a commission on that.
More information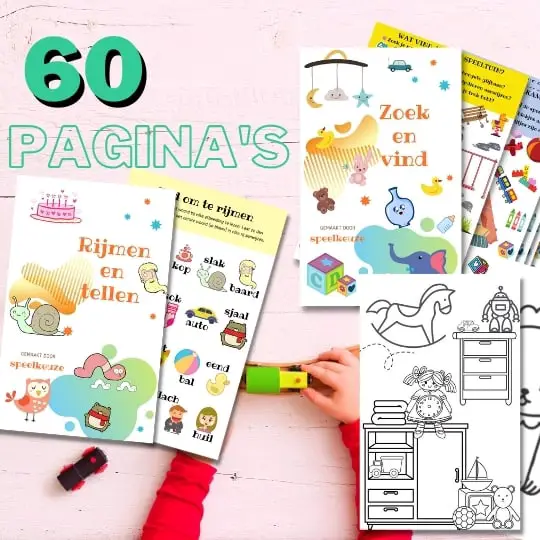 Always something to do for the holidays or rainy day?
Play Choice now has the ultimate activity book collection, with over 60 pages of fun coloring pages and educational puzzles.
I thought it was quite a challenge to introduce you to our own Dutch toy brands, but I have a few 'classics' and I have found a number of 'trendsetters' for you!
There are so many beautiful and responsible toys from Dutch soil and the designs are often very original! We should be a little proud of that, right?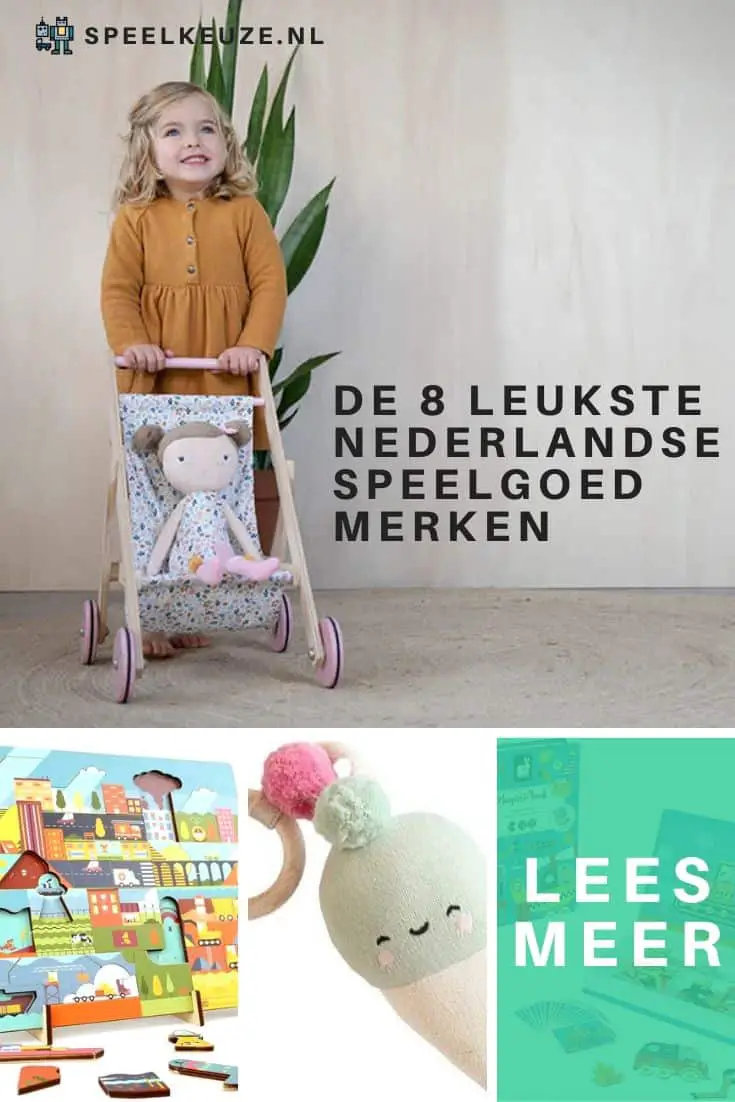 That's why I wanted to put together this list for you, with a few examples for each, starting with Dick Bruna: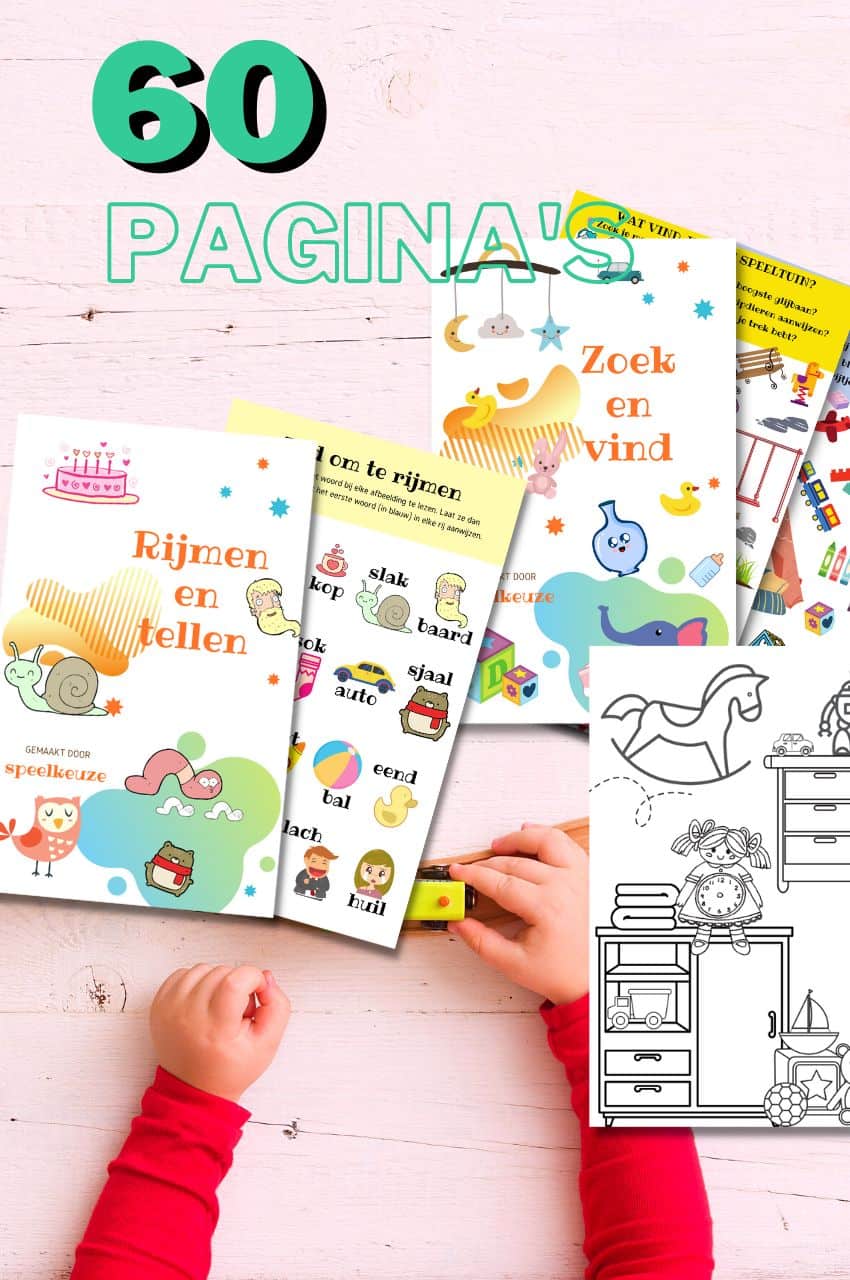 A play theme in your mailbox every month?
Fun play tips, activity books and more, with the first email being our free mini-guide "educational toys"
We will only use your email address for this newsletter and respect your privacy
Top 12 toy brands in the Netherlands
Dick Bruna
Dick Bruna (1927 - 2017) is a world-famous Dutch artist who is known to young and old, especially through Miffy.
Bruna started drawing in 1940; in his career, Bruna made a large number of picture books and became a spiritual father, among others
Eegje Hedgehog,
gobe,
Betty Big,
Boris and Barbara
and of course Miffy.
Dick Bruna has a simple and direct drawing style. He has published no fewer than 120 picture books. We are very proud of our Dick!
An only book about our now world famous Miffy, with her Opa and Oma Pluis! So nice to read to your little one.
Kids like the book so much that after a while they can even recite the book by heart!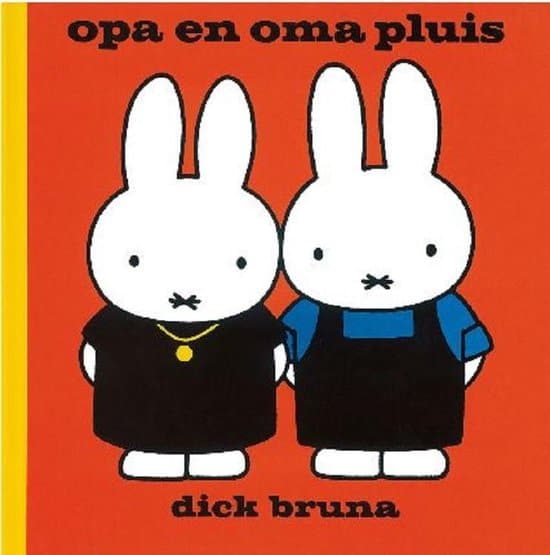 The books and pictures appeal to all young children, and they have been for over half a century!
The children's cookbook eating with Miffy is great for the little ones and includes recipes for the whole family to enjoy!
Samuel Levie and Dick Bruna want to make a statement with this book, full of recipes, stories and drawings: Eating together and reading together is important! Hats off to that!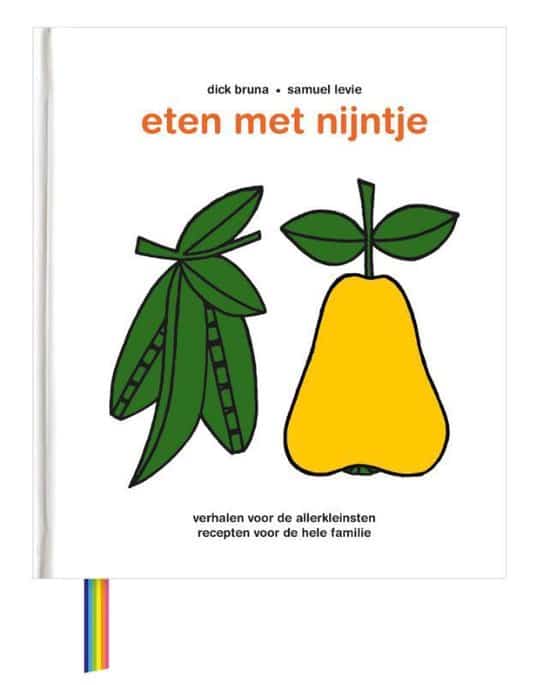 The book is beautifully designed with a sturdy cover and a rainbow-colored reading ribbon. The stories also fit in perfectly with the theme: Miffy, for example, wants to grow carrots and then there are recipes with carrots.
The recipes are suitable for both small and large. They all contain a lot of vegetables, only a few with meat or fish and they are often original;
Think of a puree rainbow or polenta fries, for example! Your children will learn how carrots grow and that milk comes from a cow and what you can make from milk.
In this way, the interest in new recipes, vegetables and fruit is growing. Eating with Miffy turns eating together into a party. The more souls at the table, the more joy!
An ideal book for parents with children but actually recommended for everyone. And certainly for Miffy fans aged 0-99!
Here Dick Bruna tells about 55 years of Miffy:
View all books by Dick Bruna here
Biobuddies
The eco-friendly family business Biobuddi wants to raise awareness about the sustainability of toys. Their slogan is 'Build a Better Tomorrow'.
They offer safe and reliable products without harming the environment.
The building game BiOBUDDi Juf Roos Three small fish is super popular!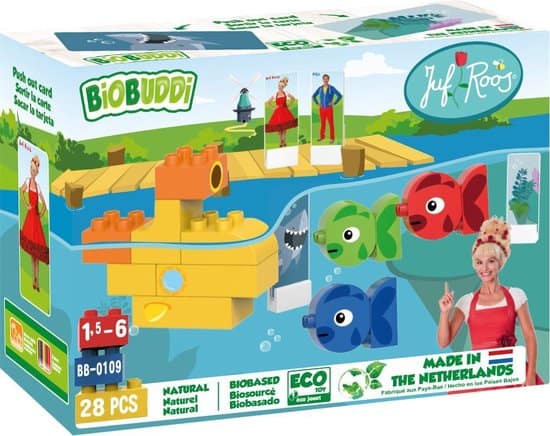 Juf Roos was the YouTube hit of 2018. With the three little fish set, your child will playfully get to know Juf Roos and the children's song 'three little fish'.
By building together with your little one with this set, he or she develops motor and social skills. The world of Juf Roos can be recreated by means of the special blocks and cards.
Almost the entire package can be used, no paper is wasted!
The biologically responsible blocks of BiOBUDDi are made from the remains of the sugar cane plant and are produced in the Netherlands.
The blocks are 100% environmentally and child-friendly! This set comes with a background, eight express cards, six card holders and thirteen blocks.
Learn to read quickly with BiOBUDDi Learn Letters, that's a challenge for your uk! Reading is one of the most important skills to learn!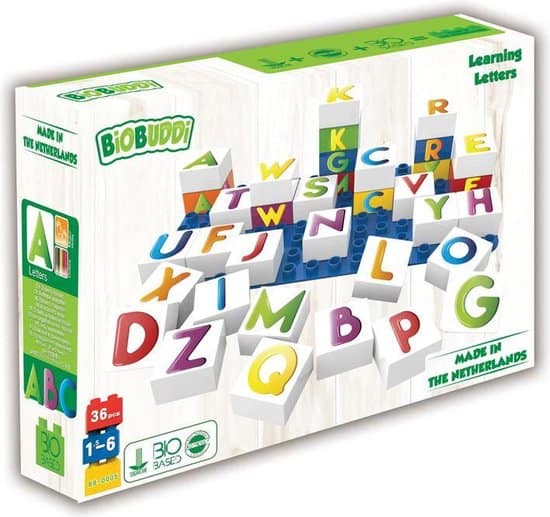 Nice to do that in a playful way, with the help of easy to handle letter cubes. With the cubes your little one can form his or her own name, but of course also other words; You can spell and pronounce the words for your child.
Combine this handy letter set with the number building blocks to not only teach your child to read, but also to learn to count.
These cubes are also made of natural material, extracted from the sugar cane plant, which is what makes the Biobuddi brand even more fun.
This building set contains a building plate and 36 building blocks with letters. All parts are made from organically grown material.
They have focused their organic products completely on the international market, as in this video with Safari Ltd.
View the entire BioBuddi range here
Little Dutch
From an attic room in the Netherlands, Rinke van der Helm started making lampshades together with her sister. Two years later Rinke started her own label Little Dutch.
Since 2008 Little Dutch has grown into a well-known brand both at home and abroad. The brand makes modern accessories and colorful toys for babies and kids.
The products are not only safe, but also of high quality. With their contemporary toys, they support the different stages of your child's development.
Every year they come up with a new theme and a new textile collection. A brand to remember!
Your little thunder can help you with any job around the house through this LD Wooden Toolbox! The toolbox consists of no fewer than twenty parts in soft shades of blue.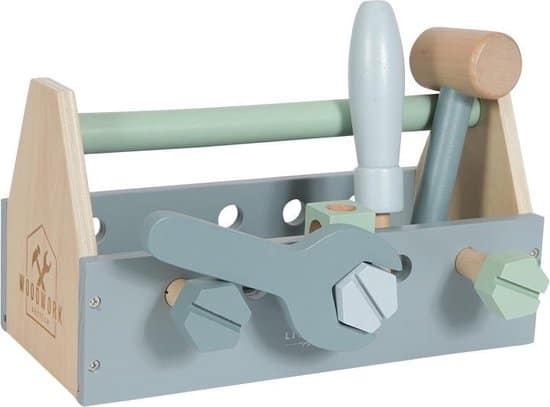 Good for motor development and very educational! The tools give your child a lot of fun. The set is suitable for toddlers.
Also looks great as decoration in the nursery!
This Little Dutch Activity Cube Adventure has a different game on each side! A challenging toy for your child that stimulates hand and eye coordination.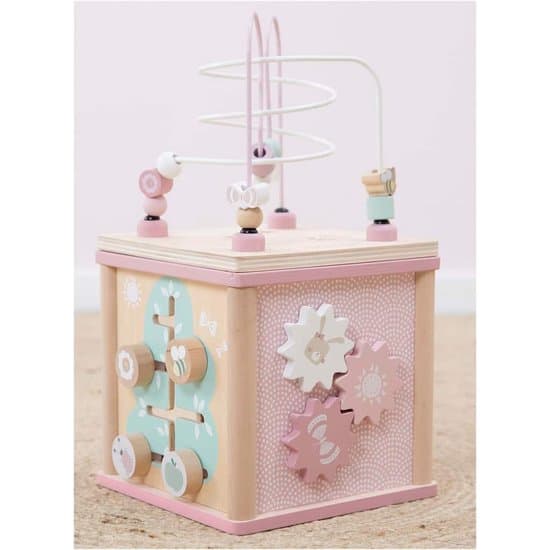 This toy has interesting spinning beads on a spiral. For example, your child can turn small blocks on one side and rotating gears on the other side.
De Clock hand can be turned to different positions to teach your child the time. The pink toy cube is suitable for children from eighteen months.
They can now be seen with their beautiful products everywhere on mamablog and vlogs, such as with Femke Marijne:
Little Dutch even has her own page on bol.com
Iconic toys
Ikonic toys creates innovative toys in collaboration with well-known designers. The designs should inspire children and adults to think outside the box!
The aim is sustainability, the intention is that the 'toy' is cherished and passed on to the next generation. True art!
This Wooden Design Puzzle 'Day' - Kars and Boom Ikonic toys has the name 'Dag' and studio Kars + Boom designed the puzzle.
This colorful puzzle shows the things you encounter every day and behind every piece there is something to discover for your child.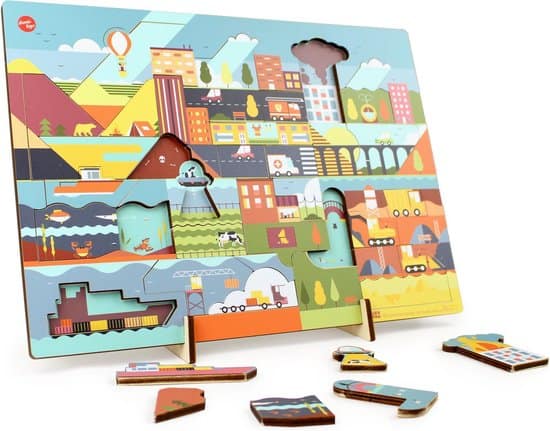 Great fun to make with your little one! It comes with two stands so that you can put the design puzzle in the nursery for decoration!
A cool birch wood puzzle consisting of 32 pieces.
Designed by Floris Hovers is there this beautiful Ikonic Toys Duotone Car and is car number three from the Duotone series that consists of six cars in total:

It is a minimalist design but you can recognize the line of a beautiful, old-fashioned American car!
The car comes in a nice gift box and is made of FSC beech wood, but has plastic wheels and metal rims. A real eye catcher!
The making of sustainable wooden toys is really a mission, as Maurice Doorduyn of Ikonic Toys also tells here:
View all the toys from Ikonic Toys here
Ado Toys
This handmade wooden children's wheelbarrow from Ado gives your child a lot of fun! The wheelbarrow is made of high-quality FSC birch plywood and finished with a child-friendly lacquer.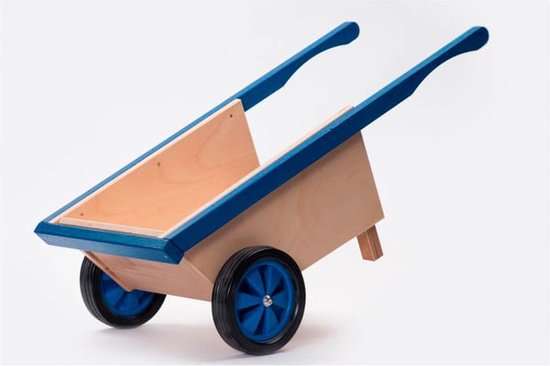 The rubber wheels ensure that no marks are left on the floor. This car can already be used for kids from about one year.
It's cozy Ado handmade wooden children's stove gives your child a lot of cooking and baking fun!
It is a beautiful, basic stove that is also made of FSC birch plywood of the very best quality and again finished with a child-friendly clear and colored lacquer.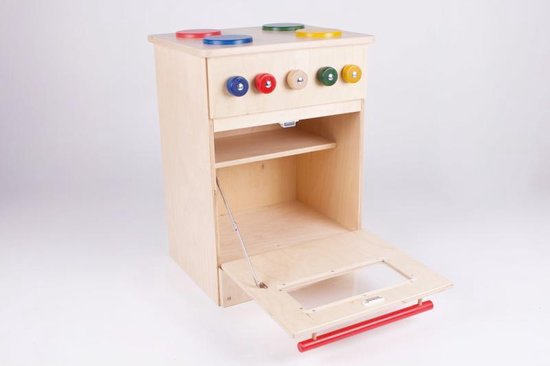 The knobs and hobs have bright colors, your toddler will love them!
Here's another old-fashioned video showing just how old Ado actually is:
View the entire range of Ado here
Eef Lillemor
Eef Lillemor is a well-known Dutch designer of all kinds of beautiful children's toys.
You may remember her from the black and white panda print, or perhaps from the beautiful pastel colors she uses in her designs. A top toy brand!
All Eef products are tested according to European standards and made from 100% organic cotton!
This Eef Lillemor Rattle Ice Cream is to enjoy! This beautiful rattle, with bell, is really super soft: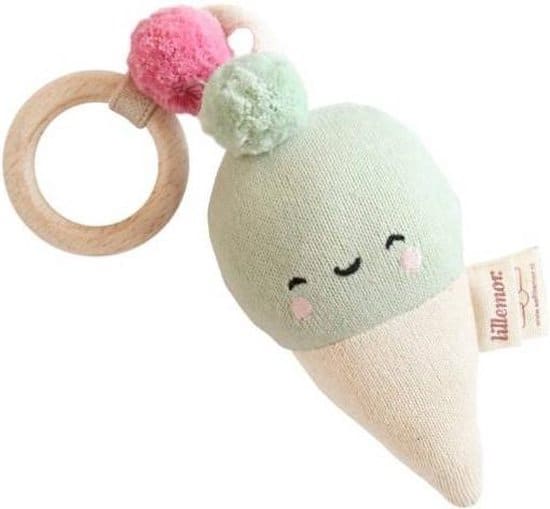 It is a perfect gift for a baby shower! The ice cream can be washed in the washing machine on a mild program, but not in the dryer.
The Baby rattle grizzly is another unique and soft cuddly toy and rattle in one, which is easy to grasp for your baby by means of the large ring.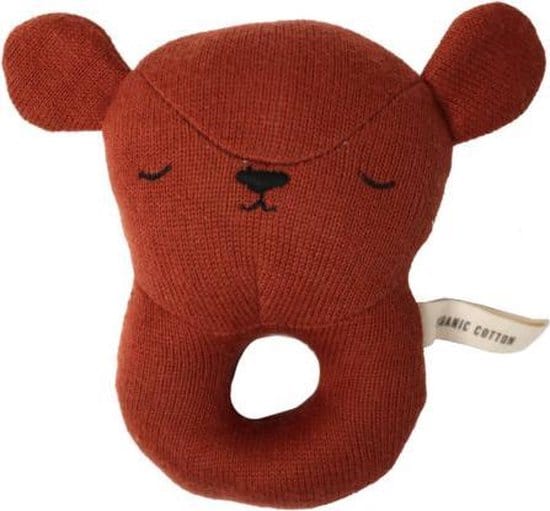 Top presents!
View the entire Eef Lillemor range here
Bruynzeel
The successful Bruynzeel company has been around for over 70 years!
Bruynzeel-Sakura was created after the Second World War; The woodworking company Bruynzeel was requested by the Dutch government to produce pencils because war-ravaged Germany could no longer supply them.
Who among us has not learned to write and color with Bruynzeel?
The widely known Bruynzeel Kids 6 extra soft colored pencils with sharpener wasco's are famous!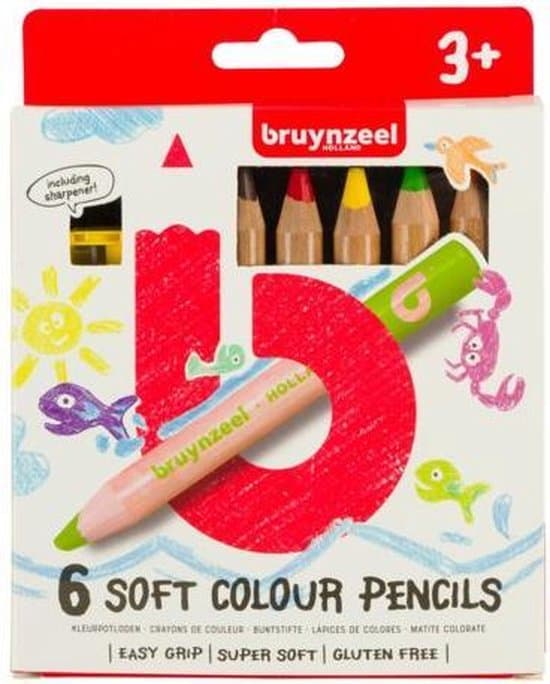 These are specially designed for small children's hands. The thick core is extra solid, but just as soft as wax crayons.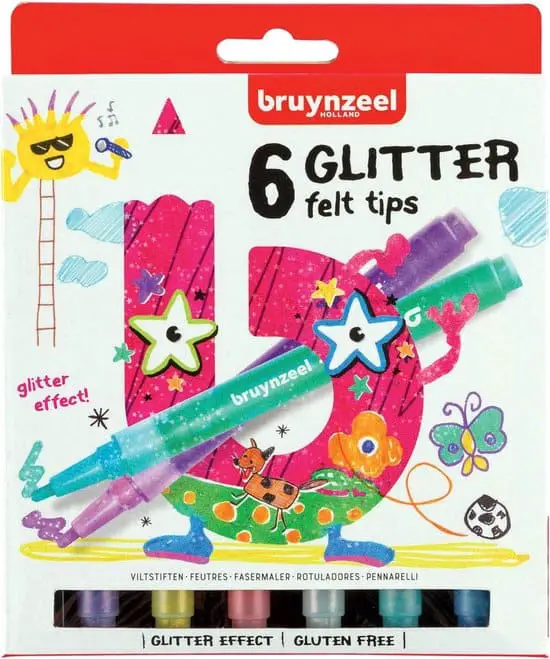 The box contains six pencils in the favorite children's colors and a matching sharpener. Suitable for kids from three years old, including the newer ones Bruynzeel Kids Glitter markers are great!
Your child's coloring pages get beautiful glitter effects! Beautiful on both a white and a black background.
Before use, they have to be shaken and the point pressed once, but then they are ready to start coloring!
The package contains six markers and is suitable for children from the age of five.
Here's Facts & Myths at Bruynzeel Sakura:
View the entire range of Bruynzeel here
Kidkraft
KidKraft is a Dutch toy brand located at the Olympic Stadium in Amsterdam.
It is a leading global company with some award-winning dollhouses and play kitchens.
In 2016, Kidkraft acquired Big Backyard and Cedar Summit to also supply outdoor toys.
One of the most fun sets is the Adventure Town Railway Play Table, an essential addition to any little train enthusiast's playroom.
This solid wood play table with beautifully designed rails and colored play accessories is sure to keep kids busy for hours.
With a unique foldable design, the console can be assembled or folded in no time. The table is very sturdy, but the 120-piece set in particular is something that will keep them playing for a long time.
Kidkraft
KidKraft has hundreds of products, but we especially love the play kitchens, train tables and doll houses with nice details and realistic finishes for an affordable price.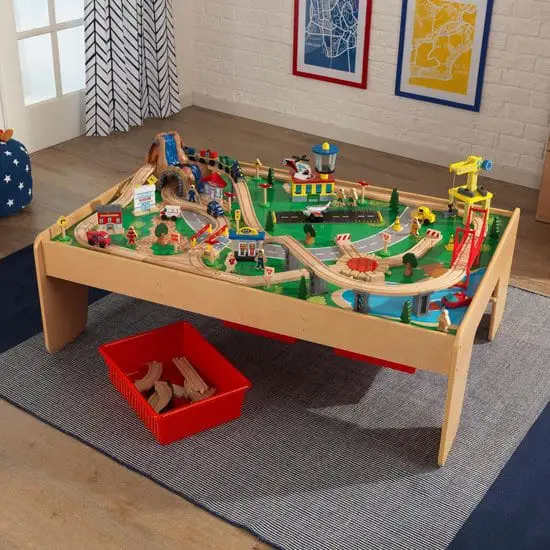 BS Toys
In our BS Toys they design the most unique toys with the aim of letting children be active and learning something at the same time.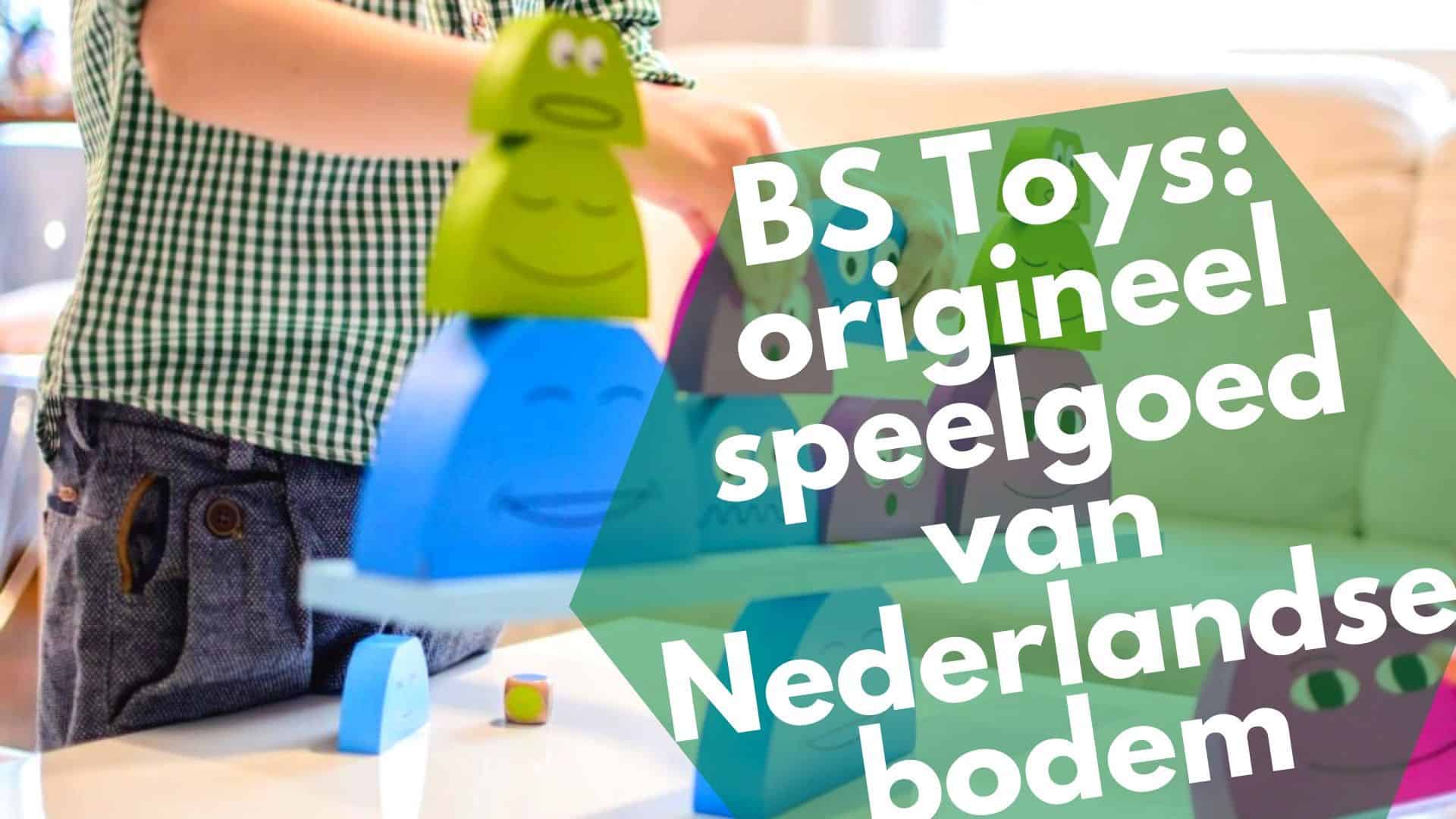 Quality is of paramount importance at BS Toys. In addition, they really do everything they can to put a smile on every child's face!
Here are some of the products we reviewed: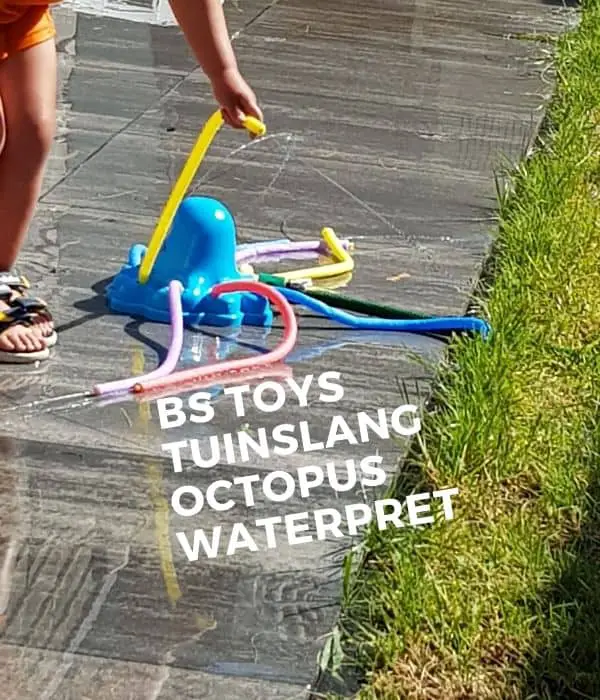 On the official website of the brand you can decide for yourself how to filter the toys, so that you can make the choice a bit easier for yourself. You can filter by age, category, material, or activity.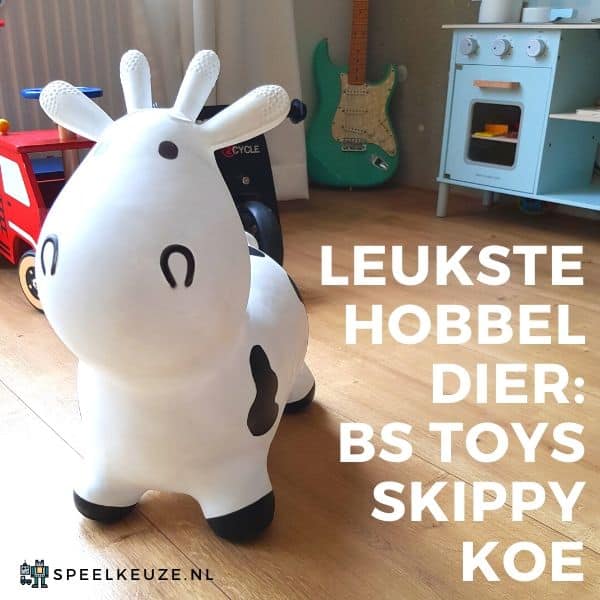 Category includes 'active', 'coordination', and 'creative'. Activity includes, for example, 'playing with water', 'brain training', 'playing outside', and 'working together'.
BS Toys really has every type of toy. For example, one toy is mainly aimed at being active, and the other aimed at developing coordination. Some toys even fall into multiple categories!
Children's parties
Children's parties
Born out of a passion to teach his son adventurous learning, Kinderfeets is one of the most innovative wooden toy brands.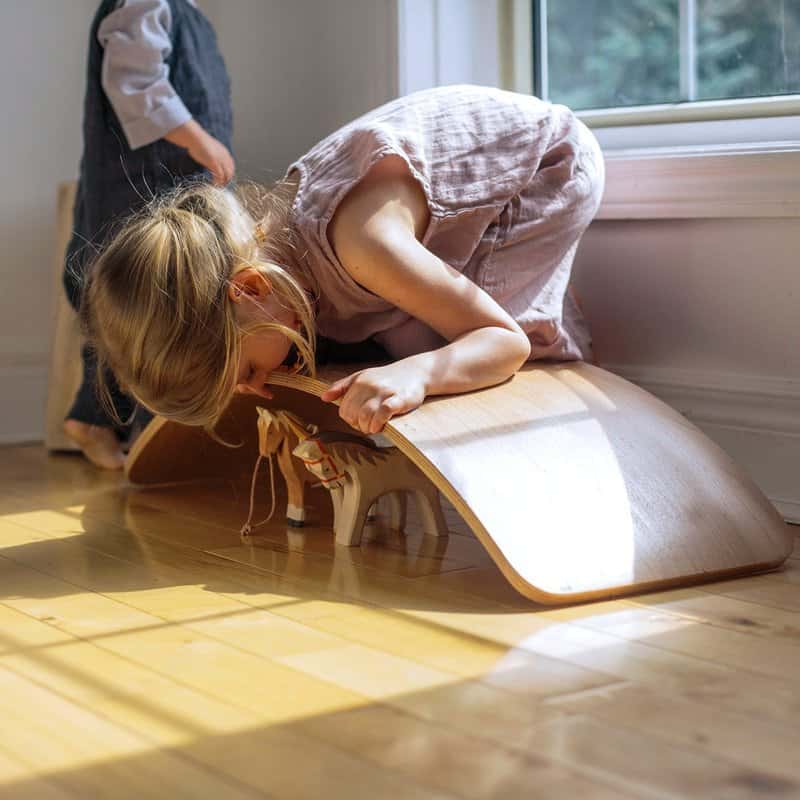 Oscar V. Mulder decided as a young parent to cultivate an appreciation for adventurous learning in his son. It started as a one-off project to build a personal balance bike for little Sebastiaan.
This idea has grown into a thriving, sustainable business that delight and inspire children all over the world.
Where the name comes from? It is a play on words for the Dutch word 'children's bicycle'.
's bicycles Children's parties may look simple at first glance, but the purposeful features of each of these bikes ensure safety and low environmental impact.
The balance bikes and tricycles are made from 'non-wood bamboo' (made from materials other than wood such as fruits, nuts, vegetables, fish, wild medicinal plants, resins and a range of bark and fibers such as bamboo, rattans and a host of other palms and grasses) and / or birch wood.
The bikes are equipped with low entry frames, adjustable seats, footrests and biodegradable tires.
Bamboo is extremely flexible and resilient, grows incredibly quickly and has the ability to regenerate itself.
It also requires no toxic chemicals or artificial pesticides for growth and maintenance, making it both toxic-free and more cost-effective.
Compared to other hardwoods, it is much more flexible (even though it has dense fibers) and is also pest resistant.
If the brand doesn't use bamboo, they use sustainable birch wood - another fast-growing and eco-friendly option - or German beech wood from FSC-certified factories.
Furthermore, they also incorporate other eco-friendly practices, such as using non-toxic water-based paints and varnishes, minimal packaging, and recycled paper.
New Classic Toys
New Classic Toys
Great wood and sturdy construction give the toy a good sensory experience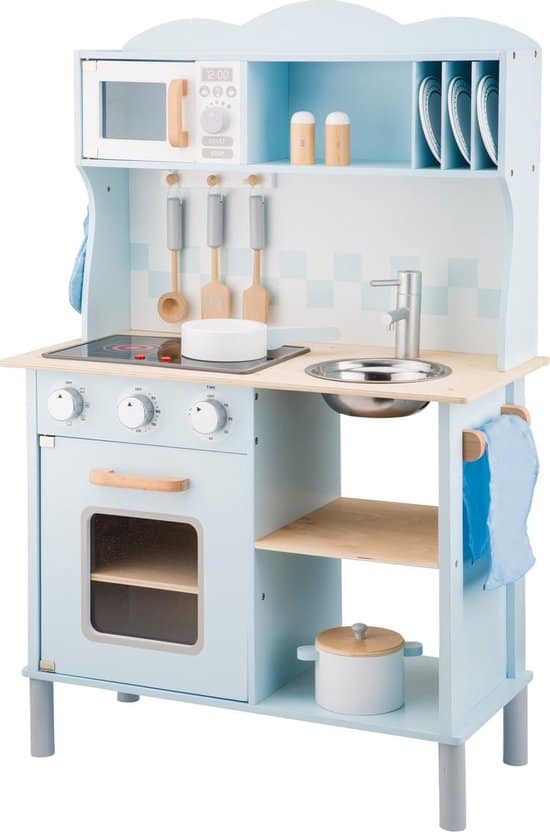 New Classic Toys was founded in the Netherlands in 1991 and stands for quality and educational toys.
They have a wide collection and the toys are also durable and attractive, made of honest materials.
They offer toys that appeal to the imagination. All products meet the safety requirements of the EN-71 standard.
New Classic Toys creates authentic wooden toys in European style. Manufactured to high standards of quality and durability, the products encourage children to learn to build, stack and imitate through play.
Joueco
Best wooden baby and toddler toys
Joueco
Jouéco is such a brand that makes fun and affordable wooden toys, and this cube is a very nice addition to the playroom.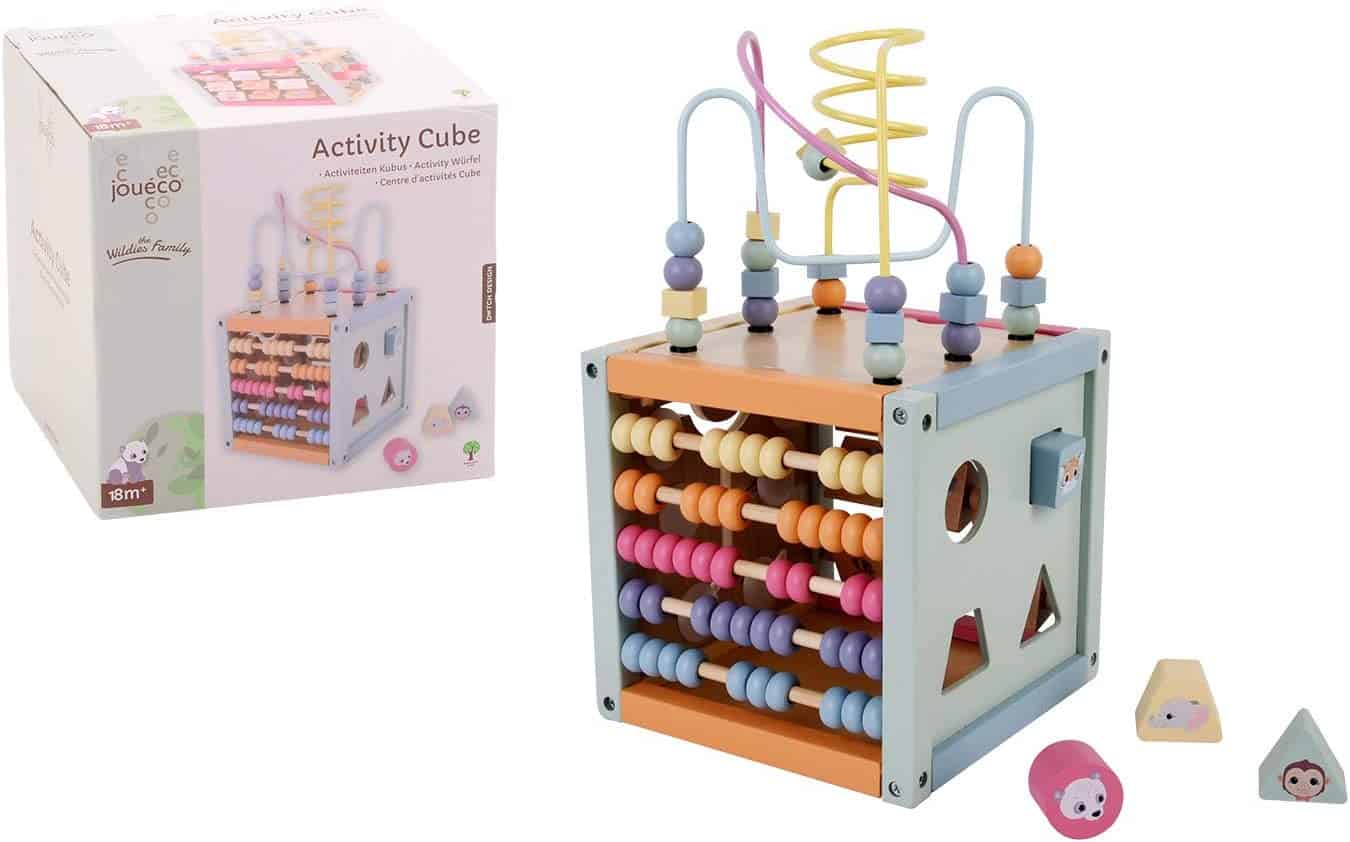 Joueco is a brand that produces wooden toys and is committed to the environment and sustainability. An 'ecofriendly' toy brand, as we like to call it nowadays.
The wood comes from FSC certified trees from managed forests. These trees must meet a large list of criteria before they are certified.
To be honest, I find it difficult to really choose my true favorite. All Jouéco toys look really beautiful and serve an educational function.
Thanks to Jouéco, a child learns everything about daily life in a playful way.
Conclusion
You will undoubtedly like some of the items from our list.
If you are going to buy toys for your child next time or you are looking for a trendy game or cuddly toy to give as a birthday present, you might want to think about our Dutch brands!
They are certainly not inferior to the often beautiful Scandinavian designs. Moreover, Dutch toys are often sustainable and environmentally friendly, and safety is always taken into account.
We hope you have become a little wiser and appreciate the brands from the Netherlands as much as we do!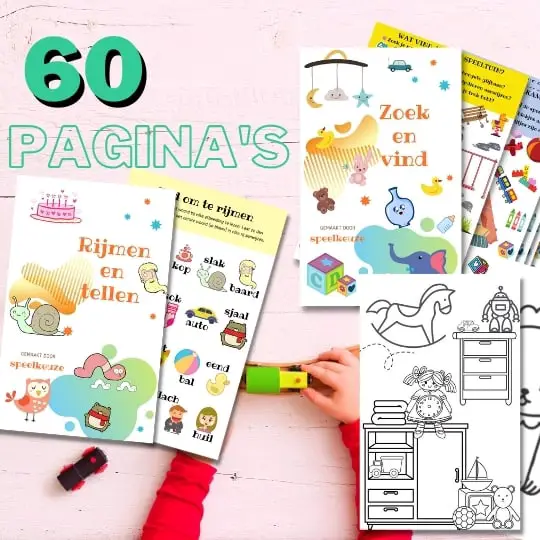 Always something to do for the holidays or rainy day?
Play Choice now has the ultimate activity book collection, with over 60 pages of fun coloring pages and educational puzzles.
Joost Nusselder, the founder of Speelkeuze.nl is a content marketer, father and loves trying out new toys. As a child he came into contact with everything related to games when his mother started the Tinnen Soldaat in Ede. Now he and his team create helpful blog articles to help loyal readers with fun play ideas.