Best bath toys without holes: 4 tips for playing safely in the bath
I enjoy writing these articles for my readers, you guys. I don't accept payment for writing reviews, my opinion on products is my own, but if you find my recommendations helpful and you end up buying something through one of the links I may be able to receive a commission on that.
More information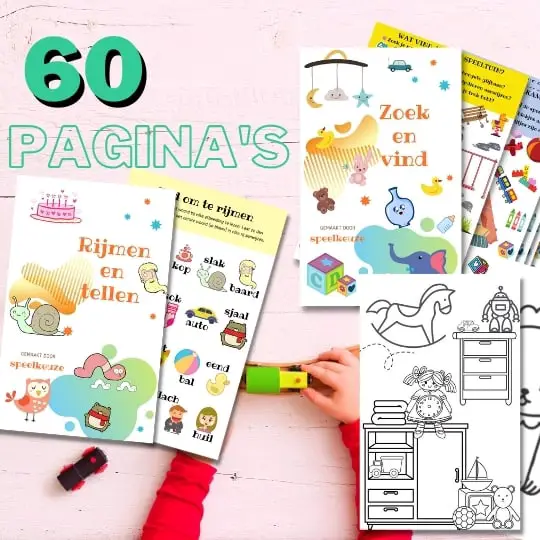 Always something to do for the holidays or rainy day?
Play Choice now has the ultimate activity book collection, with over 60 pages of fun coloring pages and educational puzzles.
Time to take a bath!
For some kids this is often the highlight of the day. For others it is sometimes a little less enthusiastic.
When you get the nicest yet safest bath toys for your little ones, bathing will always be a party.
But what are the best bath toys? And which toys can you safely use with your child? bad let it play?
In this article I look at safe bath toys without holes, and why this is important.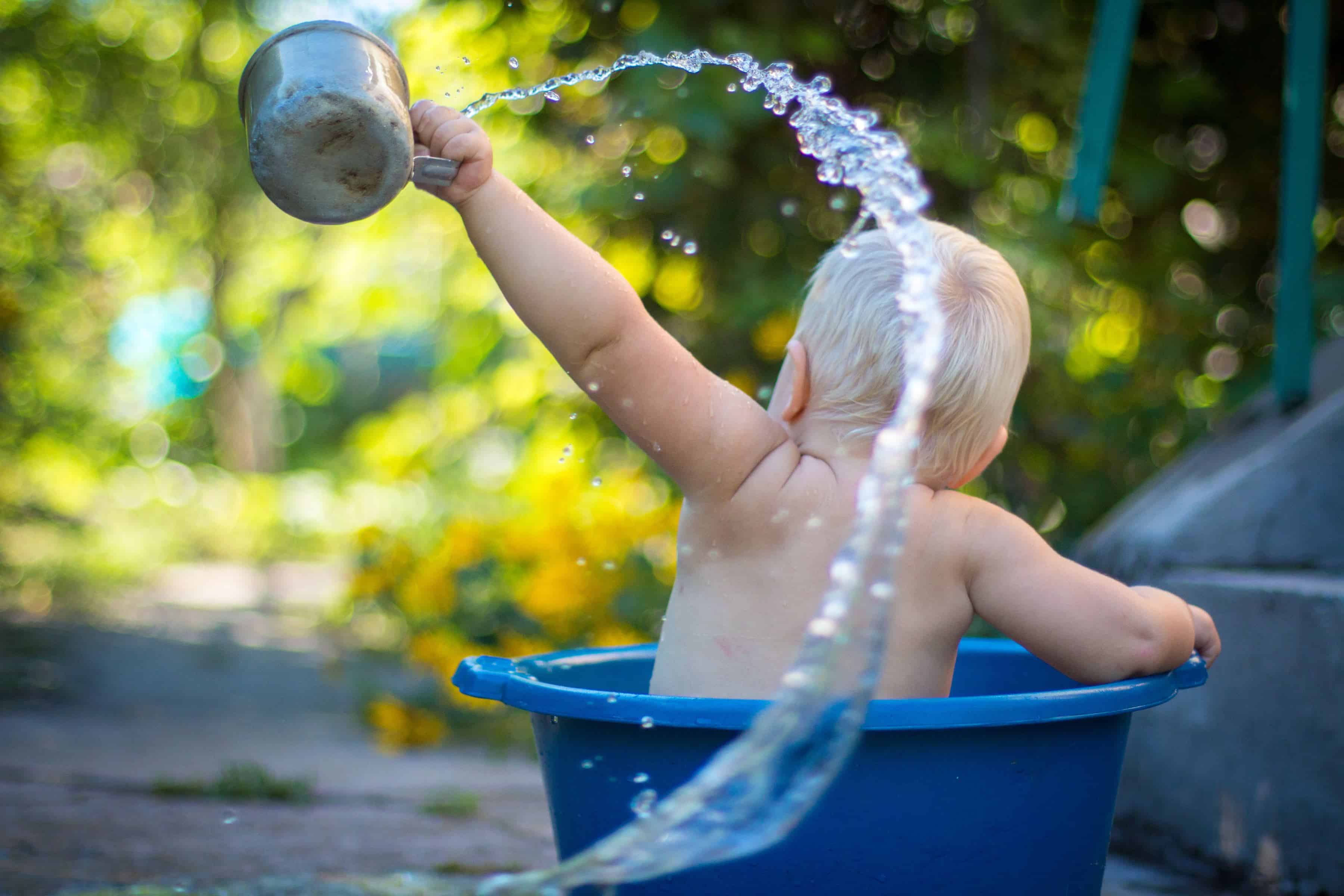 Maybe you didn't even realize it, but did you know that the favorite yellow duckling with that hole in the bottom is probably a fungus growing right now?
The best toys are safe but also a fun game to play. That's why this Floating Octopus from Nûby also so nice. You don't have to worry about mold and it's a fun ring toss game at the same time.
I've got the 5 best pierced bath toys for you, then I'll dive deeper into each of these picks: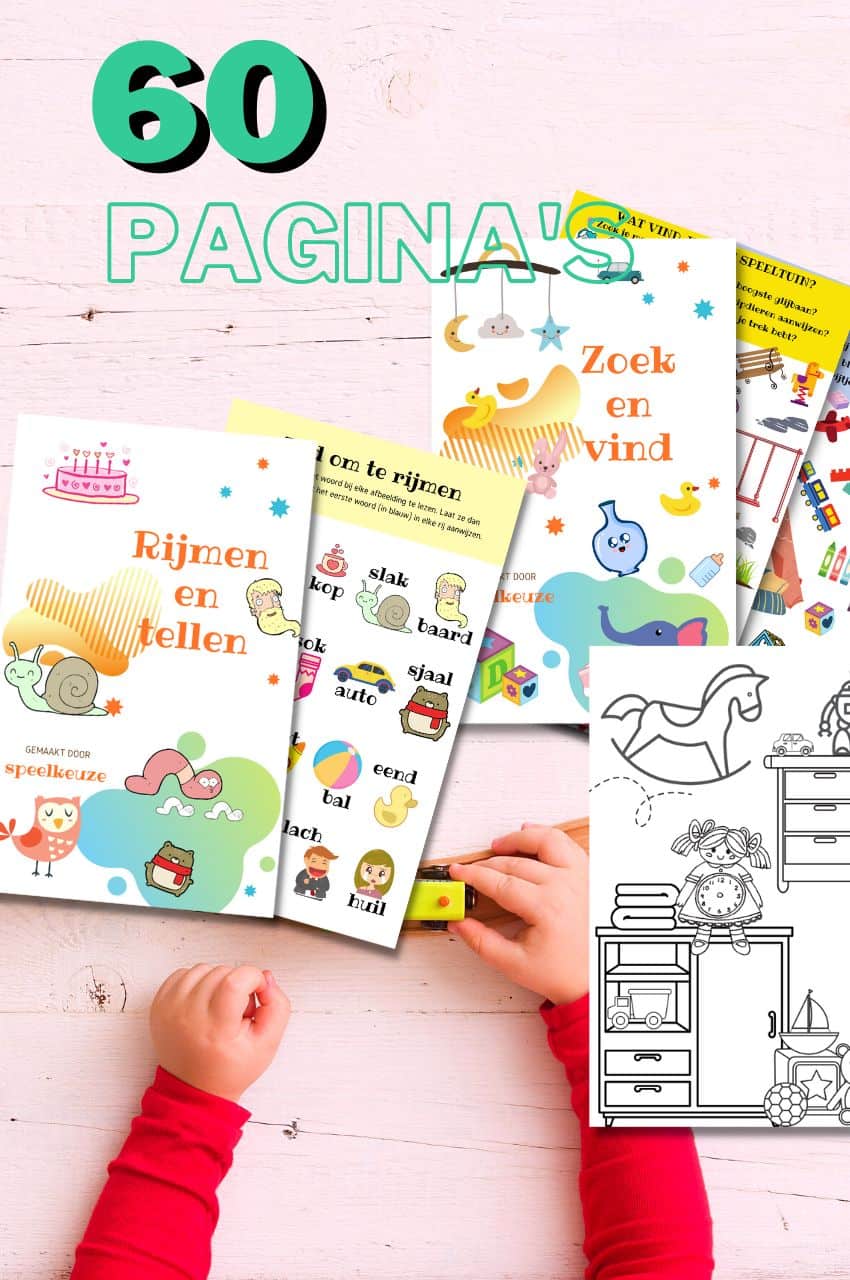 A play theme in your mailbox every month?
Fun play tips, activity books and more, with the first email being our free mini-guide "educational toys"
We will only use your email address for this newsletter and respect your privacy
Best pierced bath toys reviewed
Feel free to read in this article why bath toys without holes are a better option and what the best bath toys without holes are, or view my article with the 25 best bath toys.
Best for Hand-Eye Coordination: Nûby - Bath Toy - Floating Octopus
Has no holes, floating toy, good for hand-eye coordination. 1-3 years
Our most favorite bath toy without holes is the Nûby - Bath Toy - Floating Octopus.
This fun set is everything a bath toy should be! The cheerful squid is a sociable friend with whom your child would like to take a bath.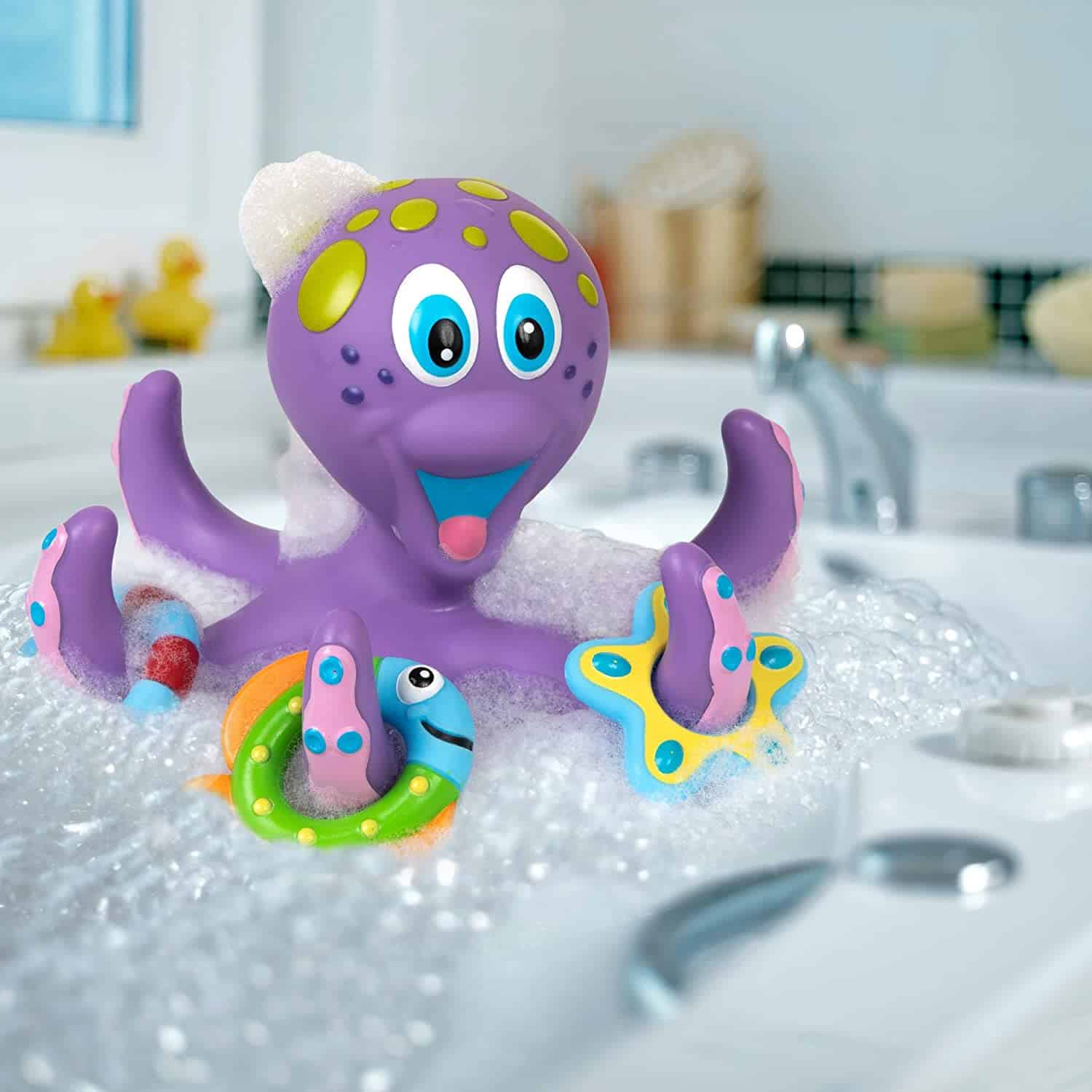 Fun and safe bath toy
The squid is raised in very fresh colors and has a happy face.
Another handy thing about this toy is that it can float and you guessed it, this squid has no holes whatsoever!
So it is safe and mold cannot form on the inside.
So you don't have to worry if your child puts one of the squid's tentacles in its mouth.
Throw the rings around the tentacles
The playset is ideal for children between 1 and 3 years old. The squid comes with 3 colored rings, which your child can throw around the tentacles of the squid.
This fun game contributes to the promotion of hand-eye coordination.
Beautiful toys from Nûby
Your child will never get bored in the bath again with this cute squid! The toys are made of quality rubber and will last a long time.
Nûby is a well-known children's brand that stands for quality and durability.
They make especially nice teethers such as a colorful triangle, but also other fun and safe toys for the bathroom and children's room.
Watch the floating octopus here
Best for in the water: SES Aqua Badwater colors 13065
Colors the bath water 3 types of colors, skin-friendly and only colors the bath water, not the skin or the bathtub. 2-6 years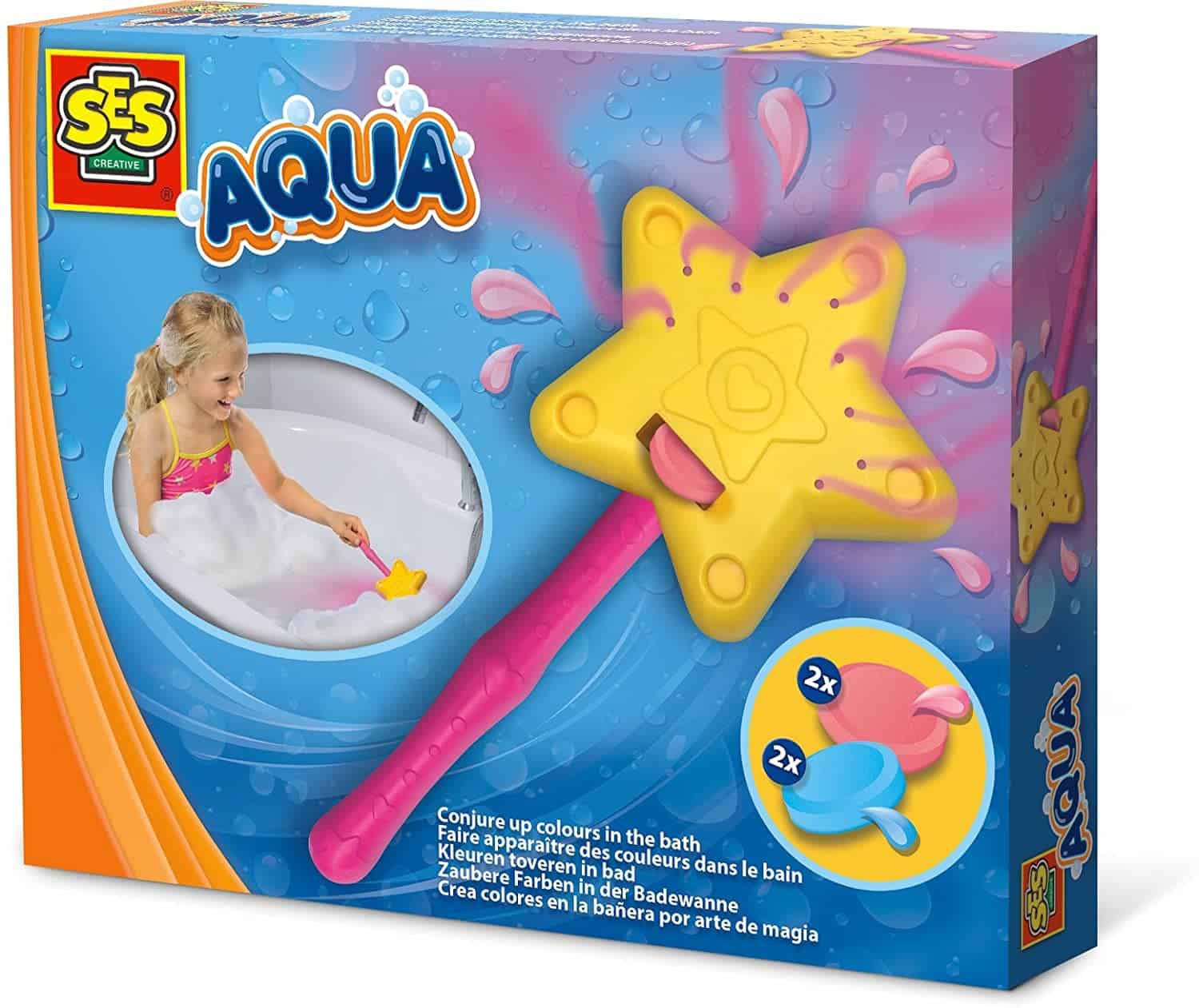 Our 2nd best bath toys without holes are the SES Aqua Badwater colors. Who wouldn't love jumping into a colored tub?
The colors make the bath water look very cozy and attractive.
Nice colors for a lot of bathing fun
You can choose between pink, green and blue colored tablets.
With such an addition to the bath water, your child has endless fun and will want to stay in the bath for a long time.
Safe and does not discolour the skin or the bathroom
The bath colors are skin-friendly and are therefore safe for every child's skin.
You should also know that the tablets only color the bath water and not the skin of the child. Your sanitary facilities will also not discolour from the tablets.
Simple bath toy that makes bathing a party
Its users say that half a tablet would be enough to fill a bath with water nice to color. With 9 tablets in total in the package, you can use this for a while.
With one of the 3 beautiful colors you can make an exciting bath and bathing time will only be more fun! This product is suitable for children between 2-6 years old.
To help you on your way, we have more fun bath toys without holes for you. There is something here for every child of any age.
Check the latest prices here
Best bubble blower for the bath: SES Aqua Mermaid
Comes with a "shell" soaking bath, a cute mermaid bubble blower and a bottle of soap. Makes countless bubbles for the bath and is safe for the eyes. 3- 6 years
Blowing bubbles and bath time make a great combination!
There is no child who does not want to take a bath with SES Aqua Mermaid Bubbles in the bath. With this fun set bathing time becomes a true party.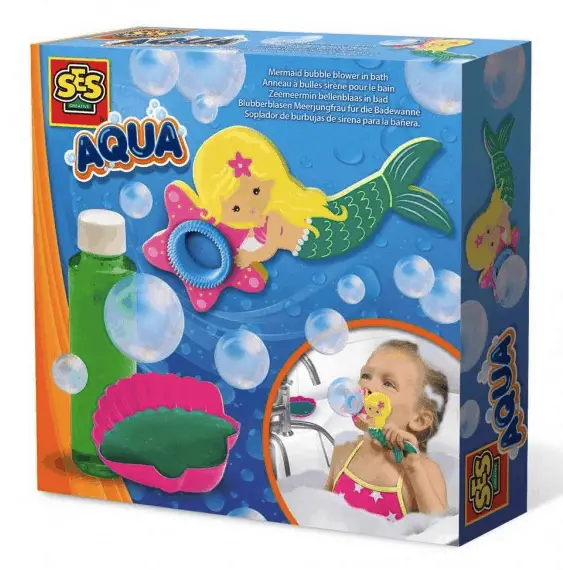 Nice in combination or on its own
You can add the set to, for example, our number 2 choice above, but it will certainly also provide hours of bathing fun.
You get a nice soap bath in the shape of a shell and a beautiful mermaid bubble blower (or buy one for outdoors like this one).
Your little one from 3 years old will have the fun of his or her life with this cute mermaid.
Dip the star in the hands of the mermaid in the soapy bath with soap (this is also included) and blow.
Within minutes, the bath is full of large bubbles.
Safe and long lasting
The soap is safe for the little ones and they can blow as many bubbles as they want to their heart's content. At least, as long as you want! The included liquid soap comes in a bottle with a screw cap, so you don't have to use everything in one go. Donate what you think is sufficient.
Check prices and availability here
Cutest educational bath toys: Munchkin Bath Letters and Numbers
Educational and very fun and safe bath toy, consists of 36 letters and numbers. Lots of possibilities: just sticking or math and language fun in the bath. 2-5 years
The Munchkin Badletters and Numbers are guaranteed to be a big hit, time after time. This bath toy is recommended for the age group of 2 to 5 years.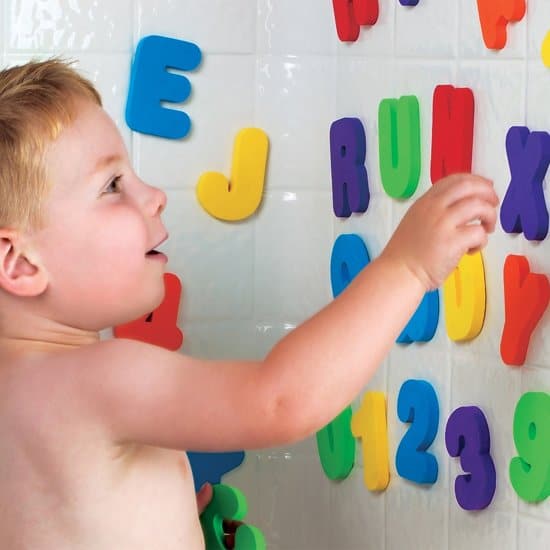 Complete set of safe and durable letters and numbers
This is a complete set of floating bath numbers and bath letters. The set has all 26 letters of the alphabet (A to Z) and 10 numbers (0-9).
The pieces come in a variety of fresh colors and are made of soft, durable and non-toxic foam. They are easy to keep clean and have no holes!
When they get wet, the letters and numbers stick to the wall in the bath or at the edge of the bath.
This way your little one can learn to count in a playful way and also learn the ABC.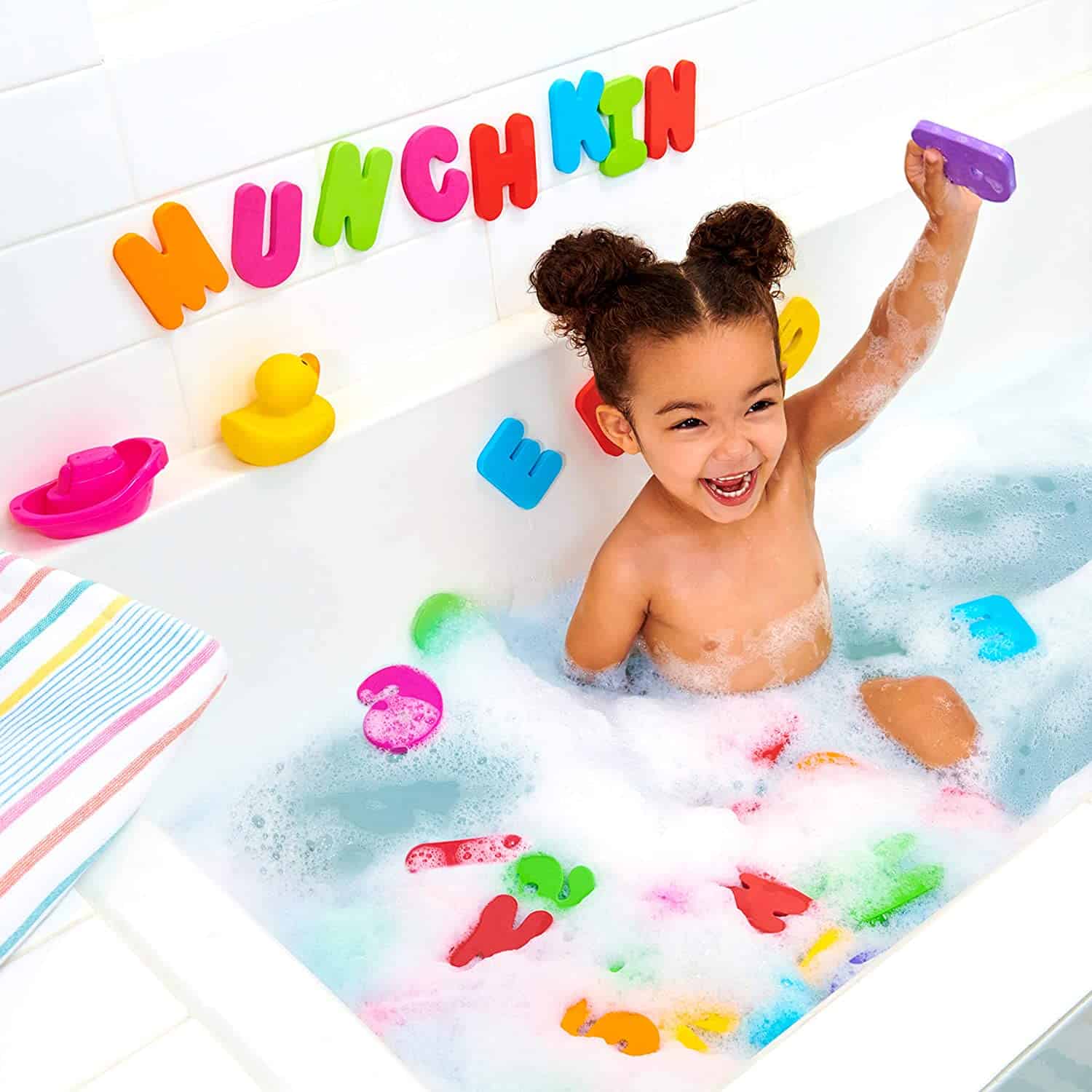 Enjoy puzzling in the bath with letters and numbers
Larger children who can already read and write, then we think of the children from 6 years, who can really form words with it.
In the bath the child can therefore practice making words and reading. Making calculations is also possible.
This is such a multifunctional toy and also easy to clean.
After use, squeeze them, dry them and let the pieces air dry for the next time.
The set is also a fun idea to play with outside of the bath. The applications for this product are very diverse.
View these numbers and letters here
Cheerful and safe bath toy without holes
There are many types of bath toys available for children.
We have seen that toys with holes are a good breeding ground for bacteria and fungi to grow, because these types of toys often retain a little bit of water.
In combination with warm air, this creates those black fungi in the toys. This is dirty and not safe.
That's why bath toys without holes are often a better option.
And if you do choose bath toys with holes, choose a good-quality toy that is easy to take apart.
This so that you can expose any places where water can possibly accumulate to dry or be dried. This way you prevent mold growth.
Also read: how should I clean bath toys?
Why bath toys without holes?
If we choose to buy toys for our children, we must also ensure that the toys are safe and stay clean.
Bath toys require extra alertness from us, because here you are dealing with the water aspect. And this is exactly what a fungus needs to grow.
A little bit of water and warm air… voila: a fungus is often born!
And if we know our children well, especially the little ones, then we all know that soft toys often end up in their mouths and are chewed on between baths.
This is very worrying as the fungi hidden in the toys can be a real source of disease and bacteria.
How do you keep bath toys clean?
Of course you should clean all bath toys from time to time and preferably always keep them dry after each turn.
But how well do you get to the spots in the inner part of the toy? Or in the slits, or in a tube and you name it?
That is why we think bath toys without holes are a better alternative.
With this toy you don't have to worry that invisible mold will form as the toy is waterproof.
And everything that is dirty on the outside can be kept clean with ease.
So what you should always pay attention to when choosing bath toys is that it is safe and stays clean for your children.
Bath time is not only a time to bathe your child, but you also want to see your child play happily and freely with peace of mind.
This reassurance is certainly given with the nicest bath toys without holes.
Further reading: here we have even more ideas for fun outdoor toys for your little one for you!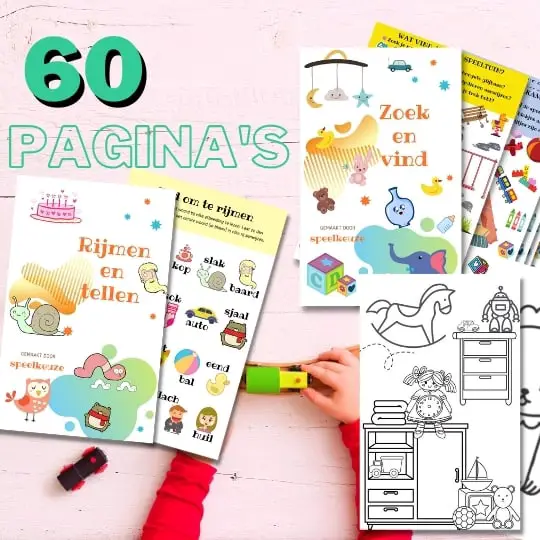 Always something to do for the holidays or rainy day?
Play Choice now has the ultimate activity book collection, with over 60 pages of fun coloring pages and educational puzzles.
Joost Nusselder, the founder of Speelkeuze.nl is a content marketer, father and loves trying out new toys. As a child he came into contact with everything related to games when his mother started the Tinnen Soldaat in Ede. Now he and his team create helpful blog articles to help loyal readers with fun play ideas.