The best indoor playgrounds in the Netherlands for a wonderful day out
I enjoy writing these articles for my readers, you guys. I don't accept payment for writing reviews, my opinion on products is my own, but if you find my recommendations helpful and you end up buying something through one of the links I may be able to receive a commission on that.
More information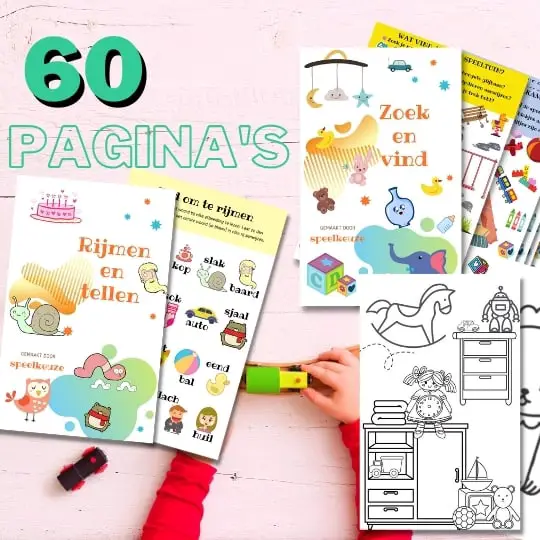 Always something to do for the holidays or rainy day?
Play Choice now has the ultimate activity book collection, with over 60 pages of fun coloring pages and educational puzzles.
An indoor playground can be the ideal solution for rainy days during the summer holidays, a birthday party, a day out with other families or just to have fun on a day off.
Indoor playgrounds are safe, inexpensive and offer hours of fun.
But how do you choose the best indoor playground for your children?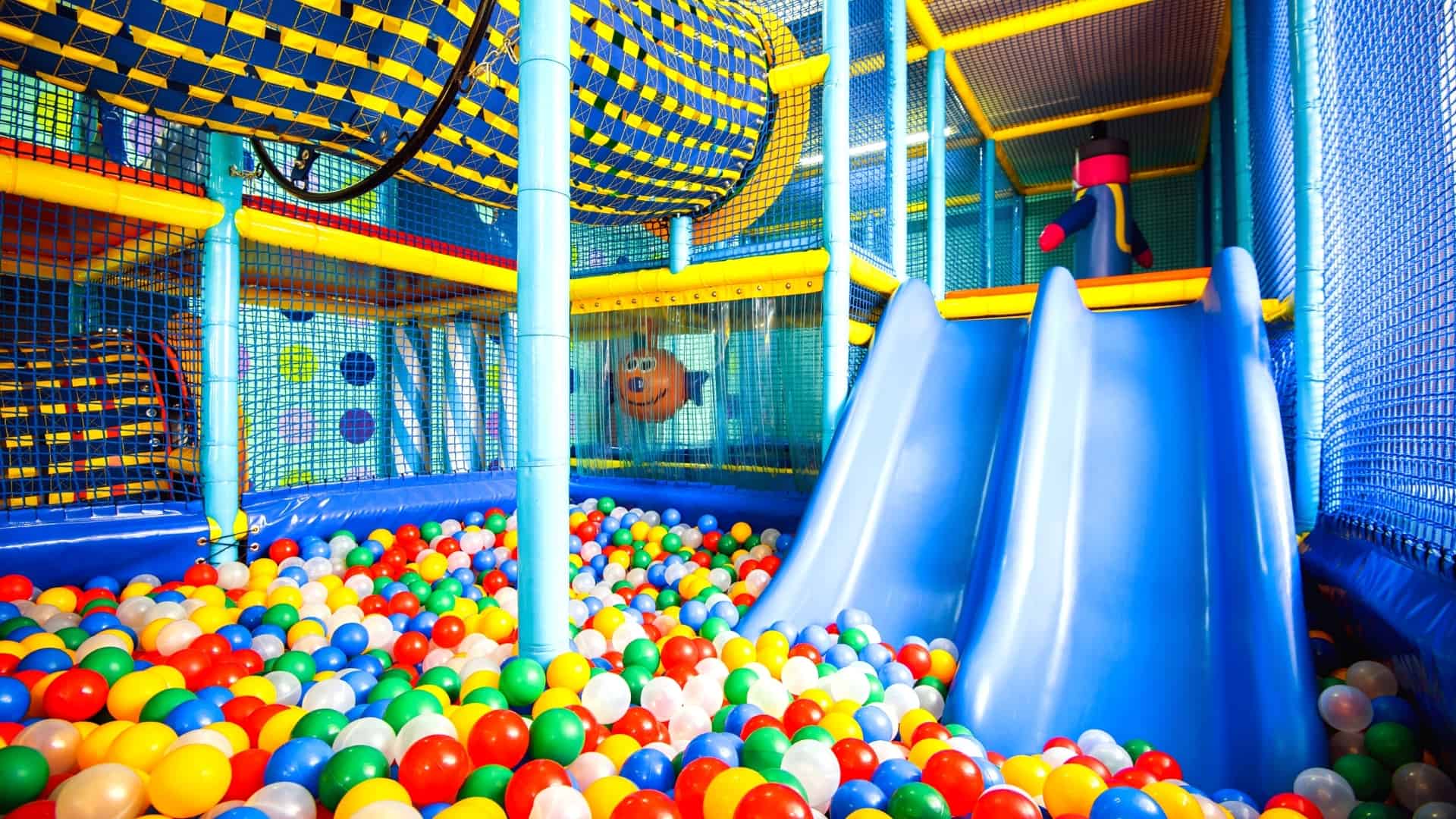 In this article, we will go through some of the best indoor playgrounds in the Netherlands and tell you what there is to do for your children.
The best indoor playgrounds in the Netherlands on the map: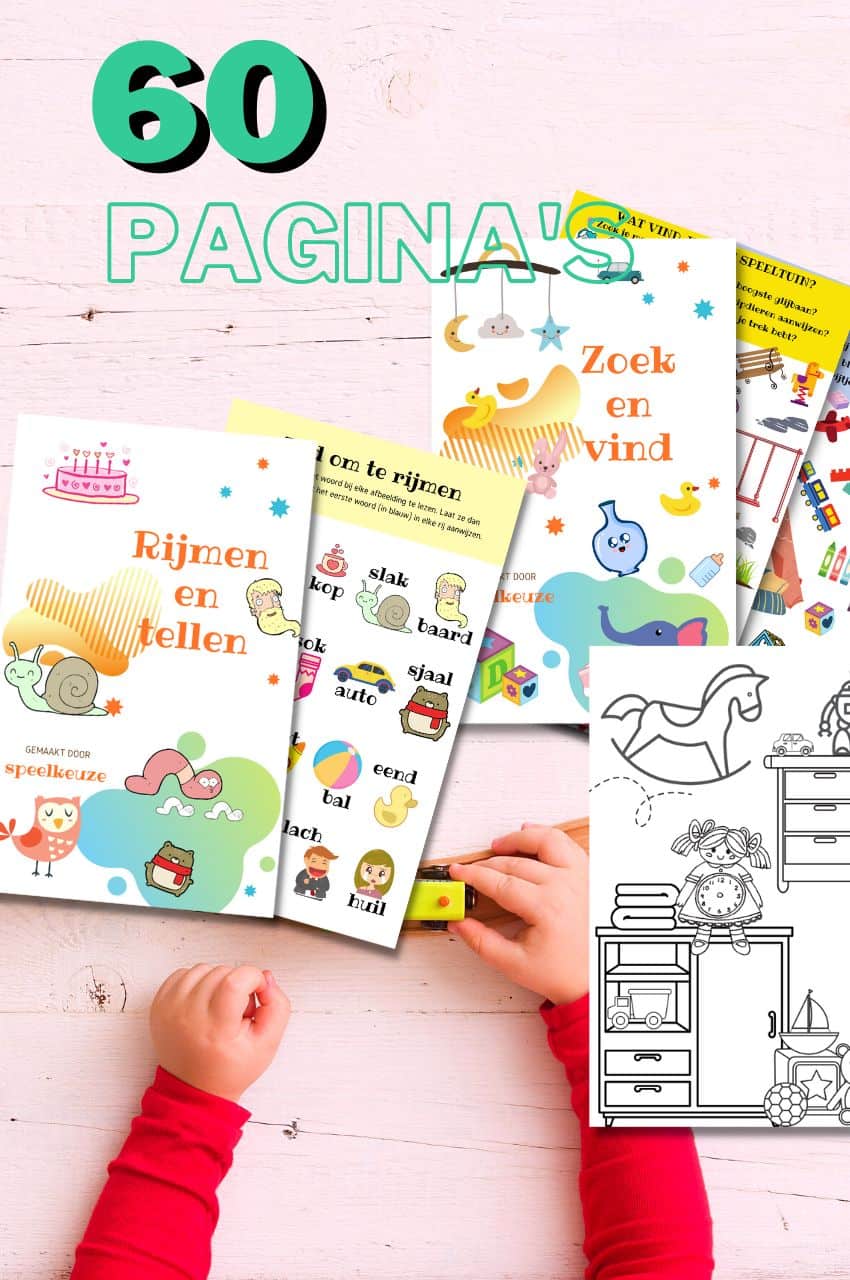 A play theme in your mailbox every month?
Fun play tips, activity books and more, with the first email being our free mini-guide "educational toys"
We will only use your email address for this newsletter and respect your privacy
Top Choices Indoor Playgrounds - Which Are The Most Fun?
Some of the best indoor playgrounds are:
candy castle, located in an old church including a go-kart track
Bubble Jungle in Leiderdorp, with a unique climbing course and play city
ballorig has no less than 43 unique indoor playgrounds in the Netherlands (and also Belgium and Germany)
Later in the article we have many more indoor playgrounds for you, and we will discuss them in detail.
But first now:
What should you pay attention to when choosing an indoor playground?
When choosing an indoor playground, there are several factors that you have to take into account.
If possible, plan the visit to an indoor playground a few days in advance, especially if you are going with several children or families.
Then ask yourself a few questions.
Is there enough variety in the offer and is the playground big enough?
The most important thing to take into account is the size and variation of the indoor playground.
An indoor playground that is too small or offers few different activities can quickly get boring.
Children should be able to enjoy themselves for at least several hours. This way you as a parent also get the time to relax.
For large families with children of different ages, it is also important that there are play options that are adapted to different ages.
A small toddler can have fun in a ball pool, while older children may enjoy exploring a go-kart track or playing video games.
When choosing an indoor playground, make sure that it is suitable for all ages.
Most indoor playgrounds are suitable for toddlers from 3 years old to children from 12 years old - but the offer is sometimes limited, especially for older children.
Is the indoor playground quickly and easily accessible?
Although this is a very obvious factor, we think it is worth mentioning.
Nobody likes to be stuck in traffic for hours on end - and little children at all.
A long return trip can ruin a pleasant visit to an indoor playground and spoil the fun for children and parents.
Moreover, the costs for transport quickly add up.
Therefore, preferably choose an indoor playground in the area, easily accessible by public transport.
Public transport also has the advantage that you do not have to search for a parking space, which can be a problem at many indoor playgrounds in the city, especially on weekends.
Children often also find it more fun to go by train, for example. If you live in the area, the bicycle is also a good option of course.
Is there a possibility to drink and / or eat something in the indoor playground?
Usually a trip to an indoor playground is an activity for at least half a day - sometimes even a whole day. Playing is tiring and you quickly get hungry or thirsty.
Make sure that you can eat and / or drink something in the indoor playground.
Fortunately, most indoor playgrounds have their own restaurant with an adapted children's menu, as well as cold and warm snacks and healthy snacks for in between or during the lunch break.
Prices in these restaurants are not always great budget-friendly.
That is why it can be useful to bring some snacks or drinks with you, or to put together a packed lunch in advance.
Unfortunately, indoor playgrounds do not always allow you to bring your own food or drinks.
When you have to consume everything in the restaurant of the indoor playground itself, this quickly becomes an expensive matter.
Some indoor playgrounds offer the possibility to combine the entrance fee with one or more snacks or drinks.
How much does access cost and are there special discounts?
Indoor playgrounds are, in most cases, a pretty cheap trip.
Admission for children costs an average of about five to twenty euros, adults can in many cases enter for free.
It is not uncommon for an indoor playground to increase its prices on weekends, school holidays, or public holidays.
If you want to take advantage of lower prices, go on weekdays or when it is quieter if possible - this is not only cheaper, but also a lot more pleasant by avoiding queues.
Many indoor playgrounds also offer strip tickets or even subscriptions. For example, by choosing a ten-ride ticket, you can also get a discount.
If you are going to an indoor playground for a special occasion or with a large group, you may need a little more than just entrance tickets.
Are there special formulas for children's parties?
Indoor playgrounds are an ideal choice for a birthday or children's party.
You can go there with a large group of children and the range of different activities is large enough for several hours of fun.
Consult the website to make an appointment in advance for a children's party.
You often get an extra discount on admission with large groups of children, and there is a special formula that includes snacks, a meal or extra entertainment.
However, at most playgrounds you have to book this in advance.
Is the indoor playground connected to another park?
Some indoor playgrounds, such as the Orchideeënhoeve (see below), are linked to other theme parks or a nature park.
You usually pay a little more for this, but it does add value to your trip.
The more versatile an indoor playground, the less likely your children will get bored.
Not all children are fond of a busy indoor playground, and then a nature park with beautiful birds, turtles, butterflies, reptiles and tropical flowers, for example, is a nice change.
In the summer it is also nice if a playground is not only indoor, but also has an outdoor area.
This way you and your children can enjoy the fresh air and the beautiful weather, but at the same time you have the certainty that your trip will not fall into the water when it starts to rain.
What are the best indoor playgrounds in the Netherlands?
Now that you know what to look for when choosing an indoor playground, let's now take a look at the playgrounds.
What is the most popular indoor playground in Amsterdam?
The most famous indoor playground in Amsterdam is perhaps Candy Castle Speelparadijs.
Candy Castle is located in a unique location, namely a restored, monumental church. In combination with the colorful, brand-new decor and the candy theme, this provides a unique playing experience.
Candy Castle is accessible for € 8,50 per child, which we like is that the prices for snacks and drinks are not too bad here. Parents and supervisors can enter for free.
This is a 'classic' play paradise with climbing equipment, ropes, trampolines and colorful mazes in which children between 1 and 12 years old can enjoy themselves to their heart's content.
In addition, Candy Castle also has its own go-kart track for older children, and a giant ball pool and a separate play area for the little ones.
Parents can enjoy a cup of coffee or a sandwich in the restaurant area while their children let off steam on the toys.
When it's time for a break, the kids too can enjoy a good range of snacks and refreshments.
Nice to know: Candy Castle also has special arrangements for school trips or children's parties, for example to celebrate a birthday.
You must reserve this in advance, it is best to do so via the website or by telephone.
Candy Castle Play paradise, Erik de Roodestraat 14, 1056 AM Amsterdam
Where can you find the largest indoor playground in the Netherlands?
The largest indoor playground in the Netherlands can be found in Utrecht, KidZcity.
For the price of € 12,00, children can enjoy a play park of more than 5000 square meters, with dozens of attractions.
How about cool bumper cars, a giant maze or family slide, a cozy safari train or a horse carousel for the little ones?
KidZcity is a great play paradise for families with young and slightly older children, due to the wide variety of toys. Larger groups of children can also enjoy themselves here.
In general, we can say that this play paradise is slightly more expensive than the average indoor playground, especially because adults also pay entrance here.
KidZcity is open on most holidays and Sundays, making it an ideal outing on a long weekend when other attractions or playgrounds remain closed.
In the center of the KidZcity play zone there is a sitting area from which parents can watch over their children and enjoy a meal or drink and free WiFi.
Of course there is also a separate menu for children.
Kidzcity, Vlam Pijpstraat 79, 3534 AR Utrecht
What is the best indoor playground for toddlers and preschoolers?
To give the little ones a nice day, we recommend Bubble Jungle in Leiderdorp.
This theme park has a large play zone with various toddler and toddler corners, an adapted roller track, a large ball pool and various 'quiet' activities such as a Lego corner or a glow-in-the-dark mini golf course.
In addition, on weekdays there is a toddler morning where toddlers can enjoy the entire playground at a reduced rate.
That does not mean that slightly older children cannot have fun here.
Bubble Jungle is big enough that there are also plenty of more challenging activities, such as trampolines, adventurous climbing equipment, a real power tower and the crashing bubble cars.
As with other indoor playgrounds, you will find a pleasant relaxation zone here where both parents and children can relax and enjoy a small snack or drink.
The prices of Bubble Jungle are very similar to those of other indoor playgrounds in the Netherlands: € 8,50 for children, and adult supervisors can enter for free.
Adventure city the Bubble Jungle, Vlasbaan 7, 2352 AH Leiderdorp
What's the best indoor playground in the area?
Ballorig is the best-rated children's play paradise in the Netherlands, and thanks to its 38 locations, there is always one nearby.
This children's playground started in 1996 as the first play paradise in the Netherlands, but quickly expanded to numerous smaller locations.
Ballorig's target group is clearly younger children, with simple and colorful toys, bouncy castles and large ball pools that stimulate motor development.
The restaurant's menu also contains many adapted and healthy snacks for small children.
Naturally, each Ballorig location has a slightly different layout, but there is a central seating area everywhere where parents or supervisors and children can relax for a while between playing.
The prices at Ballorig are comparable to those of other smaller indoor playgrounds.
You can also go there for a birthday party, then you will receive a special group rate with some nice extras and snacks for an unforgettable party.
You can find Ballorig branches throughout the Netherlands:
Ballorig Assen, Zuidenveld 133, 9406 LK Assen
Ballorig Emmen, Oosterbracht 11, 7821 CC Emmen
Ballorig Arnhem, Hazenkamp 36, 6836 BA Arnhem
Ballorig Hattem, Apeldoornseweg 1F, 8051 AA Hattem
Ballorig Zutphen, Dreef 12, 7202 AG Zutphen
Ballorig 's-Hertogenbosch, Geerke 2, 5235 HH' s-Hertogenbosch
Ballorig Tilburg, Von Suppéstraat 35A, 5011 EE Tilburg
Ballorig Veldhoven, De Run 5201, 5504 DC Veldhoven
Ballorig Houten, Cable-stayed bridge 3, 3991 LC Houten
Ballorig Utrecht, Mississippidreef 22, 3565 CG Utrecht
Ballorig Veenendaal, Galileistraat 3, 3902 HR Veenendaal
Ballorig Almere, Scoutingpad 1, 1351 GN Almere
Ballorig Lelystad, Badweg 17a, 8223 PA Lelystad
Ballorig Groningen, Bieskemaar 1, 9735 AE Groningen
Ballorig Hoogezand Sappemeer, Kees de Haanstraat 71, 9611 HS Sappemeer
Ballorig Amsterdam Arena, Johan Cruijff Boulevard 240, 1101 DJ Amsterdam
Ballorig Amsterdam Gaasperplas, Valburgdreef 1001, 1108 AW Amsterdam
Ballorig Beverwijk, Parallelweg 120, 1948 NN Beverwijk
Ballorig Den Helder, Willemsoord 51, 1781 AS Den Helder
Ballorig Heerhugowaard, WM Dudokweg 1, 1703 DA Heerhugowaard
Ballorig Hoorn, Wogmergouw 4, 1689 PC Zwaag
Ballorig Zaandam, Mahogany 6, 1507 ED Zaandam
Ballorig 's-Gravenzande, Monsterseweg 129b, 2691 JE' s-Gravenzande
Ballorig Alphen aan den Rijn, Rijnhavenkade 2, 2404 HB Alphen aan den Rijn
Ballorig Gouda, Mayor of Reenensingel 125, 2803 PA Gouda
Ballorig Vlaardingen, Parallelweg 4c, 3131 DG Vlaardingen
Ballorig Drachten, Dopplerlaan 26A, 9207 HC Drachten
Ballorig Heerenveen, Pim Mulierlaan 51, 8443 DA Heerenveen
Ballorig Sneek, Alexanderstraat 10A, 8606 VP Sneek
Ballorig Maastricht, Oosterweg 5, 6245 LC Eijsden
Ballorig Nieuw Bergen, De Flammert 1012, 5854 NA Bergen
Ballorig Roermond, Elmpterweg 48, 6042 KL Roermond
Ballorig Sittard, Lisbonlaan 30, 6135 LE Sittard
Ballorig Venlo, Winkelveldstraat 5, 5916 NX Venlo
Ballorig Enschede, JJ Van Deinselaan 30, 7541 PE Enschede
Ballorig Nijverdal, Van Den Bergsweg 3, 7442 CK Nijverdal
Ballorig Wijhe, Handelsweg 10, 8131 XX Wijhe
Which indoor playground is best for children's parties?
Most indoor playgrounds have special formulas for birthday parties or parties.
At the indoor playground of Spelekids you can organize different types of parties.
It is a large indoor playground where, in addition to the classic climbing, jumping and scrambling options, you will also find many fun activities such as bowling, fluor golf or laser games, ideal for older children.
The parties at Spelekids are suitable for small and large groups of children, from 3 to 12 years old.
They include a special package with access for all attendees, a gift for the birthday boy or girl, surprises and a few snacks and drinks of your choice.
Prices vary between 10 and 15 euros per child.
Spelekids also regularly organizes larger theme days or events, for example for Sinterklaas.
These are fun gatherings with special activities such as treasure hunts, children's disco and other surprises.
The great thing about this is that the admission prices remain unchanged, for both children and adults.
Finally, Spelekids is also available to organize your own, larger party. Consider, for example, a maternity party or an entire family party.
Organizing parties at Spelekids or other indoor playgrounds has several advantages.
To start with, you don't have to worry about the organization yourself. Spelekids offers plenty of space and an adapted menu tailored to your budget.
Especially for large families with many children, it can be more practical to use a playground for a family party than to organize it yourself.
You don't have to prepare anything or provide animation yourself.
Children can enjoy playing for hours, so they will happily come and stay while adults have a nice dinner.
An indoor playground is also a good option for older children.
Many playgrounds offer the possibility to organize additional activities, such as mini golf, a game of bowling, laser tag or even paintball.
This way everyone has a good time and it remains fun all the time, without nagging children who are bored.
Indoor play paradise Spelekids, Industrieweg 12, 1231 KH Loosdrecht
What are the best alternative indoor playgrounds?
Not all indoor playgrounds are full of flashy, modern and new toys and the latest games.
That is not necessary at all, because children can enjoy themselves just as well in an alternative indoor playground.
The Happyfarm in Terschuur is a good example of this.
This playground combines nature and fun. The play paradise contains slides, climbing ropes, snoezel areas and racing tracks for children from 3 to 12 years old.
However, Happyfarm is more than a playground, it is also a small petting zoo. Children can meet different animals such as rabbits or go for a ride on a pony.
Especially in the summer, when the weather is nice, it is very nice to be able to play both indoors and outdoors.
The prices at Happyfarm are slightly lower than the average for traditional indoor playgrounds. Toddlers can enter for free, adult supervisors pay a reduced rate.
The Happyfarm cafeteria menu is simple but cheap, with a variety of small snacks and soft drinks at budget-friendly prices.
happy farm, Drunkelaarseweg 28, 3784 WB Terschuur
Is it possible to combine indoor playground and zoo?
An indoor playground and animal park are two of kids' favorite outings.
In addition to a petting zoo such as Happyfarm, there are also playgrounds with exotic animals and plants, such as the Orchideeënhoeve.
Exotic flamingos, tropical butterflies and rare flowers, you can admire it all in the Orchideeënhoeve; you will also find turtles and reptiles.
In this subtropical indoor playground your children will imagine themselves completely in the jungle.
At the same time, you as a supervisor or parent can keep a close eye on everything while you enjoy a sandwich or a cup of coffee.
In the Orchideeënhoeve you will of course find beautiful and rare flowers, and flower arranging workshops are possible for slightly older visitors.
If you want to discover the exotic animals and plants with your children, you can follow the jungle paths through the farm.
Access to the Orchideeënhoeve costs € 12 for children up to 8,50 years, adults pay € 14,50 here. That makes the trip slightly more expensive than with some 'normal' indoor playgrounds.
Orchid farm, Oosterringweg 34, 8315 PV Luttelgeest
Where is the best place for children to climb and clamber?
Toddlers and slightly older children alike love to have fun in a playground with ropes, towers, climbing walls and ladders. Of course this must be done on a safe and adapted climbing course.
Both the little ones and older children can climb and clamber to their heart's content in the indoor play paradise Monkey Town.
They have about thirty climbing paradises spread across the Netherlands, with numerous attractions and activities for hours of climbing fun.
Thanks to their low rates and group formulas, Monkey Town is also ideal for class trips or birthday parties.
monkey town has many locations throughout the Netherlands:
Monkey Town Franeker, Mayor J. Dijkstraweg 3, 8801 PG Franeker
Monkey Town Leeuwarden, Snekertrekweg 39, 8912 AA Leeuwarden
Monkey Town Wolvega, Grindweg 124, 8471 EM Wolvega
Monkey Town Alkmaar, Nijenburgerweg 13, 1812 LT Alkmaar
Monkey Town Amsterdam, Zuidermolenweg 32, 1069 CG Amsterdam
Monkey Town Bussum, Zanderijweg 10-12, 1403 XV Bussum
Monkey Town Diemen, Sniep 26, 1112 AH Diemen
Monkey Town Haarlem, Menno Simonszplein 21, 2014 SC Haarlem
Monkey Town Purmerend, Grotenhuysweg 102, 1446 HZ Purmerend
Monkey Town Schagen, Groeneweg 1, 1741 TZ Schagen
Monkey Town Uitgeest, Molenwerf 20, 1911 DB Uitgeest
Monkey Town Uithoorn, Noorddammerweg 30, 1424 NX De Kwakel
Monkey Town Apeldoorn, Sleutelbloemstraat 71D, 7322 AJ Apeldoorn
Monkey Town Arnhem, Cruquiusweg 3A, 6827 BL Arnhem
Monkey Town Doetinchem, Edisonstraat 1, 7006 RA Doetinchem
Monkey Town Ede, Vening Meineszstraat 4, 6717 AJ Ede
Monkey Town Voorthuizen, Apeldoornsestraat 46, 3781 PN Voorthuizen
Monkey Town Wijchen, Nieuweweg 201, 6603 BM Wijchen
Monkey Town Almelo, Woonboulevard 40, 7606 JA Almelo
Monkey Town Enschede, Colosseum 82, 7521 PT Enschede
Monkey Town Hardenberg, Grote Beltenweg 1, 7771 SX Hardenberg
Monkey Town Zwolle, Grote Voort 13, 8041 AM Zwolle
Monkey Town Groningen, Peizerweg 74, 9727 AK Groningen
Monkey Town Heerlen, Stadionbaan 50, 6416 CS Heerlen
Monkey Town Venlo, Heymansstraat 101, 5927 NP Venlo
Monkey Town Amersfoort, Middelhoefseweg 10, 3819 AA Amersfoort
Monkey Town IJsselstein, Boerhaaveweg 13, 3401 MN IJsselstein
Monkey Town Leerdam, Industrieweg 23, 4143 HP Leerdam
Monkey Town Maarssen, Safariweg 203, 3605 MD Maarssen
Monkey Town Bergen op Zoom, Langstraat 5, 4661 SE Halsteren
Monkey Town Breda, Tramsingel 48, 4814 AC Breda
Monkey Town Mierlo, Arkweg 3-17, 5731 PD Mierlo
Monkey Town Valkenswaard, Pastor Heerkensdreef 15, 5552 BG Valkenswaard
Monkey Town Waalwijk, Bachlaan 10, 5144 HJ Waalwijk
Monkey Town Bleiswijk, Kooilaan 1a, 2665 KR Bleiswijk
Monkey Town Delft, Rijksstraatweg 39, 2645 BT Delfgauw
Monkey Town The Hague, Westvlietweg 55, 2491 ED The Hague
Monkey Town Gouda, Groenhovenpark 1A, 2803 PH Gouda
Monkey Town Rijswijk, Lange Kleiweg 1h, 2288 GH Rijswijk
Monkey Town Rotterdam, Akkeroord 10, 3079 ZS Rotterdam
Monkey Town Sliedrecht, Leeghwaterstraat 65, 3364 AE Sliedrecht
Monkey Town Spijkenisse, Einsteinweg 6, 3208 KK Spijkenisse
Monkey Town Warmond, Veerpolder 15C, 2361 KX Warmond
Where can you find the largest ball pool?
The indoor playground Zwierelantijn is ideal for children who would like to enjoy themselves in a giant ball pool.
But a large slide, watchtower and a real haunted house are also possible here.
The Zwierelantijn is beautifully decorated and has a large restaurant with an extensive menu.
In addition, the playground is connected to a campsite - certainly worth considering for those planning a great camping holiday with the children.
The Zwierelantijn is located near Domburg, so a trip is ideal to combine with a morning or afternoon at the coast.
Indoor Playground Zwierelantijn, Zuiverseweg 2, 4363 RJ Aagtekerke
Prefer to be at home in the ball pit? read 16 Best Ball Pits Reviewed for Good Home Romping.
Where can you play glow-in-the-dark mini golf?
Glow-in-the-dark golf, also known as golf-in-the-dark, is an increasingly popular concept that is combined with indoor playgrounds or other attractions.
Many Dutch arcades have a small indoor mini golf, but you may find the largest and most fun in Woerden, at the Pretfabriek.
De Pretfabriek is a medium-sized indoor playground with plenty of space for different types of children's parties and trips with larger groups.
The glow-in-the-dark mini golf at the Pretfabriek contains no less than 18 holes in an atmospheric, dark hall full of neon and glow-in-the-dark decoration, moving sets and special sound effects.
The glow-in-the-dark mini golf of the Pretfabriek is especially suitable for children from 8 years old, but smaller children are also welcome.
Admission can be combined with a visit to the indoor playground, a children's party or simply bought separately at a special rate.
Golf-in-the-dark is a great activity to do with all the family on a rainy day.
An 18-hole glow-in-the-dark mini golf course offers approximately 1 to 2 hours of fun. We recommend combining this with other activities, especially if smaller children are present.
Fun factory Woerden, Baltic Sea 8, 3446 CH Woerden
Other indoor playgrounds that offer this include Bubble Jungle, Monkey Town or Adventuretown.
Can I combine a visit to an indoor and outdoor playground?
Yes, there are many combined indoor and outdoor playgrounds where children can play wonderfully - some examples are Happyfarm, the Joepie indoor playground in Breda or Plaswijckpark in Rotterdam.
Plaswijckpark is a slightly more expensive playground and amusement park, with admission prices from € 14,50 for children and adults.
However, the park is large enough for a full day of fun and also provides entertainment for older children, making the higher entrance fee more than worth it.
In addition to classic climbing and clambering racks, water fun and a mini train, this park also has a real zoo, a go-cart track and a large picnic area.
You can also stroll through the rose garden or along the many fountains with the whole family.
Because many attractions can be found outside, we recommend Plaswijckpark especially in good weather or in summer.
The indoor playground is large enough for a few hours of fun, but it is a shame to ignore so much animal and hiking fun when it rains or is too cold.
Unlike many other (indoor) playgrounds, Plaswijckpark is allowed to bring and consume your own packed lunch and / or drinks.
For example, a visit to the playground becomes a lot cheaper when you have a limited budget.
Plaswijck Park, Ringdijk 20, 3053 KS Rotterdam
With the children to an indoor playground
Finally, in a nutshell what you should pay attention to when you go to an indoor playground with the kids:
Entrance prices are between € 5 and € 20 per child, adults often have free admission
A good indoor playground has a varied offer for younger and older children
Preferably combine an indoor playground with activities such as mini golf, laser gaming or karting
When choosing, also take into account lunch or snack options and the prices on the menu
Always book in advance for children's parties or school trips to get the best prices
Lots of fun!
Prefer in the water? Check out our overview for it Best indoor swimming pool: subtropical swimming paradises in the Netherlands.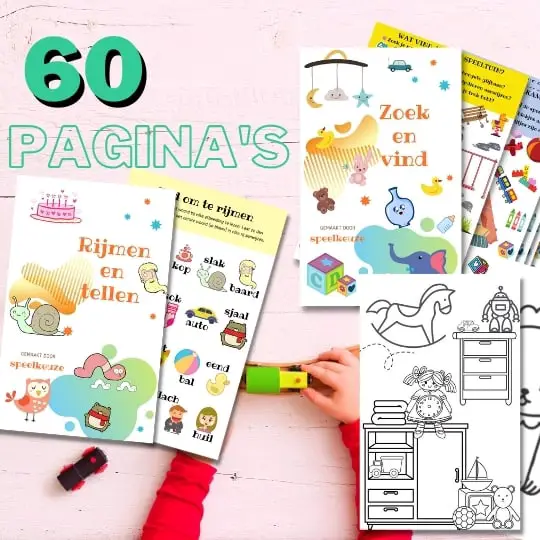 Always something to do for the holidays or rainy day?
Play Choice now has the ultimate activity book collection, with over 60 pages of fun coloring pages and educational puzzles.
Joost Nusselder, the founder of Speelkeuze.nl is a content marketer, father and loves trying out new toys. As a child he came into contact with everything related to games when his mother started the Tinnen Soldaat in Ede. Now he and his team create helpful blog articles to help loyal readers with fun play ideas.