Nicest restaurant with play corner | Top locations throughout the Netherlands
I enjoy writing these articles for my readers, you guys. I don't accept payment for writing reviews, my opinion on products is my own, but if you find my recommendations helpful and you end up buying something through one of the links I may be able to receive a commission on that.
More information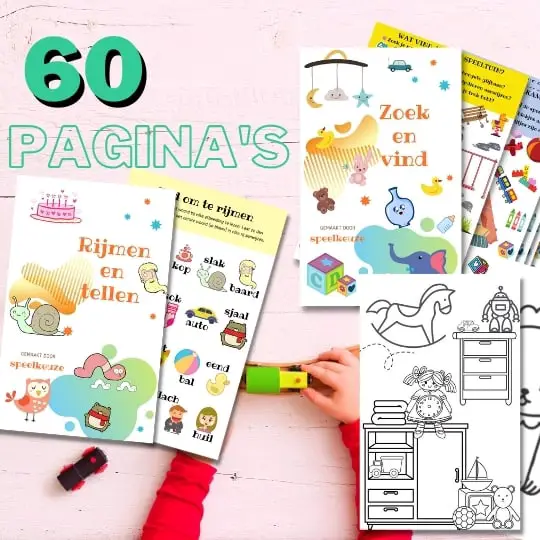 Always something to do for the holidays or rainy day?
Play Choice now has the ultimate activity book collection, with over 60 pages of fun coloring pages and educational puzzles.
As a parent, you need a break every now and then: it is nice to organize a family dinner, but you would - if possible - also like to relax while eating a nice meal!
Of course, you as a parent can do your best to entertain your child in a restaurant.
You can bring a few toys and just don't order a multi-course meal. This way you can keep the family dinner reasonably 'child-friendly'.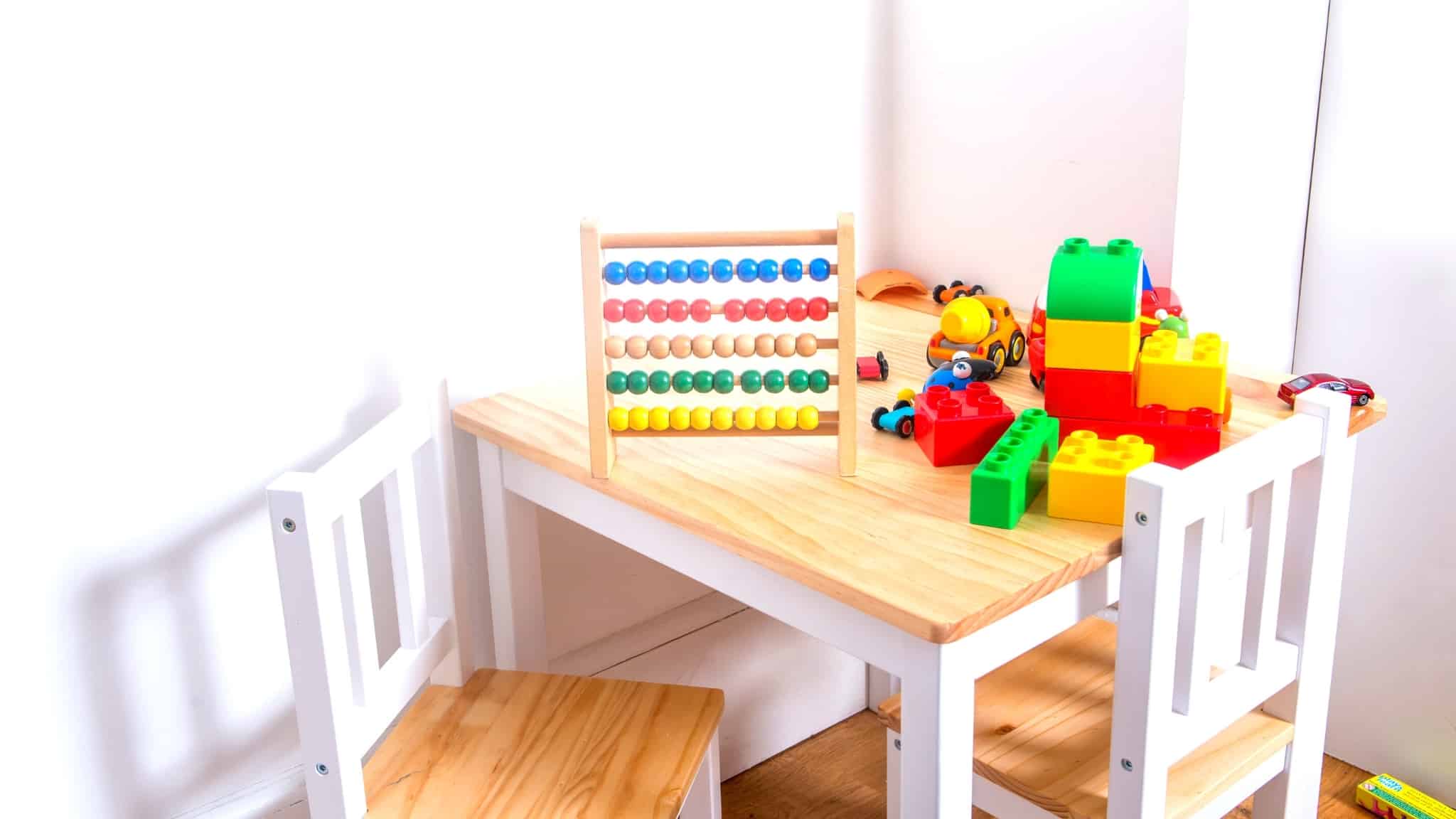 However, during the meal in a 'kids friendly' restaurant, your children will have a great time, they really don't want to go home quickly and you will have a good time too!
How nice is it to know a few child-friendly restaurants that adapt to our kids?
We adults prefer, of course, restaurants with a nice menu too. We have good news for you… they exist!
The time is yours, order multiple courses with confidence… your children don't want to go home yet!
Have you become curious and would you like to know which are the best child-friendly restaurants in the Netherlands?
Below we have some very good tips for you.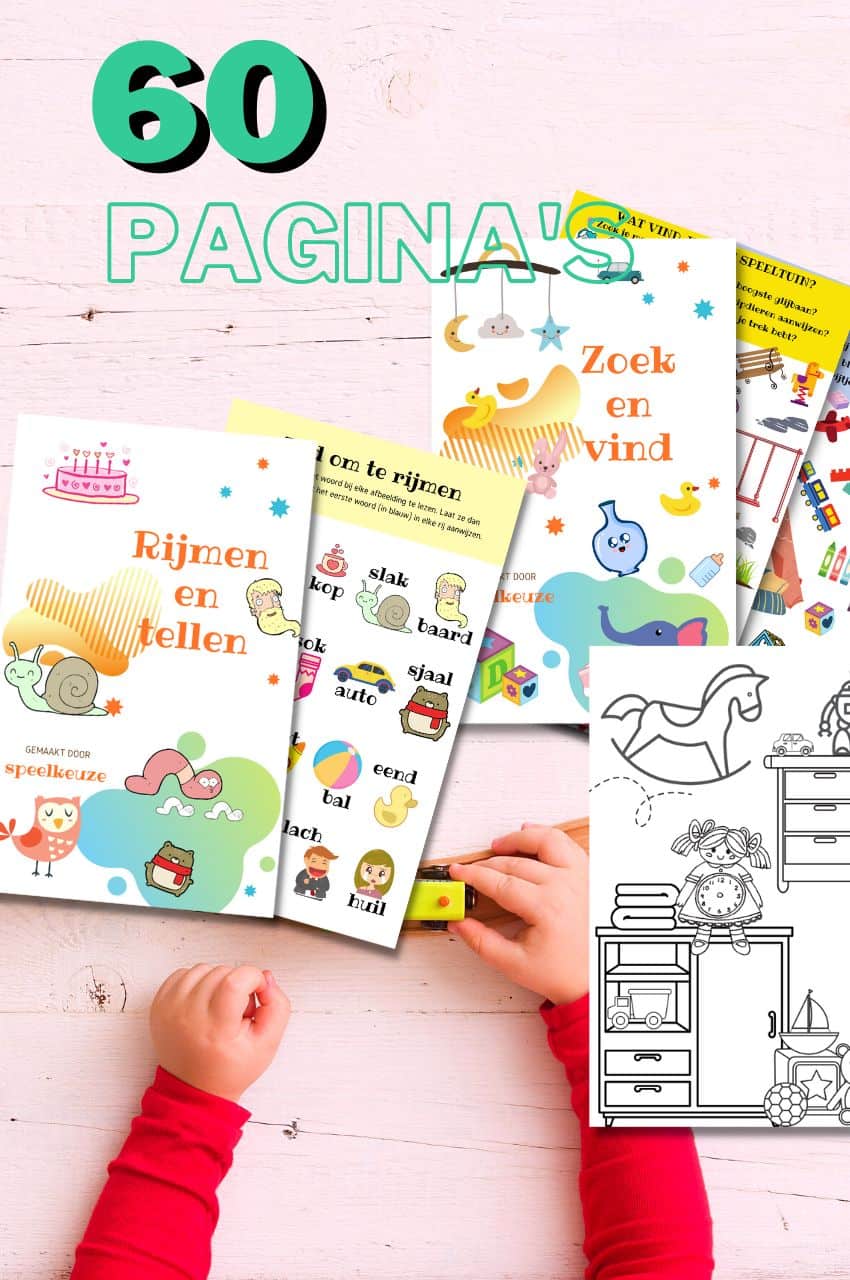 From toddler to toddler activity book collection
Educational games and coloring pages for 3 to 6 years
Your toddler and preschooler will love this e-book, along with the accompanying printables. He or she can play with it at every stage of development, together with mom and dad.
Buy at Bol.com
Nicest restaurants with a play corner on the map of the Netherlands
[map-multi-marker id="86″]
What is the best restaurant with children's entertainment?
Let's start with our absolute favorites, the restaurants worth a detour.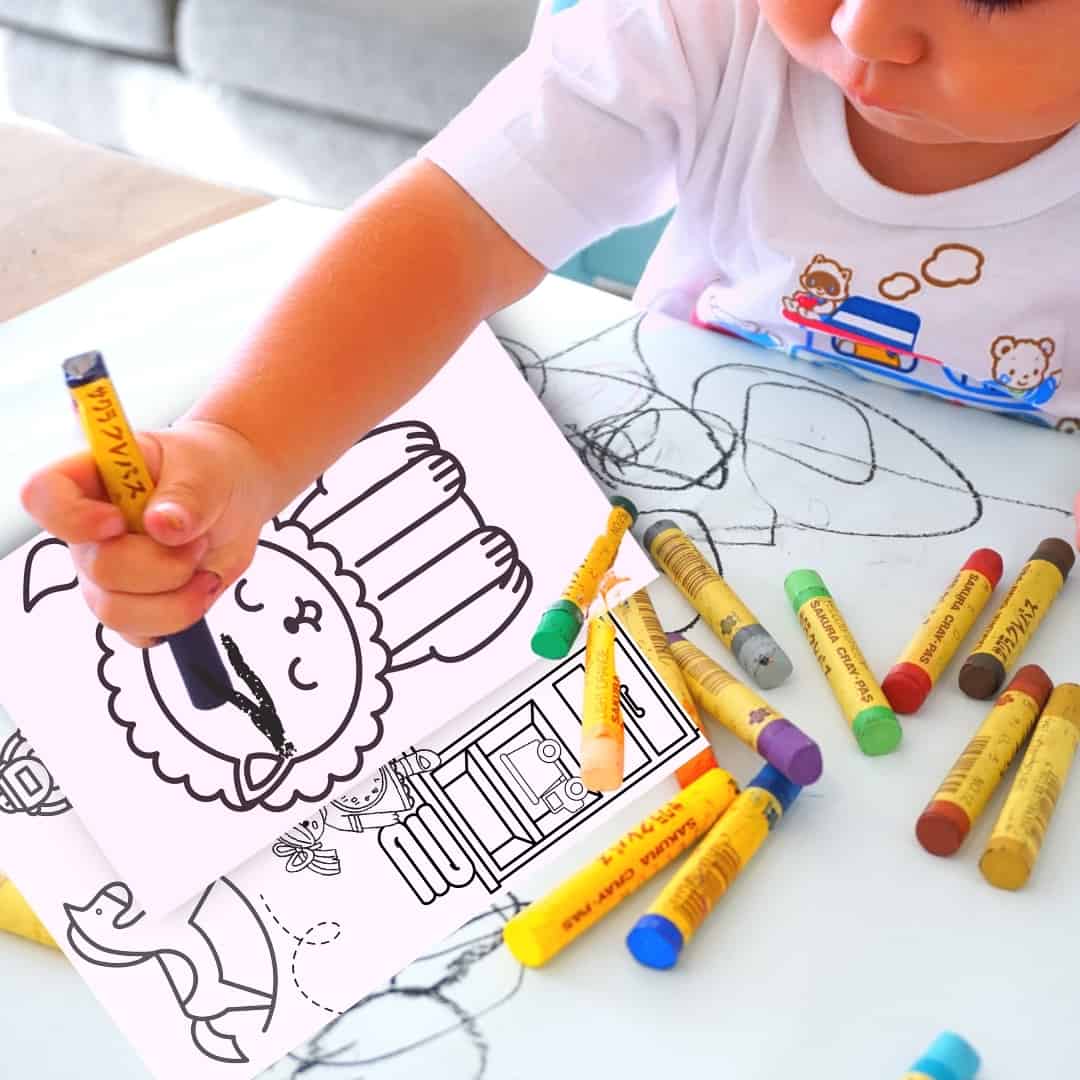 Coloring pictures
The coloring pages are always fun to do. I've made a few for the little ones, with big shapes and big pictures, plus a whole bunch with more coloring like the nursery, all in our free activity book collection.
Restaurant Stroming - Heerhugowaard
It is delicious food and drink at Restaurant Stroming in Heerhugowaard.
And what about the kids? They play and have fun!
At Stroming your kids can play - wonderfully and honestly - in the cozy children's kitchen, they can also build with Lego or just draw and color.
In this quiet, modernly designed environment, parents can escape their busy schedule.
You can enjoy a delicious lunch or spoil your taste buds with the surprising 'inflow menu'.
There is a special children's menu - with plenty of choice - for the young guests. Of course they can also choose a dish from the large menu, which then comes in a smaller portion.
Seasonal, organic local produce is served. We are talking about the best fresh products, from our own environment.
Stroming shows respect for nature, for people as well as for plants and animals.
Restaurant Flow - Coolplein 6 1703 XC Heerhugowaard
Hans & Gretel pancake house & play park - Zeewolde
We also believe that Hans and Grietje pancake house & play park in Zeewolde certainly belongs in 'the best restaurants with children's entertainment'.
Fairytales come true in the most magical pancake restaurant ever!
There are moving floors, enchanted ceilings and "floating" tables and your children set everything in motion themselves.
In the meantime, you can enjoy their delicious pancakes.
With the indoor slides your child slides to the large play basement, but it is also possible to play in smaller play areas.
Your child may prefer to play outside when the weather is nice, so there are great trampolines and bouncy castles!
Your kids will fly back and forth on the famous Schommelplein, before taking a break in the haystack.
Did you know that there is a real sweet house? The same as from the fairytale! Children can play the Hansel and Gretel adventure there.
There is a cool one for the tough kids go-kart circuit with gas station, it has a drawbridge and a lifelike car wash.
Hans & Gretel Pancake House - Sternweg 2a, 3898 LJ, Zeewolde
Nicest child-friendly restaurant
You know, at some restaurants the staff turns their eyes as soon as you step in with your family.
Not with these recommendations, however! Children are very welcome here, and you will notice that right away.
The Turfmarkt - Alkmaar
Eating out with the children at The Turfmarkt?
Your little ones will lack nothing there. The Turfmarkt has a children's corner with all kinds of games.
If the little ones like to run around outside, you can do that too.
Keep an eye on! The Turfmarkt has a - lovely - terrace, but on the water. Great that there are life jackets available at the bar.
The Turfmarkt in Alkmaar is a very nice place with children, nice and spacious with a play corner for kids. It is a hip restaurant on the water, within walking distance of the center.
In summer it is wonderful to have lunch here, on the terrace by the water and in winter the terrace becomes a beautiful, closed conservatory.
A cup of tea with the newspaper, a cozy lunch for families, or a delicious bite to eat. Everything is possible at the Turfmarkt.
The children's corner is a nice place to play and if you want, you can sit at a table near your child.
Parking is nice and easy, because there is a parking garage next to The Turfmarkt.
The Turfmarkt - Turfmarkt 11-23, 1813 SC Alkmaar
The Tropics - Amsterdam
Do you already know The Tropen café-restaurant? It is a child-friendly place, located in the Royal Tropical Institute on the edge of the Oosterpark.
A nice, green place to enjoy a complete menu or a (kids) drink To Go.
The Tropen has a pleasant terrace where you can relax, while the kids play in the beautiful courtyard.
The extensive menu is multiculti; from snacks to large dishes from Dutch to African, it's all there!
Taste the delicious sweet potato fries with your surprising Tropenburger. For the little ones there are pancakes and a serious Monkey sandwich!
You can also pick up a drink and children's picnic bag and chill out in the park.
Cafe restaurant de Tropen thinks of young and old and their menu is also renewed every 3 months!
The restaurant is part of the KIT Royal Tropical Institute. KIT is a not-for-profit organization for sustainable, international and intercultural cooperation.
By drinking each individual beer, or eating a vegan bitterbal or cake, you contribute to the sustainable projects of this institute.
Projects such as health care, sustainable economic development and gender equality in low and middle income countries.
Other than that, it is just a real hotspot in Amsterdam East! The ideal place for a fun day out for adults and kids.
The Tropen, located in the pleasant Oosterpark, has a paddling pool for the little ones a stone's throw away.
The Tropen is also easily accessible for disabled people. Call them in advance and someone will be ready to help you!
Your visit contributes enormously to initiatives that make the world a bit friendlier and more sustainable; after all, all the profit that this cafe restaurant makes goes to KIT.
The Tropics - Mauritskade 64, 1092 AD Amsterdam
Nicest restaurant with indoor playground
An outdoor playground is great, of course, but not when it is chilly, wet and cold outside.
At these restaurants they have a nice indoor playground, so you can always go there, regardless of the weather.
Restaurant AAP - Alphen (NB)
A piece of South Africa in Alphen (NB) and there all delicious South African food? That is possible, because children are counted on at Restaurant Aap!
They simply think it is great to receive children there. Restaurant Aap has been voted the best child-friendly restaurant in North Brabant.
Eating healthy and being environmentally conscious, that's what Restaurant Aap is all about.
Children from the age of 3 can have a great time in the cool play jungle and there is even a babysitter who can tinker with your child.
It's also nice that so much attention is paid to healthy nutrition. Nowadays more and more vegetable products are used in their dishes.
How great that their bread, butter, mayonnaise, frying oil and cappuccino are all vegan and GMO free!
Be sure to visit South African Restaurant Aap with your family; very special dishes are served such as zebra and crocodile - beware this is really surplus meat! - for the meat lovers, but also Bobotie, Biryani, Bunny Chow and Samosas.
This is not to say that there are no delicious simple dishes, for those who are not that adventurous in terms of food.
At Restaurant Aap, everyone feels like they are in South Africa.
The tasty African dishes sometimes have a somewhat Dutch twist. Meat, fish or vegan dishes, they have it all at Vegan Friendly:
Restaurant AAP - Terover 3, 5131 RA Alphen (North Brabant)
Kosteluk Fun & Food - Egmond aan den Hoef
Your children will have hours of fun in the cool indoor children's paradise, the swimming pool, or on the beach with various playground equipment at Kosteluk Fun & Food in Egmond.
Here you can go with your kids for a costume breakfast and lunch, as well as a good dinner and a drink. If you come for lunch or dinner, your children will get a free game!
In the indoor play paradise of no less than 200 m2, the children can of course also enjoy themselves 'costly'!
There are always a few boxes of toys for the little ones, should the play paradise be too daring.
In the play paradise itself it says an air hockey table and the game 'Catch the light'.
There are also all kinds of old-fashioned games such as: Checkers, Don't get annoyed, Backgammon, Chess, Yahtzee, Goose board, Scrabble, Rummikub, and for the little ones Memory and Lego.
There is a slide, but also exciting is the large climbing and crawling area with all kinds of obstacles along the way that have to be overcome.
During the weekends and holidays there is usually entertainment for the children and in good weather you can also play outside!
Kosteluk Fun & Food - Driehuizerweg 8, 1934 PR Egmond aan den Hoef
Nicest restaurant with outdoor playground
Is it nice and sunny outside, and do you fancy a long summer evening out for dinner with the kids?
Then take a look at these nice restaurants with a great outdoor playground.
New Westert - Egmond-Binnen
Gasterij Nieuw Westert is a very cozy restaurant in Egmond Binnen. You can fully enjoy nature here in the dunes every season.
There is a large outdoor playground in the form of a play forest, with swings, a swing rope, a climbing forest, horizontal bars and a lot of thick tree trunks that your child can walk on.
There is a lovely terrace and excellent food for mum and dad!
Before dinner you can take the family for a nice walk in the dune area and afterwards - when it is cold outside - you can sit by the fireplace to drink a mug of hot chocolate.
It is also a great place to have a drink with friends and friends, while the children romp in the Speelbos.
Good food, peace and space: if that's what you're looking for for your family outing, then let yourself be pampered at Gasterij Nieuw Westert.
This attractive farm is beautifully situated in the dunes of Egmond! In summer you can sunbathe on the terrace and then enjoy a delicious meal. The beautiful dishes and all regional products change every month.
The chef provides responsible products, preferably from their own region as much as possible. Also ask for their specials!
New Westert - Oude Schulpweg 18, 1935 AND Egmond-Binnen
Catharinahoeve - Den Burg (Texel)
Let yourself be taken back in time at the cozy Boerderij Eethuis Catharinahoeve on Texel!
It is also delicious food and atmospheric relaxation There is a beautiful playground for the children next to the farm.
The little ones can eat well at the charming Catarinahoeve, there are special children's dishes and children's pancakes. There is a coloring picture ready for them, with a set of colored pencils.
The family farm dates from 1684 and has an extensive menu with real Texel specialties, for an affordable price.
Whether you come for a piece of delicious apple pie with a coffee, for lunch, or rather for a full dinner or an aperitif with a snack; everything is possible here.
You can watch the children play from the terrace, on the play and climbing equipment
which are great fun for all ages.
After a long beach or forest walk, you can warm up by the fireplace.
During thunderstorms, rain or hail, it is also possible to play indoors (or do fun rain games like this one). A cool and safe play area has been created on the top floor for our kids.
They can climb and swing on the buoy here, but also watch a video and relax here.
Experience the Texel tradition here; conviviality, hospitality and an extensive menu with Texel specialties. Fish, meat or vegetarian, it is all possible.
The fragrant forest next to this nostalgic farmhouse is perfect for quests or organize games for the children.
Catherinehoeve - Rozendijk 17, 1791 PC Den Burg (Texel)
Nicest restaurant with indoor and outdoor playground
Not sure yet what the weather will be like? Or would you like options for the kids?
You can visit these restaurants with a playground all year round.
The Holle Bolle Boom - Tuitjenhorn
The Holle Bolle Boom has two restaurants for the weekend or 7 days a week:
Restaurant The Pedigree is open on Fridays - for Italian food - and Saturdays for tapas. If you have something to celebrate on Sunday, that is always possible.
Restaurant Het Klokhuis is open daily for a cup of tea or coffee with a snack, lunch, dinner, but also for a drink.
Children from 0 to 11 years old all love the children's buffet and are allowed to play in the Holle Bolle Binnen. Here you can go for indoor fun for children from 0 to 11 years.
Does your child dare to take on the super steep Freefall slide? Or is the slide in the dark Holle Bolle Boom more exciting?
There is a safe mini-horse where they can play carefree for the little ones up to and including the age of three. When the weather is nice, you can play in the pool. Then the Pavilion will also be opened.
A delicious dinner with friends, the family or a party with the whole family? This is the perfect location for a tasty experience. You can also go here for a snack or ice cream.
The Holle Bolle Buiten play park is also full of surprises! Between the hills and games, there is also a splash
Fountain square and there is - in the summer - a Splash and Splash pool open for the little ones, but bigger brothers and sisters can also participate.
In the large Roetsj-Bad your child will experience water adventures with the spectacular slides. Parents have a beautiful view of the playing children from the outdoor terrace.
The Holle Bolle Boom - Bongerdlaan 3, 1747 CA Tuitjenhorn (North Holland)
Lake Lenten - Terherne (Friesland)
Restaurant Het Meer van Lenten in Friesland, is a great and child-friendly restaurant on the beautiful Sneekermeer.
Kids get their own children's menu, with dishes that are served especially for them.
There are jetties - so also nice if you come by boat - and you can enjoy a wonderful view of the water, with all the boats passing by.
Next to the restaurant there is a nice playground, nice in the sand. Your children can play here get rid of their energy.
The terrace is high, so you have a perfect view of the kids. The playground is surrounded by a large fence so they can play safely.
After playing in the sand, the children can rinse their hands and feet themselves at a low sink.
There is also a cozy children's play area inside. The children will certainly enjoy themselves here.
Just drop by Restaurant Meer van Lenten with your family.
The kids can have fun while you enjoy a nice lunch or dinner with a view of the beautiful Snekermeer.
Lake of Lenten - Ûtbuorren 50, 8493 MA Terherne
The best educational restaurant for children
Looking for dinner with a little extra? Look no further than these kid-friendly restaurants with an educational twist.
Boer Bart - Rotstergaast play farm
Actually, this play farm does not quite belong in our list, because it is more playing and learning about everything that happens on the farm for children, than going out for 'real' food, as is the case in the above restaurants.
But we found this Boer Bart Speelboerderij so much fun and educational that we came up with an extra category, and that is: the best educational restaurant for children.
This farming family not only serves coffee, tea and cake to their guests, but also delicious fresh dishes from the menu.
They also have a delicious stew buffet ready and if you want, you can barbecue a table here!
Here you can participate in the farm life of a young and dynamic farming family for a few hours and you can also enjoy delicious farm meals, with ingredients that come fresh from the land!
At Boer Bart, children up to 8 years old can enter for free.
For kids older than 8 years you have to buy an entrance ticket, but you can also purchase an annual ticket at an affordable price.
Your children will love this play farm: they can ride tractors and collect eggs from the hens… who live in a caravan, on the trampoline jump or help milk the cows.
The farm is safe and well-organized and a wonderful place for families.
While yourself can relax with a nice cup of coffee or a delicious meal, your kids are fully 'at work'. There is always something to do.
This play farm is very suitable for families and groups with children from 1 to 8 years old.
Boer Bart play farm - Schoterweg 26, 8462TD Rotstergaast
Why go to one of these kid-friendly restaurants?
It is not without reason that these child-friendly restaurants attract many customers. After all, the atmosphere in such a restaurant reassures parents.
The kids will enjoy playing and will in turn behave nicely during the meal.
And mom and dad… they enjoy it twice!
What makes a restaurant child-friendly?
A kid-friendly restaurant will have waiters who really like children.
There will be a play area for them, there will be coloring pictures and crayons, and perhaps a place to store prams.
Child-friendly restaurants also have a special children's menu or else a children's menu.
And not unimportantly, what's on the card for mom and dad? Can they sit quietly and enjoy a good meal?
A dream place, not only for our kids, but also for parents!
Eating out as a family at a nice restaurant with a play corner
Going out for dinner with the children can be a lot of fun, provided you know where to find the right places!
We have therefore looked for restaurants where children have a special children's corner or play area and can sometimes enjoy themselves outside.
Whether it's a relaxed lunch, a lazy drink on a terrace, or a luxurious dinner: have you not really gotten excited about going to a child-friendly restaurant with your kids?
Have fun eating and playing for all of you!
Also read: The best children's parks, amusement parks and amusement parks in the Netherlands on the map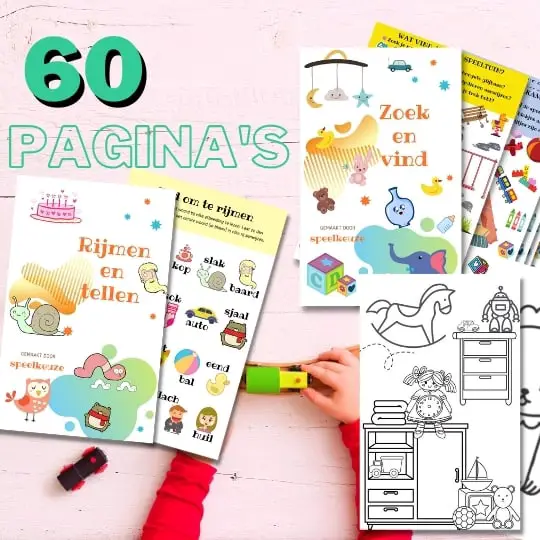 Always something to do for the holidays or rainy day?
Play Choice now has the ultimate activity book collection, with over 60 pages of fun coloring pages and educational puzzles.
Joost Nusselder, the founder of Speelkeuze.nl is a content marketer, father and loves trying out new toys. As a child he came into contact with everything related to games when his mother started the Tinnen Soldaat in Ede. Now he and his team create helpful blog articles to help loyal readers with fun play ideas.