The nicest Theo Klein toys | For educational role play [Review]
I enjoy writing these articles for my readers, you guys. I don't accept payment for writing reviews, my opinion on products is my own, but if you find my recommendations helpful and you end up buying something through one of the links I may be able to receive a commission on that.
More information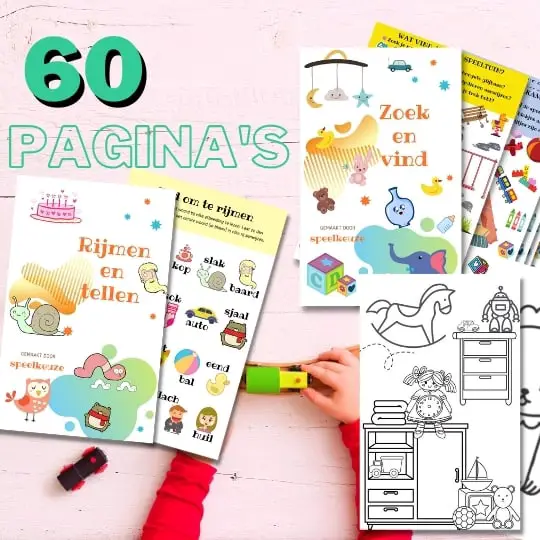 Always something to do for the holidays or rainy day?
Play Choice now has the ultimate activity book collection, with over 60 pages of fun coloring pages and educational puzzles.
Your child wants nothing more than to imitate his parents and the 'grown-ups' in his immediate environment.
They do that through role play.
When mom or dad is carpentry, your little one often wants to join in with his own hammer.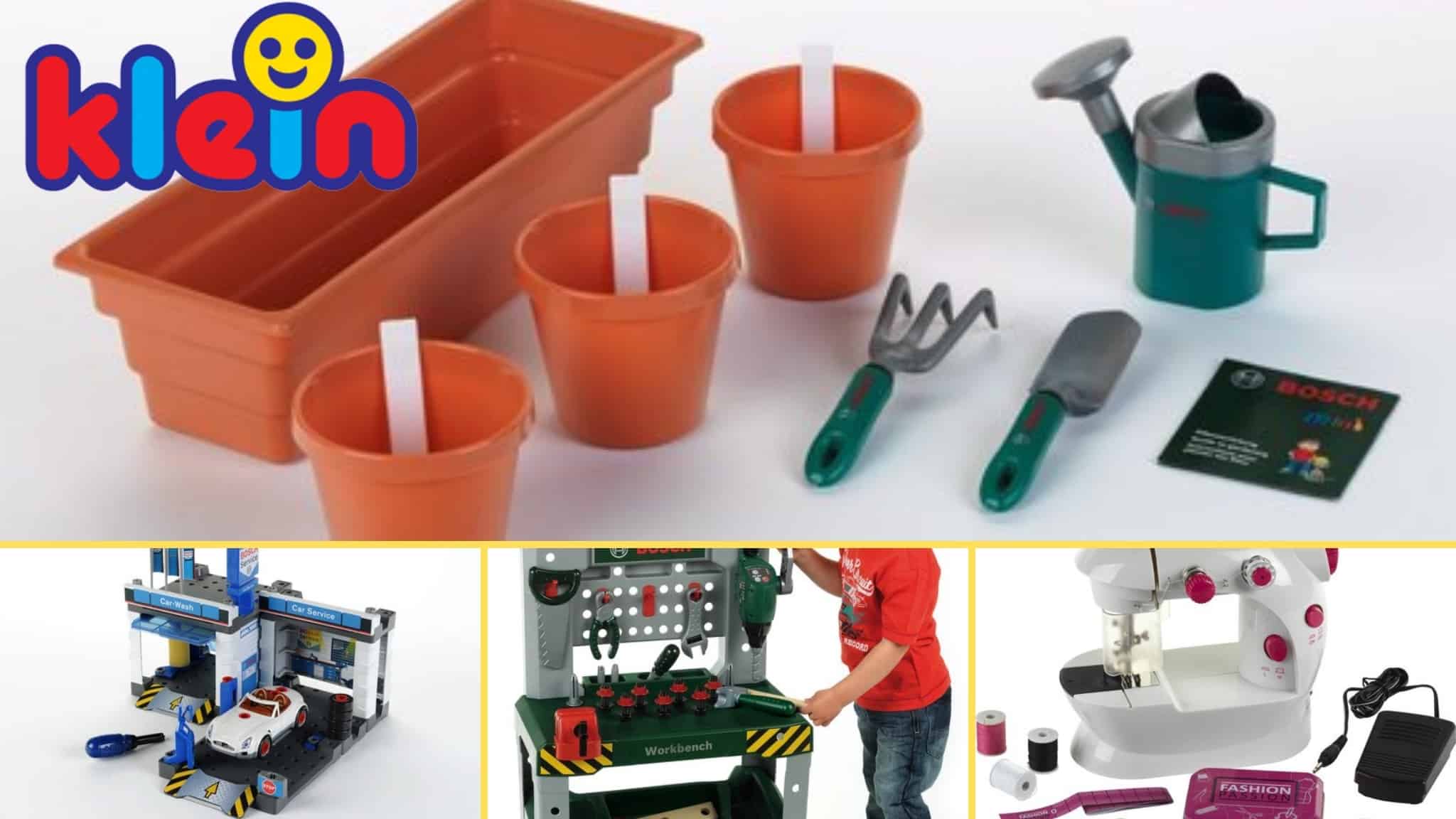 When cooking is done, your little one also wants to participate with its pots and pans.
How nice is it when a child is given a toy vacuum cleaner or workbench, which is exactly a miniature of your vacuum cleaner or workbench?
That is exactly what the Theo Klein brand does: produce exact copies of 'grown-ups' stuff, with real brand names.
A cleaning cart or mop from Vileda, a kitchen from Miele, a vacuum cleaner from Electrolux and tools from Bosch, all indistinguishable from the real thing!
In addition to that, they also have beautiful parking garages of the Bosch brand and other toys such as cars, but also craft supplies and clothing to play a profession, for example a doctor.
We think the nicest overall Theo Klein toys this Bosch Toy Plant Set.
It is natural very cozy for your little one - but also for you - if you can garden and cut plants together.
Your little one can imitate exactly what you put in the Outdoor is doing; raking, shoveling and repotting plants.
The Theo Klein toy vacuum cleaner from Miele is also beautiful.
It is a true-to-life replica of Miele. Great fun for all children from 2 years old, who are happy to help mom and dad vacuuming their room.
We'll come back to these 2 choices later, but let's move on to our other favorites first!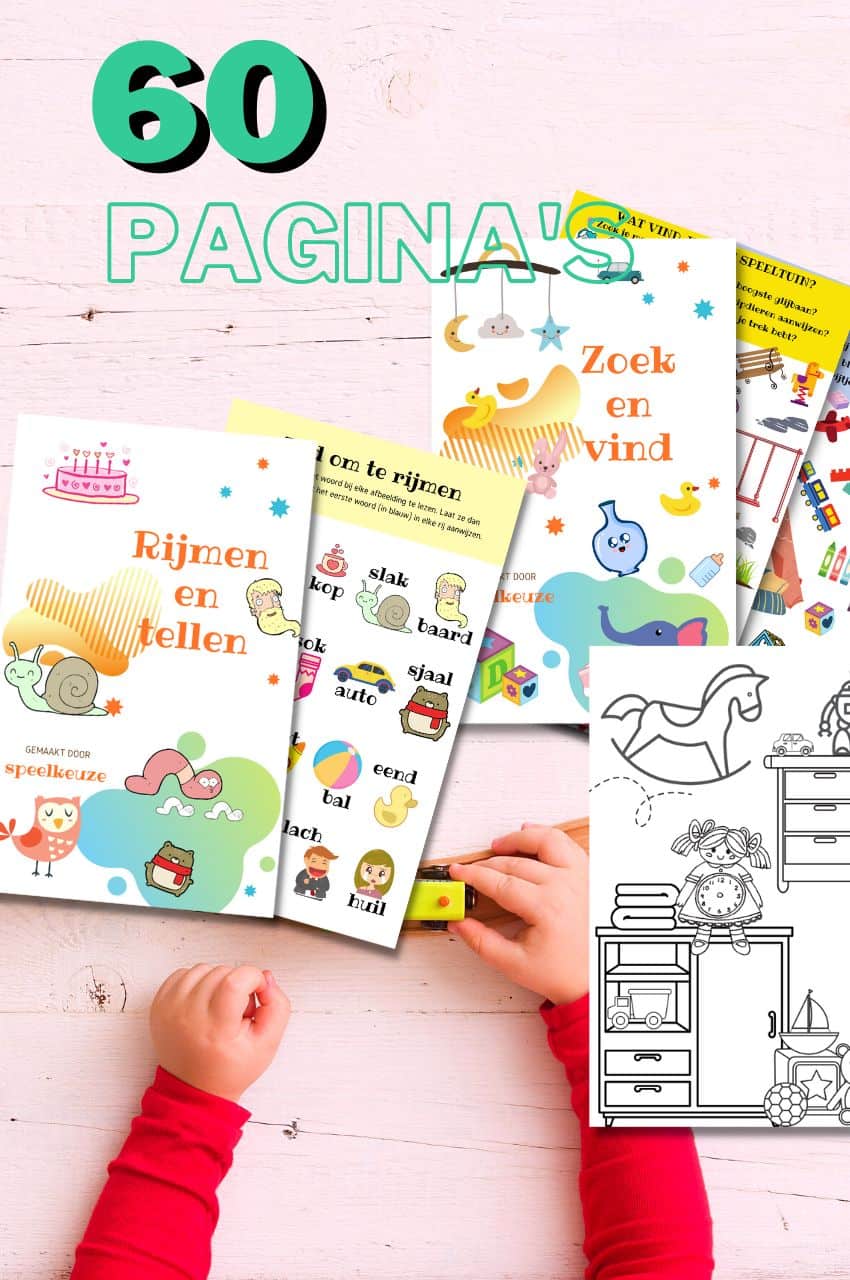 A play theme in your mailbox every month?
Fun play tips, activity books and more, with the first email being our free mini-guide "educational toys"
We will only use your email address for this newsletter and respect your privacy
Best Theo Klein toys rated
The adult world is somehow always greatly admired by children. They want to be big and do their things independently.
With the 'real' toy appliances and accessories from Theo Klein, your child will feel important when doing odd jobs and helping to clean at home.
They feel appreciated when they are praised for their efforts.
Is your child a true cook, handyman, cleaner or does he prefer to play a doctor?
Theo Klein meets everyone's wishes - including their beautiful household and DIY appliances that cannot be distinguished from real ones.
Let's quickly discuss our favorite Theo Klein toys!
Overall best Theo Small toys: Bosch Toy Plant Set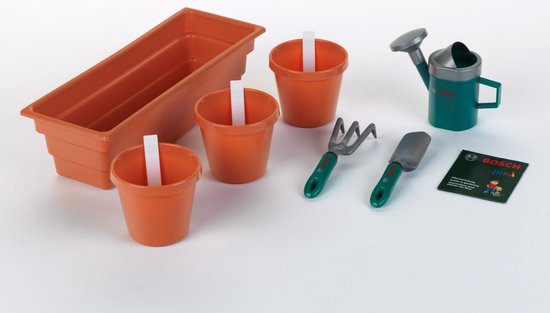 Let your little one romp and garden, just like you do! Green fingers are never gone, you know that 'learned young old is done', don't you?
The Bosch Toy Plant Set consists of a large flower box and three large flower pots. There are also handy garden tools such as a shovel and a rake, all just like the real thing.
Finally, you will receive three plant sticks and a manual.
Add some potting compost and of course the seeds of your child's favorite herbs and vegetables. Things like cherry tomatoes, chives, and cress will grow quickly.
Long fun in the garden!
Check prices and availability here
Best Theo Klein toy vacuum cleaner: Miele Toy vacuum cleaner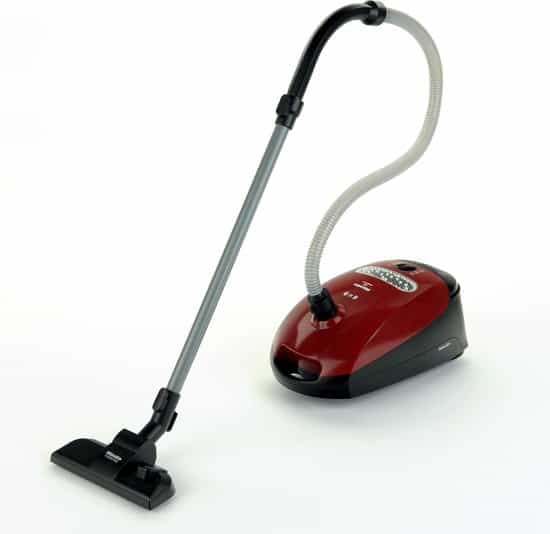 This toy is extremely suitable for all kids who like to help their parents clean: the Miele Toy Vacuum Cleaner.
You will be amazed how much fun children will have with this!
It has a real on and off switch and the vacuum cleaner makes a suction noise. Small white balls rotate behind a window.
This Miele design vacuum cleaner is of course built to entertain children: your child has the feeling that it really helps and that is good for them.
The squeegee can be hung on the vacuum cleaner after work.
Check prices and availability here
View even more Fun Toy Vacuum Cleaners: These are the top 7 best rated.
Dear Theo Klein toy parking garage: Bosch Autogarage with Car Wash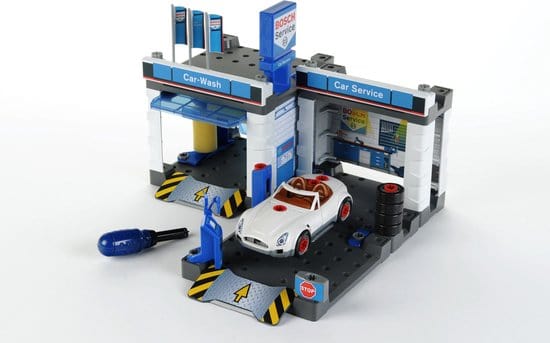 A true Bosch Service Station, this Bosch Autogarage with Car Wash.
The car wash has movable brushes, so your child can get started and give all his cars a good turn.
Your little one can change the tires with the supplied car or mount one of the four spare wheels using a hand screwdriver.
Check prices and availability here
Dear Theo Small toy kitchen: Miele Wooden Play Kitchen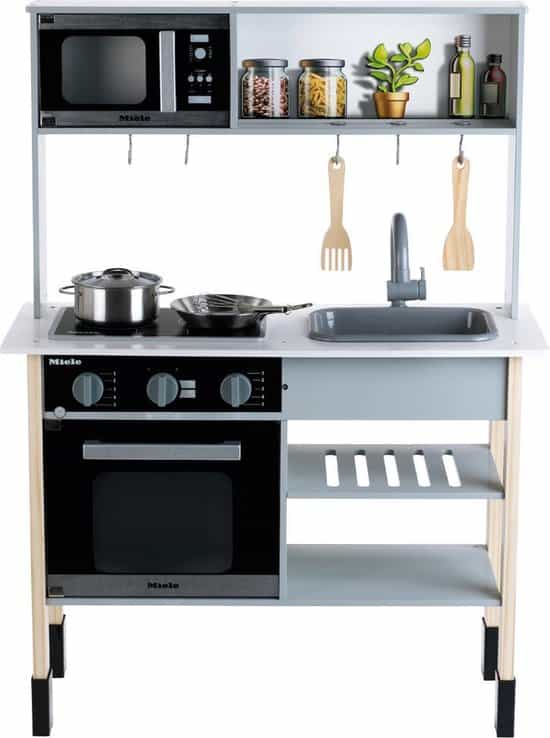 What a dream this Miele Wooden Play Kitchen. Mom and Dad would like to have these for real!
It has a microwave, oven and hob. The hob has light and can make cooking noises.
The kitchen comes with metal and wooden items such as spoons and pans.
Let your little one cook with you, give your child a piece of dough or some pasta to work with.
Check prices and availability here
Looking for even more top wooden toy kitchens? Find our top 12 best rated play kitchens here!
Best Theo Klein toy doctor's set: Doctor's case with accessories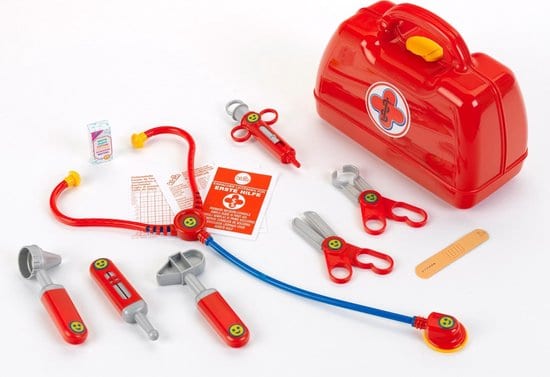 With the extensive Doctor's Case with Accessories, the little ones can make their dolls better.
There are many items in this kit, such as a stethoscope and syringe.
Nice to familiarize children with a doctor's visit in this way, but also to stimulate their role play.
Complete the set with even more fun doctor toys: 7 playsets, dolls & clothes.
Dear Theo Small toys Vileda: Toy Cleaning trolley and Toy vacuum cleaner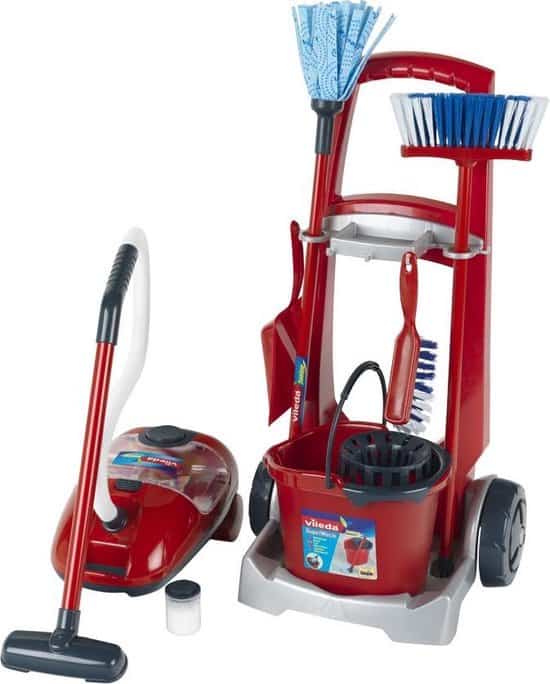 For the fanatic cleaners here is the Toy Cleaning Trolley and Vacuum Cleaner from the Vileda brand.
Your child can help with all the cleaning chores around the house; sweep, vacuum and mop!
The cleaning trolley is made of durable plastic.
Let's face it, it's good to familiarize them with the cleaning world.
Best Theo Small toys from Bosch: Bosch Workbench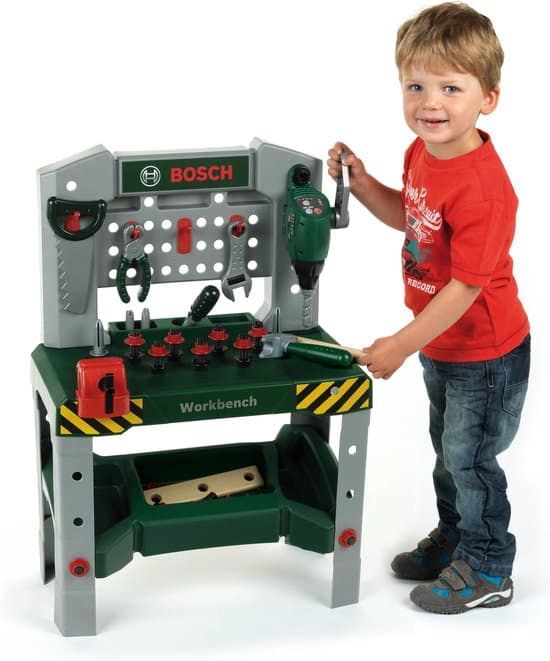 Just like a real Bosch Workbench, this workbench for kids who love carpentry and repair!
The height of the sofa is 76 cm, suitable for children from 3 to 6 years old.
Your little one can drill, screw and saw to their heart's content with this beautiful set.
This bench comes with a drill, saw, hammer, screwdriver, screws and bolts. Almost real!
Best Theo Small toy tool: Bosch Professional Line Drilling Machine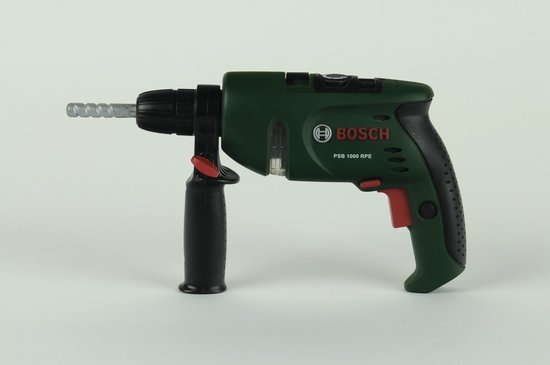 The Bosch Professional Line Drill comes in handy with your workbench.
What's great about this drill is that it not only actually rotates and makes a realistic drilling noise, but also shows 'spray sparks' while doing odd jobs.
Check prices and availability here
Dear Theo Klein toy sewing machine: Children's sewing machine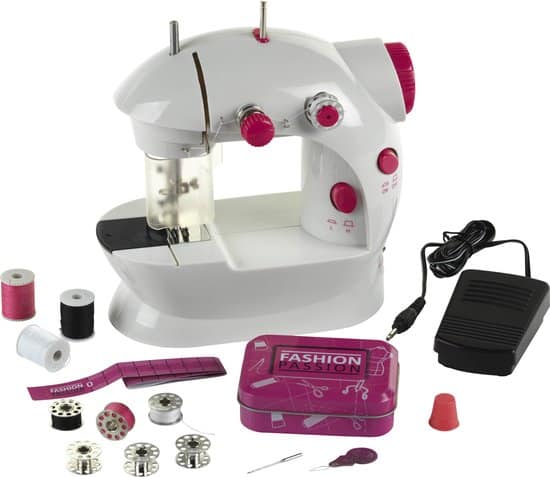 For a friendly price, this Klein Children's Sewing Machine is very complete!
It is an ideal gift for the creative child. Your little one can really get started with sewing doll clothes and other play accessories, for example.
The sewing machine works on batteries and has two speeds. The operation works via a foot pedal, just like with a real sewing machine.
It is good to stay with your child when they use this sewing machine. Together you can create the best things!
Best Theo Klein toy puzzle: Funny Puzzle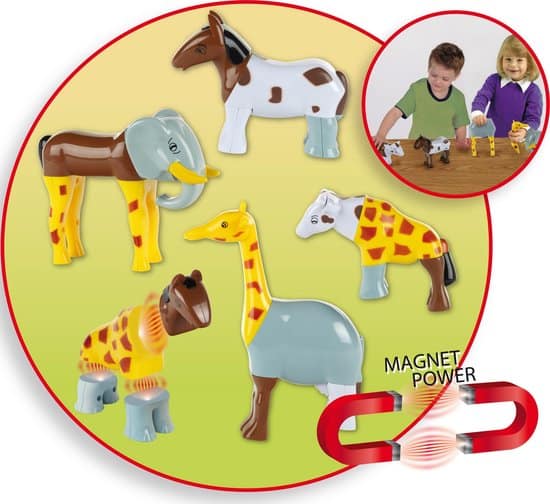 With this Funny Puzzle with magnetic animals such as a cow, horse, elephant and giraffe, your child can do puzzles.
Children can also make fun combinations with the different magnetic parts.
Have you ever seen a giraffe with elephant feet or a horse with a cow's head?
This puzzle game promotes imagination as well motor skills.
Check prices and availability here
Best Theo small toy craft set: Craft set New York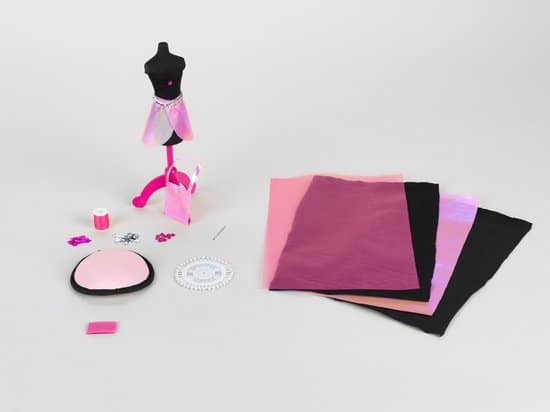 What could be more fun for a child than pimping his own clothes?
With the Craft Set New York you teach your child the basics of needlework.
Let them use their imaginations and go wild with beads and sequins.
The set is suitable for children from 8 years old.
The package contains a sewing kit with needles, threads, sequins, various fabrics and patterns.
Theo Klein toys: fun and educational
It is very nice for children to learn practical actions. They like to imitate adults, and they are also eager to help.
If she get a compliment for their help, they will feel appreciated and will learn from childhood to participate and help in the household.
They become more self-assured in this way.
Also read: The 8 best Dutch toy brands: find it close to home!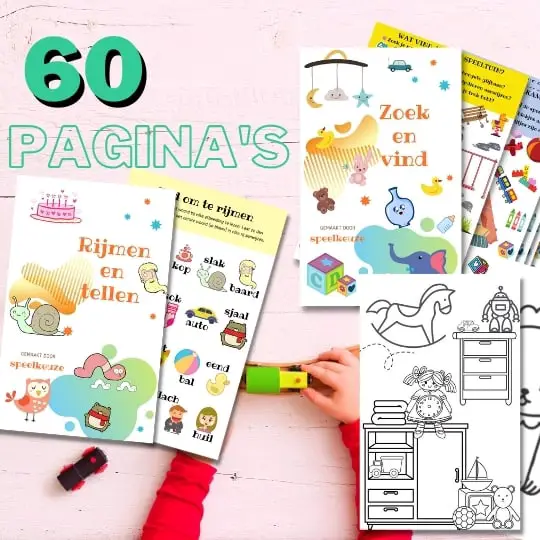 Always something to do for the holidays or rainy day?
Play Choice now has the ultimate activity book collection, with over 60 pages of fun coloring pages and educational puzzles.
Joost Nusselder, the founder of Speelkeuze.nl is a content marketer, father and loves trying out new toys. As a child he came into contact with everything related to games when his mother started the Tinnen Soldaat in Ede. Now he and his team create helpful blog articles to help loyal readers with fun play ideas.