Nintendo Switch Or Kids Tablet? 3 Tips To Help Choose
I enjoy writing these articles for my readers, you guys. I don't accept payment for writing reviews, my opinion on products is my own, but if you find my recommendations helpful and you end up buying something through one of the links I may be able to receive a commission on that.
More information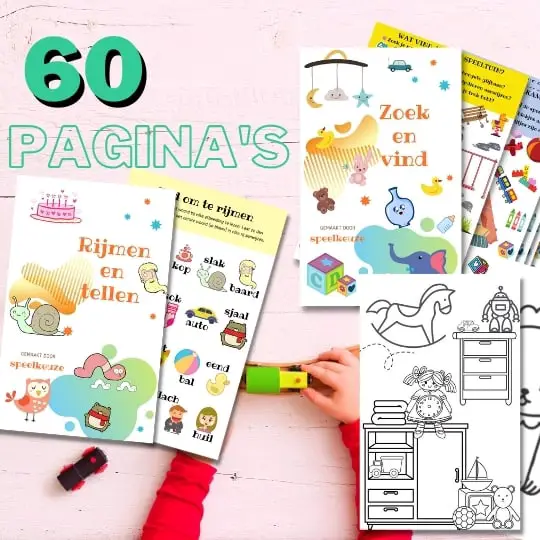 Always something to do for the holidays or rainy day?
Play Choice now has the ultimate activity book collection, with over 60 pages of fun coloring pages and educational puzzles.
The Nintendo Switch is great for playing games, but it's more of a game console than a tablets.
It may look like a children's tablet, but if you want more than gaming you may be disappointed in what the device can do. Sure, they can play games on it, but that's about all they can do.
In this article I compare the Nintendo Switch to children's tablets so that you can decide exactly which one to buy for your child.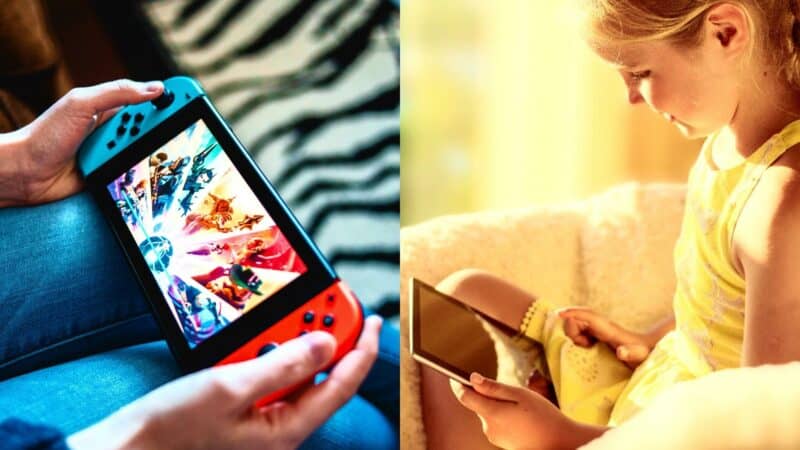 You should especially see the Nintendo Switch in the right age category.
Do you really enjoy gaming with the family, then a Nintendo Switch like this one very nice to buy. The Nintendo Switch is best for kids ages 6 and up.
The content itself is fine for kids of all ages (and of course there are games for older children), but the controls can be difficult to master for children under 5 years old.
Really younger children often benefit more from a tailored children's tablet and then the overall is the best out of all our children's tablet test this Kurio Tab Ultra with kid-friendly settings and an incredible library of games and educational apps.
They can also play games on it, but that is more on your own, not with the family or with your brother in front of the TV.
Some older children would benefit more from a full-fledged tablet that they might also want to use for school or social media.
Here are the various advantages and disadvantages of a Nintendo Switch compared to children's tablets or full tablets in short:
I've put a summary on youtube that you can watch here, but be sure to read on for our full comparison.
In the meantime I have understood from Nintendo that they do not intend to provide the Nintendo Switch with a web browser.
On top of that, there will be no video streaming apps like Netflix at launch.
At least in the beginning, and probably for the foreseeable future, the Switch will be for one thing: playing games.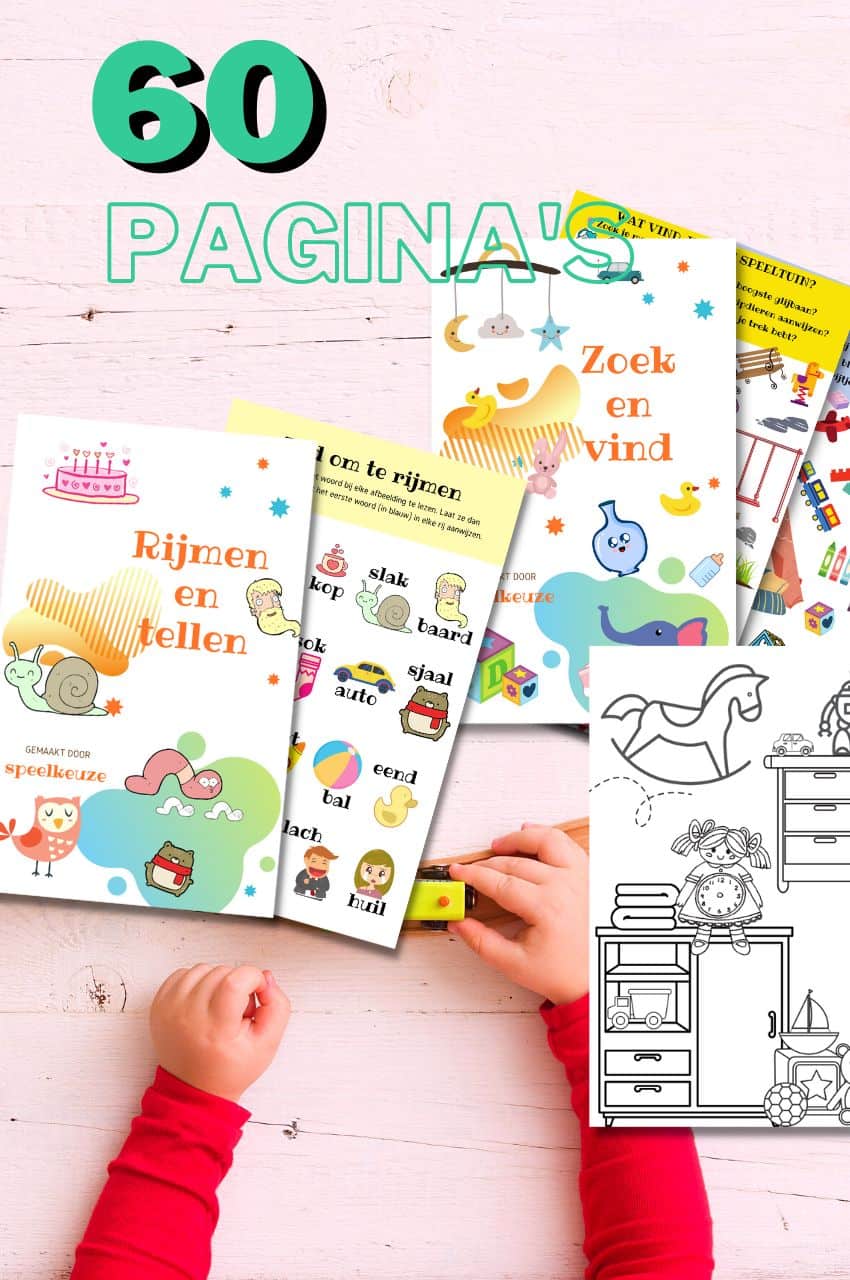 A play theme in your mailbox every month?
Fun play tips, activity books and more, with the first email being our free mini-guide "educational toys"
We will only use your email address for this newsletter and respect your privacy
The Nintendo Switch is there for gaming
Advantages and disadvantages: Very nice to do with the family, several children but also parents if they like it. It is really focused on gaming, but the games you can play are also super fun. Less educational content and no internet or netflix
However, children often want other things too, such as watching YouTube and surfing the internet.
So it's a shame Nintendo doesn't come with those extra features. If so, he could replace the desire for a tablet for almost any child.
From Nintendo, the urge to focus on gaming makes sense.
It's not like the Switch is primarily a powerful gaming device, so anything that takes the message away from it
"This thing is the best gaming device for your kid"
probably isn't the right move.
There is already a deep source of suspicion after the Wii U debacle between heavy gamers and those who are casual gamers, so it is apparently smart not to distract from the main message of the device.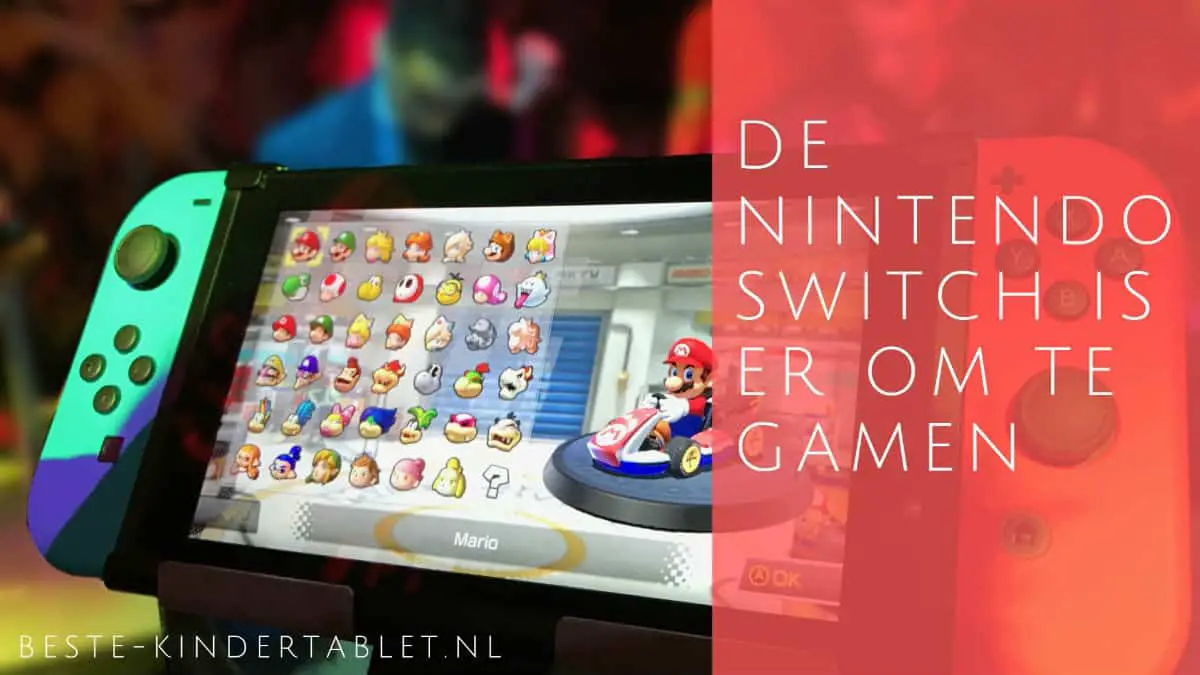 Relive the success of Wii
Nintendo wants to recreate the success it had with the original Wii: come in at a relatively low price with some innovative new game features that will expand the game market beyond just the hardcore gamers.
The Wii was hugely successful at that, and in a tablet context you need more than just video games to reach that larger crowd.
For example, the lack of Netflix is ​​an immediate step in the gaming direction.
The missing tablet functionality is unlikely to harm sales.
Nintendo recently built a bottomless and righteous reputation for not being able to keep even the basic hardware in stock and make it available for purchase.
If you're Nintendo, the good news is that the Switch was already sold out to all stores imaginable upon pre-order.
More than just gaming
It needs the iPad unbeatable to be a more comprehensive tech gadget, it just needs a few basic things.
The things most people think of when they think of tablets: video, web browsing, and reading.
Whether you have older children or younger children, you may also sometimes grab the kids' tablet to surf, especially for that price you want to get something out of it yourself.
But if gaming is enough for your family then that's fine.
In most families you will probably find a tablet that is used for other purposes than just gaming.
The Nintendo Switch is actually a tablet that can play Nintendo games. Nintendo should do the obvious thing: make it a base tablet.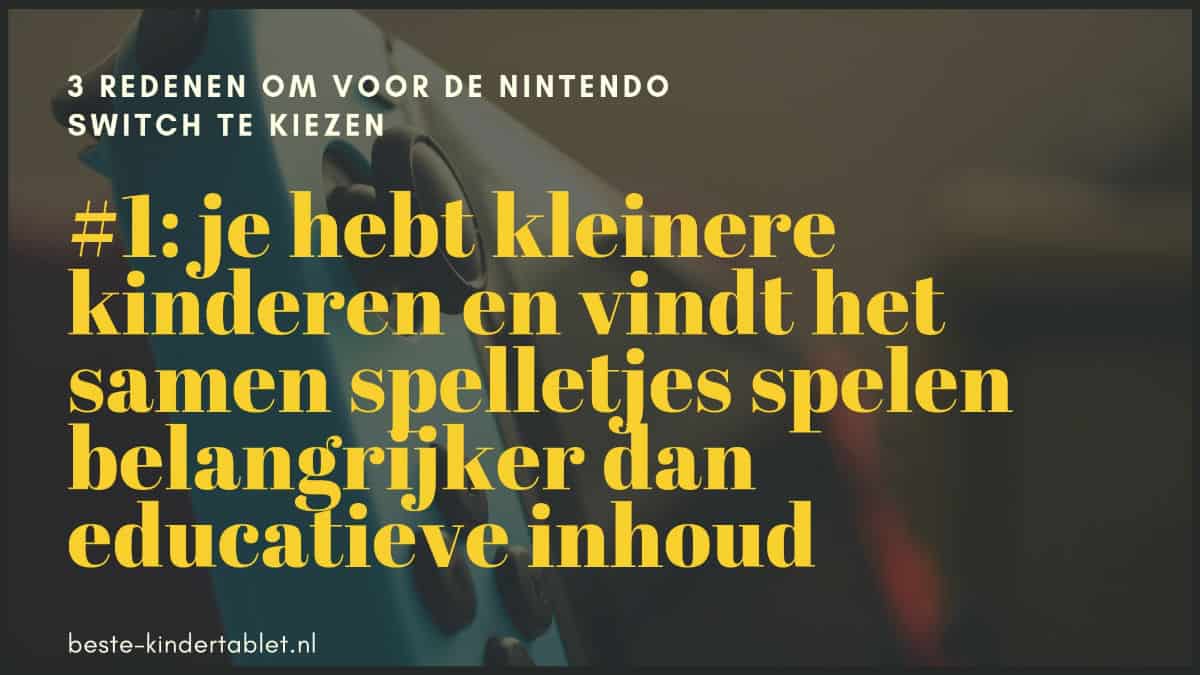 I think the choice for your family to go for a Nintendo Switch or a children's tablet is this:
you have smaller children and think playing games together is more important than educational content
your children now mainly use your phone for playing games and not so much for educational content or watching videos
you already have older children and a tablet at home, or do they already have their own laptop. The Switch is a nice addition to the game area
Otherwise, I think it will be a tablet, or (at a later date) both.
The Nintendo Switch viewed from the parent
"When will our Nintendo Switch come, when will our Nintendo Switch, when will our Nintendo Switch come?"
I've heard this from my six-year-old son almost every hour since the new console was announced.
Here I'll look at what we think of the system so far, and whether you should welcome a Nintendo Switch into your family.
This article is about the family-friendly nature of the Nintendo Switch and how we like it after testing for a week.
We'll look at things like parental controls, different ways to play, kid-friendly games, online safety, and other things Nintendo has done to make the Switch as good for kids as it seems for older players who want to play Skyrim on the go.
It's worth mentioning that our Switch has landed in an already Nintendo-friendly home.
My son and I regularly play on our GameCube, 2DS, 3DS XL or Wii U.
Gaming is a common activity for us with Mario Kart and Splatoon being the most played games in recent months.
When his friends come to visit, we grab fun party games like Nintendo Land or Mario Party, the kind of titles that some "real" gamers have their noses for.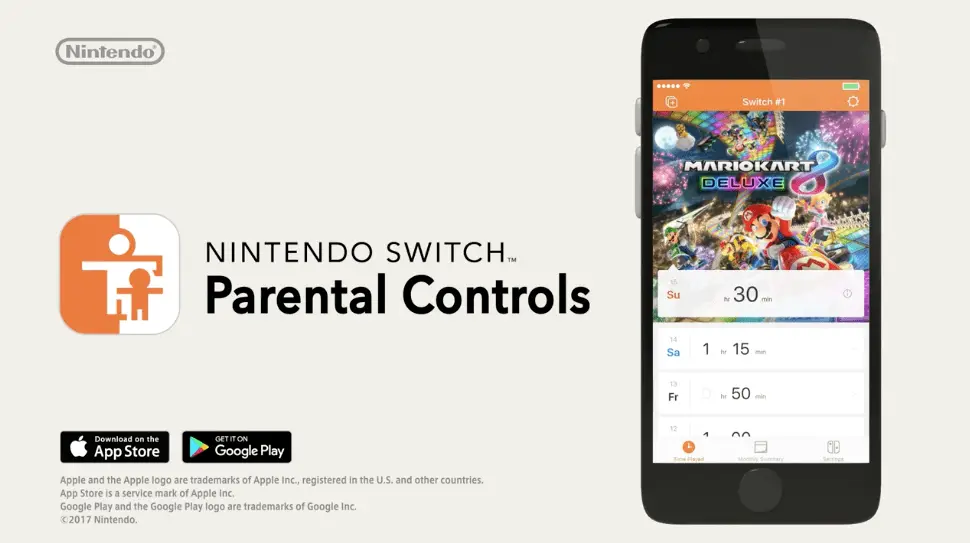 (Photo: wccftech.com)
The Switch Hardware
The Nintendo Switch hardware is built a lot better than the Wii U's.
Fisher Price's appearance has gone and Nintendo has instead produced a premium looking product.
The touch screen tablet section is very sturdy, although the risk of scratches means we applied a screen protector within minutes of opening the box.
It's also surprisingly compact compared to the old Wii U gamepad.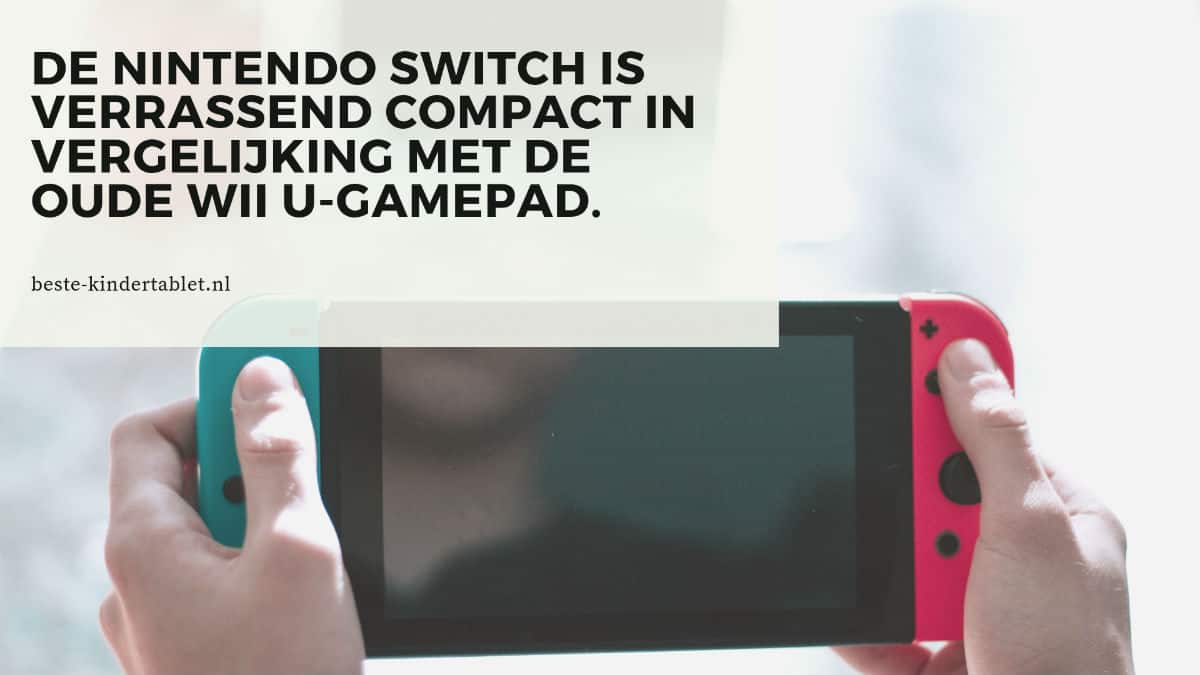 Before we had the console ready, my son repeatedly wanted to grab all the neon joy-con and unplug it from the screen, which was more difficult than he expected.
Young children should probably remove the controllers under your supervision as this could easily result in the tablet being dropped.
The Joy-con controllers
While some users have complained that the little Joy-Con aren't the most comfortable of controllers, they're ideal for kids and those with smaller hands.
My son found them much easier to hold and use than a Wii Remote, although the included wrist straps are still advised if a game involves swinging them around.
He's also pretty excited that the controller can be used with his growing collection of Amiibo.
The Nintendo Switch can also be linked to play games on the TV.
Other kid-centric design features of the Switch include the rear kick kickstand which felt slightly shaky for me at first.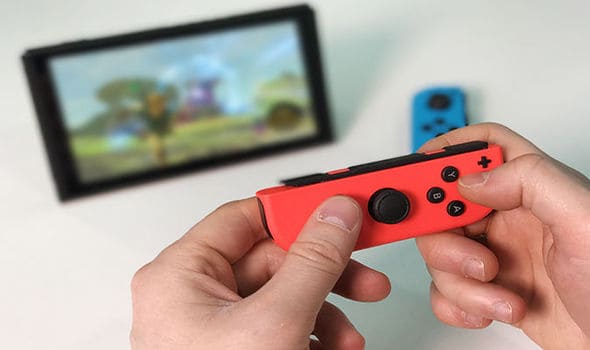 (Photo: express.co.uk)
However, the first time my son tried to turn on the switch while still off, I realized why.
It simply clicked off and was easily snapped back into place.
In adult hands, connecting and disconnecting is incredibly smooth with pleasantly fast transitions between screens.
Nintendo also made it so that Switch game cartridges taste disgusting. This may sound like an exaggeration, but this is to prevent children from chewing them.
The result of this: Well, we've already circulated the 1st Switch cartridge to take turns licking it :)
If you prefer your games digitally, the built-in 32 GB of storage can be expanded via microSD cards.
Digital games mean kids don't have to mess with a docked Switch to swap out cartridges.
Switch Games You Must Play Now
The Joy-Con for Nintendo Switch can be used to play motion-controlled games.
When we finished setting up the hardware and docking station with our TV, all of which took just five minutes, it was time to start playing.
Unfortunately, most buyers will start their Switch experience with The Legend of Zelda: Breath of the Wild, the first game we played was 1-2-Switch, which is more suited to a six-year-old.
In addition, everyone returns to the Switch because of the Mario games.
It was popular when I was young, and it is still the best-known game character you can find.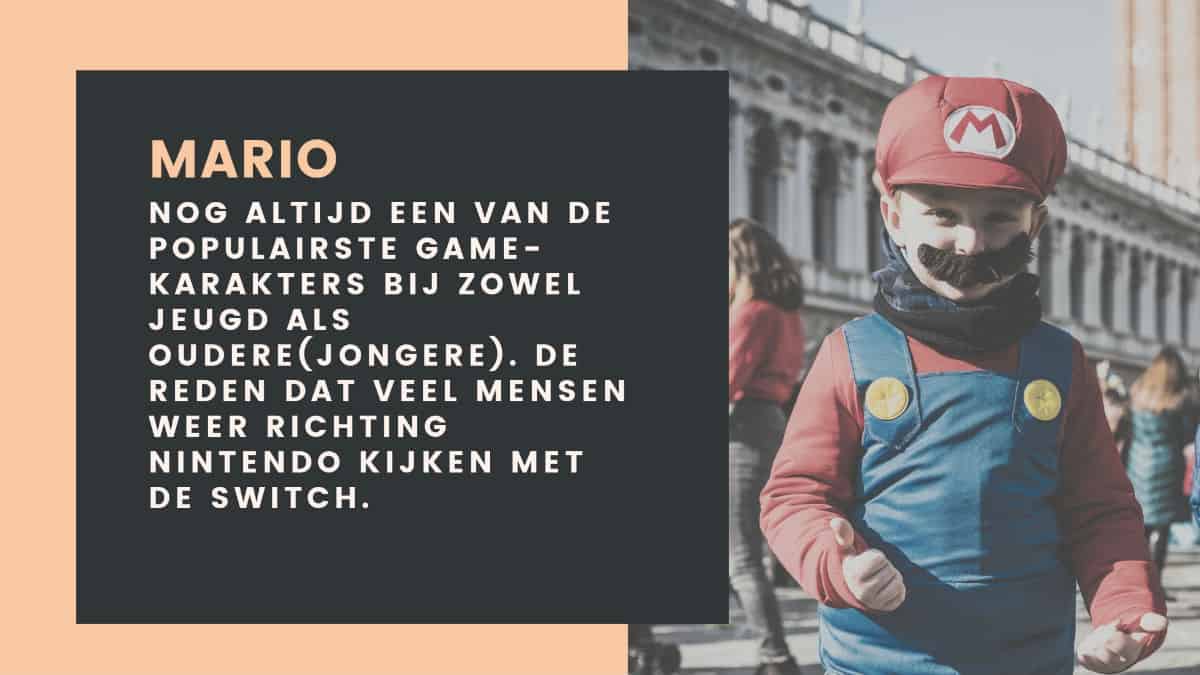 We had already tested some mini games at the preview event, including Quick Draw and Milk, so we knew what to expect.
Some of the 28 minigames in the full game weren't as good as that one, but most of them were at least as much fun to play together.
I see 1-2-Switch on the same level with Nintendo Land and Mario Party 10 when we want a group or party gaming experience.
Nintendo Switch in tabletop mode with SnipperClips
While the aforementioned Zelda title could be one of the best games ever to launch with a new console, and it's great for older kids (it's rated 12+), otherwise few games are.
Especially if you want something for younger gamers.
I was hoping there would be enough Nintendo classic games available to teach my son retro game, but the planned Virtual Console is not yet available on the Switch.
So, after checking out the very scarce eShop, we downloaded the surprisingly good cooperative puzzle game SnipperClips and the F-Zero-esque racer Fast RMX just to play something different that didn't involve dairy cows.
Fast RMX on the Nintendo Switch
Given the lack of games available, it's safe to say our Wii U will still get quite a bit of use for now.
However, the situation is only getting better and we'll be looking at some of the upcoming family games later in this article.
Ways to play
The two Joy-Con for the Nintendo Switch can be used together on the supplied handle.
The most interesting thing about the Nintendo Switch is the different ways it can be used.
For parents, this means that the console could fit into your family life in ways that previous systems couldn't.
In the dock, the Switch works like a traditional game console: you play it on your TV using the included Joy-Con controllers, which can be connected with a handle.
Depending on the game you're playing, you may be using motion controls, like on the Wii (but much more accurate), or more standard controls.
On the TV, games run up to 1080p and are very similar to the Wii U, so there isn't a huge leap in graphics, and the Switch doesn't even try to compete with the PS4 or Xbox One.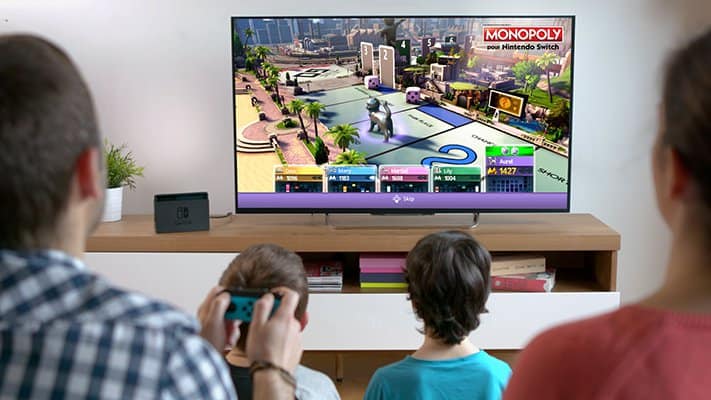 (Photo: easyacc.com)
There are also two ways to use the Switch away from the TV.
Compared to other game consoles, this is an advantage and a step more towards the tablet.
If a child is busy on his tablet, you can still watch TV, which was always a big plus of tablets compared to game consoles.
With the Joy-Con connected to the tablet in handheld mode, it works like a traditional portable console.
That said, if you're used to a 3DS, you're likely going to be blown away by the graphics.
At 720p, they are much more detailed than Nintendo's previous portables, or even the Wii U gamepad. In tabletop mode, the Joy Con is disconnected and used separately from the screen, after which it can be used with the built-in kickstand.
We see these portable modes as important for families, as well as gamers looking to play Zelda or Skyrim on the go.
For starters, it can free the family TV without banishing kids to their bedroom or elsewhere with a second TV.
For us, however, it was the tabletop mode that impressed the most as it allows multiplayer gaming anywhere.
Sitting and playing together around the small screen felt much more social than anyone with their own device like a 3DS XL for multiplayer.
That said, if you have multiple devices, the Switch offers both local and online multiplayer.
While there have been some complaints about battery life, this seems to depend heavily on the game being played.
While we only played Zelda for about three hours, SnipperClips was still running after four hours of use all weekend.
That is of course a lot shorter than actually all children's tablets
Parental Controls and Online
You do feel a bit like Bowser when setting time limits on the Nintendo Switch.
Like all modern game consoles, these devices are nowadays connected to the Internet, parents will of course want to see this clearly when leaving a child unattended.
Fortunately, the Nintendo Switch offers pretty good parent and online controls.
While you can set basic limits for what age-level games can be played and which online purchases can be made directly on the Switch, the best control is available through the Nintendo Switch Parental Controls app available for Android or iOS.
Parental controls on Nintendo Switch can be deactivated with a PIN.
Here you can set limits not only in terms of age restrictions for games, but also whether users can communicate with others and with screenshots on social networks.
You can also limit the time the Switch can be played every day and at what times, complete with a bedtime alarm.
When the set time is up, the switch can display a note on the screen or interrupt playback abruptly (although you won't really make friends with unsaved games).
Considering I can remember secretly going to bed to play Donkey Kong with the volume down, this feels a bit cruel.
Parental controls can be temporarily disabled by entering a PIN if you want to play something more mature yourself.
The app also records how long the Switch has been used each day and which games are the most popular.
The upcoming Switch games
Mario Kart 8 is one to watch.
As we mentioned earlier, there are very few games available for the Switch right now, and even fewer that are suitable for families to play.
However, there are a number of pre-launch titles that are likely to appeal.
Upcoming games from Nintendo for the next few months include a Deluxe version of Mario Kart 8, Arms (a quirky motion-controlled cartoon hunter) and Splatoon 2 (the successor to the ink-squirting multiplayer shooter).
Considering how much time we've spent playing Mario Kart 8 and Splatoon on the Wii U, we'll be sure to buy the Switch iterations of those games.
There is also the upcoming sandbox style Mario Odyssey which has just been released.
Other family-friendly games include Minecraft, LEGO Worlds, Lego City Undercover, FIFA 18, NBA2K18, and Puyo Puyo Tetris.
This means that by now there are quite a few games to keep your little ones busy, or to play together.
Conclusion to the Switch
On the surface, the Switch doesn't seem to be as kid-centric as some other Nintendo consoles, but it looks like this will be the new console for families who want something they can use to play games together, or for kids to play alone. to use.
For 300 euros for the console before you have a game or accessories, the Switch is not cheap, and you could also buy a very good tablet for that.
But when has a new console ever been cheap?
The hybrid game console concept makes the Switch suitable for families who want the flexibility it allows, whether it's freeing up the TV, letting the kids do something on a long drive, or the ability to play a Mario Console-quality kart to play while visiting your family
In any case, it removes the problem of playing games on the TV while others want to watch Netflix.
However, other functions that you would like to do on a tablet are missing.
The combination of parental controls and the number of kid-friendly games that launch does make the Switch more attractive than a PS4 or Xbox One.
The Nintendo Switch means you can take a console-quality Zelda with you wherever you go.
You also still get the chance to play things like Zelda himself, although we'd suggest buying the optional Pro Controller, which we felt was much better suited to adult hands.
That's why we think the Nintendo Switch is the best gaming console for families. Check here bol.com for the latest prices.
To see if a dedicated children's tablet might be a better choice for your family, I discuss the Vtech Storio Max 7 children's tablet below.
Vtech Storio Max 7 children's tablet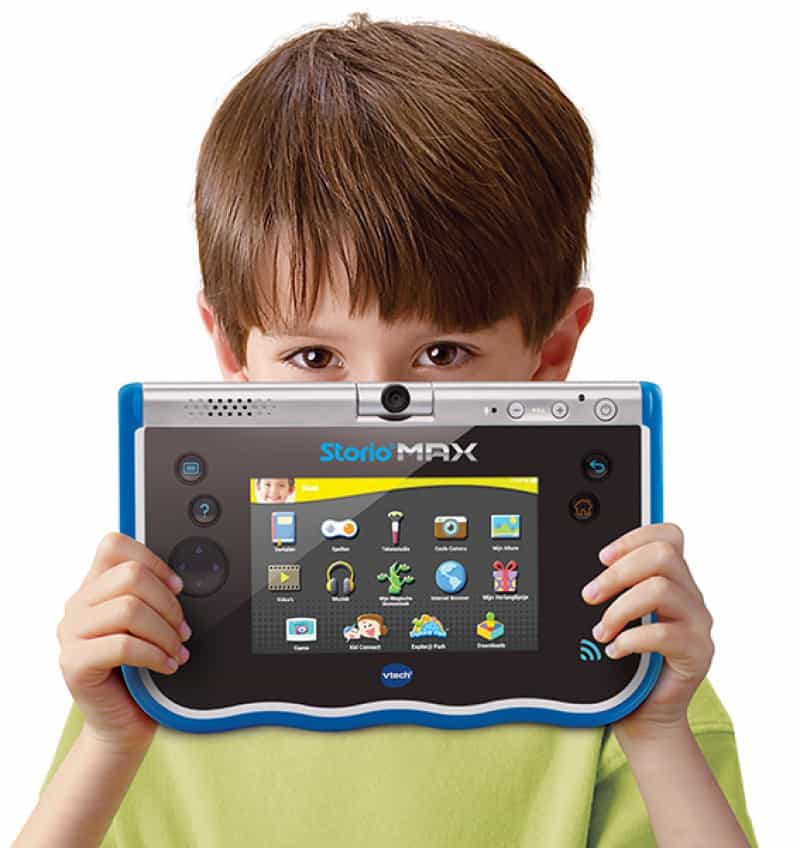 Pros and cons: Fun for smaller children with a strong focus on educational content. Also possibility to play many videos for hours of viewing pleasure and a browser with child-friendly settings. More solo but easier for smaller children to be able to do independently and games limited to apps just like on your phone but also its own child-friendly library
This is really one for smaller children. An educational and accessible alternative to the Switch.
And one that you would probably rather choose for your really small children if you are not much into tech and gaming yourself.
Your child is more concerned with this on his own where the Switch will be more of a family device, although older children will of course play on it themselves.
We have already reviewed the Vtech Storio Max 7 before.
It has a 7-inch touchscreen and internet connection to give your kids access to technology in a safe and kid-friendly way.
If you look at the back of the box you can see that the VTech tablet is made for ages 3 to 9 and offers many different types of games and apps suitable for the right age.
However, I have experienced that it is rather fun to only 6, after that you better switch to the Nintendo Switch if you go for the gaming, or the Samsung Galaxy Tab if you go for child-friendly tablet use.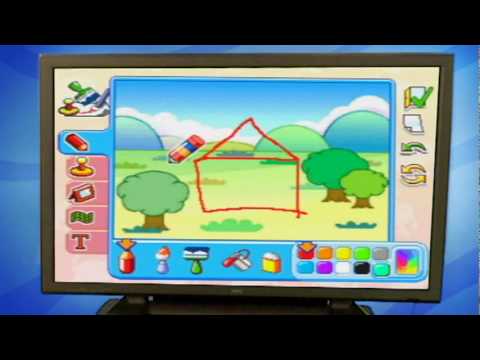 Our little one has played in the Art Studio for centuries while painting, drawing and even enjoying the stickers.
Before turning on the tablet, make sure that the sample software cartridge is in the right place. You can find this slot in the bottom left corner.
You get 18 apps pre-installed, some of which need to be updated or downloaded, so this gives kids plenty to get started with right away, including playing with the 2MP camera using the special effects app.
After a small installation that you can best go through yourself, regardless of the age of your child, the little one can actually figure everything out for himself, with you helping out every now and then.
First you have to set the date and time, you can use the stylus or just press your finger on the screen
When you have entered the date and time, you can choose whether you want to set up parental controls. I think this is always a good idea to only give your child access to what you want them to do
When you have completed all the steps, you will be taken to the home page where you will see all the apps. The photos are not too small and can therefore be viewed by everyone.
With the sturdy carrying handle and cover, the tablet is well protected and better than the Switch tablet, and also better than Samsung's.
The average battery life is not great, but certainly a lot more than the Switch.
Web browsing
We also wanted to cover the web browser because it is an important part of every tablet today, especially when it comes to protecting children from online content.
But also in the possibilities that you want to have with your tablet, especially compared to the Switch.
The VTech Storio Max 7 has a great web browser that limits access to certain content very well, you can also adjust this as you wish to add more websites you want your child to access with quick links.
You will find a selection of games, videos and websites pre-selected by VTech.
Specifications
As for the specifications of the Storio Max tablet: you will find a display of 1024 x 600 pixels on 7-inch, 8 GB internal memory (expand with a microSD card), built-in Wi-Fi that allows you to play games / apps / video download directly to the tablet at a price, 2MP 180 ° rotating camera and VCR, weighs 1,4kg, 1,4GHz dual core CPU, kid-friendly version of Android OS, microHDMI port, microUSB port, headphone jack, measures 382 x 284 x 67 mm, and features a lithium-ion battery that lasted just over 6 hours during our test.
Conclusion for the Vtech
Younger kids will love this tablet, but parents looking for the best specs might think its performance is lacking.
During our review and after hours of pining for a 3 year old game, we love the Storio Max and its security features to keep the little ones safe.
Other Android tablets and an iPad can deliver more, but they are not designed for kids like the Storio Max tablet.
The sound quality is average, but can be noisy at times, invest in some good headphones for your child and of course to provide a little peace of mind.
You will choose this one if you have younger children and don't want to do much with it yourself. Children will work with it more outside the family and will also be able to use it independently more quickly.
The Storio can be used more as an educational learning tool if you wish and the content is more focused on apps and video viewing than the Nintendo is.
Check prices and availability of the Storio Max here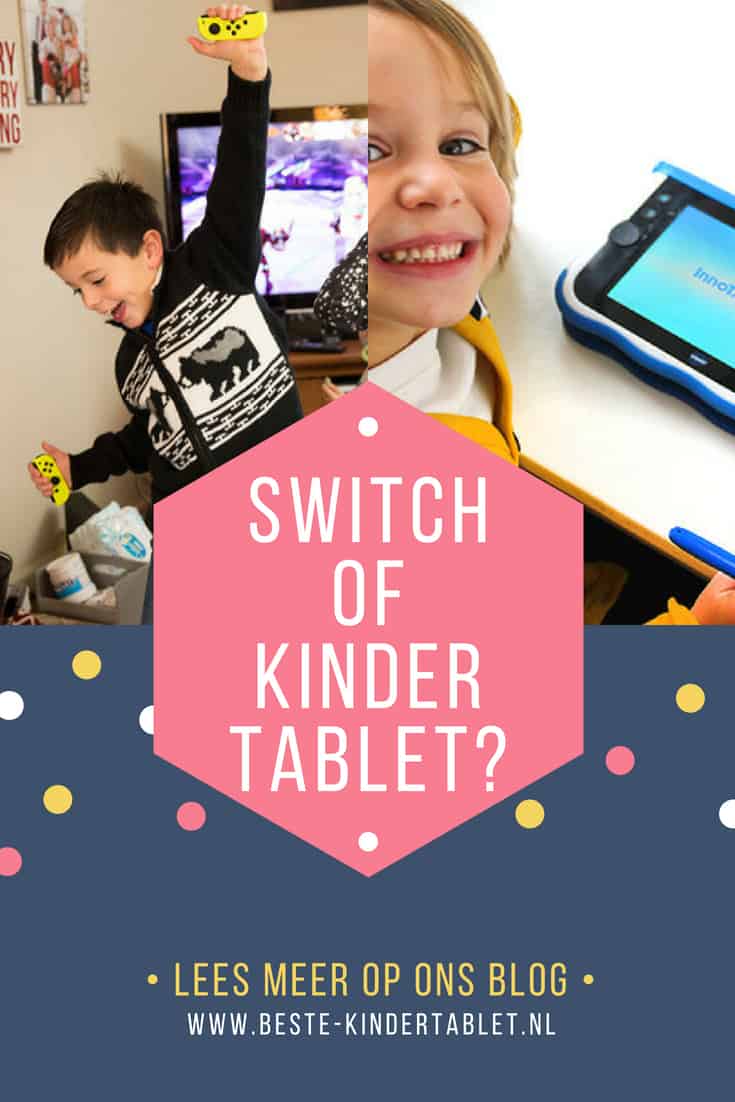 The Kids mode of the Samsung Galaxy Tab A.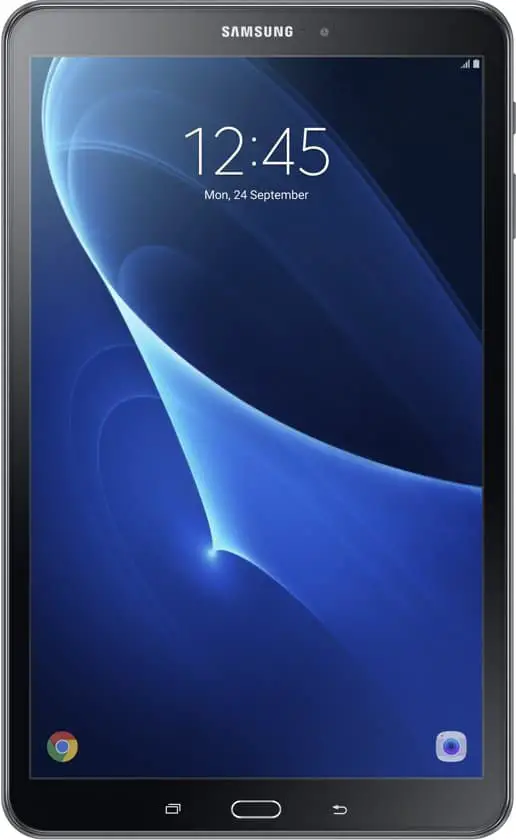 Pros and cons: Full-fledged tablet that everyone in the family can use for whatever they want, but with extensive child-friendly settings in kids mode. can be used for everyone's social media, streaming video like youtube and netflix and browsing the internet, but games limited to apps just like on your phone
Then the last alternative, the Samsung Galaxy Tab A, a full tablet with a kids mode that you can set to restrict access to content for your children.
A completely different approach than the previous two.
Games you play on it will often be a bit simpler than on the Nintendo Switch, with more of those candy crush-like games that you might recognize from your own apps on your phone.
It does offer more possibilities for both your aging child and yourself in the field of exploring the internet.
The security features in kids mode are very good.
To exit this mode, you will need a password with a parent item set so that children cannot open any other app located in this tab without parental consent.
This application turns the "regular" tablet into a device that is safe for children.
The user interface has been made very attractive with bright colors and a home screen full of cute characters loved by children.
Here too you can make use of educational apps, although there is not as extensive a library as in the Vtech.
But as a parent, I wouldn't like it if kids could play without watching the time.
You can therefore set how long the child can use the gadget. When the time is up, the tablet goes to sleep (mode) and the children stop playing.
If they want to add time to play, children must ask their parents for permission. These apps also train children to the discipline of the time.
*) FYI, Croco is the name of the icon in Kids mode apps
Performance
The Samsung Galaxy Tab A is a compact tablet with a huge battery, expandable storage and an accompanying price tag.
It features an 8-inch 1200 x 800 display that can reach up to 480 nits of brightness.
It comes with 2 GB of RAM and 32 GB of storage which is expanded by 256 GB via a micro SD card.
The specifications are rounded off with a Qualcomm Snapdragon 425 processor, an 8 MP rear camera, a 5 MP front camera and a 5000 mAh battery.
And while Android Oreo has been on the road for a few months now, the Galaxy Tab A comes with Android 7.1.1. Nougat.
Also read: can I make an Android tablet suitable for my child?
It includes Kids mode, which offers kids games and videos from content providers that Samsung partners with.
Kids mode features 5.000 exclusive LEGO group game and video titles, including the popular LEGO Batman: Beyond Gotham and LEGO NINJAGO: Shadow of RONI apps.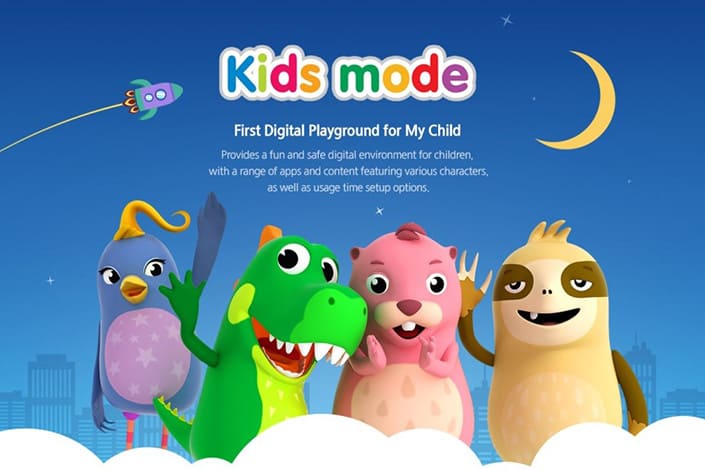 Samsung Kids is a subscription service offered by Samsung, but you don't need to sign up when you buy the Galaxy Tab A.
That said, Samsung has built-in premium games, books, movies and TV worth 100 euros for the purchase of the Galaxy 100.
Conclusion about the Samsung Galaxy Tab
It is one of the most powerful Android tablets on the market with such kid-friendly settings.
A good choice if you want to buy something for your older children that they can use a little more, and can even move to a parental control-less tablet.
And you can surf enough on it yourself and perhaps work a bit.
Less educational than the Vtech, less gaming than the Switch.
But a lot more surfing, watching videos and being social on all the platforms your child could want.
If they don't have their own laptop and maybe don't have their own phone yet, the Switch isn't really a tablet replacement.
View the latest prices of the Samsung Galaxy Tab here at Bol.com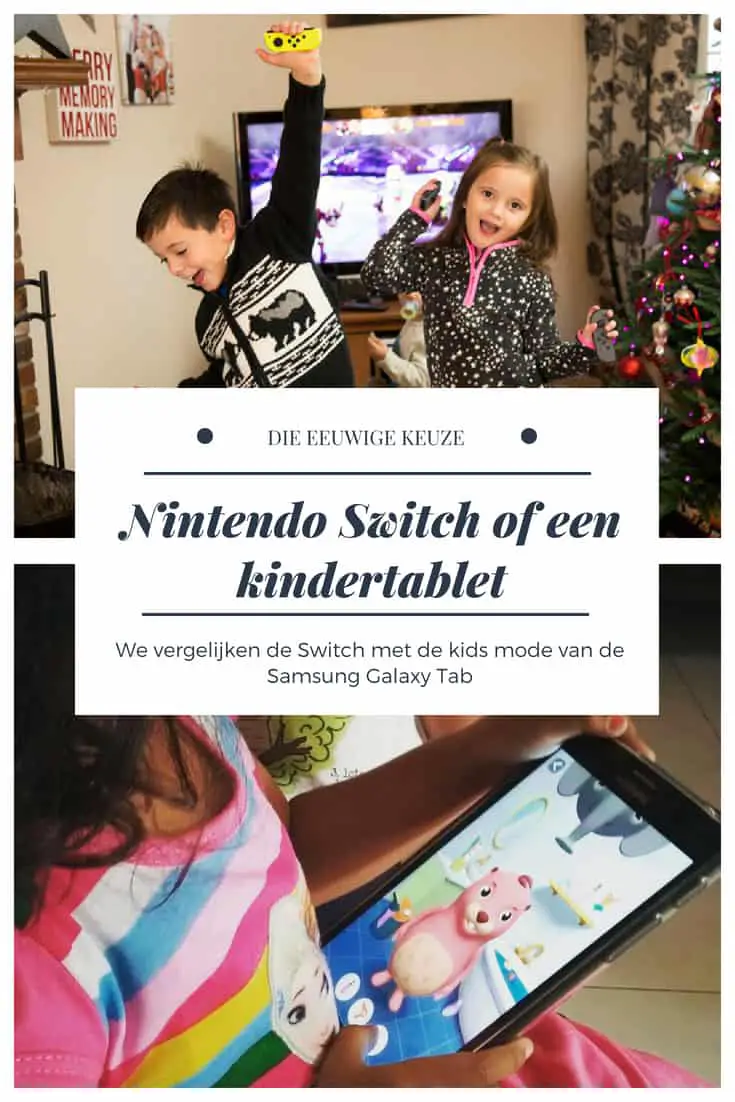 Overall conclusion
Nintendo Switch, children's tablet or a full-fledged tablet with kid mode?
We have already mentioned it at the top, of course, a summary of what you could base your choice on.
There is something to be said for each product, but ultimately it is about what age your children are and what you want them to spend their time on.
And possibly whether they have an alternative for some functions of a tablet.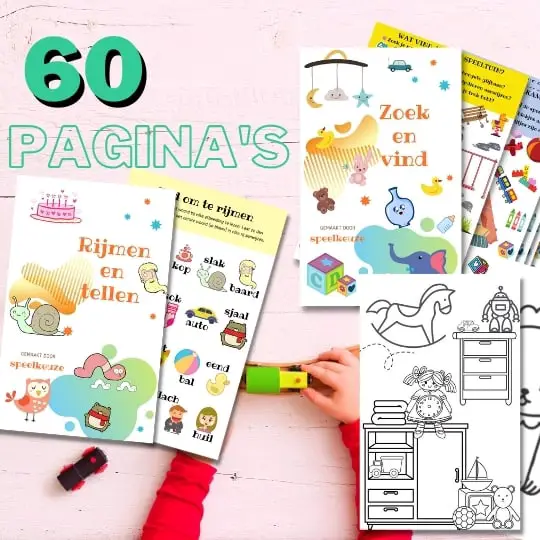 Always something to do for the holidays or rainy day?
Play Choice now has the ultimate activity book collection, with over 60 pages of fun coloring pages and educational puzzles.
Joost Nusselder, the founder of Speelkeuze.nl is a content marketer, father and loves trying out new toys. As a child he came into contact with everything related to games when his mother started the Tinnen Soldaat in Ede. Now he and his team create helpful blog articles to help loyal readers with fun play ideas.