These are the 5 best online children's clothing outlets
I enjoy writing these articles for my readers, you guys. I don't accept payment for writing reviews, my opinion on products is my own, but if you find my recommendations helpful and you end up buying something through one of the links I may be able to receive a commission on that.
Further information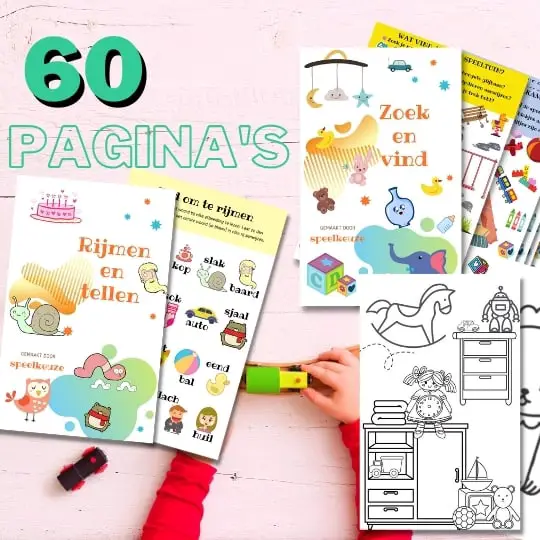 Always something to do for the holidays or rainy day?
Play Choice now has the ultimate activity book collection, with over 60 pages of fun coloring pages and educational puzzles.
Outlet stores, you can hardly ignore it and nowadays you can score clothes from many brands.
Where you used to go for off-season leftovers and a shirt without buttons, you can now find almost everything in an outlet store.
There are also a number of beautiful online outlets for children's clothing where you can also buy nice designer clothes for your child, but at affordable prices.
In this post I have the 5 best online children's clothing outlets for you.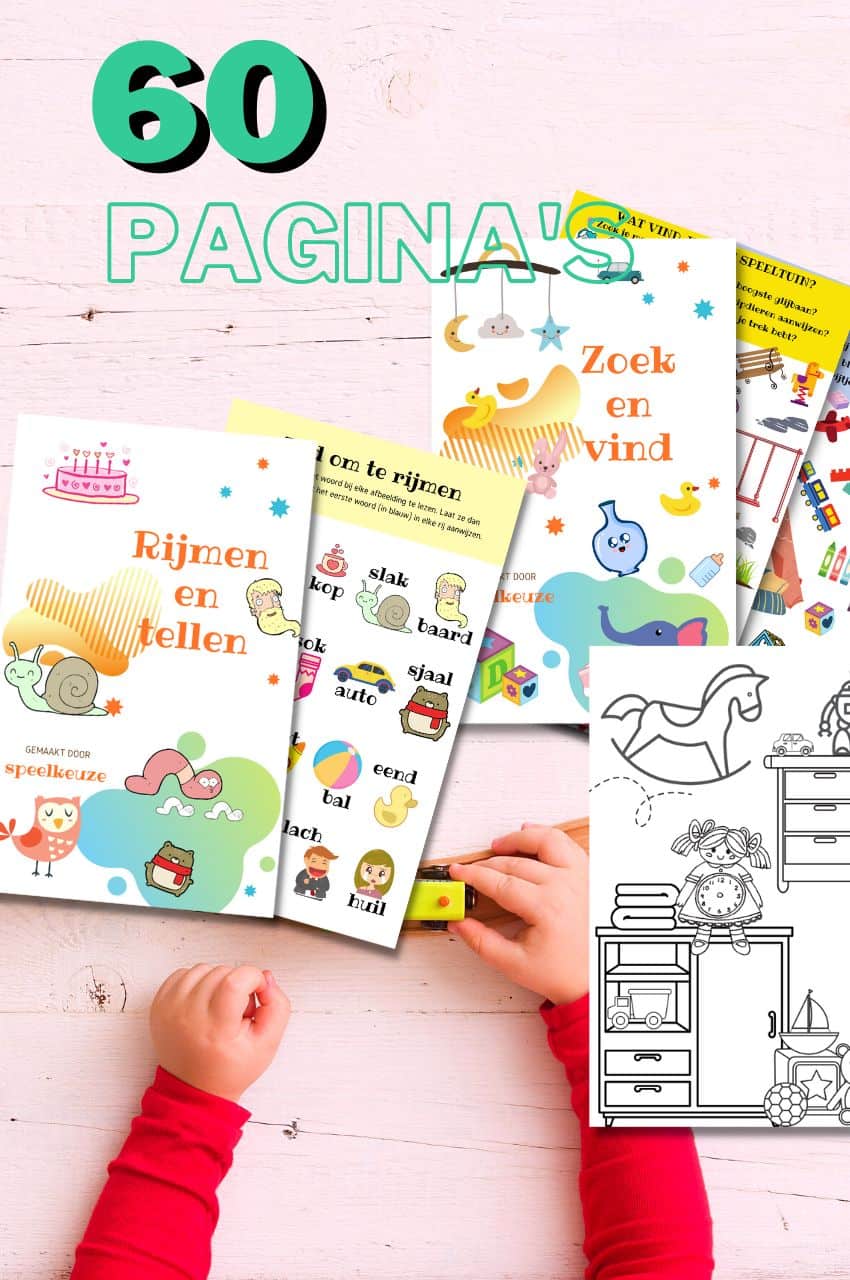 A play theme in your mailbox every month?
Fun play tips, activity books and more, with the first email being our free mini-guide "educational toys"
We will only use your email address for this newsletter and respect your privacy
Top 5 online children's clothing outlets
Kixx Online

Nice shop with a lot of choice for children. They always have one too sale department on the site with a lot of outlet deals.
With brands like Name IT, Nono, LeBig and even sneakers from VEJA you can always go there for an excellent deal.
They have 4 outlet departments:
baby clothes
baby shoes
children's clothing
children's shoes
Here Frederieke bought some nice things at Kixx:
To be Dressed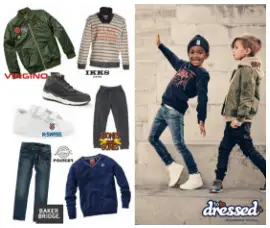 A store with always the best discounts on children's clothing. To be Dressed usually has a 40% discount on all children's clothing.
This way you can always succeed, even within your budget!
Selling the range of outlet for children you will find here.
noppies

Noppies also has a great outlet department. Here you will find a lot of bargains from this fun and quirky brand.
The discounts they offer are almost always 50% so that is a considerable saving on a nice baby or children's outfit!
Click here on the site for the offer
clothes.com

In any case, already a store with cheap items, but they also have an outlet section where you can shop (online) to your heart's content.
On most articles there is a discount of 70%, but at least 50%. These are really the super deals that you should take a look at.
They have their offer online on this page
Shop your children's clothing at online outlet stores
The commercial market has evolved to the point where store sales no longer have a monopoly on the consumer world.
Where consumers once relied almost exclusively on points of sale for their needed goods, today you can buy everything at
online stores,
auction sites,
wholesalers,
liquidation centers
and in some cases you can even go straight to the manufacturer.
The advantages of a physical store, such as a friendly and helpful staff that helps build customer loyalty, so that customers return again and again, are hardly available at an outlet.
There is often a large mass of discounted items, and you can also find them online.
Outlet Stores Pros & Cons: Are You Really Saving Money?
Modern outlet shopping is no longer what it used to be.
You are no longer limited to the clothing with factory defects that you previously only found in the outlets.
High-end brands such as Kate Spade, Coach and Jimmy Choo are entering the scene, attracting shoppers who also want great deals on luxury items.
The outlet world is expanding.
And it is big business for retailers.
But does the word "outlet" mean that you always get the best deal? We wondered the same.
Here are the pros and cons of modern outlet store shopping.
You can certainly save a lot on your children's clothing compared to traditional stores. However, you have to pay attention to what you buy and whether you keep an eye on your budget.
Saving a lot on expensive designer clothes and the "greed" that a big discount can cause can also put you outside your budget.
Do you really save that much at outlet stores?
Benefit: Usually you can score a nice discount at an outlet. On average, a discount of 38% is given on outlet items. That's not as high as you might imagine, but it's certainly not bad either.
Downside: Unfortunately, some items were actually more expensive or the exact same price in the outlet than in other stores. In addition, you often buy more expensive items than you would otherwise, so you may still spend more. You also have designer clothes and / or clothes of better quality.
Is the quality in the outlet the same?
BenefitGone are the days when damaged goods were responsible for the majority of outlet inventory. Now about 86% of the stock is made specifically for the outlet, according to research firm Buxton. That means you'll see discarded goods less frequently and are likely to find items similar to their high-end cousins.
Downside: As major brands produce product lines specific to their cheaper locations, they also find less expensive ways to manufacture them. That could mean skimping on a few details. Consumer Reports, for example, bought two pairs of J.Crew ballerinas-one from an outlet and one from a permanent location. Although the footwear looked almost identical, the outlet shoes were made in China with a synthetic material and the shoes were made in Italy with real leather.
Is it worth the extra ride?
Benefit: When you buy from one of the online outlets from this post it doesn't matter, of course, although you sometimes have to pay attention to whether you can get free shipping at both stores. Otherwise you are still more expensive. It is the same with an extra ride to probably a more distant children's clothing outlet. But times also change. More and more outlet stores are closer to the major metropolitan areas and meet the needs of their urban clientele. This means that you don't necessarily have to travel to the middle of nowhere (or Lelystad) to meet your shopping needs.
Downside: although the outlets are getting closer, they are still further than the stores in the mall. Which is significant, because after a longer drive, you might be in the mood to spend more. After all, you have already covered that distance and you want to buy something of course. Remote shopping can also become a problem if you have to return an unwanted or defective product, as many retailers do not accept items purchased from their other outlets. Here too online shopping at outlets offers a solution.
The trends of outlet shopping for children's clothing
Outlet retail has come a long way in size, geographic reach and popularity since Anderson-Little opened the first non-factory outlet stores in 1936.
And until the 70s, such shops were still far from the primary shopping centers, served mainly to sell surplus or damaged goods.
But since then they've grown into multiple branded and non-branded stores in the same location and a wide variety of designer label offerings.
It is important for retailers that sales per square meter of retail space are often better than those of conventional shopping centers.
Shoppers spend up to 79 percent more per visit on outlet stores than regional malls and while they are typically still located outside of the city's malls, they are getting closer to central commercial districts.
You can also see the number of outlets increasing significantly online and retailers have now fully discovered the combination of discounts and the convenience of online.
Rather than representing a dump for unsold goods, outlets are a good distribution channel for fashion and other merchandise.
And since children's clothing is a good selling item for many brands, the outlets have also included these items in their concept.
Some start organic stores even now.
The service at online outlet stores
There is another dimension that primary retailers and outlet stores can be compared to, and that is service.
You will notice this at outlet stores both online and offline. Although the sales staff in outlet stores are also pleasant, the service level is certainly lower than in the regular stores.
It is generally up to the customer to customize garments, and the retail environment is much less luxurious than in a luxury department or specialty store.
Although today's shops have more amenities (eg dressing rooms) than those of the past, it is still a long way from the luxurious treatment you get at a Bijenkorf, for example.
This is also the case in the online world. For example, shipping times are often longer, or until ordering less late is delivered tomorrow.
In addition, often fewer parts are free. Where online retailers are now trying to win customers over by offering both free shipping and returns on all orders, this is less often seen in outlet stores.
Especially with children's clothing you often want to fit this, so pay close attention to the return policy of the relevant store.
They also tell you that fewer other services are free, such as different payment methods such as paying afterwards. And sometimes they just offer a lot less payment methods to reduce costs, such as expensive credit card payments and paypal.
Where can I buy second-hand children's clothing? 6 Tips!
Second-hand children's clothing is for sale throughout the Netherlands.
There are several markets, thrift stores and online stores where you can pick up good and cheap children's clothes.
There are even second-hand children's clothing markets that spread special focus on selling only second-hand branded children's clothing.
Read in this article where exactly you can buy second-hand children's clothing, tips for buying second-hand clothing on the market, how to buy children's clothing via the marketplace and whether you can also exchange second-hand children's clothing.
By buying second-hand children's clothing you not only save money, but you also contribute to a better world.
In this way, clothing is not just thrown away when it is still in good condition.
By reusing things, we contribute to the climate, society and our own wallets.
Because perhaps the best thing is to look for the best bargains!
These are briefly the tips for buying second-hand children's clothing:
Children's clothing fairs
Albert Cuyp
Children's clothes on the market
Buy children's clothes on the marketplace
Clothing of the family union
The exchange of second-hand children's clothing
Sometimes it can help you to pay for children's clothing afterwards, you pay when you receive your salary again.
However, it is often also a structural problem and you will have to see if you can also do it cheaper. I'll explain the topics further here:
Where are there second-hand children's clothing fairs?
There are second-hand children's clothing fairs throughout the Netherlands and Flanders.
You can also score nice children's clothing at flea markets that are not specifically aimed at children's clothing.
A number of well-known, large second-hand children's clothing fairs that offer good quality clothing are:
Children's clothing & Toy fair XXL in Hilversum, Den Bosch and Amsterdam.
They advertise themselves as the largest and most fun children's clothing and toy fair in the Netherlands.
Both new and second-hand items are sold here for children from 0 to 10 years old and the entrance is €3,50 (€2,50 online).
bengelbeurs in Delft. Here, second-hand (brand) children's clothing is sold from size 80 to 164 and you can pay by pin.
Jippie exchange in Zeist. Advertises that you must be here for the better secondhand designer clothes.
Children's clothing is sold here from size 80 to size 170 at 100 stalls and admission is free. Pin is also possible here.
In addition, we have listed two other flea markets where many different things are sold, including many vintage children's clothing:
IJ-hallen in Amsterdam. With no fewer than 750 stalls, this is one of the largest second-hand fairs in the country. The IJ hallen take place once a month.
Utrecht Bazaar in Papendorp-Utrecht. Both new and second-hand items are sold here.
This bazaar is open every Saturday and Sunday and the entrance is €3,50 per person (children up to and including 12 years are free).
For an overview of all second-hand markets in the Netherlands you can take a look at meukisleuk.nl.
Here you will find an overview of all exhibitions, sorted by category and by date.
If you want to make sure that children's clothing is also sold, you can always contact the organization to check what kind of stalls have registered.
A Good Story goes shopping for second-hand baby clothes here:
Is children's clothing also available at the Albert Cuyp?
On the largest market in Europe, the Albert Cuyp market, there are no stalls focusing on children's clothing only.
On the website you can see all categoryën and stalls that are present on the market and children's clothing is not listed here.
However, in the shops around it, things are focused on children's clothing only.
You can also see on the website which shops are located on Albert Cuyp in Amsterdam, around the market. Two children's clothing stores are mentioned here:
Twinkle childrenis a children's clothing store near the Albert Cuyp market. Also Splashes Children's fashion is around here.
How do I buy second-hand children's clothes on the market?
When buying children's clothes on the market, it is important that you look closely at the price and quality.
Buying children's clothing on the market is different than in the store. And that makes sense.
After all, this is about buying second-hand children's clothing and it is also important that you often cannot exchange or return it.
This makes it important that you pay more attention to the condition of the clothing on the market. You are also free to negotiate the price in the market.
Follow the steps below to successfully purchase second-hand children's clothing on the market:
Look at the seller and how the booth is laid out

Ask the price of the item of clothing you like
Then take a good look at the quality and consider whether you think it is worth the price
Negotiate the price.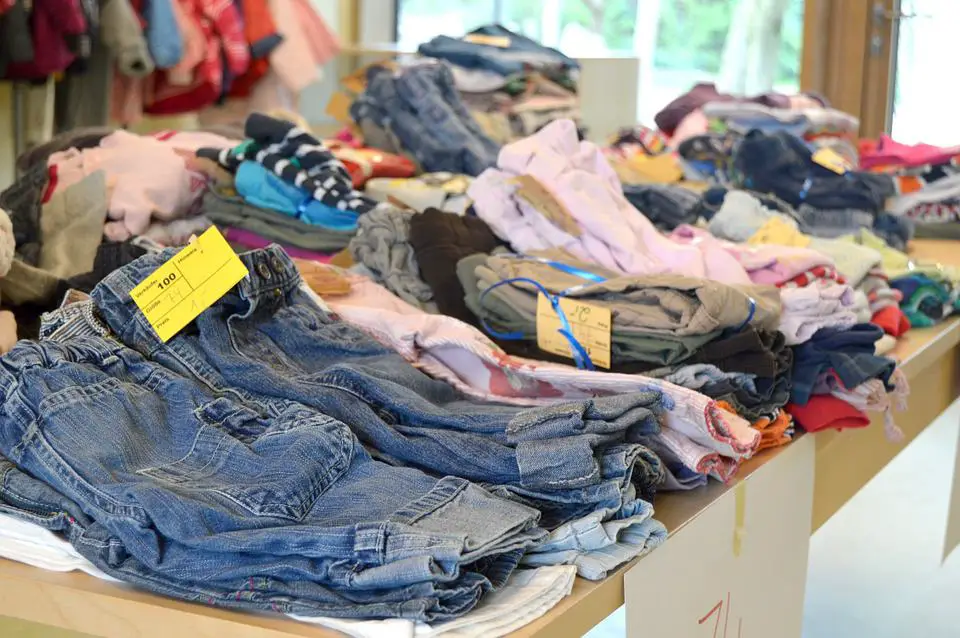 If everything went well, you are now the happy owner of a new second-hand item of clothing for your child.
K
look at the seller and how the booth is laid out
By looking at what kind of person is behind the stand, you can already make an estimate of what is on the stand. For example, you can pay attention to the clothing style.
If this is the same as yours, or at least nice, you can also expect nice children's clothes for you.
But if the person behind the booth looks like a slouch and he or she is wearing worn-out clothes, then you know you have to look very carefully or maybe even skip the booth.
Pay close attention to the quality
of the second-hand children's clothing on the market
When you see all the clothes hanging together, it often looks very nice and bright, but when you get closer you really see the condition of the clothes.
Pay close attention to pills, scuffs, and stains before you buy. Also, don't believe everything the seller says.
If that stain can get out with a wash, why didn't the seller do that before putting it on the stand?
Also test zippers and buttons to make sure you're buying clothes that are even longer than oneone time.
Negotiating the price
is standard on second-hand children's clothing markets and fairs
You can also often negotiate the price in thrift stores. And especially when you buy multiple pieces you can ask for a joint price with a discount.
In the Netherlands we may not be used to haggling anymore, but it is still very common in markets!
To negotiate well, it is wise to ask the price first, take a moment to think and then make a counter offer.
Negotiation is normal on second-hand markets and the seller has probably already taken this into account in the price you just got.
How can I buy second-hand children's clothes on the marketplace?
Via Marktplaats you can easily and cheaply buy second-hand children's clothing.
You can place bids on the clothing you like and then have it delivered to your home or picked up at an agreed location.
Marktplaats is an online platform where new and second-hand items are offered and sold. The range of children's clothing is very large.
The website works just like a normal webshop, because you can filter by size, type of garment and boys or girls clothing.
An additional advantage is that you can filter by distance, delivery method and the condition in which something is.
To buy second-hand children's clothing on the marketplace, you can follow the following steps. Like most things it is very easy as long as you know how it works.
Op marketplace.nl can you view clothes without creating an account.
You can apply all kinds of filters until you find what you are looking for. Read more about the filters and categories below.
When you have seen a piece of clothing or a pair of shoes you have to login to react. You can create an account for free if you don't have one yet.
Thereafter Reply you on the desired garment. This can be done in various ways:
You have to make an offer in the right column next to the photo

'

s

You must send a message to the seller, also to the right of the photo

'

s

After this you wait for an answer and come to

offer

. You increase your bid if someone outbids you or you negotiate the price via the sent message. By the way, messages are always sent via marketplace, so no one will find out your e-mail address unless you release it yourself

Agree if you want it

can be picked up or shipped

and speak the

payment method

af

If you choose to pick up, the payment is simple: cash when you have seen the clothing with your own eyes. You can also transfer the money via the app when you are on location and show the statement immediately
If you choose to ship, it is best to agree to pay part before and part after shipment. And always ask for the proof of shipment!
As simple as that, you are now the owner of a new second-hand garment for your child!
Now you know how to buy second-hand children's clothing via marketplace. We are also happy to give a few tips on how to search the marketplace.
There are thousands of different items of clothing online, so it is useful to know from which categories you can choose and which filters you can apply.
That way you can ensure that you only see the relevant search results. That is so easy of course.
You can from 2 headings choose: baby clothes and children's clothes. These are then divided into the different sizes (50 to 176) or the next categoryën:
'

c

arnaval clothing and

v

clothes

for children

'

,

'

m

out,

s

jaals and

h

gloves

for children

'

,

'

p

etching and

h

oeds

for children

'

,

'

children

shoes and

s

okks

'

en

'

o

Sweden

'

.
De conditions you can choose from: new, as good as new and used.
Then you can choose whether the is intended for: a boy, a girl, a boy or girl.
You can filter on it type of garment: trousers, jacket, shirt or longsleeve, sweater or vest, dress or skirt, nightwear or underwear, shirt or blouse, sports or swimwear, and other types.
The range per type of garment ranges from at least 500 in the nightwear or underwear category to more than 5.000 in the trousers category.
Delivery methods what you can filter on are: pick up, send and send or pick up.
De 'offered since' filter shows clothing that has been on the marketplace since today, yesterday, a week or always.
This is nice when, for example, you check the clothes once a week. That way, you don't have to keep browsing the same clothes that have been on for 3 weeks.
In addition to these handy filters above, if you buy second-hand children's clothing on the marketplace, you can filter by distance and of course by price.
And one last nice extra: marketplace also offers complete sets or clothing packages for children.
That saves you time to find top and bottom pieces together!
Marktplaats offers you thousands of types of clothing, all on oneone place.
Online shopping has many advantages en Marktplaats knows how to bundle all of these on their second-hand sales platform.
How do I get family union clothing?
The family association has clearly stated on its website where there are second-hand fairs that may or may not have been organized in collaboration with them.
The family union is a Belgian association that works for all families in Flanders and Brussels.
The organization defends the interests of all families and works in the following areas: family policy actions, socio-cultural work, social life and services.
On the website of the family association you can easily request locations of second-hand fairs in Flanders and Brussels.
On the page about second-hand fairs you will find a green-outlined rectangle at the bottom that says "Enter a location to search.".
Here you enter a city and a radius within which you want to search. If you enter Antwerp, for example, within a radius of 20 km, you will already see more than 10 fairs!
Can I also exchange second-hand children's clothing?
Second-hand children's clothing cannot usually be exchanged. Do you want to exchange anyway, because you are not sure whether it is the right size, you have to make good agreements.
The standard course of events on the market, marketplace or in a cycleshop is that you can no longer exchange or return items for money.
It may happen that you are not sure whether something is the right size, because you are shopping without your child, for example.
In that case, it is advisable to check whether you can return or exchange something.
If you are a regular customer, it will be less of a problem and nowadays you see opportunities to trade in more and more markets.
The answer to the question where can I buy second-hand children's clothing is easy: wherever you want.
Children's clothing fairs are organized throughout the Netherlands and Flanders where you can purchase both new and second-hand children's clothing.
If there is no second-hand children's clothing fair in your area, you can look at one of the larger flea markets.
And if this is not an option, you can go to the huge online platform marketplace, where thousands of items of clothing are offered and you can filter whether you want to pick it up or have it delivered.
So for everyone there is good second-hand (brand) children's clothing to come. Make sure you pay close attention to quality when purchasing and negotiate the price.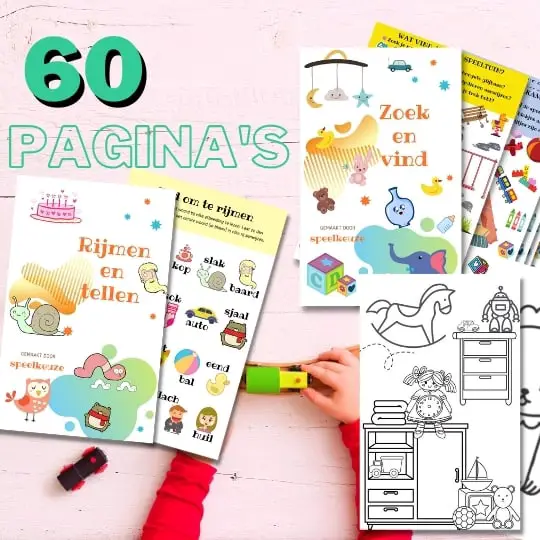 Always something to do for the holidays or rainy day?
Play Choice now has the ultimate activity book collection, with over 60 pages of fun coloring pages and educational puzzles.
Joost Nusselder, the founder of Speelkeuze.nl is a content marketer, father and loves trying out new toys. As a child he came into contact with everything related to games when his mother started the Tinnen Soldaat in Ede. Now he and his team create helpful blog articles to help loyal readers with fun play ideas.