I enjoy writing these articles for my readers, you guys. I don't accept payment for writing reviews, my opinion on products is my own, but if you find my recommendations helpful and you end up buying something through one of the links I may be able to receive a commission on that.
More information
Outlet stores, you can hardly ignore it and nowadays you can score clothes from many brands.
Where you used to go for off-season leftovers and a shirt without buttons, you can now find almost everything in an outlet store.
There are also a number of beautiful online outlets for children's clothing where you can also buy nice designer clothes for your child, but at affordable prices.
In this post I have the 5 best online children's clothing outlets for you.
Top 5 online children's clothing outlets
Kixx Online

Nice shop with a lot of choice for children. They always have one too sale department on the site with a lot of outlet deals.
With brands like Name It, Nono, LeBig and even sneakers from VEJA you can always go there for an excellent deal.
They have 4 outlet departments:
baby clothes
baby shoes
children's clothing
children's shoes
Here Frederieke bought some nice things at Kixx:
To be Dressed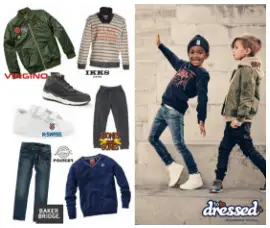 A store with always the best discounts on children's clothing. To be Dressed usually has a 40% discount on all children's clothing.
This way you can always succeed, even within your budget!
Selling the range of outlet for children you will find here.
noppies

Noppies also has a great outlet department. Here you will find a lot of bargains from this fun and quirky brand.
The discounts they offer are almost always 50% so that is a considerable saving on a nice baby or children's outfit!
Look here on the site for the offer
clothes.com

In any case, already a store with cheap items, but they also have an outlet section where you can shop (online) to your heart's content.
On most articles there is a discount of 70%, but at least 50%. These are really the super deals that you should take a look at.
They have their offer online on this page
Shop your children's clothing at online outlet stores
The commercial market has evolved to the point where store sales no longer have a monopoly on the consumer world.
Where consumers once relied almost exclusively on points of sale for their needed goods, today you can buy everything at
online stores,
auction sites,
wholesalers,
liquidation centers
and in some cases you can even go straight to the manufacturer.
The advantages of a physical store, such as a friendly and helpful staff that helps build customer loyalty, so that customers return again and again, are hardly available at an outlet.
There is often a large mass of discounted items, and you can also find them online.
Outlet Stores Pros & Cons: Are You Really Saving Money?
Modern outlet shopping is no longer what it used to be.
You are no longer limited to the clothing with factory defects that you previously only found in the outlets.
High-end brands such as Kate Spade, Coach and Jimmy Choo are entering the scene, attracting shoppers who also want great deals on luxury items.
The outlet world is expanding.
And it is big business for retailers.
But does the word "outlet" mean that you always get the best deal? We wondered the same.
Here are the pros and cons of modern outlet store shopping.
You can certainly save a lot on your children's clothing compared to traditional stores. However, you have to pay attention to what you buy and whether you keep an eye on your budget.
Saving a lot on expensive designer clothes and the "greed" that a big discount can cause can also put you outside your budget.
Do you really save that much at outlet stores?
Benefit: Usually you can score a nice discount at an outlet. On average, a discount of 38% is given on outlet items. That's not as high as you might imagine, but it's certainly not bad either.
Downside: Unfortunately, some items were actually more expensive or the exact same price in the outlet than in other stores. In addition, you often buy more expensive items than you would otherwise, so you may still spend more. You also have designer clothes and / or clothes of better quality.
Is the quality in the outlet the same?
BenefitGone are the days when damaged goods were responsible for the majority of outlet inventory. Now about 86% of the stock is made specifically for the outlet, according to research firm Buxton. That means you'll see discarded goods less frequently and are likely to find items similar to their high-end cousins.
Downside: As major brands produce product lines specific to their cheaper locations, they also find less expensive ways to manufacture them. That could mean skimping on a few details. Consumer Reports, for example, bought two pairs of J.Crew ballerinas-one from an outlet and one from a permanent location. Although the footwear looked almost identical, the outlet shoes were made in China with a synthetic material and the shoes were made in Italy with real leather.
Is it worth the extra ride?
Benefit: When you buy from one of the online outlets from this post it doesn't matter, of course, although you sometimes have to pay attention to whether you can get free shipping at both stores. Otherwise you are still more expensive. It is the same with an extra ride to probably a more distant children's clothing outlet. But times also change. More and more outlet stores are closer to the major metropolitan areas and meet the needs of their urban clientele. This means that you don't necessarily have to travel to the middle of nowhere (or Lelystad) to meet your shopping needs.
Downside: although the outlets are getting closer, they are still further than the stores in the mall. Which is significant, because after a longer drive, you might be in the mood to spend more. After all, you have already covered that distance and you want to buy something of course. Remote shopping can also become a problem if you have to return an unwanted or defective product, as many retailers do not accept items purchased from their other outlets. Here too online shopping at outlets offers a solution.
The trends of outlet shopping for children's clothing
Outlet retail has come a long way in size, geographic reach and popularity since Anderson-Little opened the first non-factory outlet stores in 1936.
And until the 70s, such shops were still far from the primary shopping centers, served mainly to sell surplus or damaged goods.
But since then they've grown into multiple branded and non-branded stores in the same location and a wide variety of designer label offerings.
It is important for retailers that sales per square meter of retail space are often better than those of conventional shopping centers.
Shoppers spend up to 79 percent more per visit on outlet stores than regional malls and while they are typically still located outside of the city's malls, they are getting closer to central commercial districts.
You can also see the number of outlets increasing significantly online and retailers have now fully discovered the combination of discounts and the convenience of online.
Rather than representing a dump for unsold goods, outlets are a good distribution channel for fashion and other merchandise.
And since children's clothing is a good selling item for many brands, the outlets have also included these items in their concept.
Some start organic stores even now.
The service at online outlet stores
There is another dimension that primary retailers and outlet stores can be compared to, and that is service.
You will notice this at outlet stores both online and offline. Although the sales staff in outlet stores are also pleasant, the service level is certainly lower than in the regular stores.
It is generally up to the customer to customize garments, and the retail environment is much less luxurious than in a luxury department or specialty store.
Although today's shops have more amenities (eg dressing rooms) than those of the past, it is still a long way from the luxurious treatment you get at a Bijenkorf, for example.
This is also the case in the online world. For example, shipping times are often longer, or until ordering less late is delivered tomorrow.
In addition, often fewer parts are free. Where online retailers are now trying to win customers over by offering both free shipping and returns on all orders, this is less often seen in outlet stores.
Especially with children's clothing you often want to fit this, so pay close attention to the return policy of the relevant store.
They also tell you that fewer other services are free, such as different payment methods such as paying afterwards. And sometimes they just offer a lot less payment methods to reduce costs, such as expensive credit card payments and paypal.
[Wl_faceted_search]
Joost Nusselder, the founder of Speelkeuze.nl is a content marketer, father and loves trying out new toys. As a child, he came into contact with everything around games when his mother started the Tin Soldier in Ede. Since 2016, he and his team have been creating helpful blog articles to help loyal readers with fun play ideas.