Die-cut fabric flowers with your Cuttlebug in 6 steps
I enjoy writing these articles for my readers, you guys. I don't accept payment for writing reviews, my opinion on products is my own, but if you find my recommendations helpful and you end up buying something through one of the links I may be able to receive a commission on that.
More information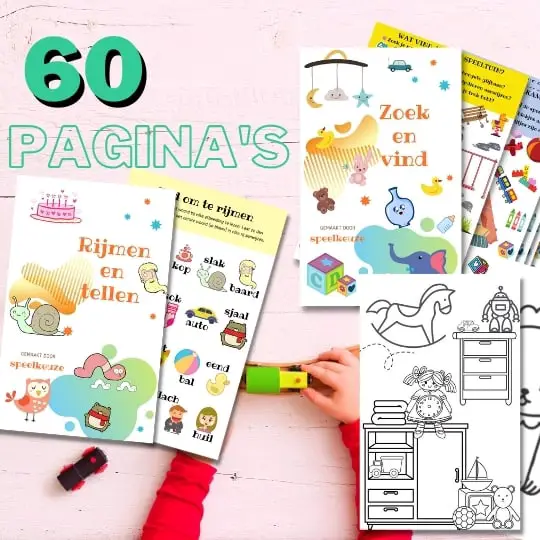 Always something to do for the holidays or rainy day?
Play Choice now has the ultimate activity book collection, with over 60 pages of fun coloring pages and educational puzzles.
Are you a DIY-er, but also happen to be the proud owner of a Cuttlebug, and are you looking for good project information about the punching of fabric flowers?
Then read my article about how you can now precisely die-cut fabric flowers with your Cuttlebug slicer makes.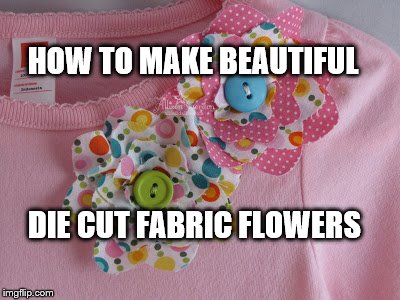 Every crafter likes to use die cutting machines for all kinds of projects!
And what we all love about this one die cutting machines is that they are so easy to use and they make your work look great.
You can become a craft master in a matter of minutes. So here I give you a super easy way to make 3D die cut fabric flowers using the Cuttlebug and the Spellbinders Nestabilities flower set.
This is a wonderful project that is great for beginners and most importantly it can be completed using the easy to follow steps below.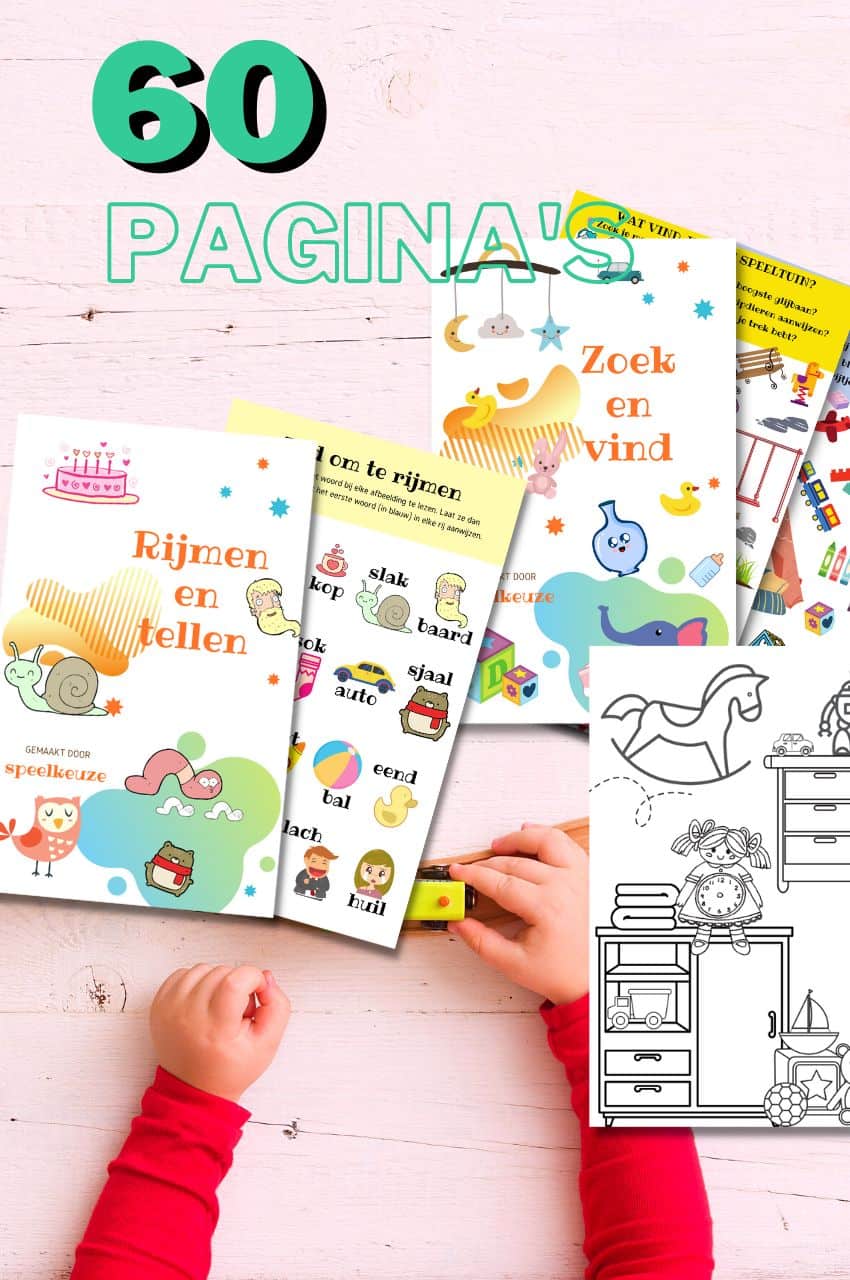 From toddler to toddler activity book collection
Educational games and coloring pages for 3 to 6 years
Your toddler and preschooler will love this e-book, along with the accompanying printables. He or she can play with it at every stage of development, together with mom and dad.
Buy at Bol.com
Supplies
This is what you need:
Cuttlebug cutting machine
A,B & C plates (for explanation see FAQ's)
2 pieces of cardboard (I used one from an old cereal box)
Fabric
Spellbinders Nestabilities or similar flower die sets
Scissors
Needle
Wire
Below I recommend a few optional parts that you can use, but they are certainly not necessary:
Button(s)
Glue for fabrics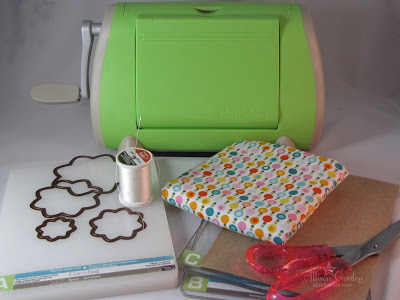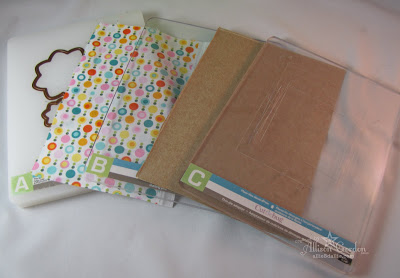 I will now explain my project to you in 6 steps.
Step 1 – Cut out the flowers
Make your Cuttlebug 'sandwich' in this order from bottom to top:
Plate 'A'
Cutting blade with the cutting edges upwards
Fabric
Plate 'B'
Cardboard or something else to put a little more pressure on the mold. This will cut the shape sharper
Finally put on the 'C' plate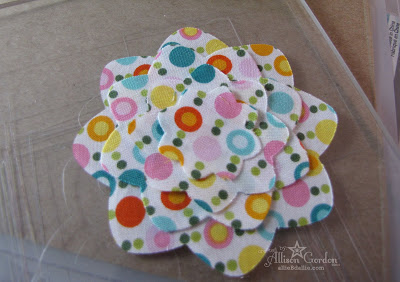 Cut out the desired amount of flower shapes according to the 'sandwich recipe'.
If your shape is not completely punched out, carefully cut off the pieces that remain, with sharp hobby scissors.
Use fray stop around the edges if you are concerned about fraying. I happen to like the frayed look myself.
Step 2 – Bring the flowers together and fold in half
Arrange the flowers in layers, from largest to smallest.
Then fold the layered flowers in half and sew them to the fold with an overcasting stitch.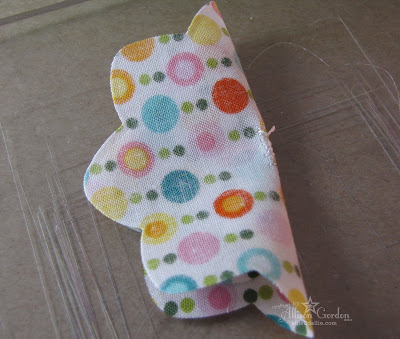 Step 3 – Fold the other side
Next, fold the flower in the opposite direction to the first row of stitches and sew the edge of the fold using the previous technique.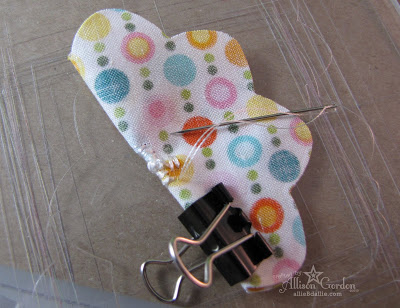 Note, I used a small clip to hold the layers in place. They are very useful for this project.
Step 4 – Create Dimension
Keep the flower folded as in the previous step and use an overcasting stitch to sew around the FIRST row of stitches.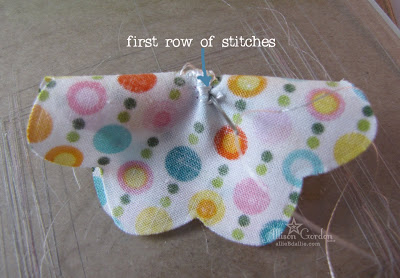 Make sure to sew through all the layers, this will pinch the center just a little more and give the flower a little more dimension.
Step 5 – Open the flower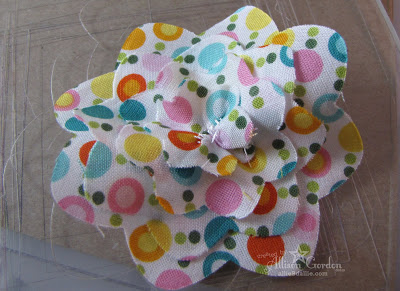 Open the flower and voilà… you're done! Sew a button on it if you like.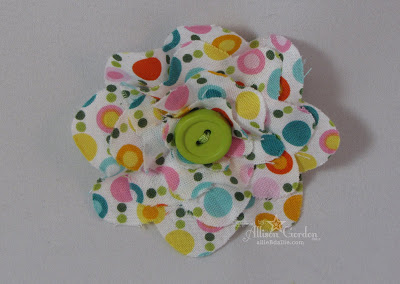 Step 6 – Attach the Flower
If you're making this for a young child, tie the knot with lots of stitches and use a non-toxic fabric glue for extra security.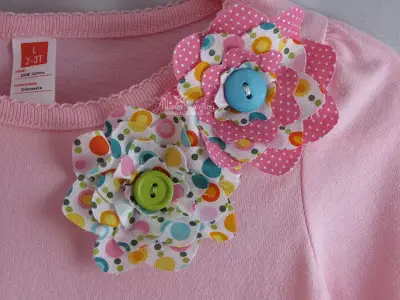 The last thing we would want is for a child to eat the knot… or the flower!!! 🙂
If you want to put this flower on clothing, I would recommend gluing the flower to the garment and stitching it with lots of stitches.
These flowers are so cute and can be used for any occasion, for yourself or for your kids. I used two different fabrics for the other flower.
FYI: You can do the same with the Cricut. Simply cut out your images with a difference of 1/4 of an inch for each layer, which equals 0.635 cm.
Check out this video on how to make flowers with the Cuttlebug, tissues, nestabilities and the (copic) airbrush:
Another mold that can be used on your Cuttlebug is for example this funky square.
Looking for even more slicer inspiration? Look at my list of 50 fun Silhouette cutting plotter project ideas for endless creativity
FAQ's
What is the difference between Cuttlebug B plate and C plate?
The C plate is for using molds from others cutting machines.
The thinner B sheets are used together for cutting with embossing folders or for cutting and embossing with most Cuttlebug dies.
A B plate can also be used with the thicker C plate for cutting with wafer-thin dies.
What is a Cuttlebug Embossing Folder?
Embossing folders or folders are used in the Cricut Cuttlebug machine to add 3D texture to craft projects.
These are plastic folders with different unique designs. The folders are inserted into the Cuttlebug and pushed through the machine.
What can a Cuttlebug machine do?
Using a unique rolling technology, the Cricut Cuttlebug can cut and emboss shapes to add texture and dimension to your newest creative endeavors.
What should I know about the ABC plates?
Plate A 19.68 x 14.9 cm
Plate B 15.2 x 20.3 cm (this B-plate is also available in size 15.2 x 33 cm for larger embossing folders)
Plate C 15 x 19.3 cm
Do I only need one B plate?
To emboss you need two B-plates. The B-plates are the plates that are getting worn and also have cut marks etched on them.
How much space does a Cuttlebug take up?
When folded, it takes up only 30.4 x 11.5 cm.
I hope this tutorial inspires you to make something beautiful!
Also read: Best Electronic Cutting Plotter of 2021 Reviewed | the absolute crafts top 3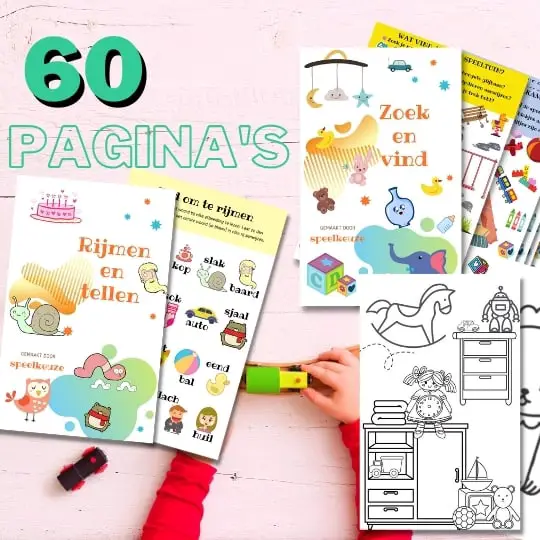 Always something to do for the holidays or rainy day?
Play Choice now has the ultimate activity book collection, with over 60 pages of fun coloring pages and educational puzzles.
Joost Nusselder, the founder of Speelkeuze.nl is a content marketer, father and loves trying out new toys. As a child he came into contact with everything related to games when his mother started the Tinnen Soldaat in Ede. Now he and his team create helpful blog articles to help loyal readers with fun play ideas.