Quilting with kids: 10 reasons why it's a great activity
I enjoy writing these articles for my readers, you guys. I don't accept payment for writing reviews, my opinion on products is my own, but if you find my recommendations helpful and you end up buying something through one of the links I may be able to receive a commission on that.
More information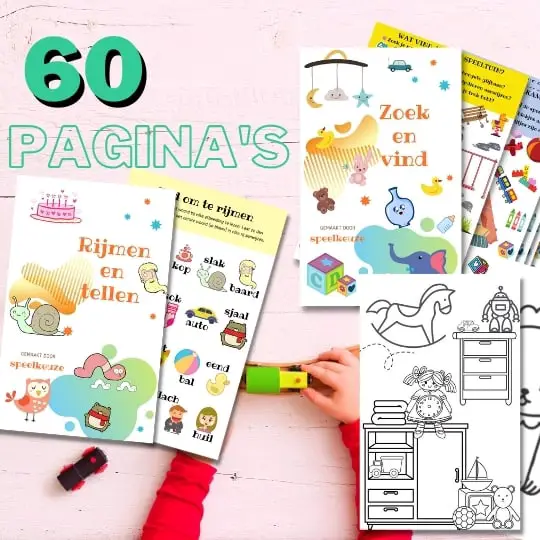 Always something to do for the holidays or rainy day?
Play Choice now has the ultimate activity book collection, with over 60 pages of fun coloring pages and educational puzzles.
Quilting is a fun hobby for adults, but is it also fun for kids?
It's a fun way to creative to be busy and it is also a nice gift to give. But what should you pay attention to?
In this article I will tell you all about this hobby and whether it is fun for children.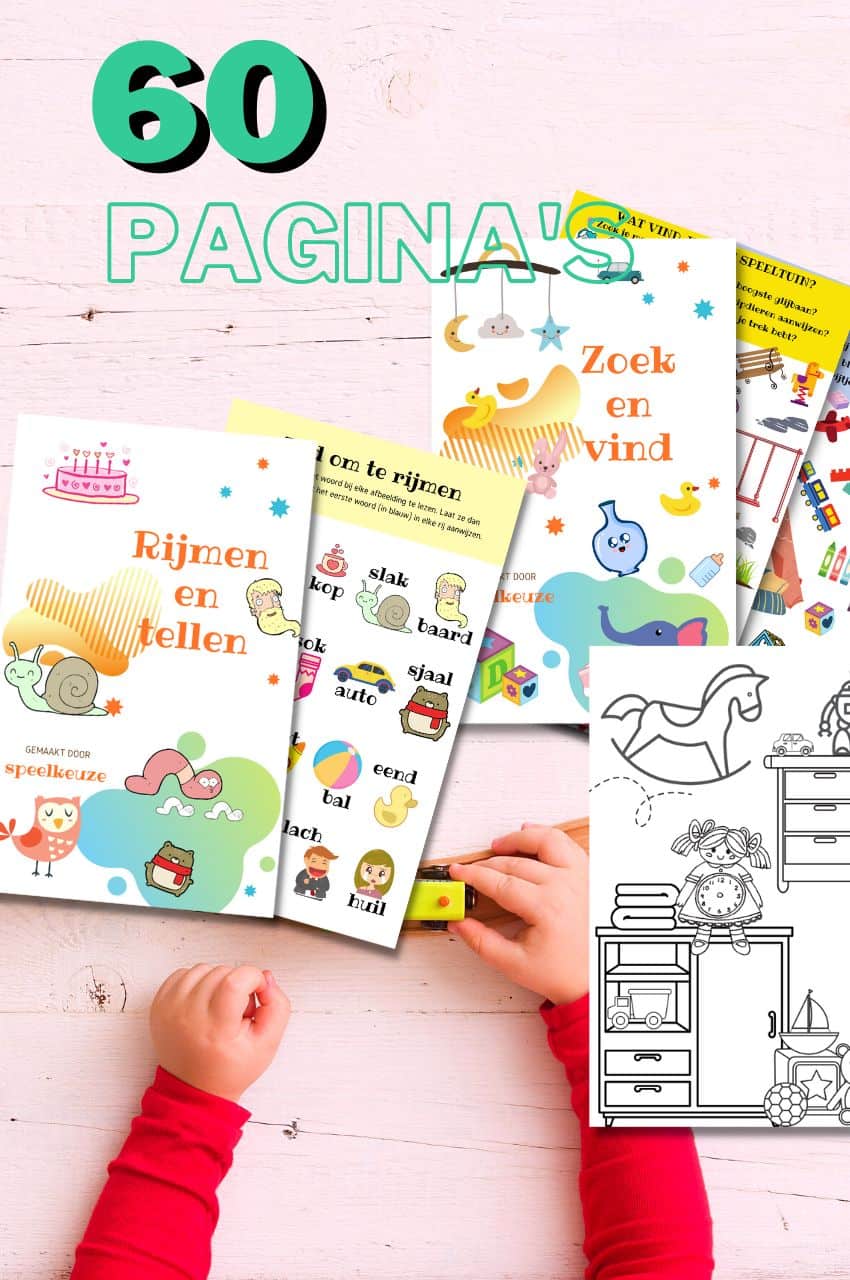 A play theme in your mailbox every month?
Fun play tips, activity books and more, with the first email being our free mini-guide "educational toys"
We will only use your email address for this newsletter and respect your privacy
Create a unique baby quilt with love and patience
Let's first look at how you can get started yourself, which is like most do…..with a baby quilt!
Choose nice printed fabrics for the baby quilt and combine different colors and motifs for a varied pattern. Cut the fabric into squares of 10×10 cm or choose a patchwork pattern with different shapes.
Make the quilt design
Place the patches in a large, open space and arrange them in any way you like. Take your time for this, because it is important that you are satisfied with the end result. If necessary, take a photo of your design so that you can easily copy it later.
Sew the patches together
Start sewing the patches together. Place two pieces right sides together and sew them together with a straight stitch. Repeat this process until you have sewn all the patches together. Press the seams open for a neat finish.
Add fiberfill and the backing
Buy a piece of fiberfill or another soft filling for the baby quilt. Cut it to size so it fits snugly between the top and bottom of the quilt. Choose a nice fabric for the back of the quilt and cut it to size. Place the back of the quilt right side down, place the fiberfill on top and then the top of the quilt right side up.
Make the border and finish the quilt
Cut strips of fabric for the quilt border. The width and length depend on the size of your quilt. Fold the strips in half and sew around the quilt. Be sure to include the fiberfill and backing of the quilt. Finish the edge neatly by folding the hem in half and sewing it in place with a straight stitch.
Additional tips and inspiration
Fiddling with fabrics and making quilts can be a fun activity for grandmas-to-be or creative girlfriends.
Search online for baby quilt tutorials and examples for additional inspiration.
Take the size of the cot into account when making the quilt. For example, a standard size is 100×135 cm.
Be patient and take the time to make your quilt with love and care. A homemade baby quilt is a wonderful and personal gift for a newborn baby.
Learning new techniques: a fun challenge for children
Learning new quilting techniques is important and fun, especially for kids who love to explore new things. It also has a positive impact on their mental development as they learn to handle different shapes and combine them in their quilting projects.
Combining old techniques with new insights
When quilting it is important to combine old, traditional techniques with new insights. For example, children can learn the half square triangles technique, a popular and widely used technique in the quilting world. Combining old and new techniques creates an interesting mix of styles and patterns that make the end result unique and personal.
Inspiring exhibitions and activities
To motivate and inspire children to learn new techniques, it is a good idea to take them to exhibitions and activities that focus on quilting. Events are regularly organized in the Netherlands, such as in April, May, July and August, where children can become acquainted with the latest quilting techniques and ideas. There are also often workshops and demonstrations in which they can actively participate.
Learn together and exchange experiences
Another way to encourage children to learn new techniques is to have them work with other children or adults who are also interested in quilting. In this way they can exchange experiences, help each other and learn from each other. This not only makes the learning process more fun, but also more effective.
Build perseverance and confidence
Learning new techniques can be challenging at times, but it's important to teach kids not to give up. With continued practice and persistence, they will eventually master the techniques. This not only helps with quilting, but also with other aspects of their lives, such as sports, school and social situations.
Patchwork and quilting: what's the difference?
Patchwork and quilting are different terms. Patchwork is sewing pieces of fabric together into a whole, while quilting joins multiple layers of material with basting stitches.
Materials and fabrics
Beautiful, high-quality quilting fabrics, such as cotton, are often used for both patchwork and quilting. Cotton is a popular choice because it is easy to work with and does not stretch. Polyester can also be used, but is often more stretchy and therefore more difficult to process. The prints on the fabrics can vary from vintage to tougher, so you can always choose a suitable fabric for your project.
Patchwork: joining patches together
Patchwork is all about accurately sewing the pieces of fabric together. It is important to have the seams connect well, so that the end result is nice and tight. This can sometimes require some patience and persistence, but the result is often worth it.
Quilting: connecting the layers
When you're happy with your patchwork, it's time to start quilting. The three layers - the patchwork top layer, the filling and the bottom layer - are placed on top of each other and sewn together with basting stitches. This ensures that the layers stay in place and that the whole feels nice and sturdy.
Special yarns and techniques
Quilting often uses special, somewhat thicker threads to join the layers. This gives a nice effect and ensures that the quilt remains firm. There are different techniques to join the layers, such as by hand or with a sewing machine. It is important to choose a technique that suits your skills and the chosen project.
Now that you know the difference between patchwork and quilting, you can start your quilting projects with even more fun and knowledge. Good luck and above all have fun!
The first steps in the world of quilting
Patchwork as a base
Patchwork is an essential part of quilting. It is the technique where you sew different pieces of fabric together to form a larger whole. This can be done in different ways, such as sewing squares, triangles or other shapes. Patchwork is a fun way to introduce children to sewing and combining colors and patterns.
Sewing: the basic quilting skill
To start quilting, it is important that your child learns to sew. This can be done by hand or with a sewing machine. Start with simple stitches and practice with your child. Sewing is not only a useful skill for quilting, but also for making clothes, plush toys and other creative projects.
Tips for choosing a first quilting project
Choose a simple pattern: Start with a simple design, such as a patchwork of squares or a simple quilt with strips.
Use cheerful colors and patterns: Let your child choose fabrics to make the project extra fun and personal.
Don't make the project too big: A small quilt, such as a cushion cover or blanket for a stuffed animal, is a good place to start.
Provide adequate guidance: Help your child sew and give tips and directions where necessary.
By getting started with quilting with your child, you will discover a new, creative world and have fun making beautiful, homemade quilts.
Quilting with a regular sewing machine: is that possible?
Yes, you can definitely quilt with a regular sewing machine! Although there are special quilting machines, there are also many possibilities to get started with a regular sewing machine. For example, you can start trying out different quilting techniques on your sewing machine in January. Within minutes you will find that reading and learning about quilting with a regular sewing machine is very accessible.
Quilting with a Janome sewing machine
A popular sewing machine brand is Janome. With a Janome sewing machine you can generally quilt very well. For example, Rianne, an accomplished quilter, has successfully completed several quilting projects with her Janome sewing machine.
Rulerwork: a sewing machine quilting technique
One technique you can try with your sewing machine is rulerwork. Rulerwork is a form of quilting that uses special rulers to create clean lines and patterns. Marlies Mansveld, a well-known quilter, posted an extensive tutorial in August about rulerwork with a regular sewing machine.
Tips for successful quilting with a sewing machine
To help you master quilting with a regular sewing machine, here are some tips:
Take the time to get to know your sewing machine well. Read the manual and experiment with different stitches and settings.
Invest in a good sewing machine foot that is suitable for quilting, such as a 1/4 inch presser foot or a walking foot.
Practice on small projects before starting a large quilt. For example, you can start making a set of quilted coasters or a small wall quilt in September.
Make sure you have a good work area with enough space to move your quilt smoothly through the sewing machine.
With these tips and the right setup, you'll be making beautiful quilts in no time at all with your regular sewing machine. Have fun and good luck quilting!
Quilting as a creative boost for children
Quilting is a great way to stimulate children's creativity. By choosing colors and patterns, they learn to develop their own taste and style. Let them choose the fabrics and colors they like. This helps them develop their sense of aesthetics and grow their creative mind.
Telling stories with a quilt
A quilt can also serve as a canvas for storytelling. Encourage your child to make a quilt that tells a story or has special meaning. This could be a quilt that depicts their favorite fairy tale, a quilt that captures a beautiful memory, or a quilt that represents their dreams and aspirations. By using their imagination, children learn to express their thoughts and feelings in a creative way.
Experiment with different techniques
Quilting offers countless opportunities to experiment with different techniques. Introduce your child to different quilting styles, such as patchwork, appliqué, and paper piecing. By trying different techniques, they discover what they like best and develop their own unique style.
Collaborate on a quilting project
Quilting can also be a fun group activity. Encourage your child to work on a quilting project with friends, siblings, or even you. This not only promotes their creativity, but also their social skills and the ability to work together.
Quilting as a relaxing hobby
Finally, quilting can be a relaxing and soothing hobby for children. In a world full of screens and technology, working with fabrics, needle and thread can be a welcome change. It helps children to concentrate, exercise patience and enjoy the creative process.
In short, quilting is a fantastic way to stimulate children's creativity and help them discover their own unique style and talents. So what are you waiting for? Grab that needle and thread and get started with your child on a fun and creative quilting project!
Crafts in children: quilting as a creative boost
Manual dexterity plays a crucial role in the development of children. It helps them to fine motor skills improve, stimulate creativity and develop perseverance. Moreover, manual dexterity contributes to children's self-confidence, because they can be proud of their own creations. Quilting is an excellent way to introduce children to crafts and show them that they can make something beautiful with their own hands.
Quilting as a contemporary and modern craft
While quilting may seem like an old tradition, today there are many modern and contemporary patterns available to suit children's interests. For example, they can make a quilt with a pattern of their favorite superhero or a colorful and abstract design. This makes quilting a fun and challenging activity that appeals to children and encourages them to use their creativity.
Quilting together: a social activity
Quilting can also be a social activity where children work together and learn from each other. In a quilting group, children can help each other with difficult techniques, exchange ideas and encourage each other to persevere when things get tough. This way they not only learn how to quilt, but also important social skills such as working together, communicating and solving problems.
Quilting as part of the culture
Involving children in quilting also teaches them about the culture and history of this craft. For example, they can discover that quilting has been practiced for centuries in different regions, such as Drenthe, and that it is an important part of our cultural heritage. This gives children a better understanding of the world around them and teaches them the importance of preserving and passing on traditions.
Quilting for charity
Another way to get kids excited about quilting is to show them that their creations can help others too. For example, there are quilt projects where the quilts made are donated to hospitals, nursing homes or other charities. Through this, children learn the importance of empathy and helping others, while developing their manual dexterity and creativity at the same time.
In short, quilting is a fun and educational activity that helps children develop their manual dexterity, stimulate creativity and learn important social skills. So why not create a contemporary and modern quilt with your children and give them the opportunity to discover and grow their talents?
Quilting and the development of fine motor skills in children
Quilting is not only a fun and creative activity, it also helps develop fine motor skills in children. Fine motor skills mean that children learn to make small, precise movements with their hands and fingers. Think of actions such as writing, cutting and fastening buttons. In quilting, these skills are fully stimulated, because a lot of precision and concentration is needed when sewing and working with small pieces of fabric.
Toys and activities that encourage fine motor skills
There are many toys and activities that can stimulate fine motor skills in young children. Some examples of this are:
Stringing beads
Make puzzles
Coloring and drawing
Build with blocks
Playing with clay
Quilting is a fun addition to these activities because it requires a combination of fine motor skills, creativity and perseverance.
Sensorimotor skills and quilting
Sensorimotor skills are the combination of sensory and motor skills. Quilting stimulates children's senses, such as touch and sometimes even smell (think of the smell of fabrics). This is combined with the fine motor skills needed to sew the pieces of fabric together. This makes quilting a sensory rich activity that stimulates children's sensorimotor skills.
Quilting and concentration
Another important aspect of quilting is that it promotes children's concentration. It takes patience and attention to detail to make a quilt, which helps children develop their ability to concentrate. This is an essential skill that they will need later in life when performing other tasks such as reading, writing and math.
In short, quilting is a fun and challenging activity that contributes to the development of fine motor skills in children in several ways. It is a creative and social activity that also stimulates their concentration and perseverance. So what are you waiting for? Get started quilting with your kids and watch them grow and develop!
Tips for choosing appropriate quilting projects for kids
If your child is new to quilting, it's important to start with simple and uncluttered designs. This helps keep the process fun and challenging, without getting too complicated. For example, choose simple shapes such as squares, rectangles or triangles.
Use attractive fabrics and colors
Children often love bright colors and fun prints. Choose fabrics with cheerful colors and patterns that match your child's interests. For example, think of fabrics with animals, flowers, cars or cartoon characters.
Personalize the project
Involve your child in choosing the design and fabrics to make the project truly personal. For example, let your child make a drawing that you then convert into a quilt design, or use scraps of old clothing that have a special meaning.
Custom quilting projects
Choose a project that is appropriate for your child's age and skill level. Smaller projects such as a cushion cover or stuffed animal are suitable for younger children, while older children may be ready for a larger project such as a blanket or tapestry.
Joint projects
Quilting can be a fun activity to do with your child. Choose a project where both of you can do some of the work, such as sewing the pieces of fabric and assembling the quilt. This not only promotes cooperation, but also ensures a pleasant time together.
Quilting as a means to develop perseverance and self-confidence in children
Quilting is a fun and creative activity where you can make beautiful blankets, clothes and other items. It is a technique in which you sew pieces of fabric together to form a larger whole. But did you know that quilting also contributes to the development of perseverance in children? It is not always easy and requires patience and practice. By taking a quilting class with your child, they learn to deal with challenges and not to give up when the going gets tough. They will notice that they are getting better and that will boost their self-confidence.
Build self-confidence by achieving goals
With quilting you work step by step on an end result. You start by choosing a pattern, choosing the fabric and cutting the patches. Then you get started with sewing the patches together and dividing the layers. This process can sometimes take quite a long time, especially if you are not that experienced yet. But when your child finally has that beautiful quilt in their hands, the feeling of pride and satisfaction is enormous. After all, they themselves have created something that was only an idea at first. This helps build confidence and teaches them that with perseverance and patience they can achieve a lot.
Collaborate and help each other
Quilting is not only an individual activity, it is also an activity that you can do together with others. In a course or workshop, children will work with others on their projects. They will help each other, give tips and motivate each other to keep going. This social aspect of quilting also contributes to developing self-confidence. Children learn that they are not alone in their challenges and that they can count on others for help and support.
Dealing with setbacks and solving problems
When quilting it can happen that you run into problems. It may not be possible to sew the patches together neatly, or the pattern is more difficult than expected. These kinds of setbacks are instructive for children. They learn to deal with frustrations and to find solutions to the problems they encounter. By developing these skills, their confidence grows and they learn that they are able to face and overcome challenges.
In short, quilting is not only a fun and creative hobby, it is also an excellent way to develop perseverance and self-confidence in children. So what are you waiting for? Sign up your child for a fun quilting course and get started with this beautiful technique!
Safety and material selection when quilting with children
When quilting with children, safety is of course paramount. It's important to keep a few practical considerations in mind to make sure little ones don't get hurt. Make sure you always keep an eye on things and that the children know how to handle needles, scissors and other sharp objects safely. In addition, it is useful to choose fabrics that do not fray easily, so that the chance of loose threads and small pieces of fabric that can end up in children's hands is reduced.
Choice of material
When choosing materials for quilting with children, there are a few things to keep in mind:
Choose fabrics that are easy to work with, such as cotton. This makes it easier for children to work with and reduces frustration.
Go for cheerful, colorful fabrics that attract children's attention. This not only makes quilting more fun, but also stimulates their creativity.
Provide enough material so that children can experiment and possibly make mistakes without immediately causing problems.
Learn and have fun together
Quilting with children is a fun and educational activity where you can get started together. Considering safety and choosing the right materials will make quilting an enjoyable experience for both you and the kids. It is a great opportunity to learn new techniques together, to stimulate creativity and to develop perseverance. So dive into the world of quilting together and enjoy creating beautiful, unique works of art together!
Conclusion
Is quilting a fun hobby for kids? Quilting is a fun hobby for kids to be creative with. It is a challenging project that allows them to express their creativity and they learn to develop their own style. It is a good way to build their confidence and boost their perseverance.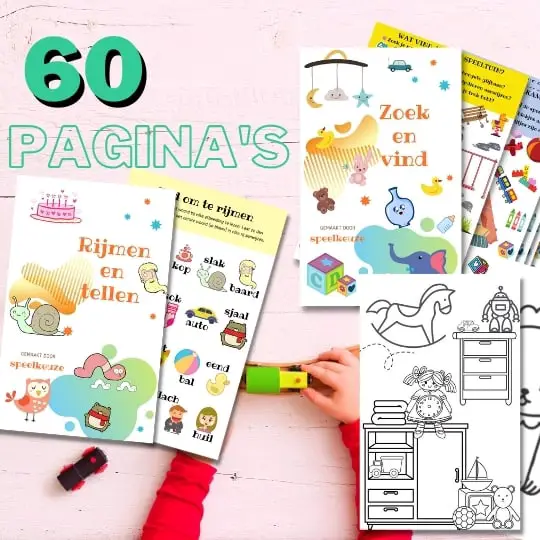 Always something to do for the holidays or rainy day?
Play Choice now has the ultimate activity book collection, with over 60 pages of fun coloring pages and educational puzzles.
Joost Nusselder, the founder of Speelkeuze.nl is a content marketer, father and loves trying out new toys. As a child he came into contact with everything related to games when his mother started the Tinnen Soldaat in Ede. Now he and his team create helpful blog articles to help loyal readers with fun play ideas.