Sandpit: What is it and what makes it so much fun for kids?
I enjoy writing these articles for my readers, you guys. I don't accept payment for writing reviews, my opinion on products is my own, but if you find my recommendations helpful and you end up buying something through one of the links I may be able to receive a commission on that.
More information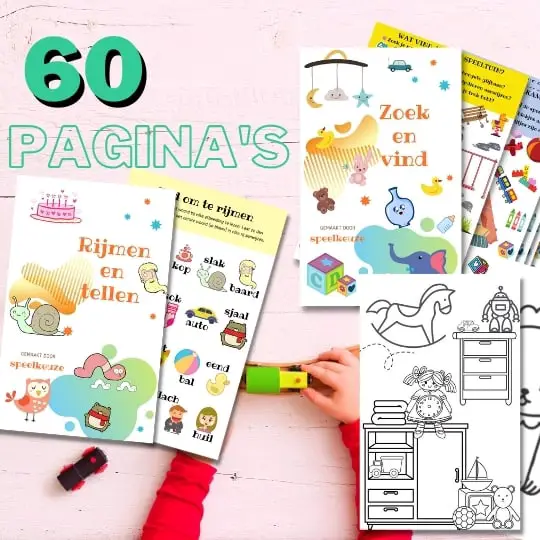 Always something to do for the holidays or rainy day?
Play Choice now has the ultimate activity book collection, with over 60 pages of fun coloring pages and educational puzzles.
A sandpit is a children's playground consisting of a body of sand with a low edge or fence. The child can play with this sand, make sand cakes, build roads for toy cars and the like. A sandbox is also a place where one can fall without getting hurt.
The sand must meet certain qualities. Above all, it should be clean, not too loose, but not too tight either. There is also special play sand for sale. To keep a small sandbox (for example in a garden) clean, it is wise to place a lid on it, so that cats do not use the sandbox as a litter box.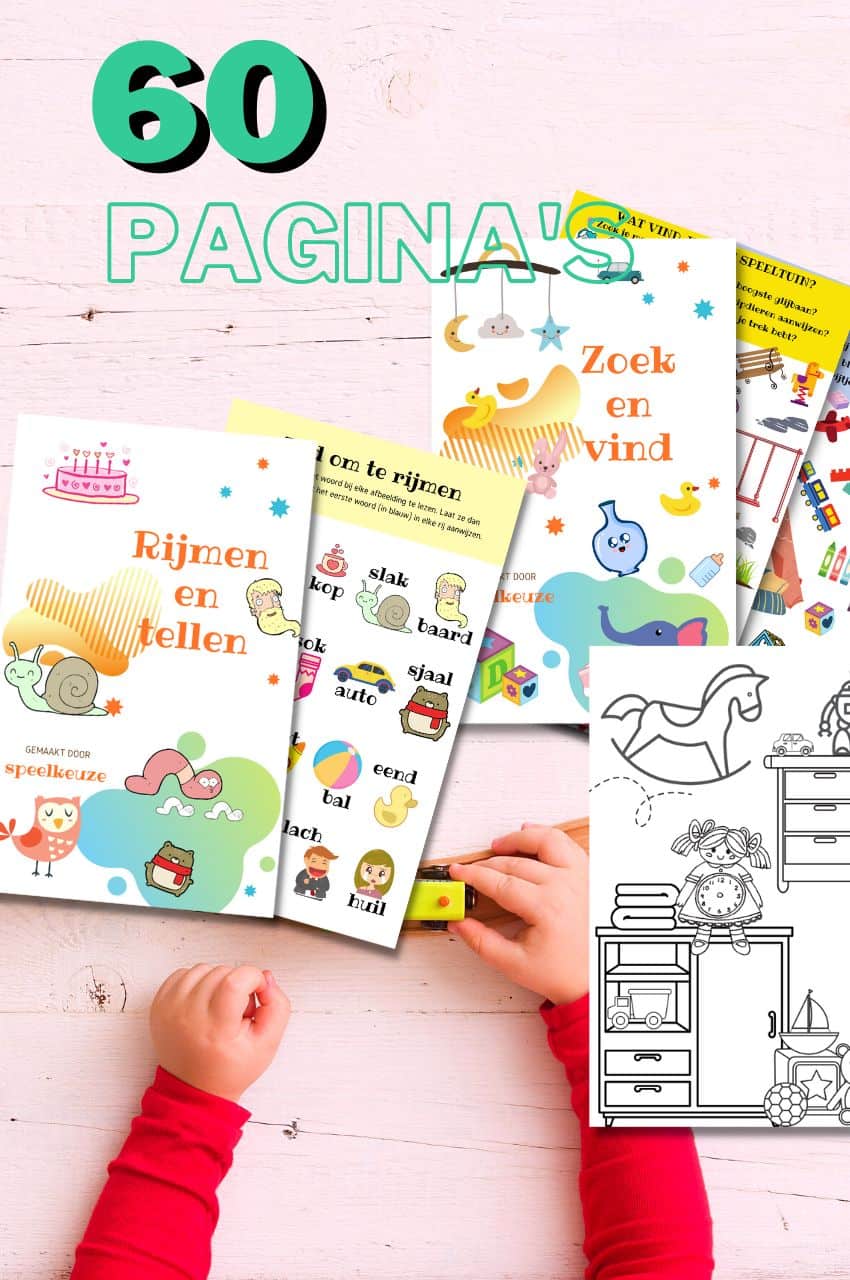 A play theme in your mailbox every month?
Fun play tips, activity books and more, with the first email being our free mini-guide "educational toys"
We will only use your email address for this newsletter and respect your privacy
Why would you let your child play in a sandbox?
Before we get into the list, some interesting tidbits about the hows and whys of a sandpit (top picks reviewed here).
Playing in a sandbox can benefit your child. Adults sometimes have a lot of reservations about sandboxes.
We've been kids too and we know what's going on there, and it's not always pretty.
However, we must admit that sand one of the best toys is made in nature.
Having a sandbox at home can be the fastest way to get your child close to nature, especially if you live in a highly urbanized environment.
Below are some valid reasons to let your child play in the sandbox that you can consider.
Sand is an excellent material for stimulating the senses
Just like water feels sand pleasant to the touch and has its own structure. This can be a whole new experience for your child.
Touching sand can be very calming. It also provides a great way for your child to stimulate their senses.
Playing with sand can help develop motor skills
Playing with sand can be a physical activity for your little one too, so it's a great activity for them too develop motor skills.
The muscles are used for digging, shoveling, raking and sweeping.
A sandbox can give young children independence
Another benefit of the sand game happens when your child spends time alone in a sandbox.
It provides independence for a child, without undermining their safety, because their parent is close by.
This can help build a bond of trust between the two, and aid in coping reduce separation anxiety.
Children can be creative with sand
Since there is no right or wrong way to play with sand, your child can explore different possibilities.
You can do almost anything with sand without the safety of your child being an issue.
Sand is an excellent material to hone their problem-solving skills
Finding ways to get sand to do what you want to do can be tricky, especially for kids.
This challenge allows young children to look for effective ways to shape their creations, move the sand or quickly tear down what they have built.
It can help develop the child's social, emotional and language skills
Playing with sand can also be a great opportunity for children to interact with other children.
They will have to learn to share space with other children so that they can learn how to interact with peers.
This will help refine their social and language skills as they need to communicate with each other if they want to build something together.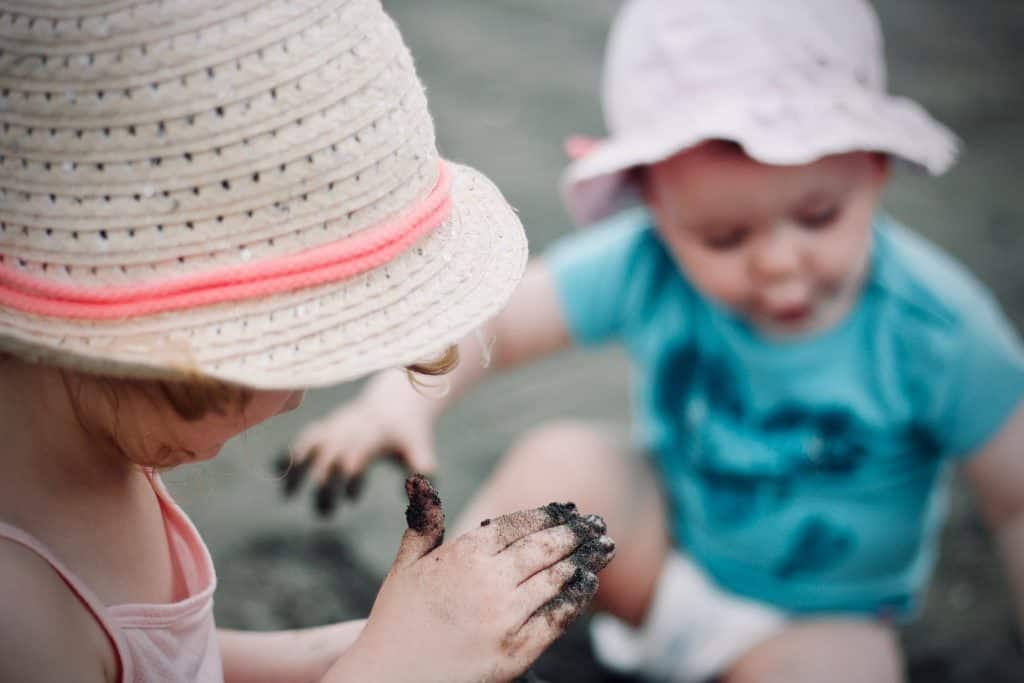 By the way, have you ever heard of "Magical" kinetic sand? Find the 6 best kinetic sand playsets reviewed here!
Why should you buy a sandbox?
Of course you can go to the public park, where there is always a sandbox. But many parents today are a bit careful about this.
Because you do not know what bacteria and other things can be there.
You prefer not to take unnecessary risk and put your child's health at risk.
But even if you wouldn't have a problem with this, having your own sandbox in the backyard is very useful.
This way your kids can enjoy themselves at home in their own safe environment and you do not necessarily have to leave the house.
It is also one good reason to send the children outside more often.
Playing outside has a lot of advantages for the development of children and is unfortunately less and less common in our digital age.
Best accessories for the sandbox
Now that you know how to find the best sandboxes, it is also useful to know which accessories are best for your sandbox.
Cover for the sandpit
As we said, covering the sandbox is essential for maintaining the sand in the bucket well.
If your sandbox does not have a tarpaulin or a lid supplied, you can buy a tarpaulin separately.
This protective cover for the sandpit fits most sandboxes and is handy to have at home.
You attach the sturdy nylon cover, which is made of tear-resistant and rain, dirt and UV-resistant material, to the sandpit with elastic bands.
Sandpit with or without bottom and surface
Always make sure that the surface is nice and flat and remove roots and stones if necessary.
Put the sandbox in the Outdoor, then you can also choose one without a bottom, but on the balcony you always choose one with a bottom.
It is best to put a tarpaulin under the sandbox, not only against pests and weeds, but also to prevent the sand from running out under the sandbox.
You can choose for:
The advantage of root cloth is that it allows rainwater to seep through, but stops weeds.
Chicken wire on the bottom of your sandbox prevents your children from digging too deep and mixing the sand with soil.
Tiles for the sandpit
It can be nice to have special ones around the sandbox rubber tiles to place. These are soft when the children are playing around the sandbox.
The tiles also provide a nice surface for all kinds of sand structures.
And at the end of the day, you can simply sweep up all the sand outside the sandbox and return it to the sandbox.
Always a clean sandbox with safe sand
It goes without saying that you fill your sandbox with child-friendly play sand. If you do not want to run any risk, choose clean and safe (washed) sand.
Make sure to check the sand for dirt in time and clean the sand from time to time.
You should replace the sand in the sandbox at least once or twice a year.
How do you replace the sand in the sandbox?
To replace the sand in the sandbox, proceed as follows:
Remove the old sand from the sandbox.
Rinse the sandbox with a solution of equal parts water and bleach
Let it dry in the sun or dry the tray with a cloth.
Refill the sandbox for fresh new adventures.
How do you clean sandbox sand?
In addition to completely replacing the sandbox every few years, you could also give it a thorough cleaning in between.
You can clean the sand in a sandbox as follows:
Wash the sand with a 1: 1 solution of water and bleach.
Leave this on for 30 minutes.
Then rinse everything well with plenty of water.
After cleaning, let the sand dry well in the sun. Shovel the sand in between so that the sand can dry at the bottom of the sandbox.
How do you keep a sandbox clean for longer?
With a few simple tips you can keep the sandbox tidy for longer:
Always keep the sandbox closed when no one is playing in it. You thus ward off insects, dogs, cats and unpleasant surprises. Your sandbox will also remain free of leaves.
Do not let your children eat or drink in the sandbox, this will attract vermin.
Rinse the toys your child is playing with in the sandbox regularly, especially if they occasionally remain in the sandbox until the next play turn.
Replace the sand - as previously described - if you cannot get it clean anymore.
Personal hygiene also plays a role in a clean sandbox:
Keep your child's nails short
Wash hands when your child comes home from school or outside
What to remember when introducing your child to sand
Not every child is more willing to explore new things. That's why sand can be a challenging toy for them because it looks and feels different.
Introduce little by little
If they are not at all familiar with playing sand, it is best to introduce them to the material gradually.
Some kids won't be thrilled to touch sand right away, so don't force your little one to play with it right away.
They will definitely let you know if they like it between their toes and fingers.
By exposing them bit by bit to small amounts of something they are familiar with, such as a spoon, shovel, or bucket, you can get your child used to the feeling of sand.
Play with the sand
Encourage them to touch the sand by playing with them. Because you do this together with them you show them that it is not scary and that it is safe.
In this way they will learn to like sand.
Provide safe sand to play with
You should also make sure to only use kid-friendly, non-toxic sand.
The stuff can get everywhere and you need to make sure that playing with it doesn't endanger your little one in any way.
When the sandbox is not in use, it is also important to cover the sandbox.
This way you can prevent pets and insects from entering the sand and possibly contaminating it.
How to make a DIY tractor tire as a sandbox?
A great idea! Old tires are usually free, and tractor tires allow you to build a sandbox very quickly and do not need many tools.
Tire rubber is much softer than wood, so you don't have to worry about your little one getting hurt.
Unlike wood, the sandbox tire does not rot, it is resistant to rain, sun and severe frost.
Are there no toxins in these? According to the hazard class, the tires are in the same place as vinyl wallpaper, which you can find in many homes.
Make sure you do not use old, heavily worn tires. The less wear and tear on the rubber, the safer to use, even in the sun.
So it is better to give preference to tires without visible damage, or tires with fuel oil or oil on them.
If you want to paint the tire first, you can do that with turpentine-based lacquer paint. Do not use water-based paint!
You use a paint roller with long hair. First rinse well with a high-pressure cleaner and wipe with turpentine.
Then proceed as follows:
Dig a small hole where you will place the tractor tire sandbox.
Put the tractor tire in place.
Before filling it with sand, put root cloth on the bottom so that the sand does not mix with the soil and that weeds do not grow in it.
Fill the tire / sandbox with clean playing sand
Done!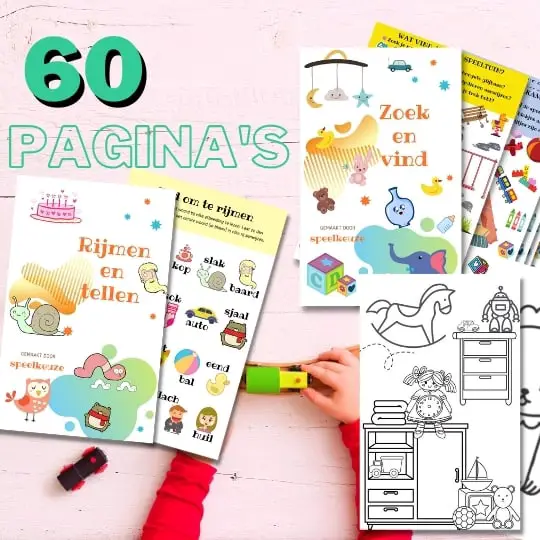 Always something to do for the holidays or rainy day?
Play Choice now has the ultimate activity book collection, with over 60 pages of fun coloring pages and educational puzzles.
Joost Nusselder, the founder of Speelkeuze.nl is a content marketer, father and loves trying out new toys. As a child he came into contact with everything related to games when his mother started the Tinnen Soldaat in Ede. Now he and his team create helpful blog articles to help loyal readers with fun play ideas.