The best sensory bins: sensory bins to make in <10 min!
I enjoy writing these articles for my readers, you guys. I don't accept payment for writing reviews, my opinion on products is my own, but if you find my recommendations helpful and you end up buying something through one of the links I may be able to receive a commission on that.
More information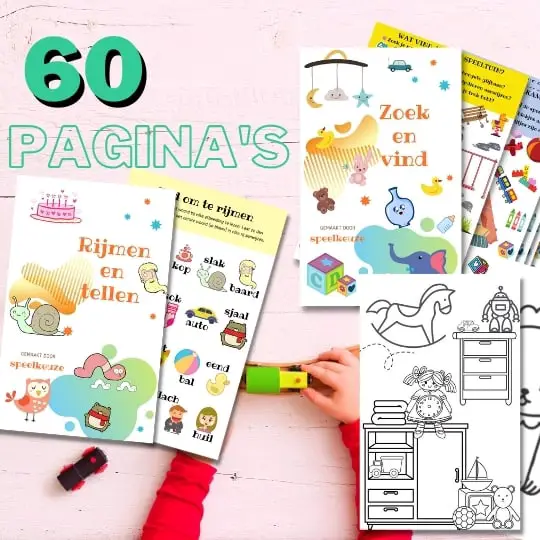 Always something to do for the holidays or rainy day?
Play Choice now has the ultimate activity book collection, with over 60 pages of fun coloring pages and educational puzzles.
Looking for great sensory ideas for kids?
Perhaps you are mainly looking for sensory containers that are not only fun, but are also easy and quick to assemble.
They are extremely popular!
In this article I will be sharing the most fun sensory activities with baking, blocks (such as those made of wood or plastic) and discuss balls so you always have something to play.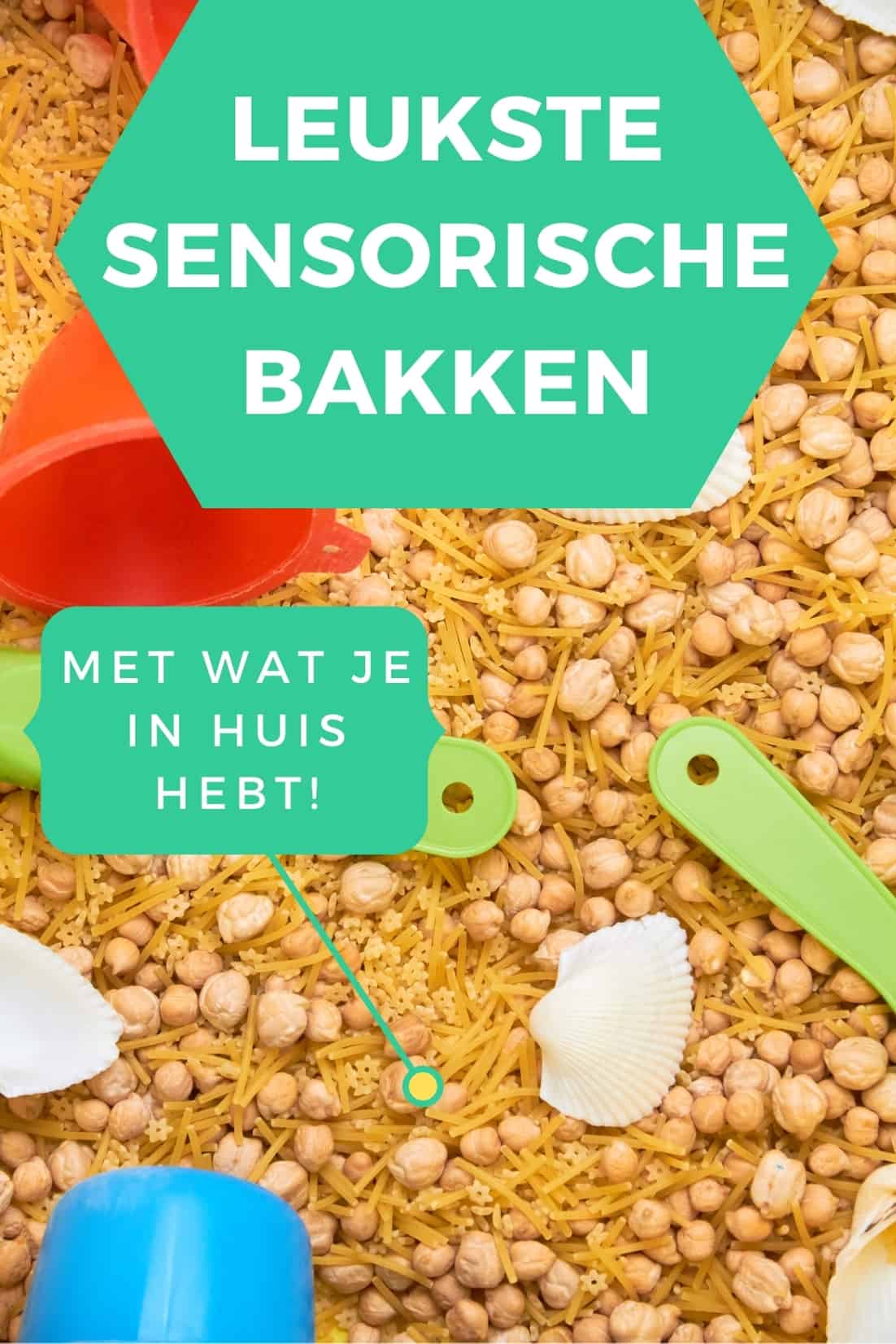 Your child will love these simple sensory games ideas!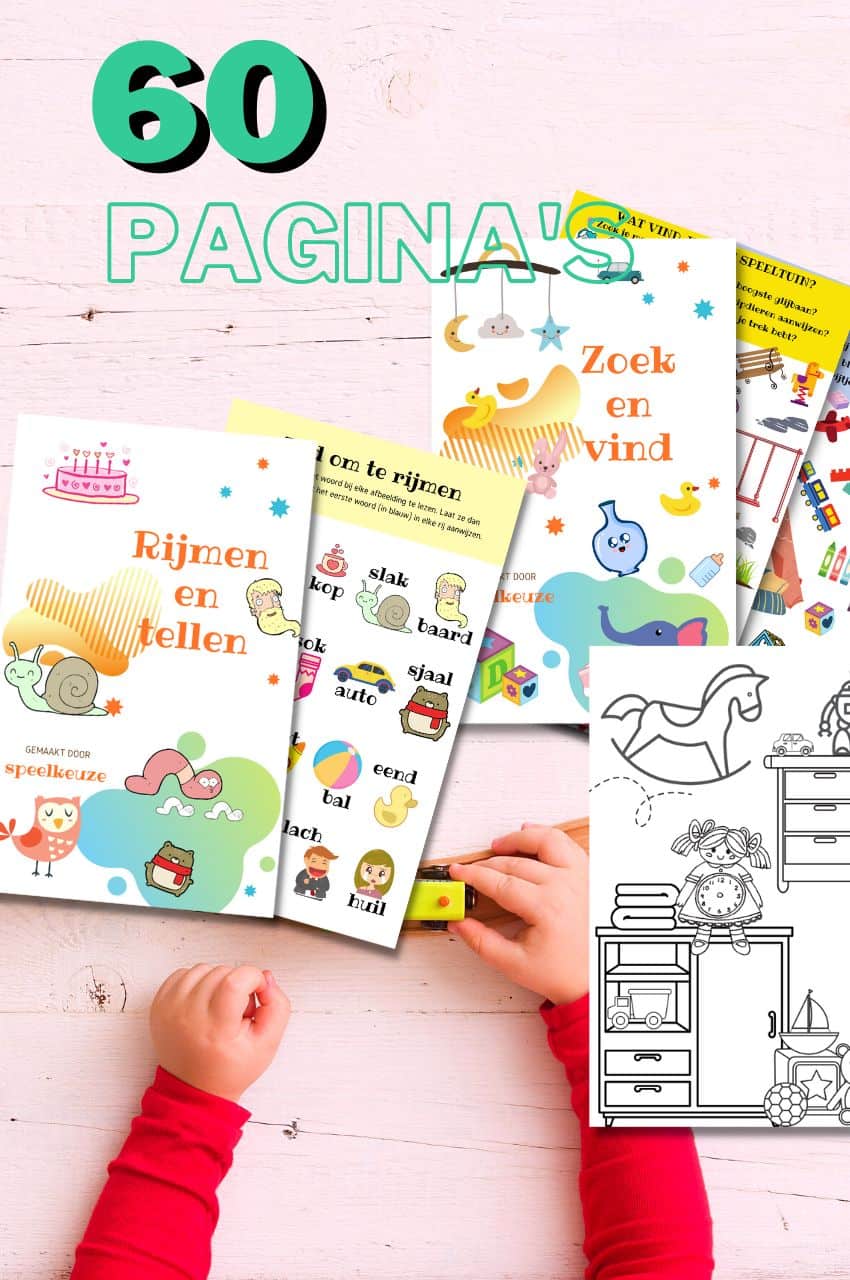 A play theme in your mailbox every month?
Fun play tips, activity books and more, with the first email being our free mini-guide "educational toys"
We will only use your email address for this newsletter and respect your privacy
Sensory bin ideas
Do your kids like to play with sensory bowls, or do you want to try it for the first time?
Sensory bins are not only a great way to entertain your child, but also a great way to incorporate sensory stimulation into play.
Sensory bins involve at least one, if not more, of the five senses:
sight
sound
touch
odor
taste
Try all of these easy-to-make sensory bins to experience the stimulation of all five senses!
These sensory bins have something fun for toddlers, toddlers and older children.
I must add that while sensory bins are great for toddlers, if your toddler is inclined to put things in his or her mouth you should definitely keep an eye out with some of these bins as some of them contain small items.
However, some of these containers are great for taste testing your kids.
Let's take a look at them and see which ones are best for you and your family!
Definitely fun to give some of them a try and each of these sensory bins is easy to make.
You can assemble any of these sensory wonders in less than 10 minutes if you have the materials.
Sensory vegetable garden box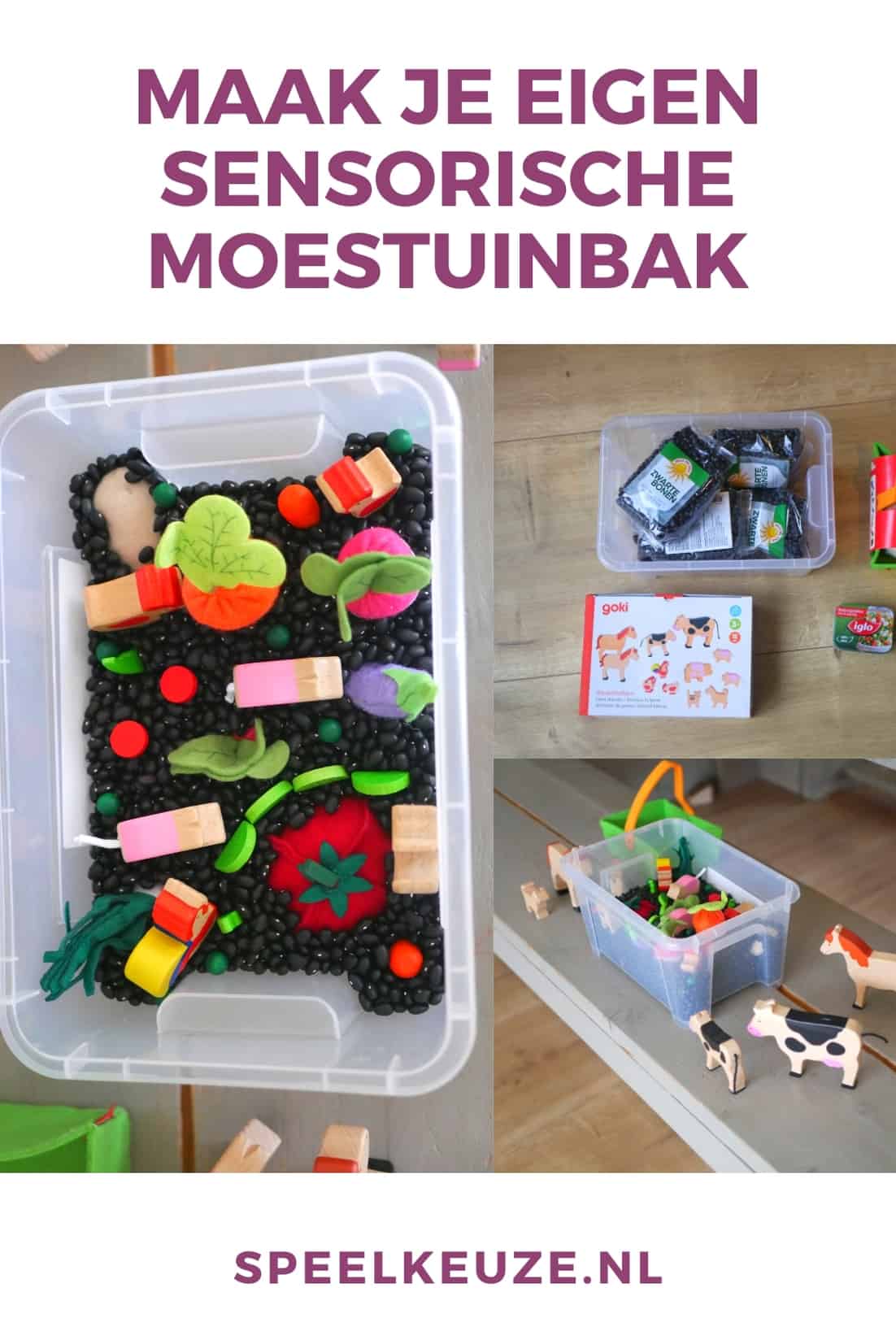 This sensory container as a vegetable garden was a big hit in my house! And it was incredibly easy to make!
Let your little ones plant and harvest their own vegetables in this stimulating sensory container. But watch out! The hungry deer and rabbits are trying to enter your yard and it's your job to keep them out!
This sensory tray contains image, sound and touch. Feel the soft crunch of the black beans as the Outdoorsoil and the textured vegetables while keeping the wildlife from eating the garden!
I own the animals of the farm but you can also add wild animals that infest the plants and you can add even more like a scarecrow to keep them out!
The kids will love it!
There is something special about it, the feel of the black beans sliding through your fingers. You really can't keep away from it and so you can hide the vegetables under the "sand" every time.
This sensory bin has something for toddlers and older kids alike.
Four-year-olds love this as much as six-year-olds. And I know that toddlers do the same with my two and a half son.
And I must say that I really enjoyed playing with it myself. There is something calming and more therapeutic about the soft beans in your hands. It's like playing with a stress ball :)
Now I want to say that while this sensory container is great for toddlers, if your toddler is prone to putting things in their mouths, keep a close eye on them not to put the beans in their mouths!
How do you make the sensory tray as a vegetable garden?
First of all, you need a container to lay out your vegetable garden.
It is best to get a clear plastic tub that is about 50 cm long, 40 cm wide and 15 cm deep, but any size is possible.
It doesn't have to be exactly that size. Make sure it's big enough for them to play without taking the content out, and not too deep so they can't reach it to play properly.
If you have several kids who want to play at the same time, you may want to make it a bit bigger to make sure it's big enough for everyone.
I Bought 2 kilos of black beans which I had easily added to my next Albert Heijn order, and I had a little left for this container. Then collect all your vegetable garden items!
You don't have to use the exact same toys and items that I used.
I mainly tried to use items that we already had on hand. The only thing I bought for this project that we didn't have on hand yet were the black beans.
Just use some different wooden vegetables, beans, maybe a rake and some animals (I have the wooden animals too mentioned here in my article on toy animals, then you can see them for a moment).
Sensory underwater world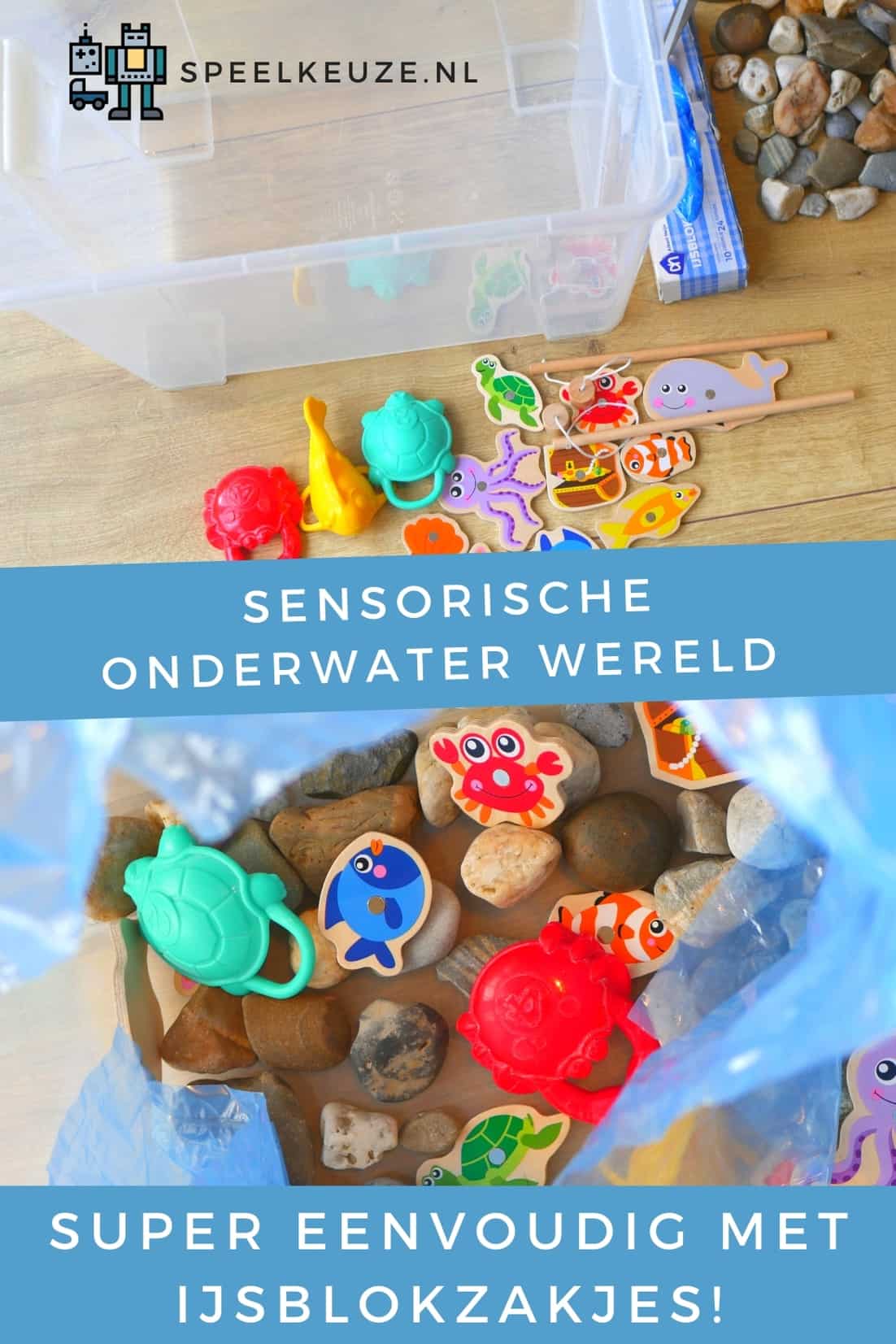 Sensory deep-sea tank!
The Deep Sea Sensory tank was another big hit at home.
Probably because it concerns water;) This is also a container that is quick and easy to assemble!
This is definitely a sensory bin that I will be making again! This sensory bin has something for toddlers and older kids alike.
Now I want to say that while this sensory bowl is great for toddlers, if your toddler is prone to putting things in his or her mouth, make sure they don't put the pebbles in their mouth as they can be a choking hazard!
Or like I used in the video some bigger stones and toys. You still have to be careful with the ice cube bags that they can possibly get loose.
How to make the deep sea sensory tank
First you need a tank to create your deep sea in.
Once you have bought a plastic container like the one in the idea above, you can make almost any sensory container with it.
It doesn't have to be exactly that size. Make sure it's big enough for them to play without taking the content out, and not too deep so they can't reach it to play properly.
Then collect all your ocean items!
These are the items I added to our deep sea sensory tank:
Stones from the garden
Ocean animals / magnet game
Blue ice cube bags
How to assemble the sensory deep-sea tank:
Start by filling the bottom of your sensory tray with rocks
Then put your ocean animals in the tank
And lastly, tape the ice cubes bags to the side of the bin at different heights, I used 8 in the video
Now your deep-sea sensory tank is ready for imaginative play!
Yellow sensory tray
This sensory bin is a great way to teach toddlers and preschoolers about colors!
Experience the color yellow with different textures and shapes.
Kids will love playing with this yellow sensory bowl!
Not only is it fun and educational, but it's incredibly easy to assemble.
Your kids can play in this sensory box in less than 10 minutes!
This yellow sensory tray especially stimulates your toddler's eyesight and touch and helps them connect the word yellow with the color around it.
All you need is a large box or container, a base to fill it with, and fun themed extras to insert.
Yellow sensory tray Basic options:
corn
yellow rice
yellow sand
yellow cornmeal
For my yellow tray, I chose to use dried whole corn. And rubbish can be swept up like this e
Then you want to add nice extras that integrate your theme. This particular sensory bin is all about the color yellow. So everything in it is yellow in a way.
Nice extras to include:
Yellow cars or vehicles
Yellow spoons / scoops
Yellow cups / bowls
Yellow animals (lion, giraffe, ducks, critters)
Yellow balls
Yellow Lego
Sensory Bin for farm animals!
It is so cute!
My kids have the exact same shed that she uses next to her sensory bin and I know they'd love to include it in their shed too!
Such a fun, yet simple sensory bin!
Building a sensory tank can be as simple or as elaborate as you'd like. With a newborn baby in the house, we now opt for simple!
You need:
Yellow, colored rice
Melissa and Doug Farm Blocks
Plastic storage box
Cost: less than 5 euros
The cost to make a sensory bin is minimal, especially if you're using props and toys you already have around the house.
Just by putting them in a container with some sensory filler - colored rice in this case - you'll pique your kids' interest in toys they may not have played with in weeks!
Coloring the rice is also easy - for our tray I used a bag of white rice, but you can also use yellow rice from Lassie or something.
Sensory Play on the construction site
Do you have boys? Do they like to play with dump trucks and other construction vehicles?
Then you have to try this sensory bin!
They will have a blast with this imaginative play experience :) What a great way to pair their favorite toys with sensory items!
To prepare for this sensory activity, I took out a boot / planter and added coarse sand, stones and old grains from the pantry (amaranth, bulghar wheat).
After that I have been a variety of construction vehicles, construction workers and a crane train set added.
For this box you want to choose a slightly shallower and longer or wider box because your kids should be able to dig in it easily.
I've put all of this on a shower curtain on the floor in case it gets messy!
He enjoyed the feel of the mix of sand and grain and saw the patterns it created when his fingers or a vehicle drove through them. But by far his favorite activity was filling the back with sand and dumping it into a dump truck. He did this over and over!
Tidying up was super easy thanks to the shower curtain. I will definitely use this trick again as it wouldn't be any fun for either of us if I hovered above him all the time to make sure he didn't spill a grain of sand !! The next day, F still wanted to play with it, but I reduced it to the essentials. MUCH more shoveling and dumping!
He then played with this version for MANY days, several times a day. It was certainly a success!
Breakfast cereal Sensory Bin
Ok, I told you there was an edible bowl on this list, didn't it :)
Let your kids snack in between while playing with this fun yet simple sensory bowl!
This is a perfect sensory bowl for toddlers as it is completely edible! (In fact, my three-year-old was just chewing most of the time!)
Really, all you need for a sensory cereal tray is some cereal and a tray. Add some scoops, spoons and cups and you're done!
We used two boxes of Cheerios for this bin. But it depends on the size of your bathtub.
I added pipe cleaners and teaspoons and cups, and a few bottles for scooping.
My idea with the pipe cleaners was to provide a threading option. He loved scooping up the cereal and pouring it into the bottles and throwing the bottles out over and over.
After spilling some Cheerios on the floor, he took the opportunity to clean them up and thread a little bit on the pipe cleaner.
And yes, it was a messy sensory bin. I actually don't mind the mess and find it easy enough to just wipe up when we're done.
But if you don't want the mess, here are a few tips if you're scared of the mess:
Take it outside if you can!
Lay out a shower curtain, or just a big blanket and wrap it up when you're done and just shake it out outside.
Here are ten ways to keep messy play tidy.
Halloween Dinosaur Excavation Sensory Bin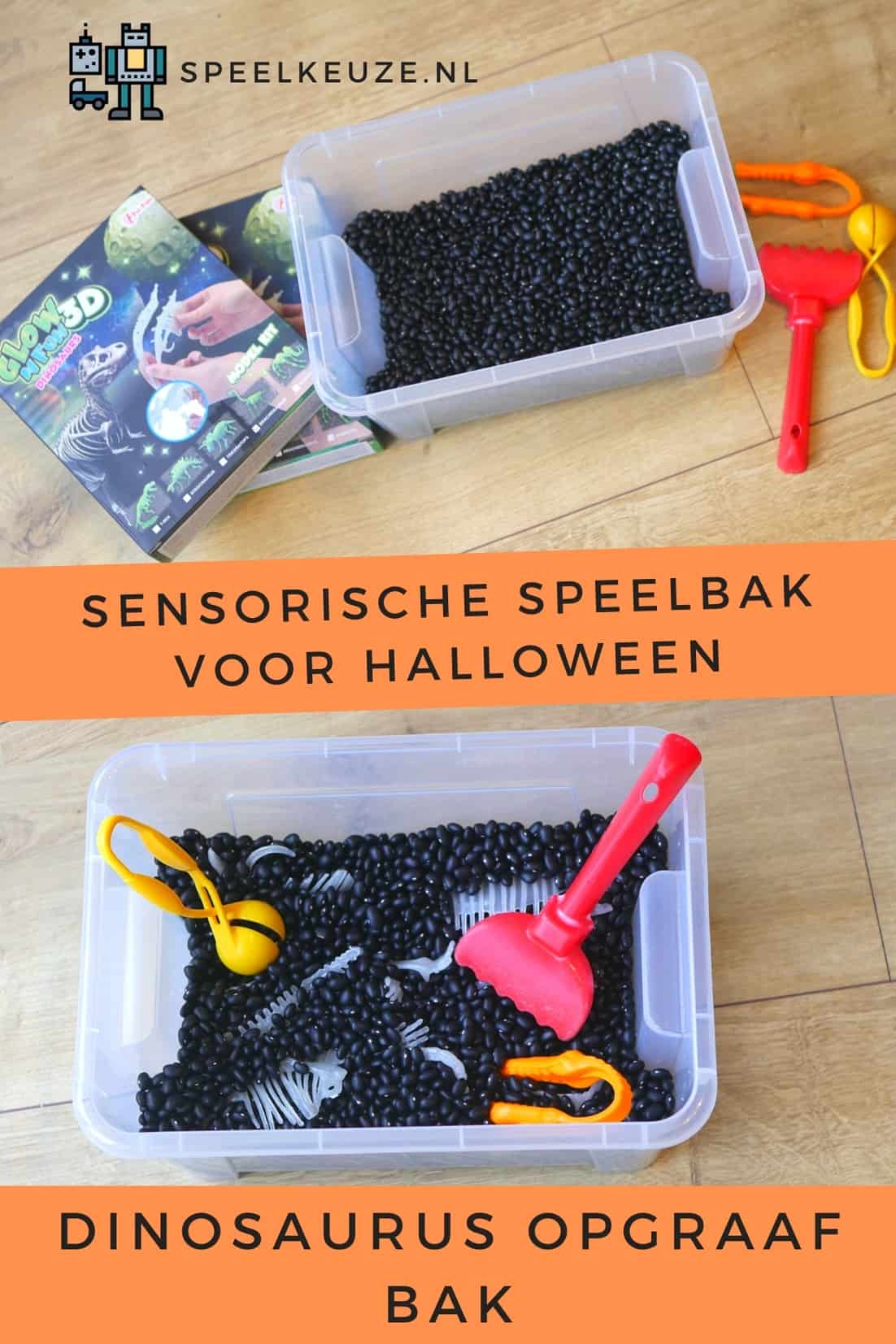 This is also a favorite sensory bin in my house and extra fun for Halloween, although you can always make it.
Kids love it because it's a lot of sensory fun to search and find, and I love it because it's literally the easiest sensory bins I've ever put together!
I put these together in less than five minutes! That must be a record :)
My son loved digging for dinosaur bones and just as much enjoyed burying the bones again.
This is definitely a sensory bin you should make for your little archaeologist :)
How to make the dinosaur sensory bin?
First, you need a container to create your archaeological area in.
I use a clear plastic tub that is about 50 cm long, 40 cm wide and 15 cm deep.
It doesn't have to be exactly that size. Make sure it's big enough for them to play without taking the content out, and not too deep so they can't reach it to play properly.
If you have several kids playing with the bucket, you want to make sure it is big enough for everyone.
Put in dried black beans first, then collect all your dino digging items!
You don't have to use the exact same toys and items that I used.
You can do everything, rakes and grippers.
These dino bones that I have used are not that expensive at all.
Square sensory tray
Not only is this sensory bin a lot of fun, but also a great learning experience.
What a great way to teach kids about shapes!
Instead of showing them what squares look like, let them FEEL what makes a square a square!
They don't even know they are learning :)
You can put whatever you want in it, as long as it's square :)
Lego blocks, duplo blocks, dice from games and more are all perfect.
Craft Sand Sensory Bin!
Colored craft sand sensory bin
The Craft Sand Sensory Bin is a container that your child will love!
The feel of the smooth sand between their fingers in contrast to the harder objects in this tank make for a great sensory experience.
Plus the spring colors are so bright and cheerful :)
Colored clay sand is easy to find in many stores and small bags are cheap and easy to store and reuse! I thought purple, yellow and green would be a nice combination for spring.
He's much happier with simple sensory bins so he can really get in and feel the fill.
I like to add a basket of tools on the side for him to choose based on interest. He loves mason jars, funnels, drink mix scoops if you have them, small strainers and strange plastic containers!
Birdseed sensory tray
The birdseed sensory tray is a great way to teach your toddler or preschooler about nature!
Learn about the foods birds love to eat, feel the different textures and have lots of imaginative fun!
You need:
A bin
Exotic birds figurines
Birdseed
Pour the birdseed into the bowl and let the children play with the figures. They will find out what to do!
Sensory soap and water dish
The soap and water sensor tray is a great sensor tray for outdoor summer fun!
What could be more fun than playing water during the summer months ?!
This amazing sensory bowl contains not only soapy fun, but color mixing fun too!
So all you really need for this water play activity is a pot of water and some soap. But it's the extras that make it more fun!
My larger tubs are currently in use, so for this water game I just used my large frying pan from the kitchen.
Then I picked up the detergent. I think the most fun part of this activity is the egg beaters. They work really well for getting LOTS of foam in the water. They are also quite difficult to use, so the kids train in those little hand muscles.
You need a lot of soap to make a lot of bubbles. And the more bubbles the better!
You can add any perk you want. I have guys so there will definitely be cars with every activity we do - so a car wash was added to the water game, of course.
Buckets. Bowls. Spoons. A baster was also a very nice addition. For blowing bubbles and vacuuming and spraying water. My older kids made some bubble blowers out of pipe cleaners to try and blow bubbles with the soapy water.
Raindrops in a cloud Sensory Bin
Teach your toddler or preschooler about the weather with these fun raindrops in a cloud Sensory Bin.
This is a sensory container they will love to play in! The clouds in this container are great fun to put your hands in.
Your little meteorologist will ask again and again to play with this easy-to-make sensory bin :)
This squishy sensory bowl really couldn't be easier to put together. In fact, you only need two items!
Shaving foam
Blue water pearls
Now, a few things to note. First, the amount of shaving cream you need will of course depend on the size of your tub.
We used one and a half can, filled our tray almost to the top and the kids loved it!
Second, if you can't find blue water pearls or would rather not buy a barrel of one color, go for clear water pearls, measure out what you need for the trash can and paint them yourself.
How to Dye Clear Water Beads
If you've never painted water pearls, don't let the idea put you off! It's quick, easy, and so much better than buying a ton of water pearls in single colors.
Simply fill a bowl or container with water, add a few drops of liquid food coloring and mix well. Add your clear beads and let them sit until they expand to their full size, quickly rinse with warm water to wash away any food coloring, and you're good to go!
Once your beads are ready, toss them in your shaving cream cloud and let the kids enjoy!
This simple rain themed sensory bin is the perfect way to start a weather theme! In our case, it led to a very talk about rainclouds, and how raindrops form as a gloomy, rainy day gets just a little brighter.
Corn and magnets sensory bin
The Corn and Magnets Sensory Bin is another easy, yet creative bin.
The natural texture of cornmeal provides an excellent sensory experience!
Combine that with the tools used in this bin and your toddler will have hours of fun!
This is a great idea in my opinion!
Using magnets with sensory materials, how cool is that ?!
Kids will love using their magnets to search for hidden objects in the sensory sand used in this bin!
To make a magnetic sensory bin:
Magnetic discs and wands (like this one from the Super Magnet Lab)
Corn flour
plastic container
Pour the flour into the container.
Add the magnetic discs. You can bury them in the sand a bit.
Set up the magnetic sticks and the kids are ready to explore.
Now is a good time to talk about colors with the younger kids. Talking about the texture of the flour is great too. Have them comment on it. Does it stick, is it wet, does it mold, etc.
Watching the magnetic disk emerge from the sand and stick to the wands is the perfect time to talk about magnets. Magnets (fun to learn!) are only attracted to certain objects. Metal in the disk is one, but the sand is not. Also talk about how magnets have south and north poles (positive and negative attraction). Depending on which end is put together, they either stick or push away. Magnet science is so much fun!
Conclusion
And those are the funniest and easy sensory ideas!
Create all of these fun and educational sensory bins in ten minutes or less!
This is the ultimate sensory trash can for busy parents!
I hope you and your family enjoy all these sensory bins and create wonderful memories together :)
Which sensory bins are your favorites? Which ones do your kids like best?
Lots of fun:)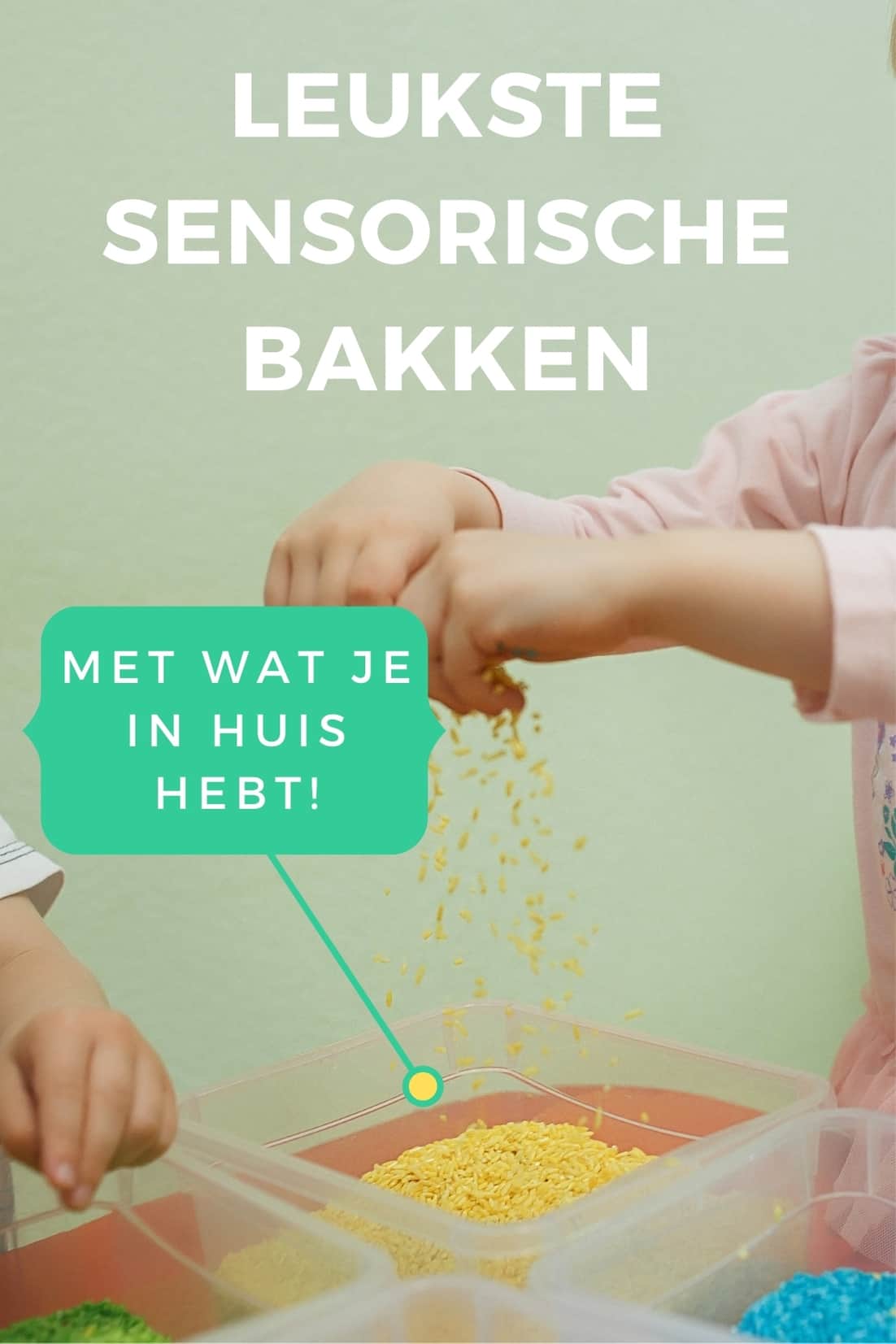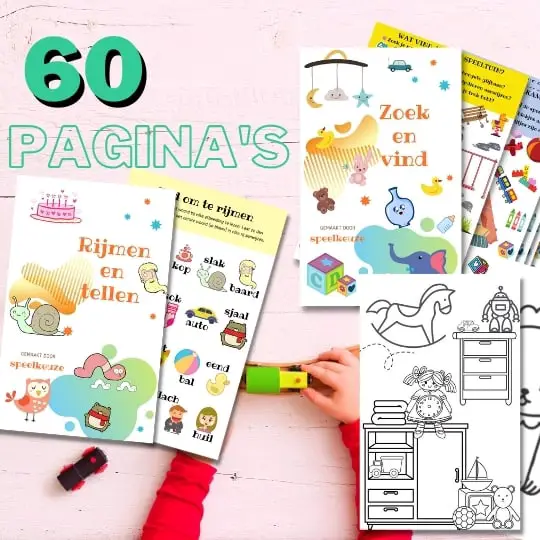 Always something to do for the holidays or rainy day?
Play Choice now has the ultimate activity book collection, with over 60 pages of fun coloring pages and educational puzzles.
Joost Nusselder, the founder of Speelkeuze.nl is a content marketer, father and loves trying out new toys. As a child he came into contact with everything related to games when his mother started the Tinnen Soldaat in Ede. Now he and his team create helpful blog articles to help loyal readers with fun play ideas.