14 Best Educational Toys for Preschoolers: Learning in the classroom and beyond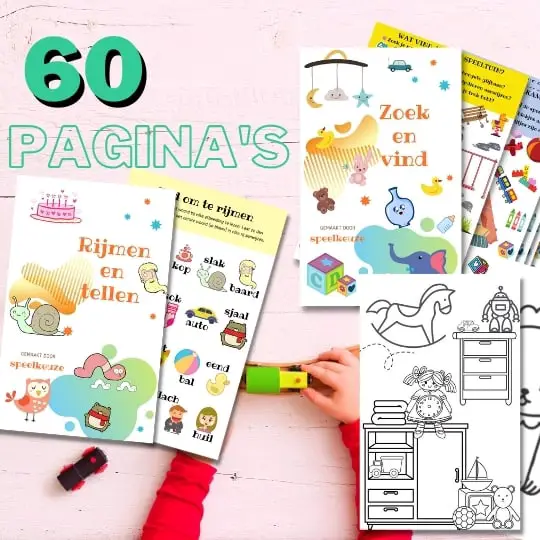 Always something to do for the holidays or rainy day?
Play Choice now has the ultimate activity book collection, with over 60 pages of fun coloring pages and educational puzzles.
Educational toys are designed to help kindergartners learn and develop important skills. It encourages hands-on learning and exploration, allowing children to manipulate objects, build structures, and experiment with cause and effect.
Educational kindergarten toys also help them develop problem-solving skills and critical thinking, promote creativity and imagination, and teach important concepts such as colors, shapes, numbers and letters.
In addition, it promotes social and emotional development by encouraging cooperation and turns.
The toys that best meet the learning goals of preschoolers these rainbow blocks from TickiT. You can hold, move and manipulate them in your hand, but the main educational feature is learning about colors, which you can mix by holding them in front of each other.
Of course, there are more good toys for preschool, such as this list of the best ones for different educational purposes.
In kindergarten, educational toys support the learning goals of the curriculum and help develop fine and gross motor skills.
In addition to toys, other learning tools such as books, puzzles and musical instruments are also used to help children learn and develop.
First, here is a list of the best toys for preschoolers.
#1 TickiT Rainbow Blocks – Best overall educational toy for kindergartners
From: 1 years

Best: 3 – 5 years

Up to: 6 years
These TickiT Rainbow Blocks are amazing and a great way to learn colors. Children can simply stack them in front of the window and the light will shine through. You can also use a separate light table. This makes it extremely educational and versatile.
They are ideal for group play and can promote children's social and emotional development. In addition, they are also suitable for children with special needs, as they can help with focus and language development.
The play value is high because they are easy to use and appeal to the imagination in open-ended play where you can build anything or mix colors and it encourages social interaction because it is almost irresistible not to interfere with the colors .
The replayability is also very high because you can combine the blocks in all kinds of games, for example as houses in fantasy play, and the durability of the material is very good. They are just a bit difficult to carry because of their size.
The blocks are made of sturdy wood with a translucent acrylic plastic in the middle, and we haven't been able to break one of them, even after six months of playing. They are designed for children from one to three years old, but I think four and even five years old can learn even more from them by combining the colors and going deeper into how colors work.
#2 Learning Resources Botley 2.0 Activity Set – Best hands-on kindergarten stem toy
From: 4 years

Best: 5 – 6 years

Up to: 7 years
The Botley 2.0 has multiple ways to program and learn from it. Programming is done using the supplied controller, so the child can learn sequences and even start learning loops.
Botley does not actually learn to code, after all, the programming is done on a controller, but they do learn the basic skills of thinking like a programmer, and is therefore also a robot for 5 to 7 years.
There is a lot going on here and that is good for the versatility. You can really do anything with it and that also makes it easy to combine with other toys such as Duplo that you have lying around or to build something from magnetic tiles that it has to go through without knocking it over.
Botley was a lot of fun to play with, but the play value could have been higher if the ease of use had been better. My son is now 5 years old and having the patience to play with it properly is sometimes difficult. I also think playing with it under 5 will be a challenge. The play value is still very high due to the enormous interactivity, from coding to secret cheat codes.
Botley 2.0 has also won several awards, including Innovative Toy of the Year, Best of CES from Reuters and Best Toy of the Year 2018 from Parents magazine.
#3 Desire Deluxe Magnet Tiles Building Set – Best building toy for kindergartners
From: 3 years

Best: 3 – 5 years

Up to: 7 years
Building and constructing with magnet tiles requires problem-solving thinking and engineering skills. Children should think about how to connect the tiles correctly to create sturdy structures. This stimulates their spatial skills and improves their ability to plan and build and gives it a high educational value.
Desire Deluxe are a cheaper variant of Magna Tiles (the original magnetic tiles) with a very good price-quality ratio and fit on any of these types of magnetic tiles. In addition, it is also great to combine with almost any kind of game, because you can make all kinds of things with it. From houses for animals or dolls to robots to beat. This gives it tremendous replayability.
These types of tiles may look a bit cheap, but they are safe. I tried to break the case by throwing it and hitting it with a rock, but the magnets wouldn't come out. The toy score could have been slightly higher if the material used and the lifespan had been slightly higher, but in the end this only has a small impact on the fun.
The play value is also very high, especially due to the open-ended game where children can use their imagination. In addition, a large set like this gives the opportunity to build together and seek social interaction.
#4 Le Toy Van Petilou Stacker – Best kindergarten manipulative toy
Fun for 4 year olds to stack up, figure out and learn animals.
From the moment the child enters group 1, a lot will change.
For the first time, the toddler has to learn to wait his / her turn and to share things with others.
Playing together often has a positive influence on the social-emotional development of the young toddler.
Learning to stack is a game that many fathers and mothers played in childhood, but probably not in animal form!
It teaches children to recognize colors, recognize animals, play together and help them get started with good hand-eye coordination.
Different skills are therefore trained with this. Especially social contact with other children is important for a four-year-old toddler.
This gives them a good basis for the rest of their primary school time. This sustainable educational game is not only educational, but also a lot of fun.
#5 BS Toys Silk Dance Ribbon - Best cheap kindergarten outdoor playground toy
The silk ribbon with wooden handle is a beautiful strand of color and magic, and I love the quality products of this brand. The addition of a wooden handle makes it a fantastic wand.
The great thing is that the toy is not specifically aimed at a particular princess or wizard, so children can interpret it in their own way.
I have taken this toy to the schoolyard and have enjoyed watching the preschoolers let their imaginations run wild. It's great to see how the influence of a story and the freedom of the toy come together in perfect harmony of role play.
Whether spinning, running or making up their own dance routines, kids will love the endless possibilities for fun and exercise.
The quality of the Dance Ribbon is excellent. The silk ribbon is colorful and attracts the attention of young children. In addition, the toy is made of safe and durable materials suitable for children.
The only downside I've noticed is that some users have reported that the ribbon gets tangled after a short while. This can be frustrating, especially for younger children.
#6 Nutty Toys Pop Tubes – Best fidget toy for kindergartners
These colorful tubes are a great toy for preschoolers and offer lots of benefits for activity and concentration.
I was immediately impressed by the Pop Tubes from Nutty Toys. The bright colors and simple design make them attractive to children.
My kids were thrilled to play with it and soon discovered how to connect the tubes together, similar to Lego blocks.
This gave them the freedom to explore their own designs and creations, which was great for stimulating their imagination and motor skills.
What I really appreciated about these Pop Tubes is that they are not only fun, but also educational. I was able to help my kids learn letters and shapes as they played. The toys provided a fun and interactive way to engage them in learning activities.
Another notable benefit of the Pop Tubes is their calming effect. The uneven texture and satisfying sound of the tubes popping have a soothing effect.
#7 Hape Learn With Lights Ukulele – Best musical education for kindergartners
The Hape ukulele is a nice, sturdy ukulele for young children. This is the perfect tool for teaching kids all about basic rhythm and strumming.
The instrument can be tuned very easily so you don't have to listen to horrible out of tune music. Buy your budding Beethoven a ukulele and she can have fun developing her natural musical talent.
The best thing is that your child can easily learn to play through the lights on the neck, and even better is that the sound can also be turned down!
#8 Hape Checkout Toy Cash Register - Best kindergarten math toy
From: 2 years

Best: 3 – 5 years

Up to: 5 years
I am a huge supporter of toys with less noise and flashing lights and this cash register from Hape fits in perfectly. It gives a little less interactivity than push buttons that do something, but the educational value and play value ultimately increase enormously.
The degree of open-ended play and imagination are much greater, making the set more versatile for all kinds of play and combining with other food or shopping toys. With a toy cash register you can learn to count very well, especially if you lend a hand with the pretend play.
It is not a toy that they will play with much themselves, so you will have to work yourself or with friends. This does provide plenty of opportunities for cooperative social interaction.
The portability is a bit lower because it is quite a bulky thing, with wires connected to the accessories. That might make the replayability just a bit lower than it could be, but the durability is great. The lifespan is slightly lower, the loose threads will die first and some paint may wear off here and there from frequent use.
#9 Learning Resources Tumble Trax – Best educational science game for kindergartners
Playfully learn how science works, winner of several awards and ideal for children from 5 years old.
Many children enjoy learning about physics and how the world works. With these Learning Resources kits they can pick this up in a playful way.
It is of course also just fun to build a good marble run, but with the hanging using magnets and the challenging assignment booklet, it is also learning about gravity.
Features:
Promoting curiosity for science by conducting real hands-on experiments with different assignment cards
Visually appealing science tools and easy to follow science activities for beginners
Winner of 4 awards, ideal for ages 5 and up
Children have an innate sense of curiosity that helps them learn about the world around them.
#10 BigJigs Alps Train Set (BJT016) – Best connection toy for kindergartners
From: 3 years

Best: 4 – 6 years

Up to: 7 years
The play value of this mountain set is extremely high. The degree of open end is enormous due to all the accessories supplied. You can build the train track, play with it, there are dolls for fantasy play and everything appeals to the imagination.
For example, there are children and a grandpa and grandma, and my son plays that the children go to visit by train. The possibilities with the set are endless, but it is also easy to combine with other train tracks. For example, I expanded it with a Brio track. In addition, a train set can also participate in almost any other fantasy game. That also makes the replayability high.
Only when the ease of use was higher could the set have an even higher play value. Building with the bridge pieces and the mountain is fun, but playing with it is difficult because the bridge often collapses. Sometimes this causes frustration, but luckily it usually becomes part of the game.
Social interaction is high. I like to play along and because it's such a big set, friends who come over can always join in without getting in each other's way. Furthermore, there are some interactive elements such as the crane that can hoist, and the figures have a nice appearance.
It's not for nothing that they have already won the Independent Toy Awards, and with a versatile set like this you can't miss for hours of fun.
#11 Goliath The Floor is Lava – Best family game for kindergartners
From: 4 years

Best: 5 – 7 years

Up to: 10 years
Goliath The Floor is Lava! is a game where players have to imagine the floor is red-hot lava as they spin the spinning wheel to jump to the correct foam pieces to reach safety.
The Floor is Lava! is a family game that promotes physical activity, an active imagination and excitement for both children and adults.
This great game is best enjoyed with 2 to 6 players ages 5 and up. Both boys and girls will enjoy this game, which comes with 25 colored foam "safety bricks", 27 challenge cards, a game spinner and instructions.
This game makes children jump, jump, play and improve their strength, fitness, balance and endurance.
#12 Shifu Orboot – Best interactive learning toy for kindergartners
Why do I want this?
Think of the globe our father and grandfather had, and how proud we were of tracing a location using latitude and longitude.
But today's generation is much further than that.
How will it help?
Until you manage to bring technology to learning, it will be difficult to capture their imagination.
This augmented reality world just does that. It brings the world to life and teaches about it in a really fun way.
Most important points:
Compatible with Android and iOS
10-inch globe
Augmented Reality Toys
#13 Learning Resources Alphabet Marks the Spot - Best learning to read toy for kindergartners
As a parent of a preschooler interested in learning how to read, I highly recommend Learning Resources Alphabet Marks The Spot. This educational toy offers various activities and games aimed at learning letters, sounds and alphabet order.
The toys are designed to promote language skills, early literacy and school skills. The use of play and movement makes learning fun and engaging for him.
The package includes a vinyl mat, five inflatable illustrated dice, game markers and an activity guide. The mat measures 4-1/2' x 4-1/2', providing plenty of room for interaction and movement during play.
I have also read some reviews from other users and noticed that many people have positive experiences with this product. They like how the mat is colorful and the dice have pictures that can be used to match letters with words.
Many parents and teachers also appreciate the ability to adapt activities to the child's level and abilities.
However, there were some comments about the mat being slippery on hard floors. Some users have found solutions such as securing the mat to hard surfaces with tape.
Overall, I am very pleased with Learning Resources Alphabet Marks The Spot. The toy has helped my preschooler to recognize and form letters, and it has stimulated his interest in reading and writing.
I appreciate that the toy is both fun and educational, and I believe it will be a valuable addition to your preschooler's learning.
#14 Hape Donkey – Best teacher set toy for kindergartners
A blackboard or "easel" is useful for hanging your other magnet toys. But of course it should also be possible to do more.
You must be able to chalk, draw, paint, and much more.
The Hape easel is very sturdy and made of wood. With the double-sided construction you have a magnetic whiteboard and a chalkboard.
The paper roll on top is also a nice addition, but I was a bit worried that it would run out quickly. But luckily you can buy these types of rolls everywhere and standard sizes just fit.
In addition, it is adjustable in height from 37,5 to 43,5 inches (95 to 110 cm) so that young children can also reach it and it can grow with it.
Hape is a good wooden toy brand and this donkey is really sturdy again.
He will be fun from 3 years old.
What makes toys educational for preschoolers?
Toys are considered educational for a kindergarten classroom when they are designed to help children learn and develop important skills. Some important features of educational toys for the classroom are:
It encourages hands-on learning and exploration.
It allows children to manipulate objects, build structures and experiment cause and effect.
It helps children develop problem-solving skills and critical thinking.
It promotes creativity and imagination.
It teaches important concepts such as colors, shapes, numbers and letters.
It promotes social and emotional development by encouraging cooperation and turn-sharing.
It supports the learning objectives of the kindergarten curriculum.
It helps develop fine and gross motor skills.
In addition to toys, other learning resources such as books, puzzles and musical instruments can be used to help children learn and develop in kindergarten.
How do you teach with educational toys in kindergarten?
Educational toys can be used in teaching by providing opportunities for students to explore, imagine, observe, create, express and most importantly engage in play.
This promotes experiential learning and toy-based pedagogy, a learning approach based on learning through toys and play.
Integrating toys and play into the curriculum helps simplify and clarify new concepts and practice new learning practices.
There are several ways to use toys in teaching, such as playing hide and seek, playing a flashcard search game, playing a musical circle game, and playing a feel box game.
The use of educational toys in teaching has many benefits, such as fostering engagement, imagination, creativity, problem solving, and social and emotional skills.
What do preschoolers like?
Preschoolers love to play and enjoy activities that use their large muscles, such as jumping rope, cycling, rollerblading and ball games. They also enjoy doing fine motor activities such as drawing, braiding, cutting, puzzles, weaving, woodworking and simple sewing.
They enjoy using reading, writing and simple math games and toys. They enjoy nature, simple science, undivided attention and exploring the world.
They believe in creative pursuits, dance parties, hugs and best friends. They appreciate structure and pay attention to things around them.
What are other preschool learning tools besides toys?
Learning tools are different from toys because they mainly focus on productivity rather than fun. In kindergarten, other learning resources can be used in addition to toys, such as traditional teaching materials such as the chalkboard, posters, globes, charts and textbooks.
In addition, modern learning tools are also available, such as audiovisual aids and mechanical aids, which promote the development of skills in children.
A toddler is entering a whole new phase. When the child has turned 4, it goes to school. Within a short time, an awful lot is coming towards him / her.