Best educational toys: Cool and fun gift ideas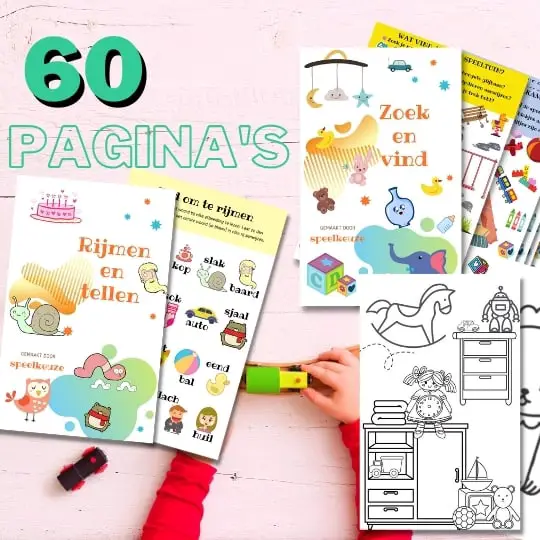 Always something to do for the holidays or rainy day?
Play Choice now has the ultimate activity book collection, with over 60 pages of fun coloring pages and educational puzzles.
Educational toys promote skills and development. They provide a fun way to support different areas of development such as motor skills, creativity and social skills. Each age group has specific skills that are crucial for that stage of development, which is why educational toys differ by age group.
For example, baby toys often help with sensory development and grasping skills, while toys for preschoolers can focus on language development and problem-solving skills.
In this list we have listed the 12 best educational toys for every age, from newborn to 3 years.
We rate educational toys on their educational value, replayability, play value, value for money and awards they have won, each with their own weight.
Educational toys can make great Christmas gifts, but it's important to choose the right early learning toys with features like interactivity, affordable and with opportunities for communication and imaginative play.
Childcare toys focus on sensory stimulation and basic motor skills. Toddler toys help with language, cognitive and social skills. Primary school toys often deal with more complex concepts and can include science sets, building toys and art supplies.
Some of the best brands for educational toys include Fisher-Price, Janod and Learning Resources, as well as newcomers like Osmo. These brands offer a wide range of toys that are engaging, educational and suitable for different age groups.
Toys are just one of the educational devices, but they play an important role in shaping a child's learning experience.
Top 3 Best Educational Toys for Newborn Babies
From 0 years

Best: 0 – 1 years

Until: 1 years
This baby gym has various hangers, including a music ball, which you can easily change thanks to the open rings. With the different textures, sounds and also a mirror, there are plenty of sensory discoveries for your baby.
The greatest educational value comes from motor development, as your child can easily practice lying down, tummy time and exercise the neck muscles.
The safety is enormous. You can fold the edge up so that it stands up and your baby cannot roll away. Once he or she is out of that phase, roll it down for some nice gross motor exercises.
The ease of use is great, with the arches of the baby gym that can be attached to the rug. This way it doesn't slide around, a common problem with a baby gym.
The 4 in 1 function makes it versatile, and the rings on the bow can also be removed, making it possible to combine it with, for example, the bows of a stroller or car seat. This makes the toy very replayable.
From 0 years

Best: 0 – 2 years

Until: 2 years
When a baby is about three months old, he/she slowly learns to grasp things. This set of keys is a versatile toy that is easy for them to hold, with sensory stimulation and interactive buttons. Enough to keep them busy for a while. In this way it stimulates sensory development and fine motor skills. Finally, a start can also be made on role-playing. These educational toys therefore provide sufficient stimulation in various areas.
The three different keys are attached to a thin ring, which the child can easily hold. They can also safely put the toy in their mouth. So very easy to use.
It is a plastic toy and the exact substances in it are not known. Fisher-Price also does not produce in an environmentally conscious manner. It could therefore have scored higher on sustainability and social score. But the lifespan of the keys is fine. Made to last a long time.
Replayability lags a bit, despite being easy to take anywhere. This is mainly because they are difficult to combine with other toys, although that is not the most important thing at this age.
From 0 years

Best: 0 – 2 years

Until: 2 years
In the first three months a baby does not really get around to playing. However, from four months onwards the child learns to grasp objects. The soft toy ball from VTech stimulates various skills, making it an ideal toy for children of about six months.
It is very versatile because it has more than 50 sounds, from music to numbers and animals. This stimulates the language skills of the young child. It also makes noise when you throw it, which is great for learning cause and effect, while the different textures help practice fine motor skills.
The ball is safe and made of soft material, but it is a little more difficult to clean. As a result, the replayability score is somewhat lower than it could have been. But the interactivity, versatility and social interaction provide great play value.
Top 3 Best Educational Toys for 1 Year Olds
From 1 years

Best: 2 – 3 years

Until: 3 years
A simple way to introduce your child to hand-eye coordination and shape recognition and a toy that can grow nicely with their development into toddlerhood. The multi-functional cube provides high play value and great value for money.
The cube is also easy to close so you can take it with you, plus it's big enough to fit all sorts of other toys too, which my son found amusing. This way it can be used and combined anywhere, which ensures high replayability.
It is durable enough to take a beating and has survived 3 years of toddlerhood with us. From shape sorter to bead maze and puzzles and even a wooden abacus. This way he can enjoy a versatile playing experience for a while.
From 1 years

Best: 1 – 2 years

Until: 3 years
Although a child only really learns to stack blocks on top of each other from the age of 15 months, the Janod Play & Learn blocks are suitable for the little ones. These wooden blocks (block game is very good for them) contain the nice figures on the sides and each have holes. Enough to do!
You can stack them or put them together. Fine motor skills are stimulated and the senses are also stimulated by the pictures and colors, which all benefits the educational value.
The play value is also high due to the open-ended game and the various activities that stimulate the imagination. There are only a few blocks, which makes social interaction a bit more difficult. This could have given it an even higher score.
The sustainable brand uses natural materials, so you can let your child play with it with peace of mind. The wood used is sturdy and the versatility and ease of combining it with other toys also ensures high replayability.
From 0 years

Best: 1 – 2 years

Until: 3 years
Unique design with each block shaped like a half-broken egg. Each block has a two-tone combination of vibrant colors and the texture is stimulating and makes it easy to stack. The educational value is high for fine motor skills, but it also stimulates the awareness of cause and effect through the reinforced base. This way they keep spinning for a long time when they are pushed or dropped.
The play value is high because they are very open-ended and stimulate the imagination. The replayability is also good due to their versatility and the possibility to combine them with other toys. Because of the shape you can put anything in it. They are not very portable so the score could have been a little higher if they were easier to store.
It is made of very sturdy, BPA-free yet soft material and is safe with the non-toxic, safe colors used when coloring the blocks.
In addition, it is an award-winning toy with the ASTRA's Best Toys for Kids Award 2012, the Parents' Choice Silver Award 2012, and the Spielwarenmesse ToyAward 2013.
Top 3 Best Educational Toys for 2 Year Olds
From 1 years

Best: 2 – 3 years

Until: 3 years
This set is great because the puzzle pieces are nice and thick. This means you can also stand them up and use them for pretend play. In this way, it simultaneously stimulates fine motor skills and imagination for a strong educational value.
This also makes it possible to combine it with other toys for high play value and social interaction. However, the puzzle pieces fall out easily, making it a bit difficult to take with you. One of the few points that makes the replayability a bit less than it could have been, despite the enormous versatility.
The pieces are also more rounded and suitable from 2 years. It includes a pteranodon, ankylosaurus, apatosaurus, T-Rex, triceratops, stegosaurus and hadrosaurus. Melissa & Doug contributes a lot to the replanting of forests for better sustainability and use of materials.
From 2 years

Best: 3 – 4 years

Until: 5 years
The ease of use is enormous. The markers are easy to hold and the paint comes out effortlessly from the spongy tip. With the washable paint that dries quickly, there is no mess. The markers have a high open-ended quality and the way of drawing appeals to the imagination. All this ensures a high playing value.
They are easy to carry in the box and you can also easily combine them with other drawing materials such as markers or pencils. Both good for the replayability, which could only have been a bit higher if it had been a little more versatile. In the end you can only dot. Ultimately, a lot can be done with this with some imagination.
The materials are safe and the paint is even gluten-free, should a child eat it. Everything has been thought of for an educational and well-balanced toy.
From 2 years

Best: 2 – 4 years

Until: 4 years
Educational toys that teach math, but are also fun for the imagination and offer open-ended play. The set contains 10 pops and 10 matching cases, each with a number and corresponding colored dots. This makes it extremely versatile and can be easily combined with other play kitchen toys. Perfect for both play value and replayability.
I was also curious if the shells were self-correcting, but unfortunately they are not. They all fit on any popsicle, but the color of the dots corresponds to the "color coating" of the popsicle. This gives children a 50/50 chance of guessing the correct answer if they are unsure. That makes the educational value slightly lower than it could have been.
It's made of sturdy plastic and feels like it could last a long time, even the joint at the stick.
Top 3 Best Educational Toys for 3 Year Olds
From 3 years

Best: 4 – 5 years

Until: 6 years
Play value: ease of use, degree of open-endedness, imagination, social interaction, interactivity, versatility, aesthetics, ability to combine, portability, longevity, durability, safety, materials. Educational: +awards and educational value
The educational value is very high with the toy aimed at developing critical thinking, programming skills and problem solving skills in children aged 3 and 4 years old.
The play value is also very high due to the interactivity, the degree of open ending and how the theme appeals to the imagination (the mouse has to get his cheese). It could have been a bit higher if the ease of use had been a bit better, as coding can be tricky.
The replayability is also a bit lower, mainly because you can only do one type of game with it and it has to be completely self-contained to get caught again and again. It is difficult to combine it with other toys. The activity guide with hands-on introduction to programming concepts along with the 16 maze grids, 22 maze walls and 3 tunnels thankfully make it more interesting, providing endless possibilities for creating mazes.
The toy is quite sturdy and well put together, with only the wheels of the mouse being a minor weak spot. This is not a toy to drive yourself, but perfect for a quiet educational moment.
From 3 years

Best: 4 – 5 years

Until: 6 years
The educational value of this set comes from the neutral appearance of the dolls. They don't have a clear profession or role, making them perfect for pretend play and imaginative role play. This neutral look also makes it very inclusive for both gender and cultural background. In addition, the texture of the real fabric clothes and the wooden dolls is a great stimulation.
The play value is also high because it appeals to the imagination and leads to open-ended play. With multiple dolls, it encourages social interaction with other children and they are easy to use. The dolls can be bent and are a very nice addition to your dollhouse.
The replayability is also high, they are easy to combine with other toys and you can easily take them with you in the box with compartments that comes with it. That way they can go anywhere.
From 3 years

Best: 3 – 6 years

Until: 8 years
Kinetic Sand is often referred to as magnetic sand because it kind of sticks together, but it's not really magnetic. This gives it extra educational value because it feels good and you can model anything with it. Perfect for fine motor skills and creativity.
It feels really weird the first time you hold it, like wet sand but dry and like it should move differently than it does, sliding through your hand. This composition ensures that it does not dry out like clay and has a long life. If you take good care of it, it will last forever. It is also perfect to combine with sandbox toys or dinos or cars, all of which benefit the replayability.
The "magnetic" properties of the sand make it ideal for indoor use as it will not go all over your floor as loose grains, but will stick together more like loose slices or balls of sand. Good for ease of use and play value. In addition, it is perfect for open-ended play.
The material is made of non-toxic polymers and is even free of wheat, gluten and casein.
Top 3 Best Educational Toys for 4 Year Olds
From 4 years

Best: 5 – 7 years

Until: 8 years
This is an app for the iPad and iPhone that teaches kids how to code, but what makes Osmo different are the physical pieces you get with the game. By making it tangible, this Coding Starter Set manages to explain a complicated concept in a simple way. My son loved playing with it at 4 years old.
The base game, Coding Awbie, has a high play value. It's pretty open-ended, but it excels especially at appealing to the imagination. The system with the blocks with moves and numbers to set the coding steps also encourages more social interaction than just a separate app.
The OSMO Coding Starter Kit can be divided into 3 parts; Single player to learn to code, coding duo with more difficult puzzles and music to learn to think in sequences. This gives it more versatility and greatly improves replayability. It's just nice stand-alone and difficult to combine, so the game has to have it all on its own.
The pieces are in a handy lockable box so that it is easy to take along with your iPad. This also helps in replayability because you can easily take it with you on family visits.
A small drawback is the fact that you can only play it with an iPad. Not everyone will be happy with the extra screen time. But we've made a distinction here at home between screen time and educational games and apps. The latter is almost always allowed. A slightly bigger disadvantage is that you have to take the iPad out of the protective cover to use it in the supplied base. This resulted in a number of situations where the iPad almost fell.
The material is great, from the sturdy box with pockets to the pieces that snap together with magnets. It feels a bit like the convenience and simplistic design of Apple products. It has won several awards, including Time Magzine's Best Invention Award.
Osmo Genius vs Osmo Coding Starter Kit
The Osmo Coding Starter Kit is for the very youngest with an ambition to learn more about code and writing it. Kids learn more about "sequencing" and "loop". The Osmo Genius, on the other hand, focuses on language, math and geometry. The kit therefore feels a bit more extensive as it has different themes and options to choose from.
From 3 years

Best: 3 – 5 years

Until: 6 years
This award-winning experiment set is complete with all the supplies a scientist needs, including test tubes and vials and goggles to spark the imagination and complete the role-play. The experiments have a huge educational STEM value because they teach everything about mixing with household materials.
A big downside is that these materials aren't included, so they might have to wait to play with until you get to the store, although the experiments are based on cleaning supplies and the like that you probably already have at home. As a result, the ease of use could have been a bit higher than it is now.
The 12 activity cards feature fun experiments your child can perform to learn about science in an entertaining way. These are fun to perform and most will probably want to repeat them many times. The replayability suffers a bit from the fact that there is only limited choice, but the role-playing part means that it can be combined with other fantasy play even after everything is gone.
Sturdy with safe materials, this lab set is highly recommended for 4-year-olds interested in science!
From 3 years

Best: 3 – 5 years

Until: 7 years
Building and constructing with magnet tiles requires problem-solving thinking and engineering skills. Children should think about how to connect the tiles correctly to create sturdy structures. This stimulates their spatial skills and improves their ability to plan and build and gives it a high educational value.
Desire Deluxe are a cheaper variant of Magna Tiles (the original magnetic tiles) with a very good price-quality ratio and fit on any of these types of magnetic tiles. In addition, it is also great to combine with almost any kind of game, because you can make all kinds of things with it. From houses for animals or dolls to robots to beat. This gives it tremendous replayability.
These types of tiles may look a bit cheap, but they are safe. I tried to break the case by throwing it and hitting it with a rock, but the magnets wouldn't come out. The toy score could have been slightly higher if the material used and the lifespan had been slightly higher, but in the end this only has a small impact on the fun.
The play value is also very high, especially due to the open-ended game where children can use their imagination. In addition, a large set like this gives the opportunity to build together and seek social interaction.
Top 3 Best Educational Toys for 5 Year Olds
From 4 years

Best: 5 – 7 years

Until: 8 years
Play value: ease of use, degree of open-endedness, imagination, social interaction, interactivity, versatility, aesthetics, ability to combine, portability, longevity, durability, safety, materials. Educational: +awards and educational value
In terms of play value and replayability, this Tumble Trax set scores above average, but not great. The ease of use is ok, but it is difficult to get started. And the fact that you can almost only stick it on the refrigerator where the balls can easily roll under the refrigerator or other equipment is also not ideal. It is not particularly versatile or easy to combine and does not encourage social interaction very much.
Where the set does excel is in educational value. Many children enjoy learning about physics and how the world works. With these Learning Resources kits they can pick this up in a playful way.
It is of course also fun to build a good marble track, but hanging it up with the help of magnets and the challenging assignment booklet also means learning about gravity. And the assignment booklet is very good. It is not without reason that it has won several awards, including the Toy Industry Association 2016 Specialty Toy of the Year Award.
From 1 years

Best: 3 – 5 years

Until: 6 years
These TickiT Rainbow Blocks are amazing and a great way to learn colors. Children can simply stack them in front of the window and the light will shine through. You can also use a separate light table. This makes it extremely educational and versatile.
They are ideal for group play and can promote children's social and emotional development. In addition, they are also suitable for children with special needs, as they can help with focus and language development.
The play value is high because they are easy to use and appeal to the imagination in open-ended play where you can build anything or mix colors and it encourages social interaction because it is almost irresistible not to interfere with the colors .
The replayability is also very high because you can combine the blocks in all kinds of games, for example as houses in fantasy play, and the durability of the material is very good. They are just a bit difficult to carry because of their size.
The blocks are made of sturdy wood with a translucent acrylic plastic in the middle, and we haven't been able to break one of them, even after six months of playing. They are designed for children from one to three years old, but I think four and even five years old can learn even more from them by combining the colors and going deeper into how colors work.
From 4 years

Best: 5 – 6 years

Until: 7 years
The Botley 2.0 has multiple ways to program and learn from it. Programming is done using the supplied controller, so the child can learn sequences and even start learning loops.
Botley does not actually learn to code, after all, the programming is done on a controller, but they do learn the basic skills of thinking like a programmer, and is therefore also a robot for 5 to 7 years.
There is a lot going on here and that is good for the versatility. You can really do anything with it and that also makes it easy to combine with other toys such as Duplo that you have lying around or to build something from magnetic tiles that it has to go through without knocking it over.
Botley was a lot of fun to play with, but the play value could have been higher if the ease of use had been better. My son is now 5 years old and having the patience to play with it properly is sometimes difficult. I also think playing with it under 5 will be a challenge. The play value is still very high due to the enormous interactivity, from coding to secret cheat codes.
Botley 2.0 has also won several awards, including Innovative Toy of the Year, Best of CES from Reuters and Best Toy of the Year 2018 from Parents magazine.
Top 3 Best Educational Toys for 6 Year Olds
From 5 years

Best: 6 – 8 years

Until: 9 years
Play value: ease of use, degree of open-endedness, imagination, social interaction, interactivity, versatility, aesthetics, ability to combine, portability, longevity, durability, safety, materials. Educational: +awards and educational value
The educational value in the field of STEM and engineering is great with this set, Engino's biggest advantage compared to, for example, LEGO blocks. Although LEGO Technic comes close, it is really focused on developing skills and problem-solving thinking. The included app is very educational and shows children how these vehicles work.
The play value is also good with a high level of ease of use and interaction with the app, although it does not really appeal to the imagination and social interaction is less stimulated. Due to the small set, it is mainly solo building.
The replayability is slightly higher than the play value, mainly because you can play well with what you have built. This makes it easy to combine and the versatility of the toy great. The durability is also very good, the plastic is sturdy and will not break easily.
This building toy from Engino has won several awards, including the Cyprus Innovation Award and the Toy Russia Most Innovative Toy.
From 5 years

Best: 6 – 8 years

Until: 9 years
Dash is a colorful robot designed to make coding fun. It comes with 4 educational apps, each focused on a different type of game, that take your child through lessons to create increasingly elaborate functions. Taking this by hand makes the educational value extremely high.
The play value is good because it is extremely easy to use. At the push of a button he can explore all his surroundings right out of the box. It will automatically see where the edges of a table or room are, although sometimes the table can pose challenges and it can fall off. The interactivity is also very high with, for example, speech recognition and the multiple apps.
The robot encourages social interaction, another important part of the play value. They are toys that interact with each other, so your children and their friends can even complete missions together.
The replayability is also very good, especially due to the versatility of the game options, but they have also thought about the possibilities of combining it. For example, there are LEGO connectors with which you can use LEGO to personalize Dash. Dash can be programmed to follow a race track, dance, light up, make sounds, joust or play a variety of other games.
Dash is extremely sturdy and can take a beating and is the winner of the Parent's Choice and the Oppenheim Award.
From 3 years

Best: 5 – 8 years

Until: 10 years
The tiles with open interiors are quite challenging to build with, just like the Geosmart tiles. This makes it more educational than other magnetic tiles and building toys, because it mainly concerns making geometric shapes.
The recommended age is 3 years. Although a 3-year-old child can already play with it, this set only really becomes fun at the age of 4 to 5. I think the recommended age of 3 is more about the safety of the toy than the age at which it is fun.
Laying out a flat shape like a cube or ball and then picking it up to 3D shape it is a lot of fun.
The replayability is also high because you can also build nice buildings with them (and robots like my 4-year-old son likes to do) so you could buy them for a 3-year-old so that you have toys that they will not quickly outgrow.
The play value is also enormous. It is easy to use, completely open-ended and appeals to the imagination, and making shapes also encourages social interaction, where our children looked at what someone else had made to copy it (or even make it better). ).
The material is extremely sturdy and cannot be broken, so the magnets remain safely in their housing. It is not without reason that these are prize-winning toys from, among others, the NPPA Award.
Top 3 Best Educational Toys for 7 Year Olds
From 7 years

Best: 7 – 10 years

Until: 14 years
The Makey Makey is an educational tool for children. The electronics kit consists of three parts - input cables that bring in inputs from the world to make it a single one, a processor that takes those inputs and translates them into the code you programmed, and an output cable that transfers that code to the computer.
Its strength is its versatility. Whether you're making a musical instrument out of bananas or a game controller out of Play-Doh, anything is possible. This makes it a very inventive set with high educational value.
The play value and replayability are also high. It's small, fun and easy to use. All factors that contribute to these scores. In addition, it encourages social interaction and is easy to combine, because you can connect just about any other type of toy to try out.
It may still be a bit too difficult for 7-year-olds (recommended from 8), but if your child has a special interest in how computers or technology work, they may already be able to handle it at their 7th birthday.
Winner of the Best of Toy Fair Award, among others, Makey Makey will be a favorite toy for years to come.