18 Best Toys for Your 1 Year Old: Cool Gift Ideas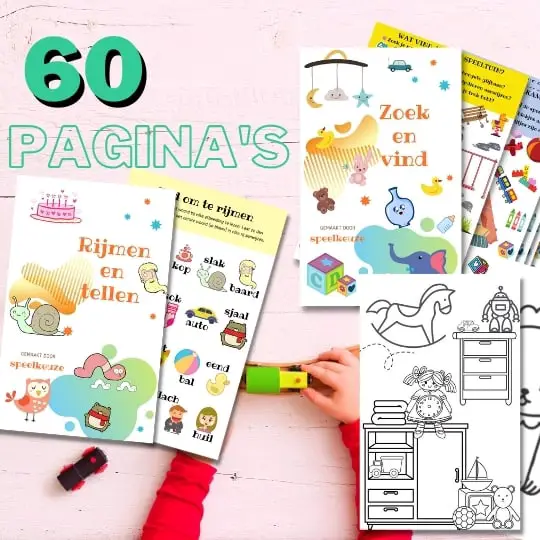 Always something to do for the holidays or rainy day?
Play Choice now has the ultimate activity book collection, with over 60 pages of fun coloring pages and educational puzzles.
When the child has turned 1 year old, it's officially called a toddler. It has developed tremendously in just a year. For example, a toddler can crawl and in some cases even walk. The fine motor skills of the curious explorer have also improved considerably.
An article in Psychological Science says:
Toys are an opportunity to play, explore and for social interaction; educational toys that stimulate these will have a positive effect, but also a daily household object - if used correctly.
The best toys to give on their first birthday are something they can use for a long time, such as this activity cube from Jouéco. A great sturdy wooden construction that promotes fine motor skills.
Fortunately, there's much more to discover with toys for 1-year-olds.
Open-ended toys are an item that leaves most of the interpretation and creativity to the child. They don't show them or tell them how to play but rather let them have free rein and this is very good for this age.
Toys suitable for children aged 12 to 18 months promote fine motor skills, such as building blocks and small foam balls. For children aged 18 to 24 months, toys such as balance bikes and pull toys are important to encourage physical activity.
According to a study by Todd, Barry and Thommessen (2017), gender preferences start as early as the second year of life. Good to know, so you can take that into account as well.
In addition to toys, there are also other fun gift ideas for 1-year-olds, such as a colorful water bottle with a straw and a practical folding chair. These gifts are not only fun, but also practical for sitting, reading and playing.
But we're looking at the best toys for 1-year-olds here, and this list has the top picks for this age.
#1 Jouéco Wildies Family Activity Cube - Overall best toy for their 1st birthday
From: 1 years

Best: 2 – 3 years

Up to: 3 years
A simple way to introduce your child to hand-eye coordination and shape recognition and a toy that can grow nicely with their development into toddlerhood. The multi-functional cube provides high play value and great value for money.
The cube is also easy to close so you can take it with you, plus it's big enough to fit all sorts of other toys too, which my son found amusing. This way it can be used and combined anywhere, which ensures high replayability.
It is durable enough to take a beating and has survived 3 years of toddlerhood with us. From shape sorter to bead maze and puzzles and even a wooden abacus. This way he can enjoy a versatile playing experience for a while.
#2 Gibot Studio Stinky Stackable Wax Crayons - Best creative toy for 1 year olds
I was looking for a set of wax crayons suitable for my toddler, and the Gibot Studio Stinky Stackable Crayons certainly met my expectations. These wax crayons are specially designed for little hands and are easy to hold. My child could draw and color effortlessly with these crayons.
What I especially like about this set is that it comes with 12 basic colors. This has helped develop my child's color exploration and thinking skills. Moreover, these stackable crayons are made of safe and edible materials. They are odor and heavy metal free, so I can let my child be creative with peace of mind.
Another advantage is that the crayons are washable with hand soap. This makes it easy to wipe off the drawings and start over. The crayons write and draw very smoothly, which ensures safe and problem-free creative work. In addition, the large round base is easy to hold for my child's sometimes uncoordinated little hands.
I am also happy that these crayons are used not only to draw pictures, but also as building blocks to develop my child's intelligence. This has led to exciting ways to play and learn. The set comes in a new package with 12 colors of crayons.
#3 Intex Mushroom Baby Pool Best Outdoor Toy for Toddler (1 to 2 years)
Sweet baby pool in the shape of a mushroom, with an inflatable bottom and a sunroof. Dimensions: 89x102x89cm
Ultimately, we are convinced that everyone loves the water.
What could be better than splashing around in your own garden on one of those first sunny summer days?
We have found two great options for you to enjoy a swimming pool in your own garden.
For the little ones
Your baby undoubtedly loves to play with water. Small children love to play with water.
It feels so nice and fresh to the skin and really anything is possible with this fantastic stuff!
Do you want to let your little one bathe safely outside? Then go for the Intex Mushroom Baby Swimming Pool.
This cute, good quality tub from Intex is sure to provide hours of poodle fun.
It has an inflatable floor and a nice sunroof, so that your little one can play sheltered even on sunny days.
The fun mushroom gives the whole a very cheerful look.
#4 Vtech Helping Heroes - Most engaging toy for 1 year old toddler
What is it: a sturdy red fire truck with an extendable ladder and an extra mini fire truck friend.
The larger engine has an illuminated screen that activates sound effects and roaring songs.
Why we love it: The Toet Toet range is a big hit with most toddlers and this fire engine is a great first purchase for even smaller kids.
There's a lot for little fingers to manipulate and press and a fair bit of noisy woes that they'll love a lot.
I don't often recommend plastic toys with light and sound, but Vtech knows how to keep everything at a safe noise level and the friends of this fire brigade and later also the Toet Toet car series give fun assignments that can sometimes kick-start the creative game.
We especially love the sliding fire extinguisher and the fact that you can open the big engine and pull down a ramp to fit inside another car (or the mini fire engine).
#5 Buckle Toy Buster - Best 1 year old toy for travel
They like many different toys, right? And it should be easy to store and retrieve for when they're suddenly done with another toy.
That's why hanging hugs are so much fun.
This Buckle Toy Buster in particular has a lot to offer because you can easily click it on and off anywhere and your toddler can try the same with all the buckles that are attached to it (it's one of the nicest toys to take on holiday anyway).
Is he ready? Then you just let it hang for a while.
#6 SmartMax My First Safari Animals - Best toy animals for 1 year olds
What a cute set of animals this is. And one of my son's favorite toys. They are nice and soft made of safe silicone rubber so that they actually go well in the mouth from baby.
After that, they are still fun to buy because they can grow with your child in different age stages.
For example, with 1,5 they can click apart and together a bit because the different parts can separate and mix and match (for example two heads at each end) and your child's hands are already strong enough to separate the magnets. to get.
A little older again and your child will understand that colors belong together and that they always want to put them together in the right way. And they are also always a favorite with a fun fantasy game that involves animals.
This cool playset immediately appealed to us because it is full of very happy animals with which a child can come up with very cozy adventures.
It is also an educational game and teaches your child about different animals and why it sticks together with magnets.
Furthermore, the play set stimulates the child's eye and hand coordination. So those are 3 great advantages in a row!
With us, for example, they are regularly put in the tractor for transport and they are allowed to play on the farm.
Fun toys from Smartmax which is definitely worth it.
#7 Janod ABC Buggy - Best educational motor skills toy for 1 year old
What is it: a wooden walker with sliding beads on the front and blocks (instructive anyway) with 24 educational letters and numbers inside.
Why we love it: if toys such as draft horses are play magnets for 1-year-olds, then these types of walkers certainly are.
Maybe even a nudge in the right direction for those who are still a little unsteady on their feet.
And this colorful little walker is nice and sturdy to lean on and push and has fun 'whirly' wheels and some nice blocks that are just the right size for little hands to grab, take out and put on. to stack.
And yes, the decorations on the blocks could develop early letter and number recognition if your child happens to show an early interest in them.
#8 Janod Baby Forest - Best standing toy for 1 year old toddler
This beautiful play table is made of wood and is aimed at stimulating kids in their development.
With this table a child can learn colors, shapes, numbers, concepts, movements and concepts.
Janod's table will also enable your little one to develop social contacts, stimulate imagination and also improve sensory development and fine motor skills.
The game table is suitable for kids between 1 and 3 years old and has a very solid structure.
The play table is a perfect choice for parents who are looking for beautiful and educational toys for their kids, which at the same time have an elegant appearance and are made of quality materials.
#9 Mega Blocks First Builders Big Building Bag – Best Cheap Plastic Building Blocks (Ages 1+)
Ideal for: ages 1 to 5
Like LEGO's Duplo line, the Mega Bloks First Builders Big Building bag is a construction game for young children.
It is made of large stones that are safe for young children to use and play with.
What's Great About It: This set has 80 pieces, which is a good amount to stimulate your child's creativity and develop his motor, problem-solving and spatial skills from an early age.
#10 Little Tikes Activity Garden - Best climbing toy for 1 year old
I really love the Little Tikes Activity Garden for my baby. This multifunctional playset is perfect for stimulating my child's curiosity and imagination. It offers a variety of activities, sounds and games for my child to enjoy.
What I really like is that the playset can be used in two ways. It converts from an enclosed play center to an open play center with two sides, allowing it to grow with your child.
The detachable play panel is great for on the go and includes a bead roller, mirror, spinning "gears" and even music. My child can play with it for hours.
The playset's interactive features, such as opening and closing the shutters for a game of hide and seek, using the window planter for a ball game, and discovering shapes and colors in the mailbox, are great for developing my child's imagination and skills. stimulate.
The Tap-A-Tune piano is also a favorite of my kid. The colored sounds and buttons let my child go on a musical journey of discovery.
The playset is easy to assemble and transform without tools. It is safe and durable, which makes my child feel at home. In addition, the play set is suitable for children from 6 months to 3 years, so my child can enjoy it for a long time.
#11 Learning Resources Snap-n-Learn Matching Dinosaurs – Best sorting toy for 1 year olds (18 months)
I absolutely love the Learning Resources Snap-n-Learn Dinosaurs! This colorful dinosaur set offers endless fun and helps my kids develop new skills. With 9 different dinosaurs that click together easily, my kids can play and learn in different ways.
What I especially like about this dinosaur set is that kids can mix and match them based on color, species and the shapes on their backs. This stimulates their matching and sorting skills, as well as their color and shape recognition. My kids have had a lot of fun trying different combinations and discovering which pieces go together.
Plus, these dinosaurs are specially designed with little hands in mind. They are perfectly sized and easy to take apart and snap back together, making them ideal for my kids' fine motor skills. It also gives them the opportunity to strengthen their hand muscles while they play.
The dinosaur set comes in a sturdy plastic bucket, making cleanup and storage a breeze. I appreciate that Learning Resources also paid attention to the sustainability of the material. The dinosaurs are made of sturdy plastic that can withstand intensive play.
As for the age recommendation, this set is suitable for children from 18 months. My youngest child is just 2 years old and loves them.
#12 Green Toys Stacking Cups - Best open ended toy for 1 year olds
These beautiful and durable stacking cups offer what is known as 'open-ended play'. Eco-conscious, these 6 cups are made from 100% recycled plastic milk bottles.
They are easy to grab and stack on top of each other in different ways.
With the numbers on each cup, the children can practice counting and they also correspond mathematically.
This means that cup 1 fits into cup 2, for example, 2 times in cup 3. Cup 3 and 2 together fill cup 4.
So it's fun STEM toys for the little ones if you help them come up with a number of puzzles.
They are of course also just fun to build towers with, or to make part of a sand castle. Or fill them all with water and tip again.
The six cups together weigh only 300 grams, and are therefore easy to carry. They are made of sturdy material and will therefore last a long time.
Children can start using these cups from 0 years old.
#13 B. Toys Mini Wheee-is – Best toy cars for 1 year olds
Very nice design and bright colors, that's what the school bus, racing and police car from B. Toys look like.
These also have a nice pull-back system so that they can drive themselves.
While Melissa & Doug really focuses on babies with the soft cars, these are suitable for slightly older children from 1 year.
They become really fun to play with for the older toddlers and toddlers. The plastic is flexible and very soft so that even small children can play with it.
The set is slightly cheaper than Melissa & Doug's but you get 3 cars instead of 4. Ultimately, the price per car is comparable.
#14 PlanToys Pull Figure Snail – Best pull toy for 1 year old toddler
What is it: a cute wooden snail with wheels as a snail shell that your child can pull next to or behind him.
Why we love it: It's beautifully designed - and the body wobbles up and down (kind of like a caterpillar, if that's not confusing!) when you pull it along.
It also makes a nice clicking noise as it moves, which means the faster you pull, the more click you get.
It's made from eco-friendly recycled rubber wood, so you can score quite a few Green Parent brownie points.
And yes, it does kind of remind us of the toys we used to play with. Nothing wrong with a little old-fashioned from time to time, right?
#15 Goki Bubble Puzzle Farm - Best puzzle for 1 year old toddler
Goki is a toy brand that develops educational toys of good quality. This wooden puzzle also lives up to that promise.
The educational wooden toys are also sustainable. This Goki puzzle is very suitable for the inquisitive toddler.
The nubs on the puzzle pieces stimulate fine motor skills, while the puzzle itself gives the child the challenge it needs. Every toddler should have a stud puzzle.
#16 Fisher Price Laugh and Learn Game Controller - Best interactive toy for 1 year old toddler
Some might say giving them a game controller at this age might be a bit early, but I'm a gamer myself and my kid has seen me hold one of these controllers so it's only natural he'll want to play too. The actual game controllers are quite expensive so having something like this for your kid is actually a good investment as they can play along with you and see what you are doing without damaging your actual equipment.
#17 Janod Wooden Rocket – Most quirky brand
What is it: a rocket puzzle that your child can build using 6 easy-to-assemble magnetic pieces.
Why we love itIt's essentially a simple stack of toys, but the magnetic pieces join together nicely to form a rocket you can play with.
Great for developing hand-eye coordination and perfecting whooshing sounds of space travel and one of Janod's most fun toys.
We love the fact that the wood is of high quality and that the (hip) paint job is non-toxic.
#18 Wishbone Bike Recycled – Overall best balance bike
Best overall. Sturdy bike with extra low entry to start young and adjustable in height up to 5 years
Seat height: 28 - 46 cm
Age: 1 to 5 year
Loadable weight40 kg
This is perfect to use as a first balance bike. Not only is it durable so it will last their toddler through toddlerhood, it is also just an AMAZING design!
Perfection from top to bottom, Wishbone delivers a smooth, easy ride for youngsters toddlers. A winning combination of a lightweight, extremely low step-through frame, a low minimum seat height and extra soft pneumatic tires make this bike a winner.
The higher handlebars put the balance riders in a natural upright position with their weight centered over their hips, making your kids feel less insecure about maintaining their balance.
In addition, it is easy to convert into a balance bike with a high seat and lasts much longer, up to 5 years:
How do suitable toys change from 12 months up to 24 months?
Toys suitable for 12 months are different from those for 18 months and older. For 12-18 months, toys such as building blocks, small foam balls and Lego promote fine motor skills. For 18-24 months, toys such as balance bikes and pull toys promote physical activity.
It is important that toys are safe and do not contain harmful chemicals. Too many toys can cause overstimulation and hinder concentration and skill development.
It's also important to Choose toys that are age-appropriate for your child and promotes imagination and social, cognitive and motor skills.
What do 1 year olds like?
One-year-olds can enjoy many things, such as toys that develop their motor, cognitive and social skills. Toys such as blocks and stacking cups promote fine motor skills and can be played in a variety of ways. Large piece puzzles are great for developing problem-solving skills.
Art supplies such as drawing, painting and finger painting are also loved by annuals and promote creativity. Pull-along toys that can be pulled behind are good for physical activity and the development of gross motor skills.
It doesn't have to be all stuff. Outdoor play, such as walking, playing in the park and splashing in a paddling pool, is also loved by one-year-olds.
Finally, one-year-olds enjoy social interaction, such as playing together, playing peek-a-boo, singing songs and reading books with other children and adults.
How many toys should a 1 year old have?
A 1-year-old should have no more than 3 to 5 toys at a time. Studies show that too many toys overstimulate 1-year-olds and make it difficult to concentrate and develop important skills.
Children aged 1 to 6 are easily distracted by toys, so fewer toys help overall development. Choose high-quality toys rather than lots of low-quality toys. It is also important to rotate toys regularly to maintain the child's interest.
Opt for open-ended toys like blocks and stacking cups, which can be played in a variety of ways. Quality is more important than quantity.
What are cool gifts for 1 year olds that aren't toys?
There are also things you can give as gifts that aren't toys, like these top picks.
Cardboard booklets with bright colours, textures and simple stories that develop language and reading skills.
Art supplies such as drawing and painting materials, finger paints, crayons, and coloring books with large images and simple designs that promote fine motor skills and creativity.
A colorful water bottle with a straw, a fun and practical gift for a 1 year old.
Shoes that are comfortable, supportive and practical for a 1 year old.
A small folding chair, fun and practical for sitting, reading and playing.
A set of a water bottle with straw and a cup, a practical and fun gift for a 1 year old.
A learning tower, a fun and practical gift for standing and playing, and helping with cooking.
Portable booster seat and tableware appropriate for their age