20 Best Gifts for 12 Year Olds: Cool and Unique Toys and Stuff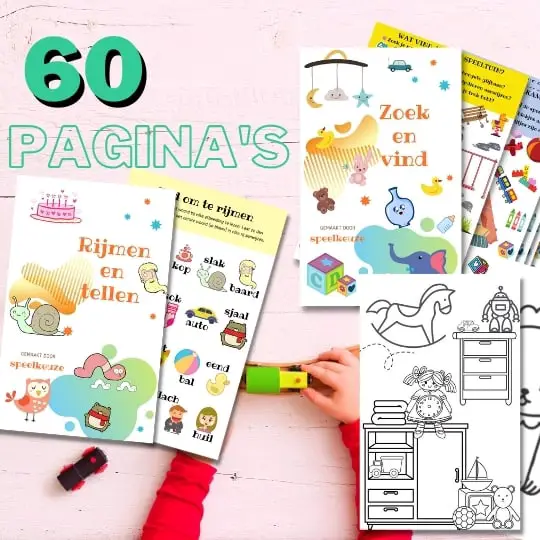 Always something to do for the holidays or rainy day?
Play Choice now has the ultimate activity book collection, with over 60 pages of fun coloring pages and educational puzzles.
Gifts for 12 year olds should be cool and unique. Think of toys that help them learn and develop, such as educational games and building sets. When choosing the perfect gift, consider their interests and the festive spirit of Christmas or their birthday.
It's all about finding something special to match this milestone in their lives.
Some experts say that more toys aren't necessary for this age. For example, premiumjoy.com conducted a survey among 1000 parents in the US, which indicated that many parents no longer give toys to children aged 12-15.
The best gift is therefore something that allows them to rediscover their love for their existing toys, such as this book by Jeff Friesen "The LEGO Engineer" explaining ways to create architectural designs with the LEGO you already own.
Still, there are plenty of reasons to still give toys, even to 12-year-olds, when it stimulates their creativity and helps them learn. So don't completely scratch them off your gift list.
Although 12-year-olds often already have their own gift wishes, there's always room for a unique gift that they had not thought of themselves.
Toys can also help cope with the changes and social challenges of 8th grade. They stimulate creativity, spatial awareness and improve motor skills.
This list of the 20 best gifts for 12-year-olds has something for all of those causes.
#1 Jeff Friesen The LEGO Engineer – Overall best small cheap birthday gift for 12 year olds
From: 11 years

Best: 12 – 16 years

Up to: 16 years
As an avid LEGO fan and avid builder, I was thrilled to discover The LEGO Engineer. Written by expert LEGO builder Jeff Friesen, this book combines LEGO bricks with the world of engineering in a fun and informative way. Its educational value is so high because it explains architectural principles and then shows you how to apply them in your own builds.
The replayability is great because there are many different options and the approach is to combine it with your existing LEGO. If your child is a LEGO fan then this is the way to get more out of it and make it really educational. In addition, you can easily take the book with you wherever you go to read a bit.
Adam King of Adam's Brick Junction and Matt Yeo of Brick Fanatics praised the book for its plethora of technical facts, beautiful digital photography, and accurate recreation of real engineering marvels. Jeff Friesen himself is the winner of the LEGO Builder of the Year in 2017.
#2 Spin Master Perplexus Original – Best brainteaser for smart 12 year olds
Perplexus is a game perfect for those who want to combine their creativity with puzzle solving. It is a 3D maze, captured in a transparent sphere. The goal is to guide a small metal ball along a winding path with 100 obstacles.
The player must rotate, tilt and shake the sphere to guide the ball. This requires concentration, hand-eye coordination and problem-solving skills. The game is challenging, but also offers a lot of satisfaction when reaching the finish line.
The rules are simple and easy to follow, but there's no way this will turn into another run-of-the-mill puzzle for you. More importantly, there is an incredible quality to the toys that you can vouch for.
#3 Minuma Cinema Light Box – Best aesthetic gift for 12 year olds
The light box comes with 110 black letters, 110 colored letters and 180 emojis. It's great that the cards come in a nice envelope to keep them safe. In addition, up to 10 letters can fit on each row, unlike other light boxes that only have 8-9 letters per row. This makes it an original gift for both girls and boys, women and men.
The ease of use of this light box is also a plus. It works on 6 AA batteries (not included) or via the included USB cable. All I have to do is slide the cards in and I can form my favorite phrases. It is ideal for birthday parties, baby showers, weddings and other events. Moreover, it is also a fun toy for boys and girls.
Perfect for making their own room just the way they want it so they can feel right at home.
It's also a perfect Valentine's Day gift for a 12-year-old boyfriend, as kids at this age start looking for gifts around these themes. You can personalize it before you give it.
#4 Summer Spark Hair Chalk – Best cute self-expression gift for 12 year olds
This set contains 10 bright colors for you to choose from, such as red, orange, blue, dark purple, yellow, purple, pink and more. It's great for changing your hair color to match your outfit or mood, and because it's temporary and washable, you can keep your new look for as long as you want.
I should mention that the chalk is especially suitable for lighter hair, such as blonde hair. For dark or brown hair it can be a bit more difficult to show the color well. Fortunately, there are some tips that can help. For example, gradually apply the color to a handful of hair and use a hair dryer or fan to dry the hair. Finish the styling with some gel or hairspray to make the hair look perfect.
What I like about this hair chalk is that it is non-toxic and easy to clean. It is non-allergenic and water soluble, so you can easily wash it out with regular shampoo and water. This also makes it safe for children aged 3 and up, making it a great gift for girls who love to design their hair and express their personality.
#5 Fender CD-60S Guitar - Best musical gift for 12 year olds
The Fender CD-60S really is one of the best guitars for beginners, especially considering the low price tag for what you get.
This dreadnought guitar features a solid mahogany top, providing great tone and excellent value for money. The sound has a nice clarity normally associated with spruce tops.
What I really appreciated about the CD-60S is the comfortable feel of the fretboard, probably due to the specially bevelled fretboard edges. The action of the strings was also good right out of the box, which only added to the fun.
The guitar is perfect for playing chords and strumming, which makes it very inspiring for beginning children. The sound projection due to the dreadnought body is also impressive, especially useful if you play in a band or in a choir.
#6 Carson Virus 4.0 – Best gas powered RC Car for 12 year olds
Type: Hobby Grade
Another great petrol car is this Carson Virus Buggy. A super fast buggy that uses an impressive 1.9 hp engine to power it.
It is a very good entry into the world of RC petrol engines and the price is right.
Especially the grip and responsive steering mechanism make it fun to go off-road with it (it's a buggy). It is one of the best Hobby Grade RC cars for beginners.
It reaches 65 km/h which is a nice achievement.
#7 Boncty Magnetic Pen – Best fidget toy for 12 year olds
What I love most about this pen is that it is not just a pen, but a cool toy pen with a magnet. It allows you to create different shapes based on your imagination, such as swords, robots, monsters and many more. This is great for 12 year olds as it helps develop their intelligence and imagination.
The magnetic pen itself is also of high quality. It is made of durable metal with smooth touch, odorless and non-toxic. The pen has a strong magnetic effect and can withstand drops thanks to the use of the latest alloy magnetic material. The gold plating process gives the pen a nice shine.
Another nice thing about this pen is that it is a stress relieving toy. It helps in reducing stress and anxiety. You can just play with the magnetic pen and let your creativity flow. This also makes it a great gift for teens who could use some relaxation.
The Boncty Magnetic Pen also has a practical aspect. It has a stylus design that makes it usable on a variety of screens, making it suitable for both work and entertainment. In addition, the pen is compact in size, making it easy to carry and store.
#8 Spacerail Level 5 – Best big electronic gift for 12 year olds
From: 12 years

Best: 15 – 16 years

Up to: 16 years
If you want the top of the marble runs for older kids, then the Spacerail is the kit you want to buy. It is recommended for ages 15 and up, but it can be a great building project for the two of you and teaches architectural concepts and gravity for high educational value.
It will take several hours to build it, because you want to make sure that everything fits perfectly to keep the steel balls within the track. This is where the play value comes in. The ease of use is not very high, and this is also what some people complain about. It's just a really hard building project: model building, not toys.
The replayability is somewhat greater than other modeling material because you have a cool marble track at the end. The motor and fast balls also give it a kind of soothing effect and it looks nice in the nursery.
#9 Snap Circuits Teach Tech Mech 5 – Best educational robotic toy for 12 year olds
The Snap Circuits Teach Tech Mech 5 is a unique mechanical programmable robot designed to inspire young engineers to learn about mechanical engineering and coding basics. This entry-level STEM robot can throw, lift, kick, draw and much more simply by attaching the programming buttons to the programming wheel.
I have personally found the Mech 5 to be a great educational tool. Building the robot was a fun and engaging activity, and the process gave me an insight into how mechanical systems work. It's a great way for kids to learn by doing.
The reviews show that the Mech 5 is generally well received. Many people appreciate its educational value and the fact that it does not require screen use. Some users found building the robot challenging, but the result was worth it. It is noted that the programming options are somewhat limited as the code is the same every time the wheel spins, but this is intended to teach children the basics of coding.
Another positive point mentioned is the manufacturer's customer service. Some users had problems with parts, such as broken wheels, but the manufacturer responded quickly and sent replacement parts.
One negative point that emerges is that building the robot can be time consuming and it may require careful disassembly of the plastic parts before you begin. Some people found this frustrating and commented that it may not be as suitable for younger children without adult help.
Overall, I think the Snap Circuits Teach Tech Mech 5 is an excellent educational toy. It offers children the opportunity to learn about mechanical engineering and coding basics in a fun and interactive way. While the building process may take some time and patience, the results are worth it. I would definitely recommend this as a no-screen activity for kids ages 10 and up interested in engineering and coding.
#10 Pixicade Create Your Own Video Game – Best technology drawing gift for 12 year olds
From: 6 years

Best: 8 – 12 years

Up to: 15 years
Pixicade is a creative and innovative way to get kids involved in making their own video games. It stimulates creativity, problem-solving thinking and innovative ways of dealing with technology. All for enormous educational value.
The concept is simple: children draw their own game on paper using the supplied markers and then scan their creation with the Pixicade app on their phone or tablet (Android and iOS). This brings their drawing to life as a playable video game. The ease of use is superb and it really appeals to the imagination. The character aspect itself breaks stereotypes and the advertising material also shows a lot of girls.
The great thing about Pixicade is that it encourages children to think creatively and solve problems. They have to think about the gameplay, the characters and the goals of their game. The app itself is user-friendly and the accompanying instruction books offer lots of examples and ideas to get the kids started in 7 game categories. This makes it extremely versatile with good play value.
The nice thing about Pixicade is that it appeals to a wide range of interests. Kids who love to draw, kids who love video games and kids who love solving puzzles will all be amazed to see their creations come to life.
#11 Klutz String Art – Best arts and crafts gift for 12 year olds
String art is a relatively new form of art that involves stringing pins and thread and covering with pins. It looks really nice, and is actually quite easy to get started with.
In the set you get 500+ pins, 80 meters of wire spanning various lengths, 6 string arts and foam sheets to pin drawings on.
This set also includes instructions on how to draw infinite patterns with the above materials.
The Klutz String Art Book Kit is a fun and easy way to create string art.
If you've always wanted to dive into something new, now is the perfect time for this creative outlet!
The kit includes enough pins to make whatever your heart desires. And the best yet? You will absolutely love the finished product.
String art is a fun and creative way to express yourself! It combines the fun of tinkering with functional decoration.
Anyone can do it, but be careful when using pins with smaller children around.
#12 Borg's Choice Led Gloves – Best funny party gift for 12 year olds
The gloves are easy to operate with a single button to change the flashing mode. They are perfect as a birthday gift for children between 6 and 12 years old.
What I especially like is that these gloves are not only fun, but also have an educational aspect. They can help children with autism as they are great sensory toys that let them experience light and color on their own terms.
The fabric of the gloves is improved and breathable, making them comfortable to wear even if you dance all night long without getting your hands drowning in sweat. The gloves come with two CR2032 batteries already installed, and you get an additional five batteries as a bonus. This ensures that you can enjoy this amazing luminous experience for up to 10 hours.
My kids loved the gloves and they are also very popular with their friends.
#13 Schildkrot Aerobie Pro Ring – Best active sports toy for 12 year olds
Your child may have played with Frisbee all his life, but he certainly has not played with this Frisbee ring.
This vs Frisbee: It's about 80% lighter than the other regular Frisbee, making it great for your kid's soft hands.
In terms of design, these rings are hollow and have better stability. You get a few rings and they come in different colors.
Frisbee ring weight 1,2 oz
How far can it go? 25-30 feet
Pros: 1) Lighter than frisbee 2) Available in different colors 3) Great for kids.
Cons: Because it's very light, you can't cast it too far with accuracy.
#14 Funko Pop Soda Stranger Things Demogorgon – Best small room decoration for 12 year olds
This little figure is absolutely adorable and perfect for decorating a 12-year-old's room.
What I really like about this Funko is that it comes in a collectible soda can which makes it even more fun to unwrap and display. Plus, a "POG" shaped collectible card is included, which is a nice addition for collectors like me.
The limited edition status of this Funko makes it extra special, and the fact that it includes a chase variant makes it exciting to collect. For those who don't know, a chase variant is a rarer version of the item that is randomly inserted into the production run. It's like winning a golden ticket! While not guaranteed to get a chase variant, it certainly adds excitement to the collecting process.
As for the quality, the Funko Demogorgon is well made of vinyl and measures about 4 1/4 inches long. It is sturdy enough to stand on a shelf as decoration, but it also has a fun playful look that fits perfectly with the atmosphere of Stranger Things.
I am convinced that this Funko Demogorgon would make a great gift for any Stranger Things fan, especially younger fans who like to decorate their room with cute Stranger Things things. It's a fun piece of memorabilia that will put a smile on any 12 year old's face.
#15 Meepo Mini V5 Electric Skateboard – Best outdoor toy for 12 year olds
Overall, I think this is a decent product for adults looking to use it as a beginner to intermediate board.
It's got speed and pep, and with a well-charged battery it can even handle steep hills for a short period of time. The lowest speed setting is very gentle and perfect for beginners.
One point I would like to point out is the included bushings. These are quite soft, which is great for a lighter person who wants to ride at slower speeds and make sharp turns. But for me that was a problem. I wanted to cruise at higher speeds, but the stock bushings had a lot of play and needed a lot of tightening. With the stock bushings, I could only get about 20 mph before getting a "death wobble."
But the standard equipment is therefore perfect for teenagers, say from 12 years old.
The hand controls are VERY smooth. Take time to get used to it; a little bit of exercise can go a long way. The display is simple and clear. It even has an odometer. You can change the power settings while cruising without having to think about it.
You can turn the board on or off with the power button or by making a push-off motion with the board. The difference is that if you do it with a push-off move, it will turn itself off as soon as the board stops. I find it easier to turn on the board before I step on the floor. But the push-off method is also fine if you want to push off from a standstill every time (which helps you have more battery range, as the motors use less power to get going).
#16 Rachel Renee Russell Dork Diaries - Best book series stories for 12 year olds
I love Rachel Renée Russell's Diary of a Hat series! Her books are funny, vibrant, and engaging, and I love how she captures the world of a teenage girl so poignantly and humorously.
The interactions between Nikki and MacKenzie were hilarious and I couldn't stop reading to see how it would all turn out.
I also read that the "Diary of a Hat" series is extremely popular worldwide and that doesn't surprise me. The humor and realism in the stories make them accessible to a wide audience, and I can see why these books are loved by girls all over the world. The illustrations also add a nice touch to the story and make it even more appealing to read.
The reviews of others I've seen also highlight the charm of this series. CooleSuggesties calls it a must for all girls, and I totally agree. Tina calls the drawings very cheerful, and I can only agree. And The Bookseller calls it a hit for teens, which I totally understand given the popularity and worldwide success of the series.
#17 Nintendo The Legend of Zelda- Tears of the Kingdom – Best video game for 12 year olds
The Legend of Zelda: Tears of the Kingdom is a remarkable addition to the iconic franchise, offering a captivating and enchanting adventure that captures the essence of the series.
One of the outstanding aspects of this game is its immersive gameplay. From the vast landscapes to intriguing dungeons, players are drawn into a rich and engaging world. The game seamlessly blends exploration, combat, and puzzle-solving, making for a satisfying and well-rounded experience. The controls are intuitive, making it easy for players to navigate and interact with the environment.
The Tears of the Kingdom story is another highlight. It offers an engaging storyline that unfolds as players progress through the game. The well-thought-out plot, full of twists and turns, keeps players engaged and curious to discover the secrets of the kingdom. The characters are memorable and well-developed, adding depth and emotional resonance to the overall experience.
Visually, Tears of the Kingdom is breathtaking. The art style and attention to detail create a visually striking world that immerses players in its beauty. The vibrant colors, atmospheric lighting, and intricate designs enhance the overall aesthetic and add to the game's mesmerizing atmosphere.
#18 LEGO Creator Expert Ford Mustang 10265 – Best Lego car for 12 year olds
Although these Lego Creator sets are aimed at adults, teenagers can of course also play with them. With 1471 pieces, it is quite a construction kit that will keep you busy for a while.
The nice thing about Lego is that you can combine it endlessly. This way you can pimp your Ford Mustang with different types of Lego pieces. The possibilities are endless.
Lego has also responded to this by making some adjustments such as the supercharger, ducktail rear spoiler, sturdy exhaust pipes, and nitrous oxide tank.
Make it a post-apocalyptic car with a laser turret, or just give it a wider bumper.
It is a real Ford Mustang GT from the 60s and the doors of the car really open. The trunk and hood can also be opened.
It is also quite large at 10 cm (3″) high, 34 cm (13″) long and 14 cm (5″) wide. He is very expensive though. Part of it is in the amount of Lego pieces, but also partly in the fact that it is an official Ford Mustang.
Playing with it is a bit more difficult than with other cars because you don't want pieces falling off, although it is very solidly built. The pieces on the outside keep the whole thing together very well.
#19 Indie Boards & Cards The Resistance – Best board game for 12 year olds
Features
Players: 5-10
Time to set up: 5 minutes
Play time: 30 minutes
Level: easy
Age: 13 +
Pros
Increasing tension during the game
Smart add-ons that change the game
Paranoia Based Unique Gameplay
Cons
Takes you at least one round to really understand
Judgement
If you've ever dreamed of a shouting match with your lover but never had a reason for it before, The Resistance is the game you need.
And since up to ten people can play the game, those swearings can get really loud.
The premise is simple, as is the setup. One must succeed in three out of five missions to win – but the spies who are anonymous want those missions to fail.
Since there only needs to be one spy to shatter everything, the real game is figuring out who is trustworthy at the table and who is a liar.
The game lasts as long as the spies are good at cheating. When one spy throws another out to avoid detection, or when two good players are played against each other, the game takes on a new dimension.
Don't expect to come out of this play experience unscathed (and resentment).
Best for ... people who want to know if they can discern who is or isn't a traitor (or test their ability to fool other people).
#20 Hasbro Clue Harry Potter Edition – Best Gift for 12 Year Old Harry Potter Fans
As a huge fan of both Clue and Harry Potter, I was very excited to play the Clue Harry Potter edition. This version offers an exciting twist on the classic "whodunit" board game, inspired by the enchanting world of Harry Potter.
The game takes place at the Hogwarts Castle, where a mysterious disappearance has taken place. As the player, you take on the role of a familiar character such as Harry, Ron, Hermione, Ginny, Luna or Neville and try to discover who has disappeared, what spell or item was used and where the attack took place.
What I especially liked about this game is the changing game board. Spinning the wheels in the corners of the board can reveal secret passages, changing stairwells, and even the Dark Mark. This adds a nice surprising element to the game and makes each play session unique.
The game is suitable for ages 8 and up, but a 7-year-old also joined in and really enjoyed it, although she needed help with some words. The tactics only really get fun from the age of 12.
It took a while to set up the game and understand the instructions, but as soon as we started playing, we were swept up in the world of Hogwarts.
What makes it onto a 12 year old Christmas vs birtday list of gift ideas?
Christmas gifts differ from birthday gifts in that they are holiday-based and have a more festive feel. Birthday gifts are more personal and can be based on the child's unique interests.
When looking for gift ideas for birthdays or Christmas, children can use several methods. Birthdays are often about asking friends and parents, while Christmas is often about making lists and looking up gift ideas.
What is special about turning 12 years of age?
At age 12, children reach unique milestones based on the transition into the teen years. They start doing their own research online for birthday gifts, Valentine's Day gifts, and gifts for boyfriends.
It's all about developing a sense of identity, changing physical appearance and developing deeper relationships.
It's a special point in their lives where they learn to cope with social and hormonal changes.
12 years olds can still enjoy toys at this ageas long as it's not too childish. Gifts that can be perceived as childish can certainly irritate them at this age.
Do kids start buying gifts for their boyfriends and Valentine at age 12?
While it's not common for 12-year-olds to go out and buy gifts for their boyfriend or girlfriend, they do start to develop feelings and crushes. A study by Fidler, J., West, R., Jarvis, M., & Wardle, J. (2006), conducted in London, showed that at that age 18% of girls and 29% of boys already had a boyfriend or girlfriend.
According to an expert, children can fall in love and have crushes at a young age, which is a healthy part of life. It's important to note that individual preferences may vary.
Are kids looking for things to ask for their own 12th birthday?
Yes, 12-year-olds are already starting to search the internet for things to ask for their own birthday. According to safekids.com, this is the age when most kids start using the internet.
From about 10 years old, children should have access to the Internet so that they can search for information for school work and perhaps also discover resources for their hobbies, sports activities and other interests.
What to do for my 12th birthday?
You can look into themes for your birthday party. Choose a theme that suits your interests and personality. Popular themes include beach party, game night, movie night, carnival, and backyard party.
For activities you can think of games, a scavenger hunt, watching a movie, making a piece of art, having a spa day, giving a performance or organizing an adventurous marathon. Pick something you like and your friends will enjoy.
Google search results show that children as young as 12 really start looking for ideas to do on their own birthdays. For example, the number of searches for "What to do for my 12th birthday?" significantly compared to "11th birthday".
Can toys help 12 year olds with 8th grade at school?
Yes, toys can help 12 year olds with 8th grade at school because they can stimulate learning. Children in 8th grade learn a variety of subjects, such as science, art, and math. Toys can help understand scientific concepts, promote creativity and improve motor skills.
For example, using building sets and electronic toys can help children learn spatial awareness and engineering. In addition, educational toy sets and games can help children develop math skills, such as working with algebraic equations.
So toys can be a valuable tool to support and promote the learning of 12 year olds.
The article "Toys and physics" by Featonby, D. (2005) describes how toys can be used to explain physical principles such as forces, motion and electricity. This can be useful for teachers looking for simple objects to explore physics in the classroom.