18 Best Gifts for 7-Year-Olds: Latest Cool Toys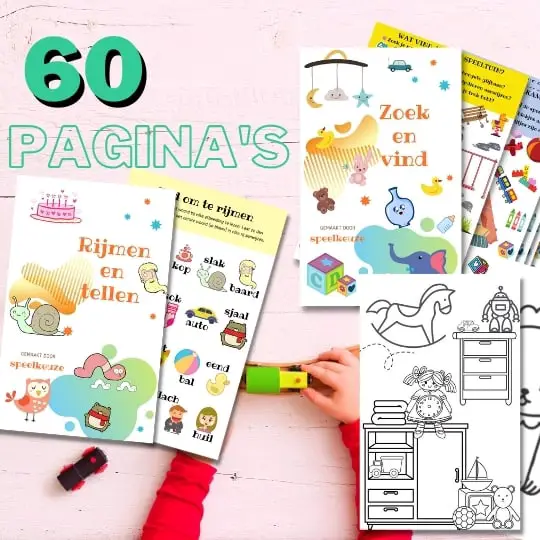 Always something to do for the holidays or rainy day?
Play Choice now has the ultimate activity book collection, with over 60 pages of fun coloring pages and educational puzzles.
The best gifts for 7-year-olds are craft supplies, sports equipment, building materials, and interactive educational toys. They enjoy hands-on activities and creative kits, as well as games with complex rules and strategies.
Popular choices are card games and board games. In addition, they love voice sets, challenging building projects and interactive globes to explore the world. Outdoor toys such as scooters, bicycles and playsets are also great for active pursuits.
These Rory's Story Cubes are the perfect little 7th birthday gift to really let them play together and explore their creativity. It's a game that sparks the imagination and lets them make up their own stories, perfect for this age group!
There are of course many more fun gift and toy options.
Pretend play with dolls and action figures stimulates their creativity. Challenging puzzles and brainteasers help develop spatial awareness and problem-solving skills.
Child-friendly cameras and interactive robots also appeal to 7-year-olds. It is important to consider the individual preferences and developmental stage of the child when choosing toys and gifts.
When it comes to summer versus winter toys, there is a difference. Summer toys focus on outdoor activities, such as water guns and sports games. Discovery sets are also popular.
Winter toys, on the other hand, focus on indoor activities, such as board games, puzzles, and craft sets.
When choosing toys, it is important to consider the weather and the specific interests of the child. However, it is not necessary to look at "girly" versus "boyish" toys, but rather what interests the child.
In this list, you'll find the 18 best gifts and toys for 7-year-olds.
#1 Zygomatic Rory's Story Cubes – Best overall small cheap gift for 7 year old birthday
Imagine a creative therapy that allows you to develop your imagination and sharpen your creativity. Those are Rory's Story Cubes!
Roll them and make up the funniest and weirdest story ever! This will bring out your storytelling skills, without the need for expensive writing lessons.
Hours of endless fun are waiting for you with this toy set – it never gets old or worn out like some other board games do after a few years.
Whether you're three (well, from 6 actually) or thirteen, this game is extremely helpful in developing language skills, critical thinking (which is more important than math), and reading comprehension in younger students.
Rory's Story Cubes can also create bonds between family members when used together during quality family time.
Rory's Story Cubes is sensory toys, with numbers and letters with which stories can be written.
It helps children with their imagination as well as with developing creative thinking skills. This is a stretch toys that every aspiring author should have in their backpack!
#2 Crayola Light Up Tracing Pad - Best creative toy for 7 year olds
The Crayola Light Up Tracing Pad makes a great gift for kids who love to draw. The package contains everything needed to get started, such as a graphite pencil, 12 short colored pencils, 10 tracing sheets and 10 blank sheets. All you need are 3 AA batteries, which are sold separately.
What I like about this tracing pad is the fact that the surface is evenly lit, making it easy to see the lines even in low light situations like in a cushion fort or camping tent. Plus, it pairs perfectly with other glow-in-the-dark toys at home, making the play experience even more fun.
This tracing pad is suitable for both girls and boys and can serve as a great birthday or holiday gift. It will provide big smiles and hours of imaginative fun. In addition, it is an ideal educational toy for children who are learning to draw. It can be used in classrooms or craft rooms at home.
With over 100 traceable images, this tracing pad provides plenty of inspiration to keep young artists engaged and excited. The ability to mix and match images or trace a single page encourages creativity and helps children put their own stamp on the artwork.
I've looked at several reviews and most people are positive about the Crayola Light Up Tracing Pad. Many parents praise it as a great gift for their children and note that it helps them develop their drawing skills. However, some reviewers have noted that it may be more difficult for smaller children to trace the images precisely.
Overall, I am impressed with the Crayola Light Up Tracing Pad. It offers a fun and educational experience for kids who love to draw. It is a durable and versatile product that stimulates children's creativity. While it's not perfect and some kids may have trouble tracing the images precisely, I believe it's still a valuable tool for young artists.
#3 3Doodler Start+ 3D Pen – Best imaginative toy for 7 year olds
It is the only 3D printing pen that is completely safe for children from 6 and 7 years old, because there are no hot parts. Both the nib and the plastic can be touched without risk of fire. This gave me peace of mind knowing that my kids can safely experiment with 3D printing.
A big advantage of the 3Doodler Start+ is that it offers an improved experience over previous models. The pen is slimmer and easier to hold. It charges 50% faster and contains 50% more Start+ filaments. In addition, 10 new templates are included and an extra safe standby mode has been added. These improvements provide the best 3D drawing experience!
Another thing I love about the 3Doodler Start+ is that the refills are made in the United States with a kid-friendly PCL plastic. It meets strict safety standards, which is very important to me as a parent.
The 3Doodler Start+ is not only fun to play with, but it's also a great learning tool. It encourages children to be creative and provides a screen-free learning experience. They can make connections to different STEM concepts in a short amount of time while having fun. It's great to see them discovering the world through hands-on visual learning.
The complete 3D pen set for kids contains everything you need. It comes with the 3Doodler Start+ pen, DoodlePad/Doodlemat, different color packs or Start+ plastics (72 skeins), a micro USB charger, an activity guide and a ton of creative potential. You have everything at hand to get started right away.
Another positive aspect of the 3Doodler Start+ is that the packaging is recyclable and made from 100% recyclable materials. They have used as little ink and disposable plastic material as possible. This demonstrates the company's commitment to sustainability.
#4 Cainda Digital USB Microscope – Best educational toy for 7 year old
Are you concerned that your child will not be interested in science in the future? Well, now there is a solution: Cainda Pluggable USB 2.0 Digital Microscope!
Connect it to the computer and show them how everything can be seen through the microscope on larger screens.
The microscope has a 2 MP camera so that even your child's drawings would be seen very clearly.
This is a USB microscope that is connected to the computer and displays the images on your screen.
It has a 2MP camera so you can see everything in great detail with a magnification of up to 1000x!
#5 Joylabz Makey Makey – Best unique gadget for 7 year olds
From: 7 years

Best: 7 – 10 years

Up to: 14 years
The Makey Makey is an educational tool for children. The electronics kit consists of three parts - input cables that bring in inputs from the world to make it a single one, a processor that takes those inputs and translates them into the code you programmed, and an output cable that transfers that code to the computer.
Its strength is its versatility. Whether you're making a musical instrument out of bananas or a game controller out of Play-Doh, anything is possible. This makes it a very inventive set with high educational value.
The play value and replayability are also high. It's small, fun and easy to use. All factors that contribute to these scores. In addition, it encourages social interaction and is easy to combine, because you can connect just about any other type of toy to try out.
It may still be a bit too difficult for 7-year-olds (recommended from 8), but if your child has a special interest in how computers or technology work, they may already be able to handle it at their 7th birthday.
Winner of the Best of Toy Fair Award, among others, Makey Makey will be a favorite toy for years to come.
#6 VidaXL AirTrack 3 meters – Best active sports toy for 7 year olds
The Turnmat AirTrack is a handy mat for at home because it has smaller dimensions than the other two in the table.
The mat can also function well in the garden, for the children or for athletes who enjoy exercising in the open air.
This AirTrack mat is 3 meters (300 x 100 x 10 cm) in size and weighs 11 kg. Ideal for athletes, but also for children to play on at home or in the garden.
Made from Double Wall Fabric PVC. Sturdy and water resistant.
With this mat you have enough space to train or play on your own, but you can also use it with a boyfriend or girlfriend.
You can adjust the air pressure depending on the number of people going on it at the same time. The AirTrack can even be used in the water!
#7 Outdoor Play Kubb Game - Best outdoor toy for 7 year olds
Outdoor Play Kubb game, made of birch wood, with handy carrying bag and game rules.
Are you looking for something that you can play outside with the whole family? Then the Outdoor Play Kubb Game is certainly a classic that will appeal.
The whole family can participate in this fun Swedish game where everyone is on their own.
Kubb's goal is to knock down all of the opposing team's base towers with the throwing sticks first. Then you attack the king!
This version of Kubb comes with a handy baby carrier and extensive game rules.
The game itself is suitable for everyone from 5 years old. However, even the smallest will love to work with these beautiful birch wooden blocks.
You simply leave out the rules for your little toddler.
With their own childish imaginations they will be able to create structures for hours, with the king at the top!
#8 4M Solar System Planetarium – Best solar system space learning set for 7 year old
From: 7 years

Best: 7 – 9 years

Up to: 12 years
This is one of those toys that you buy purely for science. This 4M Solar System Planetarium Educational Kit has all that and more to build your own model of our beloved solar system from the ground up and that's its educational power. It is a realistic representation of how far apart the planets are.
The play value is there as the set has everything you need including templates, paintbrush and paint so you can build the solar system yourself. The replayability is a bit less. Once it's finished, you can't reuse it. Also, it is not easy to combine with other toys. It will become an ornament in the children's room.
A perfect set for children who are interested in planets and our solar system and would like to have it in their room.
#9 Lottie Ballet Doll – Best doll for 7 year olds
Not all children will play with dolls by the age of 7. Yet it can still be a lot of fun for many, especially if it's about a theme that appeals to them.
Lottie has a lot of dolls on different themes, but their ballet and dance dolls stand out the most.
If your child still enjoys making up their own stories with dolls in an imaginative environment, these are a great choice to continue to encourage that.
#10 Osmo Coding Genius – Best Interactive Toy For 7 Year Old
From: 5 years

Best: 7 – 9 years

Up to: 10 years
The educational value of Osmo Genius is enormous. It stimulates learning on various fronts, such as reading, math, geometric shapes and STEM, but also creativity. The strength of the system lies in the combination of physical objects and an app on the iPad that makes learning a lot of fun.
The play value is therefore very high. Although you do need an iPad to play it, the ease of use is good and easy to understand. It could have been a little better if you didn't have to take the iPad out of its case to use it. This can cause falls and damage to the iPad, although for the somewhat older target group of the Genius package it is less serious than with the Osmo Coding Starter package.
The replayability is good due to its versatility and multiple ways to learn and it can also be combined with expansion packs where even more creative tools are available in particular.
The materials are sturdy and easy to carry in the sturdy cases that come with it, which all benefits the replayability. It is the winner of several awards, including the Tommie Award.
#11 Learning Resources Fraction Formula Game - Best STEM Toy for 7 year olds
Fractions are one of the toughest subjects in school and can be intimidating even for adults.
But with the Educational Insights Fraction Formula Game, your kids will never notice they are learning!
This awesome set is packed with an assortment of items – cylinders, tiles and a guidebook that works together to teach them fractions. Your child will puzzle with it like never before in a fun matching game!
Fraction Formula Game is the most exciting way to teach your child to multiply fractions. No boring lessons and problems.
It contains a fanny pack with everything you need: 1 Fraction Guide, 4 Cylinders (2 of each color), 240 Tiles (24 tiles in 6 colors), 8 Dividers, and 12 Red Crowns.
Simplify some basics without taking the stress away!
#12 National Geographic Dinosaur Dig Kit – Best dinosaur gift for 7 year old
Who knew that digging up fossils like the awesome dinosaurs in Jurassic Park could be so much fun?
The set contains an artificial rock with some fossils in it, a few tools for scraping and brushing and a detailed user manual.
You will get the experience of what it feels like to dig up real dinosaur bones, because we all know they are still buried there somewhere!
Each specimen also comes with a small prize once you're done figuring out how to use the excavation tools.
Dig for fossils and become a paleontologist. This fossil dig kit from National Geographic is perfect if you are a fan of dinosaurs, fossils, geology and the like. Plus it's great for science projects!
#13 Carrera Evolution Lap Contest – Best car toy for 7 year olds
One of my friends is used to digital games, playing on the laptop and PS4. Nevertheless, he told me he felt he needed some change.
Great to play with if you also follow Max Verstappen on TV, for example.
He decided to go online to see if he could find something that would keep him busy, as well as get his 7-year-old involved so they could play together.
He couldn't find one at the time, but we investigated further together and came up with this car race track Max Verstappen as a hobby. Eventually he fell in love with this one from Carrera.
This race track is a masterpiece. The racetracks are analog and almost look real.
In addition, it comes with two race cars namely Sebastian Vettel in his Ferrari SF70H and fan favorite Max Verstappen in the Red Bull Racing TAG Heuer RB 13.
The tracks are huge, which makes the experience unique.
In addition, the scale is 1:32, which indicates that the car is large enough for an adult to enjoy maximum enjoyment.
And you can also mix the tracks and cars of this model with the Digital 124 series or other Carrera Evolution versions.
#14 Melisssa & Doug Safari Puzzle (100 Pieces) – Best animal toy for 7 year olds
This African themed puzzle consists of 100 pieces that fit together seamlessly and show beautifully detailed scenes of African animals.
What immediately struck me about this puzzle are the extra thick cardboard pieces. They are sturdy and have an easy-to-clean surface. This is especially useful if there is a mess during the puzzle, which can sometimes happen with young children.
In addition to the fun my child had while making the puzzle, I am also very pleased with the developmental benefits it offers. It helps develop strong hand-eye coordination, fine motor skills and problem-solving skills. These are all important skills that need to be fostered at this age.
What I also appreciate about Melissa & Doug is their focus on sustainability. They use wooden materials whenever possible and have set themselves the goal of planting 2030 million trees by 10. This makes me even more excited to support their products.
#15 K'Nex 35 Models Ultimate Building Set – Best building toy for 7 year olds
Really discovering and really learning how things work. Here is the nicest construction toys for children from 7 years.
Ideal for: ages 7 to 15 years
As many parents will know, K'Nex is not like any other educational toy company toys builds that are truly challenging, exciting and unique.
The 35 Model Ultimate Building Set is a great proof, because it contains 480 parts that allow your child to make various interactive creations.
What's great about it: Ideal for older children, this set also comes with a booklet with instructions on how to create 35 unique toys and can create figures such as trucks, helicopters, dinosaurs and rockets among many others.
It's also expandable so your child can make more things and learn more in the process.
#16 Spirograph Starter Set – Best geometric shapes for 7 year old
Let your child's creativity run wild with the Spirograph Deluxe Design Set.
This unique toys can be used in many craft projects to create intricate designs that are sure to attract attention.
Encourage independent artistic skills or use it for schoolchildren in their projects and create one-of-a-kind files with this starter set!
Spirography is a math-based geometric drawing toy that was invented way back in the 1960s.
And I thought it was new in my childhood!
It was designed to create symmetrical patterns, but only after you mastered complicated scientific equations.
Fast forward 50 years and today kids use it for everything from decorating school projects like school desks, lockers and folders to creating awesome designs that anyone would be proud of.
#17 Melissa & Doug Loom - Best craft toy for 7 year old
Cut out the fabric, choose a pattern from the manual that comes with your purchase, and weave on it. When the big projects are over, get creative!
There is so much more you can make with this loom and some yarn. Give yourself something to do during those long summer days:
Keep your little one entertained for hours of family fun while teaching them hand-eye coordination, problem-solving skills and creativity at the same time.
It is easy to use and also engaging for children at an early stage of learning as it teaches important fundamentals that all children need: Fine motor skills, spatial awareness, aesthetic sense or visual artistry (lessons in weaving also include color mixing), attention span abilities... you even more benefits?
#18 SmartGames IQ Puzzler Pro – Best brain teaser for 7 year olds
Smartgames produced this special game that is really for smart brains. This educational toy has 120 challenges in three play modes.
The puzzle games are notable for adults and children alike, as there are levels that require adult intervention.
However, the game has no less than five levels:
Starter
Junior
Expert
Master
and Wizard
With the IQ puzzle you can keep your children still during doctor visits, car trips or church services, because the toys come in a compact cover that can easily be taken with you.
Benefits:
Teaches patience
Improves cognitive skills
Improves concentration
Suitable from 6 years, in our experience best for 7 year olds
Children of 8 years old can already learn to understand very difficult concepts and are eager to do so. Here are great toys to support them in doing so.
What things do 7 year olds like?
7-year-olds enjoy crafts, sports equipment, building materials, interactive educational toys and gifts. At this age, they enjoy hands-on activities and creative DIY kits. Games with complex rules and strategies, such as card games and board games, are also popular.
In addition, they love STEM sets with challenging building projects and interactive globes to explore the world.
Outdoor toys such as scooters, bicycles and playsets are great for their active nature. Pretend play with dolls, action figures and playsets stimulates their creativity.
Challenging puzzles and brainteasers help develop spatial awareness and problem-solving skills.
Child-friendly cameras and interactive robots also appeal to 7-year-olds. It is important to take into account individual preferences and age of the child when choosing toys and presents.
What do 7 year olds like to do?
7 year olds enjoy playing, being creative, playing educational games, pretending to be someone else, doing science activities and exploring outdoors.
They enjoy physical activities such as playing games such as hopscotch and Twister. They also enjoy crafts such as making puffy stickers and paper quilts. Educational games, such as crossword puzzles and math dice games, are popular with 7-year-olds.
They enjoy role-playing and creating stories with dolls and playing charades with friends and family.
They also enjoy conducting and building science experiments with STEM activities. Finally, they enjoy outdoor activities such as searching for shapes and racing with water drops.
Should you buy girly gifts vs boy gifts for 7 year olds?
No, you should not buy overly girly or boyish gifts for your 7-year-old as this could be harmful. Instead, look at interests rather than gendered toys. Toys don't necessarily have to be pink for a 7-year-old girl.
What kind of toys help children in 3th grade with learning?
The types of toys that help children in 3th grade are educational board games, building blocks, STEM kits, puzzles, language toys, math tools, craft kits, educational apps, science kits, and musical instruments.
These toys help children develop skills such as math, reading, problem solving, language skills and scientific concepts.
By using a mix of educational toys and hands-on activities, grade 3 students can get a broad learning experience.
What should you consider with summer vs winter toys for a 7 year old?
Summer toys differ from winter toys in that summer toys focus on outdoor play and activities, such as water guns, sports games and discovery sets. Winter toys, on the other hand, are more focused on indoor play, such as board games, puzzles and craft sets.