20 Best Gift Ideas For 8 Year Olds: Unusual, Fun and Cool Toys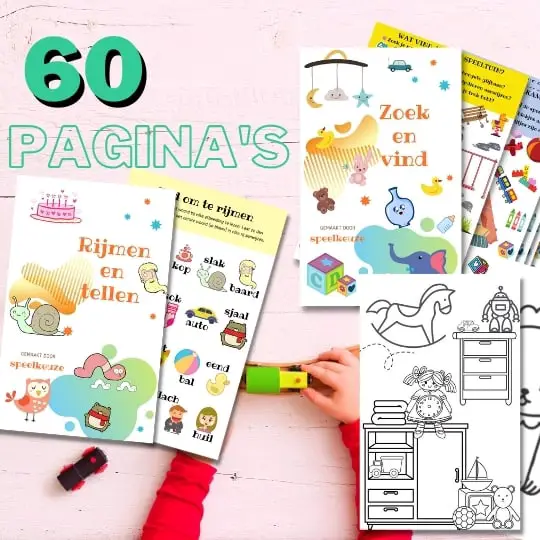 Always something to do for the holidays or rainy day?
Play Choice now has the ultimate activity book collection, with over 60 pages of fun coloring pages and educational puzzles.
Gifts for 8 year olds should be fun and active. Think of toys they can use to shoot targets, such as stomp rockets or gliders. Personalized items for their rooms, desks or outfits can also be interesting.
Unusual toys stand out among the typical or common options. They often offer unique features, designs or playing experiences that set them apart.
According to a 2008 study by Vanhamme, J., Bont, C., design and money-back guarantees are more important when purchasing unusual or surprise gifts. This is due to the pleasure and experiential motivation associated with surprise gifts, as well as the greater inherent perceived risk.
Good deals seem to be less important and brand name doesn't seem to matter more than for gifts that aren't meant to be a surprise.
So you can play it safe with a gift, or go for a unique gift.
The best small birthday gift I've come across is these LEGO Klutz Gear BotsA great technical set that's funny and a lot of fun to build. It fits in exactly with the development of 8-year-olds.
But luckily there are many more gift options for this age.
8-year-olds have fun with all sorts of things, including arts and crafts, sports and physical activities, pretend play and imagination, music and dance, and collecting items such as trading cards. They enjoy activities that interest them and make their voices heard.
They determine what's cool and what's not by their own preferences and trends among their peers. Both indoor and outdoor toys can be popular depending on their interests and environment.
Toys can help 8-year-olds develop in 4nd grade. They can help them learn new skills, stimulate their creativity and imagination, and promote social interaction with others.
When choosing gifts, it's important not to buy overly girly or boyish toys, as this may limit their interests. Birthday gifts can differ from Christmas gifts, depending on the traditions and preferences of the family.
In this list, you'll find the best gifts for 8-year-olds for any occasion.
#1 LEGO Klutz Gear Bots – Best overall small cheap birthday present for 8 year olds
From: 7 years

Best: 8 – 10 years

Up to: 12 years
This set combines LEGO Technic bricks to build kinetic creations that really get moving. It's a perfect mix of fun, learning and creativity. A good educational value, but its strength lies in the enormous price-quality ratio.
It introduces mechanics and engineering in a fun way. The included 64-page book contains valuable information on shafts, cams, cranks and other mechanical principles. And it's kept cheap by making the samples out of paper that you can fold yourself.
It may be an unusual gift, but something that will certainly stand out and be appreciated!
The building process is very simple and the instructions in the book were clear and easy to follow, even for my younger children. This ease of use gives good play value, together with the interactivity of the toy. The play value could have been higher with a greater degree of open-endedness, as the sets you can create are limited. Other parents also noted that children may become overly dependent on the instructions in the book and become less likely to explore their own creativity.
However, you can also combine this LEGO with other LEGO sets to increase the degree of open-endedness, and this possibility of combining is very good for its replayability. The versatility could have been a little more if you could make multiple creations at once, and some parents noted that having to share parts between the models could lead to frustration.
The fact that important parts are made of paper can cause them to break, making the replayability slightly less than it could have been, but this does lead to the extremely good price-quality ratio.
#2 Bestway Steel Pro Above Pool - Best outdoor toy for 8 year olds
Ideal set-up pool for the garden, with sturdy metal frame and a blue vinyl lining. Water capacity 1200 liters. Size: 221x150x43cm.
Now it gets really fun. When summer is in full swing again, you can set up the Bestway swimming pool beautifully. Here you can enjoy the fresh water with the whole family.
Young and old will enjoy splashing around in this pool. It may not be unique as a toy, but what 8-year-old wouldn't want a pool in the garden?
It holds no less than 1200 liters of water and has a sturdy metal frame so that it can be set up very stable in your backyard.
A filter and pump are included, so the water will be easy to keep clean.
So invite the friends of your kids and the children from the neighborhood to come and enjoy this beautiful outdoor toy.
Hours of fun are guaranteed!
#3 Razor Quad - Best electric riding toy for 8 year old
Razor's 24V battery powered mini quad is capable of reaching an impressive top speed of up to 13 km/h.
This gives your child a lot of speed to drive around and have fun. A unique driving experience.
This is almost already a real quad and suitable for children from 8 years. They can really enjoy themselves here.
We also liked how children can play with this quad, nice outside in the open air. It gives them more freedom to be outside to get some fresh air.
What makes this toys remarkable?
With a top speed of 13 km/h, children will have a lot of fun driving this quad.
#4 Schleich Lakeside Horse Farm (42551) – Best Horse Playset for 8 Year Olds
The Schleich Horse Club horse stable with Rider and Horses looks beautifully cared for. The red roof tiles contrast nicely with the white stable.
With its green doors and pink-colored windows, the barn actually looks fantastic.
The pink and purple flowers in the boxes in front of the windows add a cheerful note to the whole. A unique gift that many 8-year-olds will still appreciate.
The horses are in large, luxurious boxes, the straw bales and food are also ready for these lovely animals. There is also enough space outside to house the horses.
The horse blanket is ready to prevent your horse from catching a cold. A very nice and detailed set for children between the ages of four and ten.
#5 National Geographic Dinosaur Dig Kit – Best dinosaur gift for 8 year old
Who knew that digging up fossils like the awesome dinosaurs in Jurassic Park could be so much fun?
The set contains an artificial rock with some fossils in it, a few tools for scraping and brushing and a detailed user manual.
You will get the experience of what it feels like to dig up real dinosaur bones, because we all know they are still buried there somewhere! An unusual gift but a great way to learn about dinosaurs.
Each specimen also comes with a small prize once you're done figuring out how to use the excavation tools.
Dig for fossils and become a paleontologist. This fossil dig kit from National Geographic is perfect if you are a fan of dinosaurs, fossils, geology and the like. Plus it's great for science projects!
#6 Sphero Bolt – Best coding robot for 8 year olds
I am really impressed with the Sphero BOLT, the programmable robotic ball designed specifically for outdoor use. It offers endless opportunities to be creative, have fun and learn at the same time. As a parent, I am thrilled with the advanced features and educational value this robot offers.
The Sphero BOLT has a tough, watertight plastic housing that protects the electronics inside, making it resistant to adventures in the water. The wireless, inductive charging ensures there are no charging ports for liquid to enter, which is reassuring.
The robot is equipped with advanced sensors, such as a compass, light sensor, gyroscope, accelerometer, motor encoders and infrared communication. In addition, it has a striking and animated LED matrix that attracts children and stimulates their creativity. With the free Sphero Edu app, you can easily create and customize games, program the BOLT by drawing on the screen, dragging and dropping blocks, or writing JavaScript.
What I love about the Sphero BOLT is that it's more than just a robot. It is a powerful learning tool that allows children to learn programming in a fun and interactive way. It stimulates their creativity and helps them develop essential skills such as problem solving and collaboration.
The durable, scratch-resistant housing ensures that the robot can withstand rough play and accidents. With an inductive charging technology, the BOLT offers up to 4 hours of playtime after just 6 hours of charging. I also appreciate the Bluetooth Smart connection, which allows me to see the commands and creations on my phone and experience the interaction with the robot.
#7 Schleich Eldrador Lava Dragon – Best imaginative toy for 8 year olds
The Schleich Eldrador Lava Dragon is an amazing toy that children will love. With its strong claws and powerful wings, this dragon can experience all kinds of adventures. He can catch flying fairies, slay ponies and hunt for treasure at the speed of an arrow! The dragon exudes a fiery glow and has a lava breath that can melt any earthly stone.
The Lava Dragon is part of the Schleich Eldrador set and accessories, which includes a whole world of imaginative creatures and characters. Kids can play with ice monsters, black pegasi, sea monsters, giant demons and much more. They can battle flying fairy princesses, crystal mermaids and flower unicorns to take control of Bayala.
What's great about the Schleich Magic Toys collection is that children can create their own stories with it. Whether they play with dragons, mermaids, princesses or monster characters, the possibilities are endless. Schleich is known for its high-quality and realistic toy figures that last for years. They can be passed down from generation to generation and bring children's fantasy world to life.
#8 SJSMARTGLOBE STEM Educational Globe – Best space toy for 8 year olds
This 10-inch interactive globe features the "Click Word Atlas" app, which is available for iPad, iPhone and Android phones. The globe features LED lighting that shows 88 constellations, constellations and the Milky Way, making it a great way to introduce children to the world of astronomy.
The globe itself is detailed and shows mountain ranges, ocean currents, deserts, lakes, state capitals and major cities. It also has a fully rotatable meridian, allowing you to rotate the globe left, right, up and down. It is really fascinating to rotate the globe and explore the different countries and their characteristics.
What really sets the SJ Smart Globe apart is the unusual pairing with companion app. With the Click Word Atlas app, children can learn about countries around the world in a fun and interactive way. The app offers text, sound and engaging visuals to engage children and test their knowledge. It contains over 1000 educational facts and covers topics such as geography, animals, cultures, history and natural landscapes.
#9 Spin Master Rubik's Phantom – Best fidget gadget for 8 year olds
My son was thrilled when he got the Rubik's Phantom cube to play with. He loves solving Rubik's cubes and this new color change model seemed like an exciting challenge.
It was fascinating to watch the colors gradually emerge as my son turned and touched the cube. He enjoyed challenging himself to solve the cube before the colors faded again. It was great to see his determination and perseverance as he tried to solve the puzzle over and over again.
What I especially like about the Rubik's Phantom cube was that it puts a unique twist on the normal Rubik's cube concept. Adding the unusual color change effects made the game even more engaging and intriguing. It was a great way to challenge my son and further develop his problem solving skills.
#10 Kraftic Woodworking Set - Best creative craft toy for 8 year olds
From: 4 years

Best: 8 – 10 years

Up to: 12 years
This is where it starts to get real. Real hammering with real nails and a very nice first start in handicraft. There are 80 wooden pieces to experience a few different constructions. This makes it versatile, and there are also plenty of possibilities to eventually combine the created with other toys. Also good for replayability.
The ease of use could have been a little better. It is a pity that not all projects are equally well developed. The truck was a lot of fun to do but the plane wasn't very clear. Also, the pieces are not labeled, but I think this is on purpose and part of the job so they have to measure and select the correct pieces.
The social interaction in building is good for the play value, and it's probably a project you'll do with your kids.
#11 Hot Bee Dance Mat – Best Active Music Toy for 8 Year Olds
From: 3 years

Best: 4 – 7 years

Up to: 10 years
I was super excited to get the Hot Bee Dance Mat. My son loves to dance and I thought this would be a great way to release his energy. I must say it does not disappoint! The mat is well made and durable, perfect for my son's enthusiastic dance moves. It has bright and colorful luminous arrows that guide him as he dances to the rhythm of the music.
The dance mat has three interactive games with five levels of difficulty, making it both fun and challenging. My son especially likes the "Simon Says" memory game where he has to follow the arrows and test his memory. In addition, the mat has a free dance mode in which he can make up his own rules and dance freely.
Another advantage of the dance mat is the adjustable settings. I can adjust the volume from a whisper-quiet background music to a full blast, depending on the environment and my preference. The buttons and controls are easy to understand, even for young children.
As for durability, I am impressed with the quality of the materials. The dance mat is well built and can withstand many dance competitions without wearing out. It can also be easily folded and stored between the arrows, which is useful if you want to save space.
#12 Thinkfun Gravity Maze – Best gift for smart 8 year olds
From: 7 years

Best: 8 – 10 years

Up to: 12 years
As a world leader in producing mind games and challenging puzzles, ThinkFun has once again proven why they are such a trusted brand with their game Gravity Maze. I recently bought this game and my experience with it was nothing short of fantastic. Not only is it a source of fun, but it also develops important skills and provides a great learning opportunity for young players.
Gravity Maze combines logic, a marble run and STEM (Science, Technology, Engineering, Mathematics) in one game. It comes with 60 challenges from beginner to expert level, a playing grid, 9 towers, 1 target piece and 3 marbles. The game is suitable for boys and girls from 8 years old.
The instructions are clear and of high quality, so you can start playing and solving immediately. The game challenges players to develop their spatial reasoning and planning skills. It's disguised as a construction and engineering toy, making it secretly educational. It's great to see children challenge themselves and come up with solutions as they make the challenges more and more difficult.
What I especially appreciate about Gravity Maze is that it remains captivating for a long time. Although the game has 60 challenges, adults have reported that even the higher levels are quite tricky. However, for a 10-year-old, interest depends on how much they like mazes. Some children may be entertained for hours while others may show less interest over time.
I also read some reviews from other users to get a broader picture. In general, the opinions were very positive. Parents and children enjoyed the challenge and the educational aspect of the game. Many people liked that it stimulates problem-solving thinking and is fun to play at the same time. Some parents commented that the game could also be of interest to older adults who enjoy puzzles.
#13 Hey Clay Birds Air-Dry Clay – Best art gift for 8 year olds
Hey Clay Birds is a great clay modeling set for kids that will inspire your kids' creative minds! The set comes with an interactive app that gives you free access to fun and engaging clay bird making instructions. My kids were thrilled to get started and were soon able to create amazing clay birds just like real sculptors. I was really amazed by their creations!
The clay in the set is easily malleable and has a unique texture and scent. It is extremely soft, flexible and does not stick to hands or other objects.
The super bright colors of the clay stimulate the creativity of both boys and girls from 3 years old, but I think 3 year olds prefer to play with Plah Doh and this set starts to get really fun from 6 years old, all the way up to 9 years old.
The colors can also be easily mixed, allowing children to fully immerse themselves in the world of creation and fun.
Hey Clay is designed to stimulate your kids' creative genius! It inspires curiosity to discover different shapes and colors and stimulates the imagination to create unique craft designs. After the creations are completed and dried, children can play with them and collect them as toys and action figures.
The clay is safe and easy to use, meets US and European standards and does not stick to hands or other objects. It dries by itself in 24 hours and can be used several times thanks to the separate cans in which each clay comes.
The Hey Clay Birds set comes with interactive instructions in the app, which you access with a promo code in the box. The app is specially designed for toddlers and includes animations, funny movements and professional voiceovers for extra fun. You will fall in love with every clay bird your child creates!
#14 Pixio Neon Abstract Series Magnet Blocks – Best building toy for 8 year olds
These are quite small blocks, and the age is therefore a bit higher at 6+. This is certain toys that you don't want to swallow.
The 0.3 inch cubes weigh less than 1g and have 6 magnets in them. This way they can stack on top of each other in any way. Very nice for blocky retro buildings.
In the beginning I found it quite difficult to come up with something, but there is an extensive booklet with many examples.
The best thing about this set is perhaps the Pixio App with which you get an explanation for more than 1000 examples.
Most kids will like it because of the Minecraft look. It lets them build dolls, buildings and trees from their favorite computer world.
Oh well, as long as it's educational. However?
Some customers still find the blocks very expensive because they are so small and indicate that it becomes more fun when you have more than 200.
With the 60 blocks in this set you can indeed work quite well, but to really let your creativity run wild you need more.
#15 Snap Circuits Jr. SC-100 – Best educational electronic science toy for 8 year olds
From: 7 years

Best: 8 – 10 years

Up to: 14 years
If you want to teach your child about electrical circuits, this is the toy. It has enormous educational value and has been around for decades, with modern iterations each time. It comes with a colorful instruction booklet that explains more than 100 projects that children can build.
The power of Snap Circuits Jr. it lies in the ease of use. The parts are numbered and color-coded so kids can easily identify and click them together. No soldering or tools are required, which makes the building process even easier and greatly improves the play value.
The replayability is only slightly less because it is difficult to combine. The set must therefore be completely unique to be taken out of the cupboard again, although you can combine it with other Snap Circuits sets. Fortunately, the portability, longevity and versatility of the projects make up for a lot, resulting in a fairly high replayability.
It has won several awards, including the Specialty Toy of the Year Award, Seriously STEM! award, Good Housekeeping's Best Toys and Purdue University's Engineering Gift Guide and has the "Stem Approved" seal of quality from Stem.org.
#16 Thinkfun Math Dice – Best math toy for 8 year olds
Thinkfun Math Dice is a fantastic game that I highly recommend. As a world leader in brain and logic games, Thinkfun has proven itself as a reliable brand trusted by families around the world, with over 50 million games sold. It develops critical skills and builds mental math and problem-solving skills through fun play.
The game comes with 2 target setting dice, 3 scoring dice, a lesson booklet and a storage bag, making it easy to clean and store. The instructions are clear and easy to follow, with a quality manual. You can start playing immediately. Math Dice is one of Thinkfun's most popular classroom games and a great gift for kids who love clever games and a challenge.
#17 Clementoni Crystal Grow Kit – Best science kit for 8 year olds
The set comes with everything you need to grow crystals, including instructions. It's easy enough for kids ages 8 and up to use on their own, but I still recommend being there as a parent to help and supervise.
It is best to read the instructions together and then start growing the crystals. The process took a few days, but it was exciting to see the growth of the crystals every day. The colors were beautiful and it was fascinating to learn about the chemical reactions that made these creations possible.
I also read some reviews before my review. Some customers complained about the quality of the materials and found the experiments uninteresting. I must say I disagree. The materials seemed to be of good quality and my children found the experiments very interesting.
It may not be as comprehensive as some other crystal grow kits, but it's a good starter kit for introducing kids to the science of crystal formation.
#18 Thinkfun Rush Hour – Best brainteaser for 8 year olds
My mom owned a toy store and had shown this Thinkfun logic game a long time ago.
I tried it myself and was surprised by how difficult some of the more challenging puzzles are.
This is a great educational gift for an 8 year old and it will remain fun and challenging as they grow!
#19 Thames & Kosmos Rubber Band Racers – Best mechanical car set for 8 year olds
From: 7 years

Best: 8 – 10 years

Up to: 12 years
A nice educational set to get to know the operation of stored energy and elastic potential energy and a good introduction to physics. The educational value is therefore excellent.
The play value suffers a bit due to the lack of ease of use. You can build a number of different vehicles with the sets, but each one must be taken apart to build the next. The boats and cars work well, but the flying constructions a little less so. You can see exactly how it works, so that's nice, but they don't really fly well in the air.
The replayability is slightly better, especially because you can also use the created vehicles in other types of games with, for example, other cars. It's also nice and small, lightweight and portable so you can play it anywhere. The materials are not too sturdy so it is not really suitable for smaller children and rough use.
#20 Days of Wonder Ticket to Ride Europe – Best family board game for ages 8 and up
Age: 8 - 99 years
2 to 5 players
Play time: 60 minutes
The overall best game for the whole family right now? That MUST be Ticket to Ride Europe.
What a nice setting the makers have come up with, and everyone can participate. Certainly from 8 years, but with a little help also a smaller brother or sister.
It is now one of the most popular gateway games (your first introduction to advanced board games) and if you don't have it yet you are really behind.
If you're looking for an easy-to-learn, fast-paced game that's challenging, then this is perfect!
It is a very simple strategy game with trains.
Your goal is to have the most points at the end of the game by claiming routes across the continent and completing destination tickets, but you better be quick!
You get more points if your opponents are also on that route, meaning there can be an all-out race for dominance on a single route, and the tactical element makes it a board game with great replayability.
What are the things that children like at the age of 8?
8 year olds love active toy games and enjoy toys and games that are fun and active, such as stub rockets, target shooting, gliders and personalized items to personalize their rooms, desks and outfits.
They are also interested in STEM toys and activities, arts and crafts, sports and physical activities, pretend play and imagination, learning, music and dance, and collecting items such as trading cards.
It is important to take into account individual preferences and interests when choosing selecting toys for this age category.
What are 8 year olds interested in?
8 year olds are interested in different things. They love learning, toys and sports. These activities are age appropriate because they help them grow and learn. Experiences can also leave a lasting impression, such as day trips to museums or theme parks.
It's important to make sure they are safe and appropriate. Popular team sports for 8-year-olds include basketball, soccer, baseball, volleyball, swimming, field hockey, and netball. These sports promote physical activity, teamwork and coordination.
What experiences do 8-year-olds like to have?
8 year olds love experiences they get on day trips, trips to museums, botanic gardens, zoos, theme parks and aquariums. These thrilling and memorable experiences offer 8-year-olds fun and excitement.
They also enjoy activities such as rock climbing, trampoline parks, dance and music lessons, water parks, swimming outings, movie nights, concerts, craft camps, sports and outdoor activities. These experiences provide physical activity, development of new skills, expression of creativity, exploration of interests, refreshment and entertainment.
It's important to select experiences that are age-appropriate and safe, and that foster lasting memories, growth, learning, and bonding with family and friends.
Are indoor or outdoor toys better for 8 year olds?
Great outdoor toys are better because it's hard enough to get 8-year-olds outside to play, so having a few good options to encourage that can go a long way. Outdoor toys promote exercise, nature exploration, social interaction and fresh air, all important for their health and development.
But having both indoor and outdoor toys is ultimately best because it provides a balanced play experience and allows children to benefit from the educational value and quiet play within, as well as the physical activity and social interaction from outside.
It's important to consider available space and weather conditions when selecting toys.
Can toys help 8-year olds with the 4th grade of school?
Toys can help 8-year-olds in 4nd grade because they can stimulate learning. Examples of educational toys include math games, STEM kits, puzzles, language games, board games, and craft sets. These toys support learning math, language, science and social studies.
In 4nd grade they turn 8 years old and children learn math, reading and writing, scientific concepts and basic geography, among other things. Toys can help them develop important skills such as problem-solving, critical thinking, language skills and creativity.
It's an excellent way to promote their learning and brain development.
Should I buy girly gifts or boyish presents for 8 year olds?
No, you shouldn't buy overly girly or boyish gifts for your 8-year-old, as this may hinder broad development. Instead, it's better to buy gifts that match their interests, rather than gender-based toys.
Toys don't necessarily have to be pink for an 8-year-old girl. Toys associated with certain skills can help children grow. Strictly gendered environments can restrict children from developing the necessary skills for their personal development.
Gender specific toys limit children's potential by promoting specific skills and interests. Boys are encouraged to participate in activities that promote competition, physical strength and problem-solving skills. Girls are often sent to nurturing, beauty and domestic activities.
How are birthday gifts different from Christmas presents for 8 year olds?
Birthday gifts typically differ from Christmas gifts for 8-year-olds in that they are more personalized and focused on the child's individual interests and preferences.
Birthday gifts are often given instantly and offer instant excitement and fun. They may also include items suitable for a birthday party. Christmas gifts, on the other hand, often have a festive theme that reflects the spirit of the season and are given during a larger gift exchange with family and friends.
They can include a wider variety of toys and desirable items and are given over a longer period of celebration and fun.