20 best sustainable eco-friendly toys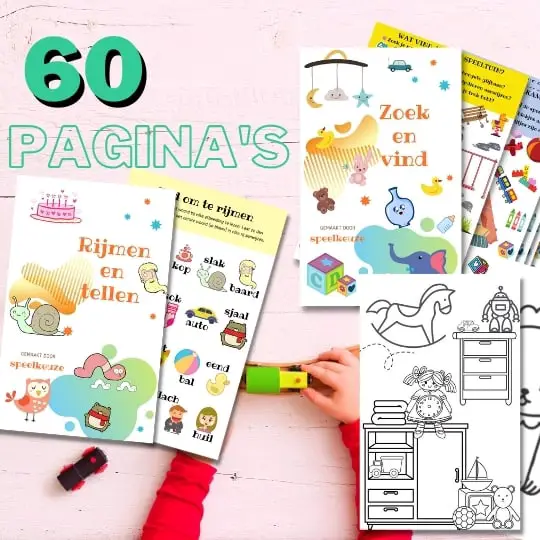 Always something to do for the holidays or rainy day?
Play Choice now has the ultimate activity book collection, with over 60 pages of fun coloring pages and educational puzzles.
Ecologically responsible toys are sustainable, non-toxic and made from recycled materials. It minimizes the amount of toys that end up in the landfill. It is produced in a non-polluting manner, without releasing carbon, greenhouse gases or chemical toxins. Recycled and recyclable toy options can help with this.
Biodegradable natural materials such as linen, renewable wood, cotton, bamboo and water-based ink are mainly used in the production of sustainable toys.
But organic plastic made from plants is also on the rise. That's why the toys from BiOBUDDi so good, with plastic from the remains of sugar cane that does not disrupt food production. A Duplo alternative that is great for toddlers to play with.
In the list below you will find the best eco-friendly toy brands of the moment.
We assess ecologically responsible toys with our social score, which looks at sustainability, materials, gender inclusivity, cultural representation, brand reputation and awards, each with its own weight.
Sustainable toy brands make a difference, such as the responsible plastic from BiOBUDDi and Green Toys, but also the sustainable wood from Grimm's and Wishbone. According to Allied Market Research, the sustainable toy market was valued at $2020 million in 18.939,1 and is estimated to reach $59.643,9 million by 2030, with an annual growth rate of 12,5% ​​from 2021 to 2030.
You can also make your own toys from recycled materials and combine them with eco-friendly toys to reduce your carbon footprint.
In the list below you will find the 20 best ecologically responsible toys with a rating from each of these brands.
#1 BiOBUDDi Dinosaur Triceratops Building Blocks – Best bio-plastic toys
From: 1 years

Best: 1 – 3 years

Up to: 4 years
BiOBUDDi is just like Duplo and LEGO, but makes the blocks from the unusable remains of sugar cane. This means that it is not only recyclable, but it also does not disrupt food production. The entire product is made of bioplastic.
BiOBUDDi's brand reputation has grown significantly in a short time and they have won multiple awards, including bronze in the Play For Change Awards, the Green Award and the Independent Toy Awards. They also plant trees to make their toys CO2 neutral.
The play value of these building blocks is also enormous. They fit on Duplo so it can be combined very well and the open-ended content is very good.
#2 Green Toys Stacking Cups – Best toys made from recycled plastic
From: 0 years

Best: 0 – 2 years

Up to: 3 years
These beautiful and durable stacking cups offer what is also called 'open-ended play'. They are extremely eco-conscious, because these 6 cups are made from 100% recycled plastic milk bottles. Even the packaging is completely plastic-free and made from recycled material. They are sturdy and even safe for food.
This versatility and longevity also benefits replayability. After all, you can do all kinds of things with it.
Of course, they are also just fun to build towers with, or to make part of a sand castle on the beach. Or fill them all with water and tip them over again for a nice bath.
Green Toys is a renowned company in the eco-friendly toy market and has won multiple awards, including the Parents' Choice Gold Award, Today's Parent Top Toys and Oppenheim Toy Portfolio Gold Award.
#3 Guidecraft Branch Blocks – Best nature inspired toys
From: 2 years

Best: 3 – 5 years

Up to: 8 years
If this isn't a Waldorf stack toys then I don't know anymore. Guidecraft keeps its products as natural as possible. They are ordinary branches and pieces wood which have been chosen together to create a challenging way of building and to stimulate sustainability awareness. Guidecraft has chosen FSC hardwood for its products to make it a sustainable production process.
They even still have the bark texture for the best sensory experience. This kind toys is designed to encourage free play patterns without any rules on how to play with it. This is extremely good for the play value and makes it more challenging than other building blocks.
Guidecraft has won multiple awards, including the Tillywig Brain Child Award, National Parenting Center's Seal of Approval and Parents' Choice Silver Award.
#4 Tegu 42 Wooden Set – Best wooden open ended magnet blocks
From: 3 years

Best: 5 – 8 years

Up to: 10 years
Tegu is a responsible brand wooden toys in Honduras makes sustainable wood. The toys is therefore also naturally safe without plastic, BPA and water-based paint. You spend a little more on these blocks, but play with real wood gives a hand feeling that plastic will never be able to give your child.
Tegu is one of the few brands that treats the planet so responsibly while also being modern toys market, such as magnetic building blocks. They are also winners of multiple awards, including the Best in Show award at the 2011 Dwell on Design industry show and PTPA Media Award.
The play value is extremely high with blocks in different shapes and slats, so you can build more different things than with blocks alone. For example, you can make perfect house constructions or a real racing car. Extremely versatile and can also be perfectly combined with other toys.
#5 Melissa & Doug Dollhouse Family – Best Biodegradable Toys
From: 3 years

Best: 4 – 5 years

Up to: 6 years
The educational value of this set comes from the neutral appearance of the dolls. They don't have a clear profession or role, making them perfect for pretend play and imaginative role play. This neutral look also makes it very inclusive for both gender and cultural background. In addition, the texture of the real fabric clothes and the wooden dolls is a great stimulation.
The play value is also high because it appeals to the imagination and leads to open-ended play. With multiple dolls, it encourages social interaction with other children and they are easy to use. The dolls can be bent and are a very nice addition to your dollhouse.
The replayability is also high, they are easy to combine with other toys and you can easily take them with you in the box with compartments that comes with it. That way they can go anywhere.
Melissa & Doug plant trees to make their toys eco-friendly and the wood and woolen clothes are biodegradable.
#6 Grimm's Rainbow Arches – Overall best wooden open ended toy
From: 3 years

Best: 4 – 7 years

Up to: 8 years
Grimm's is the inventor and maker of the original rainbow stackers. It is very very sturdy wood made and you feel it. It is FSC hardwood and water-based stain with the lowest possible ecological footprint.
It is pricey. Very pricey. But it is good wood and you feel it wood and the grain through the paint. This helps with children's sensory experience.
Due to these characteristics, the play value is very high. It is also an award winning toy as winners of the Spielgut seal for its educational value.
This is the kind of toy that gets picked up again and again and will last for generations.
#7 Small Foot Pirate Hammer Art - Most creative wooden Montessori open ended toy for 6 year olds
From: 5 years

Best: 6 – 7 years

Up to: 8 years
Small Foot makes products with FSC certified wood and non-toxic paint and where possible without the use of plastic. There is no piece of plastic used in this pirate hammer set. Small Foot is the winner of the ToyAward 2022 in the toddler category.
You have to hammer pirates and their accessories out of wood and cardboard onto a cork board. Very fun to do and you can make many creative scenes. This gives it a high play value.
There are 4 examples so you can get through them quickly. But it's more fun to come up with things yourself. You could also create assignments for them to complete. Creativity is only limited by the size of the cork board. Not really big enough to use everything you can think of and even making the examples is difficult.
Still a very nice set that can keep them busy for quite a few creative hours. The social score could have been higher if this set had more gender and cultural representation in the pirates.
#8 Ostheimer Wood Carved Waldorf Animals – Best wooden toy animals
From: 1 years

Best: 2 – 5 years

Up to: 7 years
It doesn't get much better than Ostheimer's hand-carved animals. It is a Waldorf toy par excellence.
Very well finished and durable wood. These will last a lifetime. Well, several lives actually. The design is extremely simple and therefore easy to use. The simple rendering also greatly appeals to the imagination and leads to quality open-ended play.
All materials are safe and durable, the construction has strong and rounded corners and it is great to combine with other wooden animals or with other pretend play.
The play value could only be higher if it were a little more versatile. After all, it is only a wooden animal and if you want to buy several it is extremely expensive. The price-quality ratio is therefore slightly lower, but you get a unique and handmade heirloom toy for it.
#9 Smartivity Music Machine – Best environmentally responsible music toy
From: 9 years

Best: 10 – 14 years

Up to: 16 years
With this set, children can build their own music machine and make their own music. It is a perfect combination of fun and learning and educational for both engineering and artistic expression, both STEAM concepts.
The play value is high. The set is easy to use and the addition of music also ensures open-ended play and appeals to the imagination.
The replayability is a bit lower because it is difficult to combine, although you could play it together with other instruments. Once put together it is also a bit difficult to carry around, so you will probably only play it at home. Fortunately, the versatility of the kit makes it replayable as a musical instrument after it has been assembled.
Smartivity makes toys from ecologically responsible pine wood and is, among other things, winner of the Toy Foundation's 'STEAM Toys of the Year 2022.
#10 Le Toy Van Barbarossa Pirate Ship – Best sustainable toy boat
From: 3 years

Best: 3 – 5 years

Up to: 6 years
This quaint wooden pirate ship looks great and is built to last, a deserved winner of the "right start toy Award". There are interactive features such as a walk-the-plank function, allowing you to give your enemies a terrifying end!
These are for sale separately. The high price and this slightly lower play value ensure a lower price-quality ratio and therefore a low total "Toy score".
The boat is of extremely good quality and the wood is FSC certified. After six months of adventurous adventures, the ship is still in top condition. The wood is very sturdy and no cracks have occurred, even after intensive use.
However, if your child is looking for something with great aesthetic value that appeals to the imagination, this is a very good choice for endless imaginative play.
#11 Wishbone Recycled Balance Bike – Best wooden ride-on toy
From: 2 years

Best: 2 – 4 years

Up to: 5 years
Seat height: 28 - 46 cm
Loadable weight40 kg
This is perfect to use as a first balance bike. Not only is it durable to last their entire toddler through toddlerhood, it's also simply GREAT design. and has won several prizes such as the European Product Design Award for good reason.
With such a first balance bike, a whole new world suddenly opens up for them full of discovery and for the first time a little further away from mom and dad. Social interaction is also stimulated with other children driving around or chasing after everyone.
The price-quality ratio is also enormous because they cannot be broken and you know for sure that you only have to buy one balance bike because it grows with them. In addition, it is an extremely environmentally friendly product made from recycled material.
#12 Goki Nature Car – Best Organic Natural Wood
From: 1 years

Best: 2 – 4 years

Up to: 5 years
ease of use, degree of open-endedness, imagination, social interaction, interactivity, versatility, aesthetics, ability to combine, portability, longevity, durability, safety, materials. Educational: +awards and educational value
Beautiful smooth finish and tangible wood for children's hands and 100% natural. It cannot be broken and due to the natural finish (the nature series is colored by means of an ecological heat treatment) the car remains beautiful and the lifespan is extremely high. Goki has won the Golden Rocking Horse prize for their designs, among other things.
It is a great way to develop imagination and role play and provides a channel for children to understand and express their feelings through reenactment of everyday experiences. This can easily be combined with a few more cars and encourages social interaction. All this ensures high play value and replayability.
Only the price-quality ratio could be a bit higher, one of the few reasons for a slightly lower play score. But you do get a car that will last for years.
#13 Hape Checkout Toy Cash Register – Best wooden shop toy
From: 2 years

Best: 3 – 5 years

Up to: 5 years
I am a huge supporter of toys with less noise and flashing lights and this cash register from Hape fits in perfectly. It gives a little less interactivity than push buttons that do something, but it ultimately increases the educational value and play value enormously. It is made of sustainable wood and even the fabric threads are biodegradable.
The degree of open-ended play and imagination are much greater, making the set more versatile for all kinds of play and combining with other food or shopping toys. With a toy cash register you can learn to count very well, especially if you lend a hand with the pretend play.
It is not a toy that they will play with much themselves, so you will have to work yourself or with friends. This does provide plenty of opportunities for cooperative social interaction.
The portability is a bit lower because it is quite a bulky thing, with wires connected to the accessories. That might make the replayability just a bit lower than it could be, but the durability is great. The lifespan is slightly lower, the loose threads will die first and some paint may wear off here and there from frequent use.
#14 Areaware Cubebot Micro Puzzle – Best wooden toy robot
From: 3 years

Best: 4 – 8 years

Up to: 14 years
Can be used as a puzzle, fidget toy and small robot, making this toy extremely versatile. In addition, it is also fun for a long time because it is a good room decoration for children of all ages.
It can be a bit difficult to play with in the beginning, if the strings are still a bit stiff and you don't know how the puzzle works. This could have given it a slightly higher play score. But the open-ended character more than makes up for it.
The replayability is even higher, due to the compact size and excellent longevity. As a cheap toy, this makes for the best value for money wooden toy I've seen.
In addition, it is one of the few robot toys that breaks gender stereotypes with a neutral look and design that could be male, female or non-binary. It is made of sustainably harvested wood with elastic connections without plastic or metal.
It is not for nothing that award-winning designer David Weeks has worked on this.
#15 Janod Vegetables And Sliced ​​Fruits Maxi – Best wooden food toy
From: 2 years

Best: 3 – 5 years

Up to: 6 years
The cut vegetables and fruit are incredibly easy to use. Some sets are held together with magnets, but I prefer this Velcro version. It gives a little more resistance when cutting, so your child really has to learn how to hold the knife. This appeals even more to the imagination, plus the texture of the inside gives a different sensory experience.
Toys like this are also extremely versatile, they can participate in all kinds of cooking and shopping games and with us it often joins in with farm toys. This makes it very versatile and easy to combine.
What makes the set completely replayable is the fact that everything fits in the handy carrying crate. So you can take it with you wherever you go, combine it, and then store it within reach.
The food is firmly put together and there is even a metal colander. This allows them to have extra fantasy play so that it is just real. I used to let my son play with our colander but it didn't fit in the play kitchen so this is a better solution.
Janod uses FSC certified wood and now even has a line of toys together with the WWF where they use vegetable ink and donate 7% of the proceeds to this charity.
#16 PlanToys Makeup Playset – Best wooden role-play care
From: 3 years

Best: 4 – 6 years

Up to: 6 years
This is a complete set made of sturdy cotton and sustainable rubberwood with formaldehyde-free glues and organic pigments. It contains 8 parts such as a mirror, brush, eyeshadow set, lipstick, compact box and perfume.
The play value is enormous. The cotton bag can be tied around a child's waist to hold the cosmetics like a makeup artist. So it's not just imitating you, but you can also play that they do it as work. This provides extra social interaction and appeals to the imagination.
The replayability is also good but could perhaps have been a little better if it was easier to combine with other types of toys. That would have also made it a bit more versatile. Many people complain a bit about the bag. They were expecting more of a makeup bag to carry it in, but it's really just to tie around your waist and put some of the accessories in.
PlanToys is a renowned brand for their sustainability and has won several awards including the Reddot Design Award, Oppenheim Gold Seal, Parent Choice Award Gold and the Spiel Gut Award.
#17 Wild Republic EcoKins Red Panda Bear – Most Sustainable Plush Toy
From: 0 years

Best: 0 – 2 years

Up to: 4 years
Wild Republic is one of the few soft toy makers that uses completely recycled material. Each plush toy uses about 7 plastic bottles to make the wire and inside. In addition, the eyes and snout are embroidered so completely baby-safe.
The cuddly toy is 24 cm (8 inches) and nice and soft. The red panda appeals to the imagination and will be a great friend for every child. Wild Republic is the winner of the Tillywig Award 2019 with the EcoKins product line.
#18 Tender Leaf Wheelbarrow Garden Playset – Best Garden Role Play
From: 3 years

Best: 4 – 5 years

Up to: 6 years
A really fun toy where they can play all kinds of things from the garden. Also good to teach them the different types of garden tools and plants while they are still playing. That makes the set educational, especially about environmental awareness.
Tender Leaf also makes hair wooden toys of the rubber tree. They even go one step further by only using reclaimed wood from the latex industry and plant a new tree for every one they use. A good practice for which they have received the ICTI Ethical Toy Program seal of approval.
The set really appeals to the imagination. It comes with a wheelbarrow with 3 seed bags, 3 flower pots (sunflower, carrot, tomato), a water jug, pruning shears and trowel. The ease of use could have been a little better because it is very small. You have to bend over a lot as a child to be able to drive him around. But putting it down and playing with it is a lot of fun.
There is also quite a bit to play. This makes the set versatile. This way you can cut the flower with the scissors and the tomatoes are secured with Velcro so you can pick them. The accessories and loose parts also ensure that it can be easily combined with other toys. All great for replayability.
#19 ökoNORM Watercolor paint box – Best eco friendly paint
From: 2 years

Best: 4 – 10 years

Up to: 16 years
This watercolor paint is made from 100% natural materials. Even the packaging is made from recycled cardboard, a very eco-friendly alternative to craft materials. ökoNORM has not won the Spielgut prize for nothing.
The ease of use with the storage box is great and painting naturally appeals to the imagination. Perfect for high play value. The small size makes it a bit more difficult to play with it, a small downside for the play value.
However, it is easy to combine with other craft materials and the paint is easy to wash from skin and clothing. The set is compact and can be taken anywhere. This also leads to great replayability.
#20 Kinderfeets Kinderboard Natural – Best eco-friendly bamboo toys
From: 2 years

Best: 3 – 5 years

Up to: 8 years
Even before they can use it as a balance board, it is already great for open-ended play. This way it can serve as a bridge or tunnel, just like the Grimm's rainbows. It appeals to the imagination and this is great for the play value. But as they get a little older, it can also stimulate gross motor skills.
This versatility is also great for replayability. It can stand in the nursery or living room and be reached whenever a large object is needed.
Kinderfeets uses ecologically friendly stains and lacquers to color the balance board. These are more expensive than solvent-based alternatives. The board is made of bamboo, a raw material that recovers much faster than hardwood. A very sustainable brand that also won the 2018 Family Choice Awards.
The material is sturdy and can support a weight of up to 220 kg.
How do we assess sustainable, ecologically responsible toys?
To assess ecologically responsible toys, we use our social score, a rating we assign to toys that looks at the social impact, such as sustainable materials, any awards a brand has received and the brand's reputation, each with its own weight. .
The sustainability and materials used are the most important here, as this clearly reflects the environmental impact on our society. This is one of the most important social drivers for contemporary toys.
In addition to the environment, representation and support of both gender and culture is also an important topic. Toys that actively contribute to inclusivity or breaking stereotypes score high on this. This may not have a direct impact on sustainability, but it does have an important impact on our society.
Brand reputation is also an important factor here. Brands that stand for something that helps our society and have not been put in a bad light regarding things such as poor production practices are the winners here.
Awards are also important here because they are often given to toys and brands that make a difference in the social field.
How many toys end up in landfill?
About 80% of all toys end up in landfills, incinerators or the ocean. 80% of them are not biodegradable, so 64% of all toys sold end up in landfills. Globally, 6% of all plastic in landfills consists of toys.
There are many reasons why toys are thrown away, but most often it is because parents do not know what to do with them when they are no longer useful. In total, 61% of children's toys are not used at any time and on average 35% of toys are neglected or forgotten within a month.
What is the ecological footprint of toys?
The ecological footprint is a way of looking at the impact of our consumption on the environment. It includes all kinds of factors, such as the amount of land and water surface needed to make products and process waste.
In addition to fun, toys also have a negative impact on our nature. The ecological footprint of a toy is determined by the raw materials, materials, production processes and waste streams used to make it.
The production of toys affects the environment in several ways:
Deforestation: Trees are often cut down for the production of wooden toys. This has consequences for biodiversity and the climate. Therefore, choose brands that use sustainable wood, for example with an FSC quality mark.
Plastic pollution: Many toys are made of plastic, which is a major burden on the environment. Opt for toys made of natural materials, such as wood, bamboo or bioplastic.
Chemicals: Harmful chemicals are sometimes used in the production of toys. This is not only bad for the environment, but also for the health of children. Choose toys that are free of toxins and safe for your child.
What are the best sustainable toy brands?
Sustainable toy brands produce using different processes and materials that are responsibly sourced and can be recycled. They reduce waste and strive for energy-efficient processes. In addition, they have minimal packaging and produce durable toys that last a long time without frequent replacement.
The best sustainable toy brands can be found below.
BiOBUDDi
Green toys
Guidecraft
Tegu
Melissa & Doug
Grimm's
Small foot
Ostheimer
Smartivity
Le Toy Van
Wishbone
Goki
Hape
Areaware
Janod
PlanToys
WildRepublic
Tender Leaf
ÖkoNORM
Children's parties
Wooden toys are not always environmentally friendly, as they may come from unsustainably managed forests or be treated with harmful chemicals. And sustainable toys alone are not the whole solution. Some of these sustainable toy brands also offer eco-friendly storage options, such as recycled materials or biodegradable storage boxes.
Educational toy companies also often offer green toys in their search for toys that can make an impact.
Are wooden toys always environmentally friendly?
Not all wooden toys are environmentally friendly. To be environmentally friendly, wooden toys must be sustainably produced, come from responsibly managed sources and use recyclable packaging. Using safe and durable finishes, such as water-based paint, is also important.
According to a study by DePaul University, the use of wood contributes to deforestation and requires a lot of electricity for processing. Nevertheless, punch wooden toy far fewer emissions than plastic toys.
What are eco-friendly toy storage options?
Eco-friendly toy storage options offer modern and sustainable options, such as using recycled materials. Another option is to choose eco-friendly storage bins, such as stackable baskets made from sustainable wood.
These options are not only good for the environment, but also practical and offer a fresh selection of toys.
Are educational toy companies also green?
Educational toys are not always green, but the two often go hand in hand. Many educational toy companies are also looking to environmentally conscious solutions in their quest to make an impact. They use sustainable materials, work with ethical companies and look for ways to reduce their impact on the environment.
This is also important because consumers are increasingly asking for safe and environmentally friendly toys for their children and educational toys is often already in this more expensive segment. By acting responsibly and promoting the use of biodegradable materials, educational toy companies can gain a competitive advantage and appeal to environmentally conscious consumers.
How do you make simple toys from recycled materials?
To make simple toys from recycled materials, start by looking for suitable materials such as cardboard, plastic containers and bottles. Safety is important, so consider cutting sharp edges and avoiding small parts.
Example 1: Make a castle from cardboard boxes by stacking them on top of each other and cutting out windows and doors. Children can create their own imaginative play world.
Example 2: Make a space shuttle from a plastic bottle by cutting off the top and attaching wheels to the bottom. Add lights for an interactive play experience.
Making simple toys from recycled materials is a great way to engage children in the process of sustainability and teach them how they can contribute to reducing waste. It stimulates their creativity and provides safe and fun playtime.