Playmobil: Discover the production, theme parks, games & movies!
I enjoy writing these articles for my readers, you guys. I don't accept payment for writing reviews, my opinion on products is my own, but if you find my recommendations helpful and you end up buying something through one of the links I may be able to receive a commission on that.
More information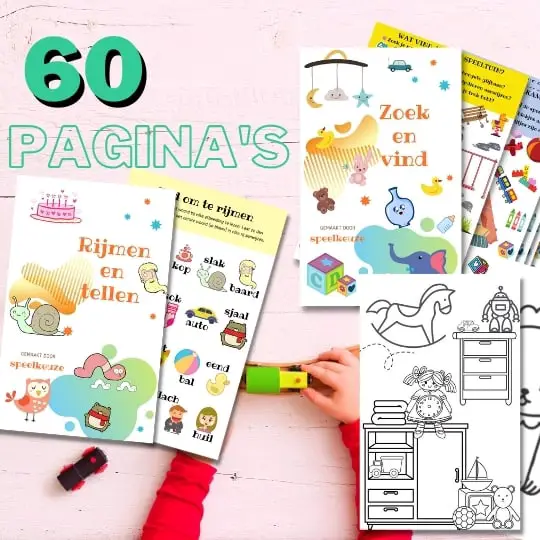 Always something to do for the holidays or rainy day?
Play Choice now has the ultimate activity book collection, with over 60 pages of fun coloring pages and educational puzzles.
It is one of the most popular toy brands in the world and has enjoyed a large fan base for over 40 years. But how did it originate?
Playmobil is one Duitse toy factory, founded in 1974 by the Brandstätter family and developed by engineer Hans Beck, based on children's behavior during play. The extensive toy line consists of a large number of plastic dolls with accessories and is intended for children aged 4 to 12 years.
In this article I will tell you all about the origins, the play system and the history of this popular toy brand.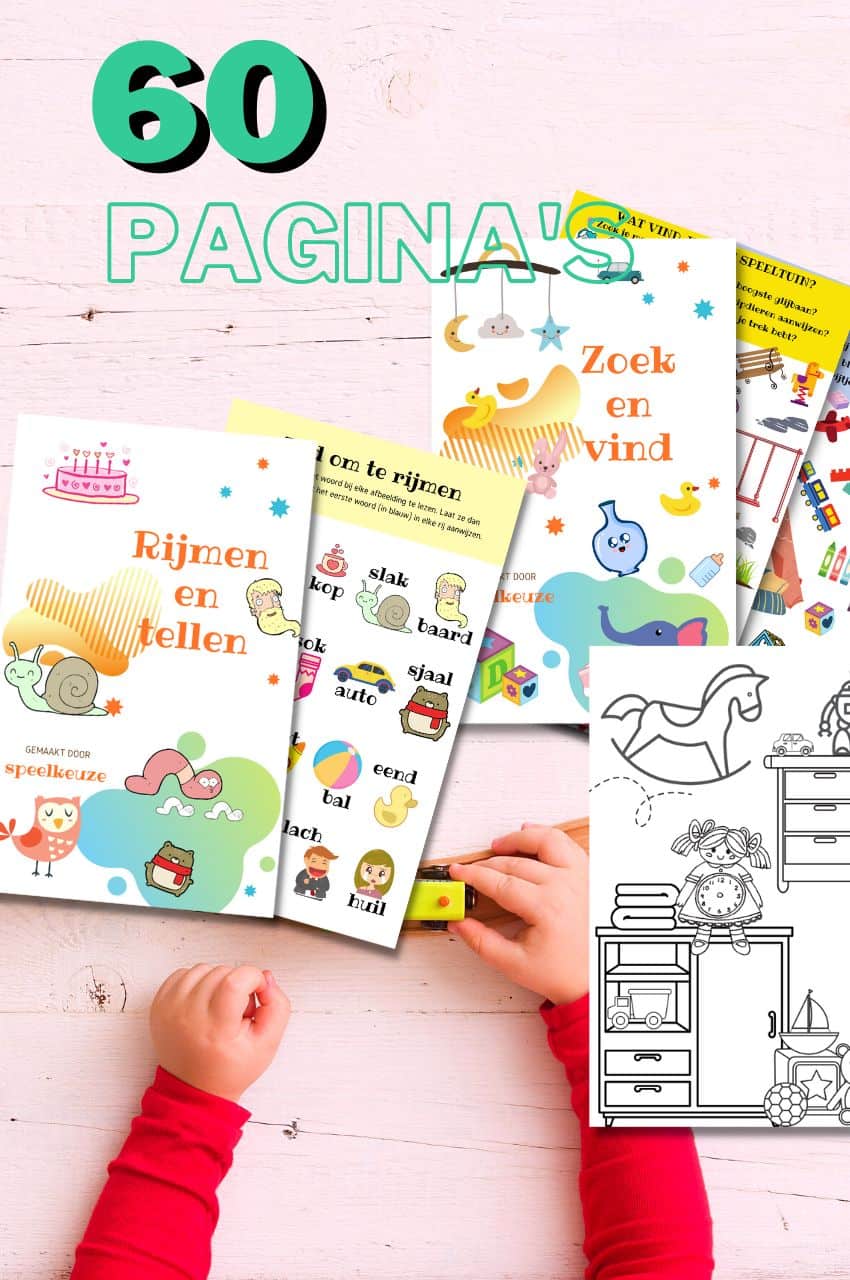 From toddler to toddler activity book collection
Educational games and coloring pages for 3 to 6 years
Your toddler and preschooler will love this e-book, along with the accompanying printables. He or she can play with it at every stage of development, together with mom and dad.
Buy at Bol.com
Everything you need to know about Playmobil
Origin and development of Playmobil in Germany
Playmobil is a play system from the Duitse toy company Brandstätter. The company's headquarters are located in Zirndorf, Germany. Playmobil was founded in 1974 as a subsidiary of Brandstätter. The brand is now so popular that it has its own page on the free encyclopedia Wikipedia.
Production and adaptation to export markets
Playmobil is produced in Malta and Germany. The brand has adapted to different export markets by obtaining licenses for Disney characters, for example.
Competition and closed production
Playmobil faces competition from other toy brands, such as LEGO and Duplo. However, the company has chosen to keep production closed and not to enter into collaborations with other brands.
Features of Playmobil
The toy figures from Playmobil have a size of approximately 7,5 centimeters. At the time, products such as buckets and hoolahoops were especially popular, but Hans Beck, the developer of Playmobil, based his invention on tin toy figures. He studied children's behavior during play and came up with toy figures with moving parts and a posture that approximated children's drawings. The figures have smiling faces and are provided with various properties, such as a firefighter's uniform or knight's clothing. Initially the figures only consisted of male characters, but later female characters were also introduced.
History of Playmobil
Playmobil was introduced in 1974 at the international toy fair in Nuremberg. Initially there was little interest in it toys, but at the end of the fair a Dutch wholesaler placed an order for one million boxes. Since then, Playmobil has grown into a globally known brand.
Trivia about Playmobil
Playmobil has a recognizable logo with a yellow smiley and red letters.
Horst Brandstätter commissioned Hans Beck to develop a play system.
Beck received a patent for his invention of the toy figure in 1974.
The rising oil price during the oil crisis caused Playmobil to focus on toys that did not depend on oil as a raw material.
The first Playmobil box consisted of three knights.
The history of Playmobil
Origin of the playing system
Playmobil is a toy figure developed in 1974 by the Duitse Brandstätter company. The idea came from Hans Beck, who was employed by the company. Horst Brandstätter commissioned him to develop a play system that was different from existing toy figures. Beck developed a 7,5 cm tall toy figure with movable limbs and associated accessories. The patent was applied for in June 1974.
The biggest competitor
Playmobil's biggest competitor at the time was Lego. Lego was already a well-known brand and already had a lot toys brought on the market. However, Playmobil was different from Lego. It was made of plastic and was 7,5 cm high. The limbs could move and the head could rotate. The figures had a cheerful and smiling face, like a knight with a helmet.
Worldwide fame
Almost everyone now knows Playmobil. It has been around for more than 40 years and now has millions of fans around the world. It toys has now grown so big that it has even been turned into theme parks. Playmobil has also made films and television series.
The first sketches and designs
When Hans Beck started designing the first Playmobil figures, he saw that there was a need for different versions of the figures. He made sketches of an Indian, a knight and other characters. These were introduced in subsequent versions of the Spielwarenmesse Germany. The reactions were moderate, until a Dutch buyer from the Otto Simon toy trade became interested. He placed an order for a million guilders. The money they received ensured that other buyers suddenly became interested.
Changes over the years
In the beginning, Playmobil only produced male figures. Later, female figures were also added. The big change came when Playmobil started producing vehicles and even markers. The appearance of the figures also changed. The shoes and hairstyle changed and the charisma of the figures changed. Finally, the figures were provided with rotatable hands.
Playmobil production
The figures are made of ABS plastic granulate in various colours. Under high pressure, the granulate grains are used in molds to manufacture the figures. The factory processes approximately 6 tons of granulate into Playmobil parts every year.
Worldwide demand for Playmobil
Playmobil is a globally known brand and the demand for the play figures is high. To meet this demand, Playmobil has developed a special system called 'mouldin system'. This system later brings the molds to the assembly plant, so fewer molds are needed and more figures can be produced.
The production of accessories and buildings
In addition to the playing figures, various accessories and buildings are also produced. There are castles, houses and other things that belong to the gaming system. Playmobil's head office is located in Germany, but production takes place all over the world.
Export from Playmobil
Playmobil is an important export product for the Czech Republic. The toy figures are sold all over the world and are an important part of the toy market. Playmobil is a difficult name to pronounce, but it is a name that belongs to many people.
Playmobil theme parks
Fun park Zirndorf
The Playmobil Fun Park in Zirndorf, Germany is the first and largest Playmobil theme park in the world. The park opened in 2000 and covers an area of ​​90.000 square meters. The park is open from March to December and offers both indoor and outdoor attractions. The park has a miniature world of the city of Nuremberg and a construction theme of Noah's Ark. There is also a golf course, go-kart track, balancing course, giant bouncy castle and trampolines. The park is a popular destination for families and children of all ages.
Playmobil Fun Park Malta
The Playmobil FunPark Malta is located in Birżebbuġa, near the current Playmobil factory in Malta. The park opened its doors in July 2019 and is the second Playmobil theme park in the world. The park covers an area of ​​30.000 square meters and offers both indoor and outdoor attractions. The park has a building theme of Noah's Ark and a miniature golf course. In addition, there is a power crane, an indoor playground and an outdoor playground. The park is a popular destination for families and children of all ages.
Play with Playmobil: Various Games for Children
In addition to the well-known playsets, Playmobil has also released various games for children from the age of 4. These games are intended to stimulate children's imagination in a playful way and let them enjoy the world of Playmobil. Below you will find an overview of the different games available on various platforms.
Playmobil: Laura's Secret
In this game you go on an adventure with Laura to discover her secret. It is an interactive game where you have to solve different puzzles and look for clues. The game is available for the Nintendo DS and Wii.
Playmobil: The Diamond of Drakenstein
In this game you are looking for the diamond of Drakenstein. You play as Alex, who lives on his uncle's farm. The game is available for the Nintendo DS and Wii.
Playmobil: Circus
In this game you are part of the Playmobil Circus and you have to complete various assignments to make the circus succeed.
Playmobil: The Farm
In this game you are the owner of a farm and you have to complete various tasks to keep the farm running.
Playmobil: Bernina Express
In this game you go by train through the mountains and you have to complete different tasks to keep the train running on time.
Playmobil: Time Travel
In this game you travel through time and you have to complete different quests to change history.
In addition to these games, there are also various Playmobil applications available for smartphones and tablets. This allows children to discover the world of Playmobil in a playful way.
Children's coaches have focused on playing games because children can recognize certain emotions during play and express them in a certain way. For example, children in a special situation, such as a wedding or funeral, can feel better by playing a game in which they can express their emotions.
So take a look at the various Playmobil games and discover which figure your child likes to play with the most.
Playmobil on the big and small screen
Playmobil animated films and television series
Playmobil has released a number of animated films and television series in recent years. The first animated film, "Playmobil: The Film", was released in August 2019 and was shown in theaters. The film follows the adventures of Marla and her younger brother Charlie, who are drawn into the magical world of Playmobil. The film received mixed reactions from critics and audiences, but some fans liked it for their favorite toys on the big screen.
In addition to the movie, Playmobil has also released a number of television series, including "Super 4" and "Playmobil: The Secret Pirate Island". These series are more aimed at children and are made in a digital animation style. The series are interactive and often contain secret messages and puzzles for children to solve.
Playmobil on YouTube and other websites
In addition to the official animated films and television series, many fan-made Playmobil videos can also be found on YouTube and other external websites. Some of these videos are creative and fun to watch, while others just seem to be ripoffs of other popular videos.
If you're looking for official Playmobil videos, it's best to check out Playmobil's YouTube page. Here you will find trailers, teasers and other news items about the latest Playmobil films and television series. It is also possible to find Playmobil videos on other websites, but be careful when clicking on links and always read the description before clicking on a page.
Playmobil voices and other details
If you're a huge Playmobil fan, you'll be pleased to know that some of your favorite actors have voiced Playmobil characters. For example, Anya Taylor-Joy has voiced Marla in "Playmobil: The Movie". Other well-known actors who have lent their voices to Playmobil characters include Daniel Radcliffe, Jim Gaffigan, and Adam Lambert.
Playmobil has also released a number of books based on the animated films and television series. These books are written by different authors and often contain additional details about the characters and world of Playmobil.
Finally, it is worth noting that some fans believe that Playmobil is an unimaginative ripoff from LEGO (read more about the differences here). While there are certainly similarities between the two brands, both have their own unique features and fan bases. It's up to everyone to decide which one toys they like the most!
Conclusion
Playmobil is one of the oldest playsets in the world and one of the most popular. It's a play system that lets your imagination run wild and it's one of the few toy brands still owned by the same family.
With so many sets and themes, there is always something for your child!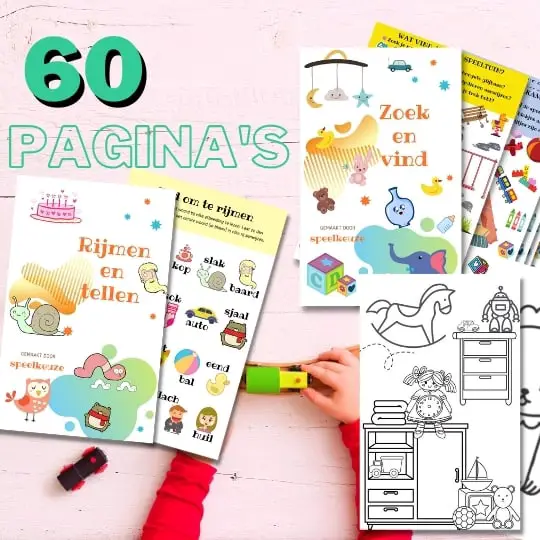 Always something to do for the holidays or rainy day?
Play Choice now has the ultimate activity book collection, with over 60 pages of fun coloring pages and educational puzzles.
Joost Nusselder, the founder of Speelkeuze.nl is a content marketer, father and loves trying out new toys. As a child he came into contact with everything related to games when his mother started the Tinnen Soldaat in Ede. Now he and his team create helpful blog articles to help loyal readers with fun play ideas.