Essential exercise games & toys for fine motor milestones
I enjoy writing these articles for my readers, you guys. I don't accept payment for writing reviews, my opinion on products is my own, but if you find my recommendations helpful and you end up buying something through one of the links I may be able to receive a commission on that.
More information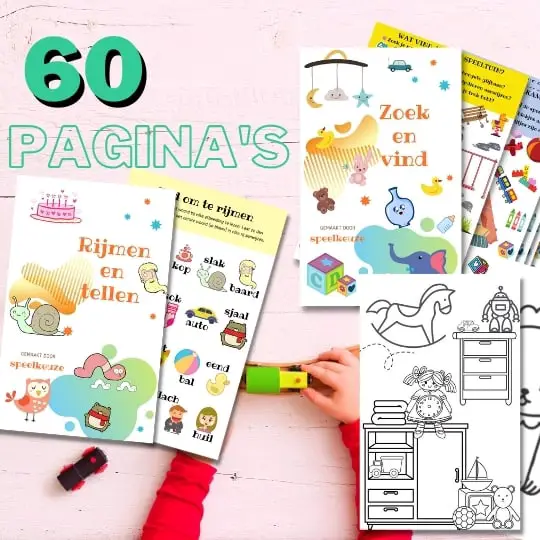 Always something to do for the holidays or rainy day?
Play Choice now has the ultimate activity book collection, with over 60 pages of fun coloring pages and educational puzzles.
Fine motor skills are the ability to make movements using the small muscles in our hands and wrists.
We do it all by ourselves, without really thinking about it, but for children it is a difficult task.
And they need to perform focused tasks at school, and this conscious control of your movements is called psychomotor skills.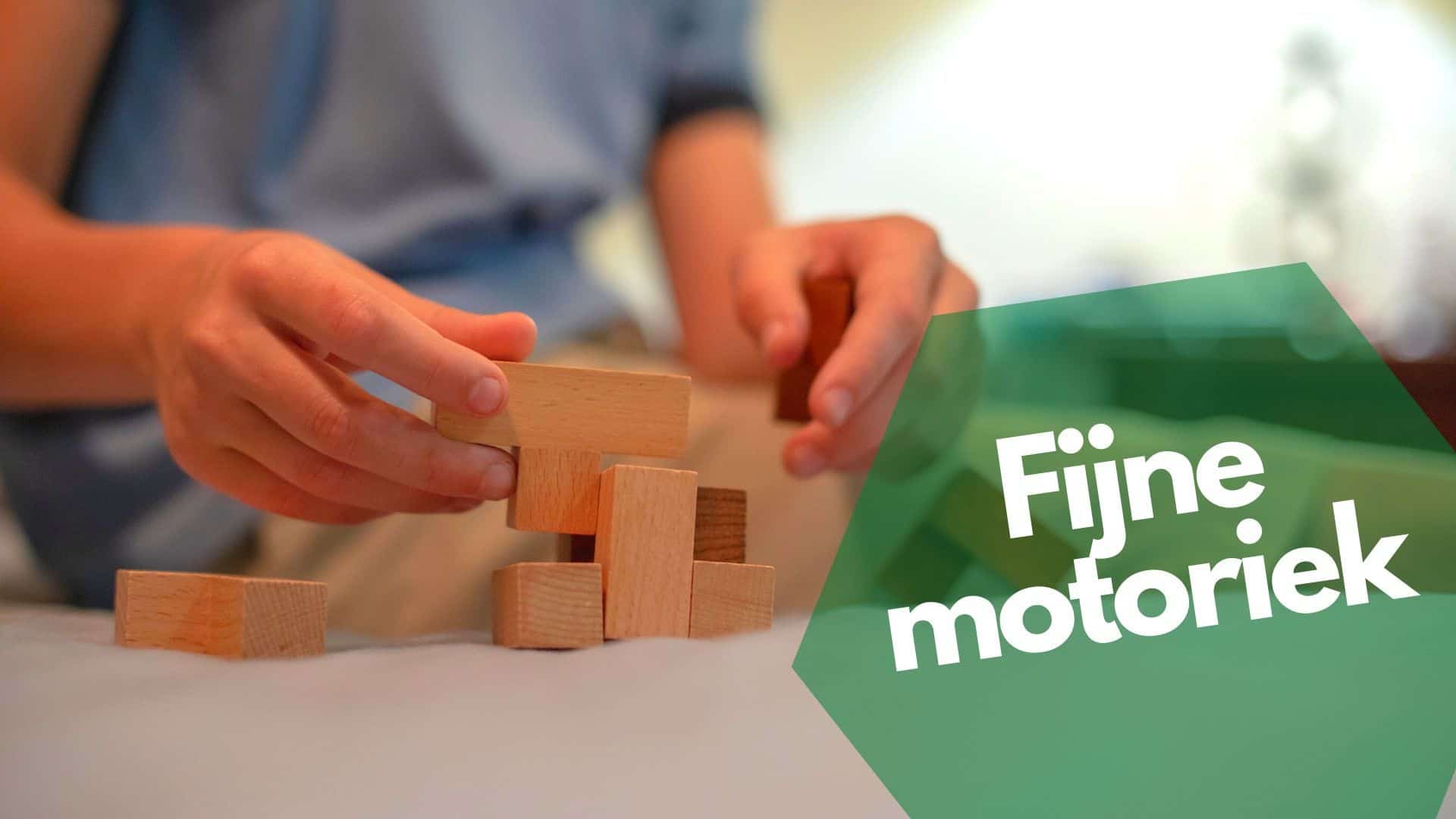 I will talk about what it is here, but especially how you can stimulate development with fun free games and with toys, plus how to discover and solve backlogs.
Let me name my favorite right away, because if you are looking for toys that are good for them, then in my opinion you can do no better than old-fashioned wooden building blocks such as this one from Melissa & Doug.
There is something for every age, they are quite tough for babies to practice gripping, but can also rejoin in all their games later on.
More on that later ...
This is a pretty long article (quite a big topic too) so if you want to skip to an area that interests you, feel free to go ahead.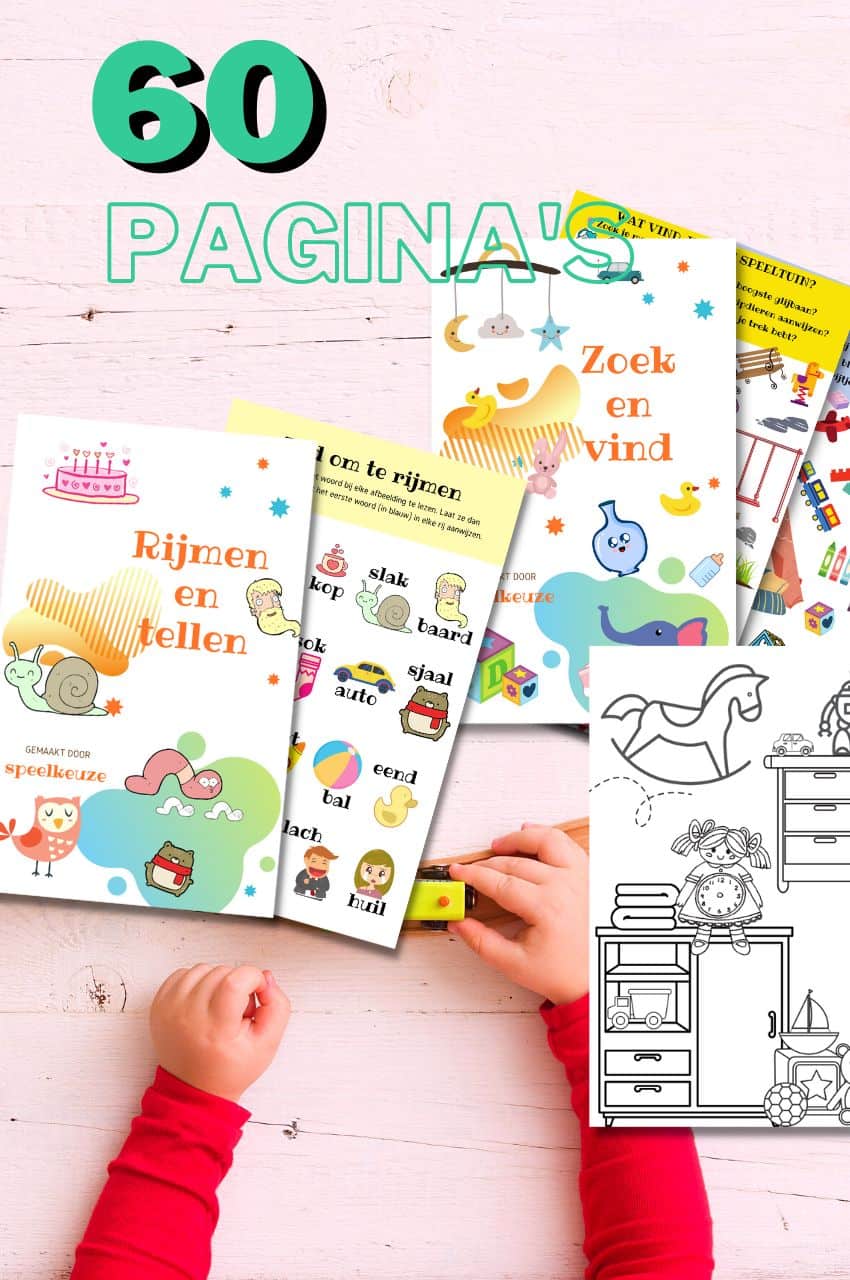 A play theme in your mailbox every month?
Fun play tips, activity books and more, with the first email being our free mini-guide "educational toys"
We will only use your email address for this newsletter and respect your privacy
What is fine motor skills?
Fine motor skills are part of it motor skills where you use small movements that are actually so obvious that you usually don't think about them.
However, fine motor skills are complex.
It's not just about your hands, it's about finely tuned brain and muscle effort, all built on top of the gross motor skills that allow you to make bigger movements.
Fine motor skills are not specific learning skills like reading or math, but directly affect how well children can learn and especially how well they can show what they know.
For example, children need fine motor skills to be able to circle an answer to a test or write an essay or answer.
Children must use their fine motor skills to perform many school-related tasks:
Color with a crayon or pencil
Drawing pictures
Write neatly
Play with stacking blocks and beading beads
Using scissors, rulers and other tools
Needlework, as different forms of clay, paint
Children also need fine motor skills to perform everyday tasks such as getting dressed and brushing their teeth.
Milestones in fine motor skills
When do kids start using crayons? To tie shoes? Bicycles? All children develop coordination and motor skills at different times.
But everyone is progressing along certain milestones.
These are the milestones at which children usually develop certain coordination and motor skills.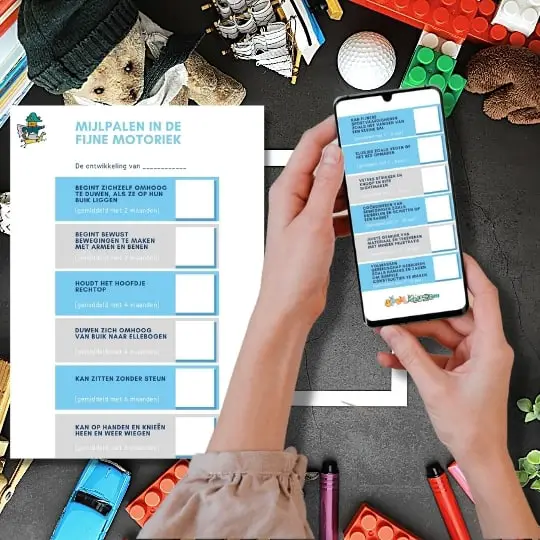 Fine motor development checklist
With this checklist you can fill in at what age your child has learned important milestones in fine motor development. Print it out and fill it in, nice to keep!
With 2 months
They start to push themselves up when they lie on their stomach
They begin to make conscious movements with arms and legs
With 4 months
They keep the head upright
They bear weight on the legs when the feet are flat on the floor
They push themselves up from stomach to elbows
With 6 months
They are without support
They can rock back and forth on their hands and knees
Can they roll over?
They move objects from one hand to the other
With 9 months
Do they crawl and can they stand with help
They can point out things to show what they mean
They reach for and pick up a toy
They start by picking up small pieces of food
With 12 months
Drink them from a sippy cup
Shake and throw them with toys
Get up with support and can stand without help
They take a few steps while holding a person or a piece of furniture
Ages 18 months - 2 years
They run forward and backward
Races
Eat with a fork or spoon
They can hold a thick piece of chalk or marker
Climbing up and down stairs using the railing or a person's hand for support
Throw a ball
'Drawing' with a fist grip
Ages 3-4 years
Alternate feet on the stairs
Jump with two feet
Make a simple puzzle
Using door handles
Draw circles, squares and very simple figures
Riding a tricycle
Between 3 and 5 years old, a brush handle is often used when drawing, children grasp a pencil or pen from above, but the fingers do not move yet.
Ages 5-6 years
Run, jump and hop
Perform simple dance moves
Throwing and kicking a ball and catching it with two hands
Retracing shapes and letters
Brush your own teeth (well)
Using cutlery correctly
Start playing a musical instrument
From the age of 5 you will see the pen handle develop when drawing or writing (tweezer handle). Then you see the triangle between the thumb, the index finger and the middle finger.
Ages 7-8 years
Bicycles without training wheels
Finer sports skills such as catching a small ball
chores as a game like sweeping or making the bed
Tie the laces and close the button and zipper
Ages 9-10 years
Coordinate movements such as dribbling and shooting a basket
Using material and drawing with less frustration and handwriting becomes smoother and faster
Use adult tools such as hammers and saws to make simple constructions
Ages 11-15 years
Refining movements as in team sports
Can try to develop strength and endurance as a result of increased muscle mass - especially in boys
Can be clumsy due to growth spurts
Ages 16-18 years
They become more nimble and less clunky, making it easier for them to do things like typing on a keyboard and build complex projects
Refining visual-spatial coordination to help judge distance and speed and respond quickly while driving
Don't panic if your child doesn't hit all of these milestones at the right time. All children develop differently.
If you are concerned about your child's progress, learn about motor skills and coordination problems in children.
Make a list of specific things you notice and find out what to do next.
Free games to promote fine motor skills
Especially if your child is struggling with tasks such as writing, drawing and using scissors, there are a lot of things you can do to promote fine motor skills.
Your child may be able to get support at school if fine motor skills are a challenge so always stay in touch about this, but there are also a lot of fun things you can do at home!
Let's take a look at some fun activities and toys that can help with this. A lot of things are aimed at the fine motor skills that you might not even have thought of.
One of the nicest things to do is to make finger puppets myself, stick them and play with them.
This stimulates a whole lot of motor skills and the older they are, the more they can help with the assembly.
For example, in our newsletter we have a series of free fun games and printables for practicing fine motor skills, which also include fun finger puppets so you can print them out.
Another fun game for the little ones is to practice drawing lines: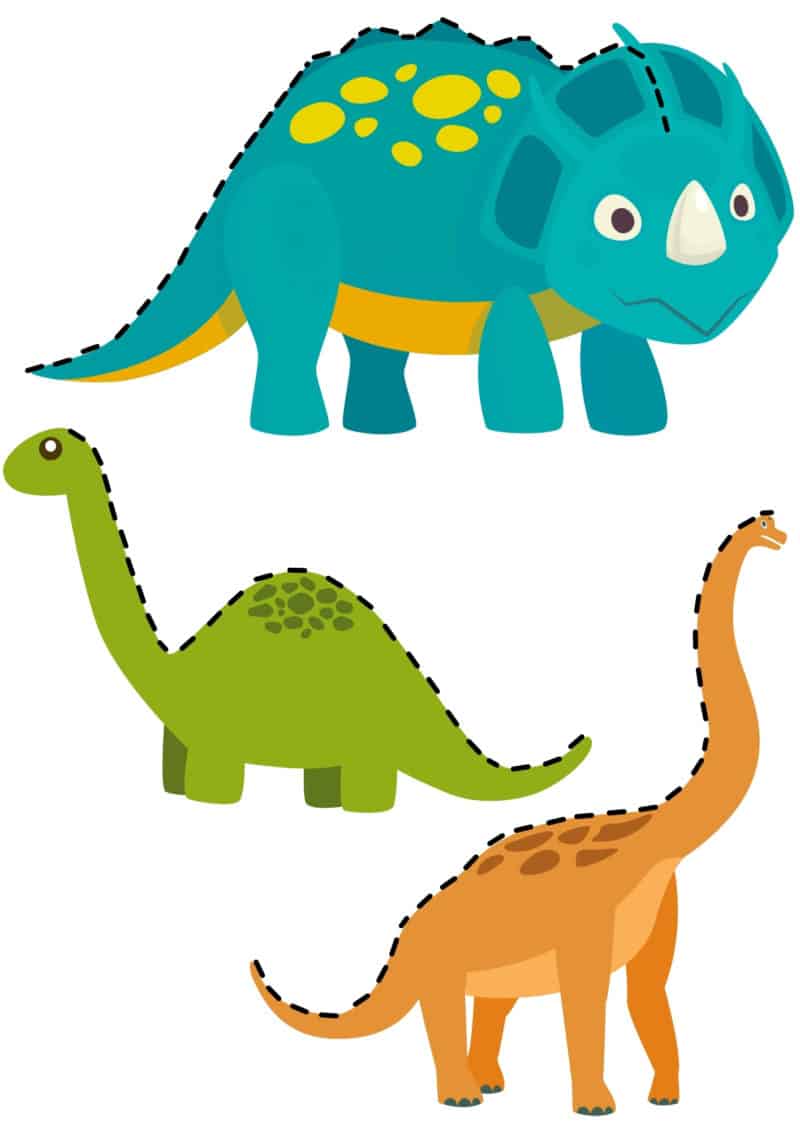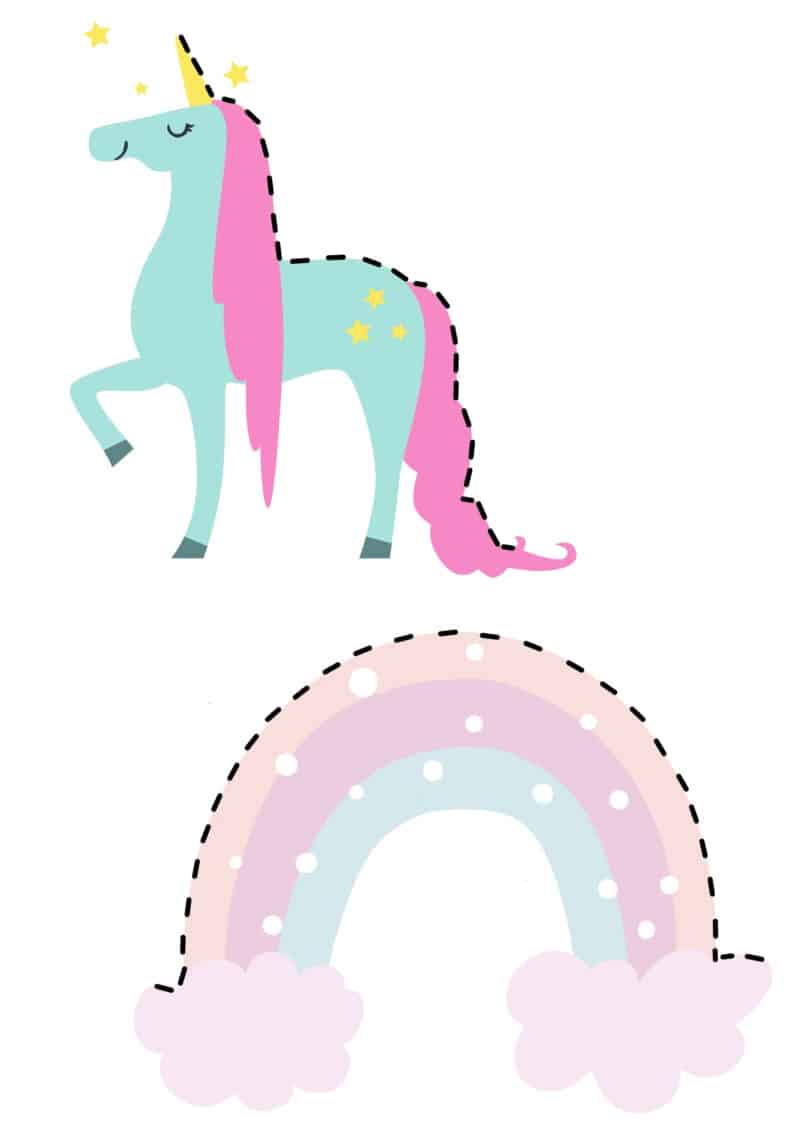 A few easy games for at home are:
Give a pile of clothes or small items of laundry and hang them up with clothespins. Some force is required to squeeze open the pegs. Teach them how to open the clothespin and hang up the laundry. It gets even more fun when you turn it into a competition!
Spray some shaving cream on the table. The child can 'write' all kinds of patterns in this
You take a colander and a package of spaghetti, put the colander upside down and let your child put the spaghetti through the holes of the colander.
Thread a necklace of macaroni or breakfast loops with your child
Brush your own teeth
Comb your own hair
Close zipper or tie shoelaces
Help in the kitchen (think of setting the table or spreading bread)
Making your own dough, kneading is soothing and good for the development of the hands!
You can also download all kinds of apps on the iPad that promote fine motor skills
Put a puzzle together
Prick holes with a lancing device and cut out shapes, a lancing device and mat are already very cheap and you can use them again and again
Playing board games with dice and/or playing figures to move, play marbles
Making shadow figures with your hands
Running a toll
Salt dough for children
A super fun recipe for making and crafting great figures together, and great for creativity and fine motor skills!
PREPARATION TIME: 10 min
PREPARATION TIME: 1 hour
TOTAL TIME: 1 hour 10 min
SERVES: 2 children
INGREDIENTS
2 cups of flour
1 cup of salt
1 cup of water
1 tbsp sunflower oil (or use olive oil or other vegetable oil)
INSTRUCTIONS
Mix your flour and salt well in a deep bowl.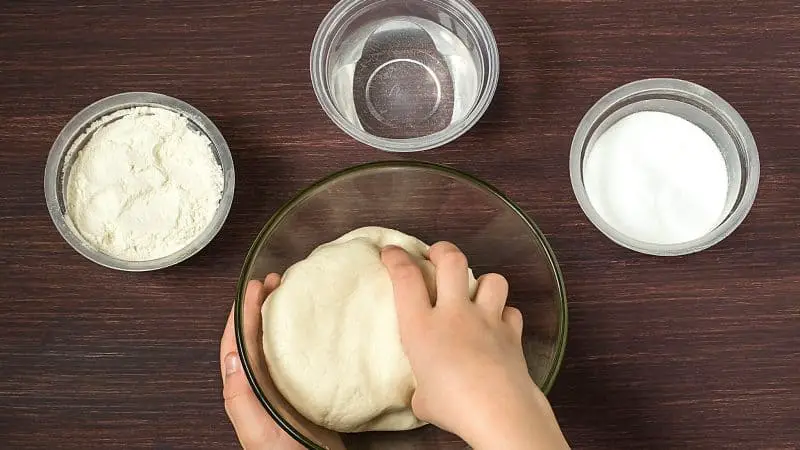 Then add the oil and water and knead the mix until you have a soft ball. This is great for stimulating fine motor skills, so involve your child in this too!
If your salt dough is a bit sticky, you can always add a little more of the flour. Too dry? Then of course some water.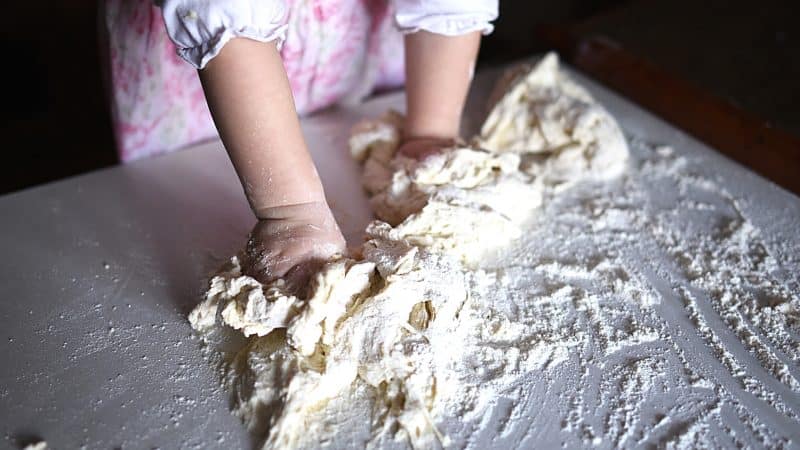 After kneading you can start tinkering right away. You can cut out shapes yourself when your kids are a bit older, or give them some stitch shapes / baking molds / clay molds in the shape of dinosaurs or dolls, cars and much more that you can find to have an easy base.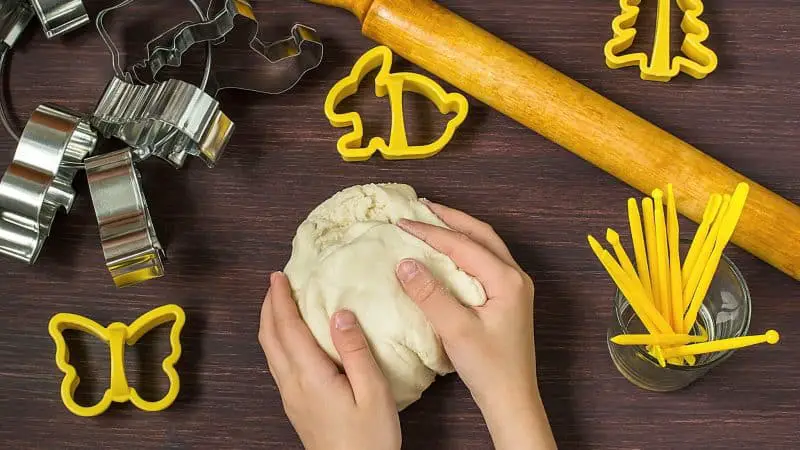 You can also add anything to it with all kinds of other craft materials. Grab your iron on beads, glitter, pasta macaroni and mini buttons for bears, feathers and twigs.
You bake salt dough at a low temperature, which is too low to melt your material.
When you're done pop it in the oven at 100 degrees for about an hour, but very thick ramekins can take up to 3 hrs.
After an hour, test to see if they have hardened by pressing them with your fork. If the dough springs back, it will take some more time.
Salt dough always gives you a nice shine by lacquering it, but you can also mix 1 tablespoon of water with 1 tablespoon of glue and paint with it.
After that you can also paint them together in all kinds of beautiful colors, but maybe that's another project to pick up tomorrow :)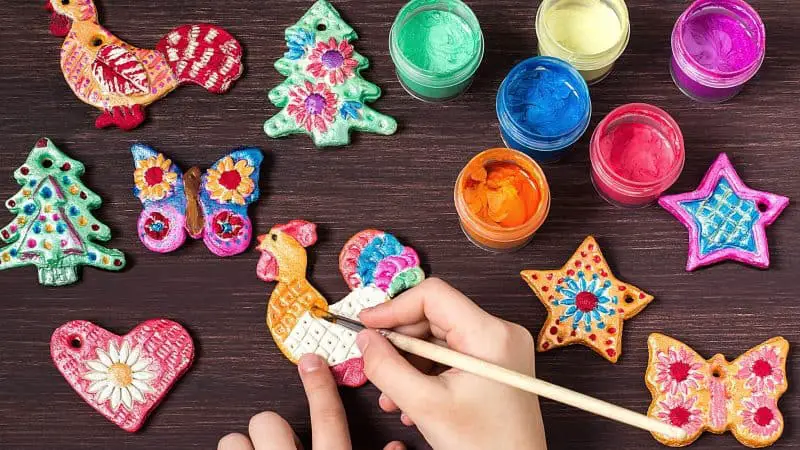 What kind of toys stimulate fine motor skills?
There are also a lot of toys available which are good for stimulating fine motor skills for toddlers and preschoolers.
Good toys are not only helpful in developing motor skills, but they are also just a lot of fun! Your kids don't even know they are learning!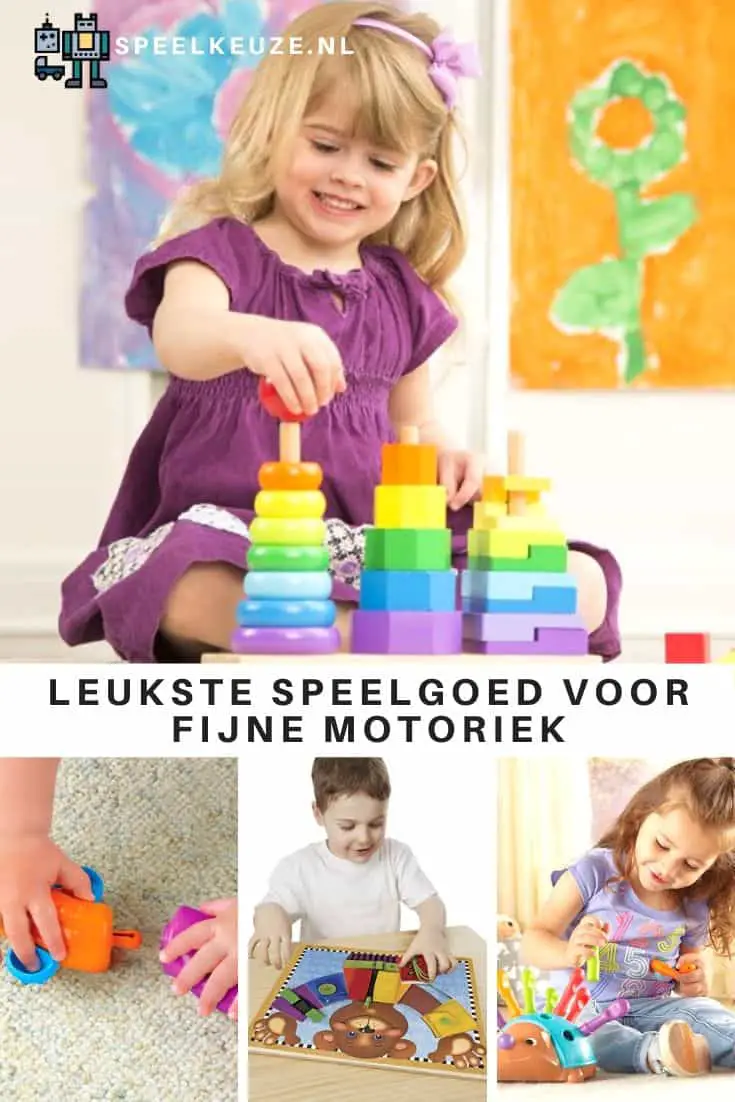 For this development it must stimulate those little hands and train hand-eye coordination. This is toys aimed at things like:
pricks or markers and pencils
toys for stringing
puzzles
insert something somewhere
building blocks
kneading, folding or sticking material
push or pull
dress up or zip up
grasp
There are many fun and educational activities that can help with this, but let's start with one of my favorites: using sensory bins!
Sensory baking and fine motor skills
Most sensory bins contain small objects (often a lot of toys!) That require concentration and fine motor skills.
With smaller children it is often only fun for a short while because they can quickly become exhausted, but as they get older you can do more and more complicated things with it.
One of my favorite bins to make is with dried black beans, and of course you can do it with any kind of beans.
But the black beans look a bit like earth, and you can of course grow something in them, such as different vegetables:
The trick is to put in as much different material as possible.
For example, I put in wooden figures and vegetables, soft felt vegetables and maybe some plastic farm animals to provide different textures.
Wooden building blocks
I'm a big proponent of wooden toys over plastic anyway. It's more durable, but I also like playing for them in general.
Don't get me wrong, sometimes there are also very nice plastic toys that are super educational, but taking wood has something that fits more with the development.
But wooden building blocks are something every child should have in their toy box.
The nice thing is that they grow with every stage of life and are reappeared at a new milestone.
In any case, at our home it started as a baby, to grab them, look at them, and even taste them (good quality and safe paint is therefore very important!)
Then grab it and take it with you while crawling.
While learning to scoot on a tricycle, they showed up to run over and Mom and Dad had to build turrets quickly every time.
And later, the most beautiful and creative structures come out, often together with other toy houses and dolls.
My favorite ones this one from Melissa & Doug: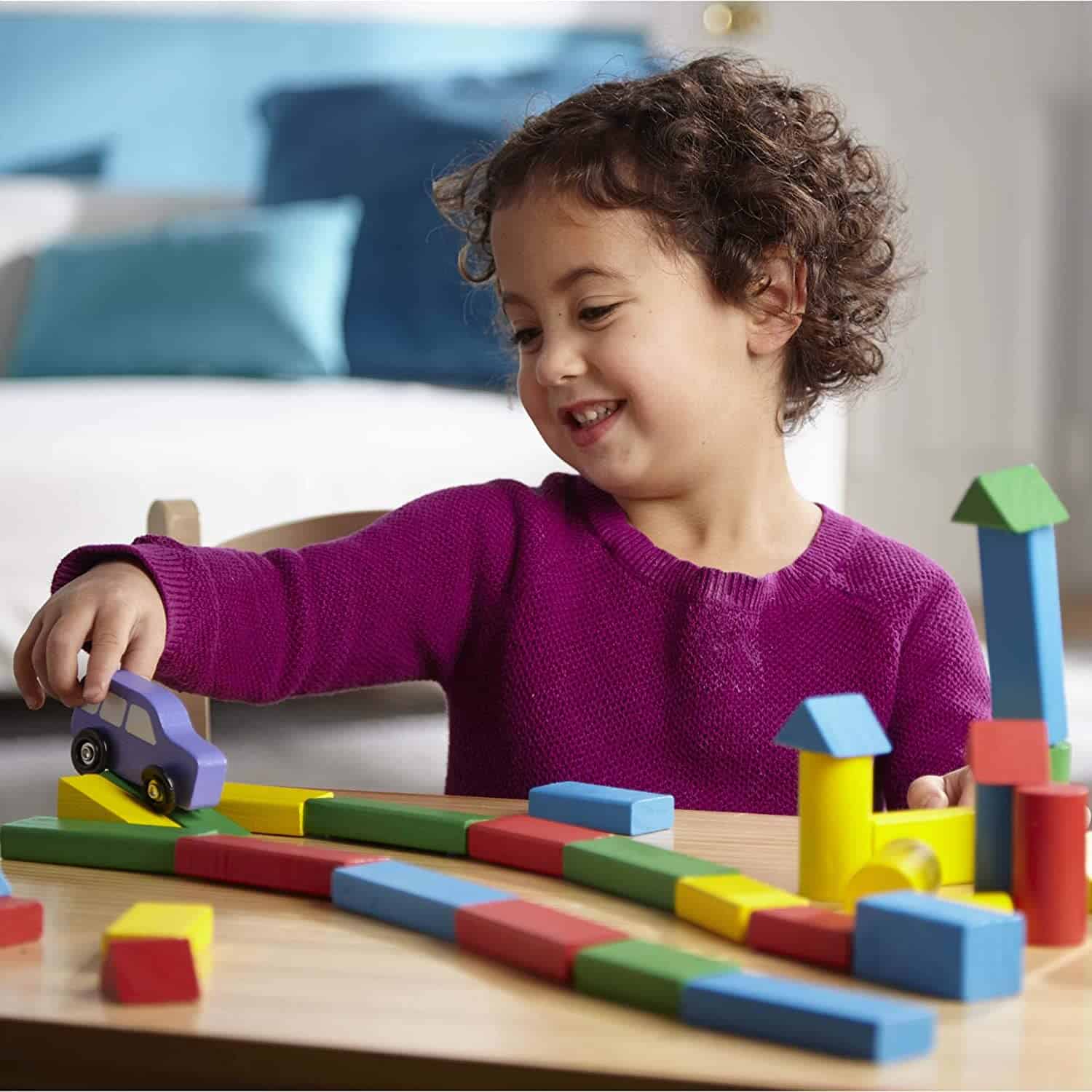 What do you learn with a lancing device and mat?
We just talked about the lancing device, and it is such a cheap way to practice a lot.
A lancing device is not only fun to be creative, because it always looks very cute, but your child has to steer his hand really well.
It's a bit like coloring within the lines with the added challenge of piercing from top to bottom.
That's why I like them better for practice than just a colored pencil.
You have separate pens and mats, but you also have fun prick pads in all kinds of themes, such as this unicorn mat: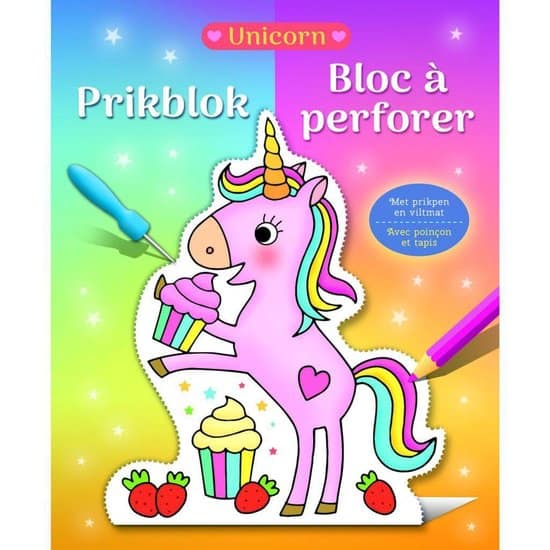 And, once you have bought it, you can then use your pen and felt mat to cut out endless other things, such as figures from coloring pictures and much more.
Push, pull and shape with Playfoam
Kneading, claying, painting and all that kind of mess activities are very good for the development of fine motor skills, but my favorite in this area is Playfoam.
It is crazy, it sticks and it is not and you can sculpt it wonderfully in all kinds of shapes. It stays in shape and sticks where you put it on, but it doesn't get you dirty at all.
A nice alternative to making the dough if you don't feel like it.
A perfect opportunity to practice something else at the same time, working with numbers or letters.
A very nice Playfoam set is therefore this one from Educational Insights: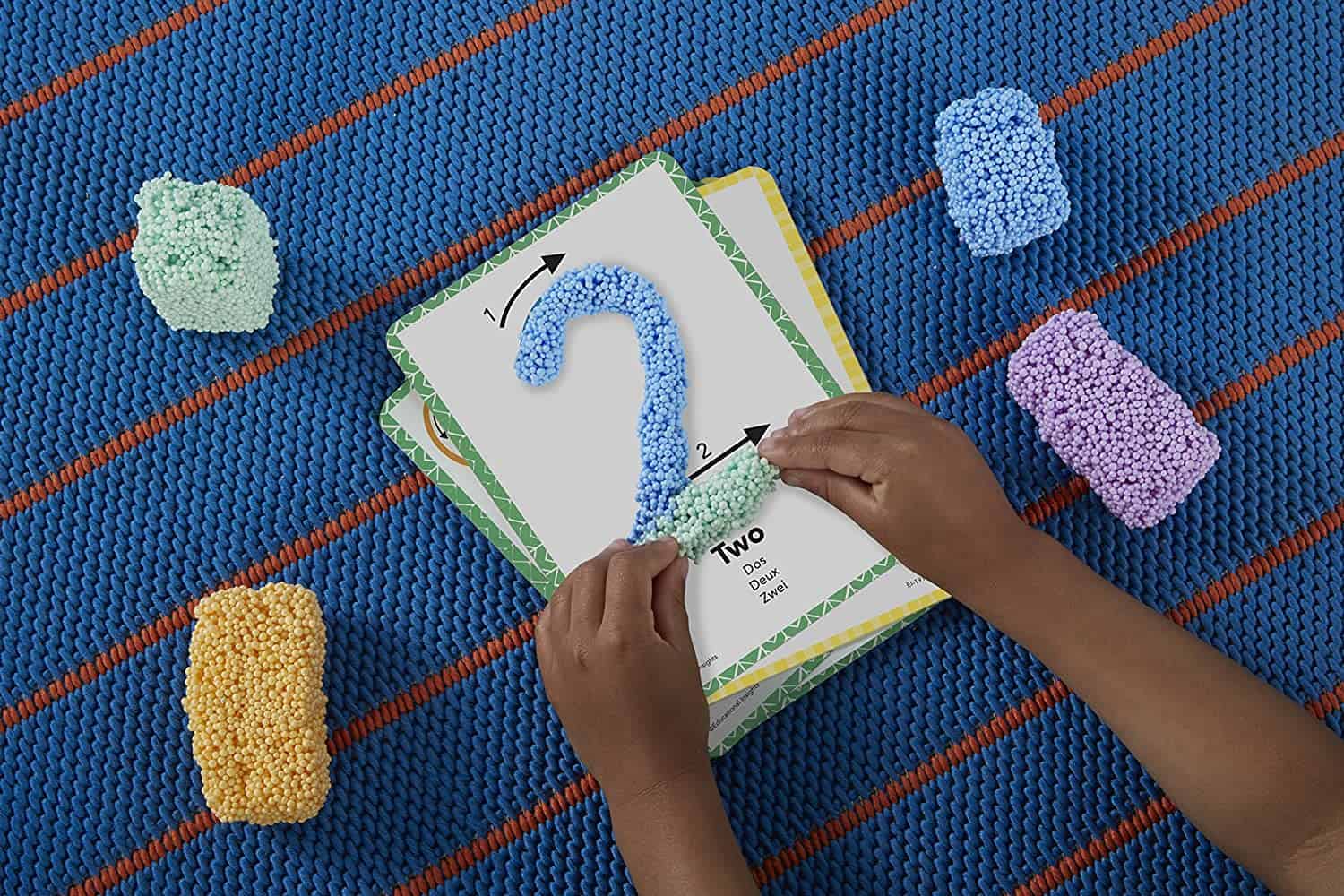 A good alternative is kinetic sand that I have written about extensively before, but this gives a little more mess. Believe me when you play with it on the table :)
Zippers, buttons and bows with an activity board
To really learn those tricks and to practice in order to be able to do everything yourself, an activity board is great fun.
Often these boards have different textures and challenges for your child to solve.
The nice thing about it is that there is often something easy with it, and a bit more challenging, depending on your child's age, so they can practice what they are ready for.
Melissa & Doug for example has a board with lots of zippers, buckles, laces, buttons and more: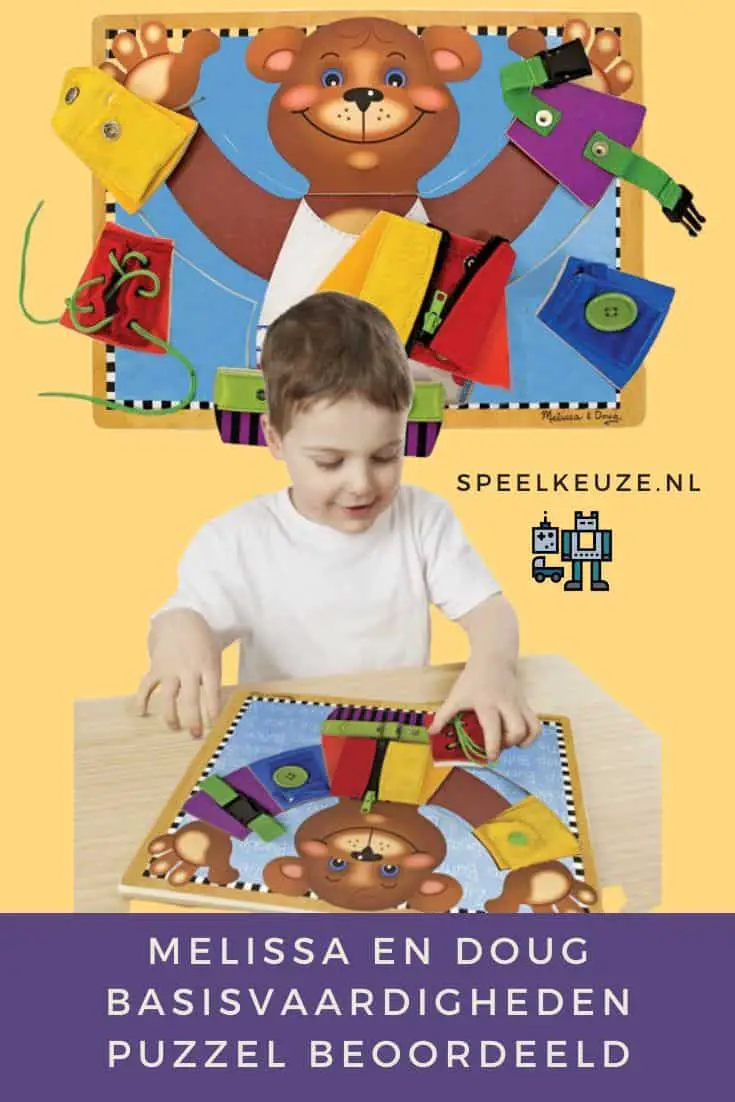 When it comes to helping fine motor skills, this basic skills game from Melissa & Doug clearly has it all.
Rookie shows what it looks like here:
Bubbles, squeezing and popping
One of my favorite toys is this Fat Brain Toys Dimpl, which I first watched when I wrote about fun airplane toys.
I had read a lot about it and it seemed like a really nice thing, but was still a bit skeptical about it.
Especially if my son would like it long enough, because we had bought him for a long flight.
In the end he popped and pressed with it for a super long time and it is one of the favorite games for the plane become.
It is a flat sensory disk with all colored rubber-like bubbles in it that you can push back and forth so that they "pop" to the other side.
From the age of 1 it is a very difficult challenge and you have to help a little now and then, and with two years they can already largely do it themselves.
It's amazing how long they can get on with it, with something so simple. Also very calming.
They are also cheerful colors to get started with learning colors later on.
One of the best toys for your toddler's fine motor skills.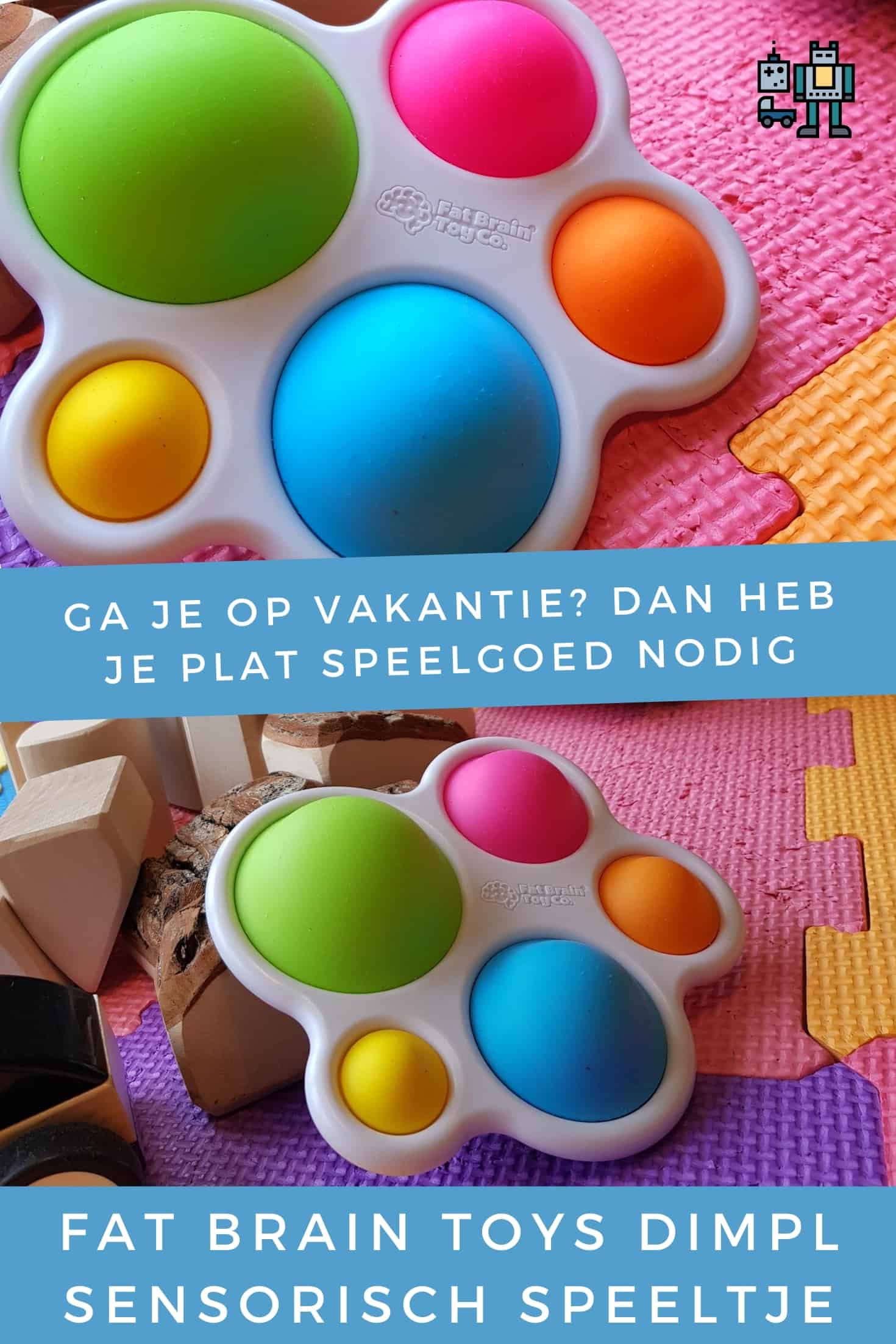 Lace up on cardboard
Threading shoelaces through something is really, really difficult, if you think about it.
You had to be so precise, and what a great way to teach kids how to thread through tiny holes.
You have a lot of threading game versions so pick one you like.
I am most a fan of flat cardboard cards that have laces through, more than wooden "3D" objects like those ladybugs or real looking shoes.
Especially because such flat cards:
easy to carry
are easy to turn by your child so that they can better see what is happening at the back and how to solve a possible "miss".
My favorite is this one from Bigjigs, a brand that has come to us many times in the review, known for their sturdy wooden train sets.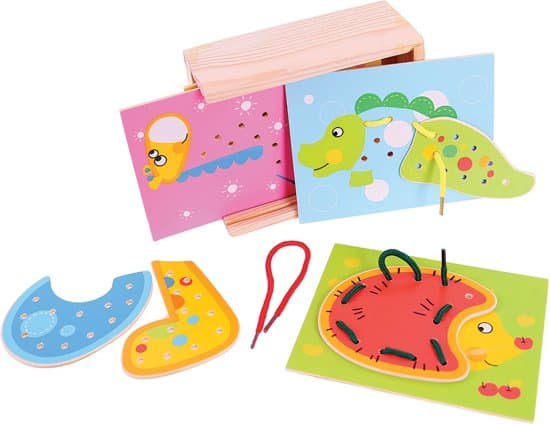 Fisher-Price Snap-Lock Beads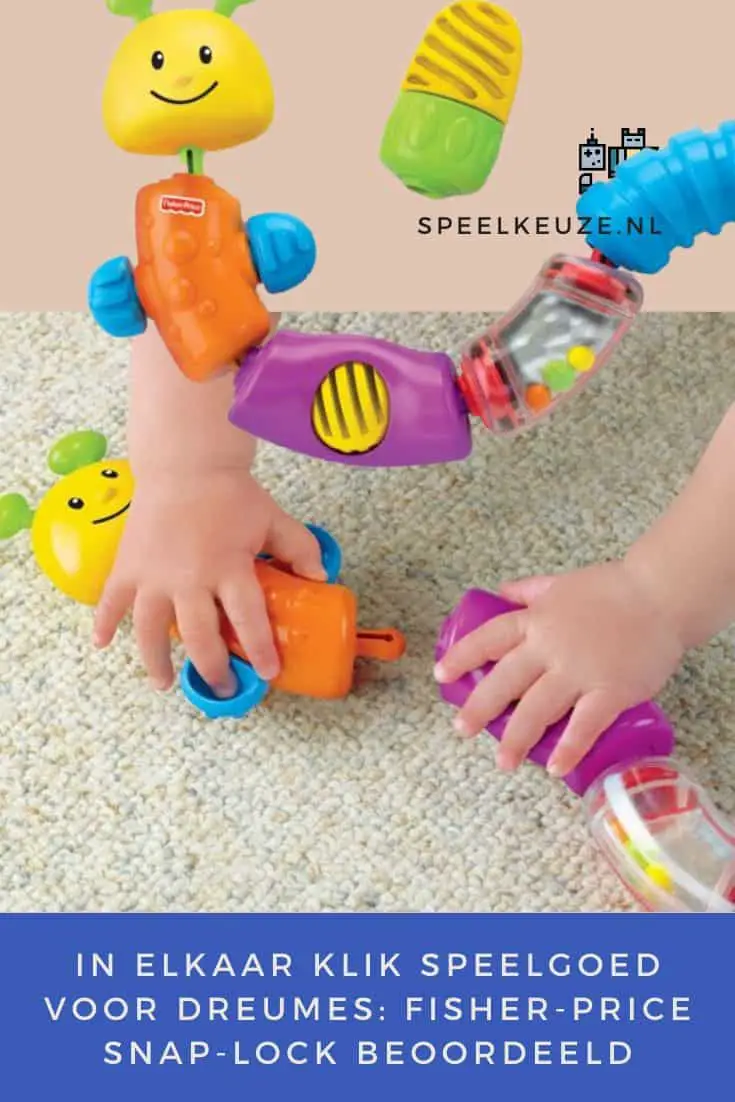 At first glance, these Fisher-Price Snap-Lock Beads may seem like a toy for a baby (and they certainly can be!), But they are also great for helping a toddler work on hand-eye coordination and minor muscle development .
It takes a lot of dexterity to get the bead's tab into the hole, but these beads offer a lot more than that.
Kids can work to make a circle and sort it into colors and shapes, which also helps improve their math skills.
Check prices and availability here
Get creative with beads
Small beads are so much fun! Your child can get really creative with them and they are nice and small, so bring on those fine motor skills!
They're also great for kids of all ages, not just preschoolers.
You have them in all shapes, from iron on beads to aquabeads.
You also have extra large beads which are ideal for younger children, for example, because the beads are slightly larger than regular iron on beads, making it easier to pick up and handle small hands.
The age category is included with each product and you can buy individual beads or whole packages with samples.
When they are a little older, the loose beads are also very nice to try things with and there is even a whole book, Pixel craft, full of examples you can make.
A great toy and craft to strengthen fine motor skills!
However, as with any small object, make sure your toddler doesn't put the iron on beads in their mouth! They are small pieces that can be swallowed very easily.
So keep a close eye on them while making these fun crafts.
My favorite are these Aquabeads which you have in many different versions:
Finger, hold and push with a bead maze
Every baby and toddler has a bead maze, right? If you haven't bought one yet, it's about time.
It is not only a fun game, but also ideal for practicing many different actions related to fine motor skills.
For example, they have to grab, push, understand where something is going when they make small movements, everything to train their hand-eye coordination.
I love all Melissa and Doug brand toys! They are so well made! I've never had one Melissa and Doug toy bought which I was disappointed in!
This bead maze toy is excellent for strengthening fine motor skills and with the suction cups also perfect for the high chair.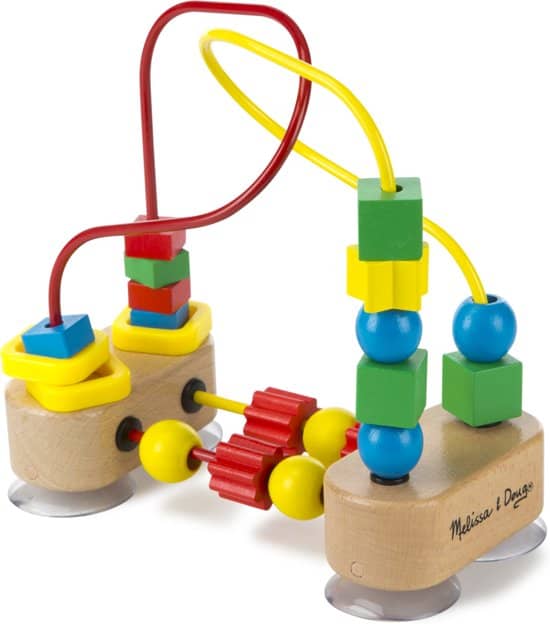 Working with tweezers
Now the fine motor skills are really put to the test, because not only do you have to grasp small things to sort them, you really have to work precisely with tweezers.
A real tweezer, that is for removing splinters, something they will also badly need of course, but a little later.
However, from the age of three you can already start practicing picking up things with tweezers, and you have nice plastic play tweezers for this.
That can be frustrating at first, but oh so educational!
This one from Learning Resources is a super cute game for fine motor skills! Another great way to help your child develop without them knowing;)
Use the tweezers to fill, sort and play with this colorful cake!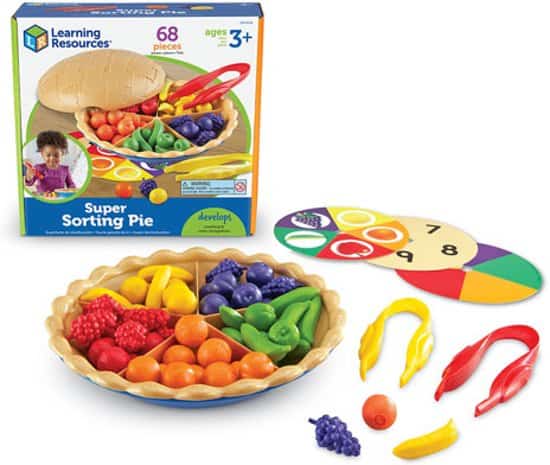 Pin things right in somewhere
Next on the list is to pin things in exactly somewhere and that seems easy, but it isn't.
There are many games that practice this, the main thing is that they are rods that have to be in holes.
The smaller the rods and the holes, the older they are suitable for, that's a good rule to remember.
So if your child is still young, it is essentially a shape sorter with a few large objects, which also falls under this.
If your child is already a bit older, and from three they can really start practicing with this, then you use thinner rods and smaller holes.
Is this fine motor hedgehog not super cute ?!
This toy will not only help your child strengthen their fine motor skills while removing and adding the pens, but will also aid in color recognition!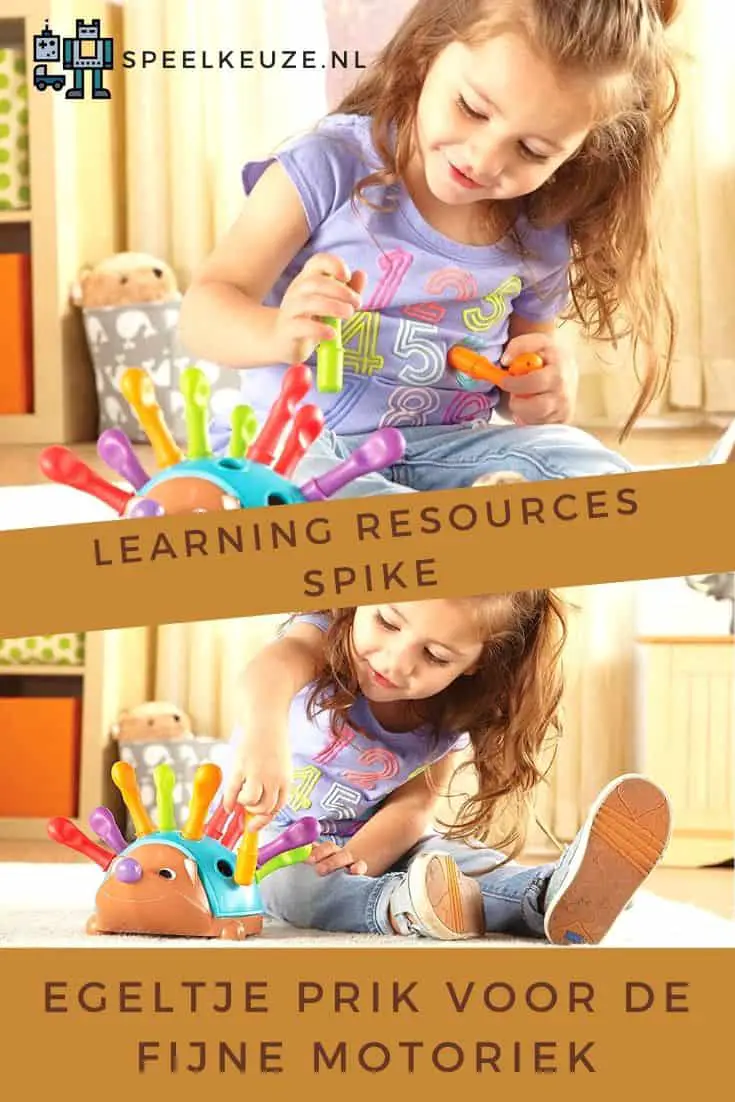 Beading beads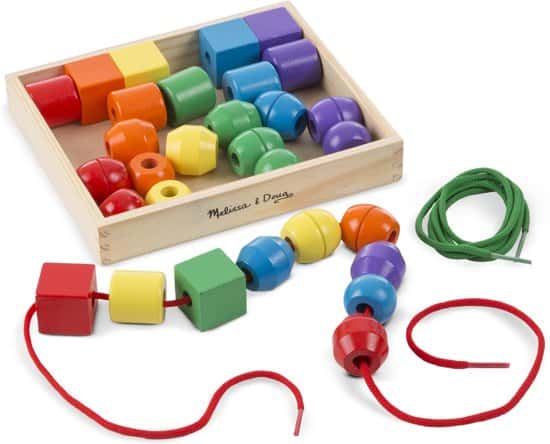 Did you have a toy with beading beads as a child?
They even had great motorbike toys when we were little!
This is a classic toy for fine motor skills and also a great toy in the car!
Check prices and availability here
Apps to practice fine motor skills





For iOS



For iOS



For iOS



For iOS


Problems that can arise with fine motor skills
Children develop at different speeds. But there are milestones that they generally reach at certain ages.
Including the fine motor milestones.
For example, by the age of 5 or 6, children can usually copy shapes and letters and use a fork and spoon with control.
With 9 or 10, they can usually draw with tools, such as a ruler or compass, and use them without getting too frustrated.
But some children struggle with these skills for a long time.
Persistent problems with motor skills can be a sign of developmental coordination disorder (DCD), which people sometimes refer to as dyspraxia.
Children with dyspraxia, a learning delay that affects writing, may also have problems with fine motor skills.
Difficulties with fine motor skills are often not diagnosed until kindergarten when teachers see that children are having a hard time.
However, there are a number of things that you as a parent can do to help your children.
Children with poor fine motor skills can receive occupational therapy through healthcare.
You can also offer pencil grips and wide-lined paper for easier writing.
To prepare your child for learning to write, you can practice tracing zigzag lines and wavy lines to learn how to dose these hand movements.
You can also let your child follow the lines with his fingers. Tracing boards are also a nice tool to help your child make the same movements with both hands at the same time.
Frequently Asked Questions
How can my child easily improve fine motor skills?
By watering plants with a spray bottle.
By practicing grabbing and holding small objects with tweezers or pliers.
By stringing a chain of pasta or Loops cereal.
By letting your child cut figures (when can they actually do that?) in thick paper.
What skills include fine motor skills?
Pencil skills (scribble, color, draw, write)
Scissors skills (cutting)
Play and build skills with lego, duplo, puzzles, train tracks.
Taking care of oneself (tying shoelaces, putting on sandals, zippers, buttons, fastening belts).
What types of motor skills are there?
Gross motor skills are involved in movement and coordination of the arms, legs and other large body parts. It involves, for example, running, crawling and swimming.
Fine motor skills are involved in smaller movements that occur in the wrists, hands, fingers, feet and toes.
Are pinching movements good for fine motor skills?
Yes. Young children need time to develop their fine motor skills in everyday situations. Fine motor skills are the small movements of muscles where the hands and fingers are used together to perform a movement such as squeezing or grasping.
Is painting good for fine motor skills?
Painting helps develop muscle control. Working with a brush or small tool helps develop fine motor skills (small muscle control). Painting on large sheets of paper or on an easel in turn helps develop gross motor skills. Painting also helps develop your child's hand-eye coordination.
Conclusion
Children use fine motor skills to color, write, and perform other activities they deal with in school.
Persistent fine motor problems can be a sign of developmental coordination disorder and occupational therapy can help children improve fine motor skills and there are also fun activities you can try at home.
Psychomotor is the conscious movement controlled by the brain. From the Greek comes the word psyche (mind) and motor skills which freely translated means the combination of "mind" and "movement".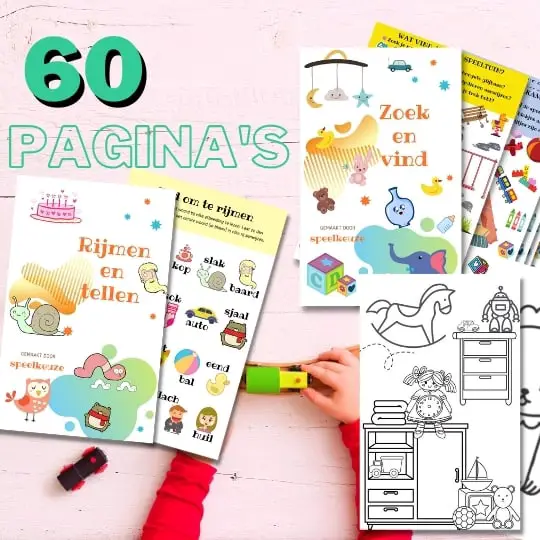 Always something to do for the holidays or rainy day?
Play Choice now has the ultimate activity book collection, with over 60 pages of fun coloring pages and educational puzzles.
Joost Nusselder, the founder of Speelkeuze.nl is a content marketer, father and loves trying out new toys. As a child he came into contact with everything related to games when his mother started the Tinnen Soldaat in Ede. Now he and his team create helpful blog articles to help loyal readers with fun play ideas.