Best outdoor toys for the garden: 13 toys reviewed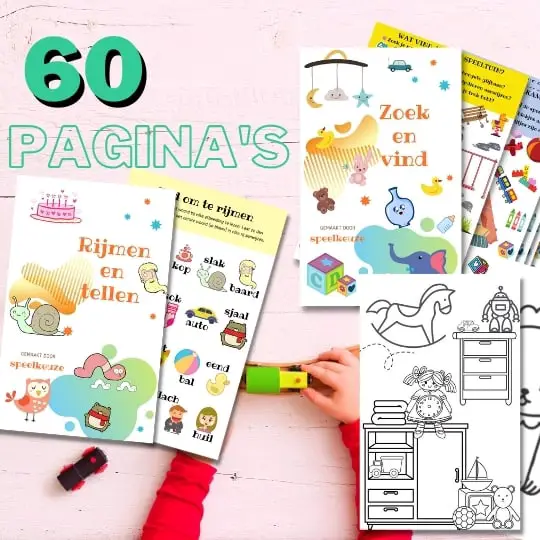 Always something to do for the holidays or rainy day?
Play Choice now has the ultimate activity book collection, with over 60 pages of fun coloring pages and educational puzzles.
Children naturally have an urge to play outside and that is a very good thing, but only if they also have fun things to do outside.
The outdoor toys that were played with the most in the test were this BIG Power Worker excavator. The most fun between 2 and 6 years old and not that expensive at all for such a large machine that they can ride on. They can move everything from natural sand to pebbles that we put in the Outdoor have and each other toys (the wooden blocks also do service again though!)
In this article I will look at popular outdoor toys, which are also good for the development of your child.
However, we have more good recommendations for you. To put everything together, we have an overview of our favorite outdoor toys:
Watch the top 4 in our video or read on to learn more about each of these picks:
What should you pay attention to when buying outdoor toys for your garden?
Children can do with the right outdoor toys:
discover their environment,
develop their thinking and self-confidence,
but also their physical and motor (hand-eye) coordination is stimulated.
Playing outside is always fun and that includes the best outdoor toys.
Playing outside is not only very important for every child, but is simply a very enjoyable activity that will give all children of all ages the greatest pleasure.
Of course children grow fast and what they like or toys are suitable for them differs almost every day.
We have therefore tried to highlight fun toys for different age categories.
We also have a number of items for you that are (age) timeless, which can even be played with the whole family.
Oh, and for fun playing outside it doesn't always have to be nice weather! After all, we live in the Netherlands and sometimes it will be a bit colder or rainy.
Being exposed to different weather conditions is only good for your child's immune system.
So send them, well dressed of course, outside even when the weather is not radiantly sunny.
Climbing equipment: physical development
Your child will enjoy playing outside with the best outdoor toys.
The fun playground equipment guarantees many hours of entertainment and enjoyment for your toddler or toddler.
With the outdoor toys, your child will be happy for a long time because of the different climbing, sliding, digging and crawling options that the different playground equipment offer.
The products mentioned offer numerous activities for your little ones and will keep them busy for a long time.
Toddlers and pre-schoolers get their money's worth and can have undisturbed fun while enjoying the outdoors.
The fresh and vibrant colors of the climbing frames attract and provide the necessary dose of activity, energy, adventure and imagination for your child.
Children simply have a lot of energy and have to be able to put it somewhere.
Build Fort: stimulation of creativity and imagination
The Fantasy Fort XL Edition - Playhouse is a great alternative to our # 1 favorite pick, as the construction set still offers versatility and adventure.
What child doesn't like building huts? This is really something that plays a role in every childhood.
Your child can really unleash his or her fantasy on these structures.
At the end of the day or play session, the game can easily be stopped again, so that it does not get in the way for weeks.
So tidying up and storing is done in no time.
Another nice thing about this toy is that your child grows up with it, because it is suitable for the age category between 4-8 years. It can certainly be used for a game that an older child shares with his younger brother or sister.
Stimulate different activities
To stimulate your child to spend time outside as much as possible, you offer as many options for playing as possible.
As mentioned, kids like things with wheels.
So if they have outgrown the walking scooter, they can go out on a bicycle, but also for example roller skating or a cart can be great fun.
Or better yet, you get to work with the kids to build a soap box of all kinds of materials that you have around and then of course enjoy racing!
Speed, creativity, excitement and adventure. In the child's imagination, anything is possible and the world is a great playground.
Make sure that your child moves in this with confidence and curiosity. Beautiful outdoor toys contribute greatly to this.
Especially if you play along as a parent!
Also watch: the best play tents for baby, toddler and toddler
Playing outside with water
Finally is the ultimate outdoor play, especially on a beautiful summer day, often related to water.
Whether this is due to the sprinkler (or this toy that you can plug in) running on the lawn means, or a war with water pistols and water balloons, or a nice paddling in a private pool in the garden.
Water may be the ultimate outdoor toy. So give your kids the opportunity to work with this.
And if they get a little dirty, that's okay!
Best outdoor toys rated
What makes us like the above items so much? Here we go into more detail about the benefits and enjoyment of our favorite outdoor toys.
We are sure that these products really make children happy and here's why!
There are so many ways to go with this fun digging toy for them to sit on
There are those kids who simply can't get enough of excavators, cranes and other construction toys (we've reviewed the best here). For those kinds of children there is the BIG Power Worker Maxi Loader.
It is a sturdy construction that your child will certainly not sink through. My son was 2 when he got it and could just barely reach the ground but thought it was absolutely beautiful.
For example, you can skim something, such as sand, from the ground, lift it to a reasonable height and then fold it down and dump it into a box or container, for example.
In any case, my son was still much too young for the tilting of the slide valve, but that didn't spoil the fun.
Very nice toys, especially for children who love construction machines.
Everything you need to work in the garden
In XNUMX, when your child likes to create and help you with gardening, then this wheelbarrow and garden set from Bosch is one for you.
There are even little gardening gloves included to make it just as real as Mom's or Dad's.
Inexpensive but sturdy enough for the outdoors
What nice cars!
For all those hot summer days in the garden
There are to get a lot of water tables nowadays and so, even if you already know that you want to buy a water table for your garden, you still don't know what you need at all.
We also had the same dilemma when we went to buy one. What I saw right away is that Little Tikes really is at the top of outdoor gaming tables.
The brand is the most sold on bol.com and also has the best reviews, but there are still a lot of options. I think it boils down to looking at how old your child is and where his interests lie.
For example, we doubted about a water table with water cannon because that idea was just so cool! But in the end we didn't because our son is just too young for it.
Furthermore, a nice slide for the water and we can also use it perfectly as a sand table for those days when it is just not warm enough outside for water.
For the younger kids
The small climbing frame is very solidly built and will last a very long time.
It has various parts that will give you hours of climbing and crawling fun, even when the child gets older.
With simple instructions, you can set up the jungle gym in the garden in one go and you're done.
You don't have to worry about it collapsing because the parts fit together perfectly and won't come off.
Colorful climbing frame with a walkway, slide if you don't want to buy a separate one for the garden and a tunnel. The climbing frame is made of plastic and is easy to assemble. It has a weight of 33kg.
With this climbing frame your child will be able to develop his or her physical motor skills and have fun adventures.
Despite the small size of the toy, it offers many possibilities so that you can put it almost anywhere.
We chose the Little Tikes Expedition Climber - Climbing Frame as one of the best options.
This colorful climbing frame has various parts that your toddler or toddler will enjoy for hours.
The climbing frame has a nice walkway, a slide and a tunnel. Enough activities for your little explorer.
With this climbing frame you are assured of a lot of climbing and crawling fun.
This product is from the well-known brand Little Tikes and comes in a package with separate parts, which you have to assemble yourself.
With a little insight and perhaps some help from a second person, you can set up the structure quickly and easily and your child can quickly get started with playing.
The Little Tikes Expedition Climber - Climbing Frame is going to be really fun. You step up comfortably on the rope walkway.
From that point you can quickly slide down, and then crawl into the tunnel to the next adventure.
Safe and durable material
The climbing frame is made of durable plastic that is very sturdy and will last a very long time.
No matter how hard your little one might climb or stamp, the climbing frame is stable and will not fall over.
The parts fit together perfectly and form a robust whole once they are in position.
You can simply place the climbing frame on any surface, it must be flat and free of obstacles.
It is suitable for a stone surface, a sand surface, but also fits nicely on the lawn.
Also suitable for smaller backyards
This freshly colored climbing frame will certainly fit in nicely with the rest of your garden. Furthermore, this climbing frame fits easily in a small backyard.
The dimensions of the small structure are 1.75mx 3.5mx 1.25m (L x W x H).
The design is the perfect size and is suitable for children between 2 and 6 years old.
Your child can experience his own adventures and enjoy the various possibilities, or with other children there is of course also fun.
The price of this climbing frame is in good proportion to the quality.
If you decide to purchase this outdoor toy, you should definitely see it as a good long-term investment.
Spread the costs over the period of the number of years that your child will enjoy the climbing frame and you will notice that it is not too bad per year.
Since we agree that playing outside is very important, you will also agree with us to start as early as possible.
The climbing frame stimulates your child to explore and be active outside at an early age.
The best outdoor toys that we also definitely recommend are the Fantasy Fort XL edition – Speelhuis. We think that definitely deserves a second place, because the toys have a nice concept of creative building.
The child can build countless types of fortresses all by himself and have fun with them for hours and in various forms. This product is for children between 4 and 8 years old.
Because you can build and dismantle the playhouse with ease, it is perfect for use in a garden that does not offer many options in terms of space.
After an afternoon of playing, it becomes playhouse (which is often not possible with others) just disassembled and put away. This frees up your garden for other activities, plus because of the material you also want to clean it up quickly in bad weather.
We think this is a great deal for a toy with many possibilities and that you can use both outside and inside!
With the 32 cardboard plates, 32 connecting pieces and 2 rolls of Velcro from which pieces are cut, you can build a real fantasy fortress.
Dimensions per plate 57x57cm, some with "window slot".
From about 3 years, children increasingly explore and discover the world around them.
They increasingly interact with the objects around them and also want to shape and bend them to their will.
This builds self-confidence, stimulates creativity and develops spatial awareness.
The Fantasy Fort XL edition – Playhouse addresses exactly these aspects and is therefore a fantastic toy to purchase for your kids.
What we like about these toys are the possibilities that the toys offer. Children will really enjoy this for years to come.
What is the Fantasy Fort?
The complete package of the XL edition of Fantasy Forts contains 32 large cardboard plates. Each plate has a size of 57x57cm.
The package also includes 32 connectors and 2 rolls of Velcro to cut into pieces yourself.
It may take some work to assemble everything for the first time, but then you have something!
The panels are printed and appear to have a wood structure, so that the final whole, in whatever form, really looks like a fortress.
With these components, your child can really create endless different combinations of walls, fortresses, tree houses and other structures.
Anything is possible with this imaginative toy
This handy toy is very easy to use, quick to set up and multi-purpose. It gives your child the opportunity to let his or her imagination run wild.
With the simple concept of connectors and Velcro, your little architect will build a fort or tree house in no time, so that they can have great adventures and lots of fun.
Children just love to play house. So why not a fortress?
It is a great fun game for several children to play with at the same time, but your child will also be able to enjoy it alone.
The children are not only creative, but also learn in a playful way how to build something from scratch.
For outside but also for inside!
Besides the fact that you can use this practical package well as an outdoor toy, your child can also build beautiful creations at home.
Your child no longer has to wait for the warmer days to enjoy these beautiful toys.
For the older kids.
Beautiful wooden climbing frame with swing, slide, climbing house and sandpit with various set-up options.
We also have a great option for slightly older children.
In addition to climbing, sliding and swinging, you can also have fun with this climbing frame and frolic in the sandpit.
This playground equipment is a composite wooden playground equipment that can be set up in various ways and offers fun activities to your child.
The spacious sandbox under the tower is a nice touch where children can go about their business and dig and dig in the shade when they get tired of sliding and swinging.
With the stairs you enter the tower and you can see what is happening below. Then slide down in one go and then try out the swing again.
In short, there is a lot of action with this climbing frame.
This playground equipment is ideal for slightly older children up to 12 years. Older children can use this play equipment (reviewed more here) lovely to romp and frolic.
But smaller brothers and sisters older than 3 years can certainly participate. But then under the supervision of mom or dad.
The child-friendly playground equipment has a beautiful design and is well finished. All parts are 100% safe for every child.
Nice addition to the TinyWave climbing frame above, a tumble bar with 2 bars. Dimensions: 280cm wide x 9cm deep x 240cm high.
The wooden posts go 90 cm into the ground. The weight is 36 kg.
The great thing about this climbing frame is that it is a basic piece of equipment. That means that you can expand it to an even bigger and more fun play setup.
You can add various items such as an extra swing or a rope ladder and even an extra tower to create a fortress effect.
For this extension to the model, you need a little more space in the backyard.
The Double Tumble Bar is a great extension option for older children who like couple tumble (from this age they can do it!).
This is a perfect device for developing your child's physical motor skills.
Couple diving promotes coordination in the arms and legs, but it also trains muscle mass.
It is an ideal playground equipment for children up to 12 years old. Because it takes up very little space, this is a very good choice for a small garden.
It has two tumble bars so that two children can tumble down at the same time.
Your child will have the time of his life looking at the world upside down and exercising his arms and legs at the same time. It doesn't get any better than that!
Sturdy green sandpit with a turtle-shaped lid. Suitable for children from 1 year.
The container fits about 70 kg of sand, dimensions: 111x109x30 cm.
Together with the climbing frame, the funny-looking sandbox forms a complete small playground that your child can enjoy every day.
The sandpit is shaped like a turtle. Because of its nice design and green color, the sandpit fits nicely in the backyard as an extra playground.
The little ones can play in this from 1 year. Your little one can dig and scoop to his heart's content in the turtle sandbox.
Add some scoops and buckets and your child will have a great time.
But the slightly older children of the family can of course also come and shovel something in the sandbox.
In this way, the children learn to interact and play together.
The sandbox is not only a place for socializing, but also for fun learning moments together for brothers and sisters among themselves.
Nice lid to keep the sand clean
The sandpit also has a lid that fits perfectly on the sandpit and is light enough to open or close by the children themselves.
It is shaped like a turtle shell.
are you making the sandpit (best rated here) close then the thing looks like a true green turtle.
So if you have pets that also sniff around in the garden, you can happily seal the sandbox with the lid when your child has finished playing.
This way you will not encounter any unpleasant surprises the next day.
The lid is also useful when it rains.
Close the container quickly with the tight-fitting lid when it starts to rain and you prevent the sand from getting wet.
The sandpit is made of plastic and has wide edges on which the children can sit. The material is of good quality.
With products from Little Tikes you are guaranteed durability and long-term enjoyment.
Many more combinations possible
The Little Tikes brand has various types of toys for different ages and with different concepts.
That is why our number is an easy to combine product.
With other types of toys from Little Tikes you can make a real playground in the backyard.
You can expect the same quality and durability of the other Little Tikes products.
The pleasure that your child will experience is always a hit with every product of theirs.
A very nice wooden walking scooter adjustable to 3 heights. Dimensions: 82 x 37 x 58 cm.
In addition to climbing and clambering, children also enjoy driving around, playing games together and, of course, getting busy with water.
We have a number of recommendations for you here if you are looking for fun outdoor toys for your child.
The Netherlands is a cycling country and you cannot start early enough to give children wheels.
A balance bike is a fantastic way to get children used to a two-wheeler from an early age and the balancing and motor skills that go with it.
It is also one of the top balance bikes in our review because of its playful appearance and affordable price.
This cheerful and sturdy wooden walking scooter from Little Dutch is suitable for children from the age of 2 and they will be able to enjoy it until about the age of 4, when they will probably be ready for a real bicycle.
With this walking scooter the little ones can race around outside or inside.
With a little speed, they can even pull their legs up and get a taste of the balance that you can achieve on a two-wheeler!
The bicycle can be set in 3 heights and has a nice soft saddle.
Outdoor Play Kubb game, made of birch wood, with handy carrying bag and game rules.
Are you looking for something that you can play outside with the whole family? Then the Outdoor Play Kubb Game is certainly a classic that will appeal.
The whole family can participate in this fun Swedish game where everyone is on their own.
Kubb's goal is to knock down all of the opposing team's base towers with the throwing sticks first. Then you attack the king!
This version of Kubb comes with a handy baby carrier and extensive game rules.
The game itself is suitable for everyone from 5 years old. However, even the smallest will be only too happy with these beautiful birch wood blocks (good for practicing with their hands like with these top picks) get to work.
You simply leave out the rules for your little toddler.
With their own childish imaginations they will be able to create structures for hours, with the king at the top!
Sweet baby pool in the shape of a mushroom, with an inflatable bottom and a sunroof. Dimensions: 89x102x89cm
Ultimately, we are convinced that everyone loves the water.
What could be better than splashing around in your own garden on one of those first sunny summer days?
We have found two great options for you to enjoy a swimming pool in your own garden.
For the little ones
Your baby undoubtedly loves to play with water. Small children love to play with water.
It feels so nice and fresh to the skin and really anything is possible with this fantastic stuff!
Do you want to let your little one bathe safely outside? Then go for the Intex Mushroom Baby Swimming Pool.
This cute, good quality tub from Intex is sure to provide hours of poodle fun.
It has an inflatable floor and a nice sunroof, so that your little one can play sheltered even on sunny days.
The fun mushroom gives the whole a very cheerful look.
Ideal set-up pool for the garden, with sturdy metal frame and a blue vinyl lining. Water capacity 1200 liters. Size: 221x150x43cm.
Now it gets really fun. When the summer is in full swing again, you can set up the Intex swimming pool nicely. Here you can enjoy the fresh water with the whole family.
Young and old will be able to splash around in this pool.
It holds no less than 1200 liters of water and has a sturdy metal frame so that it can be set up very stable in your backyard.
A filter and pump are included, so the water will be easy to keep clean.
So invite the friends of your kids and the children from the neighborhood to come and enjoy this beautiful outdoor toy.
Hours of fun are guaranteed!
Conclusion
Whichever option you choose as the best outdoor toy for your child, we as parents agree that playing outside has a lot of benefits.
We have seen that playing outside is not only fun, but is also healthy for the physical and mental well-being of your child.
Why play far from home when you can do it in your own backyard?
So feel free to create your own play paradise in your own familiar environment with one or more of our recommendations.
The choice is huge, but as long as you start early enough by encouraging your kids to play outside, you will see that the best options will be found quickly.
The sooner your little ones start discovering and learning about the outside world, the better this is for their further growth and development.
Your children will only benefit from playing outside, and certainly with the best outdoor toys.