The best scrapbook accessories | This is what you need to get started
I enjoy writing these articles for my readers, you guys. I don't accept payment for writing reviews, my opinion on products is my own, but if you find my recommendations helpful and you end up buying something through one of the links I may be able to receive a commission on that.
More information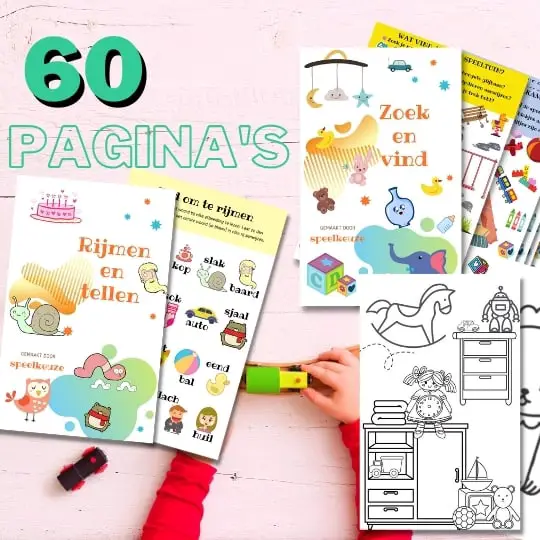 Always something to do for the holidays or rainy day?
Play Choice now has the ultimate activity book collection, with over 60 pages of fun coloring pages and educational puzzles.
Before there were digital cameras, we had scrapbooks. And even now, 'scrapbooking' still is a personal and enjoyable way to capture your favorite thoughts and memories.
Did you know that scrapbooking dates back to the 1800s? And the process hasn't really changed, we make a piece of art and paste it into a book.
Now, especially a revival among school children and teenagers in recent years has ensured that the popularity of scrapbooks will continue.
Even 'Poppy' from the movie Trolls loves scrapbooking!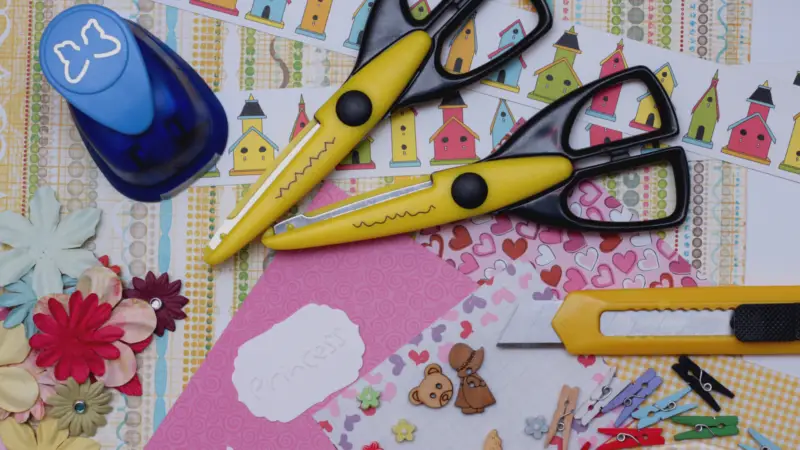 Whether you're putting together an album of memories or creating a portfolio of your best work, scrapbooking is the ultimate way to isolate, relax and create beautiful handmade pieces.
The cost of scrapbooking is relatively low once you have everything you need.
However, there are some basics that every scrapbooker should have before getting started.
So to make your life a little easier, I've put together a list of the best scrapbooking accessories of 2021.
I think Our adventure scrapbook the best scrapbooking album so far, suitable for everyone's own adventures. This beautiful album has 40 sturdy sheets, but can also be expanded and it comes with beautiful stencil and sticker sheets so you can get started right away.
But more on this later, first I want to show you my list of favorite scrapbook accessories!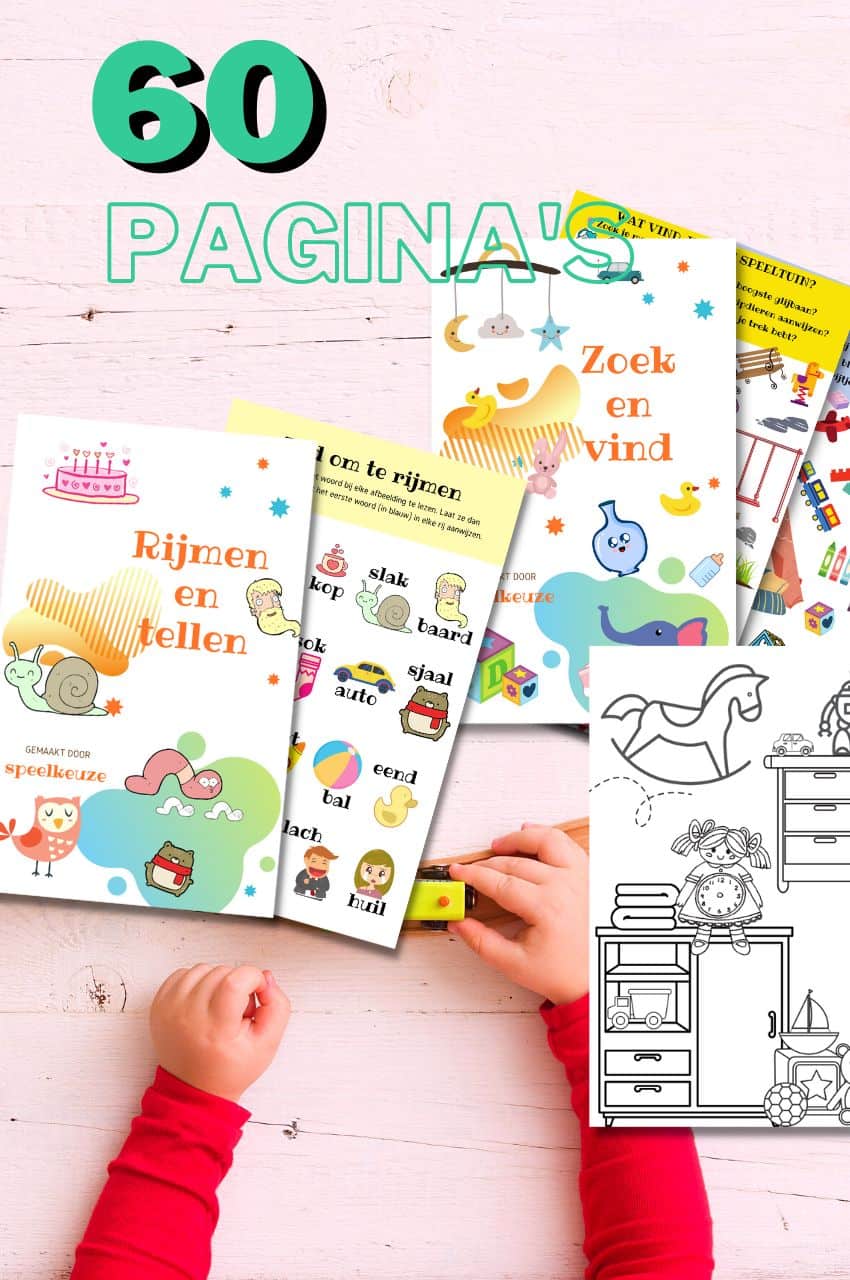 A play theme in your mailbox every month?
Fun play tips, activity books and more, with the first email being our free mini-guide "educational toys"
We will only use your email address for this newsletter and respect your privacy
What do you need for scrapbooking?
It goes without saying that you need a decent scrapbook to create your album. There are many to choose from, but there are a few things to consider before buying the right one.
is the book big enough for what you are going to make?
does it have enough pages?
is it sustainable?
Of course you want to put together your scrapbook in all kinds of fun ways. There are a lot of nice details to add in terms of decorations, but then you need the right tools to work with.
You are going to make a scrapbook, probably using photos, if so make sure you have the following items at home:
a good quality and durable scrapbook that can be completed with acid-free refill pages, so that no distortion occurs
acid-free glue so as not to damage the photos
In terms of tools to make decorations in your book you will need:
a sharp craft scissors
a waterproof marker or fine marker, possibly in different colors
a hobby knife
Nice additions for decorations can be:
colored sheets of cardboard
sticker sheets
colored sticky diamonds
I will tell you below what I think are the nicest and best work and hobby materials.
There is a lot to be found online for enthusiastic DIYers, you can make it as crazy as you want!
Also read: Best father-daughter activities | Top ideas for fun things to do together
The best scrapbook accessories reviewed
With so many options, how do you know which products are right for you?
I will discuss my favorites with you, so that you can make choices more easily.
Best scrapbooking album: Our adventure scrapbook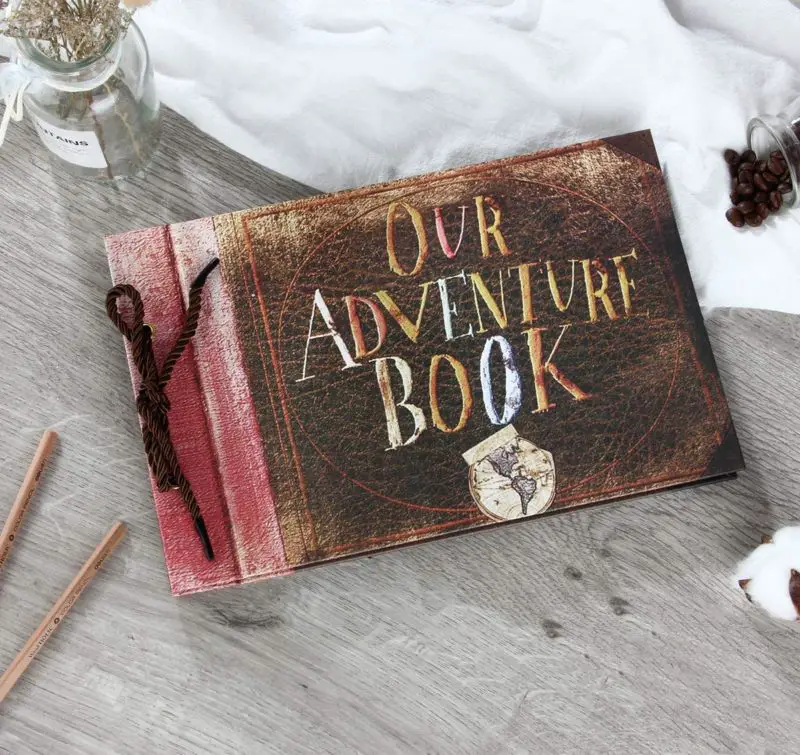 The cover accentuates the cool, adventurous style of this 'Our adventure scrapbook' album. It is also a smooth and hardwearing cover that will protect your precious photos for a long time to come.
The pages of this beautiful album are acid-free, so your photos will last a very long time.
This photo album is great fun to record your adventures in. Whether it's a wedding, birthday, holiday or anniversary, it's your adventure!
The heavy pages measure 29 x 18,5 cm (between A5 and A4) and are perfectly suitable for more than 150 photos, leaving still some space to write on the paper and put on some stickers.
The album comes with two sticker sheets, two stencil sheets and two sheets with photo corners. So you can get started with scrapbooking right away!
It's great that 20 extra scrapbooking kraft paper pages can be added this the photo book with the handy lacing.
scrapbook size 29,5 x 19 cm.
40 sheets 29 x 18,5 cm, so 80 kraft paper pages
acid-free
refillable
Check the latest prices here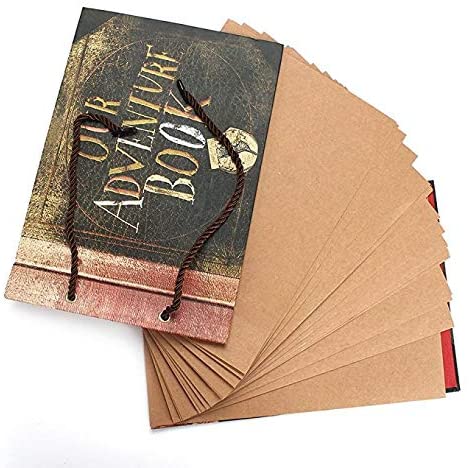 These Kraft card sheets for the 'Our Adventure' scrapbook are therefore a handy refill for the album.
They are sturdy, acid-free pages: the photos are protected from air oxidation, the scrapbook material will not damage the photos.
You can keep your precious memories that way for a very long time. Expand your Adventure scrapbook even further!
Check prices and availability here
Best Double-Sided Scrapbook Paper Bundle: Echo Park Welcome Baby Boy Paper Pad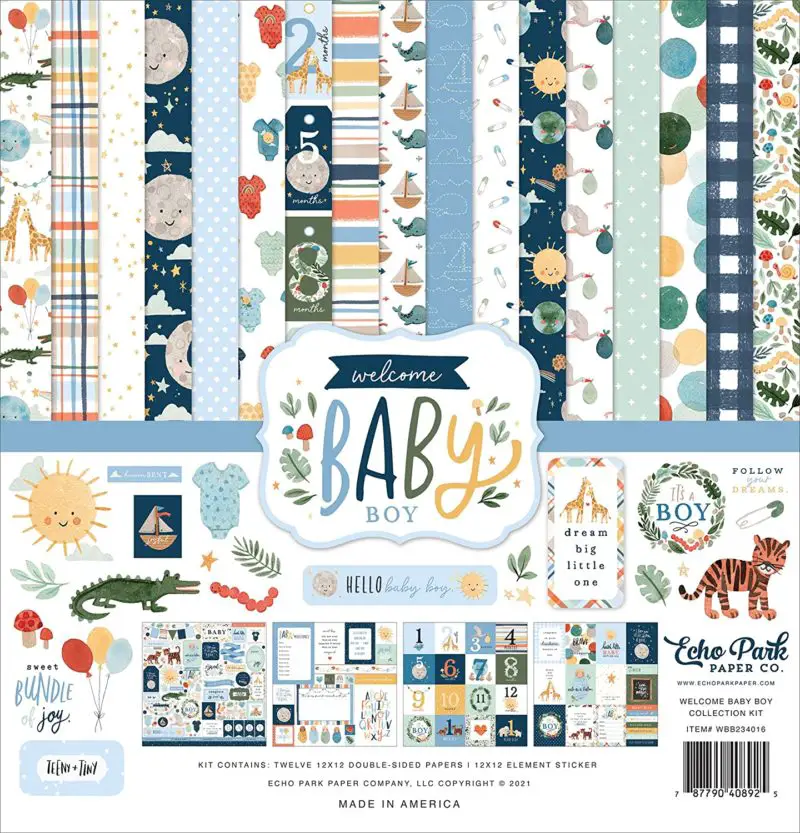 This beautiful Echo ParkPaper Company Baby paper has 24 double-sided sheets with baby motifs.
The paper has images with fun texts, stickers for all months in babys first year of life and beautiful motifs. This way you can make a beautiful memory book for your little one.
Scrapbookers generally love the Echo ParkPaper Company themed products for its quality and price.
It's acid-free paper, so photos are safe, and it fits in nicely with current baby trends.
size 15,2 x 15,2 cm
acid-free
24 double-sided sheets
Check the latest prices here
Best Scrapbook Craft Scissors: Tonic Studios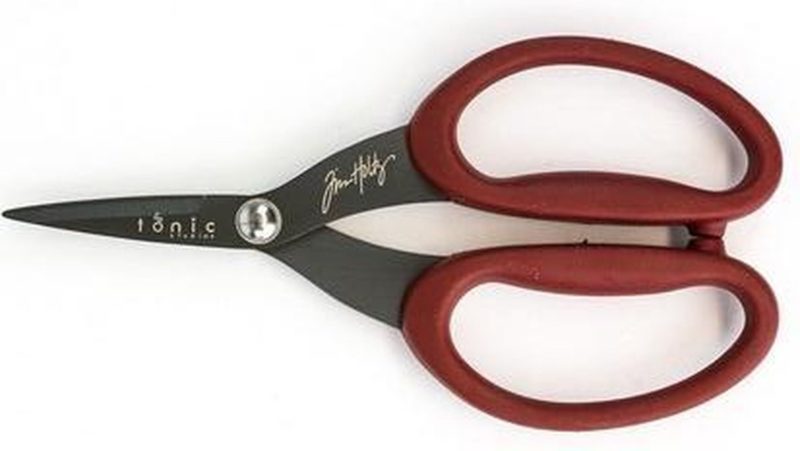 However, you can't cut out the beautiful sheets with or without themed products if you don't have perfect scissors.
Every scrapbooker, whether you're a beginner or a pro, should have a decent set of small scissors.
While you probably have a larger pair of scissors in your cutlery drawer, smaller scissors are a must have for any scrapbooking project.
These Tonic Studios scissors are perfect for detail cutting and come with a non-stick coating meaning it's very easy to cut through materials that have a tacky layer.
The scissors are titanium reinforced and their steel blades are designed to give a precise cut and maintain their sharpness for years to come.
Ideal for cutting tight patterns and making quick snips through a wide variety of materials including paper, cardstock, tape and more.
The double loop handle provides excellent control for both right and left-handers.
A customer writes enthusiastically:
I have two small and one large and they are the sharpest scissors I have ever had, I cut a lot and they are great for that! I told a few friends about it and they ordered some too and were just as happy with them as I am! Don't take my word for it however, so… buy them and try them!
sharp hobby scissors
suitable for multiple materials, including sticky ones
titanium reinforced
suitable for right and left-handers
Check prices and availability here
Best Double-Sided Tape: Multi-Size Double-Sided Tape Set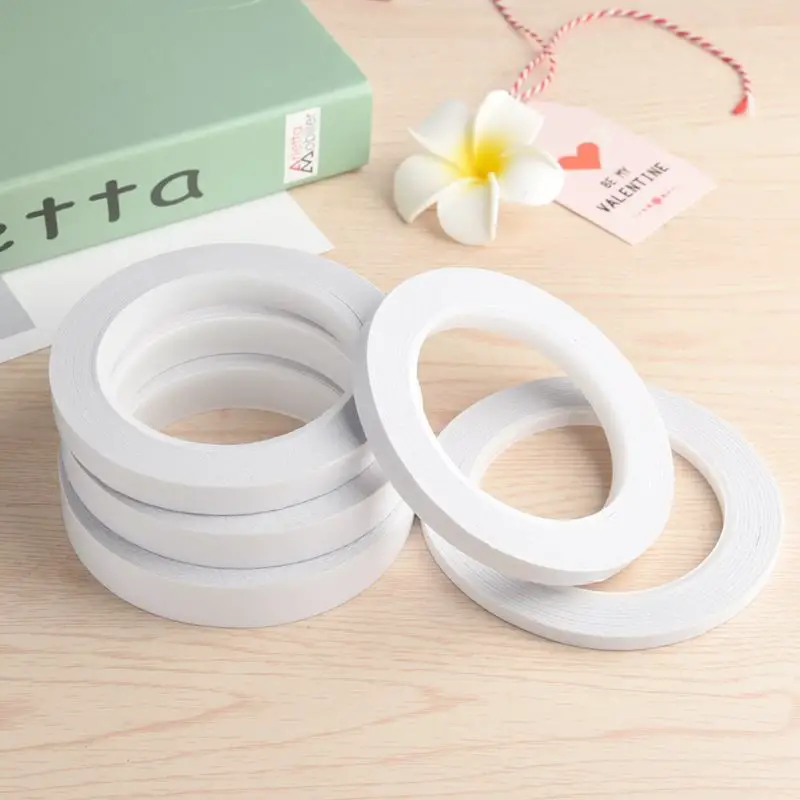 When joining multiple layers, it's important to make sure the glue you use is safe and acid-free.
This double-sided tape is suitable for this and much more. With this set you get no less than 6 different widths, from 6 to 18 mm.
This way there is the right size for every application and you don't have to cut it.
The tape is perfect for scrapbooking, greeting cards, embossing, glitter appliqué, box decorating and anything else you can think of!
The tape is acid-free and the glue is heat-resistant. Always make sure that the surface on which you use the tape is clean and free of grease.
It is a must have for every craft box and with no less than 25 meters of tape, you won't run out quickly.
acid-free tape
safe for delicate materials
25 meter length
Check the latest prices here
Also read: 50 fun Silhouette cutting plotter project ideas for endless creativity
The best waterproof tip marker: SAKURA Pigma Micron Fineliners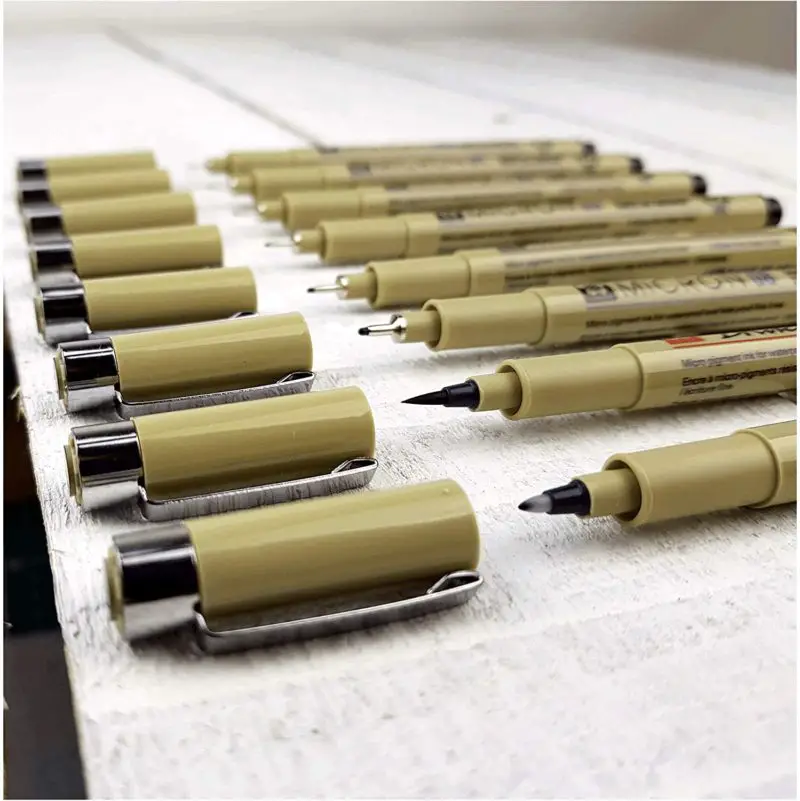 A good pen set like this SAKURA Pigma Micron Fineliners kit is one of the best scrapbooking accessories you can have in your craft box.
Writing is as much a part of the scrapbooking process as choosing the photos and putting the layout together.
It is therefore important that you use colorfast, waterproof ink that is also acid-free and of archival quality. A set like this with no less than six black fineliners gives you the most coloring and writing options as a beginner.
As an added bonus, a brush pen and an everyday pen are included for even more creations.
The pens are of good quality and will not dry out quickly.
acid-free ink
colorfast
waterproof
Check the latest prices here
The best acid-free scrapbook glue: Aleene's Original Tacky Glue

This non-toxic glue - Aleene's Original Tacky Glue - is incredibly versatile, ultra strong and flexible.
It dries clear and is easy to clean. I find this glue great for use on fabric, silk, jute and paper, but also great for gluing on decorations.
The glue is also suitable for gluing wood, metal, glass, ceramics, paper, porcelain, polystyrene foam and most plastics.
Aleene's glue dries flexibly and is quickly and easily removed with water. Its non-toxic formula makes it your best choice for a variety of surfaces
Check the latest prices here
See this versatile glue introduced here:
Most beautiful scrapbook rhinestone sticker sheets: Gemstone Stickers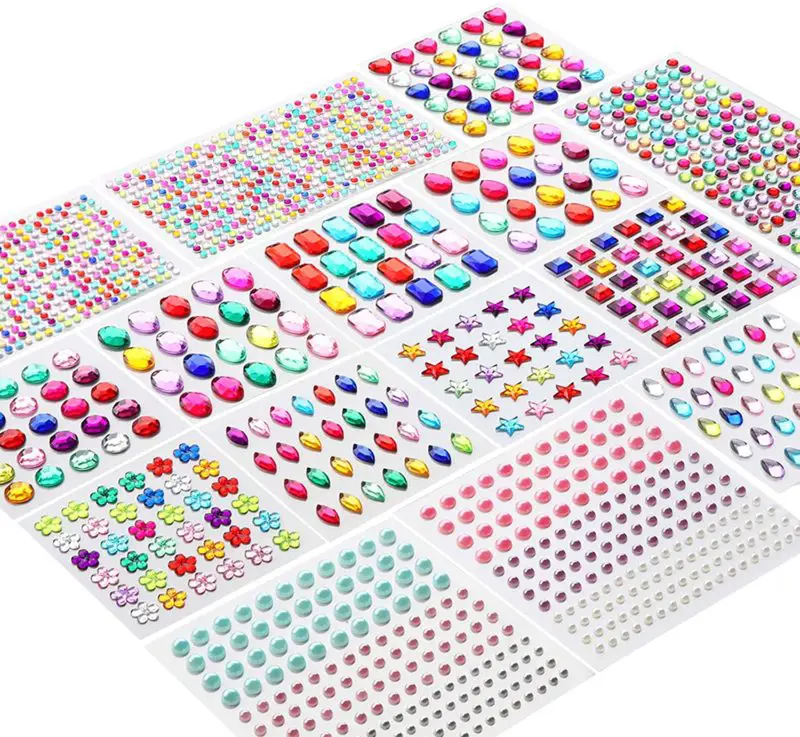 This sticker sheet set with a variety of colored rhinestones contains 15 sheets of colorful self-adhesive diamond stickers, in various sizes, colors and shapes: square, heart-shaped, pentagram-shaped, teardrop-shaped, round or flower-shaped.
You do not need glue or tape, just make sure the surface is clean and press firmly on the diamond for three seconds, it will adhere better.
The stones are suitable for various do-it-yourself projects, as scrapbook decorations, but also as decoration on other hobby projects.
Best scrapbook craft knife: Fiskars Art craft knife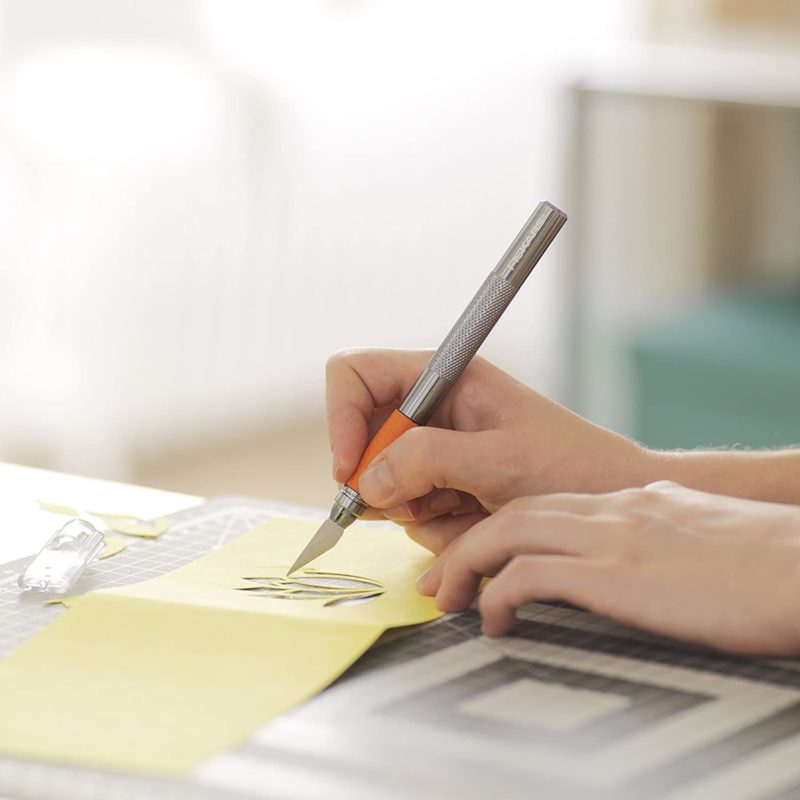 Nice and sharp stainless steel hobby knife for avid hobbyists and graphic artists.
I personally think the blade is great for accurate cutting of both thin and thick materials such as paper, cardboard, plastic, but also certain textiles.
This Fiskars blade is suitable for right and left-handers and gives control to small and large hands when cutting, thanks to the colored SoftGrip handle. The sharp blade comes with a safe protective cover.
The blade itself is easy to replace and the holder is suitable for all standard blades, such as no. 10, 11, 16 and 17, it weighs 40 g.
Stainless steel knife
cuts precisely
Check prices and availability here
Cutest Animal Theme Scrapbooking: Animal Safari Collection Kit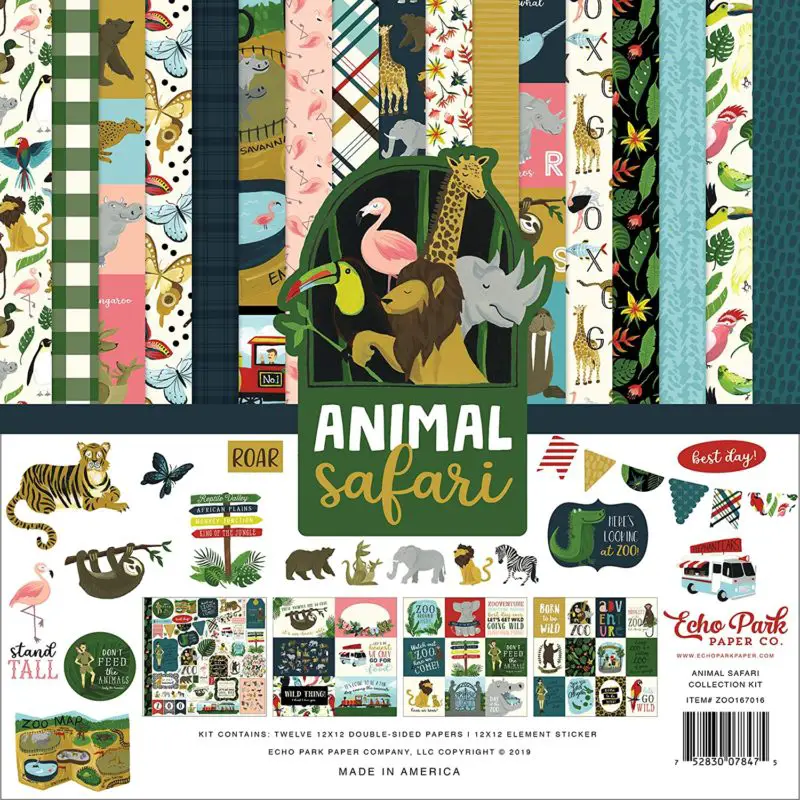 This stylish design paper Animal Safari (nice to use with safari toys!) Collection Kit from Echo Parck is great fun for projects such as scrapbooking, but also for making cards.
This package contains 24 (one-sided) sheets with beautiful motifs of flowers and plants, but especially colorful animals. The size of each sheet is 30,5 x 30,5 cm.
Would you like to make a photo/scrap book with the theme 'safari animals'? Perhaps with photo's of your favorite 'house tiger on safari'? Then this animal kit is really fun!
Check the latest prices here
Most original scrapbook: Explosion box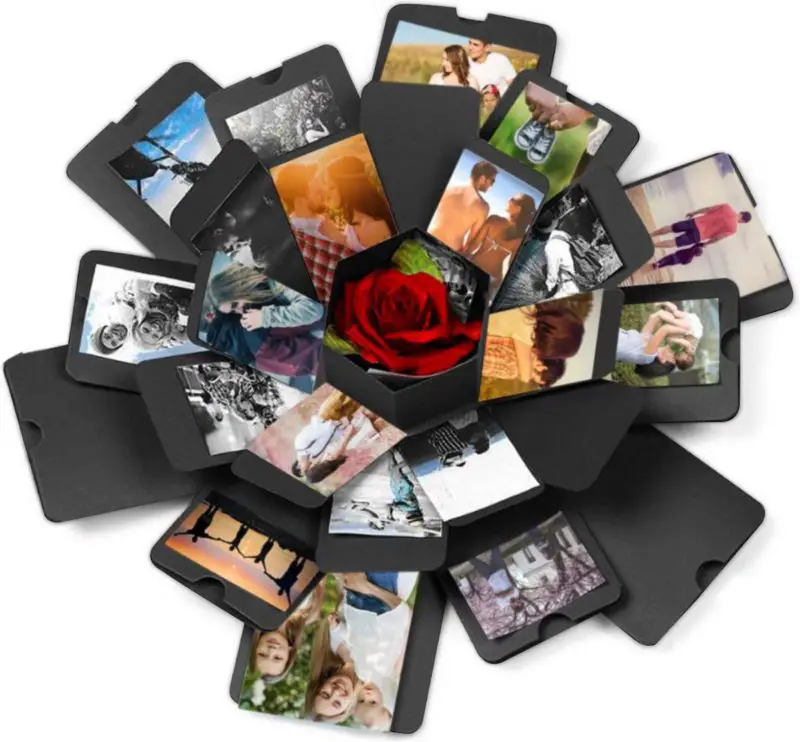 A beautiful gift this Explosion box, in the middle you can see a small gift box for perhaps a piece of jewelry, as an extra special surprise.
A romantic gift for an engagement, a wedding, birthday or for Mother's Day.
You can also put photos and letters in this scrapbook; opening this very special scrapbook is like an explosion of love and emotions, with a gift box in the middle.
The book is made of high quality paper and has more than 20 accessories to work with, to capture the happy memories between you and your loved one - partner, mother, father or friend.
When the box is closed, it looks like a gift box. Once opened you will see a beautifully composed scrapbook.
A satisfied customer writes:
Not just for the advanced crafter, it's an easy-to-use scrapbook!
Check the latest prices here
Nicest storage / holiday suitcase: ArtBin Art & Craft Organizer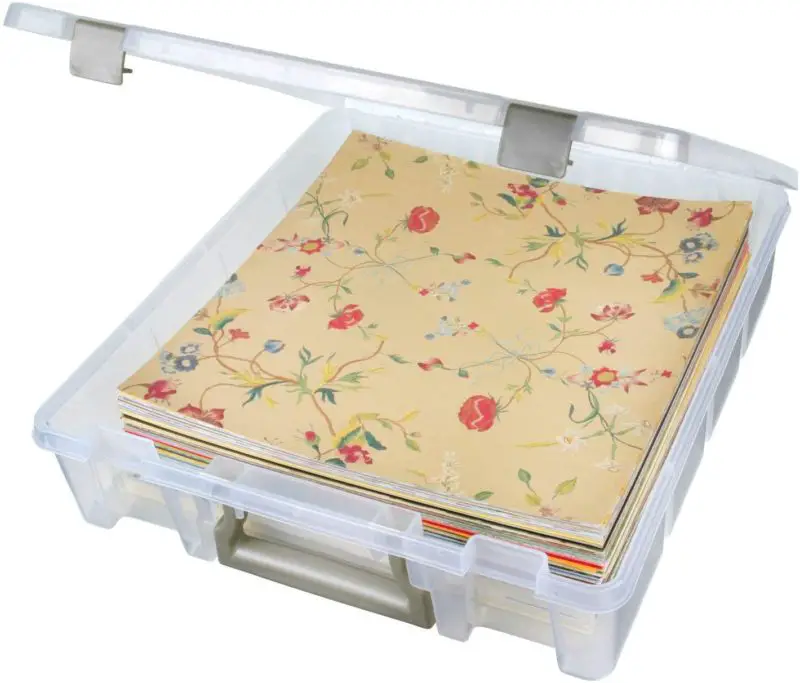 Nice sturdy craft case with good closure, so it can also be taken with you on a trip.
Great for storing and organizing your paper, fabrics, vinyl records, and all kinds of projects up to 30" x 30".
Check prices and availability here
Best holiday scrapbook set for kids: Travel Journal Europe for Kids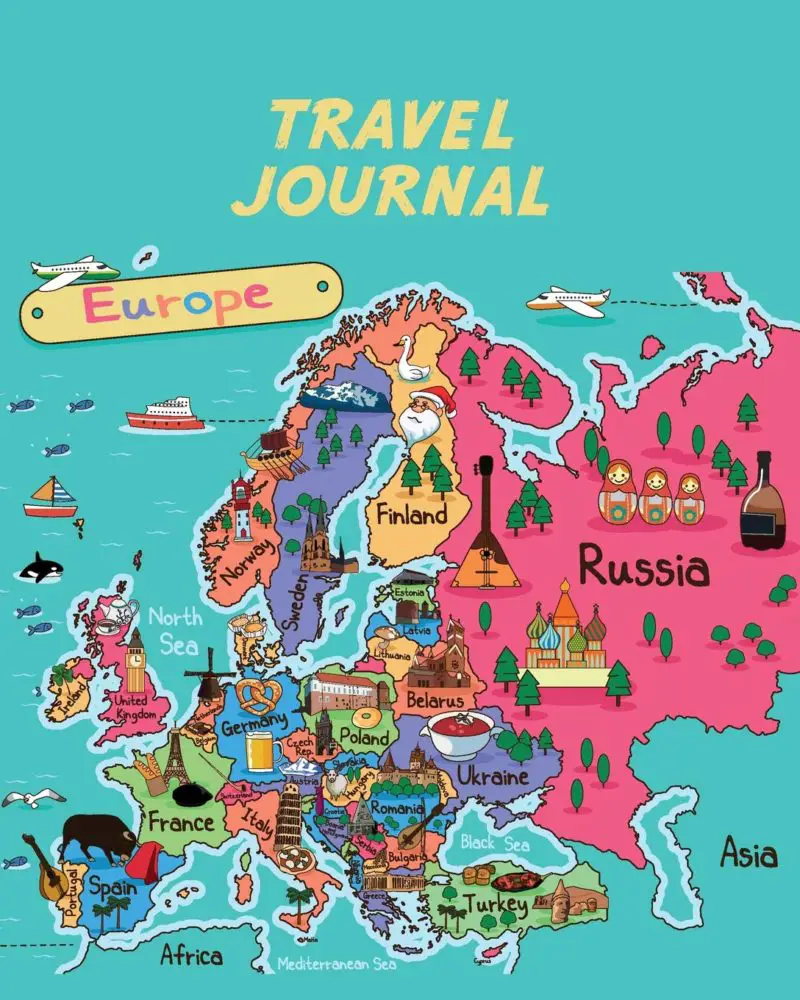 The Travel Journal Europe for kids travel journal for kids is a fun interactive book that's ready to use and to keep all your great memories, for example your road trips or family vacations.
Make a nice keepsake for the whole family during your trip! The dimensions of the album are 20 x 0.58 x 25 cm.
So this scrapbook has plenty of space to write, draw, paste in souvenirs and photos, turning your trip into a unique, creative journal and scrapbook.
Where did you go and what did you do there, who did you meet, why did you have fun?
With this holiday book you can:
plan trips on the annual calendar
create a vacation log
rate every day with mood emojis and stars!
Check the latest prices here
How much fun is DIY and scrapbooking?
Let's face it, we crafters love all DIY things. Whether it's scrapbooking, or other hobby and creativity projects.
Realizing DIY projects gives me a lot of satisfaction; if I can create something beautiful for someone, or sometimes for myself I enjoy it.
If you want to surprise your mother, if you want to honor your pet, but also if there is something to celebrate and you want to organize a flashy party, you can always craft beautiful decorations and an original and loving gift.
And then of course not just anything… but something that looks beautiful and professional.
Especially with scrapbooking you can literally offer all good memories a special place.
What you do need are the best and finest materials to work with. Spend some money on some good hobby scissors, craft knife and some nice decorations, you will be happy afterwards.
Again, always make sure you have acid-free paper and acid-free glue when working with photos.
I hope you liked my compilation of the best scrapbooking accessories. I've picked out my favorite and funniest accessories and added them to this list.
If you have any cool alternatives, let me know!
Scrapbook FAQs
How do you start as a scrapbooker?
You need the following:
scissors
waterproof fine liners or markers
cutting blade
paper in nice colors
glue (Aleene's Original Tacky Glue is my favorite!)
double-sided tape
pencil or pen
Google some nice examples and watch an instructional video full of inspiration:
What is scrapbooking paper?
Special scrapbook papers are paper sheets to tinker with, often acid-free – with fun motifs, themes and colors to add decorations to your scrapbook.
Why scrapbooking?
The goal of scrapbooking is usually to preserve beautiful memories for the next generations, in a creative way.
Also read: How can you teach and edit stop motion to children on the computer?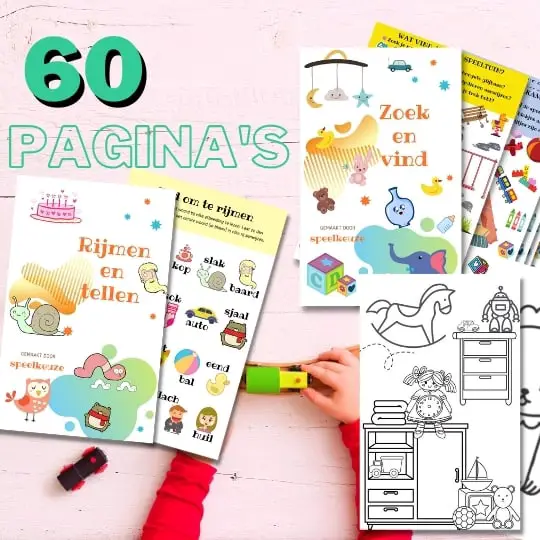 Always something to do for the holidays or rainy day?
Play Choice now has the ultimate activity book collection, with over 60 pages of fun coloring pages and educational puzzles.
Joost Nusselder, the founder of Speelkeuze.nl is a content marketer, father and loves trying out new toys. As a child he came into contact with everything related to games when his mother started the Tinnen Soldaat in Ede. Now he and his team create helpful blog articles to help loyal readers with fun play ideas.