I enjoy writing these articles for my readers, you guys. I don't accept payment for writing reviews, my opinion on products is my own, but if you find my recommendations helpful and you end up buying something through one of the links I may be able to receive a commission on that.
More information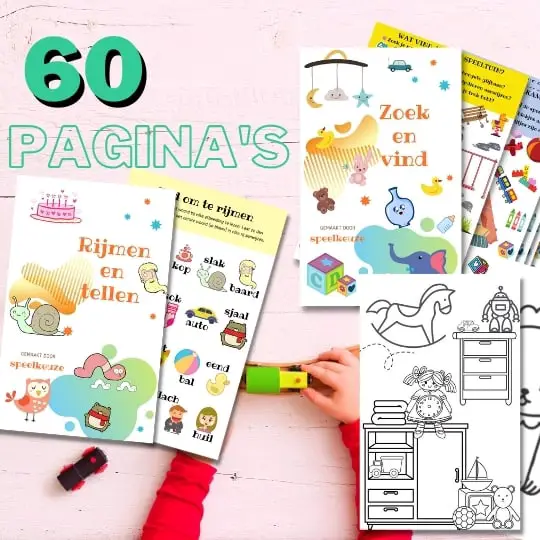 Always something to do for the holidays or rainy day?
Play Choice now has the ultimate activity book collection, with over 60 pages of fun coloring pages and educational puzzles.
A camera can no longer be ignored in our everyday life. It captures all kinds of fun moments, which you can bring back at later times.
Our children are also completely absorbed in the hype of taking photos. Of course they also want to use the latest gadgets and be just like mom and dad.
Children also want to be able to photograph their fun moments. But how do you introduce a child to the world of photography?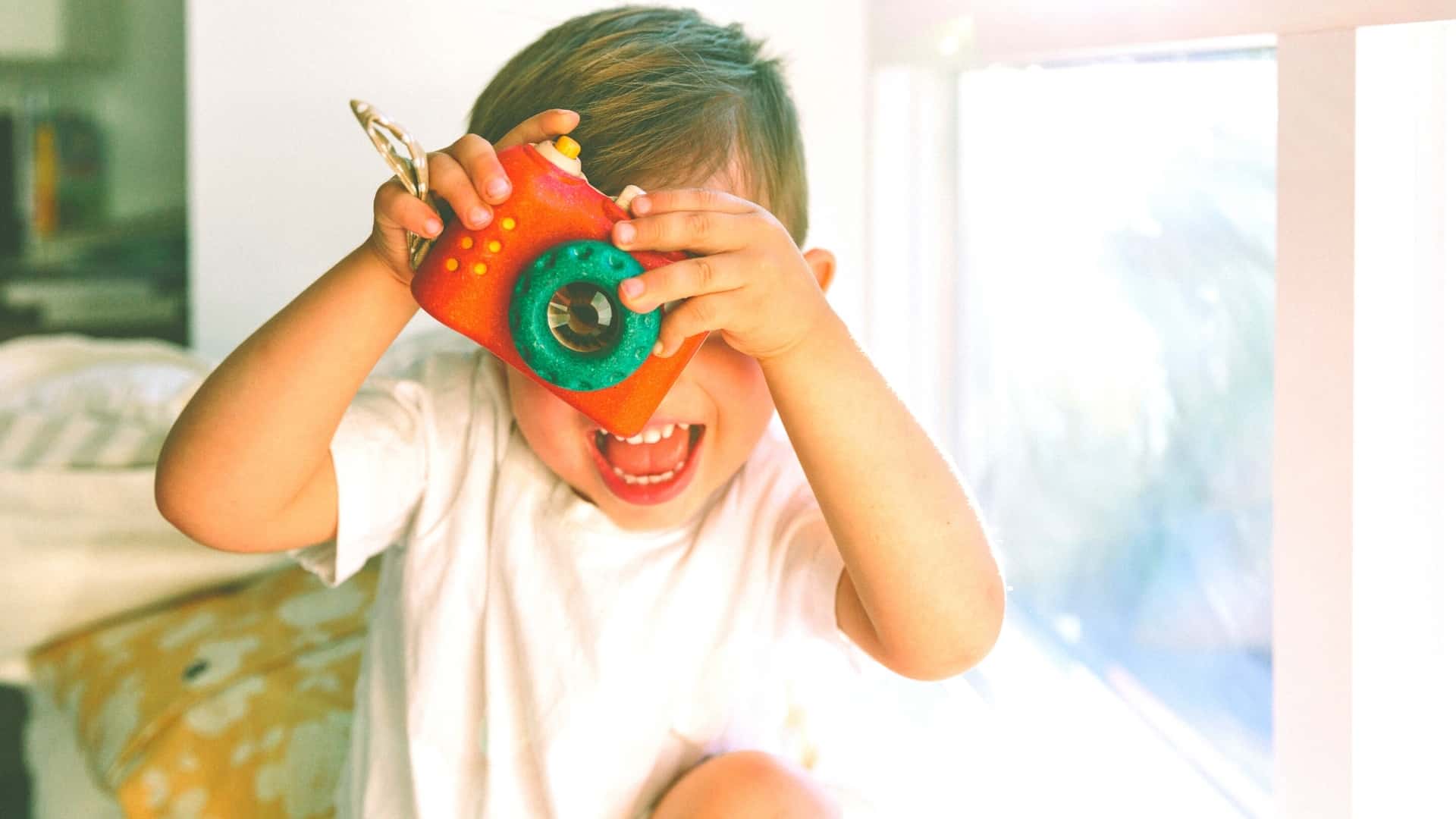 How do you bring out the little photographer in them in a playful way?
In our opinion, children under a certain age are certainly too young and clumsy to operate a professional camera, which may have cost you a fortune and cannot be very safe in the hands of a 10-year-old.
However, what is a solution for a small enthusiastic photographer to be is a fun toy camera. There are plenty of kids' cameras that you can find online right away.
Every child will definitely go wild when receiving such a beautiful gift and they will immediately try the camera.
With a children's camera, your child has freedom and can experiment with the basics of photography. They learn how to take pictures and what to look out for when taking pictures.
And it is a very new and good experience that you bring to your child.
In addition, there are nowadays toy cameras for children on the market that go much further than just taking snapshots.
For example, it is simultaneously a watch with a pedometer, or it can be used as a motion sensor to "monitor" the nursery. We will also discuss a number of these.
The nicest toy camera we have found is the Silvergear Digital Children's Camera Blue and this is simply for sale at Bol.com. What is so nice about this children's camera is that it is very simple to use and that it is not too big for a child's small hands.
Moreover, you can take real photos with it. How cool is that! You wouldn't think so if you look at the playful design of the product like that.
It is also ideal for very young photographers from 3 years old.
An alternative that we also had in mind was this Janod Camera with soundWe have this option at number 2, in case you, as a parent, think that your child is really not ready for a "real" toy camera. This wooden camera does give your child the impression that it is really taking pictures because of the sound the camera makes.
We looked at several options before picking out our favorites. Below our top 5 list.
| | |
| --- | --- |
| Children's camera model | Images |
| Silvergear Digital Children's Camera Blue | (view more images) |
| Janod Camera with sound | (view more images) |
| VTech Kidizoom Smartwatch DX2 pink - Smart Watch | (view more images) |
| VTech Baby Peekaboo Camera - Baby camera | |
| VTech Kidizoom Flix Blue – Robot camera | (view more images) |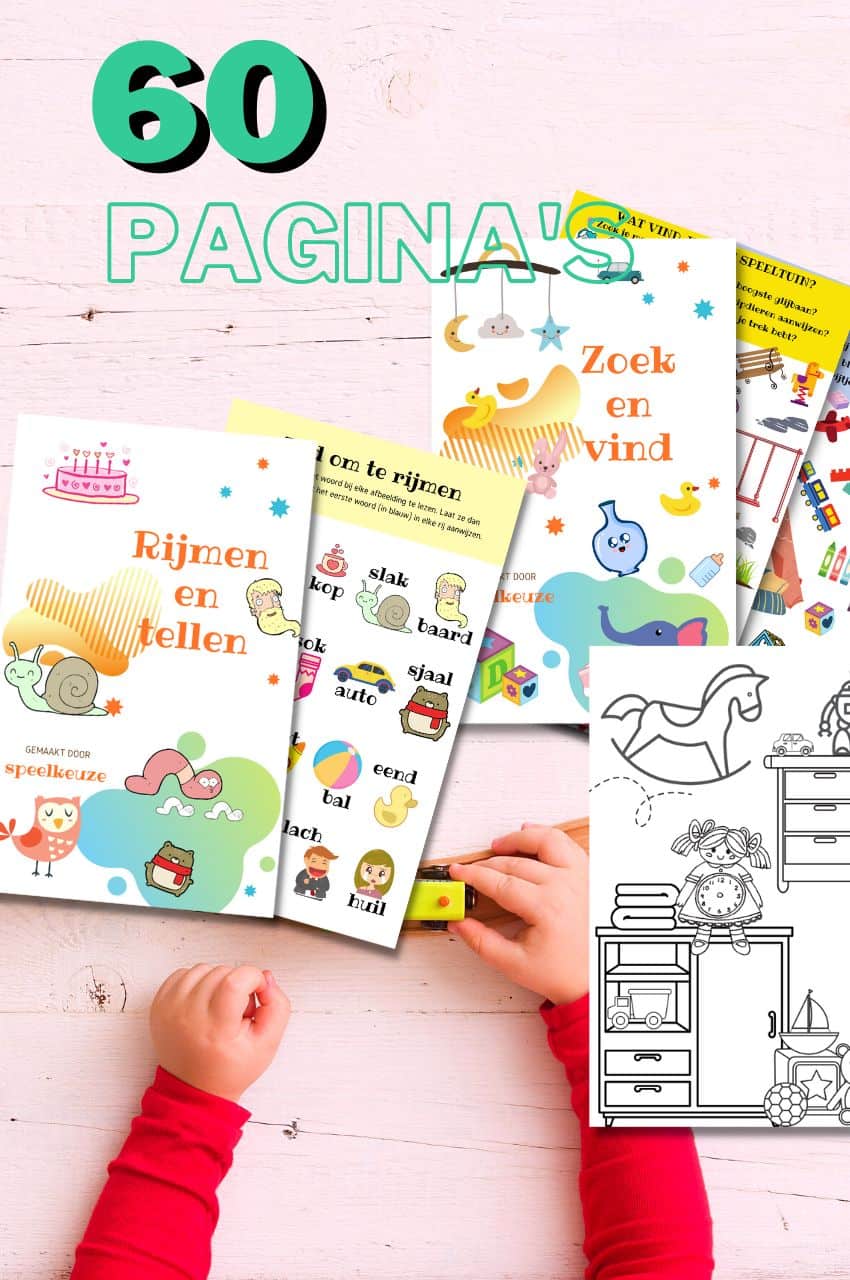 A play theme in your mailbox every month?
Fun play tips, activity books and more, with the first email being our free mini-guide "educational toys"
We will only use your email address for this newsletter and respect your privacy
What should you pay attention to when buying a toy camera?
A toy camera is not only fun, but the child learns to observe and study things around him in a playful way. Hand and eye coordination is also certainly stimulated with this device.
The child will learn what is far away and what is near. It will develop a sense of direction, light and dark and shapes. In short lots of basic educational skills and at the same time a lot of fun.
Pay attention to the following points when buying a children's camera:
Durability: make sure that the camera can take a beating. Children's hands sometimes drop something and it is of course the intention that the camera lasts for a while
Size: Kids' cameras come in different sizes, but we've noticed that the smaller ones often work better for kids. They can hold them more easily and they also fit a lot easier in your bag
Quality: despite the fact that it is mainly intended to have fun, it is of course also nice if the photos are at least somewhat of good quality. After all, these are memories that you can look back on later
Price: you don't necessarily have to go for the most expensive option. There are a lot of good kids' cameras out there that won't cost you a rib.
Age: Most children's cameras indicate from and up to which age they are suitable. For the little ones you might be better off buying a toy camera. This way they can still play with it, and when they are a bit bigger you can switch to a digital version.
Extras: Many cameras come with stickers or even games included in the camera itself. It is therefore a good consideration to first take a look at the various options.
5 best toy cameras reviewed
Best Shockproof Camera: Gluxury Digital Kids Camera
We absolutely love this cute camera!
Not only can you take good quality photos and videos with the Gluxury children's camera, there are also all sorts of fun games on it and it looks great - like a kind of kitten.
USB Rechargeable ( no batteries required )
Shock and impact resistant
Latest Model
1080p videos
Free 32 GB Micro SD card and SD card reader
Shockproof cover
Bright display
Coolest and newest games
Age: 3-10
Specifications:
Contents: 1x Gluxury Kids Camera, 1x Silicone protective cover, 1x Lanyard, 1x Micro SD card and SD card reader, 1x USB cable, 1x Dutch manual.
Dimensions: 8,563 cm
Weight: grams 200
Screen: 2 inch IPS screen
MicroSD card: 32GB
12MP camera (front and rear camera)
1080p HD movies
12 Different languages
20+ sticker effects
10+ filter effects
The Gluxury is a very good children's camera and has a lot to offer. It has a front and rear camera, so you can also take nice selfies with it. The camera is also of good quality, namely 20 megapixels.
In addition to editing photos and videos on the clear display, the kids can also play games, the camera has several functions and they will not get tired of it as quickly.
The design of the camera is not only very cute, it is also very suitable for small children because Gluxury has ensured that it is shock and impact resistant. Perfect as a first camera for aspiring photographers.
The camera also comes with an included SD card and that makes a difference in terms of price.
Best 4-in-1 Digital Kids Camera: Vulpes Kids
Front and rear camera
2 inch screen
32gb SD card
Games, music and video function
20 megapixel
1 year warranty
Age: 3-99 years
Product specifications
Photo resolution: 20 megapixel
Battery capacity:
Storage Micro SD 32GB
Weight: grams 241
Dimensions: 4.5x8x10 cm
Vulpes has a very special children's camera, because it is 4-in-1!
Besides the fact that the camera looks nice, it also has a lot of functions. For example, young creative people can use it to take photos and videos, but also play music, play games and edit photos.
And that is not at the expense of the quality, because the camera is 20 megapixels. In addition, it has a battery saving function, if the kids get distracted, the camera switches off automatically after 3 minutes and that saves a lot of battery.
The nice-looking housing also forms a shock-resistant layer, so the Vulpes digital kids camera can take a beating.
According to Vulpes, this camera is suitable from 3 to 99 years old, so that promises fun for the whole family! Shooting snapshots together with grandpa and grandma during a day out.
Best instant print kids camera: The Zoo Family kids camera
Direct print function
Front and rear camera
32bg SD card included
30 camera filters and frames
Stickers to decorate the camera
12 megapixel
2 year warranty
Age: 3-10 years
Product specifications
Photo resolution: 12 megapixel
Battery capacity: 1500mAh
Weight: grams 130
Dimensions: 12x6x8 cm
The Zoo Family comes with a very nice kind of children's camera, namely one with which you can print photos immediately. Included is a nice notebook so that your children can get creative twice. For example, they can use the printed photos to make their own magazine, or keep a diary with beautiful pictures they made that day.
Fortunately, there is an SD card with the camera, so not every photo has to be printed.
The camera is also of excellent quality at 12 megapixels and has a shock-resistant camera body made of soft, PVC-free and environmentally friendly material.
Best Teen Camera:

Fujifilm Instax Mini 11
instant print camera
Use with Instax Mini Instant photo paper
Close-up and selfie mode (and selfie mirror)
Built-in flash for clear night photos
Close-up focus distance: 30-50cm
2 year warranty
Age: 10-18 years
Product specifications
Photo resolution: 12 megapixel
Analog camera
Battery with replaceable battery
Weight: grams 475
Dimensions: 122x161x86 mm
We also wanted to add a nice digital camera for older children. There's nothing quite like going out for a day with friends and capturing fun memories. What this Fujifilm Instax Mini 11 so much fun is that they can print their photos within 1 minute. This way they can make a nice photo wall or keep a scrapbook full of memories.
The camera is of good quality and you can easily order the photo paper at bol.com or even buy it at Hema.
The reviews of this camera are extremely positive and there is really nothing to criticize about it… except that you might want to borrow it yourself for an evening.
Best Action Kids Camera:

VTech KidiZoom Action Cam HD
Waterproof housing and floating handle
Attach to bicycle, skateboard or surfboard
Wide angle lens
Cool effects, frames and filters
3 games
1,8 inch color screen
Internal memory of 128mb (with option for 32GB SD card)
2 year warranty
Age: 5-12 years
Product specifications
Photo resolution: 0.9 megapixel
Weight: grams 686
Dimensions: 24.5×18.5x6cm
Do you have a little adrenaline fan at home? Then this camera is perfect!
It is a very small handy device with a lot of cool features. It is water and shock resistant, so you can take it with you when you go into the pool or the sea. Fortunately, it comes with a floating handle, so you won't just lose it.
Or would you rather capture action on dry land? You can also mount it on a bicycle or skateboard. This way your kids can record all their cool stunts and look back later - so they can improve their tricks.
In addition to the camera functions, there are also three fun games and a lot of cool effects and filters.
We do recommend purchasing an SD card, because it is not included.
Best Cheap Digital Kids Camera: Silvergear
Really working children's camera with a simple compact design.
Very light weight. Ideal for on the go.
Includes USB cable, lanyard and 42 stickers to decorate the camera.
Suitable for 3-18 years.
5 megapixel
1.5 inch LCD screen
Age: 3-12 years
Product specifications:
Photo resolution: 2592 x 1944.
Video resolution: 1920x1080.
Battery capacity: 1000 mAh.
Reinforced ABS housing.
Storage Micro SD up to 32 KG.
Weight: 60 grams.
This digital toy camera we think the best choice because it is a sturdy device and you can take real photos and videos with it. It is easy to use and specially designed for children between 3 and 12 years old.
Because of the compact design, the camera is easy to handle and it is also very light. You can easily take it with you wherever you go to record every new adventure.
What we also noticed about the Silvergear Digital Kids Camera is that it comes in a solid color and a set of 42 very nice stickers. These can be pasted on the camera by the little artist to brighten up the device.
Best Smartwatch Camera: Kidizoom Smartwatch DX2
De VTech Kidizoom Smart Watch DX2 is ttechnically not a camera but a smart watch with a camera. And that's pretty handy because you can easily carry this small and compact device with you everywhere, because it simply fits on your wrist.
Color touchscreen with analogue and digital time display and 3D display and no fewer than two built-in cameras.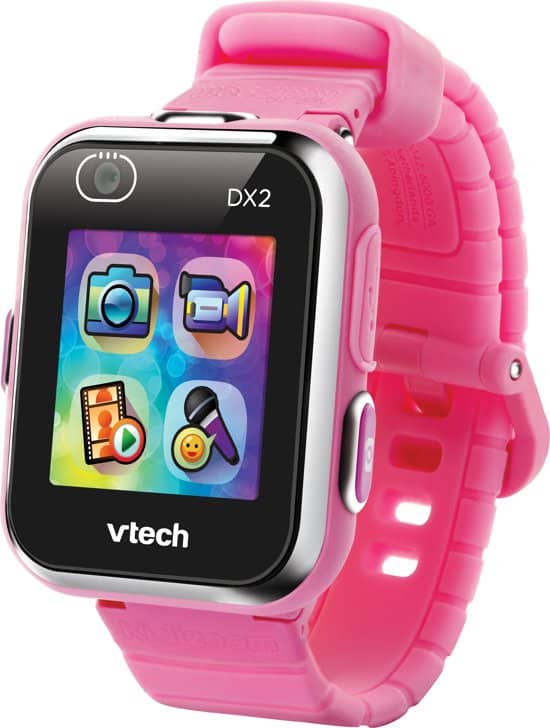 (view more images)
It is super useful for kids who can read all the time on a watch SmartWatch has a touch screen and a built-in camera with which you can capture special moments. You can edit the photos by, for example, placing frames, effects and filters in front of them.
What is also handy is that this VTech Smartwatch comes with 8 built-in games. Your child has hours of fun everywhere with this.
We think VTech is a nice brand, with good quality toys and gadgets for children. For example, we can also recommend the VTech Storio children's tablet, here you can read an extensive review of this tablet.
This smartwatch also has many other nice functions such as a voice changer, stopwatch, alarm clock and a calendar.
The price of this multifunctional camera is a bit high. But not really surprising for the many technological options it has.
This smartwatch is from the brand VTech and is intended for slightly older children between the ages of 5 and 11 years.
Best Small Camera: VTech Kidizoom Flix
Good quality: 5 megapixel
Nice bonus: 2 year warranty
Super Small: 65x40x46mm
Comes with: 42 cheerful stickers, short for the wrist, USB charger
Age: 3-10
Other specifications:
Photo resolution 2592 x 1944.
Video resolution 1920x1080.
Battery capacity 1000 mAh.
Reinforced ABS housing.
Storage Micro SD up to 32 KG.
Children's camera weight 60 grams.
An alien high-tech camera that can record photos and videos, and then edit the photos with fun effects.
The camera has bendable legs so you can place it anywhere.
That's why it's suitable for the age group 3-10 years. By the time they're a little older, you don't have to help them transfer the photos to the computer at all. Please note that the SD card is not included and that you have to buy it separately.
It is a very small camera and that is handy for both small hands and for in the bag. This way you can easily take it with you and even the youngest photographers can get started.
The camera also contains various frames for the creative kids to edit the photos with.
The reviews are full of praise and especially mention how easy this camera is to use. It is liked by most children.
VTech's service is also very good. In the unlikely event that something is wrong with the camera, they will quickly offer a good solution.
De VTech Kidizoom Flix Blue – Robot camera is for sale here.
Toy cameras for the little ones!
Maybe your artist is just a little too small for even a children's camera, but you still want to spark their passion for photography. In that case, we found two fun toy cameras that are an option even for the little ones.
Best Wooden Toy Camera: Janod Camera
We chose this nice wooden camera because it is a suitable alternative for the parents who may think that their little one is not ready for a real camera yet. This Janod toy camera with sound is therefore perfect for the real little ones who are not that handy yet.
Very nice design with wood
The toy camera has a very cheerful design and looks like a real photo camera. The camera also has buttons to press and a viewing window, so that the user gets the feeling that he is really taking pictures.
When the child presses the buttons, the camera makes the sound as if a photo has been taken. This stimulates the child's imagination and the child will experience hours of fun.
The price is certainly also one of the factors we looked at. For a first camera, this is definitely worth it. The investment is low and you get a nice toy for it.
The toy camera is also made of wood, so you can safely assume that it is durable and will last a long time. Definitely recommended!
Best baby toy camera: Vtech Click & Go camera
This is a baby camera and perfect as a first camera for your small photographer, suitable for an age of 0,5 to 3 years.
For this target group, VTech has developed the VTech Baby Click & Ready Camera.
For the smallest photographers, the option to take real photos is of course not necessary. But to keep your sweetheart from 0,5 to 3 years old, this toy camera is very nice.
The camera has cheerful colors and has handy options for the young child. Baby can turn the ring on the camera or slide the play switch back and forth. When he or she does this, he or she will hear fun sounds and phrases.
Conclusion
In principle, the options that we have selected all have something fun and something educational in them. Our number 1, the Digital Children's Camera Blue, is not only ideal for beginning photographers, but your child can basically grow up with it.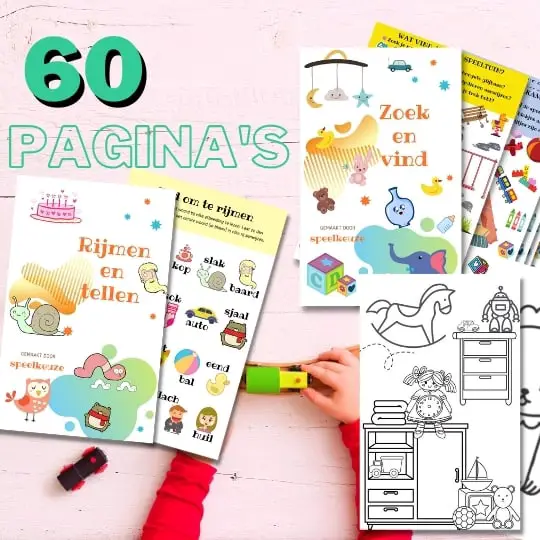 Always something to do for the holidays or rainy day?
Play Choice now has the ultimate activity book collection, with over 60 pages of fun coloring pages and educational puzzles.
Joost Nusselder, the founder of Speelkeuze.nl is a content marketer, father and loves trying out new toys. As a child he came into contact with everything related to games when his mother started the Tinnen Soldaat in Ede. Now he and his team create helpful blog articles to help loyal readers with fun play ideas.