I enjoy writing these articles for my readers, you guys. I don't accept payment for writing reviews, my opinion on products is my own, but if you find my recommendations helpful and you end up buying something through one of the links I may be able to receive a commission on that.
More information
Is your child also so interested in the grown-up pans in the kitchen? Unfortunately, they are often too young to play with this.
Fortunately, there is a good solution for this: a toy pan set!
With a beautiful set, your child can fully enjoy themselves in their kitchen.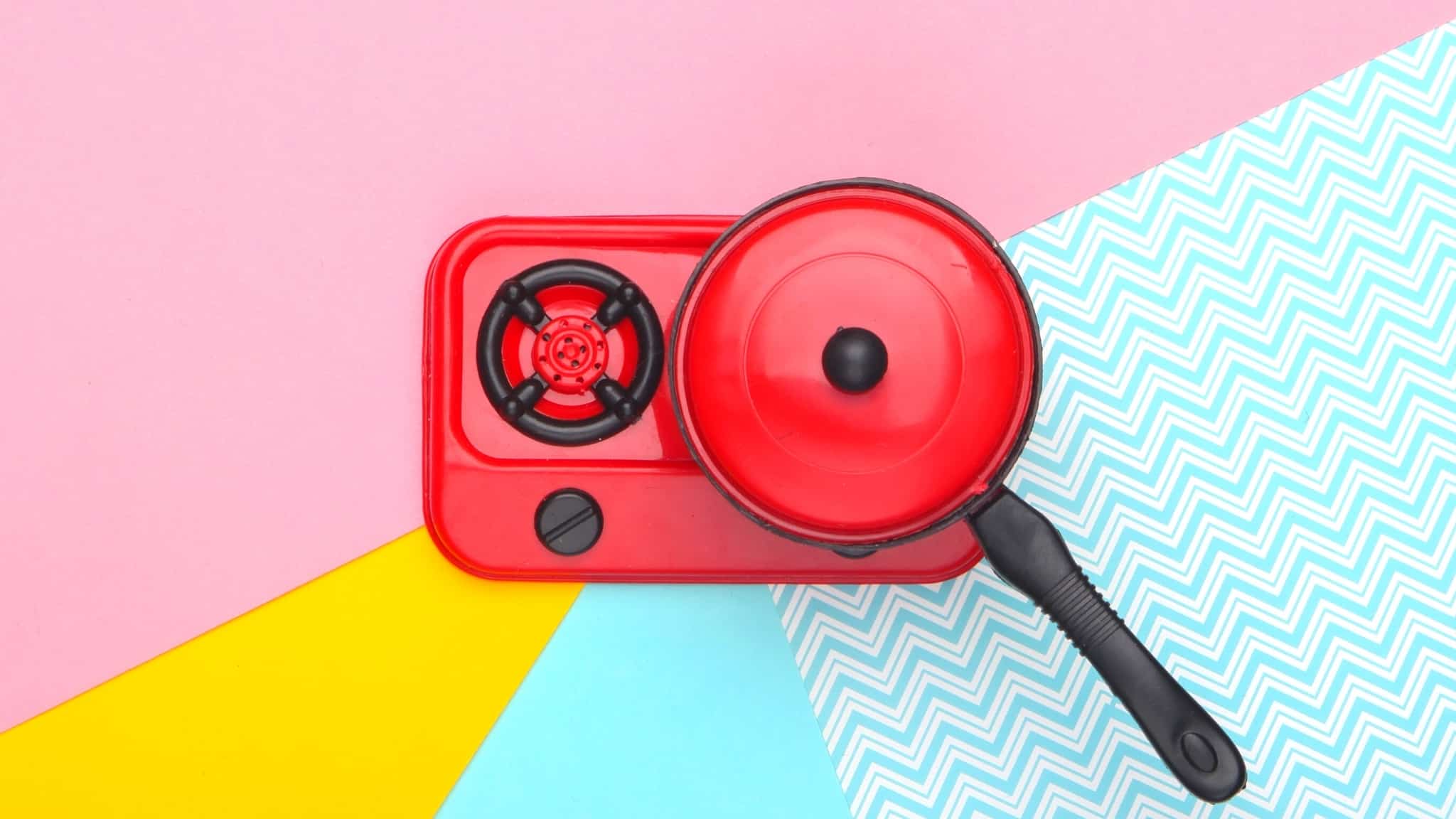 Are you still looking for the kitchenette itself? Then take a look at our review of the best wooden play kitchens.
We have assessed various toy pan sets especially for you.
The best product that has come out is the Baby and Toddler Braet Kitchen Pan set.
This will allow your child to have endless fun, in a safe, fun and healthy way.
Of course there are a lot of other good options too. Hereby all top products at a glance:
| | |
| --- | --- |
| Best toy cookware set | Images |
| Overall best toy cookware set: Baby and Toddler Braet Kitchen Pan set | |
| Best Cheap Budget Toy Pan Set: Theo Klein WMF | |
| Best Wooden Toy Cookware Set: Mentari Playwood | |
| Best Colorful Toy Pan Set: Playwood Red pewter set | (view more images) |
What should you pay attention to when purchasing a toy pan set?
Before purchasing a toy cookware set for your child, there are a few things you should pay attention to.
Safety
This is of course the most important thing. Of course you want your child to play with safe toys, so that it can also remain fun!
First, you can look at the material. What is it made of? Is it safe for your child to play with this?
Size
How big are the objects? Are there small things that your child can put in his or her mouth and even swallow?
Of course you do not want this and must be prevented.
Of course you want your child to play with safe toys, so that you as a parent can rest assured.
Appearance
The toys should also just look nice, so that your child wants to sit and play with them as much as possible.
For example, children like fun colors or shiny things.
A pan that is colorful or shines beautifully will be irresistible to your child! He or she will want to play with it in no time, and keep playing with it.
It also helps if his or her toy pan set resembles the pan set that mom and dad use. Because of course they want to look like mom and dad.
Fortunately, there are plenty of options where the toy pan set resembles the pan set from your own kitchen.
Recommended age
Finally, it is also important to look at the recommended age for the toy.
How old is your child? And is your child old enough to play with these toys? That is always useful to know.
And now that you know what you can pay attention to, it is time to look at the best products with which you can certainly make your child happy.
Best toy cookware sets reviewed
We have reviewed the toy pan sets for you, selected the top products and listed them, so that after reading this article you know exactly what the best pan set is for your child.
Overall best toy pan set: Baby and Toddler Braet Kitchen Pan set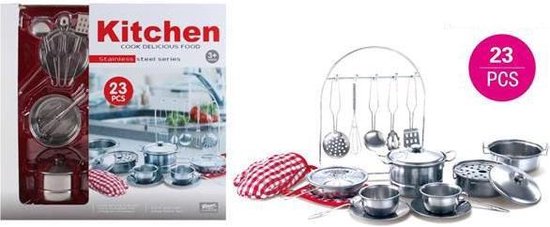 The Baby and Toddler Braet Kichen Pan set has scored so well because it is incredibly good in several areas.
It is suitable for almost everyone, it is safe and beautiful!
It is a super beautiful and rich set that your child can have fun with for a long time in a safe way!
With this product you may also get one of the largest pan sets for a very affordable price. This set consists of no less than 23 parts!
There is actually everything. You get different pans, such as a frying pan, cooking pan and steamer. In addition, you will also receive a rack with a sieve, whisk and spatulas.
There is also an oven mitt and pot holder. And this is not even all!
The set looks exactly like what "grown-ups" use. It is made of stainless steel, and the oven mitt and cloth are red.
Due to the durable stainless steel, this pan set will last a long time. There is no paint on it to peel or run, and the set will not rust.
A beautiful set to pass on to smaller sisters and brothers, and then to other children if your little ones have become too big for it.
But who knows, that moment may never come! The recommended age for these toys is from 6 months to 99 years.
Really almost everyone can play with this, no matter how small or large he or she is.
Some products are only suitable for children over 3 years old, but that is not the case here. This toy pan set is suitable for almost every child!
There are no small dangerous parts, so fortunately it is also extra safe. And safety is of course the most important.
Without a doubt, your child will have endless fun with this.
Check prices and availability here
Best cheap budget toy pan set: Theo Klein WMF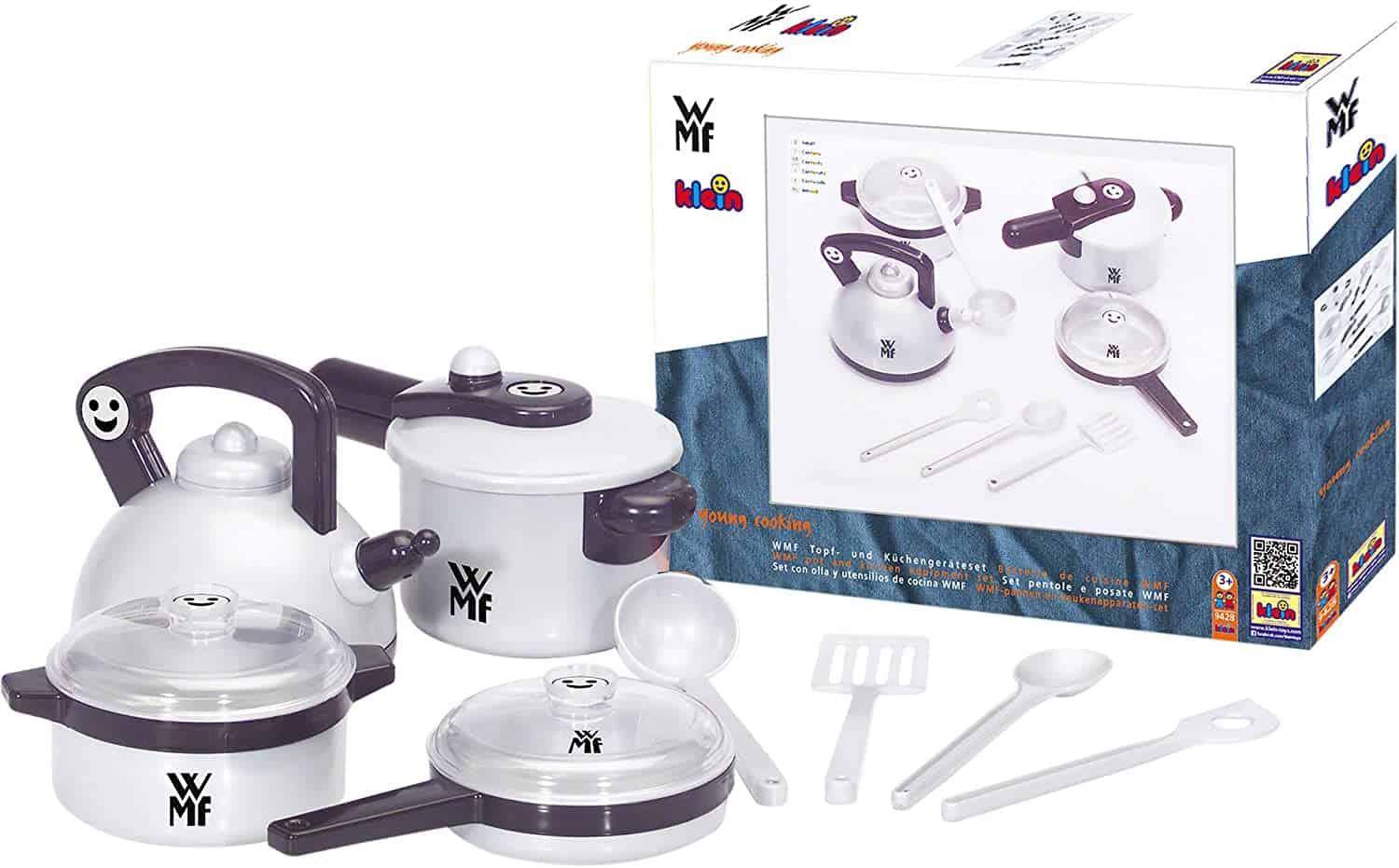 If you are looking for the cheapest top product, this Theo Klein WMF Cookware Set could be a good option.
This is because it is the cheapest option from this list. Despite the low price, it is still a great product and a great option!
Hereby you get a super nice and cute pan set.
What is immediately noticeable is that all pans have smiling smileys. This makes everyone happy!
Your child will love it a lot and will also put a smile on their face :)
It contains three different pans and even has a kettle. You also get cooking utensils.
The set is so similar to a "grown-up set" that your child will eventually even understand how mom and dad's pans work.
The recommended age is 3 years and older and will also provide endless role-play fun for older children.
This set has been rated 4,6 out of 5 stars based on more feedback from over 800 people, so it has been rated very well!
We've talked about it before the beautiful toys of Theo Klein, and what makes it so much fun.
Best Wooden Toy Cookware Set: Mentari Playwood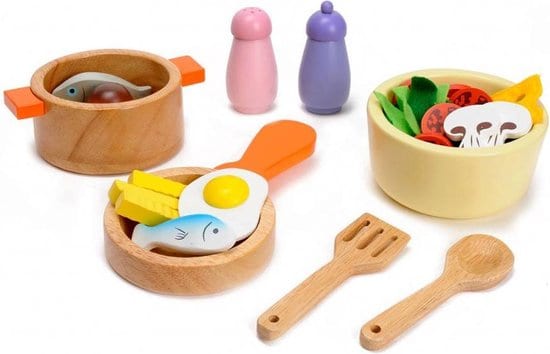 If you are looking for a nice wooden toy pan set, this Playwood Wooden Pan Set is probably the best option.
Children often love the structure and feel of wood, especially with cheerful colors like this set.
It is also something for example make the most beautiful Grimm's toys so much fun.
This is why toys in the store are often colorful too, your kids' eyes will sparkle with them and they won't be able to stay away from them.
This set contains three different types of pans with salt and pepper pots, a spatula, a spoon and finally all kinds of food toys.
The toy food is very colorful. There is everything in between. Fish, eggs, tomato, lettuce, carrot and so on.
Your child will not only be able to use the pans, but will even be able to make tasty food. These pans also have food, which is even more fun for your child.
Children, with their generous hearts, will want to feed the whole family! Super fun and cute.
The recommended age is 3 to 10 years. The material of the products is wood.
Children love colors, toys and pans, so you can kill three birds with one stone.
Is dinner ready? Then your child will of course want to serve this in a real restaurant. We have the 5 best toy restaurants for fantasy play reviewed here for you.
Best Colorful Toy Cookware Set: Playwood Red Tin Set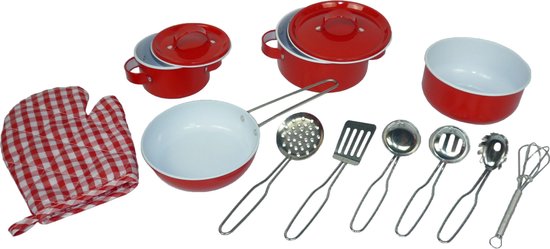 We have just seen a beautiful wooden option with many colors. Would you like some color, but prefer an even firmer material?
Then go for this beautiful red tin pan set from Playwood.
It has a classic design. It looks like a pan set that we use as adults, only this one might be a bit nicer.
There are four different pans, they are white on the inside and red on the outside. There is also a pink version of this.
So you can choose whether you would like a red or pink toy pan set, or your child can choose this yourself!
In addition, there is a red oven mitt with all kinds of different spatulas and ladles.
You also get a lot for a good price. There are no less than 13 parts. Enough for your child to enjoy for hours or days.
The recommended age is from 3 years old.
The material of the toy pan set is metal. This means that the set is of a very good and sturdy quality.
Not only will your child be able to play with it for a long time, because it is so much fun, the pans also last a long time!
If you are looking for sustainable toys, which also look very cheerful and colorful, this is a very good option.
Why is a toy pan set so nice for your child?
There are many reasons why a toy pan set can be fun for your child.
Firstly, your child can have endless fun with it!
They can play with it alone and independently, but also endlessly play games with friends.
This also allows parents to get more rest as the kids will be busy cooking and playing.
It is also a lot safer!
Your child will be less interested in your pans while cooking.
There are risks of burning their fingers, dropping pans on the floor or hurting themselves in any other way.
Fortunately, as a parent, you don't have to worry about this with a toy pan set.
Your child will then have their own set of pans, which is much more fun and also safer. Totally top and beautiful for a nice role play.
A beautiful toy pan set for your child
Hopefully these products can help you and your child!
With the best rated product, the Baby and Toddler Braet Kitchen Pan set, your child can have endless fun.
With this affordable and large set your child can play safely, no matter how young they are.
In addition, there were other top products, such as a cheaper, wooden and more sustainable option.
Whatever product you choose, your child will undoubtedly be able to enjoy it a lot!
For even more hours of role-playing fun, read also: Best dollhouse | 14 best playhouses rated.
Joost Nusselder, the founder of Speelkeuze.nl is a content marketer, father and loves trying out new toys. As a child, he came into contact with everything around games when his mother started the Tin Soldier in Ede. Since 2016, he and his team have been creating helpful blog articles to help loyal readers with fun play ideas.