10 Best Dinosaur Toys: Prehistoric Good Picks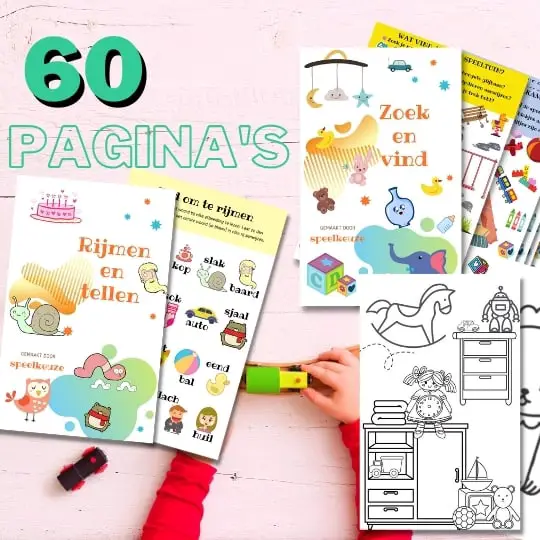 Always something to do for the holidays or rainy day?
Play Choice now has the ultimate activity book collection, with over 60 pages of fun coloring pages and educational puzzles.
It often happens that children have a certain passion for a specific animal, object or sometimes even a certain culture.
Children with a passion for dinosaurs, for example, can name dozens of species by heart and know exactly what they ate and when they lived and subsequently became extinct.
Interest in these tough, prehistoric animals increased after the release of Steven Spielberg's Jurassic Park in 1993. Dinosaur toys became hugely popular then and has never left since.
The nicest toys to stimulate this dino interest that I've seen is this playset with T-Rex from Playmobil.
A Quad including T-rex (plus a bit of nostalgia from my own Playmobil time).
In the following table we give an overview of it dinosaur toys that made it to our top 5 and also received good reviews from customers.
What is the strong appeal of dinosaurs?
The extensive knowledge that some children have on a particular topic is based on a psychological phenomenon called "intense interests".
This means: a very strong motivation for a specific topic.
Such intense interest is generally received by a third of the population children between 2 and 6 years old developed.
This interest may disappear at some point, but in other cases children carry this interest for much of their lives.
It doesn't matter what the purpose of that interest is. What is more important is the effort children put into this interest and the passion they experience.
Good for intellectual development
Research has shown that intense interests are very beneficial to children's intellectual development.
In the first instance, it naturally ensures that children have more knowledge about a certain subject.
Also, such an intense interest improves perseverance and attention is better developed.
In addition, it improves the skills related to complex thinking and also the processing of information.
In addition, there is evidence that language skills are significantly improved and is an indicator of good understanding.
Intense interest in dinosaurs
Do you have a son or daughter who loves dinosaurs? A nephew or niece who is completely under the spell of these ancient creatures?
Then you are probably often looking for something new toys to continue expanding your child's knowledge.
This can very well be in the form of films, books or... toys of or with dinosaurs.
We have various types toys watched them with dinosaurs as a theme and selected the five best. You can find these in the table below.
We will also discuss our top two in more detail later in the article.
What makes this dinosaur toys so nice and what could you combine it with for even more dinosaur fun?
Top 10 Best Dinosaur Toys Reviewed
I love the Playmobil Dino Briefcase! It's a great set for kids who love Playmobil and dinosaurs. The set comes with two figures, two dinosaurs, a net shooter, a rock wall and other accessories. You can unfold the briefcase and use it as a play mat to explore the mysterious island.
What I especially like about this set is that you can easily store it in the carrying case when you're done playing. This makes cleanup very easy and convenient for next time. Moreover, the case is also handy to take with you on the road.
I also read some reviews from other customers and they were all positive. One customer said it's a great addition to other dino sets, while another customer mentioned that her nephew loved it. It seems that this set is loved by children of different ages.
Another advantage is that you can combine the set with other Playmobil sets for even more fun. This offers endless possibilities for creative and imaginative adventures.
A possible drawback is that the set contains small parts and is therefore not suitable for children under 3 years old. It is important to keep this in mind and to ensure that younger children play under supervision.
Our second favourite dinosaur-toys is the Tyrannosaurus Rex from the Schleich brand.
An extremely simple piece toys, but one that we believe should not be missing in the dinosaur enthusiast's collection.
The Tyrannosaurus Rex is one of the best known and most feared types dinosaur. The T-Rex is designed very faithfully, both in terms of design and colors.
A beautiful piece toys at an attractive price, which is fun for everyone dinosaur fan.
Our top two deserves an extensive explanation and explanation.
Play with this big Tyrannosaurus Rex. This is one of the most impressive dinosaurs that existed.
It had 20 cm teeth, and it could grow up to 14 meters. This replica is very realistic.
An incredibly beautiful replica of the Tyrannosaurus Rex dinosaur, which will certainly appeal to children who have a certain affinity with dinosaurs.
The design of the T-Rex and the colors make it an incredibly realistic figure. The T-Rex is the dinosaur that most children know.
This type dinosaur is a carnivore and bipedal. It is on average about 12 meters long, 5,5 meters high and can weigh as much as 6,5 tons!
The head of this impressive animal has a width of 120 centimeters, and the teeth are 20 centimeters long.
The T-Rex lived in the Cretaceous era in the forests of North America, tundra, on the beach and also in coniferous forests.
We are fans of this fantastic replica of the Tyrannosaurus Rex and also think that the price is worth it toys 100% worth it!
The toys is from the German brand Schleich, which focuses on the design of detailed figures for children to play with.
The brand really contains all animals in its range, all with a lifelike character.
Vehicles and famous buildings are also designed by this brand, to play with but also for adults to decorate the house.
Supplement: Schleich Brachiosaurus
Has your son or daughter already played a lot with the T-Rex and are you looking for one? toys with the same theme that will also appeal?
Then you could go for the Schleich Brachiosaurus and the Schleich Triceratops, for example.
Schleich has a very extensive range with various types of dinosaurs.
This way your child can dinosaur toy collection is slowly expanding, as well as his knowledge.
The Brachiosaurus is even bigger than the T-Rex, was at least 23 meters long and weighed about 80 tons.
The long neck with the small head are the most striking features of this one dinosaur.
The Brachiosaurus' front legs were long, and combined with the elongated neck, they could easily eat needles from the trees.
Brachiosaurus was a real herbivore. Brachiosaurus lived in the late Jurassic and moved on four legs.
This dinosaur had to eat a lot to gain energy for the growth of his large body and to exercise.
He is said to eat about 1500 pounds of food a day, which is more than an elephant (!).
Watch it here
Supplement: Schleich Triceratops
The Triceratops was the smallest of the three and was about 9 feet long with a weight of 5,5 tons.
He lived in what is now North America, in countries such as the United States, Canada and Alaska.
This dinosaur was a quadruped and could be recognized by its collar and three horns.
Like Braciosaurus, the Triceratops was a herbivore and was very careful in choosing its food.
They actually always ate the same plants, which were often large with an extremely hard structure.
This dinosaur looks a bit like a rhino. The Triceratops' greatest enemy was the Tyrannosaurus.
Build your own T-rex with dark green and beige details and bright orange eyes for an exciting effect.
Because this is a 3-in-1 building set, you can rebuild the model into two other dinosaurs, namely the Triceratops and the Pterodactylus.
The set comes with 174 parts to build the three dinosaurs.
Build the laboratory where dinosaurs are tested.
The package comes with two minifigures in the form of Dr. Wu and a guard and a Stygimoloch minifigure (dinosaur).
The package contains various fun elements to stimulate role play. The set contains 222 parts.
Not only are "live" dinosaurs fun to play with, their bones are also fascinating.
If you've been to a museum with your child where they had such bones, chances are they can't stop talking about them because they are so full of them.
Now there are also very nice ones dinosaur bones for sale, such as this construction kit with glow in the dark bones.
Very nice to assemble and display in the room, but I also used them, for example in a fun sensory container with black beans for earth.
Great for an archaeological dig for young and old!
I absolutely love the Learning Resources Snap-n-Learn Dinosaurs! This colorful dinosaur set offers endless fun and helps my kids develop new skills. With 9 different dinosaurs that click together easily, my kids can play and learn in different ways.
What I especially like about this dinosaur set is that kids can mix and match them based on color, species and the shapes on their backs. This stimulates their matching and sorting skills, as well as their color and shape recognition. My kids have had a lot of fun trying different combinations and discovering which pieces go together.
Plus, these dinosaurs are specially designed with little hands in mind. They are perfectly sized and easy to take apart and snap back together, making them ideal for my kids' fine motor skills. It also gives them the opportunity to strengthen their hand muscles while they play.
The dinosaur set comes in a sturdy plastic bucket, making cleanup and storage a breeze. I appreciate that Learning Resources also paid attention to the sustainability of the material. The dinosaurs are made of sturdy plastic that can withstand intensive play.
As for the age recommendation, this set is suitable for children from 18 months. My youngest child is just 2 years old and loves them.
The TOI Dino Puzzle is a fantastic floor puzzle for children from 8 years and older. The puzzle pieces are made of sturdy and thick cardboard, which makes them fit together well and are durable. The colorful and vibrant illustrations of ecosystems and animals within the animals make building the puzzle extra fun.
It is a challenge to put the 387 puzzle pieces together, but that also makes it a lot of fun. It's a great way to improve children's hand-eye coordination, concentration and logical thinking, and it gives them a sense of accomplishment when they complete the puzzle.
A nice addition is that a bottle of glue is included to keep the puzzle after it is finished. When you're done, you can glue the puzzle pieces together, frame them, and hang them on the wall for decoration.
The set contains 8 detailed dino stamps and a 2-color stamp pad with washable ink in red and blue. My kids love creating countless scenes with these stamps and coloring the pictures with the 5 included colored pencils.
The best part is that the whole set is neatly stored in a sturdy wooden box, making it easy to organize and store. Plus, the ink is washable and non-toxic, so I don't have to worry if my kids get a little excited with the stamping.
This stamp set stimulates my children's creativity and fine motor skills and is an ideal gift for children aged 4 to 8 years old. I've even considered adding the Melissa & Doug Alphabet Stamp Set to our collection to further expand their hands-on play experience.
The stamp set is of high quality and has the perfect size for small hands. The lively dinosaurs are recognizable and add an extra fun twist to their drawings. I love that Melissa & Doug has been creating beautifully designed products that stimulate children's imagination and creativity for over 30 years.
What a nice set for children from 3 years old. A little younger is also possible, but then I would stick with it.
Pretend play starts at about 2,5 so before then they will be walking around or sucking on it on their own anyway.
Due to the sharp corners, it is slightly less suitable for this.
The 8 pieces are made of durable wood and it feels like it will last a long time. Maybe even for the grandchildren :)
Tender Leaf is a good brand that wooden toys makes renewable rubber trees, so that is certainly another plus.
The size is just right for toddlers to play with.
This set is great because the puzzle pieces are nice and thick. This means you can also stand them upright and use them for pretend play.
For example, it has 2 functions in one, instead of just playing figures like the Tender Leaf set.
The pieces are also more rounded and suitable from 2 years. There is a pteranodon, ankylosaurus, apatosaurus, T-Rex, triceratops, stegosaurus and hadrosaurus.
The wood it clearly feels a bit cheaper and it is not rubberwood either. You will especially notice this in the paint, which scratches off more easily.
But Melissa & Doug does contribute a lot to replanting forests to keep it more sustainable.
Frequently asked questions about dinosaurs
What is a cool Dinosaur outing?
A great outing for one dinosaur fan is visiting it Naturalist in Leiden value dinosaur skeletons are clearly visible and you can look a T-Rex straight in the eye.
What do children learn by playing with dinosaurs?
They learn about the history of the earth, life and nature!
Children learn how these incredible and fascinating creatures came to be and how they disappeared. Interest in dinosaurs also helps children understand Earth's evolution and timeline.
Can dinosaurs talk?
They didn't have an email or What's app to keep in touch, but scientists are pretty sure these animals could communicate with each other. That communication likely included screams, creaks, dancing and singing, and even calls to love.
Did dinosaurs swim?
All dinosaurs could swim, said Dave Gillette, curator of paleontology at the Museum of Northern Arizona in Flagstaff. "They may not have been graceful, but they could swim nonetheless." Think elephants or horses can swim well, even though their bodies don't seem capable of it!
What were the first dinosaurs?
About 230 million years ago, during the Triassic period, the first dinosaurs, evolved from reptiles, appeared. The Plateosaurus was one of the first large herbivorous dinosaurs, growing to about 9 feet long.
Development of learning strategies
What makes all of this even more interesting is that, according to the study, the way children study dinosaurs or other subjects reveals the strategy they will use over their years of life when faced with new situations and problems.
Intense interests therefore prepare small children for their further life.
Because of the intense interests, children will learn to adjust their point of view when necessary, to find relationships between different things and be able to autonomously direct their learning based on their motivations.
Intense interests make children think more deeply and develop critical thinking. It motivates children to seek information and develop a passion for knowledge.
Conclusion
Because these interests are so important, it is very important that parents encourage and nurture that motivation.
Parents must therefore help ensure that a child continues to devote enough time to the passion, even when it begins to receive homework.
And to possibly find the relationship between that passion and subjects he is taught at school.
A lot of kids also have this with racetracks: check out our top rated racetracks in this article