The cutest princess toys | Top 7 best choices rated
I enjoy writing these articles for my readers, you guys. I don't accept payment for writing reviews, my opinion on products is my own, but if you find my recommendations helpful and you end up buying something through one of the links I may be able to receive a commission on that.
More information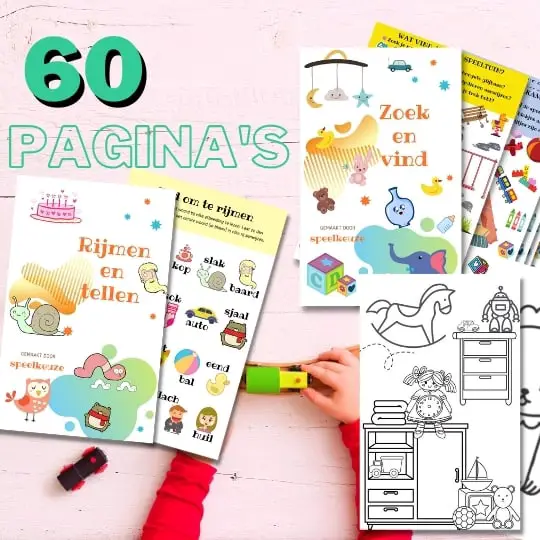 Always something to do for the holidays or rainy day?
Play Choice now has the ultimate activity book collection, with over 60 pages of fun coloring pages and educational puzzles.
Every little girl dreams of being a princess one day. The princess theme therefore also plays a major role in toys.
We took a look at the best princess toys that can be conquered.
The fairytale of a princess who lives in a castle and fights against evil is a world that many a little girl fantasizes about.
Especially when Disney came out with his cartoons about good and other tough princesses.
Not only little girls, but also adult women can identify with the princesses. The princesses represent bravery, independence, patience and love.
The positive qualities we should all teach our children.
As a parent, it is nice to know that there are good role models for your child to look up to. Having a princess as an idol is certainly not wrong.
And if your child has a favorite princess, then it is absolutely perfect.
Because that way you always know how to buy the right and best toys for her birthday or when she has done her best at school.
My top pick is this wooden KidKraft princess castle because, let's face it, what girl wouldn't want a princess castle to play with?
But don't worry, we also have a lot of budget choices to buy or give as a gift.
My 2nd best choice is this one Prinessia Cuddle doll Linde. This cuddly doll will definitely become your own little princess' best friend.
The doll is made of soft plush and dressed in a princess dress. She even has a real crown on her head.
It is a nice doll that is safe for your child to cuddle and even sleep with.
Nowadays you can find a lot of fun toys with princesses. There are different variations of toys such as costumes, doll houses and even puzzles.
You can find something nice for every princess. The range for princess toys is quite large.
I would say plenty of choice! Sometimes you may not see the fairytale forest for the trees.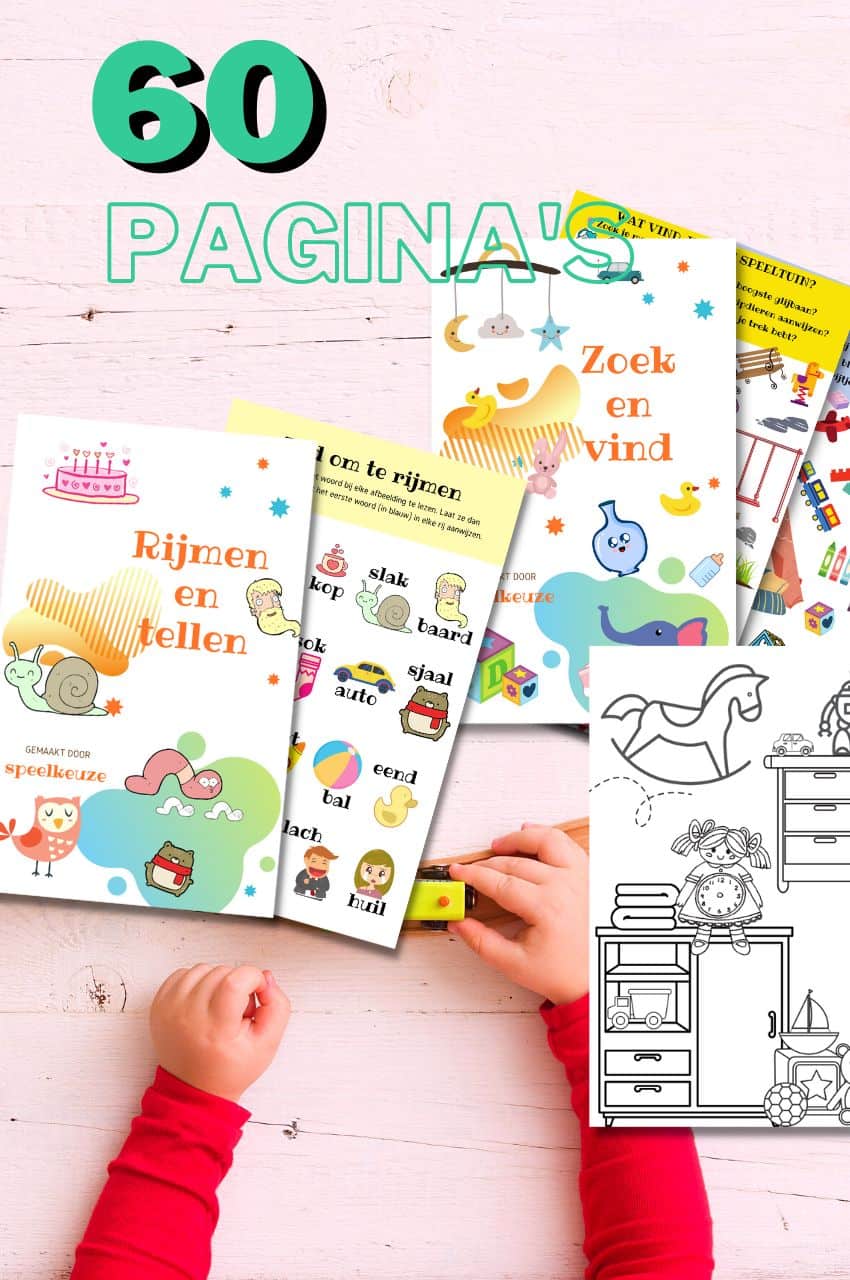 A play theme in your mailbox every month?
Fun play tips, activity books and more, with the first email being our free mini-guide "educational toys"
We will only use your email address for this newsletter and respect your privacy
Cutest princess toys rated
Since the choice is very wide, it is certainly important that you take a moment to find the right princess toys for your child.
Your child should enjoy it a lot and it shouldn't disappear into the forgotten corner after playing a few times. That is a waste of your money and a waste of the beautiful toys.
We have done some research on the best princess toys available.
We dived into different categories and also looked at what other buyers think of the products.
Below we have listed the best princess toys for you.
Because princesses sometimes show princess behavior and every now and then a puzzle or a hug is not enough, we immediately looked for other alternatives to fun princess toys to fulfill the royal wishes.
Below you will find our preferred list of princess toys for children.
Cutest princess puzzle: The Ravensburger puzzle Disney Princess
Puzzle with 300 pieces, suitable for 9+ years, with almost all Disney princesses in the picture. Has extra large pieces, so that the child can handle it well.
We really like this beautiful Ravensburger Disney Princess jigsaw puzzle with 300 pieces for various reasons.
Recommended because:… It helps to develop visual and problem-solving thinking
Beautiful princesses image
Firstly, of course, because almost all favorite Disney princesses are represented on the picture.
Your child will be happy to finish this puzzle to see who are all there.
The picture is so beautiful that it will certainly not look out of place on the wall of a nursery when it is framed.
This way your child can still enjoy the memories and look with pride at the puzzle and the princesses on it.
Puzzling is good for the development of the child
Puzzling stimulates the brains of small children, so that they can remember better and learn to solve problems more easily.
In our view, letting a child 'play around' with a puzzle is always a good idea, because it stimulates the brain.
Pieces very manageable for children
The educational value of this princess toy puzzle is not the only reason we put it on the number 1 spot.
This puzzle consists of 300 pieces. You may think that that is a lot for a child, but the opposite is true.
These puzzle pieces have an XXL format, making it easier for children from 9 years to put them together.
The difficulty of this puzzle becomes very accessible with the size of the pieces.
If your 6-year-old child is quite smooth, this would also be a suitable toy.
Sturdy pieces for years of enjoyment
In addition, the puzzle is made of good quality, which is very important. In our perspective, a puzzle should not tear on first use.
You have to be able to take a puzzle apart and put it together again and again, without the puzzle being damaged.
Fortunately, this puzzle is made of very sturdy cardboard, so that it does not bend too easily. Your child will have endless fun with this.
A very nice product for a good price
If we look at the price of this princess puzzle, we see that it is already for sale for under twenty euros.
It is a sustainable game and not too expensive. This is completely suitable for parents with a smaller budget. The quality price ratio is good.
Moreover, there are many variants of princess puzzles from Ravensburger can be found at Bol.com.
There are puzzles that are much simpler than the ones mentioned above, but also princesses puzzles with more challenges.
It is of course up to you as a parent or the child who would like them the most.
The puzzles can be found from a minimum of 100 pieces to a maximum of 1000 pieces. There is a suitable puzzle for princesses of all ages.
Cutest princess doll: Prinsessia cuddly doll Linde
Extra soft princess doll. The doll is 30cm tall and perfect to take to bed. Suitable for 3-10 years.
If your child likes cuddly toys, the Prinessia cuddly doll Linde are a good choice for your child. This stuffed toy doll is suitable for children between 3 and 10 years old.
Endless fun and imaginative stories
Little princesses will have fun for a long time with this doll. They can have fun fantasizing about the adventures of their princess.
The princesses are sure to have a lot of fun and fun together when they make up their stories.
Recommended because:… It's a fun playmate for your little princess
Good quality princess doll
The doll is made of sturdy material and is very soft. Perfect for cuddling and keeping it close to you.
And if the doll gets dirty, you can simply put it in the wash without damaging it.
The doll has a size of 31 by 17 cm. This is a very good size for a cuddly doll.
And did you know that there is even more choice? The collection has others as well beautiful princesses to choose from. More princesses means even more fun.
For example, your child can hold a true princess ball with all her princess dolls.
We are sure there are exciting and magical adventures ahead for these royalties. You can find all these princesses on Bol.com.
A very fine princess playmate
The princess doll is thus an utterly suitable comrade to play with or just a soft hug that can be hugged when going to sleep.
This Prinsessia cuddly doll is ideal in that respect.
Due to its size, the doll is just big enough to snuggle up in the child's arms on the way to dreamland.
In some cases, such a hug can also serve as comfort and protect her if she gets scared in the night.
Best DIY toys: SES Beedz iron on beads princess
Besides princess puzzles and princess dolls there is a lot more fun princess toys to be found.
Here are a few more options from our list of cute princess toys above.
A basic set of iron on beads with which you can make different princesses.
Suitable for children from 3 years old, adult supervision is recommended for this product.
De SES Beedz iron on beads princess is certainly a sought after option for all creature-bea princesses.
Those who love to tinker can fully enjoy themselves with these beautiful iron on beads.
Get creative with iron on beads
What are iron on beads exactly? The name actually says it all. Iron on beads are plastic beads that you can attach to each other by melting them with heat after installation.
For example, by ironing over it with an iron.
Recommended because:… The ironing designs can be used as decoration
Endless princess creations
With the SES Beedz princess iron on beads your child has a lot of creative fun.
The included princess shapes can help your child create a beautiful princess, but your child can also be bold and create her own design.
The laying shapes are the basis for a princess creation, but that does not mean that your child should not use his own imagination.
Beautiful colors to stimulate the imagination
The SES Beedz princess iron on beads set consists of many beads that also have a fresh and attractive color.
Your child will not get bored of it, especially when she sees the beautiful creations that eventually come out.
These colored iron on beads can also teach your child color combinations and use his imagination.
Parental controls are important with this toy
Although this toy is not suitable for children under 3 years old, due to the small particles that create a swallowing hazard, children from 6 years old can have a lot of fun with it.
Of course, adults still have to supervise the use of iron on beads and they should not let the children operate the iron themselves.
Ironing should at all times be supervised by an adult.
Cutest princess castle: Kidkraft Princess Castle Dollhouse
Are you looking for more interactive princess toys? Then it is Kidkraft Princess Castle Dollhouse something for you and your kids.
A complete princess castle of 60 cm high. Includes a 14-piece accessory set with horses (like this one we also review here), thrones, furniture and four dolls of 12 cm high. Suitable for children from 3 to 6 years.
Recommended because:… It guarantees endless fun and fantasy
A real princess castle to play with
The Kidkraft Princess castle dollhouse is literally a castle in miniature shape, made of wood. Every princess must of course have her own castle!
This is an incredibly well-designed and detailed toy.
The castle folds out and has the necessary furniture and accessories that can be found in a castle.
The princess castle is so spacious that it has a balcony and a horse stable.
The movable towers give your child the space to make her own setup based on her own imagination.
Nice figures and sturdy construction
And you must not forget that the castle also comes with the necessary princesses and princes. The castle is made of wood and is quite simple to assemble.
This will also be apparent from the enclosed instruction booklet.
The castle also doesn't just have a horse stable attached to it. With this castle there will of course also be horses.
Because every princess must also be able to go her own way and she does that with nothing but a horse.
All those cool princesses like Mulan, Merida and Cinderella do that too.
Well worth the investment for your princess
The castle is quite pricey, but worth the price for such a large and broadly oriented toy.
The Kidkraft Princess Castle Dollhouse is a multifunctional toy and very imaginative. Who doesn't like that.
The children from 3 years old can already play very well with these toys. And if you don't want it at home, Grandma will have a place in front of the castle.
Then she has a good reason to have the grandchildren over.
View Here's our review of the 16 cutest dollhouse accessories
Cutest Playmobil princesses: Playmobil Royal lock
Does your child need more independence and does she like to build things herself? Then it is PLAYMOBIL Royal lock maybe an alternative for her.
You can build this royal lock from the PLAYMOBIL Princess series with no fewer than 247 parts. Dimensions: 57 x 26 x 54cm, suitable for children from 4 to 10 years old.
Recommended because:… It can be built from scratch
Trusts PLAYMOBIL with a princess theme
The PLAYMOBIL Royal lock is a suitable toy for children between 3 and 10 years old.
PLAYMOBIL is a toy brand that has been on the market since 1974. It offers a variety of different models and themes.
The PLAYMOBIL Royal castle consists of a castle and royal dolls.
If your child has a rich imagination, it can fully live it out with this PLAYMOBIL variant.
Princesses stories in and around and end
The stories and adventures that your child will experience with this kingdom are endless.
The princess saves the prince from an evil dragon, they get married and live happily ever after.
Or an adventure where the prince and princess go in search of hidden treasures together.
So many exciting stories and adventures can spring from this playset.
Durable and portable
This PLAYMOBIL set is made of very durable material and is not easily breakable. The castle is very easy to assemble and portable.
A job that any heroic mom or dad would love to do with their sweet princess daughter.
You can take this PLAYMOBIL set with you everywhere and it does not take up much space. It is ideal to bring with you for overnight stays and sleep-over parties.
Your child and all friends will enjoy it.
Looking for even more princess-themed castles that your child can build themselves? Look at our favorite LEGO DUPLO princess castles!
Cutest princess makeup set: Magical princesses dressing table
Is your child not a craft or construction type, but more of a fashionable cutie? Then you will with this magical princesses dressing table certainly score well with your daughter.
This dressing table (check out a few more here) suits your little princess perfectly.
The necessary accessories included such as bracelets, nail polish, lipstick and hair combs will put your little fashion doll in its element.
Dressing table with accessories: necklace, 2 bracelets, 3 nail polish bottles, 2 lipsticks, 2 hair accessories, 2 rings, comb, hairdryer.
Needs 4 x AA batteries (not included), suitable for children from 3 to 8 years old. Dimensions: 31,5 x 43,5 x 73cm.
Recommended because:… this magical dressing table is the dream of every little princess
But the dressing table can do even more. At the top of the mirror there is a heart-shaped button that plays music when you wave your hand over it.
What is also so beautiful about this dressing table is that the lights also flicker very nicely when the music is playing.
Your child will be in the party mood with this and get ready to go to her princess ball.
The dressing table is assembled very quickly and is made of strong plastic. It is 73cm high and 43cm wide and would fit perfectly in your girl's room.
Best building toys: Lego Duplo Princess
Duplo Princess is a range of colorful toys from Lego, based on the princesses of Walt Disney.
Cinderella's castle was first launched on the market in 2012, and the following years followed:
the underwater castle of the Little Mermaid Ariel
Sleeping Beauty Castle
Cinderella's castle
and the most recent are Belle's Castle and Rapunzel's Tower.
The toy castles are easy to assemble and suitable for children from about two to five years old.
I've been researching and looking for the most suitable princess Duplo, and these are the top picks:
Read on to learn more about these picks and Duplo Princess in general.
Whether is as a Christmas present, or as a birthday present, princesses always do well with your little girl.
Read to your son too our article about Duplo Cars
The appeal of Duplo Princess
What makes the Duplo Princess toys so much fun for your children?
With the Duplo Princess products, your children are able to build and play their favorite Disney fairy tales.
In this way, children learn role-play skills from an early age, important for the healthy development of any child.
At every castle are:
princesses
several matching accessories
of course Lego Duplo bricks
and a handy step-by-step guide.
Larger stones are safer for smaller children
The Lego bricks are considered to be safe for use by small children: they are too big to put in the mouth, and a great size for children's hands to play with.
In addition, the size of the stones makes it possible to practice fine motor skills.
Because the different, decorative Lego bricks can be easily put together, it attracts the attention of small children and they will also easily play with it.
The stones are made of durable material and therefore do not break easily.
The prices of the products from the Duplo Princess range are here and there experienced as a bit on the high side, nevertheless these products are often purchased and children like to play with these toys.
In addition, they find it difficult to anticipate.
There are several options to expand the fairytales and to buy other castles, so that your children have the opportunity to play and experience all the magical Disney fairytales at home.
Is your daughter a little older? View this LEGO Frozen collection
Duplo Princess Collection
The favorite is often with the first purchase of this type of toy this Duplo Sleeping Beauty, where your child can play with her favorite Disney princess.
If your daughter or niece, or any princess fan from the family has a favorite princess that she prefers to have all her toys from, then you can find many more Duplo princesses in addition to Sleeping Beauty and you can also choose one item from a favorite Disney princess, including:
You can read more about purchasing just one princess castle later in this article.
Because three different fairy tales come together in the Duplo Princess collection, there are countless play options for your child in terms of play options:
for example, take Cinderella to the ball for a dance
pick apples from the tree with Snow White
and play underwater with Ariel on the water slide!
The castles are a bit smaller and less detailed than when only one large castle is purchased.
Nevertheless, these products are often bought because with one purchase, three different fairy tales can be reenacted immediately.
For when your child cannot choose and would prefer to collect all Disney princesses!
What is all in the Duplo Princess collection?
Each fairy tale comes with the corresponding Disney princess and her castle (more toy options here), also other typical accessories known from the Disney movies.
For example, the fairy tale of the Little Mermaid comes with the underwater castle of Ariel and a water slide, at Snow White's castle there will be an apple tree, and at Cinderella's castle there is a clock and the well-known glass slipper.
There is also the possibility to give the princes a skirt, so that they can change outfits.
This is an aspect that is more often mentioned in the reviews of buyers of this product, because children seem to find it interesting that they can indicate the figures different clothes.
The Duplo Princess collection is regularly purchased together with a classic base plate specially designed for Lego building blocks, as well as the Lego Duplo "All-in-One-Pink-Box-of-Fun".
The base plate can be used to build the castles, but also other Lego constructions.
This board is compatible with all major building block brands and available in a variety of colors including pink, blue, purple, yellow and green.
The "All-in-One-Pink-Box-of-Fun" is a pink collection of Lego Duplo bricks and characters, which is packed in a large box in the shape of a Lego building block.
The kit contains 65 Lego bricks to build and play with.
Reviews of the princesses collection
Before purchasing a product, it is always useful to read reviews from buyers on different websites.
I found all kinds of nice and good reviews about the Disney Princess Collection on the official page of Lego, namely Lego.
Also on Amazon positive and useful reviews are given by, among others, mothers who have purchased this product for their children.
It is definitely worth taking a look at these review sites to find out which product you prefer and which is best for your child.
Cinderella's Castle
What makes the purchase of just one Disney princess castle, in this case Cinderella's castle, so much fun is that the product is detailed, and also includes several matching accessories.
Despite the details, the castle can be easily built. Various scenarios can be reenacted with the additional accessories.
Cinderella is a beautiful princess who lives in a castle with her stepmother and her mean stepsisters.
There is a party going on, but to bully her again they do not let Cinderella go.
Fortunately, a fairy arrives and uses magic to show her a beautiful dress and glass slippers, and a golden carriage to go to the party anyway.
There is only one condition: Cinderella must return home at midnight because the spell will wear off.
The tower with the clock that comes with this toy pack recreates the romantic dance between Cinderella and the Prince, where Cinderella flees at exactly noon and loses her glass slipper.
Also read: The nicest Duplo castles reviewed
In the case of Cinderella and her castle, there are two possibilities:
You can choose between a smaller and a larger version. The Lego Duplo Princess: these are the 3 best choices for your princess.
The small version includes 56 Lego pieces, including three blue towers, a dance floor with wheels, stairs and a bedroom with bed and Cinderella's make-up cabinet.
Indispensable are of course Cinderella herself and her prince.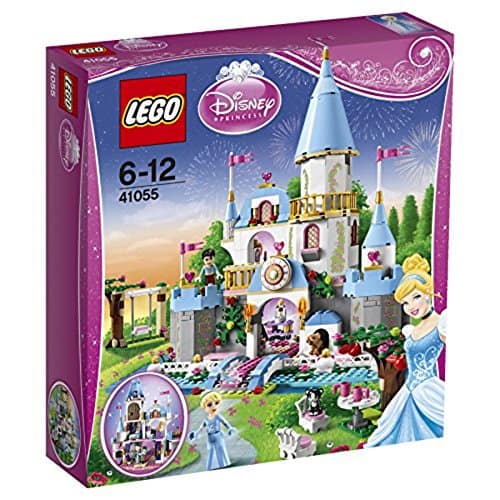 The larger version has 77 Lego pieces that have to be put together, is more detailed than the smaller version and comes with four towers, a fireplace, table and two chairs, a clock, a gate with tower, and of course the beautiful Cinderella herself and her charming prince.
The castle has 2 floors.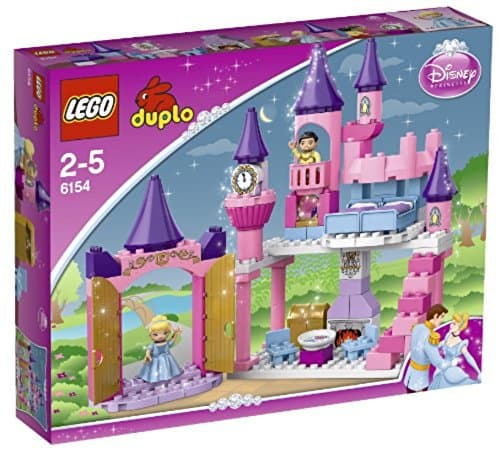 Cinderella's castle (small version) is often purchased in combination with Lego Duplo Disney Sofia "The first magic carriage" and the Lego Duplo Disney "Minnie Mouse Bow-Tique" building kit, according to Amazon.
Sofia's "First Magic Carriage" features Sofia and her carriage, a tree and her animal friends.
The "Minnie Mouse Bow-Tique" kit includes a two-storey house with Minnie's boutique on the lower floor.
Includes Minnie Mouse and Daisy Duck figures. Cinderella's grand castle is often purchased along with the Lego Duplo Princess Sleeping Beauty Fairytale (including Sleeping Beauty's tower, bunny, bed, and other fun accessories).
For ratings and reviews from previous buyers, I recommend you check out the following link for Cinderella's Little Castle:
For reviews about the large castle, please visit:
In addition, as described earlier, the official Lego site also offers helpful reviews on the products.
The Lego Duplo Princess products are fun toys for children who love the princesses of Disney.
There are numerous options, all Disney princesses and their castles are available.
The toys are of good quality and children hardly get tired of it.
The Lego Duplo Princess collection is a favorite product because with just one purchase, three Disney princesses are offered with matching castle and accessories.
If you prefer one castle where all accessories revolve around just one Disney princess, that is also possible.
If your little daughter picked out a pink tablet, maybe she will following our advice on pink tablets on the site, then she is probably ready for a nice princess castle!
Learn through play with the LEGO Series Friends, Disney & Creator
Children can create their own world with the brightly colored building blocks from LEGO. In the LEGO Friends series meet Andrea, Emma, ​​Mia, Olivia and Stephanie.
Together they are best friends forever and experience the best adventures on vacation, with karting and in Heartlake City!
Lego disney is a series of the most beautiful building sets for building palaces, such as those inhabited by Disney princesses.
Fantasize and build: your little princess is still building and developing her eye, hand coordination and fine motor skills.
While she is absorbed in her fantasy game, the browser is certainly learning and developing.
With LEGO Creator, kids can let their imaginations run wild.
With this toy you can make anything and the colorful bricks are easy to assemble for children from about 6 years old.
Thanks to the handy 3-in-1 construction system you can build all kinds of different models and convert them into a whole new model to experience exciting adventures!
Also read: the best Duplo Trains rated
Conclusion
There is a wide variety of princess toys available on Bol.com. There are not only toys for the smallest princesses, but also for the bigger princesses.
You will find craft toys, PLAYMOBIL sets, stuffed animals and much more.
Are you looking for princess themed LEGO? Then take a look in our article about the best LEGO Frozen building sets.
Our first choice remains the Ravensburger puzzle Disney Princess. As a gift or for your own child, every princess fan will love this.
Your child will enjoy it a lot.
Moreover, you can also permanently glue the puzzle to a surface to make it into a work of art that you can frame and hang.
Once that is done, your sweet princess is definitely ready for something new. You just need to know who her favorite princess is and you will find toys for it.
Or just check out the other fun princess toys from our list.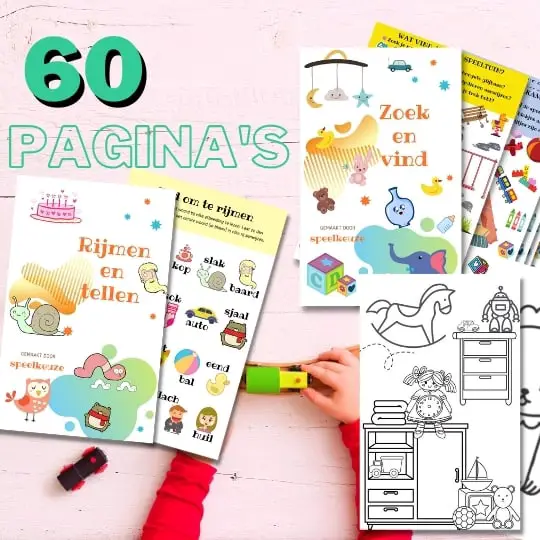 Always something to do for the holidays or rainy day?
Play Choice now has the ultimate activity book collection, with over 60 pages of fun coloring pages and educational puzzles.
Joost Nusselder, the founder of Speelkeuze.nl is a content marketer, father and loves trying out new toys. As a child he came into contact with everything related to games when his mother started the Tinnen Soldaat in Ede. Now he and his team create helpful blog articles to help loyal readers with fun play ideas.