25 best toddler apps and games for your android tablet
I enjoy writing these articles for my readers, you guys. I don't accept payment for writing reviews, my opinion on products is my own, but if you find my recommendations helpful and you end up buying something through one of the links I may be able to receive a commission on that.
More information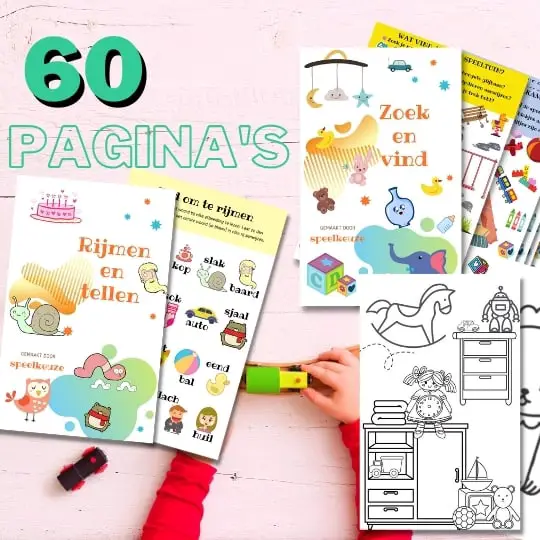 Always something to do for the holidays or rainy day?
Play Choice now has the ultimate activity book collection, with over 60 pages of fun coloring pages and educational puzzles.
More than 600 apps are available in the Google Play Store for toddlers. In addition to the screen time you allow your child, it is important how this screen time is spent.
In addition, you probably don't want to feel like downloading apps too much. Some apps can be quite expensive!
In this article, you can read more about the 25 best types of toddler apps for Android on offer to hopefully make the choice a lot easier.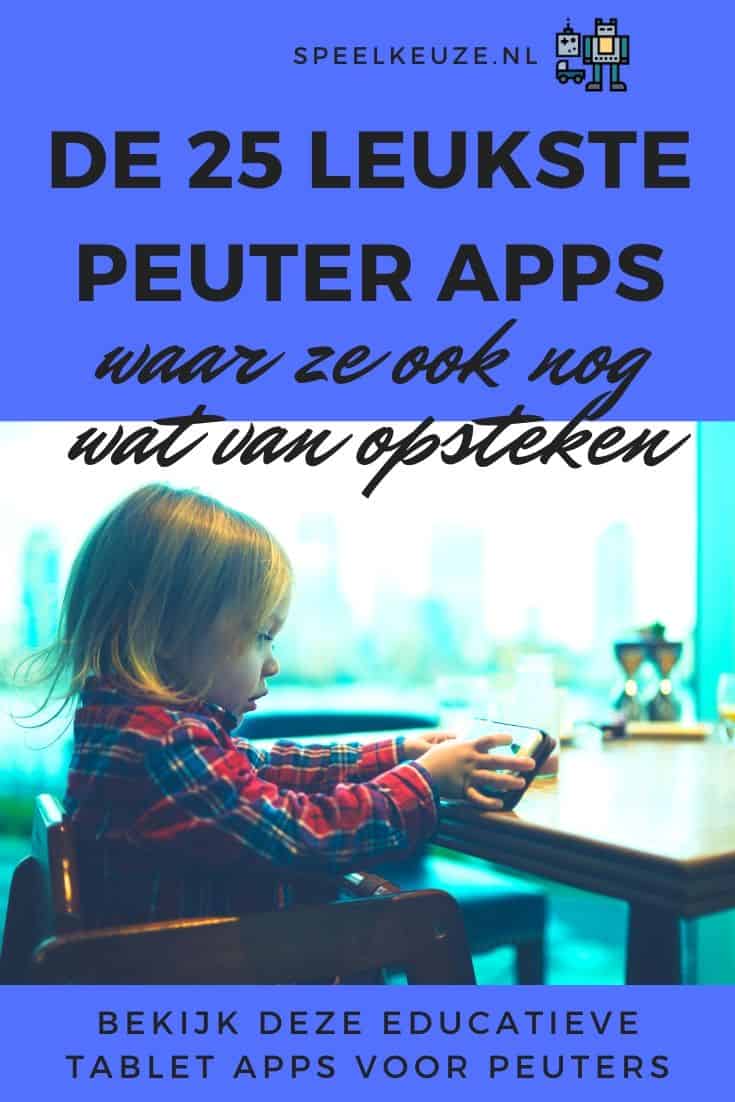 Want to know more about which tablet is most suitable for your toddler, read our article about it.
Elke maand een speel thema in je mailbox?
Leuke speeltips, doeboekjes en meer met als eerste mail onze gratis mini-gids "educatief speelgoed"
We zullen je email adres alleen gebruiken voor deze nieuwsbrief en respecteren jouw privacy
Peuter en Schermtijd
Officiële richtlijnen voor hoe vaak en hoe lang je kind op een tablet mag zijn er niet. Het wemelt van de adviezen en voor- en tegenstanders.
In een artikel van de NRC is de mening te lezen van de Nederlandse psycholoog Delfos.
De kern van haar verhaal is dat het draait om 'begrenzing en begeleiding'.
Het belangrijkste is om te kijken naar het effect op het gedrag van een kind, om te bepalen hoe lang hij of zij op de kindertablet mag.
Hiervoor is het van groot belang om de juiste apps te installeren.
De 25 leukste spelletjes en apps voor je peuter
Dit zijn de leukste apps voor peuters:
Youtube kids
Funny Foods
Kinderen hersenen trainen
LEGO Duplo train app
Dr Panda app serie
Ssst de tijger slaapt
NPO Zappelin
Magic drawing app
Nederlands leren met Emma
Tiggly
Slaap Lekker!
Ootje en zijn lettervriendjes
Sound Touch
Telekids
Match it up
Woezel & Pip in de tovertuin
Brandweerman Sam
Tellen voor peuters
Toca Boca
Wereld van Nijntje
Paw Patrol
Baby puzzles
Gigglymals interactieve dieren
Borre leesclub
Sonic
De bovenste vijf zal ik hieronder nog uitgebreid behandelen, maar eerst wat uitleg over de Play Store.
Google Play Store
In de Google Play Store zijn duizenden apps beschikbaar waarvan meer dan 600 apps voor peuters.
Met zoveel mogelijkheden kan het lastig zijn om de juiste keuze te maken. Gelukkig is alles al onderverdeeld in categorieën.
Om de peuter apps te zien te krijgen, klik je in de Google Play Store op de hoofdcategorie 'Gezin' en de subcategorie 'Tot 5 jaar'.
Er worden dan drie verschillende tabbladen zichtbaar:
De Homepage laat betaalde en gratis apps door elkaar zien en sorteert deze in duidelijke categorieën: leuke apps & games, aanbevolen voor jou, educatieve apps, hersenkrakers, actiegames, rollenspellen, vormen & kleuren, vroege leerders, puzzels & games, muziek maken en speelse wezens.
De Populairste items laat alle beschikbare apps zien op basis van populariteit. Je kunt eerst de keuze maken of je de betaalde of gratis selectie wilt zien, waarna alle apps zichtbaar worden.
Het tabblad Nieuwe releases laat de nieuwste peuter apps voor Android zien. Ook hier kies je eerst of je betaalde of gratis apps wilt zien alvorens de selectie zichtbaar wordt.
Er zijn dus betaalde en gratis apps. Betaalde apps zijn beschikbaar tussen de €0,99 en €8,49. Dit is een eenmalige uitgave waarna je voor altijd in het bezit bent van deze app.
De gratis apps bevatten vaak reclame om de kosten eruit te halen. Voordat je een app download is het altijd van belang om te kijken of deze in-app aankopen aanbied.
Dit houdt namelijk in dat je na het spelen van een aantal levels alsnog moet betalen, om de rest van het spel te ontgrendelen.
Voor het downloaden van de app staat altijd aangegeven of deze gratis of betaald is, in-app aankopen aanbiedt en of er advertenties in zitten.
Let dus goed op voordat je kind verknocht raakt aan een app waar je niet meer voor wilt bijbetalen!
3 leuke Peuter Apps voor je tablet
Youtube kids is gratis en bevat reclame. Het is een peuter-vriendelijke Youtube die, zoals de makers het beschrijven, een veiligere en simpelere manier aanbiedt om voor kinderen de wereld door online video te ontdekken. Het is dus wel een passieve manier van ontdekken. Wil je dat je kind zelf actief aan de slag gaat, zijn misschien de twee volgende apps beter.
Funny food is gratis en biedt in-app aankopen aan. Deze populaire en educatieve app bevat verschillende spelletjes en is gericht op het leren van vormen, groottes, kleuren, sorteren, tellen, vergelijken en meer. Het nadeel is dat je na een aantal spelletjes moet bijbetalen om meer mogelijkheden te ontgrendelen.
Kinderen Hersenen Trainen is geheel gratis en bevat (ondanks dat de beschrijving aangeeft van niet) advertenties. Ook dit is een educatieve app die zich richt op de ontwikkeling van het kind door middel van een aantal verschillende spelletjes zoals zoek de verschillen en memory.
Leukste Peuter spelletjes voor je tablet
Dan hier een verzameling van de leukste spelletjes voor je Android tablet:
LEGO Duplo Train App
LEGO DUPLO Train is een LEGO-app met treinbesturing voor jonge kinderen.
Het doel is om een ​​trein te bouwen en ervoor te zorgen dat deze een reis voltooit. De vereiste vaardigheden zijn:
begrip
creativiteit
motorische vaardigheden
Beoordeling van het tablet spel
Wanneer de app voor het eerst wordt geopend, wordt de speler een kleurrijk scherm met vier opties getoond. In de rechter bovenhoek is een Voor Ouders-sectie.
Wanneer dit gedeelte wordt aangeboord, worden spelers gevraagd om een ​​eenvoudige wiskundige vergelijking op te lossen om toegang te krijgen tot de sectie.
Binnen de sectie ouders kunnen gebruikers verschillende LEGO-apps downloaden, meer lezen over de app en de app beoordelen.
Er is ook een gedeelte waar gebruikers verschillende LEGO-sets kunnen kopen die overal in de app te zien zijn, en dit leidt ouders naar de online LEGO-winkel.
Gebruikers kunnen ook de slaapduur in dit menu aanpassen.
Als je dit instelt, kan de app niet gebruikt worden tussen bepaalde uren van de dag dus handig om wat controle over het gebruik te hebben.
In het hoofdmenu bevindt zich een vak in de rechterbenedenhoek dat de gebruiker naar een sectie brengt waar ze alle andere apps van de ontwikkelaar kunnen downloaden.
Als je dit wilt invoeren, moet je een eenvoudige wiskundige vergelijking oplossen.
In de linkerbenedenhoek van het menu is een knop waarmee spelers naar een in-app-bioscoop kunnen worden gebracht en korte LEGO stop-motionanimatieclips kunnen kijken.
Wanneer het hoofdgedeelte van de app wordt gestart, wordt spelers gevraagd rijtuigen toe te voegen aan de achterkant van een locomotief.
Zodra de trein is gebouwd, kunnen spelers passagiers oppikken door op het scherm te tikken en ze naar de trein te slepen.
Spelers kunnen ook machines, bloemen en gedolven erts uit een steengroeve halen.
Zodra de trein volledig is gevuld, krijgen spelers een bewegend beeld van hun volledige trein die door een kleurrijk landschap reist.
Peuters krijgen dan de taak om de trein bij te tanken.
Tijdens hun reis worden spelers gestopt en moeten legosjablonen worden gebruikt om een ​​brug te bouwen en extra passagiers van een ander station op te halen.
Zodra de taken zijn voltooid, krijgt de speler een scherm te zien waarin de machinist uit de trein opstapt om te juichen en de app begint opnieuw.
Reclame en productplaatsing
Binnen het gedeelte van de ouders zijn advertenties voor de LEGO DUPLO-treinsets te zien, maar dit is niet toegankelijk voor je peuter.
Spelgedrag dat voor sommige ouders van belang kan zijn
Er is tijdens het testen geen spelgedrag gevonden dat jou als ouders zou moeten interesseren.
Dr Panda Android App serie
Heel veel kinderen zijn dol op Dr. Panda Apps en er zijn er ondertussen een heel aantal.
Apps variëren van koken, klusjes / schoonmaken, rollenspellen en meer, en Dr Panda, het schattige beertje, neemt jouw peuter in al deze taken bij de hand mee.
Het zijn leuke spellen die je telkens opnieuw kunt spelen zonder dat het vervelend wordt, daarna kun je overstappen op een ander thema en later nog weer eens terugkomen op een variant die je eerder al eens hebt gedaan.
Voor je peuter letterlijk uren en uren speelplezier.
Dit is bijvoorbeeld de gameplay van Dr Panda in Space:
Dr. Panda begon in 2012 met het maken van apps, oorspronkelijk onder de naam Tribeplay.
Ze zijn gevestigd in China en Californië. Hier een aantal van de meest populaire Dr Panda Spellen voor de tablet:
Dr. Panda Town
Dr. Panda Town van Dr. Panda Ltd is de eerste gratis app met in-app-aankopen (of IAP) aangeboden door Dr. Panda-spellen.
Deze app bevat in-app-aankopen voor een park en een supermarkt, evenals een woning.
De app opent met Dr. Panda die met zijn gele auto naar de stad trekt.
Als je het park of de supermarkt probeert te openen en ze niet hebt gekocht, verschijnt er een ouderlijk slot voordat je naar de Google Play Store gaat, waarvoor je jouw geboortejaar moet invoeren.
Ik merkte op dat ik de app-bundel op één apparaat had en mijn aankoop op mijn tweede apparaat moest "herstellen" om toegang te krijgen tot elk van de drie plaatsen.
Dr. Panda Cafe
Dr. Panda Cafe van Dr. Panda Games is een nieuwe universele app voor Android (en iOs) waarmee je peuter eten en drinken kan maken in een caféomgeving.
Naarmate je meer klanten krijgt, moet je het tijdmanagement in balans houden, bestellingen opnemen en maken en opruimen.
Als je meer klanten bedient, verdien je nieuwe recepten en voedsel om aan de klanten te geven.
Om de app te spelen, plaats je de klant eerst aan een tafel - als de tafel leeg is, kun je de klant erbij neerzetten.
Zodra ze zijn gaan zitten, neem je hun bestelling op en ga je achter de toonbank terug als Dr. Panda om aan de bestelling te werken.
Items zijn onderverdeeld in categorieën en je tikt op de juiste categorie om het item te maken of te koken.
Zodra je alle items in de bestelling hebt gemaakt, is het tijd om deze aan de klanten te leveren.
Je kunt bestellingen van meerdere klanten tegelijk aannemen en eten op dezelfde manier maken, hoewel het een beetje verwarrend kan zijn!
Onder de voedselkeuzes, koffie / thee, cake, pizza en als je je klanten beter leert kennen, kun je proberen je voor te stellen wat ze kunnen bestellen.
Het was belangrijk om aandacht te schenken aan de klanten om ze gelukkig te houden, die op hun beurt items ontgrendeld nadat je verdiende sterren en je meer eten en drinken gaf om te serveren.
Dr. Panda's Restaurant
Deze App biedt interactieve minigames met verschillende soorten dieren (klanten) en een gerecht dat ze voor ogen hebben.
Activiteiten die in de app worden beoefend, omvatten fijne motoriek via:
het hakken van een verscheidenheid aan voedingsmiddelen
pellen
bakken in een koekenpan
knijpen en persen voor het maken van sap
roosteren en het bereiden van brood
samen met het koken van een verscheidenheid aan voedsel
Er zijn verschillende rotatievarianten om te worden bereid en geserveerd aan de verschillende dieren, waaronder soepen, koekjes versieren, appeltaart maken, een verscheidenheid aan vruchtendranken en zijn persoonlijke favoriete pizza.
Deze app kan ook worden gebruikt in logopedie training om elk van de items te beschrijven wanneer ze worden voorbereid en de volgorde ervan te bepalen.
Deze app was leuk omdat het twee restaurants in één was, met één beneden het Amerikaanse thema en de bovenverdieping ingericht in meer een Chinees thema.
Het zou geweldig zijn als het eten overeenkwam met het decor op elk van de verdiepingen.
De mini-recyclinggame was een leuke manier om een peuter eraan te herinneren wat in elke prullenbak was terechtgekomen en helpt recyclingvaardigheden thuis te oefenen.
We hebben ook genoten van het aanraken van verschillende voorwerpen in de eetkamer om de lichten aan en uit te doen, de spin aan te raken en interactie te hebben met de borden nadat de maaltijden klaar waren.
Mijn zoon genoot van het maken van koekjes en het maken van de soepen, omdat ze de fijnmazigheid bij het hakken en de fijne motoriek vereisten.
Dr. Panda Restaurant 2
Dr. Panda Restaurant 2 van Dr. Panda is een universele app voor Android en iOS die je kleine chef-kok in een tropische keuken plaatst en hen in staat stelt voedsel te maken om hun klanten te verrassen.
De app bevat meer dan 20 ingrediënten, waaronder vis, eieren, paprika's, tomaten, drie soorten pasta, kruiden en meer.
Je kunt koken, bakken, bakken en copdelen van ingrediënten om het perfecte gerecht te maken voor je klanten die met een watertaxi in groepen van twee aankomen en hun bestellingen plaatsen.
Terwijl je het item maakt, staat de gast aan het raam terwijl je de ingrediënten uitzoekt en gezichten maakt, afhankelijk van wat ze willen bij hun maaltijd.
Met elk gerecht kun je verschillende toplagen maken om aan hun smaak te voldoen. De app bevat een traditioneel dieet en een switch voor een vegetarisch dieet.
De app besteedt aandacht aan details, fijne motoriek vereist voor het hakken, in plakken snijden en het opmaken van de ingrediënten, en zorgt ervoor dat de klanten het voedsel krijgen dat ze willen.
Daarnaast volgen kinderen stap voor stap recepten die het maken van de pasta, het gieten in het vergiet, het op de plaat zetten en het maken van een saus.
Andere taken zijn het uitrollen van het pizzadeeg voordat je extra ingrediënten toevoegt.
Dr. Panda Train
Dr. Panda Train, allemaal aan boord van deze app van Dr. Panda Games dit keer met een treinthema!
In deze trein-app met leuke thema's dienen je kinderen als dirigent en rijden ze in de trein en touren ze door een van de drie landschappen met:
jungle
woestijn
en een prachtige landelijke omgeving.
In de app kan je peuter de trein besturen vanuit het perspectief van een eerste persoon in de cabine of van een afstand.
Ze kunnen ook stoppen en de passagiers bezoeken om hen voedsel, snacks, leesmateriaal en meer te geven.
Mijn zoon heeft zelfs een geweldige tech gevonden om de passagiers te geven.
Schep op wat kolen om het vuur op te blazen en de trein sneller naar de volgende bestemming te laten gaan of stoom gewoon lekker door op het platteland.
Ik vond het leuk dat mijn kinderen om de beurt konden spelen met de app of passagiers op konden zetten en items aan hen konden uitdelen.
Naarmate je meer van het spel completeert, verdien je extra items om aan de passagiers te geven - de favorieten van mijn kinderen waren natuurlijk de tech!
Dr. Panda Daycare
Dr. Panda's Daycare van Dr. Panda kenmerkt Dr. Panda in een kinderopvangomgeving waar je kind zich in een virtueel speelhuis met vijf babybeesten bevindt.
De dieren hebben een speelkamer waar ze op een hobbelpaard kunnen schommelen, op een bal kunnen stuiteren of met een trein kunnen spelen.
In de keuken kunnen ze doen alsof ze een verjaardagsfeestje hebben, ontbijten of lunchen en eten koken.
Boven is er een podium en instrumenten om mee te spelen en een dutjes kamer.
Er is ook een achtertuin waar kinderen kunnen spelen met een glijbaan, springkasteel of zwembad.
De app stimuleert creatief spel en helpt kinderen te begrijpen dat hun keuzes kunnen bepalen hoe de dieren zullen spelen. Het is het meest geschikt voor late peuters en kleuters die willen genieten van de omgeving terwijl ze nieuwe speeltjes vinden om mee te spelen en schakelaars om aan en uit te zetten.
Dr. Panda Airport
Deze speelt zich af op een luchthavenavontuur met tien activiteiten, waaronder:
veiligheidscontrole
inchecken aan het bureau
besturen van de bagagekar
bagage ophalen met bagage
regelen van het luchtruim via de verkeerstoren
geld tellen voor een telefoonautomaat en een telefoongesprek
het stempelen van tickets
het schoonmaken van het vliegtuig
het laden van de vlucht met bagage
naar verloren en gevonden gaan
De app is ontworpen voor kinderen in de kleuterklas en ouder via de basisschool.
Het oefent vaardigheden zoals fijne motoriek, sorteren, tellen, het vinden van een specifiek object, expressieve taal, vormherkenning en -matching, en meer.
De vier hoofdpersonen in de app zijn een aap, een olifant, een wasbeer en een nijlpaard die allemaal gekleed zijn in verschillende soorten vakantiekleding.
Dr. Panda Buschauffeur
Dr. Panda Buschauffeur van Dr. Panda laat Dr. Panda in een bus rondrijden in een stad, op het platteland, in de haven of op een aantal andere locaties, terwijl hij zijn passagiers ophaalt en afzet, de bus schildert, de benzinetank vult en nog veel meer!
Net als bij een traditionele bus moet je stoppen om passagiers en andere voertuigen voorbij te laten gaan, stoppen voor treinen die passeren en de bus ruimen nadat je "route" is voltooid.
Deze app is ontworpen voor kleuters via de vroege basisschool, vergelijkbaar met andere Dr. Panda-apps, en biedt uren open spel voor hen die fijne motoriek gebruiken, zowel van zittende passagiers als de bus besturen met je vinger of door je apparaat voorzichtig te bewegen om het van links naar rechts te sturen om te zorgen dat het op de weg blijft.
Het landschap in de app verandert elke keer dat je het start - en kan een haven compleet met een ophaalbrug, spoorwegovergangen, tunnels, vogels op de weg naar een platteland.
Dr. Panda moet zijn dierenvrienden veilig naar hun bestemming brengen, terwijl ze ervoor zorgen dat ze in de bus gaan zitten en op obstructies letten.
Wanneer een obstakel opkomt - een waarschuwing "licht" komt binnen in de bus zodat je het kunt aanraken om ermee te stoppen en de ophaalbrug op en neer laat gaan, passagiers over de weg gaan en uitkijken voor vogels en andere dieren in het wild dat is misschien onderweg.
Dr. Panda Handyman
Dr. Panda Handyman van Dr. Panda Games is de nieuwste universele app voor Android en iOS met Dr. Panda.
Hij repareert huishoudelijke voorwerpen die op mysterieuze wijze door 14 minigames kapot zijn gegaan.
De app is bedoeld voor peuters, kleuters en basisschoolkinderen.
De app is geweldig voor kinderen om fijne motoriek te oefenen en om voorwerpen en gereedschappen te benoemen en te vinden.
Een van onze favoriete functies van de app was het repareren van alle verschillende objecten in huis en de realistische geluiden van de gereedschappen terwijl ze werkten.
We vonden het leuk dat de taken varieerden, dus je deed niet altijd dezelfde taak steeds opnieuw.
Dr. Panda Ziekenhuis
Dr. Panda's Ziekenhuis van Dr. Panda Games is een universele app met acht verschillende dieren die je kind naar hun ziekenhuisbedden zal brengen, en hun gezondheidsproblemen zal ontdekken en behandelen.
De app bevat tien minigames, waaronder:
een maagklachten behandelen
waterpokken behandelen
een injectie toedienen
ogen, oren, mond / tanden behandelen
verkeerd ingeslikte items ophalen
Deze app biedt een geweldige weergave van een dierenziekenhuis waar kinderen kunnen communiceren met en omgaan met alle verschillende dieren.
Dr. Panda Racers
Deze heeft een racethema waarmee je je eigen auto's kunt bouwen en racen, inclusief sprongen en trucs, je voertuig wassen, concurreren met andere Dr. Panda-personages en meer!
Naarmate je de races met succes voltooit, verdien je op de eerste plaats prijzen zoals raceautodelen, spuitverven en trofeeën.
De tracks kunnen beton, vuil of zand zijn en je kiest ze voordat je op het evenement racet.
Om de app te spelen, kies je of bouw je je auto, kies je je track of bouw je deze uit en ga je naar de pits voor een wasbeurt voordat je naar de baan gaat voor de race.
Aan de startlijn wordt je gevraagd om je gordel om te doen en dan is het klaar voor de race en leuke stunts!
Dr. Panda Brandweerman
Dr. Panda Brandweerman (Firefighters) is een universele app voor Android en iOS waarmee je kind vuur kan blussen, een brandweerwagen bestuurt, obstakels verwijdert, meer dan 30 kamers en meer ontdekt.
Het herinnerde me er erg aan om als kind een brandweerauto te spelen, behalve dat Dr. Panda in staat was de kamers fysiek te blussen in plaats van dat ik me ze moest voorstellen.
De app is vooral geschikt voor peuters en kleuters.
Het kan worden gebruikt om de volgende richtingen te oefenen, expressieve taal om te vertellen wat ze doen en te volgen, samen met de dieren om ze te redden.
Er is ook oorzaak en gevolg van het bestrijden van het vuur, het overhandigen van de gereedschappen en het verdergaan naar het volgende niveau.
Dr. Panda Space
Dr. Panda in Space is een universele app voor iOS, Amazon appstore en Android waarmee je je eigen ruimteschip kunt aanpassen en kunt lanceren.
Zo kun je ontdekkingen doen in de ruimte van planeten, asteroïden tot activiteiten zoals het repareren van je ruimteschip, spelen met zwaartekracht en meer.
Deze app is gericht op voorschoolse en vroegschoolse kinderen van peuter leeftijd met veel geweldige gratis speelmogelijkheden voor de jongere kinderen tijdens de verkenningsfase.
De app begint met een aanpassing van je ruimteschip waar je vervolgens de ruimte in springt en begint aan je verkenningstocht.
Dr. Panda Mailman
Dr. Panda's Mailman is een universele app voor iOS en Android met het postkantoor!
Deze app biedt de mogelijkheid om je eigen ansichtkaarten te maken en te adresseren, een cadeau te kiezen om te verpakken voor bezorging, inclusief inpakken en bezorgen.
De app bevat een verscheidenheid aan dieren, waaronder een varken, de schildpad (Toto) die we zagen in Toto's Treehouse, een aap, olifant, schaap, nijlpaard, kat, wasbeer, olifant en meer voor een totaal van 12 dieren!
Na het ontwerpen van je pakket, is Dr. Panda op avontuur om jouw post te bezorgen.
De stempel op het pakket of de briefkaart helpt hem te weten waar hij moet worden afgeleverd en wordt op de scooter van Dr. Panda geplaatst om het af te leveren.
De wereld omvat rivieren, bossen, bergen en huizen, samen met sprongen, wegen, verkeersborden en meer!
Deze app is het meest geschikt voor kleuters en vroege kinderen in de basis leeftijd.
Beoefende vaardigheden kunnen taal, motoriek in kleuren omvatten en het besturen van de scooter, luisteren naar richtingen.
Dr. Panda Swimming Pool
Dr. Panda's Swimming Pool is met dieren in verschillende zwembaden.
Je kunt je kleden in verschillende badpakken in de kleedkamer terwijl je een douche neemt en je klaarmaakt voor het zwembad, duiken op een piratenschip, spelen in een zandbak, een waterglijbaan afdalen of spelen in een klein pierenbadje met een verscheidenheid van lunch items beschikbaar.
Deze app is bedoeld voor peuters en kleuters.
Vaardigheden die worden beoefend omvatten taal, zowel ontvankelijk als expressief, en enkele fijne motorische vaardigheden.
Ik vond dat de app vier verschillende speelzones had die op een traditioneel strand lijken.
De grafische afbeeldingen waren helder en ze toonden vooral goed met de animaties.
Dr. Panda ijsco wagen
De ice cream truck van Dr. Panda laat je je eigen ijs maken met verschillende kleuren, mix-in's zoals fruit, terwijl je het in een blender klapt om je favoriete combinaties te maken.
Zodra je ijsje is gemaakt, voeg je je toppings toe, zoals karamel of regenboog sprinkles, hagelslag met chocoladekrullen en traditionele hagelslag, en de mogelijkheid om er snoep van te maken.
Na het voltooien van je coupe tik je op een bel en help je het personage het te eten voordat je voor de ijscoupe betaalt.
De betaling voor elke ijscoupe hangt af van de grootte, complexiteit en hoeveelheid gebruikte toppings.
Ik heb gezien dat hoorntjes variëren van vier tot 31 munten, afhankelijk van hoe je het hebt samengevoegd.
Dr. Panda Supermarkt
Dr. Panda Supermarket van Dr. Panda is een universele app voor iOS en Android waarin Dr. Panda in de supermarkt staat, samen met veel van zijn vrienden die we in vorige apps hebben gezien, waaronder de meest recente Dr. Panda Daycare.
Dr. Panda is gevestigd in Chengdu, China, waar het nationale dier een gigantische panda is!
De app biedt de dieren tijdens het boodschappen doen en een verscheidenheid van tien thema-mini-games, variërend van winkelen met behulp van een lijst, het organiseren van verschillend gevormde dozen, het opruimen van gemorst voedsel en meer met zes verschillende dieren en hun kinderen.
De app oefent fijne motoriek, kritisch denken en creatieve speelvaardigheden.
Het bevat geen geschreven of gesproken taal, wat betekent dat het een beroep zal doen op peuters tot vroege kleuters.
Conclusie
Wanneer je niet alleen voor apps wilt gaan op een tablet en toch wil dat je kind alles spelend kan leren, dan hebben we deze educatieve speelgoedsoorten voor je uitgelegd.
Het gaat dus niet per se om hoe lang je kind op de tablet zit, maar ook waar deze tijd aan wordt besteed.
Tussen de honderden peuter apps die voor Android beschikbaar zijn, zijn een aantal belangrijke zaken om rekening mee te houden.
Gratis apps kunnen advertenties bevatten of kunnen na een aantal spelletjes toch nog in-app aankopen vereisen.
Betaalde apps bevatten vaak geen advertenties en download (en betaal) je één keer voor altijd. Let altijd voor het downloaden op wat er bij de beschrijving staat.
Er zijn vele soorten verschillende apps beschikbaar voor zowel passief en actief leergedrag.
Om te bepalen wat nu de beste keus is voor jouw kind(eren), is het het best om het een en ander uit te proberen en te kijken naar het effect op het gedrag.
Je weet nu in ieder geval wat belangrijk is om rekening mee te houden!
Lees ook: dit zijn de leukste spelletjes om te spelen met je peuter, ook offline
Altijd wat te doen voor de vakantie of regenachtige dag?
Speelkeuze heeft nu de ultieme doeboek collectie, met meer dan 60 pagina's aan leuke kleurplaten en educatieve puzzels.
Joost Nusselder, de oprichter van speelkeuze.nl is een content marketer, vader en houdt van het uitproberen van nieuw speelgoed. Hij kwam als kind al in aanraking met alles rondom spellen toen zijn moeder de Tinnen Soldaat begon in Ede. Nu maakt hij samen met zijn team hulpvaardige blog artikelen om trouwe lezers te helpen bij leuke speel ideetjes.