I enjoy writing these articles for my readers, you guys. I don't accept payment for writing reviews, my opinion on products is my own, but if you find my recommendations helpful and you end up buying something through one of the links I may be able to receive a commission on that.
More information
More than 600 apps are available for toddlers in the Google Play Store. In addition to the screen time that you allow your child, it is important how this screen time is spent.
In addition, you probably don't want to feel like downloading apps too much. Some apps can be quite expensive!
In this article, you can read more about the 25 best types of toddler apps for Android on offer to hopefully make the choice a lot easier.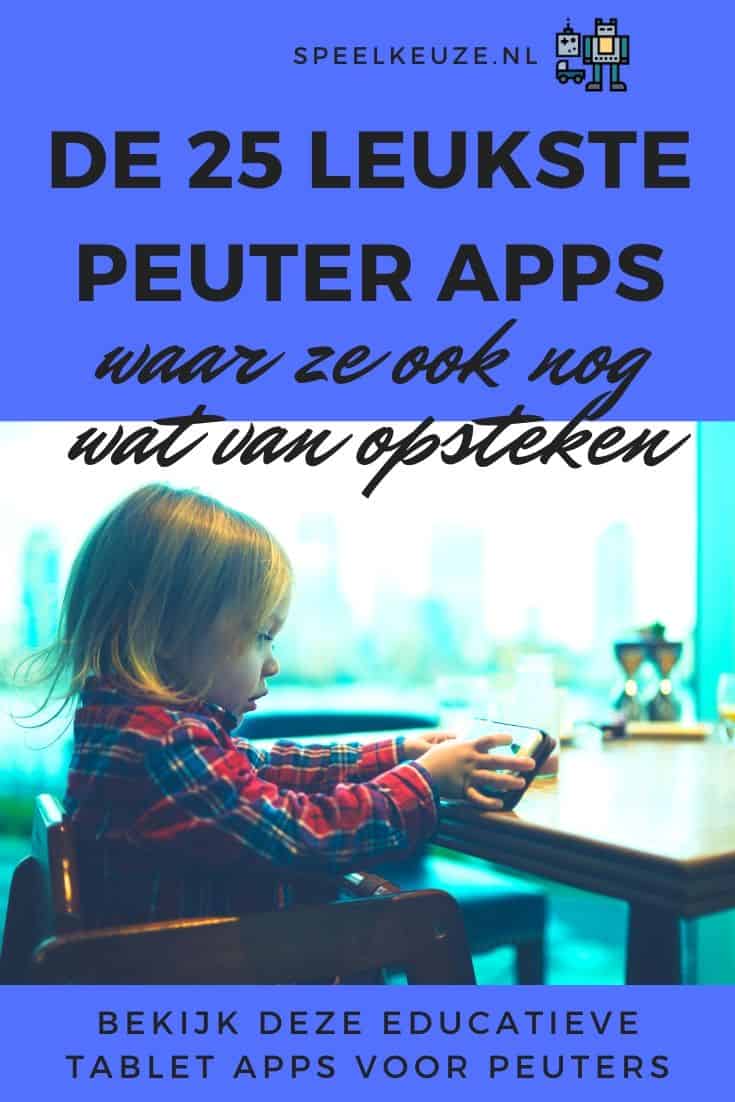 Want to know more about which tablet is most suitable for your toddler, read our article about it.
How long do you leave your child on a screen per day?
Toddler and Screen Time
There are no official guidelines for how often and for how long your child can use a tablet. It is teeming with advice and supporters and opponents.
In a article of the NRC is the opinion of the Dutch psychologist Delfos.
The core of her story is that it is all about 'limitation and guidance'.
The important thing is to look at the effect on a child's behavior to determine how long he or she can stay on the tablet.
For this it is very important to install the correct apps.
The 25 best games and apps for your toddler
These are the best apps for toddlers:
Youtube kids
Funny Foods
Train children's brains
LEGO Duplo train app
Dr Panda app series
Shh the tiger is sleeping
NPO Zappelin
magic drawing app
Learn Dutch with Emma
tiggly
Sleep tight!
Ootje and his letter friends
Sound Touch
Telekids
Match it up
Woezel & Pip in the magic garden
Brandweerman Sam
Counting for toddlers
Touch mouth
World of Miffy
Paw Patrol
baby puzzles
Gigglymals interactive animals
Borre reading club
Sonic
I will discuss the top five in detail below, but first some explanation about the Play Store.
Google Play Store
Being in the Google Play Store thousands of apps available of which more than 600 apps for toddlers.
With so many options, it can be difficult to make the right choice. Fortunately, everything is already divided into categories.
To view the toddler apps, click on the main category 'Family' and the subcategory 'Up to 5 years' in the Google Play Store.
Three different tabs will then be visible:
The Homepage mixes and sorts paid and free apps into clear categories: fun apps & games, recommended for you, educational apps, brain teasers, action games, role playing, shapes & colors, early learners, puzzles & games, music making and playful creatures.
The Most Popular Items lists all available apps based on popularity. You can first choose whether you want to see the paid or free selection, after which all apps become visible.
The New Releases tab shows the latest toddler apps for Android. Again, you first choose whether you want to see paid or free apps before the selection becomes visible.
So there are paid and free apps. Paid apps are available between $ 0,99 and $ 8,49. This is a one-time release after which you will be in possession of this app forever.
The free apps often include advertisements to cut costs. Before downloading an app, it is always important to check whether it offers in-app purchases.
This means that after playing a number of levels you still have to pay to unlock the rest of the game.
Before downloading the app, it is always indicated whether it is free or paid, offers in-app purchases and whether it contains advertisements.
So be careful before your child gets hooked on an app that you no longer want to pay for!
3 fun Toddler Apps for your tablet
Youtube kids is free and contains advertising. It's a toddler-friendly Youtube which, as the makers describe it, offers a safer and simpler way for children to discover the world through online video. So it is a passive way of discovering. If you want your child to actively get started, the two following apps might be better.
Funny food is free and offers in-app purchases. This popular and educational app contains various games and focuses on learning shapes, sizes, colors, sorting, counting, comparing and more. The disadvantage is that after a number of games you have to pay extra to unlock more options.
Children Brain Training is completely free and contains (although the description indicates not) advertisements. Also this is an educational app that focuses on child development through a number of different games such as spot the differences and memory.
best Toddler games for your tablet
Then here is a collection of the best games for your Android tablet:
LEGO Duplo Train App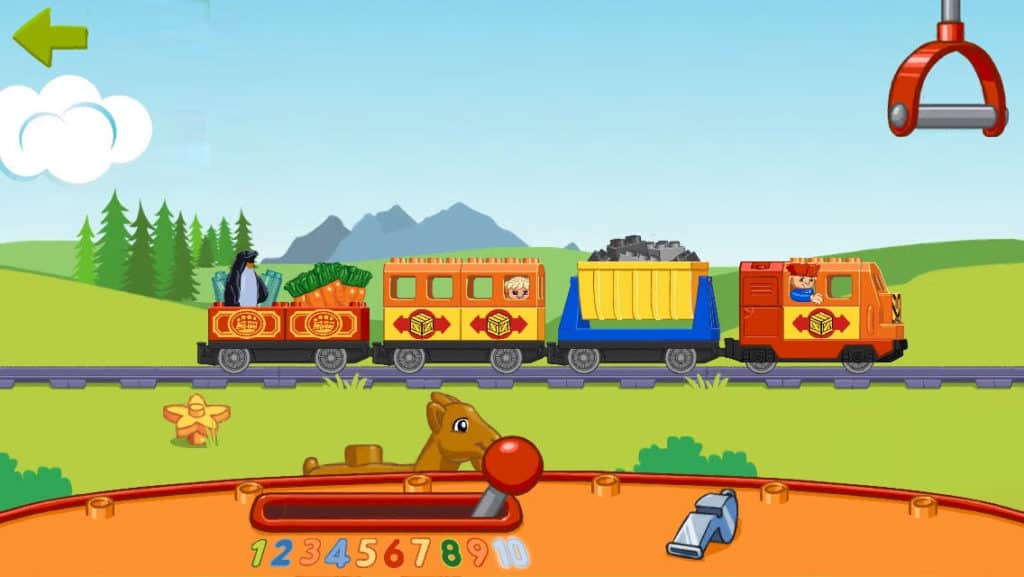 LEGO DUPLO Train is a LEGO train control app for young children.
The goal is to build a train and make it complete a journey. The skills required are:
understanding
creativity
motor skills
Review of the tablet game
When the app is first opened, the player will be presented with a colorful screen with four options. In the top right corner is a For Parents section.
When tapped into this section, players will be asked to solve a simple math equation to access the section.
Within the parents section, users can download various LEGO apps, learn more about the app and rate the app.
There is also a section where users can purchase various LEGO sets that can be seen all over the app, and this leads parents to the online LEGO store.
Users can also adjust sleep duration in this menu.
If you set this, the app cannot be used between certain hours of the day, so it is useful to have some control over use.
In the main menu there is a box in the lower right corner that takes the user to a section where they can download all other apps from the developer.
To enter this, you need to solve a simple math equation.
In the lower-left corner of the menu is a button that takes players to an in-app cinema and short LEGO watch stop motion animation clips.
When the main part of the app is launched, players will be prompted to add carriages to the back of a locomotive.
Once the train is built, players can pick up passengers by tapping the screen and dragging them onto the train.
Players can also retrieve machines, flowers and mined ore from a quarry.
Once the train is completely filled, players will get a moving image of their entire train traveling through a colorful landscape.
Toddlers are then tasked with refueling the train.
During their journey, players are stopped and Lego templates must be used to build a bridge and pick up additional passengers from another station.
Once the tasks are completed, the player will be presented with a screen where the train driver will get off the train to cheer and the app will restart.
Advertising and product placement
Advertisements for the LEGO DUPLO train sets can be seen within the parents section, but are not accessible to your toddler.
Playing behaviors that may be of concern to some parents
No gaming behavior was found during testing that should interest you as a parent.
Dr Panda Android App series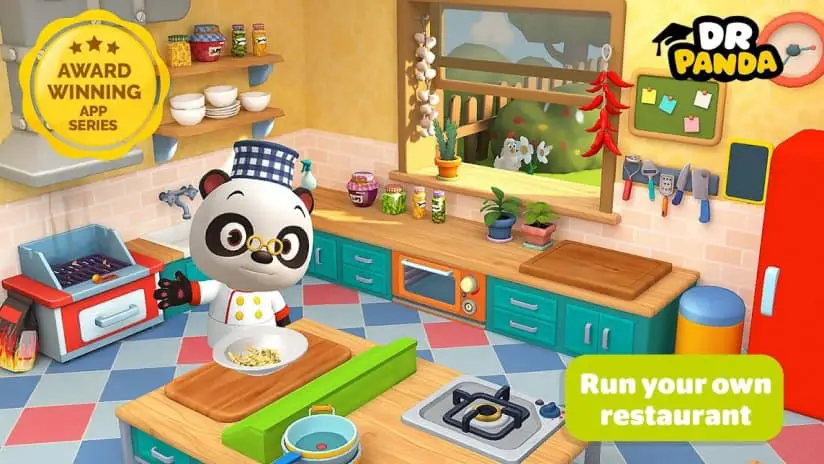 Lots of kids love Dr. Panda Apps and there are quite a few now.
Apps range from cooking, chores / cleaning, role playing and more, and Dr Panda, the cute little bear, will take your toddler to hand in all of these tasks.
They are fun games that you can play over and over again without getting annoying, then you can switch to a different theme and later come back to a variant that you have already done before.
Literally hours and hours of fun for your toddler.
For example, this is the gameplay of Dr Panda in Space:
Dr. Panda started creating apps in 2012, originally under the name Tribeplay.
They are based in China and California. Here are some of the most popular Dr Panda Games for the tablet:
dr. Panda Town
Dr. Panda Town by Dr. Panda Ltd is the first free app with in-app purchases (or IAP) offered by Dr. Panda games.
This app contains in-app purchases for a park and a supermarket, as well as a home.
The app opens with Dr. Panda traveling to the city with his yellow car.
If you try to open the park or grocery store and haven't bought them, a parental lock will appear before going to the Google Play Store, requiring you to enter your year of birth.
I noticed that I had the app bundle on one device and had to "restore" my purchase on my second device to access each of the three places.
dr. Panda Cafe
Dr. Panda Cafe by Dr. Panda Games is a new universal app for Android (and iOS) that allows your toddler to create food and drink in a cafe environment.
As you get more customers, you need to balance time management, take and make orders and clean up.
As you serve more customers, you earn new recipes and food to give to the customers.
To play the app, you first place the customer at a table - if the table is empty, you can drop the customer there.
Once they sit down, take their order and go back behind the counter as Dr. Panda to work on the order.
Items are divided into categories and you tap the appropriate category to create or cook the item.
Once you have made all the items in the order, it is time to deliver it to the customers.
You can take orders from multiple customers at once and make food the same way, although it can be a bit confusing!
Among the food choices, coffee / tea, cake, pizza and as you get to know your customers better try to imagine what they can order.
It was important to pay attention to the customers to keep them happy, who in turn unlocked items after you earned stars and gave you more food and drink to serve.
Dr. Panda's Restaurant
This App provides interactive mini-games with different kinds of animals (customers) and a dish they have in mind.
Activities practiced in the app include fine motor skills through:
chopping a variety of foods
to peel
fry in a frying pan
squeeze and squeeze for juicing
toasting and preparing bread
along with cooking a variety of foods
There are several rotational variations to be prepared and served to the different animals, including soups, decorating cookies, apple pie making, a variety of fruit drinks and his personal favorite pizza.
This app can also be used in speech therapy training to describe each of the items as they are being prepared and to determine their sequence.
This app was nice because it was two restaurants in one, with one downstairs American themed and the upstairs decorated in more of a Chinese theme.
It would be great if the food matched the decor on each of the floors.
The mini recycling game was a fun way to remind a toddler what went into each trash can and help practice recycling skills at home.
We also enjoyed touching different objects in the dining room to turn the lights on and off, touch the spider, and interact with the plates after the meals were ready.
My son enjoyed making the cookies and making the soups as they appreciate the fineness of the chopping and the fine motor skills requirements.
dr. Panda Restaurant 2
Dr. Panda Restaurant 2 by Dr. Panda is a universal app for Android and iOS that puts your little chef in a tropical kitchen and allows them to create food to delight their customers.
The app contains more than 20 ingredients, including fish, eggs, peppers, tomatoes, three types of pasta, herbs and more.
You can cook, bake, bake, and share ingredients to create the perfect dish for your customers who arrive in groups of two by water taxi and place their orders.
As you make the item, the guest will be at the window while you pick out the ingredients and make faces depending on what they want with their meal.
With each dish you can make different top layers to suit their taste. The app includes a traditional diet and a switch for a vegetarian diet.
The app pays attention to detail, fine motor skills required for chopping, slicing and formatting the ingredients, ensuring customers get the food they want.
In addition, children follow step-by-step recipes that include making the pasta, pouring it into the colander, putting it on the plate and making a sauce.
Other tasks include rolling out the pizza dough before adding additional ingredients.
dr. Panda Train
Dr. Panda Train, all aboard this app from Dr. Panda Games this time with a train theme!
In this fun themed train app your kids serve as conductors and ride the train and tour one of three landscapes with:
jungle
desert
and a beautiful rural setting.
In the app you can toddler driving the train from the perspective of a first person in the cabin or from a distance.
They can also stop and visit the passengers to give them food, snacks, reading materials, and more.
My son even found some great tech to give the passengers.
Shovel some coal to blow up the fire and speed up the train to the next destination, or just steam on in the countryside.
I liked that my kids could take turns playing with the app or setting up passengers and handing out items to them.
As you complete more of the game you'll earn additional items to give to the passengers - my kids' favorites were the tech, of course!
dr. Panda Daycare
Dr. Panda's Daycare from Dr. Panda features Dr. Panda in a daycare environment where your child is in a virtual playhouse with five baby animals.
The animals have a playroom where they can rock a rocking horse, bounce on a ball or play with a train.
In the kitchen, they can pretend to have a birthday party, have breakfast or lunch and cook dinner.
Upstairs there is a stage and instruments to play with and a nap room.
There is also a backyard where children can play with a slide, bouncy castle or pool.
The app encourages creative play and helps children understand that their choices can determine how the animals will play. It is best suited for late toddlers and preschoolers who want to enjoy the environment while finding new toys to play with and switches to turn on and off.
dr. Panda Airport
This one takes place on an airport adventure with ten activities, including:
security check
check in at the desk
driving the luggage cart
pick up luggage with luggage
controlling the airspace via the control tower
counting money for a payphone and a phone call
stamping tickets
cleaning the plane
loading the flight with luggage
to be lost and found
The app is designed for children in kindergarten and older through primary school.
It practices skills such as fine motor skills, sorting, counting, finding a specific object, expressive language, shape recognition and matching, and more.
The four main characters in the app are a monkey, an elephant, a raccoon and a hippo who are all dressed in different kinds of holiday clothes.
Dr. Panda Bus Driver
Dr. Panda Bus Driver of Dr. Panda lets Dr. Panda on a bus around a city, in the countryside, in the harbor or in a number of other locations, picking up and dropping off his passengers, painting the bus, filling the gas tank and much more!
As with a traditional bus, you must stop to allow passengers and other vehicles to pass, stop for trains passing, and clear the bus after your "route" is completed.
This app is designed for preschoolers through early primary school, similar to other Dr. Panda apps, offering hours of open play for those who use fine motor skills, both of seated passengers and driving the bus with your finger or by gently moving your device to steer it from side to side to ensure it is on the road remains.
The landscape in the app changes every time you start it - and can be a harbor complete with a drawbridge, railroad crossings, tunnels, birds on the way to a countryside.
Dr. Panda has to get his animal friends safely to their destination, while making sure to sit on the bus and watch for obstructions.
When an obstacle comes up - a warning "light" comes inside the bus so you can touch it to stop it and move the drawbridge up and down, passengers cross the road and watch out for birds and other wildlife that is maybe on the way.
dr. Panda Handyman
Dr. Panda Handyman by Dr. Panda Games is the latest universal app for Android and iOS with Dr. Panda.
He fixes household items that have been mysteriously broken by 14 minigames.
The app is intended for toddlers, preschoolers and primary school children.
The app is great for kids to practice fine motor skills, and to name and find objects and tools.
One of our favorite features of the app was fixing all the different objects in the house and the realistic sounds of the tools as they worked.
We liked that the tasks varied, so you didn't always do the same task over and over.
Dr. Panda Hospital
Dr. Panda's Hospital of Dr. Panda Games is a universal app with eight different animals that will take your child to their hospital beds, discover and treat their health problems.
The app contains ten mini games, including:
treat an upset stomach
treat chickenpox
give an injection
treat eyes, ears, mouth / teeth
Retrieve incorrectly swallowed items
This app provides a great representation of an animal hospital where kids can interact and interact with all the different animals.
dr. Panda Racers
This one has a racing theme that allows you to build and race your own cars, including jumps and tricks, washing your vehicle, competing with other Dr. Panda characters and more!
As you successfully complete the races, you will earn prizes such as race car parts, spray paints and trophies in the first place.
The tracks can be concrete, dirt or sand and you choose them before racing at the event.
To play the app, choose whether to build your car, choose your track or build it out and head to the pits for a wash before heading to the track for the race.
At the start line you will be asked to put on your seat belt and then it is ready for the race and fun stunts!
Dr. Panda Fireman
Dr. Panda Fireman (Firefighters) is a universal app for Android and iOS that allows your child to put out fires, control a fire truck, remove obstacles, discover more than 30 rooms and more.
It really reminded me to play a fire engine as a kid, except Dr. Panda was able to physically extinguish the rooms instead of having to imagine them.
The app is especially suitable for toddlers and preschoolers.
It can be used to practice the following directions, expressive language to tell what they are doing and follow along with the animals to save them.
There is also cause and effect of fighting the fire, handing over the tools, and moving on to the next level.
dr. Panda Space
Dr. Panda in Space is a universal app for iOS, Amazon appstore and Android that allows you to customize and launch your own spaceship.
You can make discoveries in space from planets, asteroids to activities such as repairing your spaceship, playing with gravity and more.
This app is aimed at preschool and early childhood kids of toddler age with lots of great free play options for the younger kids during the exploration phase.
The app starts with a modification of your spaceship where you then jump into space and start your exploration.
dr. Panda Mailman
Dr. Panda's Mailman is a universal app for iOS and Android featuring the Post Office!
This app offers the ability to create and address your own postcards, choose a gift to wrap for delivery, including wrapping and delivery.
The app features a variety of animals including a pig, the tortoise (Toto) we saw in Toto's Treehouse, a monkey, elephant, sheep, hippo, cat, raccoon, elephant and more for a total of 12 animals!
After designing your package, Dr. Panda on an adventure to deliver your mail.
The stamp on the package or postcard helps him know where to drop it off and is put on Dr. Panda placed to deliver it.
The world includes rivers, forests, mountains, and houses, along with jumps, roads, road signs, and more!
This app is best suited for preschoolers and early childhood children.
Skills practiced may include language, color motor skills and driving the scooter, listening to directions.
dr. Panda Swimming Pool
Dr. Panda's Swimming Pool is with animals in different pools.
You can dress in different bathing suits in the locker room while you take a shower and get ready for the pool, dive on a pirate ship, play in a sandbox, descend a water slide or play in a small wading pool with a variety of lunch items available.
This app is for toddlers and preschoolers.
Skills practiced include language, both receptive and expressive, and some fine motor skills.
I found the app had four different play zones that resemble a traditional beach.
The graphics were crisp and they showed especially well with the animations.
Dr. Panda ice cream cart
The ice cream truck from Dr. Panda lets you make your own ice cream with different colors, mix-ins like fruit, while you pop it into a blender to make your favorite combinations.
Once your ice cream is made, add in your toppings such as caramel or rainbow sprinkles, chocolate curly sprinkles and traditional sprinkles, and the ability to turn them into candy.
After completing your sundae, tap a bubble and help the character eat it before paying for the sundae.
Payment for each sundae depends on the size, complexity and amount of toppings used.
I've seen cones range from four to 31 coins depending on how you put it together.
Dr. Panda Supermarket
Dr. Panda Supermarket from Dr. Panda is a universal app for iOS and Android in which Dr. Panda is at the grocery store along with many of his friends we've seen in previous apps, including the most recent Dr. Panda Daycare.
Dr. Panda is based in Chengdu, China where the national animal is a giant panda!
The app features the animals while shopping and a variety of ten themed mini-games ranging from shopping using a list, organizing differently shaped boxes, cleaning up spills and more with six different animals and their kids .
The app exercises fine motor skills, critical thinking and creative playing skills.
It does not contain any written or spoken language which means it will appeal to toddlers to early preschoolers.
Conclusion
If you do not only want to go for apps on a tablet and still want your child to be able to learn everything while playing, then we have these educational toys explained for you.
So it is not necessarily about how long your child is on the tablet, but also what this time is spent on.
Among the hundreds of toddler apps available for Android, there are some important things to keep in mind.
Free apps may contain advertisements or may require in-app purchases after some games.
Paid apps often don't contain ads and you download (and pay) once for all. Always pay attention to what is stated in the description before downloading.
There are many types of different apps available for both passive and active learning.
To determine what is the best choice for your child (ren), it is best to try a few things and look at the effect on the behavior.
At least you now know what is important to take into account!
Joost Nusselder, the founder of Speelkeuze.nl is a content marketer, father and loves trying out new toys. As a child, he came into contact with everything around games when his mother started the Tin Soldier in Ede. Since 2016, he and his team have been creating helpful blog articles to help loyal readers with fun play ideas.