Nicest toy boats: fun in the water or pretend play
I enjoy writing these articles for my readers, you guys. I don't accept payment for writing reviews, my opinion on products is my own, but if you find my recommendations helpful and you end up buying something through one of the links I may be able to receive a commission on that.
More information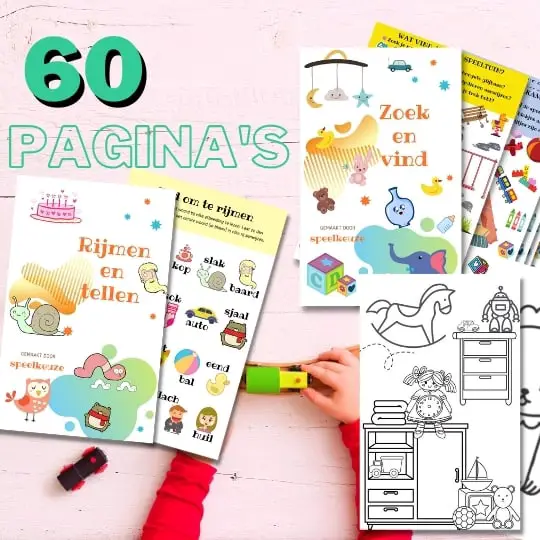 Always something to do for the holidays or rainy day?
Play Choice now has the ultimate activity book collection, with over 60 pages of fun coloring pages and educational puzzles.
Is your son or daughter crazy about speedboats? What child wouldn't like to be with a boat on the water to race?
LEGO has various building kits to choose from with which a speedboat can be built.
After assembly, the speedboats can be played in the water and they even really float on the water.
There are packages with beautiful red speed boats, or others with racing cars that can be converted into the most powerful speed boats.
There are many options! Which do you like the most?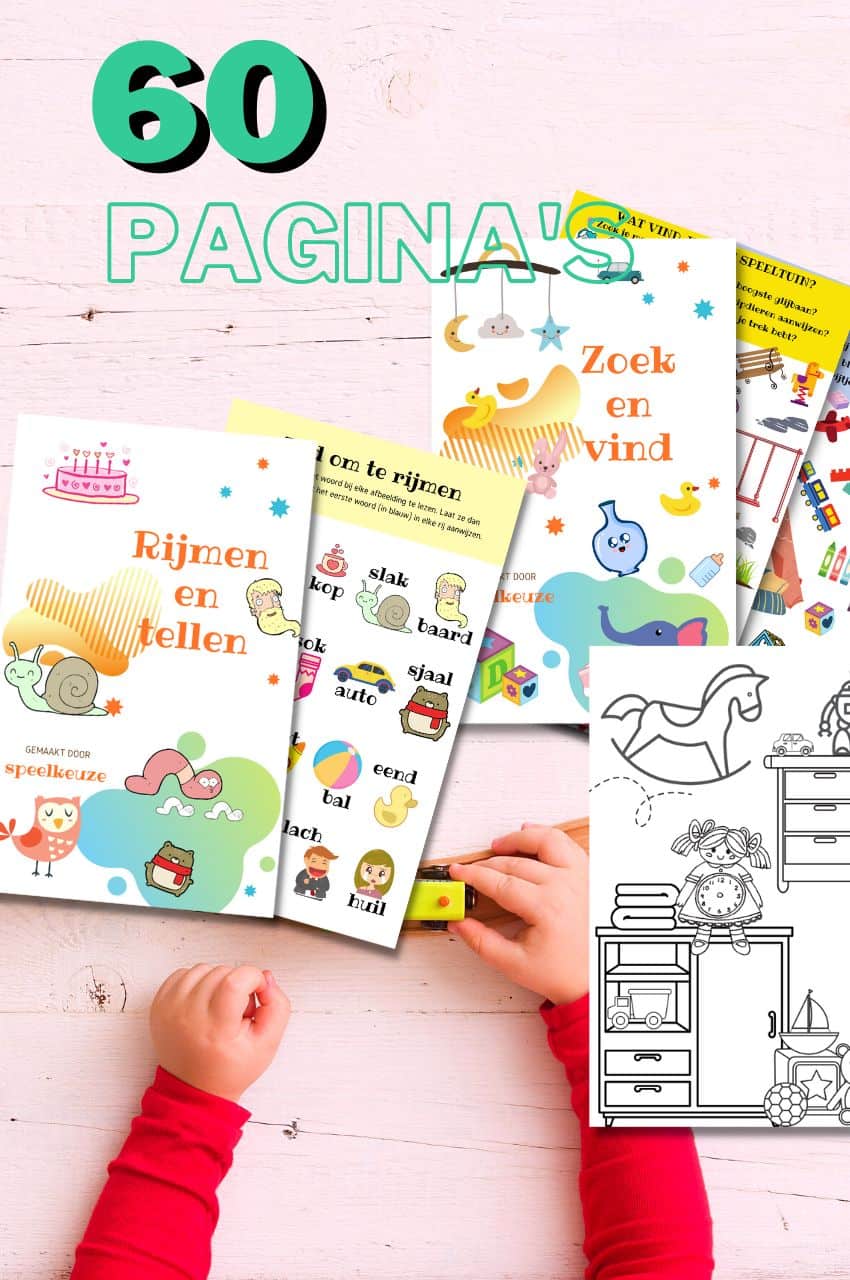 A play theme in your mailbox every month?
Fun play tips, activity books and more, with the first email being our free mini-guide "educational toys"
We will only use your email address for this newsletter and respect your privacy
Best LEGO Speedboat Packages
We have listed a number of great LEGO options for you with the theme 'speedboat'.
From these four, we've also picked our two favorite LEGO speedboats, which we'll discuss in more detail.
Our two favorites
Our true favorite LEGO speedboat is the LEGO City 4 × 4 with Speedboat.
What we really like about this package is that you can build a 4 × 4 in addition to the speedboat. With this package you prepare yourself for the ultimate motorboat race.
You get two mini figures with this package that you as drivers can participate in the race.
Several very positive reviews have been written about this product by satisfied customers. Kids love this LEGO building kit!
Our second choice goes to the LEGO Creator Sunset Track Racer.
What makes this package special is that you can assemble three vehicles for little money, namely the Sunset track racer, a classic race car with an open roof and a super fast speedboat.
This package is a bit cheaper compared to our number one and you get a lot of fun in return.
The best LEGO Speedboat packages in an overview
In the following table you will find our favorite speedboats from LEGO. After the table, we will elaborate on our numbers one and two.
What makes these LEGO Speedboat packages so much fun?
De LEGO City 4 × 4 with Speedboat is our favorite LEGO speedboat and is of the 'LEGO City' theme.
Our number 1 LEGO Speedboat package - LEGO City 4 × 4 with Speedboat
This LEGO set consists of 301 building parts, with which you can assemble a 4 × 4 and a speedboat.
You get 2 motorboat racer mini figures for role play.
This varied kit revolves around the preparations for the motorboat racing championships.
The speed boats must be transported to the port before the competition starts. You can do that with the robust 4 × 4 that you build with this package.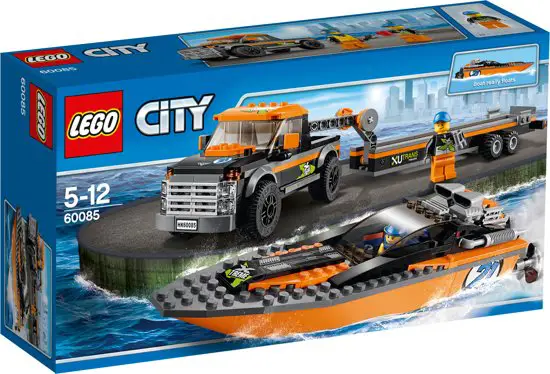 The 4 × 4 and the speedboat have matching colors, namely black and orange.
The speedboat has shuttered windows at the cockpit and a huge, powerful engine that make it possible to become the winner of this exciting race!
The vehicles can be built with 301 LEGO bricks and the package includes two mini figures that will participate in the race, with accessories.
The package is suitable for children between 5 and 12 years old.
The set is of good quality, has a beautiful appearance and undoubtedly makes children who have an affinity with racing very happy.
The many LEGO parts ensure maximum building fun and the scene corresponds to reality.
With LEGO City teach children how certain things work in real life through toys.
The package is ideal for children who like to play with or in water, because the speedboat is made to float on it.
Satisfied customers indicate that the package is easy to assemble for children and that children have a lot of fun building the vehicles.
After assembly, children love to play out scenes with the newly built vehicles.
Nice to expand with LEGO City ATV Race Team
What is another nice LEGO package that combines well with the LEGO City 4 × 4 with Speedboat? We think that is the LEGO City ATV Race Team.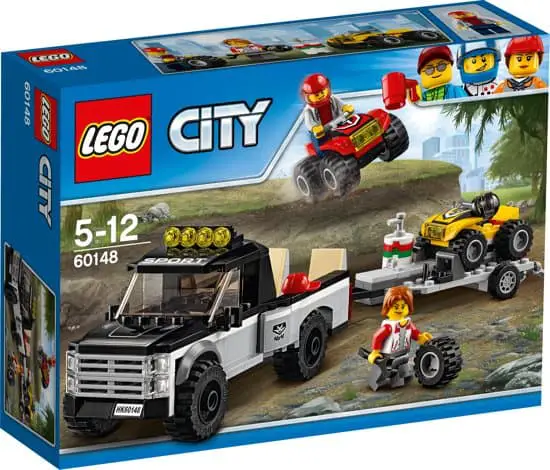 This pack includes a pick-up truck, trailer and two quads and comes with two quad driver minifigures.
When you combine these two packages you create endless fun.
The packs are ideal for kids who love challenges and love fast vehicles such as speedboats and cars.
With both packages, LEGO ensures that children can let their imaginations run wild and lose themselves in their own world.
In addition, this package is also suitable for children between 5 and 12 years old.
LEGO City Speedboat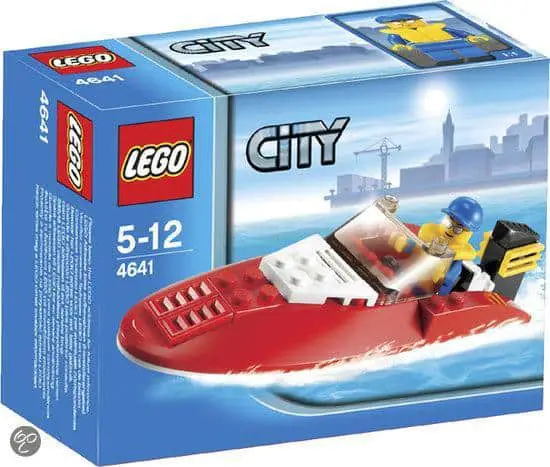 Build your own fast speedboat with 34 LEGO parts. The package includes a mini figure that controls the speedboat.
LEGO City - a world of its own
LEGO City is one of the many series from LEGO, which all have their own characteristics. In this series, everything in and around city life is central.
This theme aims to get children to assemble large, realistic buildings, such as police stations and hospitals, or fast vehicles as in the case of the LEGO City packs just discussed.

In this way, every child learns about hectic city life, in which organization plays a major role.
The LEGO packages are aimed at presenting realistic situations to children, so that they learn how everything works in daily life while playing.
By playing with the LEGO packages, children can recognize situations in real-life and get a bit of an idea of ​​how they can best deal with these situations.
Our second favorite - LEGO Creator Sunset Track Racer
With this LEGO package you have three play options in one: you build the Sunset Track Racer, a classic open-top race car and a speedboat.
All vehicles can be built with a total of 221 building parts.
Our second favorite package with the theme 'speedboat' is the LEGO Creator Sunset Track Racer.
This package is interesting because with the purchase of one package you can immediately build three fast vehicles.
The pack consists of 221 parts with which you can build a Sunset Track Racer, an open-top race car or a super powerful speedboat.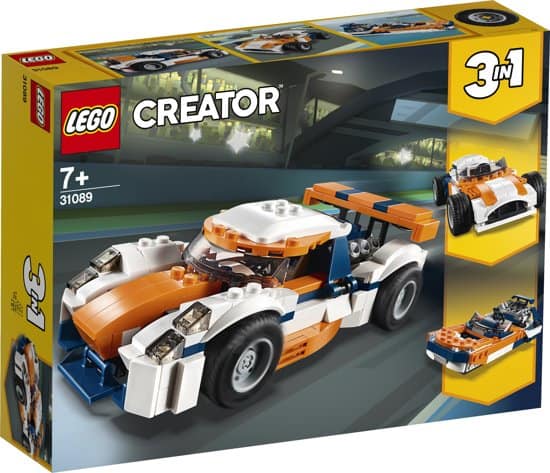 The Sunset track racer is super hip built with a curved windshield and tinted windows.
The cockpit can be opened, the engine at the rear is visible and to complete the picture it has a large rear spoiler. The tires have extra grip.
All three vehicles have red, blue and white details. All vehicles have space for a mini figure.
It is not included in this LEGO package and will therefore have to be purchased separately if your child does not already have a number of dolls at home.
Speed ​​with the Sunset track racer or the classic racing car around the circuit, or take a mega fast ride on the water with the super tough speedboat.
This product has been developed for children between the ages of 7 and 12, and offers a lot of fun for any child who loves racing and fast vehicles.
Everyone at the start line ready for the race?
Nice to supplement with even more LEGO Creator
Two packages that perfectly complement the package just discussed are the LEGO Creator Rocket Rally Car and the LEGO Creator Space Shuttle Transport.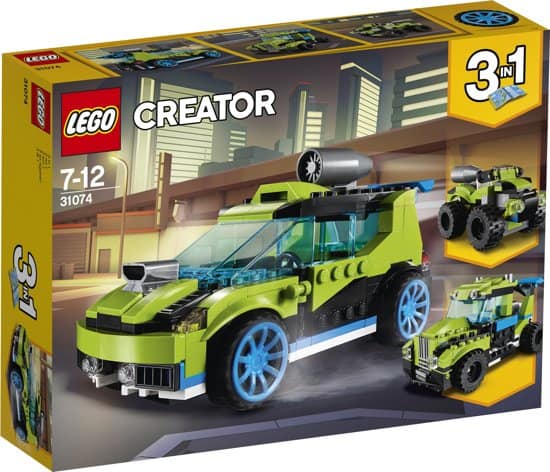 Both packages are just like the LEGO Creator Sunset Track Racer 3-in-1 packages, so when you buy one package you get 3 different play options in return.
Imagine that you purchase these 3 packages, then you immediately have nine different building options!
De LEGO Creator Rocket Rally Car consists of 241 LEGO parts and with this package you are able to build a strong truck or a robust compact quad bike in addition to the rocket rally car.
The vehicles come in a cool green, black and blue color pattern. This set is also suitable for children between 7 and 12 years old.
According to satisfied customers, this is a challenging package for children and offers many play options.
Children can get creative with it and can sometimes spend hours building vehicles.
The other package, the LEGO Creator Space Shuttle Transport consists of 341 building parts, with which you can again assemble three vehicles: a space shuttle, helicopter or a car with caravan.
Also suitable for children between 7 and 12 years old.
LEGO Creator 3-in-1 - Creative Challenges
De Creator 3-in-1 series from LEGO aims to provide three different build options with each set.
The products that you can build with this series are generally beautiful vehicles, extraordinaire creatures and large buildings.
These kinds of packages make it possible that children will be busy for a long time building various vehicles with the help of the same LEGO bricks.
It stimulates creativity and problem-solving skills.
It is also fun to put together these types of construction kits with the family, where a child also learns how much fun it can be to work together on one task.
Teamwork is important to learn for a child, and it is best to start as early as possible.
LEGO Friends Olivia's Speedboat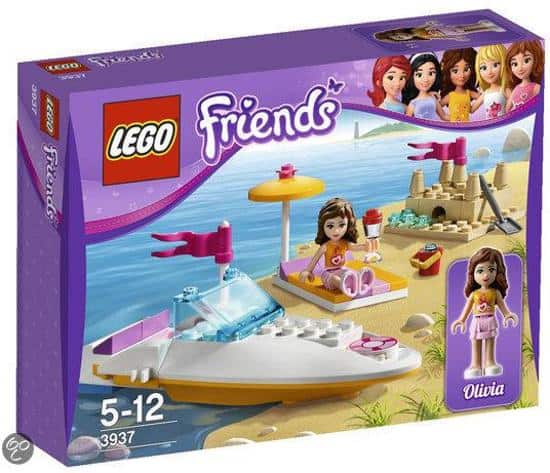 This package consists of 65 parts. You can use it to recreate a beach scene for Olivia and her friends, including a cool speedboat.
You also get Olivia as a mini figure. The set comes with beach accessories such as a sand castle, shovel, bucket and a bath towel.
Check the most current prices and availability here
LEGO toys - always a good idea
LEGO ensures that is enough fun to play and build for every age group.
LEGO Duplo, for example, is for the smallest LEGO enthusiasts among us, where the size of the blocks are made for children's hands and they have extra cheerful colors.
The LEGO Creator series and the LEGO City series are for the older kids who already have some experience building LEGO toys.
There is also a nice series for young adults, the Architecture series, where you can build famous cities or buildings in miniature.
LEGO is educational and beautiful toys for everyone!
On land, at sea and in the air? Here we discuss the most beautiful LEGO Airport packages for even more building and playing fun with LEGO!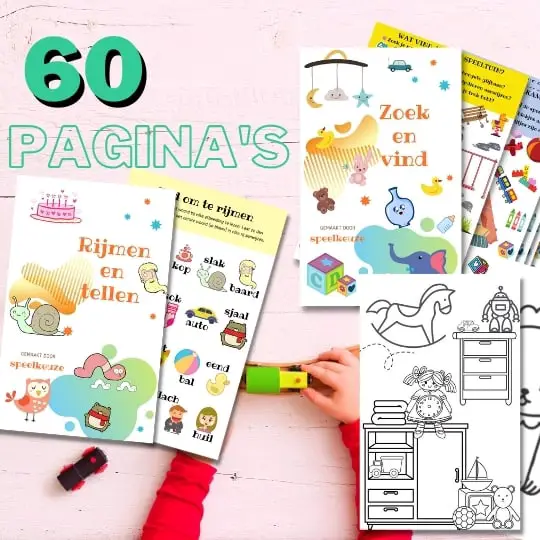 Always something to do for the holidays or rainy day?
Play Choice now has the ultimate activity book collection, with over 60 pages of fun coloring pages and educational puzzles.
Joost Nusselder, the founder of Speelkeuze.nl is a content marketer, father and loves trying out new toys. As a child he came into contact with everything related to games when his mother started the Tinnen Soldaat in Ede. Now he and his team create helpful blog articles to help loyal readers with fun play ideas.