Toy instrument | Check out these top 10 fun & musical toys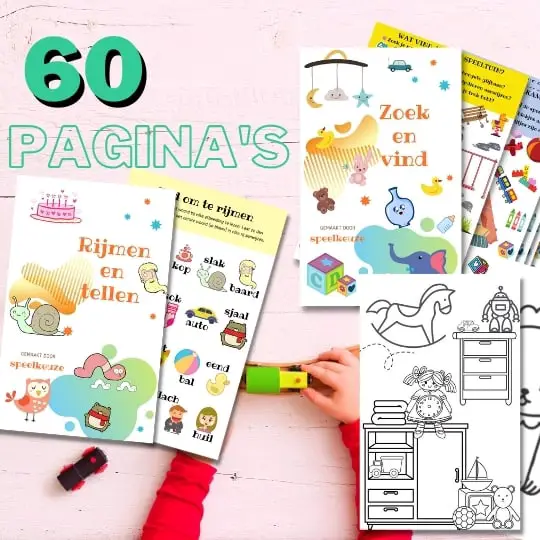 Always something to do for the holidays or rainy day?
Play Choice now has the ultimate activity book collection, with over 60 pages of fun coloring pages and educational puzzles.
It's always cute to see children playing music, and that actually starts with babies.
They really like tunes on TV when they recognize them and find it amusing to learn to see cause and effect with squeeze musical toys.
A little later, a sense of rhythm and melody is also added to their development for music.
To stimulate this development, it is nice to buy musical toys for them.
In this article, I have therefore looked up some of the nicest toy instruments for every age.
Cutest toy instruments for babies
Let's start with the youngest group, the babies. They too can already have a lot of fun with music, as long as you offer it in the right toy.
It already starts in the stomach!
Musical development already starts in mom's womb and during the first three years of life. Every child is therefore born with a natural sensitivity to music.
It is therefore good to start playing with fun songs, stories and instruments at a very young age.
Unborn babies enjoy listening to classical music. Research has shown that they enjoy hearing music with a smooth melody and higher tones.
Sing and listen to songs together
Once your little one is born you can listen to baby songs together, sing songs or make music for and with your baby.
Even though babies don't yet understand the lyrics of a song, they do pay attention to the sounds and find your movements and facial expressions extremely interesting.
Most babies also automatically 'sing along' in their own way. Dancing with your baby in your arms, close to you, is also good for both.
I will now show you some toys that appeal to the musical ability of babies.
Lamaze Octotunes
Octotunes are suitable from birth, because the patterns of this octopus have a great contrast and thus stimulate the eyesight of your child.
Sensory development is also stimulated, but the squeezing is not that simple yet, so it is something that adults may need to help with.
Older kids can explore the songbook, each song is color-coded to match the colors on Octotunes' arms.
Fisher Price Kick n Play Piano Gym
For use from birth and in four ways, this piano station grows with your little one. It is a combination of a baby gym (also check out these top picks) and a piano.
The keyboard can also be removed and taken with you, so that your toddler can keep busy, even when visiting.
This baby gym with piano is available here
Lamaze Cosimo Concerto
The latest addition to Lamaze's developmental toy collection is this adorable, plush zebra, Cosimo Concerto, which doubles as a piano.
Each of its colorful stripes plays a different musical note when you press it so your baby can learn to hear these sounds imitate.
Its legs have different textures and colors to stimulate babies.
Check prices and availability here
Cutest musical instruments for toddlers
We've found that learning to play an instrument makes kids smarter, but now what? Do we get a hobo player? An accordionist? A Guitar Hero?
Fill a pot with rice and let him or her go crazy? Certainly not!
With your toddler and toddler you can sing songs with gestures, which promotes language development and the ability to concentrate, think of 'in the moonlight' - a song with many gestures.
Your little one can start playing small instruments, such as rhythm sticks and percussion instruments. This double drum is great fun to practice with from 2-3 years old.
You can also introduce them to larger instruments such as guitar, ukulele and piano / keyboard. I'll show you some fun tools for toddlers in a moment.
A very nice music game to do from the 'Muziekkwartier' is Toemba-toemba:
Use hands and feet and listen to this music:
Sing the song along (together) and clap your hands. Then it is quiet for a moment, then you repeat this.
After a few repetitions, you can try a variation. Now clap somewhere else, for example on the thighs or on your head, let your child be creative… repeat these variations a number of times together.
Another very nice, but slightly more difficult one is the Tarantella Napoletana!
This song plays 8 times with a short break and a little faster every time.
You can also let your child clap, play drums or make a sound with lids, sticks and spoons to the beat of the music.
Just find some nice tunes that you can't afford to hear!
Then here are the best musical instruments for toddlers to learn to play, ideal for their little hands!
Plan Toys - wooden toy drum set (1 - 3 years)
This one from Plan Toys is one of our favorites and seems ideal for younger kids and toddlers.
This drum set from Plan Toys is available here at bol.com
Little Dutch Xylophone (2 - 4 years)
We have no idea why young kids love xylophones and chimes, but they absolutely are!
This toy piano can be used by children to discover (and to smash).
I was looking for a toy piano for my 3 year old and I was so happy to find the Melissa & Doug Piano! This brightly colored wooden piano is not only beautiful, but also of excellent quality. It has 25 keys and 2 full octaves, making it perfect for budding little musicians.
What I really like about this piano is the solid wood design, which makes it durable and safe for my child to play with. The keys are easy to press and instantly responsive, making my child excited to make music.
The included illustrated songbook is a great addition as it makes it easy for my child to learn how to play songs. It's so much fun to watch them develop their musical skills as they follow the color code to play their favorite tunes.
Bumba my first guitar
If your child wants to become a rock guitarist (or if you play guitar like me and you want to playfully push them in that direction), the Bumba my first guitar should help them on their way to success from an early age.
Check prices and availability here
https://docs.google.com/document/d/1Bc_sw4A1L8qNziQ6BfbfRcuSP2balIPCoIJIcbBvnCg/edit?usp=sharing
The best (toy) instruments for toddlers from 4 years old
Then we come to the toy instruments for the older children, to make first real starts and to practice with music and play songs.
Small Foot Company Wooden Kalimba
Have you ever seen a child discover a kalimba? If not, you are really missing out.
Kalimbas are Westernized versions of the African karimbas, thumb percussion instruments (or thumb pianos, as they are also called) that create enchanting, unique sounds.
Most kalimbas online can be a bit pricey and we only found one made for kids - but rest assured that buying one of these kalimba for your home is fun, educational and, well, a fascinating topic of conversation.
Watch this one Small Foot Company wooden Kalimba here
Hape Learn With Lights Ukulele
The Hape ukulele is a nice, sturdy ukulele for young children. This is the perfect tool for teaching kids all about basic rhythm and strumming.
The instrument can be tuned very easily so you don't have to listen to horrible out of tune music. Buy your budding Beethoven a ukulele and she can have fun developing her natural musical talent.
The best thing is that your child can easily learn to play through the lights on the neck, and even better is that the sound can also be turned down!
I'M Toy wooden music center
The wooden music center from I'M Toy brand is fun because it gives a complete picture of different music options for your toddler.
With 9 different musical instruments in the category rhythm and percussion instruments, it has a lot of fun to offer your child, for an affordable price.
The wooden music center is available here
Wooden children's guitar
If four or five year olds would like to play a real guitar, they will most likely succeed best with a 1/4 size guitar, such as this black one with flames, for children who want to stand out, there is the real one Diva guitar in bright pink!
Best instruments from 6 years old
From the age of 6 the instruments become more serious, instruments suitable for this age are:
Violin
An instrument that can be played from the age of 6. That is a big advantage of all string instruments anyway.
There are violinists who started at the age of three or even two (!). The most ideal is to start between the ages of six and nine.
Recorder
Playing the recorder is often the basis for playing wind instruments and at this age the first melodies are easily created on the recorder.
This trains the coordinated breathing and finger technique, is easy to play and quickly gives your child a sense of security.
This Soprano recorder made of plastic has a normal fingering, a clear sound and is suitable for recorder lessons.
Keyboard
A great tool for children to start with from 7 to 10 years old. An instrument like this Yamaha mini PSS F30 with 37 is certainly a joy for childhood.
A digital piano is a good choice if you want to play softly or with headphones, like this one Medeli SP3000 , suitable for the novice player and easy to transport.
It is provided with a slightly semi-weighted keyboard. A great transition from keyboard to piano. It is a beginner piano without too many extra features.
Piano
Buying a piano is quite an expense, but an asset to life. But before you make this decision, you must of course make sure that it will be played on.
Best instruments from 8 years old
Guitar
If your child is 8 or older, acoustic guitars with soft nylon strings are the perfect choice for young beginners.
Clarinet
This is the easiest woodwind instrument, followed by
Alto saxophone
Cello or bass are not yet on the agenda, however, because children's hands are not yet large enough to handle the mechanics of this instrument.
Best instruments for children from 10 years old
Trumpet / Cornet
These are basically the same instruments in two different forms. They are the best brass instruments for beginners.
Drums
These are best left to children no younger than 10 - 12 years old, as the feet and hands are involved.
Younger children's legs are often not long enough to play drums properly.
Electric guitar
An electric guitar is super cool, but apart from the fact that steel strings are not safe for a small child's hand, it is wise to let your child start with an acoustic guitar.
Simply give him the message that he can get an electric if he first learns to play the guitar properly (which takes about three years).
If your child has been playing the acoustic guitar for some years, he can start with an electric guitar at this age without any problem.
First musical instrument for a child
Which musical instrument is best for children to learn first?
The best musical instruments to start with may depend in part on the age of the learner and how long or short their fingers are, but the benefits remain the same.
The other important element in choosing the best musical instruments for kids is interest. Has your child already shown interest in a particular instrument?
Different types of musical instruments
Keyboards: piano, organ, electric piano, synthesizer
Stringed instruments: violin, viola, cello, double bass
Fretted stringed instruments: guitar (electric, acoustic, classical), bass, 5 string bass, fretless bass
Woodwinds: clarinet, saxophone (alto or tenor to start), flute, oboe, bassoon
Brass instruments: trumpet, trombone, horn, tuba
Percussion: drum kit, conga drums, other hand drums, tambourine, shakers, cowbell
Different styles of music to choose from
Another important element involved in choosing the best musical instrument for your child is the type of music your child prefers.
Some musical instruments for children are associated with certain styles, although it is possible to play any musical style on all instruments except percussion. Common associations are:
Electric guitar: rock, pop, blues, jazz
Acoustic guitar: folk, world music, blues, country, bluegrass, classical
Keyboards: the most versatile instrument and often associated with all kinds of music. Piano is great for engineering at first, but electric keyboards have a range of sounds that allow the student to switch.
Woodwind instruments: (clarinet or alto sax) pop, jazz, funk, blues, gospel, classical, folk
Brass instruments: trumpets and cornets are usually associated with jazz, funk, soul, gospel, rock and classical
The first instrument for your child, my recommendation:
Unless your child has a specific preference, the keyboard is a good children's tool to start with for students aged 7-10, as it is the most versatile instrument.
However, this is not your only option! If your child has expressed an interest in a different set of instruments, we recommend the following:
Guitar if they are 8 to 10 or older
Violin is another option for younger students - as I mentioned earlier, other string family instruments such as cello or bass are not suitable, however, as children's hands are not yet large enough to handle the mechanics of the instrument.
Clarinet is the easiest of the woodwinds, followed by alto saxophone - again, we recommend that your child learn this instrument at around 8 to 10 years old
De trumpet or cornet (same instrument, but different shapes) would be the best brass instrument for beginners from about 10 years old
Drums are best left to the student who is 10 to 12 years old, as the feet and hands are involved and younger children's legs may not be long enough.
In this situation, a ukulele or an acoustic guitar with a "three-quarter" format would be more suitable.
Benefits of music in child development
At home, music can become part of our family culture - a natural part of our everyday experiences.
From birth, parents instinctively use music to calm children, to express love and joy, and to communicate.
Parents can build on these natural instincts because:
music can have a beneficial effect on the development of the child
improve the child's social skills
and music benefits children of all ages
Music and the Brain: The Benefits of Music
A 2016 study at the University of Southern California's Brain and Creativity Institute found that childhood musical experiences enhance brain development. can actually speed up, in particular in the field of language acquisition and reading skills.
According to the National Association of Music Merchants Foundation (NAMM Foundation), learning to play an instrument can make it improve math learning and even increase children's grades.
But academic achievement isn't the only benefit of music education:
Music contributes to all aspects of a child's development, it develops his skills required for school, his intellectual, social-emotional, motor and language skills and his general knowledge.
It helps mind and body to work together. Exposing children to music during early development helps them learn the sounds and meanings of words.
Dancing to music helps children build motor skills while allowing them to practice self-expression. For children and adults, music helps strengthen memory skills.
Music games for children of all ages
Children of all ages express themselves through music. Even young children rock, clap, or move their hands in response to music.
Try these activities and games with your kids to experience the fun and learning of music.
Babies recognize the melody of a song long before they understand the words. Quiet background music can be calming for babies, especially when falling asleep.
Loud background music can overstimulate a baby by increasing the noise level in the room. Sing simple, short songs for babies.
Try to come up with a rule or two about bathing, getting dressed, or eating to sing to them while doing these activities.
Toddlers and music
Toddlers love to dance and go to music lessons.
The key to toddler music is repetition, which encourages language and memorization. Silly songs make toddlers laugh.
Try singing a well-known song and substituting a crazy word for the correct word, such as "I saw two bears stealing sandwiches" instead of "smearing".
Have children reproduce rhythms by clapping or tapping objects.
Preschoolers and music
Preschoolers enjoy singing for the sake of singing itself. They are not self-aware of their skill and most are eager to have their voices roar.
They like songs that repeat words and melodies, use rhythms with a clear beat, and ask for things to be done.
Preschoolers enjoy nursery rhymes and songs about familiar things such as toys, animals, play activities and people.
They also like nonsense rhymes with or without musical accompaniment.
School children and music
Most school-age young children are intrigued by children's songs, which involve counting, spelling, or remembering a series of events.
School-age children begin to express their likes and dislikes for different types of music.
They may show an interest in music education, such as music lessons for children.
Teenagers and music
Teens can use musical experiences to make friendships and differentiate themselves from parents and younger children.
They often want to hang out and listen to music after school with a group of friends.
Do you remember those days of basement and garage bands?
Teenagers often have a strong interest in taking music lessons or playing in a band and it is nice if they have learned something from an instrument at a younger age.
Conclusion
There is no downside to bringing children and music together, even when they are very small, through fun activities.
From the moment we are born, we should enjoy the benefits of music.
The little ones already enjoy listening to (classical) music, soothing sounds and rhythmic harmonies, learning new language and social skills.
There is no downside to bringing children and music together through fun activities.
From the moment we are born, we can enjoy the benefits of music.
While a good dose of Mozart probably won't increase our brain power, it's fun and beautiful.
They enjoy the pleasure of listening to soothing sounds and rhythmic harmonies, learning new language and social skills.
Music can enliven and enrich the lives of children and parents.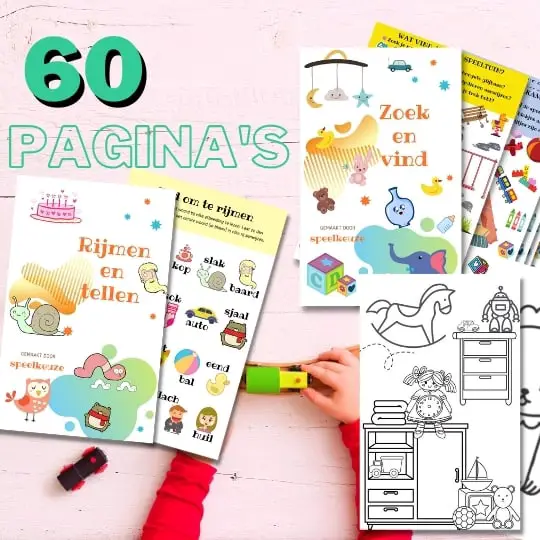 Always something to do for the holidays or rainy day?
Play Choice now has the ultimate activity book collection, with over 60 pages of fun coloring pages and educational puzzles.
Joost Nusselder, the founder of Speelkeuze.nl is a content marketer, father and loves trying out new toys. As a child he came into contact with everything related to games when his mother started the Tinnen Soldaat in Ede. Now he and his team create helpful blog articles to help loyal readers with fun play ideas.