10 play tips for on the go: best toys for the car
I enjoy writing these articles for my readers, you guys. I don't accept payment for writing reviews, my opinion on products is my own, but if you find my recommendations helpful and you end up buying something through one of the links I may be able to receive a commission on that.
More information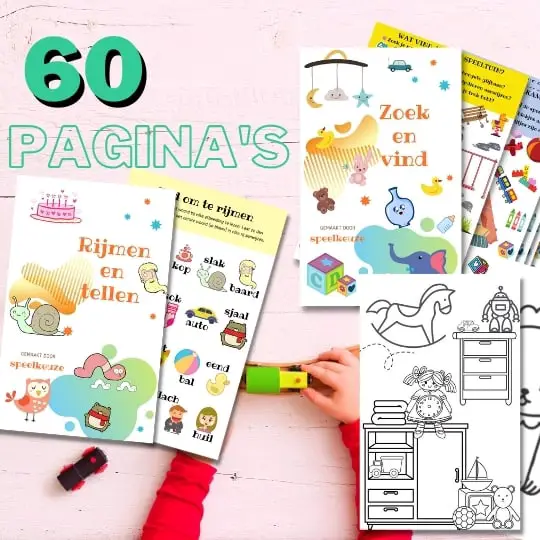 Always something to do for the holidays or rainy day?
Play Choice now has the ultimate activity book collection, with over 60 pages of fun coloring pages and educational puzzles.
We're almost there, we're almost there but not quite yet...
A car holiday can be one of the best trips to take with your children. But it is important that as a parent you are sufficiently prepared for the long car journeys.
To avoid backseat whining and arguing, entertaining pastime is essential!
An easy option for the road trip is to iPad or other tablet. But what if you suddenly run out of battery? Or maybe you'd rather reduce your offspring's screen time (especially during the holidays).
We were looking for the nicest, most travel-friendly and creative games and toys to take with you traveling and listed them here for you.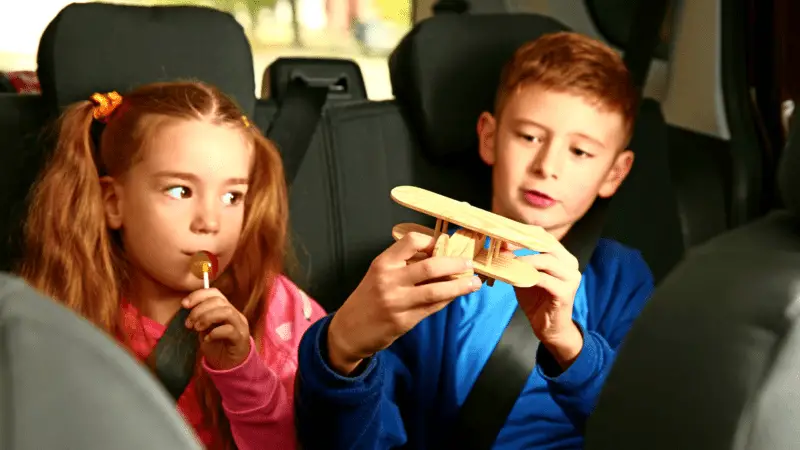 The best on-the-go toys are without a doubt these Wicki Stix creative bundle. Especially for children from 4 to 6 years old (although the manufacturer says from 3 years, but perhaps a little too difficult). Gosh, they can be sweet with that for a while :)
There are of course many more options for long car journeys.
Let's take a quick look at the cutest ones! After that, I'll go into more detail about the different options: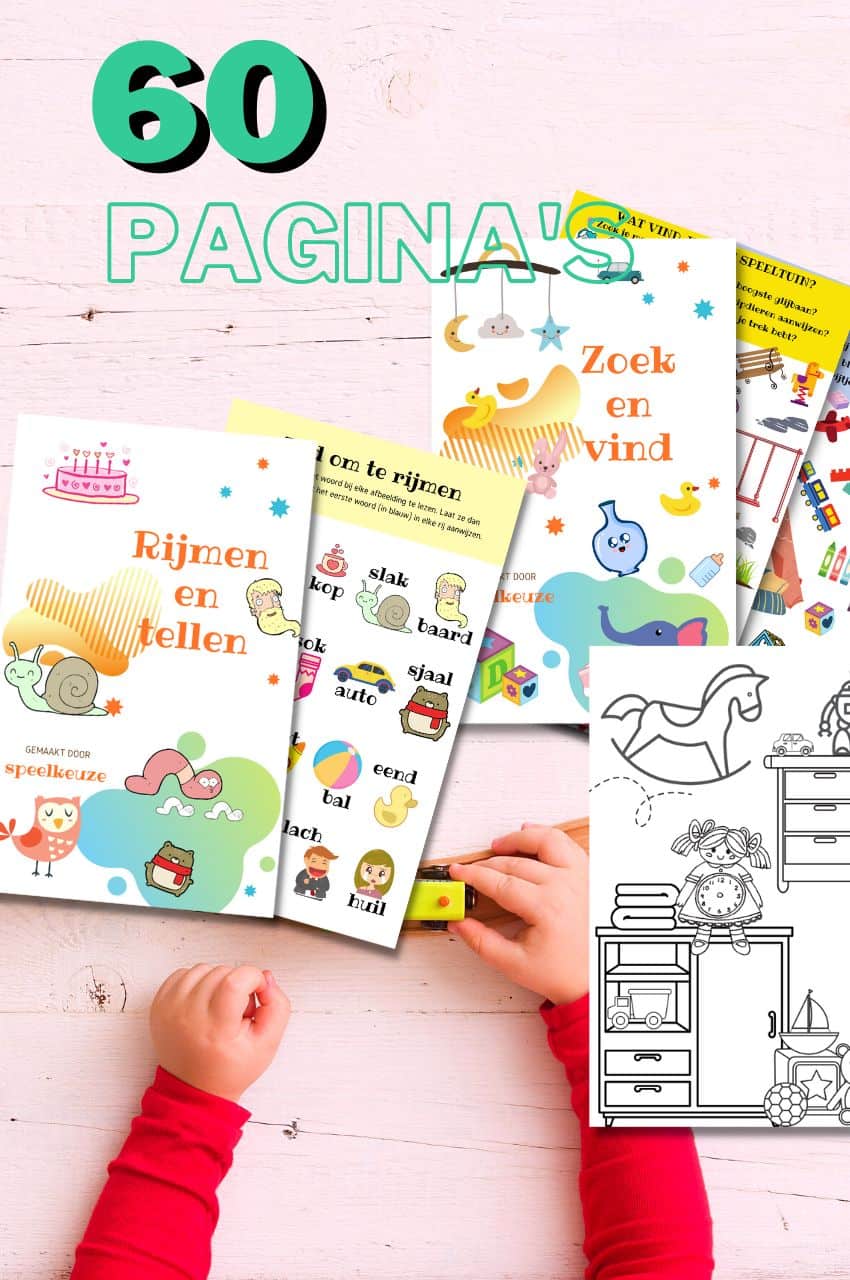 A play theme in your mailbox every month?
Fun play tips, activity books and more, with the first email being our free mini-guide "educational toys"
We will only use your email address for this newsletter and respect your privacy
Have fun on the go! What should you pay attention to?
Toys for on the road must of course be fun first of all and also keep your kids busy for a (long) time.
You also want toys that are not too noisy, messy or large. It should be compact and portable so that you can easily take it with you during your car vacation.
A real bonus is if the games appeal to children of different ages! Then you can play together with the whole family and that immediately sets a cozy tone at the start of the holiday.
Best in-car toys reviewed
Depending on your kids' ages and interests, you may need to pack a few different items to please everyone.
But you're sure to find some fun and stimulating options on this list of the best car toys and games.
Best Creative Car Toy: Wikki Stix
Wikki Stix are bendable sticks made of yarn and wax. Your kids can mold them into flat or 3D creations and let their imagination run wild.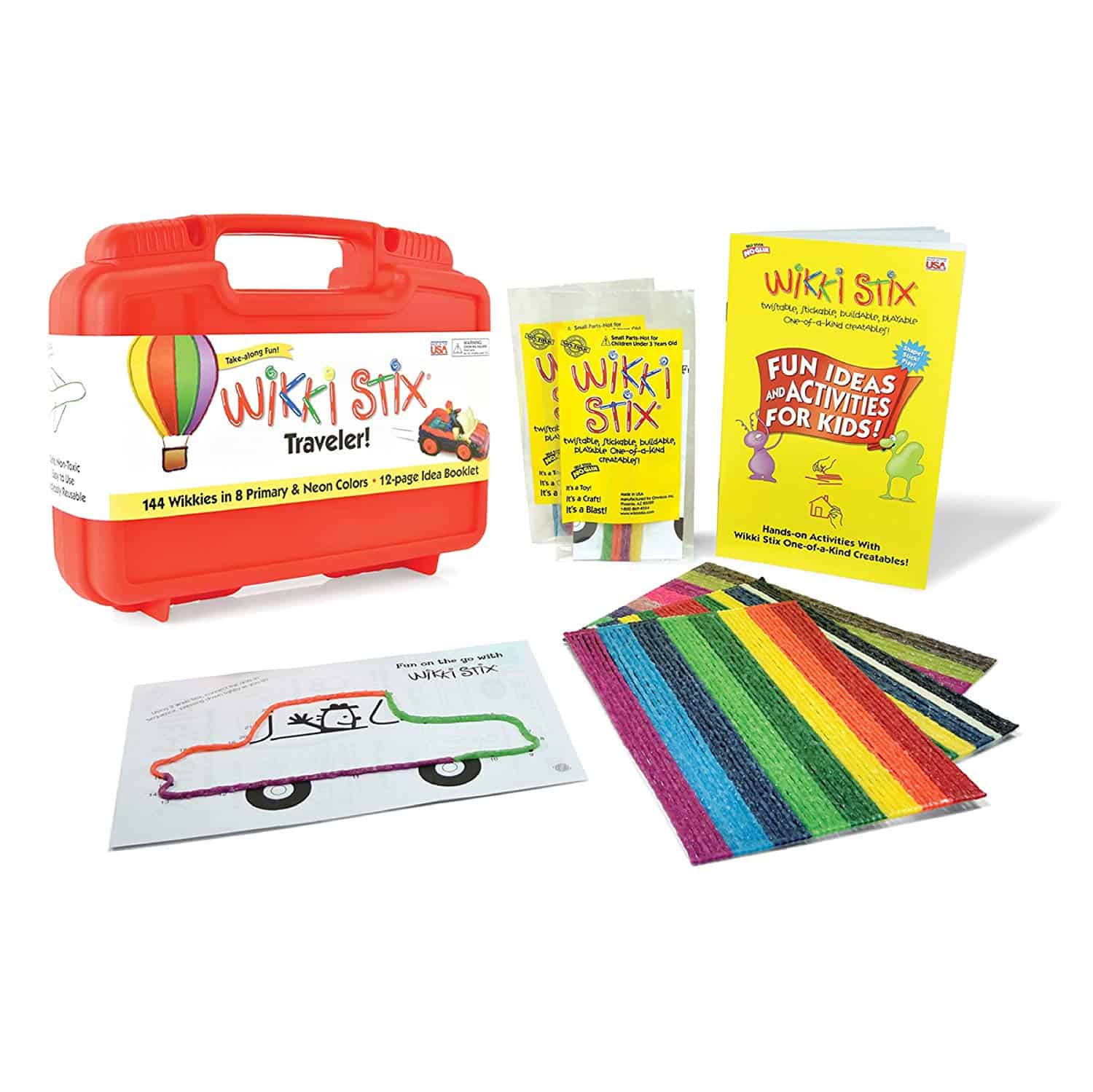 Younger children can use them to create basic shapes, letters and Numbers while older children can be creative and create more intricate designs.
They're perfect for road trip art in the car and we don't just say that:
The stix don't cause a mess
No parental help is required
They are suitable for children from three years and older
Contains no toxins, latex, gluten or allergens
They are endlessly reusable
Compact and easy to carry craft package
As you can see in this video you can do a lot with it:
For the long car journeys, there is even a special travel edition of Wikki Stix, with stix in six different colors.
When kids are done with to craft, you can just put the Wikki Stix in the resealable package and put it in the pocket of the chair or throw some in your handbag.
Check prices and availability here
Overall best car game: Auto Bingo
Kids of all ages love bingo, so these Travel Bingo Cards are perfect if you're looking for a fun, affordable, and travel-friendly game for all the family.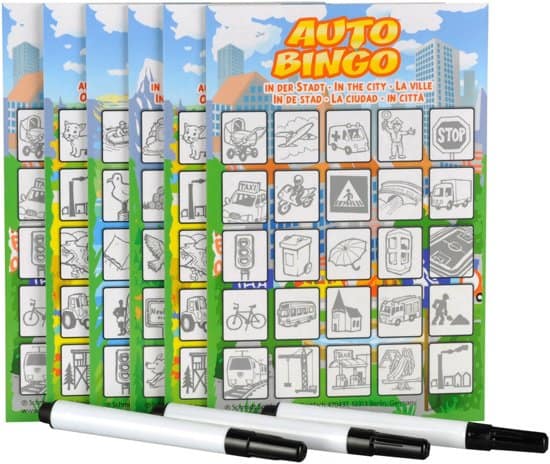 The miles fly by as children study the landscape while trying to win a round.
When they have different items such as a truck, stop sign or letterbox, they simply mark the object on the bingo card.
The first person to get five objects in a row wins. If a child wants to play alone, he can create challenges for himself, such as attempts to fill the entire board.
Overall this is the best car game because:
It encourages interactivity. This way you can have a nice chat with each other.
Fun for kids of different age groups
The game itself makes no noise.
Play together or alone.
It has a good mix of urban and rural items, so this game is perfect for any place your family is heading to with the auto.
The set comes with markers and enough bingo cards to use it for a long time.
I did read a review on bol.com that it is also very nice for younger children, for example from 3 years, but with a little help from the parents (or a very sweet bigger brother). The supplied markers apparently run out very quickly and on a longer trip an extra set of markers is a good idea.
View available bingo sets here
Best for your baby in the car seat: Lamaze Captain Calamari
One of the best car seat toys of all time is the Lamaze Captain Calamari Octopus.
This isn't just any on-the-go toy, this is a pirate octopus! He has no less than 8 legs, each with its own play activity. He is unique, with his cute eye patch and little hook on one of his tentacles.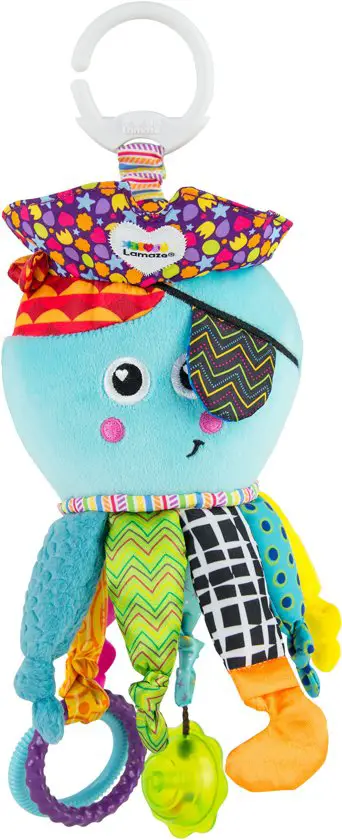 A very handy design as it has a large ring on its head so it can be hung wherever you want. For example in the box, but also perfect on a car seat.
The different legs stimulate hand-eye coordination and reward baby with a nice sound or texture. Your baby may discover the following during your car journey:
A rattle. This one is great for babies to grab while playing.
A beautiful crispy hat, when baby gets hold of it, it immediately catches attention with its funny noise.
Two blue teethers. Perfect for babies who are already teething. If they're having a bad day, it will soothe their gums because of the textured, bumpy rings.
At its bottom is a round shiny mirror that often impresses the little ones.
Super fun toys that are also good for the sensory development of your little one.
Also watch this nice video of dream factory:
One aspect of Captain Calamari that I think could be improved is the tentacles.
I think the designers could have experimented a bit more with different materials and textures.
They are beautiful and colorful, with a cute little button on the end, but they all feel the same.
Maybe a nice embossed material or a corduroy tentacle would make this Captain Calamari a little more interesting for babies to play with.
Overall a really great toy and good for a lot of fun playing and exploring.
Check the latest prices here
Best Car Toys for Toddler 2 Years: Kenley Activity Board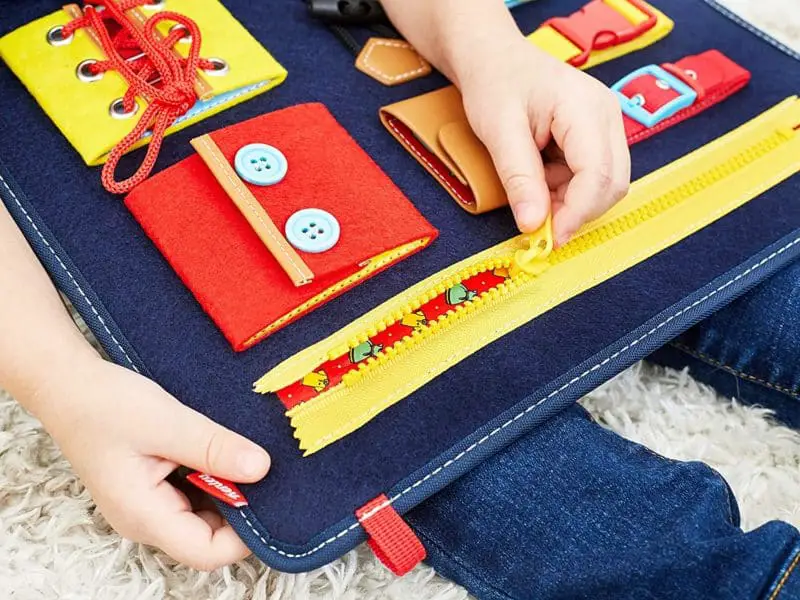 Children can learn basic dressing skills and develop motor skills while play with this Montessori inspired toddler-busy-board!
Here too we have listed the advantages for you:
The board has 9 buckles, straps and buttons for hands-on learning
Promotes fine motor development
Super easy to take with you in the car (or even the plane). The soft felt wool board measures 30 x 25.5 x 1.5 cm and weighs only 129 grams.
Doesn't make noise
Have fun playing alone
This toy would be an excellent idea for toddlers in the car, but also for toddlers and older children, whose buckle shape is suitable for different levels of difficulty
Check the latest prices and availability here
Best for brother and sister together: Melissa & Doug classic kids games hangman on the road
Go old school with these classic kids games in magnetic and reusable travel variant.
Siblings can play drafts, hangman, and tic-tac-toe together in the backseat. It's really nice that you can continue the fun with the whole family once you have arrived at your destination.
Three different games to choose from, so plenty of fun!
Magnetic pieces that stick to the board, so no worries about stray pieces.
Have fun playing together
The small travel variants easily fit in your child's suitcase or in your handbag and of course in the back pocket of the car seat.
Melissa & Doug's hangman game is my favorite and has easy-to-erase markers for lasting fun with the same card: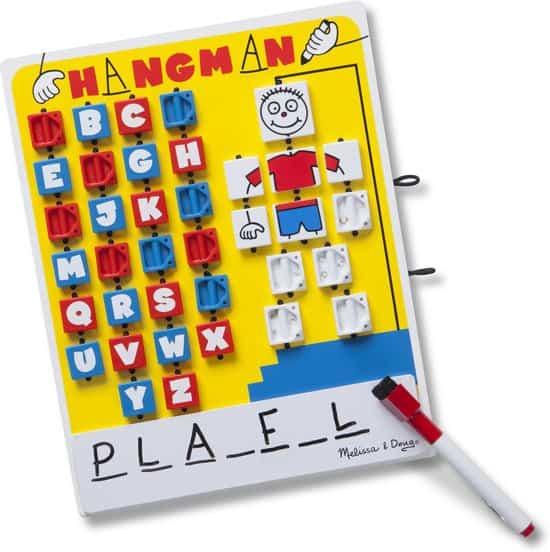 These games are recommended for ages five and up.
View Hangman's Journey here
Also nice: these are the top 10 coziest family games you can do on location
Best car seat organizer: Tsumbay car seat back bag for kids
Okay, this is of course not one of the best toy items for in the car, but certainly indispensable for a longer car journey.holiday.
A good car seat storage bag for your toys has enough compartments to store everything, especially when you bring a number of different games like the one above.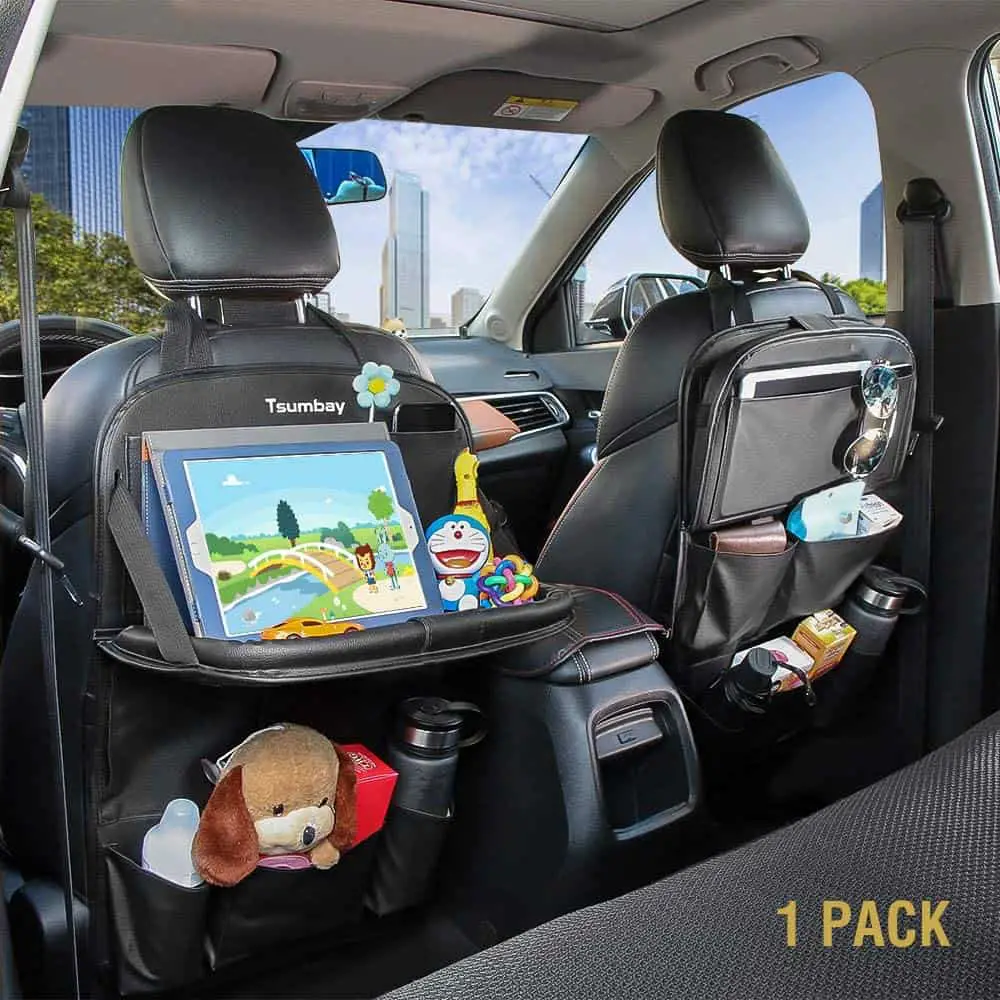 I personally find this car seat storage bag from Tsumbay very practical for toys in the car, because it has different sized pockets and is not too expensive.
Check out the latest prices here
Best in-car toys for preschoolers 3-5 years old: Crayola Wonder Markers and Color Blocks
Most kids love to get creative with markers, but parents sometimes worry about staining their skin, clothes, or car upholstery fabric.
That's why these Crayola Color Wonder Markers and color blocks are the perfect in-car markers!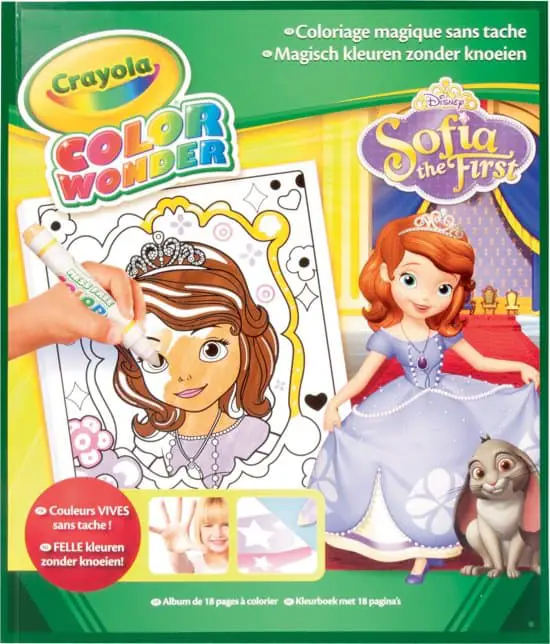 The markers only work on the special Color Wonder paper, so you don't have to worry about children smearing the upholstery when they are coloring in the back seat.
The durable storage box doubles as a lap seat, so it's easy for your little ones to color in the car. It's just as easy to put it away again and take the markers and paper to a roadside restaurant when you stop for a break.
Er is here a wide variety of coloring book themes to choose from so kids won't get bored.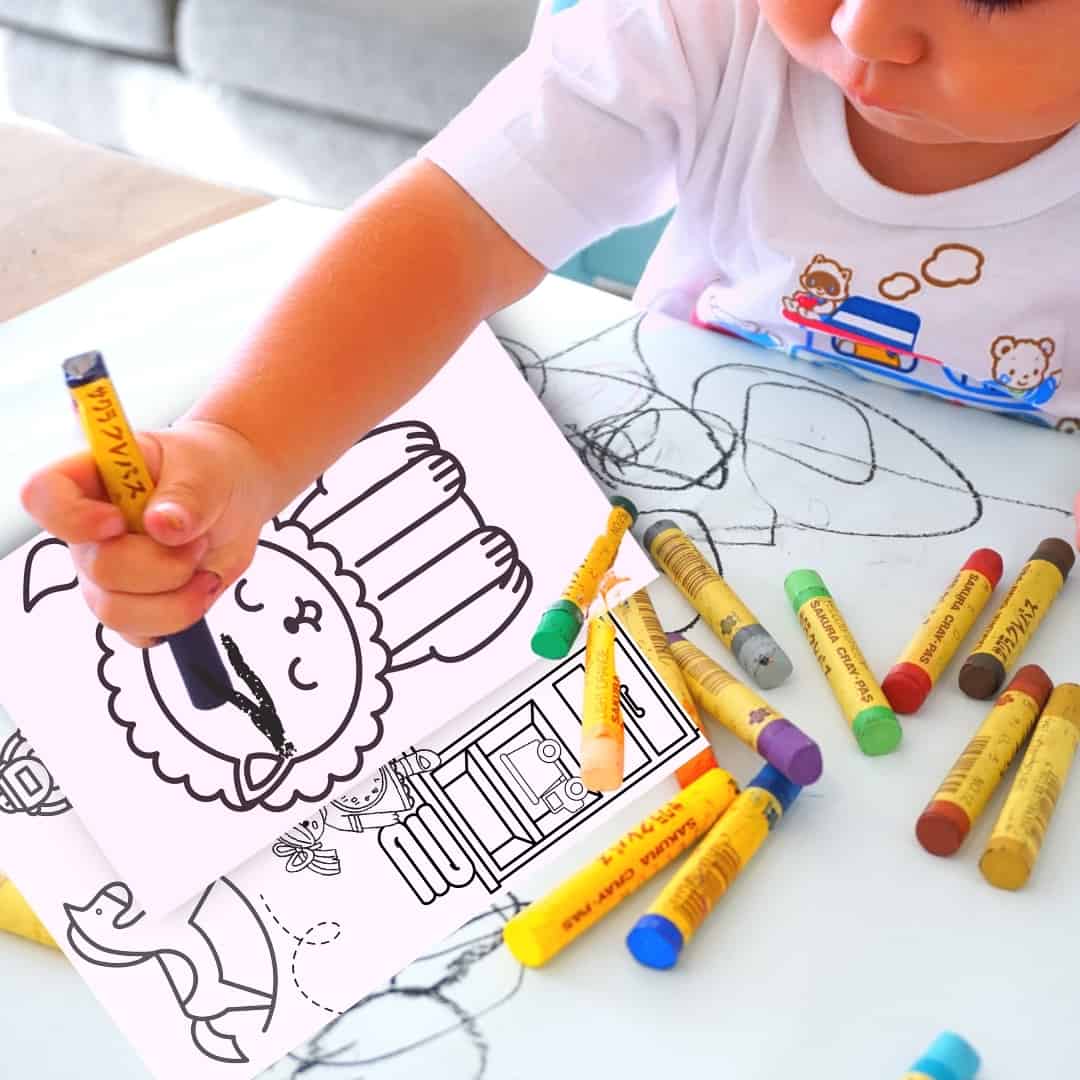 Coloring pictures
The coloring pages are always fun to do. I've made a few for the little ones, with big shapes and big pictures, plus a whole bunch with more coloring like the nursery, all in our free activity book collection.
Best toy in the car for ages 4 to 6: Janod Magnetibook
Very handy for those long car journeys. It is a game, book and puzzle in one and works with magnets to keep everything together (more magnetic tips here!).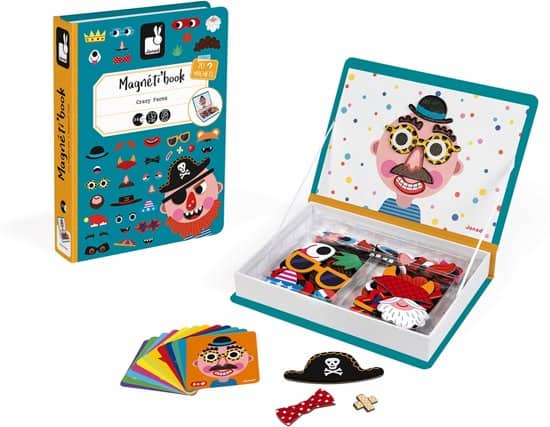 Your child can make fun faces themselves by sticking the Janod magnets to the face on the inside of the book, or can take on challenges by trying to copy one of the many playing cards.
Handy to take with you because it is like a kind of briefcase; this means there is less chance of parts getting lost. It has a handy tray and nothing gets lost because of the magnets.
Check prices and availability here
Best toys in the car for ages 5 to 7: Melissa & Doug Travel Memory Game
Known for their creative and well-made toys, Melissa & Doug offers a smart way for kids to play the classic memory game on the go.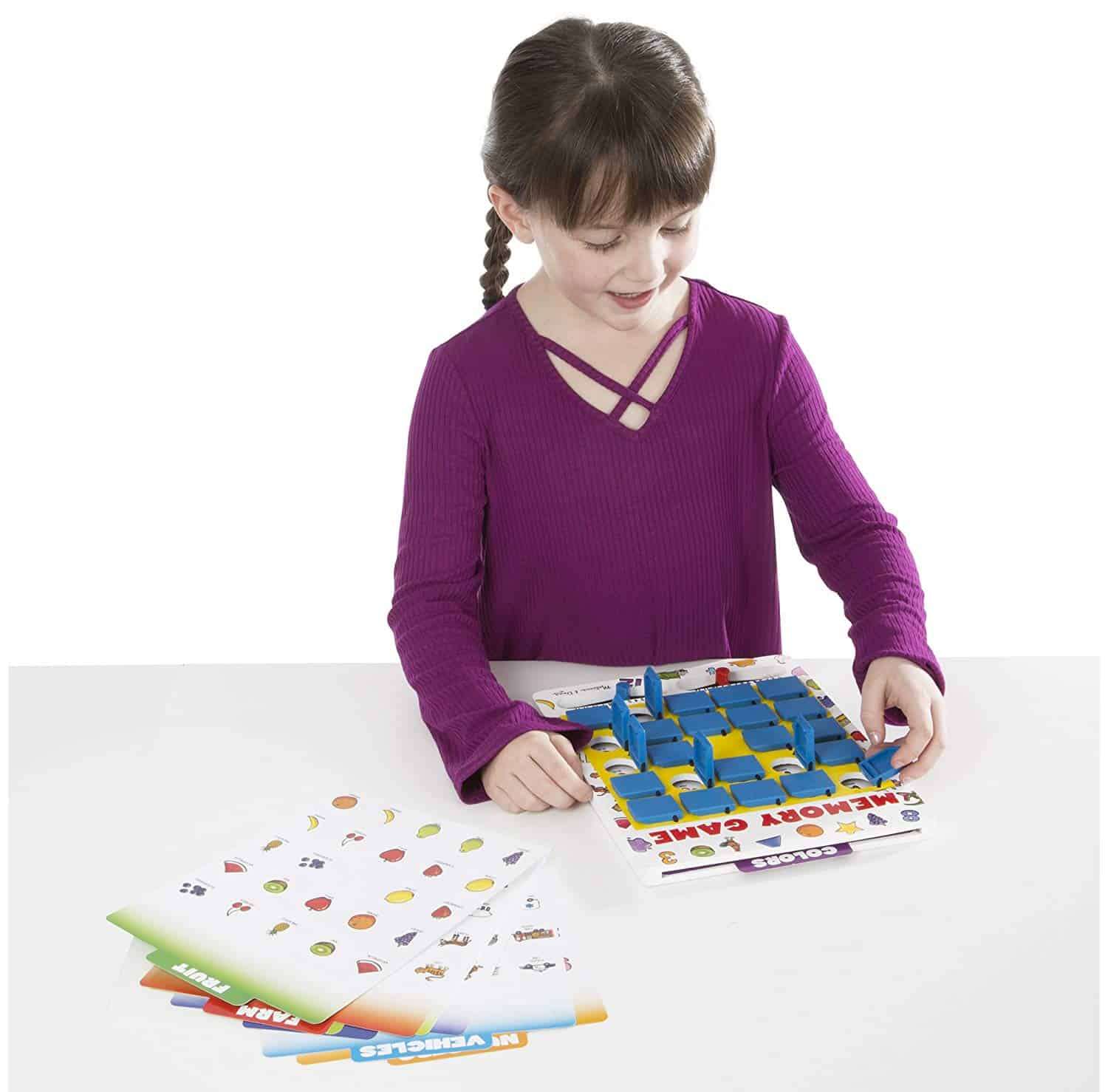 This sturdy Travel Memory Game is provided with 24 wooden cards, which are attached to the board with stretchy cords. Even when the game is collapsed, the wooden cards will remain stuck.
Children can choose from fourteen different fun themes, slide one of the laminated cards into the board and then flip up the tiles to find pictures.
They can play alone or challenge another. The built-in numbered scoreboard lets them keep track of their matches.
There are no loose pieces and everything is conveniently stored in the board, so this game is perfect for travel.
This set is for sale here
Also nice for in the car: a real working toy camera
Best car stickers: Eyelike reusable stickers
Then fun for on the road, and especially this first set in a car theme: the reusable stickers from Eyelike.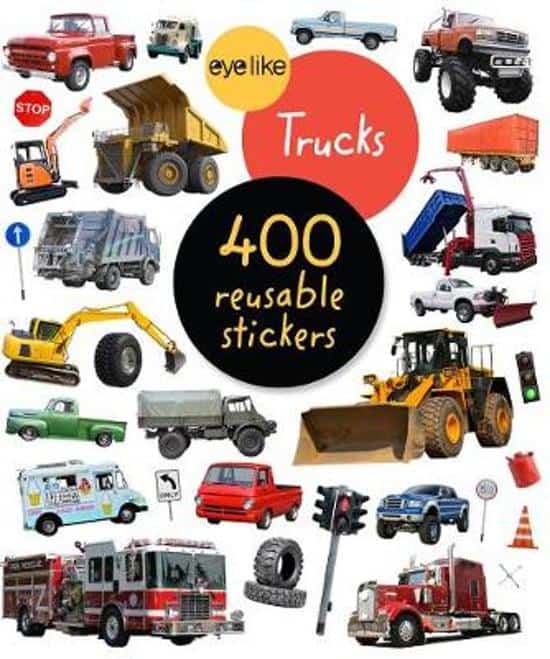 Stickers are the perfect way for toddlers to express their creativity and develop their imagination, but then to remove them again is no fun for parents.
Replace regular stickers with these reusable stickers that are the perfect travel toy for toddlers.
Children can put the stickers on different pictures in the book, then remove them and start all over again.
Plus, with 400 stickers, they're unlikely to run out halfway through, even if your toddlers ruin a few.
Check the latest prices here
Most fun car resistant puzzle: HapeMagnetic Maze Bugs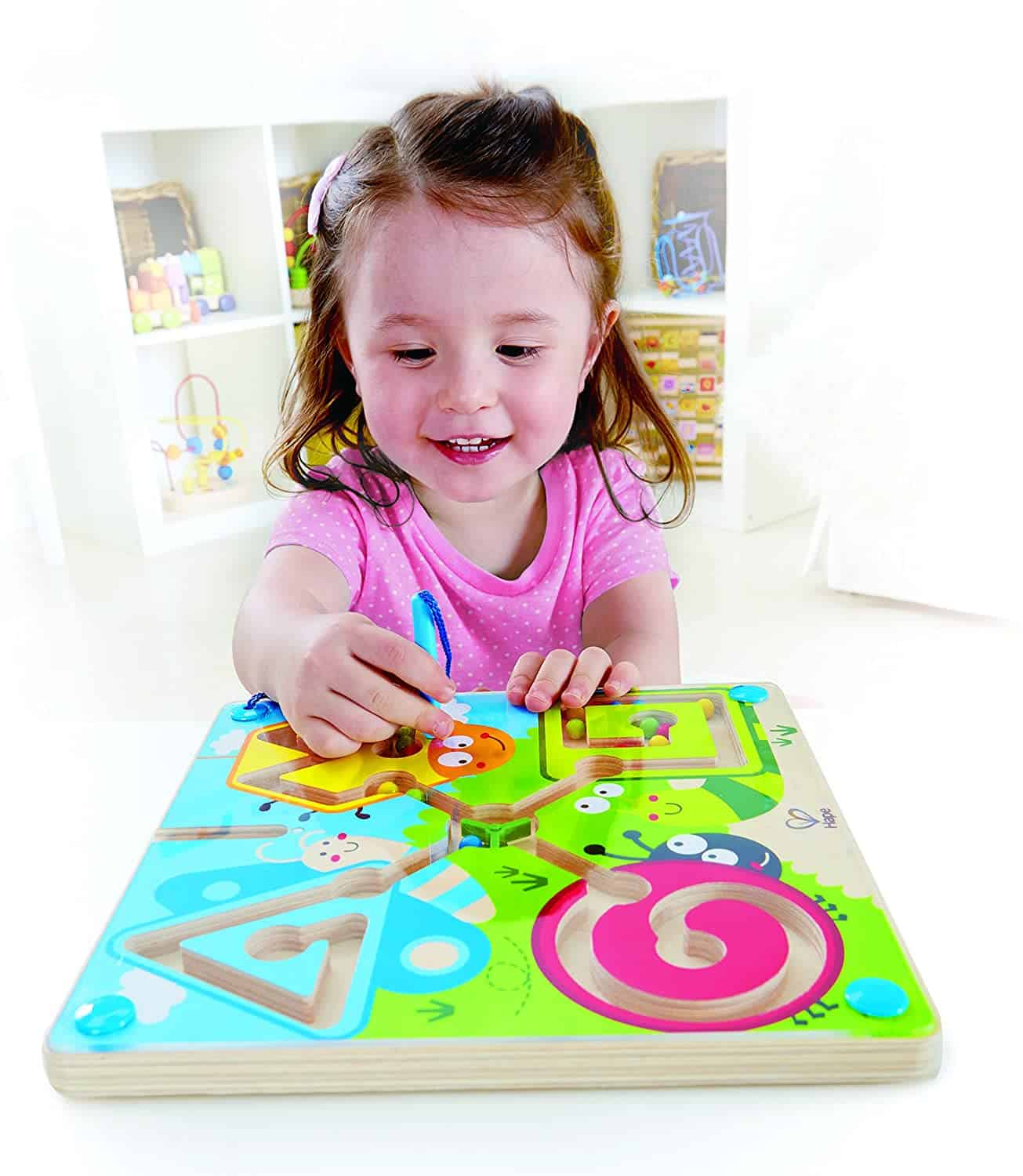 For toddlers with a little more eye-hand coordination, this magnetic puzzle from Hape is a new challenge: successfully navigating the beads through the maze.
Dragging the pieces with the magnetic rod is a bit more difficult than putting together the average puzzle, but it is much more interesting and it is autoproof. In many other puzzles you lose the pieces between the seats.
This toy makes a great travel companion: it is durable, thanks to its sturdy wooden construction. But it is still light enough, so parents do not have to lug around heavy bags.
Check prices and availability here
Are we there yet? Tips for the road
A car holiday with the family is really great fun, if you do it right.
As you have already read, the right toys and fun games can provide good pastime.
There are also a number of things you want to keep in mind to avoid arguing in the back seat:
Make sure you have a good plan: bags packed, route planner set, snacks and games at hand. Good preparation is half the battle when it comes to a holiday, especially with children.
Pit stop or a picnic stop: Stretch your legs and get some fresh air. Make your stopover a nice moment by having a nice picnic, for example.
Stop regularly: It may feel contradictory but the ride will probably be a lot smoother and easier if you stop regularly. This way everyone can go to the toilet or walk around for a while. Not every stopover has to be long, but hopefully this will prevent you from whining in the back seat during long car journeys.
Traffic jam, detours and other unforeseen time wasters: it's a bit like a car holiday. Suddenly you are stuck or there are road works that you had not counted on. Plan your trip well, so that these kinds of unforeseen things do not have a direct impact or feel like a setback.
Ride when they sleep: they are so sweet when they sleep. Leave around bedtime or just before. This way they can play for a while and you can drive long distances while your kids leave for their destination: dreamland.
Prevent carsickness: take motion sickness pills with you. There is nothing more annoying when someone suddenly becomes unwell.
The journey starts at home: in your mind you are already at your destination, but you still have to drive there first. Leaving after a working day, packing last minute or planning a very long drive without an overnight stay will not promote stress levels. The holidays already start at home, so take your time and leave well-must.
Other options and anti-boredom tips for fun during the ride
Of course there comes a time when even the most fun games have to be taken a break. To prevent boredom, I have collected an extra number of anti-boredom tips here and divided them into different age categories.
Other fun ways to stay entertained during your road trip, for example, are playing games you made up yourself, listening to audiobooks or Podcasts, or playing Car Karaoke together (you can even bring a karaoke microphone).
Anti-Bored Tips for Babies
There may not be a lot of options for the little ones yet, but they sleep luckily a lot, especially in the car. When awake, they like to play with a stuffed animal, rattle, or chew toy.
A play stuffed animal or a Miffy rattle is soon enough.
Anti-boredom tips for toddlers
Toddlers also like to play with 'grown up stuff'. For example with a bag where they can put things in and take out. Books are of course also fun for toddlers. A CD of children's songs is also always appreciated.
Some invented games like:
Who is the first to get a red auto sees; Whoever spots a red car first wins. Did you have the red car? Then continue with a blue car etc.
"I see I see what you don't see". This game is always fun. Choose an object you see and let the other person guess it. The object is not meant to be quickly out of sight!
Anti-boredom tips for toddlers
Listen CDs are ideal for toddlers! For example from 'Pluk van de Petteflet'.
Preschool children often find a self-made game like seeing how far you can count. For example, do you see the number 1 somewhere? Then quickly search for number 2 etc.
But why? Toddlers prefer to ask why for everything, turn the question around! Ask your preschooler why they think certain things are the way they are. It makes them think and the imaginative answers can be hilarious at times.
Also read: the nicest outdoor toys in the garden such as cars for the sandbox
Anti-boredom tips for primary school children
Primary school children often prefer to play independently. They often find writing and drawing a pleasant activity, so it is great to give them an empty notebook in which they can write their own words. holiday be able to write down and record experiences. Another fun idea is to tie bracelets: tie a few colored strings to the chair back in front of you and braid or tie nice bracelets. Also fun for teenagers!
If they do feel like playing together:
Play "I'm going on vacation and I'm taking…" and find out who has the best memory!
"No yes and no no" game
'Who's it' play. Have a famous person in mind and let someone else guess.
Anti-Bored Tips for Teens
Teenagers need slightly less activities and they may have slightly different rules regarding, for example, their screen time. Let them watch a movie on the laptop† Before you know it they are already an hour and a half further.
But you can also play games together with your older kids!
Made-up games like:
The radio game, within 10 seconds you have to guess which song it is. Don't you know in 10 seconds? Then the other may guess. If you have guessed correctly, you will of course receive points for it! There are enough radio stations.
Come up with an exciting story, or write a story together. You may think of or write a few sentences alternately. We bet that unexpected stories will emerge from this.
Use the time with your teen to catch up and cherish these moments!
Traveling with kids can also be a lot of fun!
If you take the right things with you, you will see that your car trip as a family can be quite relaxed. It helps enormously to come up with crazy games and fun activities for on the road in advance and to keep it a bit exciting for the kids.
Lees meer: fun toys for holidays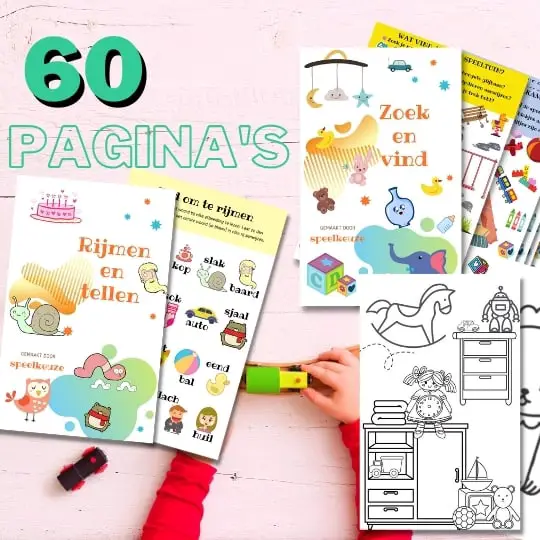 Always something to do for the holidays or rainy day?
Play Choice now has the ultimate activity book collection, with over 60 pages of fun coloring pages and educational puzzles.
Joost Nusselder, the founder of Speelkeuze.nl is a content marketer, father and loves trying out new toys. As a child he came into contact with everything related to games when his mother started the Tinnen Soldaat in Ede. Now he and his team create helpful blog articles to help loyal readers with fun play ideas.