I enjoy writing these articles for my readers, you guys. I don't accept payment for writing reviews, my opinion on products is my own, but if you find my recommendations helpful and you end up buying something through one of the links I may be able to receive a commission on that.
More information
Is that safe or unsafe toy? It is known that it is not wise to choose toys without a label. However, not everyone thinks the same about it.
There are many parents who check whether toys for their children are sustainable and especially whether it is safe to play with.
There are also parents who go for the cheap and don't really care about the safety of a toy.
It is of course the case that there is a considerable price difference between toys with a CE mark and toys from low-wage countries.
On sites such as Alibaba, Wish, Banggood, Gearbest and Miniinthebox you can purchase anything for next to nothing, but that is not always wise!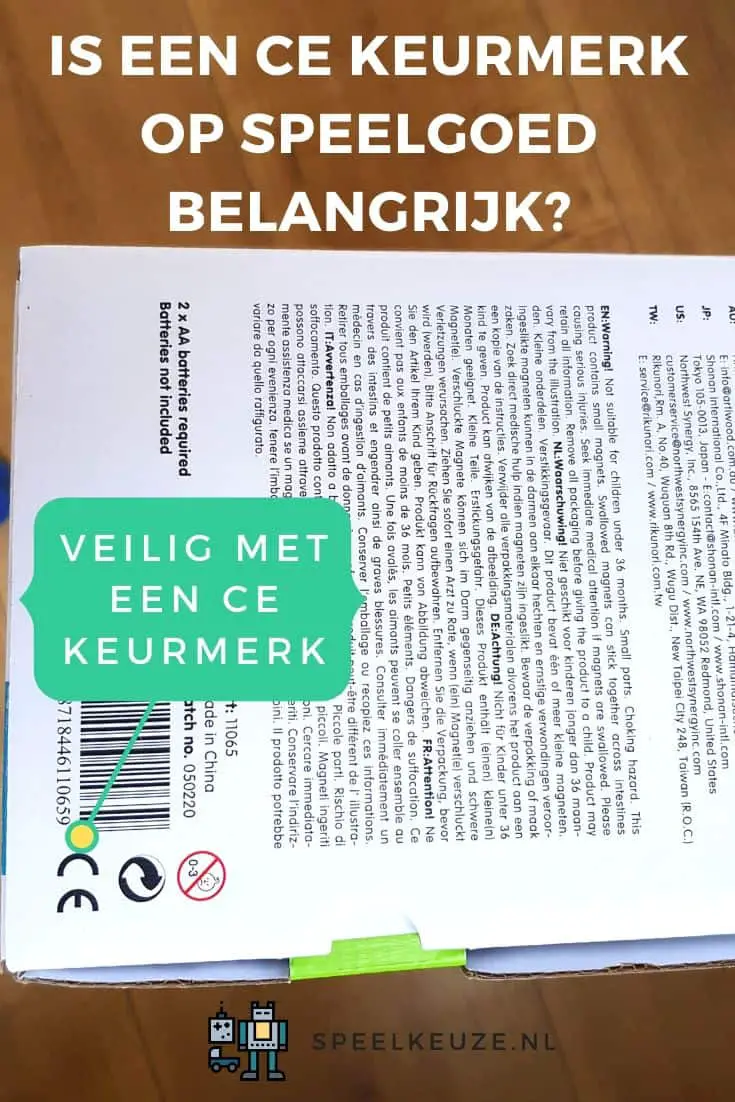 In this article we want to tell you a little more about the CE Quality Mark for toys. The first problem is, it is not a quality mark!
What is a CE certificate?
All possible games for children under the age of fourteen fall under toys. Toys sold in Europe must bear the CE Mark (CE = European Conformity, or "in accordance with European regulations").
Especially when it comes to toys for children, it is very important that these products meet certain safety requirements.
If the toy is approved, you can usually assume that it is a child-friendly and responsible product. This is not to say that nothing can ever be wrong with the toy.
The toy must therefore first be tested and approved according to European safety standards. But it is a SELF CERTIFICATION!
Unfortunately, it is sometimes only after intensive use that people discover defects that turn out to be dangerous.
From time to time a random check is made among the toy stores in the Netherlands by the Food and Consumer Product Safety Authority. Unfortunately, this service does not have enough manpower to check all the toys for sale.
So always keep thinking about which toys you give to your child, CE certification is also not enough to be 100% safe, because it is NOT a QUALIFICATION that is only awarded after extensive testing.
What requirements must toy manufacturers meet to obtain the CE mark?
If the assessment can demonstrate that the toy meets all European requirements, the manufacturer will draw up an EC declaration of conformity.
He then applies the CE sticker to his products, after which the products can be traded freely throughout Europe.
Manufacturers must draw up technical documentation for the toy in question and have a safety assessment carried out. After approval, their product has earned the CE mark.
The European requirements for toys do not only concern the physical, mechanical, chemical and electrical properties, but also the flammability, hygiene and possible radioactivity of toys.
Outside Europe, and we are often talking about China, these standards do not apply. The toy can be dangerous. So be warned!
Also read the website Waarzitwatin.nl of the National Government where they on this page tell us a little bit more about the other requirements on toys that you buy online from abroad.
Is it responsible to purchase toys without a CE Mark?
Of course it is better to buy toys with a CE mark, but it is not the case that these toys are always safe by definition. Sometimes toys can also be incorrectly provided with the CE Mark.
Children and parents often have to find out for themselves whether the toys work properly and are safe. Some toys appear to meet safety standards, but in reality are not very reliable.
Lubach is not very enthusiastic about it:
It is only withdrawn from the market when accidents occur. In general, however, you can assume that it is safer than toys without a label.
It has happened more often that toys from outside the EU contain toxic or endocrine disrupting substances. And you absolutely do not want that for your child!
China has no safety standards for toys. They therefore produce much less safe, but much cheaper products than we do here in Europe.
Unfortunately, China has copied the CE Mark, 'CE' stands for 'China Export'.
If you don't look very closely, you think you have bought safe European toys. So look carefully at this sticker.

(Source: support.ce-check.eu)
The font is almost the same, but you can see a small difference in the distance between the letters. The real symbol has more space between the "C" and the "E".
What should you pay attention to when buying a toy?
If you want to purchase toys, pay attention to the CE quality mark; Investigate whether the CE sticker is genuine or a look-a-like.
You can also inquire about the material of the toy; Wooden toys, for example, are of course much more sustainable than plastic. Ask any critical questions to the seller.
If the product has a real CE mark, you can assume that it is usually safe for children. Check carefully whether it is a real CE quality mark!
There will always be a few exceptions, but CE Quality Mark toys are always safer than toys without the quality mark.
In any case, always read the description when it comes to an internet purchase. You can also ask for good advice in the toy store.
We must be able to assume that the products we purchase in the Netherlands have in any case been tested and are hormone and poison free. Especially when it comes to toys for your child.
You shouldn't think about exposing your child to products that could harm his health by playing with it or, worse, by putting it in his mouth.
Read also: these are the 8 best Dutch toy brands
Joost Nusselder, the founder of Speelkeuze.nl is a content marketer, father and loves trying out new toys. As a child, he came into contact with everything around games when his mother started the Tin Soldier in Ede. Since 2016, he and his team have been creating helpful blog articles to help loyal readers with fun play ideas.