14 Best Gifts for 10 Year Olds: Cool Stuff and Fun Toys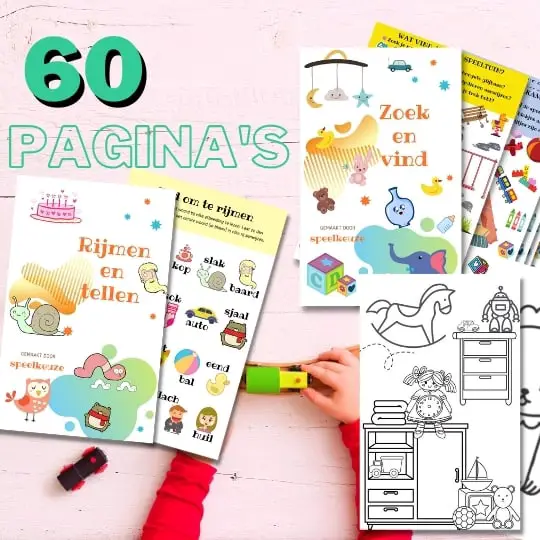 Always something to do for the holidays or rainy day?
Play Choice now has the ultimate activity book collection, with over 60 pages of fun coloring pages and educational puzzles.
Cool stuff for 10-year-olds can be fun toys, things to decorate their rooms with, or even experiences. To buy a good gift, you need to know what 10-year-olds like and what should be in a gift guide to base your choice on.
When choosing Christmas or birthday gifts, it's important to consider the interests and developmental stage of 10-year-olds.
For example, fun brain teasers are great gifts for this age and this one from Sharp Brain Zone are the perfect small birthday present for this age group. Challenging enough to keep being fun with a bit of fidget toy baked in.
There are, of course, a bunch more gifts that would be great for 10-year-olds.
Toys can also help with school, as they can encourage 10-year-olds to learn and improve their skills, especially in math, reading, writing, science and social studies.
Research has shown that educational toys and science instruction produce positive learning outcomes for 6th grade students.
This list features the 14 best gifts to give a 10-year-old, in a variety of categories from cool to educational.
Brain teasers are always fun to give to school children. It challenges them to think and think in terms of solutions.
But a unique wooden puzzle like this also gives a good hand feeling, completely Montessori and is so much more durable than plastic.
A very difficult puzzle because the wooden pieces are not identical.
The wooden pieces are very sturdy and the puzzle will last a long time.
The package says 6 to 99, and in my experience it is doable from 10 years old with enough challenge.
#2 Mongoose Rise – Best riding toy for 10 years
For the novice stepper of 10 years
Height: 77 cm
Material: aluminum
Wheels: PU
Diameter of the wheels: 100 mm
Bearings: ABEC 7
Handles: rubber
Width of the handlebar: 43,5 cm
Size of the platform: 48 x 10 cm
Weight: 3,8 kg
Maximum user weight: 80 kg
Stunt scooters are one of the hottest developments in outdoor toys
If your child starts scooters at a later age, at about 9 or 10 years old, you may not want to spend too much on a scooter (or if he or she often breaks them and you are fed up with it 100 + euros to be spent).
Unfortunately there are too few options on the market because most cheap scooter brands are aimed at the younger children.
Fortunately, there is this Mongoose Rise, from a brand that makes many scooters in the mobility market and has now also set its sights on the stunt scooter market.
You therefore know that the Rise is also a sturdy scooter, and it can handle up to 80 kilos, which makes it extremely suitable in this age category.
It is sturdy but light enough for fun tricks due to the aluminum used and your child will certainly benefit from it for a while when learning his tricks.
#3 Reusable Waterballs Magnetic Water Balloons - Best outdoor water toy for 10 year olds
These innovative water balloons with magnetic self-closing design are not only super fun to play with, but also a unique and environmentally friendly way to play with water.
I have tested these water balloons myself and I am impressed with how quickly they fill with water and how easy they are to use.
No more hassle with filling water balloons under the tap, just open the balloon, dip it in the water and voilà, ready for battle!
They are made of high-quality soft silicone, which makes them extremely soft and resilient. They feel like disposable balloons, but are much stronger and can be refilled thousands of times without losing their shape.
In addition, they are safe and reliable, because the silicone material is odorless and environmentally friendly.
My son loves it and we have had hours of fun with it. I plan to buy more as gifts as they are ideal for hot summer days.
#4 Klutz Paper Flying Dragons – Best unique dragon toy for 10 year olds
Klutz Paper Flying Dragons is a fantastic activity for young and old dragon lovers. I was immediately excited when I opened the book and saw that you could make 12 vibrantly colored paper dragons. It contains all the necessary materials, such as pre-cut parts and tape, so that you can get started right away.
The instructions in the book are very clear and easy to follow. The graphics are clear and detailed, teaching you step-by-step how to assemble each dragon. It was a joy to watch the dragons come to life as I put them together.
One of the things I really liked about this book is that it's not just about building the dragons, but also about learning fascinating facts about dragons. Award-winning science fiction writer Pat Murphy has added interesting information that makes the book even more compelling.
The quality of the material is excellent. The cards are made of sturdy cardboard and can handle a little rough play. While not all dragons fly equally well, watching them soar through the air was still an amazing experience. It was especially fun to experiment with different folding techniques and adjustments to improve flight performance.
#5 Toi Prehistoric Rainforest Dino Puzzle Best dinosaur toy for 10 years
The TOI Dino Puzzle is a fantastic floor puzzle for children from 8 years and older. The puzzle pieces are made of sturdy and thick cardboard, which makes them fit together well and are durable. The colorful and vibrant illustrations of ecosystems and animals within the animals make building the puzzle a unique experience.
It is a challenge to put the 387 puzzle pieces together, but that also makes it a lot of fun. It's a great way to improve children's hand-eye coordination, concentration and logical thinking, and it gives them a sense of accomplishment when they complete the puzzle.
A nice addition is that a bottle of glue is included to keep the puzzle after it is finished. When you're done, you can glue the puzzle pieces together, frame them, and hang them on the wall for decoration.
#6 Shashibo Shape Shifting Box - Best fidget toy for 10 year olds
I absolutely love the Shashibo Shape Shifting Box! It's totally different from other puzzle boxes I've tried. It has 36 rare earth magnets and can be transformed into over 70 forms. It's a really innovative design that challenges me and gives me hours of fun. I love how it fits comfortably in my hand and encourages me to stimulate my senses and explore my creativity. I keep trying to make new shapes and challenge myself to master the unusual shapes. It's really challenging to master the Shashibo Shape Shifting Box!
What I especially like about the Shashibo Shape Shifting Box is its quality and unique design. It is built tough with high-quality injection molded plastic and has a tear-resistant matte or glossy surface. Each magnetic puzzle features 4 unique and artistic patterns of vibrant and mesmerizing artwork. I love how it changes all the time and I always have something beautiful under my fingertips.
Another great feature of the Shashibo Shape Shifting Box is that you can connect multiple magnetic blocks to build even bigger structures and sculptures. This makes it an extremely satisfying magnetic sensory toy and brainteaser. I intend to collect all 9 designs to create vibrantly colored and mesmerizing 3D artwork!
#7 Flyingball Flying Orb Ball – Best indoor active tech gadget for 10 year olds
The first thing you notice is the updated flying ball design. With its RGB light and unique globe shape, it looks cool and futuristic. The powerful motor ensures that the ball flies smoothly through the air and returns to your hand like a boomerang.
What I like about the Flyingball is the advanced ways you can play with it. You can try different angles and directions and discover new ways to play with the ball. If you push the ball up about 30 degrees, it will bounce back at you like a boomerang. If you throw the ball down about 30 degrees, it will fly in a straight line.
Another advantage is that the Flyingball is safe and durable. It is made of flexible premium ABS material and is completely safe for children. The fans are placed in such a way that they cannot cause injury. In addition, the ball is lightweight, making it safe to use both indoors and outdoors.
Charging the Flyingball is easy thanks to the USB charging design. You can fully charge it in just 25 minutes, which gives about 10-15 minutes of flight time. The supplied USB cable can be connected to a power bank, notebook, phone adapter or car charger, so you can use it anywhere.
#8 Christopher Hart Blank Comic Book – Best creative toy for artistic 10 year olds
The Blank Comic Book For Kids, 8.5×11, is the perfect way to channel your child's creative side into an awesome superhero adventure.
From drawing illustrations of their own comic book hero and cutting out dialogue from magazines for him/her to speak out loud, or giving him/her a chance to plan ahead and write the script in advance with some helpful tips on how to using creativity enhancing words, each of these blank pages can be transformed into a masterpiece of his/her own creation! Your child will surely remember creating their best story ever here!
#9 Pandasaurus Games Machi Koro – Best game gift for 10 year olds
Machi Koro is a dice game (best rated here) that we've had for over five years and we bought it because it's one of the few games that's also fun to play with two people. Although you can play with more people, it's also nice to do it with just two people. The aim of the game is to build your own city by buying and using different cards. There is no game board, just dice and cards, so you could call it a card game, but it really isn't.
What I like about Machi Koro is that you have to make strategic decisions about which cards to buy based on the dice that are rolled. It is often wise to buy different buildings with different numbers, as this increases the chance of generating income.
There are different colored buildings, such as red buildings that steal coins from your opponents, blue buildings that earn extra coins, and green buildings that only earn coins when it's your turn.
The game also features special buildings that you can buy with coins. These special buildings add additional game mechanics, such as rolling two dice.
This adds an extra layer of strategy to the game. You also need to pay close attention to what your opponents are doing to keep up and maintain an edge.
Features
2-4 players
Age 6+
30 minutes of play time
#10 ERWEI 3D Solar System Laser Engraved – Best Solar System Aesthetic Toys For 10 Year Olds
The use of K9 crystal makes the ball highly transparent and shiny, and the advanced laser engraving ensures clear and stereoscopic details that never fade. It is clear that a lot of attention has been paid to the quality of the material, and that is reflected in the end result.
The names of the planets etched into the glass surface are clearly visible, making it a great educational tool for kids to get a realistic look at the planets and stimulate their curiosity and interest in space exploration. It is really a valuable gift for children.
What I also like about this crystal ball is the multicolor night lighting. The LED-lit base with touch switch provides a visual effect and creates an otherworldly atmosphere. With six different light modes, I can experiment with different colors and see how it changes the look of the planets. The fact that it can be powered on both AAA batteries and a USB cable is handy too.
The decorative aspect of this crystal ball is also not to be missed. It is a beautiful and unique decoration for my desk, but can also be used in other areas such as my home, bedroom, study and office. It certainly adds a special touch to any environment.
#11 Makeblock mBot – Best educational interactive robot for 10 year olds
From 8 years

Best: 9 – 11 years

Until: 12 years
The mBot Robot is an educational starter kit designed to introduce children to STEM fundamentals such as programming, electronics, and robotics. Programming is powered by Makeblock software Scratch 2.0, which gives kids a drag-and-drop graphical programming platform to dictate a variety of robot functions. The system is therefore very flexible and the most educational of any of the robots here.
Assembly parts are obvious to put together but allow for a deeper level of creativity and thinking to do with your bright 10-year-old. The ease of use does suffer a bit, but that is made up for in play value with an open-ended platform.
The core robot is a simple two-wheeled vehicle with a cute smiling face that is controlled via an app. You can choose simple games like balloon bursting or soccer and sumo – each requires fun programming goals. Kids can even customize the robot with Makeblock extensions and LEGOs as they develop in the Arduino open source ecosystem so they can create the robot of their dreams! This makes it very versatile and gives great replayability.
mBot is a winner of multiple awards, such as the Edison Gold Award, IDEA Gold Award, and CES Design Award.
#12 Ravensburger 3D Puzzle Earth – Best geography gift for 10 year olds
From 9 years

Best: 10 – 14 years

Until: 16 years
The theme of this puzzle is the Earth, and it really is a beautiful piece of art. It's a 3D puzzle, which means you can also use it as a decoration once completed. That gives it its educational value as a globe, in addition to practicing hand-eye coordination.
The ease of use is excellent. The puzzle pieces are made of sturdy plastic and fit together perfectly. Each piece is cut so precisely that you hear a satisfying 'click' when you place a piece in the right place. It was a challenging puzzle to build, but that made it all the more fun. Due to the rigid building structure, there is not much room for open-ended play or social interaction, which reduces the play value.
The replayability is also less. This puzzle has 540 pieces and is approximately 9 inches wide (22,86 cm), but once completed it sits on a stand and you won't be making it again anytime soon. It lacks a little in versatility, but it is an educational aesthetic piece for the nursery.
#13 Engino Kit Paleontology - Learn About Dinosaurs - Best Electronic Building Toy For 10 Year Olds
As a lover of paleontology and STEM education, I was very excited when I discovered the Engino Kit Paleontology. The kit allows children to delve deep into the world of prehistoric creatures and discover how they lived, roamed and ruled the earth. I built this kit with my child and we had a lot of fun with it.
One of the best aspects of this kit is that it encourages children to develop problem-solving, critical thinking and engineering skills. As they build each model, they are challenged to think about construction and design, and to use the engine parts to bring the models to life. It's great to see how the dinosaurs move and interact with their environment.
What I especially liked about this kit is that it's not just build and play. It comes with 11 pages of theory and facts accompanied by fun experiments to test the newly acquired knowledge. In addition, a quiz section is included to test the understanding of the children. The kit therefore offers an educational experience and stimulates children's curiosity.
Another highlight of this kit is the accompanying 3D app. This cutting-edge, interactive app enables children to build virtually in reality. The app contains detailed instructions for an additional 3 construction projects. It's great to see how the instructions can be rotated in 3D, allowing you to view the building process from all angles. This makes it especially useful in more complex designs.
I also appreciate the quality of the components. Engino has designed award-winning components that explain complex scientific concepts in a clear way. The sturdiness and durability of the pieces make them suitable for long-term use.
#14 Smartivity Music Machine - Best music toy for 10 year old
From 9 years

Best: 10 – 14 years

Until: 16 years
With this set, children can build their own music machine and make their own music. It is a perfect combination of fun and learning and educational for both engineering and artistic expression, both STEAM concepts.
The play value is high. The set is easy to use and the addition of music also ensures open-ended play and appeals to the imagination.
The replayability is a bit lower because it is difficult to combine, although you could play it together with other instruments. Once put together it is also a bit difficult to carry around, so you will probably only play it at home. Fortunately, the versatility of the kit makes it replayable as a musical instrument after it has been assembled.
Smartivity makes toys from ecologically responsible pine wood and is, among other things, winner of the Toy Foundation's 'STEAM Toys of the Year 2022.
What makes a good gift guide for 10 year olds?
A gift guide should include a variety of gift options suitable for 10 year olds. This includes STEM toys and building sets, science experiments, creative activities, games, outdoor activities, stationery, social activities and personalization options for their space.
It's important to tailor your gift options according to the occasion, such as Christmas or birthdays and you might even think about giving experiences rather than just physical gifts and toys in this age group.
How are gifts for Christmas and birthdays different?
Christmas gifts differ from birthday gifts in that they are usually given to family and close friends, while birthday gifts are often more personal and focused on celebrating the child's special day and making them feel special.
Christmas gifts are often festively themed to match the holiday season, while birthday gifts are more tailored based on the child's interests.
The amount spent on birthday gifts and Christmas gifts can vary greatly depending on the family's budget and the specific items chosen.
However, there are general guidelines, such as spending around $50-$60 on a birthday present for your own 10-year-old or around $25 for someone else's child, and $200-$300 total on Christmas gifts.
What stuff do 10 year olds like?
The stuff that a typical 10-year-old usually enjoys are toys, experiences, creative activities, games, outdoor exploration, writing, social activities, and personalizing their space.
10-year-olds enjoy toys such as STEM toys, building sets, card games, and instant cameras. They also enjoy drawing, painting and DIY projects. Games, both indoors and outdoors, are popular, as are exploring the outside world and participating in group activities.
They also enjoy personalizing their space with bedroom items and craft materials.
What experiences would 10-year-olds like to have?
10-year-olds love experiences that give them the opportunity to explore new things and have fun. They enjoy activities such as a day at an amusement park, a visit to a museum, music lessons or camping.
These experiences give them the chance to develop new skills, have fun with family and friends, and create lasting memories.
Can toys help 10-year olds with the 6th grade of school?
Yes, toys can help 10-year-olds in 6th grade because they can stimulate learning. Children in 6th grade learn a variety of subjects and skills, such as math, reading, writing, science, and social studies.
Educational toys, such as STEM toys, board games, puzzles, science kits, stationery, art and craft kits, educational apps, and electronic learning tools, can help improve problem-solving skills, critical thinking, creativity, language skills, science comprehension, and more.
A study called "An Investigation of Using Educational Toys into Science Instruction for 4th Graders" found that using educational toys in 6th grade science instruction produced positive learning outcomes, such as higher test scores and positive student responses.
Therefore, it can be concluded that educational toys are effective for students in this group.