22 Best Toys for 3 Year Olds: Fun and Unique Gifts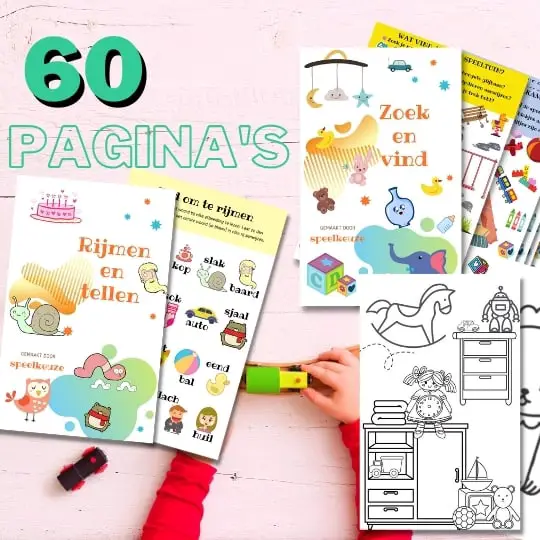 Always something to do for the holidays or rainy day?
Play Choice now has the ultimate activity book collection, with over 60 pages of fun coloring pages and educational puzzles.
The best toys for 3-year-olds are those that support their skills and creativity, such as building blocks, puzzles, coloring books, paint and clay. It's important to choose toys that are appropriate for their age and development, and that help them develop social and motor skills.
The best gifts are the ones that let them express their creativity, and these reusable stickers from Eyelikeare the perfect example of that. It makes a great little gift for 3 year olds as they can use it in a different way each time they play.
There are of course many more gift ideas.
A study by Gelman, Manczak and Noles (2012) shows that children as young as 3 already have a sense of ownership and identify objects based on their history. The toys you buy can therefore last a long time with them, which is why it's important to choose the right gifts.
Birthday gifts often differ from Christmas gifts in their style and theme such as family games for cozy evenings, plus summer toys differ from winter toys where more indoor toys are used.
For 3-year-olds, toys such as art and building blocks, puzzles, coloring books, paint and clay are great.
Toys can help with preschool and development in a way that's appropriate for their age. It stimulates the imagination, promotes language skills and encourages motor skills.
#1 Eyelike Reusable Stickers – Overall best birthday gift for 3 year old
Your child can be creative by covering the windows of the holiday home, or the airplane or car windows with this fun set of window toys.
That brightens up any location and brings home a little bit of home from home.
Sticking a large number of reusable stickers is fun and there is a large surface to work on in the car or in your house.
The advantage of the reusable stickers is that they can always be taken anywhere, even if you visit multiple locations on vacation.
#2 Tender Leaf Dinosaurs Playset - Best dinosaur toy for 3 year olds
What a nice set for children from 3 years old. A little younger is also possible, but then I would stick with it.
Pretend play starts at about 2,5 so before then they will be walking around or sucking on it on their own anyway.
Due to the sharp corners, it is slightly less suitable for this.
The 8 pieces are made of sustainable wood and it feels like it will last a long time. Maybe even for the grandchildren :)
Tender Leaf is a good brand that makes wooden toys from renewable rubber trees, so that's definitely another plus.
The size is just right for toddlers to play with.
#3 Learning Resources Code & Go Mouse – Best interactive robot coding toy for 3 year olds
From 3 years

Best: 4 – 5 years

Until: 6 years
Play value: ease of use, degree of open-endedness, imagination, social interaction, interactivity, versatility, aesthetics, ability to combine, portability, longevity, durability, safety, materials. Educational: +awards and educational value
The educational value is very high with the toy aimed at developing critical thinking, programming skills and problem solving skills in children aged 3 and 4 years old.
The play value is also very high due to the interactivity, the degree of open ending and how the theme appeals to the imagination (the mouse has to get his cheese). It could have been a bit higher if the ease of use had been a bit better, as coding can be tricky.
The replayability is also a bit lower, mainly because you can only do one type of game with it and it has to be completely self-contained to get caught again and again. It is difficult to combine it with other toys. The activity guide with hands-on introduction to programming concepts along with the 16 maze grids, 22 maze walls and 3 tunnels thankfully make it more interesting, providing endless possibilities for creating mazes.
The toy is quite sturdy and well put together, with only the wheels of the mouse being a minor weak spot. This is not a toy to drive yourself, but perfect for a quiet educational moment.
#4 Do A Dot Art! Washable Paint Markers - Best creative toy for 3 year olds
My toddler and I love the Dot Markers! This set is perfect for budding little artists. The pens are easy to hold and the paint comes out effortlessly from the spongy tip, making perfect dots a breeze.
What I really like about these markers is that they are virtually mess free. No mess with paintbrushes and no hassle with water cups. Simply unscrew the cap and you're ready to paint!
Plus, the colors are vibrant and blend easily. My child loves mixing colors and creating new shades. It's a great way to stimulate their creativity and color recognition.
I also appreciate that these markers are washable, which makes cleaning a breeze, even if a little paint gets on hands, furniture, or clothes.
#5 BigJigs Alpine Train Set (BJT016) – Best large Playset For 3 Year Olds
From 3 years

Best: 4 – 6 years

Until: 7 years
The play value of this mountain set is extremely high. The degree of open end is enormous due to all the accessories supplied. You can build the train track, play with it, there are dolls for fantasy play and everything appeals to the imagination.
For example, there are children and a grandpa and grandma, and my son plays that the children go to visit by train. The possibilities with the set are endless, but it is also easy to combine with other train tracks. For example, I expanded it with a Brio track. In addition, a train set can also participate in almost any other fantasy game. That also makes the replayability high.
Only when the ease of use was higher could the set have an even higher play value. Building with the bridge pieces and the mountain is fun, but playing with it is difficult because the bridge often collapses. Sometimes this causes frustration, but luckily it usually becomes part of the game.
Social interaction is high. I like to play along and because it's such a big set, friends who come over can always join in without getting in each other's way. Furthermore, there are some interactive elements such as the crane that can hoist, and the figures have a nice appearance.
It's not for nothing that they have already won the Independent Toy Awards, and with a versatile set like this you can't miss for hours of fun.
#6 Falk New Holland 3090 Tractor - Best ride on toy for 3 year olds
4+ years
This blue tractor has a shovel at the front and a trailer at the back.
The product is of robust quality. The tractor has plastic wheels made of durable material and the black steering wheel has a horn.
The Falk pedal tractor incl. trailer and shovel is our second favorite pedal tractor and is a bit more expensive than our number one.
But there is also something to be said for that. The tractor has a nice color with black steering wheel, big black tires and a black seat.
The shovel is also black and the tractor comes with a trailer.
This toy is intended for children from 4 years old and can be loaded up to 50 kg. It is a sturdy tractor that children can play with safely.
Mom and Dad can rely on this product that their son or daughter can safely drive around in the garden.
The wheels are made of plastic and wear-resistant and the steering wheel has a horn. The shovel can be put in different positions.
The trailer can also be uncoupled on this tractor.
The tractor, including shovel and trailer, is about 160 cm long and is suitable for both indoor and outdoor use.
This means that in the summer you can drive around in the garden and when it rains you can also play with the tractor in the house (if the space inside allows this).
This New Holland tractor has a flashy blue color. With the large black tires it can carry a lot of weight, namely 50 kg.
#7 Let's Go My First Foam Pogo Stick - Best toy for active 3 year olds
The Pogo sticks are fun, but they can also be dangerous for 3 year old kids. This brings the joy of pogo stick while being safe.
The handlebar and footrest are both made of soft material, ideal for soft children's hands.
#8 Theo Klein Bosch Car Tuning Set – Best take apart toy for 3 year olds
Using
the demountable car,
4 interchangeable straps,
3 interchangeable label sets,
the screwdriver
and of course the working Bosch electric screwdriver
you can assemble the car and then take it apart again, and do it as often as you want!
All the plates can be detached, so you can actually see exactly how a car is put together.
There is also a sticker sheet with which you can give those blue parts nice speed stripes, just like a real race car.
A very nice set from Bosch so that they can learn a little about how to work with screwdrivers and also with power tools, with the wheels and everything there is to a car to get to know them a bit.
The car is not very sturdy. It's hard to play well with it.
That's why it was mainly used with us to take apart and rebuild, but never made it in our son's pretend play.
#9 Melissa & Doug Dollhouse Family - Best imaginative toy for 3 year olds
From 3 years

Best: 4 – 5 years

Until: 6 years
The educational value of this set comes from the neutral appearance of the dolls. They don't have a clear profession or role, making them perfect for pretend play and imaginative role play. This neutral look also makes it very inclusive for both gender and cultural background. In addition, the texture of the real fabric clothes and the wooden dolls is a great stimulation.
The play value is also high because it appeals to the imagination and leads to open-ended play. With multiple dolls, it encourages social interaction with other children and they are easy to use. The dolls can be bent and are a very nice addition to your dollhouse.
The replayability is also high, they are easy to combine with other toys and you can easily take them with you in the box with compartments that comes with it. That way they can go anywhere.
Melissa & Doug plant trees to make their toys eco-friendly and the wood and woolen clothes are biodegradable.
#10 New Classic Toys Bon Appetit Play Kitchen - Best pretend play toy for 3 year olds
A play kitchen is an excellent playgroup toy because it encourages role play and social interaction. Plus they can often play with it for a while on their own, unaccompanied. Suitable for ages 2 and up and best for ages 3 to 4.
The nicest wooden children's kitchen I've found is this one from New Classic Toys, and not that expensive at all, which makes it the best price-quality ratio choice.
There is plenty to play with with the included pans, ladle, spatulas, pepper pot and salt set and even plates. A whole lot of accessories that you don't see in every kitchen, and all made of wood (except for the removable metal sink).
That gives it even more reason to offer the best value for money because you don't necessarily have to buy extra accessories, although treating vegetables like me further below makes it extra fun.
Where the kitchen excels in particular is in the solid rotary knobs of the oven that actually click so that you have the feeling that you are actually setting an oven setting.
Many kitchens, and especially the cheaper ones, have knobs that simply turn loose, with no tactile feeling, and that is less fun for fantasy play.
Furthermore, the burners on the stove can be turned on at the push of a button so that they light up and really produce a bubbling cooking sound, which is just that little bit more real when making delicious dishes.
Not too big, fits in a corner of the room like with our dad's (also retro) guitar and amplifier and still gives your child a lot of fun.
#11 Wikki Stix Traveler – Best arts and crafts toy for 3 year olds
A number of things are important for building with toys while traveling.
For example, it must be easy to carry and it should preferably not consist of pieces that are too small, so that they do not get lost right at the start of the journey.
For in the car I have noticed that it is important to simply bring enough construction toys, consisting of larger pieces.
Pieces will of course fall to the floor, but the kids won't panic if that happens because they can easily find them again. So do not bring construction toys that consist of small pieces.
Besides the fact that a fairly large amount of construction toys / blocks are useful when traveling, it is also important to ensure that the materials are almost all the same.
We sometimes set a timer and see which creation each child can come up with during a certain time.
Customers give the set a 4.7 out of 5 stars on average from over 900 reviews. In addition, it is an award-winning toy with several Parents' Choice Awards under its belt.
You do have to pay attention to the age, which is why we have put it in the separate section for toddlers, because it is still too difficult for children that are too young.
One customer said:
"I bought this kit for a long car trip to keep kids ages 1, 3 and 5 entertained. She quickly got tired of the 1-year-old; the 3-year-old was busy for about 20 minutes, but the 5-year-old was busy for about 1,5 hours and later asked to play with it again.'
A large set of Wikki Stix works very well on a hard surface or even in the hand in the car, for example.
If you've never played with Wikki Stix before, stop reading and order them right now. They are SO fun and so addicting.
#12 Spin Master Kinetic Sand - Best hands-on toy for 3 year olds
From 3 years

Best: 3 – 6 years

Until: 8 years
Kinetic Sand is often referred to as magnetic sand because it kind of sticks together, but it's not really magnetic. This gives it extra educational value because it feels good and you can model anything with it. Perfect for fine motor skills and creativity.
It feels really weird the first time you hold it, like wet sand but dry and like it should move differently than it does, sliding through your hand. This composition ensures that it does not dry out like clay and has a long life. If you take good care of it, it will last forever. It is also perfect to combine with sandbox toys or dinos or cars, all of which benefit the replayability.
The "magnetic" properties of the sand make it ideal for indoor use as it will not go all over your floor as loose grains, but will stick together more like loose slices or balls of sand. Good for ease of use and play value. In addition, it is perfect for open-ended play.
The material is made of non-toxic polymers and is even free of wheat, gluten and casein.
#13 Schleich Wildlife Set – Best Realistic Animals (from 3 years)
Beautifully finished Schleich Wild Life set consisting of 4 cute animals: a lion, a baby elephant, a monkey and a zebra.
#14 Melissa & Doug Learn-To-Play Piano - Best musical instrument for 3 year olds
Perhaps a somewhat unusual gift, but this toy piano is great for kids to explore (and to smash).
I was looking for a toy piano for my 3 year old and I was so happy to find the Melissa & Doug Piano! This brightly colored wooden piano is not only beautiful, but also of excellent quality. It has 25 keys and 2 full octaves, making it perfect for budding little musicians.
What I really like about this piano is the solid wood design, which makes it durable and safe for my child to play with. The keys are easy to press and instantly responsive, making my child excited to make music.
The included illustrated songbook is a great addition as it makes it easy for my child to learn how to play songs. It's so much fun to watch them develop their musical skills as they follow the color code to play their favorite tunes.
#15 Little Tikes Fish and Splash Water Table - Best water play outdoor toy for 3 year olds
Children from 2 years and up to a lot older. Can be used with both water and sand and perfect for outdoor use for pre-school children because they can play well together.
The toddler has undergone great motor development. Now that the child can stand and walk on its own, it really starts exploring.
Gradually space is made in the 'me world' for other children.
Toys that perfectly meet the needs of the young toddler are the educational play table from Little Tikes.
But this is also super fun for slightly smaller children from approximately 13 months.
As soon as they can stand stable, they want to stand against something, so when it is warm they can also splash!
Furthermore, a nice slide for the water and we can also use it perfectly as a sand table for those days when it is just not warm enough outside for water.
Playing together with other children also prepares them for the coming infancy. This certainly benefits the social-emotional skills.
The motor skills are also stimulated by the large amount of parts that the table contains; like the anchor that can be rolled out.
The toy is also made of durable plastic and can therefore last a considerable time.
Fortunately, because even the older children still seem to want to play with this play table.
Little Tikes has sand / water tables in these different sizes so that they also fit in your garden.
#16 Desire Deluxe Magnet Tiles Building Set – Best building toy for 3 year olds
From 3 years

Best: 3 – 5 years

Until: 7 years
Building and constructing with magnet tiles requires problem-solving thinking and engineering skills. Children should think about how to connect the tiles correctly to create sturdy structures. This stimulates their spatial skills and improves their ability to plan and build and gives it a high educational value.
Desire Deluxe are a cheaper variant of Magna Tiles (the original magnetic tiles) with a very good price-quality ratio and fit on any of these types of magnetic tiles. In addition, it is also great to combine with almost any kind of game, because you can make all kinds of things with it. From houses for animals or dolls to robots to beat. This gives it tremendous replayability.
These types of tiles may look a bit cheap, but they are safe. I tried to break the case by throwing it and hitting it with a rock, but the magnets wouldn't come out. The toy score could have been slightly higher if the material used and the lifespan had been slightly higher, but in the end this only has a small impact on the fun.
The play value is also very high, especially due to the open-ended game where children can use their imagination. In addition, a large set like this gives the opportunity to build together and seek social interaction.
#17 Melissa & Doug Paw Patrol Figure Painting – Best art set for 3 year olds
The Melissa & Doug Paw Patrol Art Set makes a great gift for kids ages 3 and up, especially if they're fans of the Paw Patrol. It is a creative and crafty toy that can provide them with hours of fun, especially on rainy days or as an activity during a party.
The set comes with three PAW Patrol dolls (Chase, Marshall and Skye) for the kids to decorate with paint and stickers. It includes everything you need, including 12 colorful paint pots, three easy-to-clean paintbrushes and three sheets of glossy stickers to add fun details to the figures.
#18 Petit Collage Dress Up – Best dress up gift for 3 year olds
Petit Collage has developed a unique dress up game with fashionable clothing options. There are different sets available, but I think I like the fox and bear set the best.
Includes 2 magnetic dress-up dolls with 2 wooden stands and 35 magnetic garments and accessories. It may not sound like much, but that's over 200 different outfits to mix and match.
It is fun from children from 3 years old to about 6 years old.
The dolls are not very sturdy, so I think 3 years is still quite young. In frustration, they will probably break at some point.
Children aged 4 seem to like this set best. I would recommend that younger children only play lying down and not use the stand so there is less chance of tearing the dolls.
Like Janod's Magnetibook, it comes in a travel case with a magnetic closure for easy portability.
#19 Le Toy Van Retro Metro – Best toy cars for 3 year olds
This is the kind of car I want my child to play with. No, I want to play with it myself! Beautiful classic vehicles in soft pastel colours.
Especially with such an outspoken model it is good to have a set to be able to play with it together.
Sure, other cars often join the game, but they often end up together in one way or another.
They are an Independent Toy Award winner, painted with non-toxic paint and made from renewable rubber trees.
Just the right size for small children's hands. Great quality for an affordable price.
#20 Crayola Color Wonder – Best princess gift for 3 year olds
Coloring pages are great fun in any situation where a child has to sit for a long time.
The disadvantage of taking markers with you is that you have the chance that they will also daub other things while you are just not paying attention, such as an airplane seat or the table.
A pencil is a bit better, but there are other options.
The Color wonder coloring pages from Crayola are a very good alternative because the markers only work on the paper of the coloring book itself.
Again, there are many different variants available.
The themes are for slightly older children than the Water Wow coloring pages by Melissa & Doug and coloring with markers is a bit easier than with the water marker that comes with it.
But here the paper can only be used once, so it's gone.
#21 Zeoddler Movable Planets Solar System - Best educational space toy for 3 year olds
My 3 1/2 year old grandson has just started learning about the planets so this Zeoddler Movable Solar System puzzle was a must have for him! We even bought another one when a planet got lost in its playroom. The quality is great and it's easy on his little fingers!
The Zeoddler Movable Solar System is the perfect educational toy for young children. Made of natural wood and with vibrant colors and cute shapes of different planets, such as the Sun, Mercury, Venus, Earth, Mars, Jupiter, Saturn, Uranus and Neptune, it is an excellent way for children to learn about our solar system through play.
The puzzle is designed to promote the development of toddlers and preschoolers, including their hand-eye coordination, color recognition, critical thinking and problem-solving skills. In addition, it helps children to discover space by touching different planets and observing the results of their actions.
#22 Haba At The Zoo Playset - Best wooden animals for 3 year olds
A handy take-away box that also serves as the zoo. Very handy set to take on holiday or to grandpa and grandma to play.
The box itself is made of cardboard but also very sturdy. Even playing vigorously won't destroy it.
In the picture it looks quite big but it's not that big at all. Some customers have complained about that.
How do you choose Christmas vs birthday gifts for 3 year olds?
Christmas gifts for 3 year olds differ from birthday gifts in style and theme. During the holiday season, there are often specific play trends and popular toy products that are heavily promoted. With birthdays, the focus is more on gifts tailored to the child's interests.
The season can also affect the type of toys children prefer, depending on indoor or outdoor play. Toys with seasonal themes and characters may also be more popular during certain times of the year.
When choosing gifts for both occasions, you should consider the child's interests and needs.
A 3-year-old should get about 3 gifts for Christmas, it's better to choose something educational that can help them learn, such as educational toys, reading books, etc. For young children, 3 toys are enough, but you can use more or less choose based on your budget.
The "4-gift rule" is a simple tool: you give each of your children something they want, need, can wear, and can read.
Are the best summer toys different from winter toys for 3-year-olds?
Yes, toys best suited for summer differ from toys best suited for winter for obvious reasons with indoor and outdoor toys. But not in the way you might think with more active summer outdoor toys.
A study called "Too hot to move? Objectively assessed seasonal changes in Australian children's physical activity" shows that physical activity decreases in summer compared to winter. This study was conducted among 326 children aged 8-11 years in Melbourne, Australia.
Measurement of physical activity was done using accelerometers for seven consecutive days in each season. The results showed that children had significantly less moderate and intensive physical activity in the summer than in the winter.
This suggests that strategies to promote physical activity may be needed during the hot summer months, making active indoor toys a good choice.
In general, toys differ from summer to winter. In the summer, toys that facilitate water activities, such as inflatable pools, sand molds, and sprinklers, are popular. Toys such as hula hoops and balance bikes are also suitable for outdoor play in the summer.
In winter, on the other hand, toys that can be used indoors, such as board games, craft supplies, and toys based on holidays such as Christmas, are more sought after.
It's important to note that children's preferences and the influence of trends and characters can also influence which toys are best suited for each season.
What do kids at 3 years of age like?
At the age of 3, children love to play, art and develop skills. It's important to give them the space to practice and build these skills.
Some examples of toys and other things that children this age enjoy are building blocks, puzzles, coloring books, paint and clay. These activities promote the development of their imagination, creativity and language skills.
Encouraging choosing and interaction with others is also important for their social and motor development. Reading books with pictures and stories is also a great way to promote their language skills and engagement and can be great toys that are age appropriate.
What are popular gifts for 3-year-olds that aren't toys?
Popular gifts for 3-year-olds that aren't toys include art and craft supplies, musical instruments, and practical items. Art and craft supplies such as washable markers and coloring books stimulate children's creativity and motor skills.
Musical instruments such as shakers help to develop a sense of rhythm, but they're also ready for real musical education with a small piano. Practical items such as a children's backpack or personalized clothing are useful and fun. In addition, there are also gifts that offer fun activities, such as a subscription to a magazine or a trip with the family.
The most important thing is to choose gifts that promote the development of the child and at the same time provide fun.
What are great things to do for 3 year olds?
Some great things to do with 3-year-olds include playing with clay to improve their motor and sensory skills, reading books to stimulate their imagination and language development, and participating in outdoor activities to explore nature and bond with the family.
They will enjoy these activities because they allow them to practice fine motor skills, explore different textures and colors, and have fun in a creative and imaginative way.
Can toys help 3-year-olds with preschool?
Yes, toys can help 3 year olds in preschool. They promote fine motor skills, play an important role in developing social skills and stimulate the imagination.
A study by Heljakka and Ihamäki (2019) shows that coding toys such as Dash can encourage young toddlers to engage in physical activity while teaching logic and skills related to coding.
Examples of toys that contribute to the development in preschool include board games, musical instruments and construction sets.
Playing with these toys plays a vital role in promoting peer interaction, problem-solving, and developing emotional and language skills. In addition, toys also support the development of STEM skills, such as math, logical reasoning and coding.
Toys that stimulate coordination, dexterity and imagination can also promote early literacy and numeracy skills. They promote interaction, creativity and exploration, and support the development of sensory and motor skills.
How can toys be developmentally appropriate for 3 year olds?
Toys are developmentally appropriate for 3-year-olds when they support different aspects of development. This includes physical, cognitive, social and language development.
The toys should promote motor skills, cognitive skills and social interaction. They should also be safe and meet child safety standards.
Toys specifically recommended for developing 3-year-olds include items such as building blocks, puzzles, dolls, musical instruments, and board games. These toys provide opportunities for exploration, creativity, language development and collaboration.
It's important to select toys that stimulate the child's development and match their interests and abilities.