17 Best Gifts for 9 Year Olds: Unusual Cute and Cool Toys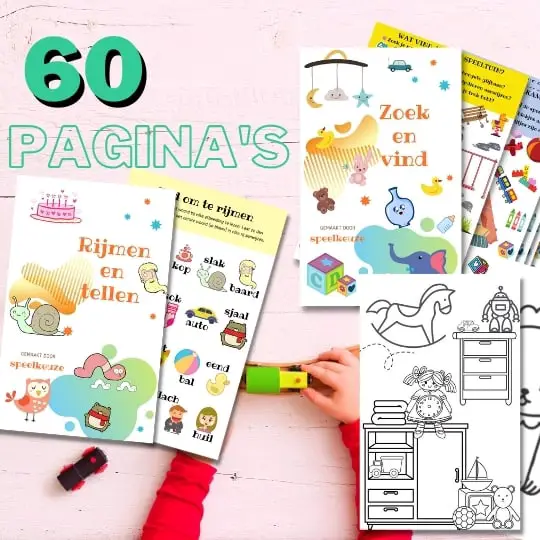 Always something to do for the holidays or rainy day?
Play Choice now has the ultimate activity book collection, with over 60 pages of fun coloring pages and educational puzzles.
The best gifts for 9-year-olds are surprising and unique, tailored to their interests and hobbies, such as robotics and programming kits. Choose gifts that are age-appropriate and safe, and personalize them to make them extra special. Consider gifts that encourage group fun and social interaction, such as sports equipment and board games.
9-year-olds enjoy active play such as cycling, swimming and running. They're increasingly interested in team sports and enjoy getting themselves ready, such as brushing their teeth and grooming themselves.
The best gifts, such as these LEGO Klutz Chain Reactions, respond to their growing interests. For example, the Chain Reactions set deals with gravity and cause and effect, something they also come into contact with at school.
There are a whole lot more gift options that cater to different interests.
Children ages 9 to 12, also known as "tweens," are in a transitional phase between childhood and adolescence.
They like to be helpful and get approval. They begin to learn what's right and wrong and learn the rules.
They start decorating their bedrooms and enjoy creative activities like building Lego and making art. They love to play both indoors and outdoors, with games, board games, card games and sports games.
They enjoy exploring the outside world and playing outside with outdoor activities and sports, such as nature walks or a visit to the zoo. They love to learn and explore new things, so educational toys like science sets and visits to places like a planetarium or aquarium are great.
They enjoy spending time with friends and doing group activities and sports.
Decorating their rooms is also important for 9-year-olds. Gifts that help them decorate their rooms can be a great choice.
The list below gives the best gift options for unique and cool toys.
#1 LEGO Klutz Chain Reactions – Best overall little cheap gift for 9 year old birthday
Do you have a LEGO lover at home? One that can't get enough, perhaps already subscribed to the free LEGO Magazine that they can receive at home?
Then this book is definitely something for them! This book explains how to build awesome moving machines.
A bit like the NEMO chain reaction show but then they can work with it themselves and a unique yet small birthday gift.
It comes with 30 additional LEGO parts you will need for some of the moving components.
You will need these extra LEGOs to complete many of the projects.
#2 Tinkering Labs Electric Motors - Best electric toy for 9 year olds
From 7 years

Best: 9 – 11 years

Until: 12 years
With this set of 50 parts you can make 10 different projects. Very suitable as a STEM toy to learn more about technology and science. However, it will be the most fun for 9 years old so that they can work it out themselves and come up with their own creations.
This versatility also makes the replayability very great. The set is also easy to combine with other toys. The activity cards that come with it even encourage this by creating challenges around making a car for your toys without wheels, for example.
The construction pieces and electrical parts are very sturdy, but you only have to be careful with the rubber bands that drive the motors. There are no unnecessary accessories included. All pieces are purely to create a working concept. Which is even more encouraging in how you can use the pieces in multiple ways.
The play value is also very good. The first time they spend about 30 to 60 minutes per project, after that it goes a bit faster. The degree of open-endedness in which you can make your own creations also greatly enhances the play value.
#3 SmartLab Squishy Human Body - Best STEM toy for 9 year olds
From 8 years

Best: 9 – 10 years

Until: 12 years
This is a fun and educational toy for children to learn about anatomy and the human body. The body itself has a skeleton, a number of organs and muscles and shows exactly how the body works. But the real educational value lies in the combination with the book, which shows the path of a piece of pizza through the body.
This book also appeals to the imagination. An enormous contribution to the play value, which could only be higher if there was more open-ended play.
Replayability suffers mainly from the one-sided value of the toy. It is difficult to combine, so children must be able to involve themselves in the theme on their own. In addition, it is not versatile and after a few times most children have seen it.
But it is extremely educational.
#4 SKLZ Star-Kick Football Trainer – Best outdoor toy for 9 year olds
I absolutely love the SKLZ Star-Kick Hands-Free Adjustable Solo Soccer Trainer! It's a great tool for solo training, helping you improve your shooting, passing, receiving, juggling, throw-in and other soccer skills. Best of all, the trainer bounces the ball back, so I don't have to constantly run after the ball.
The adjustable neoprene ball glove fits size 3, 4 and 5 footballs (ball not included) and the neoprene strap with Velcro closure fits players of most sizes. The ball is connected to the player by a high-quality adjustable cord that stretches up to 5,5 meters (18 feet).
A unique way to play, practice and train solo anywhere.
I also read a few reviews from other users and they were also very positive. One user called it a great tool for learning how to kick and receive, while another found it ideal for goalkeepers to work on their shots and reflexes. One person commented that the balls can sometimes slip out of the holder, but overall it's a great product.
#5 K'NEX Education Bridges – Best large building set for 9 year olds
The set consists of 207 classic K'NEX parts, including bars, shafts and connectors. The parts can be connected in different ways, allowing children to build different fully functioning bridge models.
The parts fit together tightly and can be easily reassembled into other creations.
What I really love about this set is that kids can build 13 fully functioning replicas of real bridges. This helps them learn more about bridge infrastructure and the different bridge types.
Another advantage of this set is the handy storage box. All K'NEX parts store easily in the bin with a sturdy lid, making clean-up and storage a simple task.
The K'NEX Education Bridges set is very versatile and stimulates children's imagination. In addition to building bridges, the parts can also be used to create buildings, houses and towers.
This set aligns perfectly with the STEAM (Science, Technology, Engineering, Arts & Math) approach to learning. Building with K'NEX stimulates children's natural curiosity and creativity, helping them to understand STEAM/STEM topics in a fun way.
The set comes with lesson plans and experiments that align with national education standards.
#6 Engino Kit Paleontology - Learn About Dinosaurs - Best dinosaur toy for 9 year olds
As a lover of paleontology and STEM education, I was very excited when I discovered the Engino Kit Paleontology. The kit allows children to delve deep into the world of prehistoric creatures and discover how they lived, roamed and ruled the earth. I built this kit with my child and we had a lot of fun with it.
One of the best aspects of this kit is that it encourages children to develop problem-solving, critical thinking and engineering skills. As they build each model, they are challenged to think about construction and design, and to use the engine parts to bring the models to life. It's great to see how the dinosaurs move and interact with their environment.
What I especially liked about this kit is that it's not just build and play. It comes with 11 pages of theory and facts accompanied by fun experiments to test the newly acquired knowledge. In addition, a quiz section is included to test the understanding of the children. The kit therefore offers an educational experience and stimulates children's curiosity.
Another highlight of this kit is the accompanying 3D app. This cutting-edge, interactive app enables children to build virtually in reality. The app contains detailed instructions for an additional 3 construction projects. It's great to see how the instructions can be rotated in 3D, allowing you to view the building process from all angles. This makes it especially useful in more complex designs.
I also appreciate the quality of the components. Engino has designed award-winning components that explain complex scientific concepts in a clear way. The sturdiness and durability of the pieces make them suitable for long-term use.
#7 Shashibo Shape Shifting Box - Best fidget toy for 9 year olds
I absolutely love the Shashibo Shape Shifting Box! It's totally different from other puzzle boxes I've tried. It has 36 rare earth magnets and can be transformed into over 70 forms. It's a really innovative design that challenges me and gives me hours of fun. I love how it fits comfortably in my hand and encourages me to stimulate my senses and explore my creativity. I keep trying to make new shapes and challenge myself to master the unusual shapes. It's really challenging to master the Shashibo Shape Shifting Box!
What I especially like about the Shashibo Shape Shifting Box is its quality and unique design. It is built tough with high-quality injection molded plastic and has a tear-resistant matte or glossy surface. Each magnetic puzzle features 4 unique and artistic patterns of vibrant and mesmerizing artwork. I love how it changes all the time and I always have something beautiful under my fingertips.
Another great feature of the Shashibo Shape Shifting Box is that you can connect multiple magnetic blocks to build even bigger structures and sculptures. This makes it an extremely satisfying magnetic sensory toy and brainteaser. I intend to collect all 9 designs to create vibrantly colored and mesmerizing 3D artwork!
#8 Brain Games Sticker by Number – Best creative toy for 9 year olds
The book contains 13 ocean-themed images to sticker, varying in difficulty. I like that the pages are spiral bound and perforated which makes it easy to use and place the stickers neatly.
The size of the pages is 8 x 10 inches, which is ideal for creating detailed images. Although this book is made for adults, kids can enjoy it too! It's a great way to keep kids entertained and boost their creativity.
A somewhat unusual way of color by numbers.
#9 SJSMARTGLOBE VOICE Educational Globe - Best space toy for 9 year olds
This 10-inch interactive globe features the "Click Word Atlas" app, which is available for iPad, iPhone and Android phones. The globe features LED lighting that shows 88 constellations, constellations and the Milky Way, making it a great way to introduce children to the world of astronomy.
The globe itself is detailed and shows mountain ranges, ocean currents, deserts, lakes, state capitals and major cities. It also has a fully rotatable meridian, allowing you to rotate the globe left, right, up and down. It is really fascinating to rotate the globe and explore the different countries and their characteristics.
What really sets the SJ Smart Globe apart is the unusual pairing with companion app. With the Click Word Atlas app, children can learn about countries around the world in a fun and interactive way. The app offers text, sound and engaging visuals to engage children and test their knowledge. It contains over 1000 educational facts and covers topics such as geography, animals, cultures, history and natural landscapes.
#10 TKKJ High Speed ​​Racing H100 RC Boat - Best travel toy for 9 year olds
The remote control of this boat is equipped with a flip reset function (180 degrees), which means that the boat will automatically float upright again if it tips over.
You can also operate the boat in different directions with the remote control. The boat can sail at high speed (20 km/h) and is equipped with a large propeller.
The double hatch design improves water resistance.
The package includes the following:
RC boat
Remote control
2 Rechargeable batteries
4 Non-rechargeable batteries
USB charging cable
Manual
The RC boat is easy to control with the remote control that has a range of up to 500 meters.
The remote control is designed for smaller hands and therefore ideal for children from 14 years. It will provide your child with hours of entertainment.
The supplied batteries are rechargeable and provide about 15 to 17 minutes of fun.
The boat can be used in swimming pools, rivers, lakes, but also possibly in the house (in the bath for example). However, the boat is not suitable for salt water use.
Features
Flip recovery function
High speed motor (20 km/h)
big propeller
Easy to drive
Water resistant
Rechargeable 1500 mAh battery (included)
500 m . signal range
For children aged 9 years and older
#11 Anki OVERDRIVE starter kit – Best car toy for 9 year olds
Seriously WOW!
Named in Time Magazine's 25 Best Inventions of the Year, the Anki OVERDRIVE takes toy racing tracks to an incredible new level.
More computer game than racetrack. You can take out your friends with powerups and even play against an AI opponent.
Via smartphones, players operate their robotic supercars as they fly across the track.
The gameplay goes way beyond just faster and overtaking, each supercar has special abilities and weapons that allow it to literally blow the opponent off the track.
It looks more like a real-life computer game!
Players can even choose to play against an AI-controlled opponent.
And with more cars and track extensions available, this is a set that can keep growing and you can keep expanding.
Remark: Each player must have a compatible iOS or Android device to play.
Best for: Advanced Gameplay, AI, Battle Racing, Mobile Device, Upgradeable
#12 Flyingball Flying Orb Ball – Best indoor active tech gadget for 9 year olds
The first thing you notice is the updated flying ball design. With its RGB light and unique globe shape, it looks cool and futuristic. The powerful motor ensures that the ball flies smoothly through the air and returns to your hand like a boomerang.
What I like about the Flyingball is the advanced ways you can play with it. You can try different angles and directions and discover new ways to play with the ball. If you push the ball up about 30 degrees, it will bounce back at you like a boomerang. If you throw the ball down about 30 degrees, it will fly in a straight line.
Another advantage is that the Flyingball is safe and durable. It is made of flexible premium ABS material and is completely safe for children. The fans are placed in such a way that they cannot cause injury. In addition, the ball is lightweight, making it safe to use both indoors and outdoors.
Charging the Flyingball is easy thanks to the USB charging design. You can fully charge it in just 25 minutes, which gives about 10-15 minutes of flight time. The supplied USB cable can be connected to a power bank, notebook, phone adapter or car charger, so you can use it anywhere.
#13 Klutz Paper Flying Dragons – Best unique dragon toy for 9 year olds
Klutz Paper Flying Dragons is a fantastic activity for young and old dragon lovers. I was immediately excited when I opened the book and saw that you could make 12 vibrantly colored paper dragons. It contains all the necessary materials, such as pre-cut parts and tape, so that you can get started right away.
The instructions in the book are very clear and easy to follow. The graphics are clear and detailed, teaching you step-by-step how to assemble each dragon. It was a joy to watch the dragons come to life as I put them together.
One of the things I really liked about this book is that it's not just about building the dragons, but also about learning fascinating facts about dragons. Award-winning science fiction writer Pat Murphy has added interesting information that makes the book even more compelling.
The quality of the material is excellent. The cards are made of sturdy cardboard and can handle a little rough play. While not all dragons fly equally well, watching them soar through the air was still an amazing experience. It was especially fun to experiment with different folding techniques and adjustments to improve flight performance.
#14 Iello King of Tokyo – Best family game for 9 year olds
Features
Players: 2-6
Time to set up: 5 minutes
Play time: 30 minutes
Level: easy
Age: 8 +
Pros
Exciting dice battle with social elements
Includes a fun theme with little difficulty
Cons
Judgement
King of Tokyo is a game about Godzilla, or one of the many other crazy super monsters, who have settled in Tokyo. But in this genius piece of abstraction, there is no city map.
Instead, you compete against your fellow monsters to be the one hitting every turn. This will give you points, just like buying cards that represent mass destruction.
Other cards enhance your monster with powers such as extra heads, spitting poison, or a pointed tail.
You can use these to fight the other monsters or crush city districts.
All this is solved through a Yahtzee-style gameplay that you can explain to everyone in a few seconds. Throwing modified dice is great fun.
And there's a social element too, as players conspire to defeat the monster in the city, while everyone hopes to be the one to take their place.
While it is an enjoyable yet silly fighting game, it is also open to strategy in the choice of the cards you buy. If you want a little more tactics, consider the King of New York version.
Best for… party time, or just to measure yourself against your kids. It's also in our list of the best dice games.
#15 FX FX801 Cessna 182 – Best RC Plane for 9 year olds
This is a faithful replica of a Cessna 182 aircraft.
The aircraft is extremely easy to operate and remains stable in the air thanks to the stabilization system based on a built-in 3-axis gyroscope.
With a little practice, you can quickly master the flying method.
The aircraft has a size of (lxwxh) 3,5 x 15 x 0,9 cm. It is made of plastic and therefore lightweight, yet sturdy.
The aircraft can survive minor collisions. In addition, you will receive spare propellers in case the original ones are damaged.
Thanks to the 2,4GHz radio control system, you can fly up, down, left and right with the remote control.
The remote control has a range of up to 200 meters, so you can also use it outdoors.
It works with two channels, which makes it easier to control the aircraft.
The plane is charged via a USB cable (3.7V 300mAh Lipo Battery). The remote control requires two AA batteries (not included).
What's included?
RC plane
3.7V 300mAh Lipo Battery
Remote control (in back of box)
Spare propellers
USB Charger
Manual
The product is suitable for children aged 7 years and older and for beginners.
The flight time is about 20 minutes and the charging time about 35 minutes.
Start flying immediately when you receive the package! The plane is easy to assemble, you do not need glue.
It is recommended that the first time children use the aircraft, they are accompanied by an adult to supervise.
It is also better if you do not fly near tall trees and buildings.
#16 4M Green Science Weather – Best STEM meteorology toy for 9 year olds
Inspire a future meteorologist with this gift. Put it in the backyard and start reporting on the weather.
Perfect also for the kids who are natural performers. What could be more fun than learning about the weather and then giving the family their evening weather forecast?
Focus skills: meteorology
#17 Ravensburger Gravitrax Starter Set – Best expandable marble run for 9 year olds
From 7 years

Best: 8 – 10 years

Until: 11 years
Nice to really go a step deeper into marble runs and physics for children from 7 to 8 years old and very educational in this age category. It makes your child gradually understand scientific concepts and hone problem-solving skills for more complicated and bigger sets.
The play value is also huge. It's easy to use, but complex to execute which makes it fun to figure this out. Real building in open-ended form and the amount of pieces also encourages social interaction.
Super many parts in the starter set and also expandable as far as you want. This also gives it tremendous replayability, even with just the base set. It is versatile and children also combine it with other toys to, for example, make tunnels or let the marbles roll through a town.
Nominated toy of the year, so not only one of the nicest marble runs, but also simply super fun toys.
How do you choose Christmas or birthday gifts for 9-year-old children?
When choosing Christmas or birthday gifts for a 9-year-old, consider their interests and hobbies. Voice activities and robotics and programming kits are good options. Choose gifts that are age appropriate and safe. Personalize the gift to make it special.
Also consider gifts that encourage group fun and social interaction, such as sports equipment and board games. Set a budget based on the family's financial situation and choose gifts in different price ranges.
STEM kits, sports equipment, art and craft kits, educational games, and personalized items are popular gift ideas for 9-year-olds.
It's important to choose toys that are appropriate for the age group of the child and stimulate them in their creativity, problem solving and social skills. Gender-related toys are unnecessary and can actually limit children's development.
What are the things 9 year olds like?
9 year olds like different things. They enjoy toys, activities, arts and crafts, sports, imaginative play, learning, music and dance, collectibles, and challenging games and puzzles.
They're interested in science, technology, engineering, and math (STEM) toys, building kits, coding games, and science experiments. They like to draw, paint and do DIY projects. They enjoy team sports and outdoor activities.
They love imaginative play and creating stories. They enjoy learning new things such as history, science and social studies. They enjoy music, playing instruments, singing and dancing lessons.
They're interested in collecting items such as trading cards and small toys. They enjoy strategic games, intricate puzzles and building kits that challenge their problem-solving skills. Playing with toys is important for their growth and development.
Are the latest toys always the most popular with 9 year olds?
No, the latest toys aren't always the most popular with 9-year-olds. Some toys have remained popular for nearly a decade because of their timeless appeal.
A good example of this is LEGO with its timeless appearance and building pleasure.
Should I choose girly gifts or boyish toys?
No, you should not buy overly girly or boyish gifts for your 9-year-old as this could be harmful. Instead, it's better to consider their interests and choose gender-neutral toys. Or choose boys toys for girls or vice versa.
Toys don't necessarily have to be pink for a 9-year-old girl. Toys associated with certain skills can help children grow. Strictly gendered environments can restrict children from developing the necessary skills for their personal development.
Can toys help 9-year olds with the 5th grade of school?
Yes, toys can help 9-year-olds with 5rd grade from school because they can stimulate learning. Educational toys, games, building kits, coding games, and science experiments can help 9-year-olds develop problem-solving skills, critical thinking, and creativity.
Educational games and puzzles can promote cognitive skills, memory, and problem-solving skills. Building toys, such as building blocks, can develop spatial awareness, creativity and problem-solving skills.
Science sets can help 9-year-olds learn science concepts and principles. Board games can promote social skills, critical thinking, and strategic planning.
Sports equipment and games can encourage group fun and help develop physical fitness, coordination and teamwork.
In 5rd grade, children learn a variety of subjects and skills, such as basic writing, math, reading comprehension, social studies, and science.
What do 9 year olds do for fun?
9 year olds do a lot of things for fun. They enjoy active play such as cycling, swimming and running. They are increasingly interested in team sports and enjoy getting themselves ready by brushing their hair and brushing their teeth. They like to be helpful and like to get approval.
They begin to learn what's right and wrong and learn the rules. Children ages 9 to 12 are also known as "tweens," and they're in the transitional stage between childhood and adolescence.
They start decorating their bedrooms and enjoy creative activities like building Lego and making art. They enjoy playing indoor and outdoor games, board games, card games and sports games.
They like to explore the outside world, play outside and participate in outdoor activities such as sports, nature walks and visits to the zoo.
They love to learn and explore new things such as educational toys, science sets and visiting places such as a planetarium or an aquarium.
They enjoy spending time with friends and participating in group activities, sports and fun activities.
Do 9-year-olds like to decorate their bedrooms?
Yes, 9-year-olds like to decorate their bedrooms. They enjoy personalizing their personal space and make use of various resources such as DIY projects and decorating ideas on social media.
Decorating their bedroom allows them to express their creativity and develop a sense of ownership over their environment. In addition, it contributes to their development, because they learn about colors, patterns and textures.
Giving gifts that focus on bedroom decoration can help them decorate their bedroom even more to their own taste.
What activities do 9 year olds enjoy?
9-year-olds enjoy activities such as mountain biking, gym equipment, swings, ropes, slides, skipping rope, outdoor activities, hiking, fishing, camping, sports equipment, balls, frisbee, skateboarding, roller skating, ice skating, horseshoes, croquet, badminton, ping pong, pool, foosball.
They also enjoy creative activities such as building lego and blocks, making art and playing music. They enjoy playing board games, card games and sports games indoors and outdoors.
They love to explore, play outside and participate in outdoor activities, sports and nature walks. They enjoy learning and discovering new things, such as educational toys, science sets, and visiting planetariums and aquariums.
They enjoy spending time with friends and participating in group activities, sports and fun activities. They enjoy cooking and baking with their parents. They enjoy playing a musical instrument and making music.
They like to make art with recycled materials. They enjoy building complex models and puzzles. They enjoy visiting museums, planetariums and aquariums to learn and discover new things.