11 Best Educational Baby Development Toys From Daycare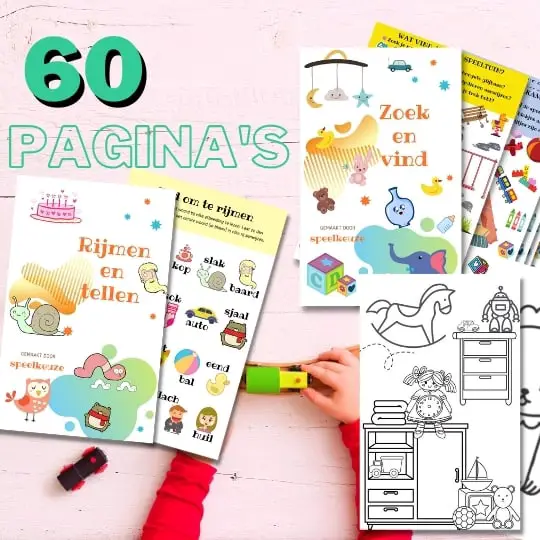 Always something to do for the holidays or rainy day?
Play Choice now has the ultimate activity book collection, with over 60 pages of fun coloring pages and educational puzzles.
A nursery is a place where infants and young children are cared for without their parents. It's often used as an umbrella term for various group childcare settings for their early years. Daycare centers provide professional, registered childcare for children up to the age of 4.
Developmental toys for infants should be chosen carefully. They should stimulate sensory development and help children explore textures, colors, shapes and materials.
In addition, the toy should promote children's creativity and imagination and help them develop fine motor skills.
The best example is an activity cube like this Jouéco The Wildies Family cube. Great because there are a lot of activities to do at the same time and this one from Jouéco is made of sturdy, sustainable wood.
But there are even more educational toys for baby development that are perfect for a nursery, like this list.
In a nursery, developmental toys are used to promote not only sensory development, but also social interaction, emotional intelligence and physical activity.
Play is important for children as it helps them explore the world and express emotions.
There are toys that should be avoided in a nursery because they can hinder baby's development or be dangerous. Examples include overstimulating toy robots that can cause sensory overload, iPads that encourage screen time, and toys with small parts like marbles and batteries that can get stuck in babies' throats or airways.
Fortunately, there are also a lot of good toy options for your baby's development. In the next section, I'll discuss the best examples.
#1 Jouéco The Wildies Family – Overall best learning toy for babies
From 1 years

Best: 2 – 3 years

Until: 3 years
A simple way to introduce your child to hand-eye coordination and shape recognition and a toy that can grow nicely with their development into toddlerhood. The multi-functional cube provides high play value and great value for money.
The cube is also easy to close so you can take it with you, plus it's big enough to fit all sorts of other toys too, which my son found amusing. This way it can be used and combined anywhere, which ensures high replayability.
It is durable enough to take a beating and has survived 3 years of toddlerhood with us. From shape sorter to bead maze and puzzles and even a wooden abacus. This way he can enjoy a versatile playing experience for a while.
#2 TafToys 4-in-1 Play Mat – Best overall educational toy for newborns
From 0 years

Best: 0 – 1 years

Until: 1 years
This baby gym has various hangers, including a music ball, which you can easily change thanks to the open rings. With the different textures, sounds and also a mirror, there are plenty of sensory discoveries for your baby.
The greatest educational value comes from motor development, as your child can easily practice lying down, tummy time and exercise the neck muscles.
The safety is enormous. You can fold the edge up so that it stands up and your baby cannot roll away. Once he or she is out of that phase, roll it down for some nice gross motor exercises.
The ease of use is great, with the arches of the baby gym that can be attached to the rug. This way it doesn't slide around, a common problem with a baby gym.
The 4 in 1 function makes it versatile, and the rings on the bow can also be removed, making it possible to combine it with, for example, the bows of a stroller or car seat. This makes the toy very replayable.
#3 Fisher-Price Musical Click-Clack Keys - Best Interactive Toy for Newborns
From 0 years

Best: 0 – 2 years

Until: 2 years
When a baby is about three months old, he/she slowly learns to grasp things. This set of keys is a versatile toy that is easy for them to hold, with sensory stimulation and interactive buttons. Enough to keep them busy for a while. In this way it stimulates sensory development and fine motor skills. Finally, a start can also be made on role-playing. These educational toys therefore provide sufficient stimulation in various areas.
The three different keys are attached to a thin ring, which the child can easily hold. They can also safely put the toy in their mouth. So very easy to use.
It is a plastic toy and the exact substances in it are not known. Fisher-Price also does not produce in an environmentally conscious manner. It could therefore have scored higher on sustainability and social score. But the lifespan of the keys is fine. Made to last a long time.
Replayability lags a bit, despite being easy to take anywhere. This is mainly because they are difficult to combine with other toys, although that is not the most important thing at this age.
#4 Vtech Pull Along Puppy Pal – Best interactive toy for infants
Skills developed:
cause and effect
gross motor skills
Features:
Adorable three-button toy puppy that can play over 60 sounds, songs, melodies and phrases when pressed.
The cute educational toy for baby comes with a soft thread that is easy to pull.
By pulling the toy or pressing a button, an LED light will illuminate in the puppy's nose.
The built-in speaker plays sounds, while the motorized tail and ears move further.
The puppy moves its motorized legs when pulled by the rope.
An ideal learning toy for older babies who are pulling to stand and taking their first steps.
#5 VTech Cuddle & Teach Ball – Best Physical Development Toy for Newborns
From 0 years

Best: 0 – 2 years

Until: 2 years
In the first three months a baby does not really get around to playing. However, from four months onwards the child learns to grasp objects. The soft toy ball from VTech stimulates various skills, making it an ideal toy for children of about six months.
It is very versatile because it has more than 50 sounds, from music to numbers and animals. This stimulates the language skills of the young child. It also makes noise when you throw it, which is great for learning cause and effect, while the different textures help practice fine motor skills.
The ball is safe and made of soft material, but it is a little more difficult to clean. As a result, the replayability score is somewhat lower than it could have been. But the interactivity, versatility and social interaction provide great play value.
#6 Janod Baby Forest Stacking Tower – Best physical development toy for infants
From 1 years

Best: 1 – 2 years

Until: 3 years
Although a child only really learns to stack blocks on top of each other from the age of 15 months, the Janod Play & Learn blocks are suitable for the little ones. These wooden blocks (block game is very good for them) contain the nice figures on the sides and each have holes. Enough to do!
You can stack them or put them together. Fine motor skills are stimulated and the senses are also stimulated by the pictures and colors, which all benefits the educational value.
The play value is also high due to the open-ended game and the various activities that stimulate the imagination. There are only a few blocks, which makes social interaction a bit more difficult. This could have given it an even higher score.
The sustainable brand uses natural materials, so you can let your child play with it with peace of mind. The wood used is sturdy and the versatility and ease of combining it with other toys also ensures high replayability.
#7 Vtech Crawl and Learn – Best physical development toy for crawlers
The Vtech Crawl and Learn is a cute teddy bear that encourages your toddler or baby to crawl as it moves across the floor. When you press the heart-shaped button on the teddy bear, the toy will start crawling and say fun and encouraging phrases.
This baby floor toy introduces colors, shapes and plays songs with the touch of soft, colorful buttons. The learning toy also has a cheerful ladybug friend that attracts your baby's attention and encourages interaction with a flashing light.
It makes a great gift for babies from 6 months to 3 years old and comes with 3 AA batteries.
In terms of helping crawl, users have noted different experiences. Some people commented that the toy works better on hard floors and it worked quite well on a rug. Others weren't sure about thicker carpets.
The toy crawled for about 7 to 8 seconds according to some users, while others reported it crawled for about 10 seconds.
The bear's realistic crawling motion can encourage babies to chase after it and develop their own crawling skills.
It may be that older babies show more interest in it as they get older. Overall, the Vtech Crawl and Learn seems to be a fun and educational toy option to encourage crawling, but it's important to consider the surface area the toy will be used on.
#8 Fat Brain Toys Tobbles Neo - Best stimulating toy for infants
From 0 years

Best: 1 – 2 years

Until: 3 years
Unique design with each block shaped like a half-broken egg. Each block has a two-tone combination of vibrant colors and the texture is stimulating and makes it easy to stack. The educational value is high for fine motor skills, but it also stimulates the awareness of cause and effect through the reinforced base. This way they keep spinning for a long time when they are pushed or dropped.
The play value is high because they are very open-ended and stimulate the imagination. The replayability is also good due to their versatility and the possibility to combine them with other toys. Because of the shape you can put anything in it. They are not very portable so the score could have been a little higher if they were easier to store.
It is made of very sturdy, BPA-free yet soft material and is safe with the non-toxic, safe colors used when coloring the blocks.
In addition, it is an award-winning toy with the ASTRA's Best Toys for Kids Award 2012, the Parents' Choice Silver Award 2012, and the Spielwarenmesse ToyAward 2013.
#9 Tomy Hide & Squeak Surprise Eggs – Best cognitive development toy for infants
Skills development:
color coordination
cause and effect
geheugen
Characteristics:
Features 6 plastic eggs in a toy box, and each eggshell breaks in the middle to reveal a chick inside.
When you press the toy chick, you will get a squeaking sound.
The removable half of the shell has an image of a smiley face drawn in the same color of the chick.
The baby must match these colors before the correct shell is placed.
The crate has slots of unique shapes (circle, plus, etc.) and accepts only one egg with the exact same shape pin.
Excellent toy to keep a baby entertained on long trips or doctor's visits.
#10 Playgro Pop-up Farm Animals - Best manipulative toy for infants
Skills developed:
cause and effect
flexibility of fingers
fine motor skills
Characteristics:
A simple learning toy with four pop-up plastic characters in different colors.
Each character emerges from a lid that is controlled by a button.
But each button has a different mechanism - button, switch, slider and standard push button.
Since not all buttons work in the same way, the baby has to remember the mechanism.
The toy does not require a battery as it uses springs for all movements.
Pop-up characters can be reinserted by closing the lid, making it easier for a baby to do it themselves.
#11 VTech Baby's First Remote Control - Best cheap infant toy
Skills developed:
basic reminder of numbers
language skills
Characteristics:
The toy remote has a series of buttons, each numbered from zero to nine. The buttons are colorful and interesting for a baby.
Pressing the buttons gives the baby a good sense of touch. The toy has a total of 45 sing-along songs, melodies and other entertaining audio clips.
Teaches basic words for the toddler, such as 'Mama' and 'Papa'. There are pre-recorded audio clips on weather forecast and news that makes older toddlers pretend to play.
Volume control and power off button make it easy for parents to control the toy.
How does a nursery use developmental toys for school preparation?
A nursery uses developmental toys to promote children's development. They use toys because it stimulates sensory development.
The toys, such as water, sand, slime, clay, rice, pebbles, beans and pasta, encourage children to explore different textures, colors, shapes and materials.
In addition, the toy promotes children's creativity and imagination.
It also helps develop fine motor skills as children have to use their hands and fingers in a precise way, for example with crayons, clay and building blocks.
In addition, the toy stimulates social interaction, emotional intelligence and physical activity.
In a nursery, play is important for children as it helps them explore the world, express emotions and learn through role-playing and prepares them for their primary school development.
What other toy features should you consider for a church nursery?
A church nursery should consider all the factors that apply to any other daycare, with some additional considerations. It's important to select toys that are safe and make an excellent addition to the daycare setting.
It's also important to remember that church daycare relies on donations for toys. It is advisable to have a designated person or committee to carefully inspect toys and ensure they meet childcare guidelines.
Selecting and accepting new toys that meet certain criteria can help make childcare attractive to children and parents.
Toys that encourage collaboration and sharing, toys that encourage role-play and imaginative play, and toys that encourage interaction between caregivers and children are all important attributes of a good church nursery.
How do infants interact with toys?
Infants interact with toys by exploring them with their senses, such as touch, taste, smell, and listening. They use their hands and mouth to grasp and chew toys, developing fine motor skills and hand-eye coordination.
Baby toys is sturdy and perfect for shaking and hitting, which promotes gross motor skills and cause-effect learning. As they become more mobile, they like toys that can roll and encourage crawling, which promotes physical activity and gross motor skills.
Interacting with caregivers during play, for example through peek-a-boo and singing songs, promotes social and emotional development.
A study by Oakes and Baumgartner (2012) highlights the importance of toy interaction for infant development. How babies interact with objects can strengthen their ability to learn about objects in other contexts.
Motor activity plays a central role in both cognitive and perceptual development in babies. The study found that the quality of 6- to 7-month-old infants' handling of objects was related to their learning for dynamic audiovisual events. Not only the amount of activity with objects predicted the babies' learning process, but also the quality of their motor actions influenced what they learned.
Can a newborn baby learn from toys?
Yes, newborn babies can already learn from toys. Playing with toys is an integral part of a baby's development. From the first month, a baby is already attuned to the world and interacting with toys helps the baby develop social, problem-solving and emotional skills.
Even younger babies can interact with age-appropriate toys such as shaking a rattle. From about 6 months, babies begin to use toys in a more conventional way.
What's the worst infant development toy?
The worst toys for infant development are the ones that can be dangerous and provide no developmental benefits. Examples include overstimulating toy robots that can cause sensory overload, an iPad seat that encourages screen time, and a standing activity center that can be dangerous and lead to injuries for babies that are too young.