Best Educational Toys For Preschoolers: Learn & Develop for Pre-K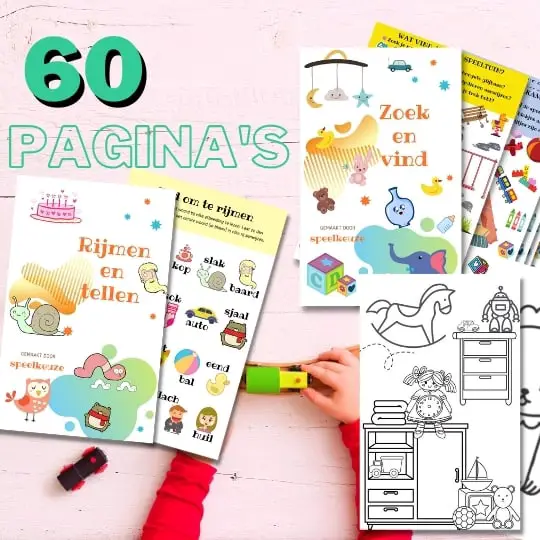 Always something to do for the holidays or rainy day?
Play Choice now has the ultimate activity book collection, with over 60 pages of fun coloring pages and educational puzzles.
A preschool is an educational institution or learning environment that provides early childhood education for children, usually between the ages of three and four, before they begin compulsory primary school education. It's a program that combines learning with play under the guidance of professionally trained adults.
A child between the ages of three and four is therefore a preschooler and has new developmental needs that prepare them for the kindergarten class of elementary school.
Early childhood education toys help develop skills needed for elementary school. These toys promote cognitive development, problem-solving skills, spatial awareness, critical thinking, fine motor skills and writing skills.
In addition, gross motor skill toys encourage physical activity and promote physical fitness. Toys also help with language development, vocabulary, communication skills and social skills.
Examples of suitable preschool toys include puzzles, building blocks, tracing boards, books, dolls, board games and play kitchens.
The best toys for preschoolers are those that can keep them engaged for a long time, teach about the world around them, and be creative with. That's why this play kitchen from New Classic Toys emerged as the best overall.
But there are more great toys for them to develop, such as in this list, focused on different development areas.
Most educational toys suitable for preschool children will fall between these two age ranges:
Educational stuff for babies and toddlers
Educational things for preschoolers
When choosing the best toys for your classroom or just for the home, remember that simplicity is best.
Children learn better in an environment that is not filled with toys, but in a space that is clean, simple and leaves room for their imagination and storage of toys is a big part of a fun play environment.
In a toddler, the motor development still progresses rapidly. However, the child no longer takes the big steps he / she made as a baby.
A child aged 3 to 4 mainly works out the movements that it has learned. For example, the balance bike can gradually be exchanged for a bicycle with training wheels.
In this list, I discuss exactly what makes these toys the best for helping preschool children develop.
#1 New Classic Toys Bon Appetit Play Kitchen - Best overall educational toy for preschoolers
A play kitchen is an excellent playgroup toy because it encourages role play and social interaction. Plus they can often play with it for a while on their own, unaccompanied. Suitable for ages 2 and up and best for ages 3 to 4.
The nicest wooden children's kitchen I've found is this one from New Classic Toys, and not that expensive at all, which makes it the best price-quality ratio choice.
There is plenty to play with with the included pans, ladle, spatulas, pepper pot and salt set and even plates. A whole lot of accessories that you don't see in every kitchen, and all made of wood (except for the removable metal sink).
That gives it even more reason to offer the best value for money because you don't necessarily have to buy extra accessories, although treating vegetables like me further below makes it extra fun.
Where the kitchen excels in particular is in the solid rotary knobs of the oven that actually click so that you have the feeling that you are actually setting an oven setting.
Many kitchens, and especially the cheaper ones, have knobs that simply turn loose, with no tactile feeling, and that is less fun for fantasy play.
Furthermore, the burners on the stove can be turned on at the push of a button so that they light up and really produce a bubbling cooking sound, which is just that little bit more real when making delicious dishes.
Not too big, fits in a corner of the room like with our dad's (also retro) guitar and amplifier and still gives your child a lot of fun.
#2 Haba At The Zoo Playset – Best Manipulative Toy For preschoolers
A manipulative playset offers preschool children the opportunity to learn and develop their fine motor skills and creativity.
This one from Haba has a handy storage box that also serves as the zoo. Very handy set to always have in the closet.
The box itself is made of cardboard but also very sturdy. Even playing vigorously won't destroy it.
In the picture it looks quite big but it's not that big at all. Some customers have complained about that.
#3 Fisher-Price Doctor Set – Best fine motor toy for preschool
By the age of 3 they are increasingly enjoying acting out things like going to the doctor which makes quite an impression (and which is good to act out).
A doctor's kit often contains small instruments such as a stethoscope, thermometer, syringe and bandages. Holding and using these instruments requires precision and control of the hand muscles. By grasping, manipulating and working with the instruments, children practice their fine motor skills.
This Fisher Price doctor kit is very simple, without a ton of accessories, making it my top pick of the many options.
What they learnNot only will this kit help familiarize your toddler with new words, it will also help make doctors seem a lot less scary.
#4 Little Tikes Cozy Coupe Dinosaur – Best gross motor toy for preschool
Best for children from 2 years old to drive around.
What a great ride-on car this Little Tykes Cozy Coupe is.
With this Cozy Coupe you steal the show! This walker has a funny face and is ideal for growing toddlers.
Phase 1: push handle in the roof for parents, feet of the child stand on removable base plate
Phase 2: classic locomotion with feet on the ground
Bottom plate (removable) to protect feet
Door can open and close
Door lock for extra security
Drink holder in the rear storage compartment
The front wheels can rotate 360 ​​degrees
Including "ignition key"
Throttle valve that can really open and close
Sturdy and durable wheels
Made of sturdy plastic
What they learnWashing the car, filling the tank with gasoline or repairing a broken down car are all ways to learn new words, participate in a conversation and gather information about real life.
#5 Play-Doh Beautiful Cakes Oven Clay Playset – Best table top toy for a preschool classroom
Who doesn't like playing with clay?
Novice chefs, bakers and biscuit bakers can't beat their fun with the magical Play-Doh oven.
Clay is great as a sensory activity, it stimulates the imagination and with a set like this it's perfect for the children's tables.
It has real baking sounds to stimulate clay and imaginative play.
With the supplied clay, different types of food can be prepared and then placed in the oven to bake and prepare for the customer (which can be a fellow companion or you as a childminder or companion).
Then press everything down and watch the Play-Doh oven finish your dinner or dessert.
When you hear a "ting", the food is ready. It looks like a real oven.
It is also great for fine motor skills because of all the accessories that come with it, such as a cake syringe for the whipped cream.
This way they can easily make the tastiest dishes and when it's ready they can even serve it on plates with cutlery. Super fun for the table.
There are 5 trays of clay in different colors, but the trays are getting smaller and smaller so it is not a lot of clay in the end. You can always buy that again, of course.
#6 BigJigs Alps Train Set (BJT016) – Best connecting toy for preschool kids
From 3 years

Best: 4 – 6 years

Until: 7 years
The play value of this mountain set is extremely high. The degree of open end is enormous due to all the accessories supplied. You can build the train track, play with it, there are dolls for fantasy play and everything appeals to the imagination.
For example, there are children and a grandpa and grandma, and my son plays that the children go to visit by train. The possibilities with the set are endless, but it is also easy to combine with other train tracks. For example, I expanded it with a Brio track. In addition, a train set can also participate in almost any other fantasy game. That also makes the replayability high.
Only when the ease of use was higher could the set have an even higher play value. Building with the bridge pieces and the mountain is fun, but playing with it is difficult because the bridge often collapses. Sometimes this causes frustration, but luckily it usually becomes part of the game.
Social interaction is high. I like to play along and because it's such a big set, friends who come over can always join in without getting in each other's way. Furthermore, there are some interactive elements such as the crane that can hoist, and the figures have a nice appearance.
It's not for nothing that they have already won the Independent Toy Awards, and with a versatile set like this you can't miss for hours of fun.
#7 Little Tikes Fish and Splash Water Table – Best preschool outdoor playground toy
Children from 2 years and up to a lot older. Can be used with both water and sand and perfect for outdoor use for pre-school children because they can play well together.
The toddler has undergone great motor development. Now that the child can stand and walk on its own, it really starts exploring.
Gradually space is made in the 'me world' for other children.
Toys that perfectly meet the needs of the young toddler are the educational play table from Little Tikes.
But this is also super fun for slightly smaller children from approximately 13 months.
As soon as they can stand stable, they want to stand against something, so when it is warm they can also splash!
Furthermore, a nice slide for the water and we can also use it perfectly as a sand table for those days when it is just not warm enough outside for water.
Playing together with other children also prepares them for the coming infancy. This certainly benefits the social-emotional skills.
The motor skills are also stimulated by the large amount of parts that the table contains; like the anchor that can be rolled out.
The toy is also made of durable plastic and can therefore last a considerable time.
Fortunately, because even the older children still seem to want to play with this play table.
Little Tikes has sand / water tables in these different sizes so that they also fit in your garden.
#8 Melissa & Doug Building Blocks 100 Pieces – Best wooden Montessori toy for preschool kids
Nice building for children from 2 years. A little younger is also possible, but then they like to throw what you build :)
This basic blocks from Melissa and Doug is a classic and one of the best building sets and Montessori toys for preschool kids.
There are endless possibilities to build and younger children can chew them safely as the blocks (very educational for them!) are painted with non-toxic paint.
What they learn: Children effortlessly learn shapes, colors, building skills and patience.
Wooden blocks are great for preschool building sessions with Montessori-style materials. This is the ultimate for open-ended play. Children are free to use their imagination and creativity.
Wooden blocks can also be used in a number of ways to practice shapes, colors, counting and more.
#9 Fat Brain Toys Mini Squigz – Best sensory toy for preschool kids
A suction cup toy offers a multi-sensory experience, involving touch, hearing and sight, which is beneficial to a preschool child's sensory development and exploration of the world around them.
Here are some fun toys for children from 3 years old.
Ideal For: Ages 3 to 6
Squigz from Fat Brain Toys is another cute and unique toy on this list.
They look a lot like colorful balls with suction cups, so you can easily connect each piece together.
All your creations will remind you of those adorable representations of chemical bonds.
What's great about it: this toy is undeniably cute and interesting. The design alone will really excite your child and get their creative juices flowing.
What we loved the most are the suction cups. They make the balls more manageable and stackable.
#10 Desire Deluxe Magnet Tiles Building Set – Best STEM toy for preschool kids
From 3 years

Best: 3 – 5 years

Until: 7 years
Building and constructing with magnet tiles requires problem-solving thinking and engineering skills. Children should think about how to connect the tiles correctly to create sturdy structures. This stimulates their spatial skills and improves their ability to plan and build and gives it a high educational value.
Desire Deluxe are a cheaper variant of Magna Tiles (the original magnetic tiles) with a very good price-quality ratio and fit on any of these types of magnetic tiles. In addition, it is also great to combine with almost any kind of game, because you can make all kinds of things with it. From houses for animals or dolls to robots to beat. This gives it tremendous replayability.
These types of tiles may look a bit cheap, but they are safe. I tried to break the case by throwing it and hitting it with a rock, but the magnets wouldn't come out. The toy score could have been slightly higher if the material used and the lifespan had been slightly higher, but in the end this only has a small impact on the fun.
The play value is also very high, especially due to the open-ended game where children can use their imagination. In addition, a large set like this gives the opportunity to build together and seek social interaction.
#11 Learning Resources Smart Snacks Numbers Ice Creams – Best math toy for preschool kids
I am ecstatic about these ice cream numbers. They really helped in learning colors and counting for my child. The set contains 10 pops and 10 matching cases, each with a number and corresponding colored dots.
My son loved placing the shells over the popsicles with the correct number of dots. It is perfect for practicing the numbers from 1 to 10 and thus perfect for this preschool age.
The best thing about the set is that learning to count is not so obvious. This way the ice creams can also participate perfectly in fantasy play, such as with a play kitchen, for example.
I was also curious if the shells were self-correcting, but unfortunately they are not. They all fit on any popsicle, but the color of the dots matches the popsicle's "color coating". This gives kids a 50/50 chance of guessing the correct answer if they aren't sure.
#12 Magmen Fidget Toys – Best fidget toy for preschool kids
Having fidget toys in preschool can provide several benefits such as concentration, stress reduction, self-regulation and also a sensory experience.
These Magmen do that perfectly. What funny dolls. They can stick to each other (or anything other than the refrigerator) with both arms and legs.
Because their limbs are flexible you can bend them into all kinds of fun shapes. This way it looks like they are dancing, or you can almost make it a building of men.
They are also used a lot in pretend play and so they go on all kinds of adventures. From the refrigerator to the garden chair and hitchhiking on the steel spoon.
The fact that they are males sometimes makes it extra fun to play compared to other magnetic building toys.
It didn't work for me, but I've read that the magnets came loose on some. That is of course very dangerous so I would certainly not recommend letting children under 4 play with it.
Especially not without supervision.
But very fun to play with.
How do early childhood education toys help develop skills for school?
Early childhood education toys help develop necessary skills for school by specializing in different areas of development.
Cognitive development toys promote problem-solving skills, spatial awareness and critical thinking.
Fine motor skills toys require children to use their hands and fingers in precise ways, such as puzzles, building blocks, and tracing boards, to develop problem-solving and writing skills.
Gross motor skills toys encourage physical activity, such as balls, bikes, and skipping ropes, to promote gross motor skills and physical fitness.
Language development toys such as books, dolls and board games help develop vocabulary, communication skills and social skills.
Social-emotional development toys, such as dolls with clothes and play kitchens, help develop empathy, emotional intelligence, and social skills.
These are all important skills that they will need to use in primary school.
What kind of toys are age appropriate for a preschool?
Age-appropriate preschool toys should promote learning development. This includes building blocks, puzzles, sensory toys, role play toys, memory games, threading and knotting toys, and counting and matching games.
Kindergarten Toys that present a choking hazard, have sharp edges, are noisy, or require supervision should be avoided.
The toys can be safely stored on shelves, in bins and baskets, on rolling carts and in toy boxes, using labels to identify the toy types.
Should you only have educational toys in a preschool?
No, it's not necessary to have only educational toys in a preschool. Although educational toys are important and offer many developmental benefits for preschoolers, it's also essential to create a balanced and varied play environment.
What kind of toys should you avoid in a preschool?
The types of toys to avoid in a preschool include toys that are not age appropriate, toys that do not promote learning development, and toys that pose a safety risk.
Toys that pose a choking hazard, such as small objects such as marbles, coins and balls with a diameter of 4,4 centimeters (XNUMX inches), should be avoided at all times.
Toys that shoot projectiles, such as toy guns and nerf gun-like toys, should also be avoided as they can cause eye damage and pose a choking hazard.
Finally, toys that require adult supervision, such as battery-operated toys, toys with small parts, and toys that require assembly, should be avoided in preschool classrooms, as they require constant supervision and resources.
How do you store toys in a preschool?
Storing toys in a preschool should be done in a way that keeps the children safe and the space organized. Shelves on the wall are a good way to store books, puzzles, blocks and toys.
Bins and baskets are ideal for small toys such as cars, dolls and action figures. Rolling carts are useful for moving toys and art supplies. Toy chests are suitable for larger toys such as balls, cuddly toys and dressing-up clothes.
Labels can help identify the toys and teach the children to keep the classroom tidy.