Trampoline Age Ranges From Toddler To Teen: Everything You Want To Know
I enjoy writing these articles for my readers, you guys. I don't accept payment for writing reviews, my opinion on products is my own, but if you find my recommendations helpful and you end up buying something through one of the links I may be able to receive a commission on that.
More information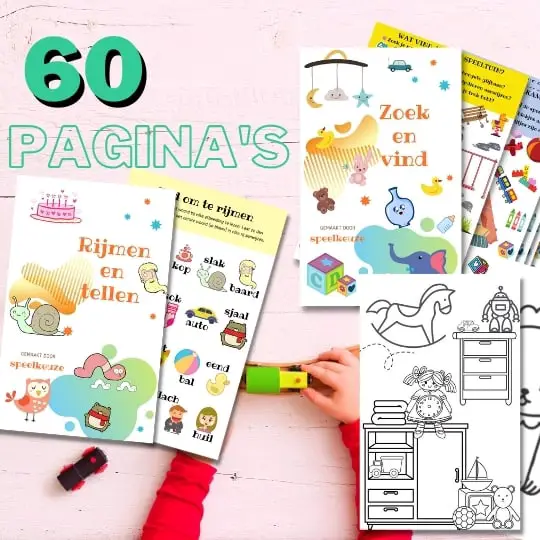 Always something to do for the holidays or rainy day?
Play Choice now has the ultimate activity book collection, with over 60 pages of fun coloring pages and educational puzzles.
Having an trampoline offers a lot of fun, often for the whole family.
Jumping is good for the motor development of young children and is an easy way to keep moving for older children (and yes, for parents too).
The first question most people ask is "from when can my child jump on a trampoline?"
To be honest, that depends a little bit on the development of your child, but the average age that a child can safely jump on a trampoline is from about 3 to 4 years old. At that age, motor control is usually already quite good.
In any case, it is a good idea to check the age category to check the trampoline you have in mind.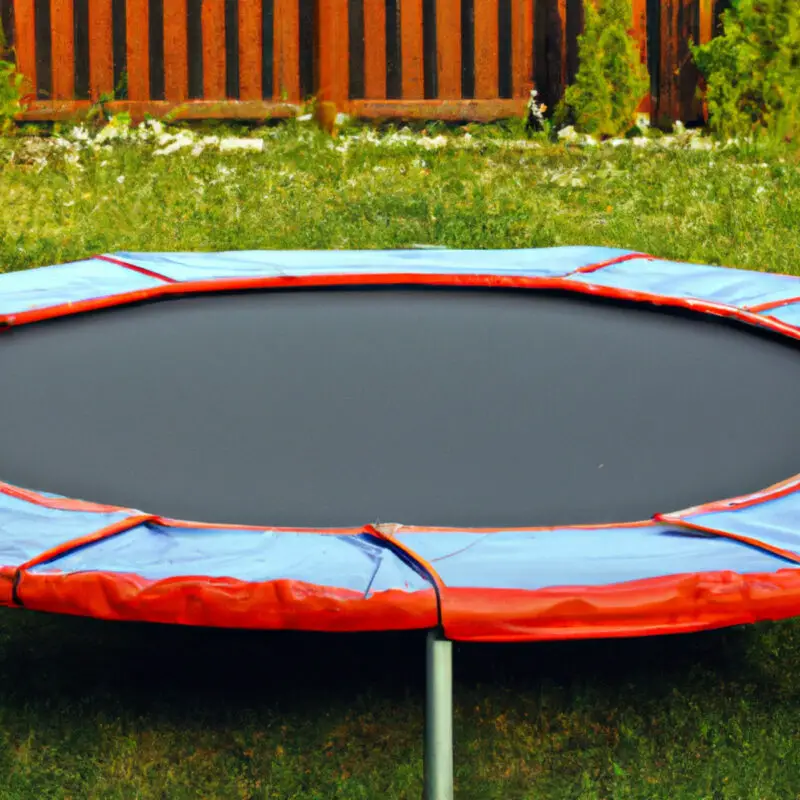 For example, is it still too high? Then consider one choosing a smaller trampoline (like this one for a small garden in our top list).
It is also good to know that a trampoline with short springs is more suitable for inexperienced jumpers and a trampoline with long springs is just fine for experienced jumpers, who can then go nice and high!
We have divided the trampolines into four age categories from toddler to teenager, based on the developmental stages of children from baby to teenager.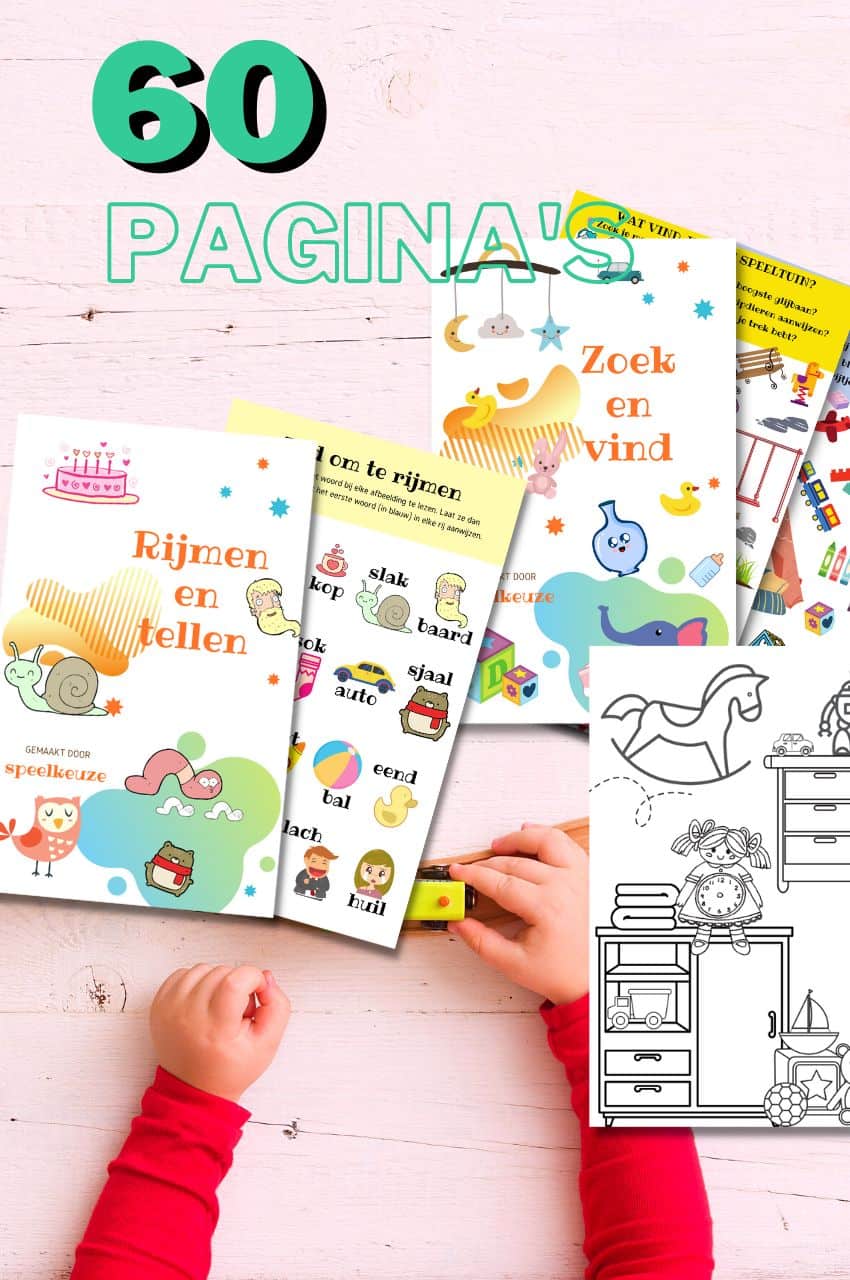 A play theme in your mailbox every month?
Fun play tips, activity books and more, with the first email being our free mini-guide "educational toys"
We will only use your email address for this newsletter and respect your privacy
Children 3 to 6 years
A 3-year-old child can already keep his balance reasonably well, hopscotch en springen.
Children aged 4 to 6 are even better at this and really need to lose their energy; they therefore love to run, jump, frolic and do antics.
For children in this age group, an in-ground trampoline offers a lot of safety. That has everything to do with the fall height.
It is understandable that not everyone has the space for such an underground trampoline.
So if you just go for a safe, movable trampoline on legs, then a safety net is definitely recommended.
A diameter of 180 to about 200 cm is a good size for children in this age category.
When jumping, the children must be able to keep their balance, but they also improve their coordination while jumping.
It is very important that the suspension is not too stiff, because our kids are still light and of course they should not hurt themselves!
As a parent you have the choice between a round and a rectangular trampoline; a round trampoline is most suitable for smaller children.
The springs of a round trampoline are all tensioned equally, so the child is automatically guided to the center of the trampoline.
This makes the chance of ending up next to the trampoline a lot smaller.
By the way, did you know that children aged 6 to 8 years on average certainly spend two hours a day watching TV and using the computer?
Trampoline is therefore a very welcome activity for them!
Children from 7 to 10 years
For children in this age group you could opt for both a round and a rectangular trampoline; after all, these children are already very good at keeping their balance.
It's fun to socialize at this age and be able to jump on the trampoline with a friend, so you'll want to go for a larger diameter with a round model.
A diameter of 250 cm is a great option for two children.
If you prefer a rectangular trampoline, then one of 200/250 cm. at 300 a good option to romp together.
Choose a safety net if possible!
Around their sixth year, a child can already weigh about 20 to 25 kilos, so make sure that the trampoline can carry the correct maximum weight for several children at the same time.
Children from 10 to 14 years
Children aged 10 to 14 are usually already experienced jumpers who like to measure themselves against their peers.
You understand that these children especially want to jump hard and high and will play the necessary jokes with each other.
It is therefore good to look for a larger, rectangular trampoline that is suitable for several children at the same time.
It would be best to opt for a trampoline of at least 250 cm by 400 cm.
Choose a serious trampoline with an excellent load-bearing capacity, with somewhat longer springs and a robust safety pad.
The rectangular trampoline does not pull you towards the center, so it ensures comfortable jumping fun in a group.
Children from 14 years to adults
For children aged 14+ (and adults) who still like to jump a lot, you can consider a competition trampoline.
It has a rectangular shape and the jumping surface alone is 426 cm by 213 cm.
The total size of such a trampoline is 520 cm by 305 cm. It stands 118 cm above the ground.
The jumping surface of a competition trampoline is divided into sections with a cross in the middle.
If the jumper jumps on this red cross, he uses the bounce of the trampoline to the maximum.
This jumping surface is made of 4 mm thick, white braided strings and is mounted on a metal frame with 118 steel springs.
You could also go for a round trampoline with a diameter of about 465 cm.
It must have the correct carrying capacity and be suitable for making somersaults and other high jumps.
What to pay attention to when purchasing a trampoline?
You have decided that the trampoline is coming? Before you make the purchase, keep the following points in mind:
The age category
Jump alone or with several children?
The weight of the children who will jump on the trampoline
Your available space
Bury or not?
With or without safety net
The surface on which the trampoline stands
Shape of the trampoline: round, rectangular or oval
There are 3 types of trampolines, each with its own advantages. We will tell you about the specific features.
Round trampoline
The tension on the springs, but also on the frame, is evenly distributed on a round trampoline. You automatically jump to the center on a round trampoline.
It is much more difficult to jump next to the trampoline or into the safety net: very suitable for the little ones, whose motor skills are not yet 100% developed.
However, this type of trampoline is less suitable for several children at the same time, because the chance of a collision is greater here than on a rectangular trampoline.
With a round trampoline, thinner and less steel is used for the frame.
This is because reinforcement for the round frame is not necessary: ​​the pressure on the frame is the same everywhere, in contrast to a rectangular frame.
The round trampoline is cheaper than the other models.
Rectangular
You won't bump into each other on a rectangular trampoline, nor will you bump into the edges as quickly.
Most trampolines in parks are rectangular, so that several children can jump on them at the same time.
Rectangular trampolines are more expensive than round trampolines because thicker steel is used for the frame.
The straight frame tubes must absolutely not bend during jumping, which requires extra reinforcement.
A rectangular trampoline often fits better in your garden, you don't lose as much space as with a round one.
Oval
We don't see them very often, but there are also oval trampolines. These are actually a combination of the round and the rectangular trampoline.
You are guided to the center when jumping here, but never exactly to the center point.
Oval trampolines are also more expensive to purchase than round trampolines.
The somewhat straighter tubes are also made a bit thicker here, because the frame must not bend while jumping.
Trampoline buying tips
In any case, keep our following tips in mind when you want to buy a trampoline:
Is the space around the trampoline limited? Preferably choose a safety net
For somersaults, a round trampoline must be at least 305 cm in diameter
Never jump on the trampoline with shoes on; you prevent damage to the jumping mat and do not hurt anyone
Most trampolines up to 240 cm can in any case bear a load of up to 50 kg; always pay attention to the maximum load capacity!
Finally,
Exercise is nice, gives us a good feeling and is very important for health. Jumping on a trampoline is fun and doesn't take much effort, while activating all your muscles!
After a few hours of jumping, your (over)active or nervous child is also physically tired and wonderfully relaxed.
But not only that, your child also improves his motor skills.
On a trampoline you learn in a playful way (or show jumping?) to fall, get up, push off powerfully and perhaps do somersaults. The more a child practices, the more he dares.
A trampoline is a great purchase that children - and also parents - can't get enough of!
Also read: Trampolines and maintenance | how does a trampoline last the longest?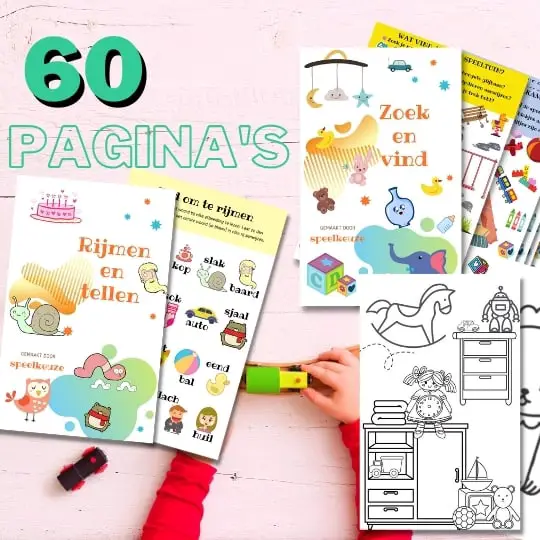 Always something to do for the holidays or rainy day?
Play Choice now has the ultimate activity book collection, with over 60 pages of fun coloring pages and educational puzzles.
Joost Nusselder, the founder of Speelkeuze.nl is a content marketer, father and loves trying out new toys. As a child he came into contact with everything related to games when his mother started the Tinnen Soldaat in Ede. Now he and his team create helpful blog articles to help loyal readers with fun play ideas.