4 handy and practical baby equipment and gadgets
I enjoy writing these articles for my readers, you guys. I don't accept payment for writing reviews, my opinion on products is my own, but if you find my recommendations helpful and you end up buying something through one of the links I may be able to receive a commission on that.
Further information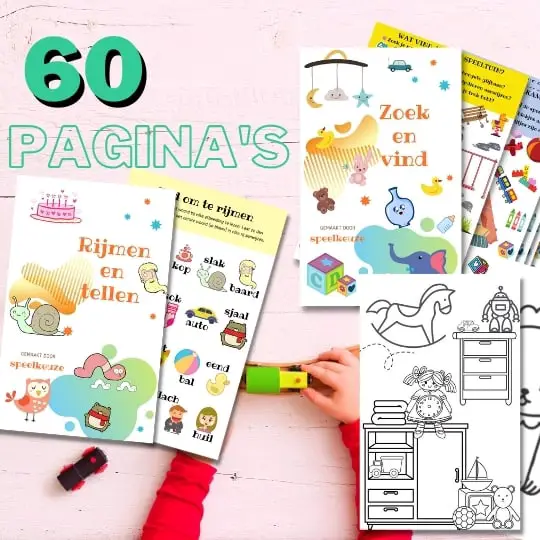 Always something to do for the holidays or rainy day?
Play Choice now has the ultimate activity book collection, with over 60 pages of fun coloring pages and educational puzzles.
Children's happiness is number one at the Chicco brand.
For more than 60 years they have been trying to achieve this goal by offering beautiful and safe products for babies.
In 1958 the Italian Enrico was born, son of Pietro Catelli, who received Chicco as a pet name.
De baby inspired father Pietro to develop a brand that would meet all the needs of babies and young children.
Chicco has now developed into the largest brand for baby stuff on the international market.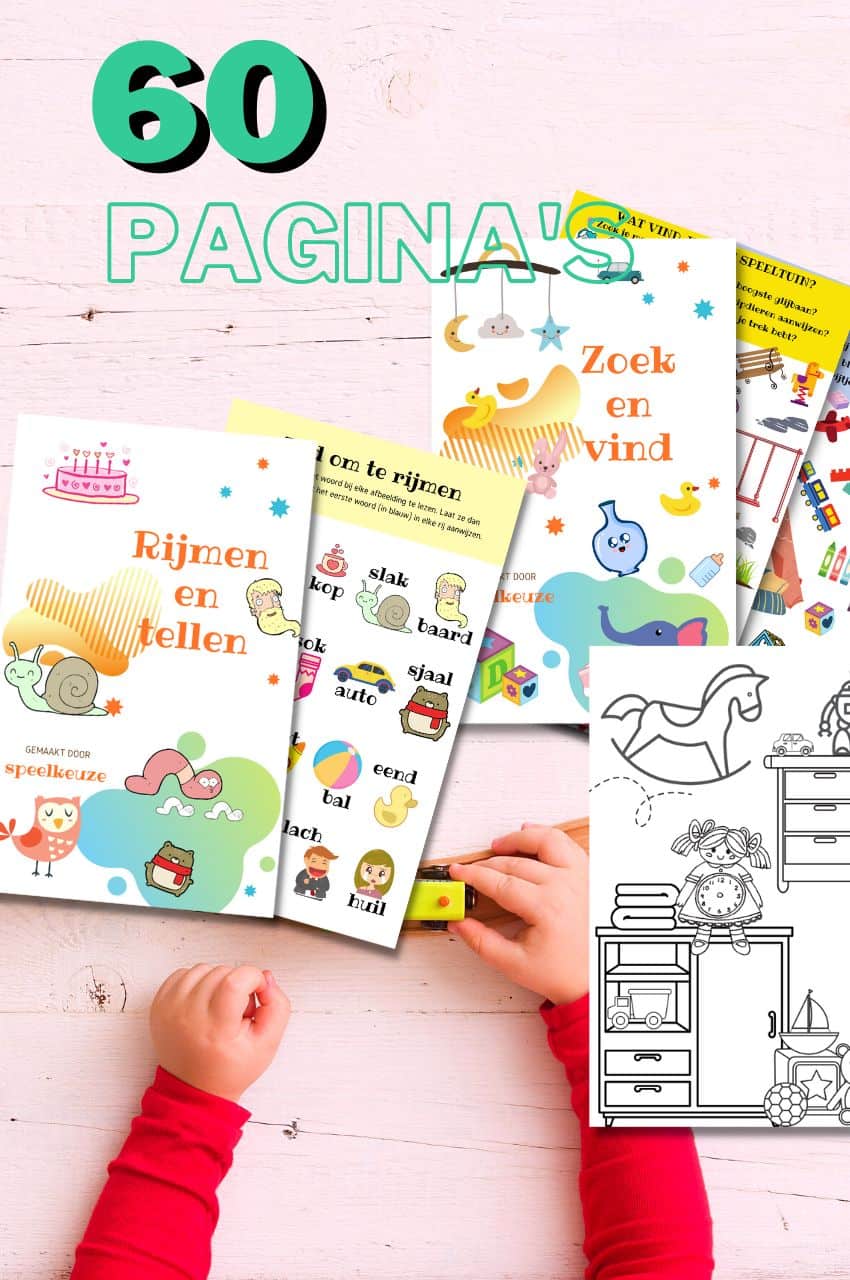 A play theme in your mailbox every month?
Fun play tips, activity books and more, with the first email being our free mini-guide "educational toys"
We will only use your email address for this newsletter and respect your privacy
Chicco: user-friendly, practical and intuitive
Chicco is concerned with the needs of parents and babies and is happy to support you in making good choices.
All products that Chicco offers meet the strictest safety conditions.
In addition, at Chicco they have a team of experts at work who ensure constant innovation of the products, aimed at the best quality.
Products are continuously tested in the Chicco Observatory: a study center that deals with everything related to children.
Listed below are their emotional needs, but also their physical development and affective desire.
Babies are observed and their development is monitored.
Parents are also continuously asked for feedback, as they know their little ones best.
Chicco wants to understand how babies function as best as possible to ensure that the products meet their needs.
Chicco's products can be described as user-friendly, practical and intuitive. Chicco wants the very best for you and your baby.
Products made with love
Chicco's baby products range from toys to strollers and from dining chairs to car seats.
They have a nice and professional solution for absolutely everything that has to do with babies and young kids.
They divide their products into four main categories, namely:
"Food and pacifiers",
"to walk",
"At home", and
"in the car".
All Chicco products have one thing in common: they are made with love. And the end goal is to put a smile on the face of the baby and parents.
Especially the first years, when you fully enjoy parenthood and your baby, you will experience special and unforgettable moments.
Chicco tries to be emotionally close to parents and baby, so that every moment becomes even more valuable.
At Chicco they are well aware that taking care of a child is not just an easy task. Being a parent is a wonderful experience, but it can also be quite overwhelming.
The products are therefore kept simple and ergonomic.
Nutrition and pacifiers
Literally everything has been thought about at Chicco. They have a whole range of breastfeeding products, including manual and electric breast pumps.
The teats on drinking bottles are also special, because they are designed in such a way that it mimics the mother's breast.
This also gives the mothers some rest, because in this way you can alternate between drinking bottle and breast. In addition, no less than 96% of babies seem to accept this product.
As for the pacifiers, all have an Orthodontic Physio teat, specially designed to help the baby's mouth muscles develop properly.
In addition to a good placement of the tongue, it also promotes that the pressure is evenly distributed over the palate and the fine material ensures that the babies can close their mouths with the teat in the mouth.
Walking
Chicco Miinimo stroller
The first outings and adventures outdoors with the family are true moments to enjoy.
Your child comes into contact with nature and fresh air for the first time. Make sure you always go out well organized.
Chicco gives you a helping hand and offers nice strollers with all the necessary accessories included.
An example of such a good car from Chicco is the Miinimo2, a compact stroller perfect for city life.
The shopping cart is easy to fold and is offered with a transport strap and bag. The cart has a safety arch and a padded safety harness.
In addition, the backrest can be completely horizontal. A very flexible car and extremely safe - like all Chicco products.
Home
Crib Next2Me
The baby is allowed to go home for the first time after birth, what can you expect? You will have to reorganize your life with a baby.
Everything will revolve around the baby: when mom and dad wake up, when dinner should be ready, when to shower ...
Fortunately, Chicco has the best solutions for all these special moments.
The nights will be a bit shorter for mom and dad and that is why Chicco brings comfortable cribs and beds on the market that make the moments of rest as long as possible.
An example of this is the Next2me independent crib; a crib that can be placed next to the parent's large bed.
The nice thing about this crib is that it has two positions, namely a fixed or swing position.
It is also ensured that the baby gets enough air through the two windows made of mesh fabric and the mattress that ensures maximum air circulation.
You can also adjust the height of the crib.
Also read: children's and baby clothes from Name It
In the car
Oasys 1 car seat
A trip to the other side of the country to see Grandpa and Grandma or a ride to the park. A sturdy, comfortable and safe car seat is a must for every ride, long or short.
There are a number of things to consider when attaching a car seat.
First of all, check the manual of your car to ensure that the child seat you want to purchase can be mounted correctly. The seat must be compatible with the car.
In addition, you should consider the height, weight and age of your baby before purchasing the perfect car seat.
Also check whether the car seat is comfortable enough for the baby, he or he must be able to sit still for a while.
Also read: bed surrounds keep your baby safe
Also check if the seat belt is easy to fasten, you must of course go for 100% safety when it comes to your baby!
Chicco has a wide range of car seats. An example is the Oasys i-Size, which encourages good posture with the right design.
In addition, the headrest can be adjusted.
An added bonus is that the seat is equipped with a BebèCare system, which gives a warning that your child is still in the car - in the unlikely event that you make a crucial mistake.
As you can read on this site, Chicco is the baby brand for all situations from birth and during growth.
For eating moments to bath times or car rides and breastfeeding. Safe, quality products for you and your baby.
What else you can find online At Speelkeuze.nl there are, among other things, websites where you only have to pay for purchased children's products afterwards. That is ideal!
More for your baby? Also read our post about ground boxes of wood or plastic
Little Dutch wooden toys and bedding: one of our favorite brands
Little Dutch is a versatile and fashionable children's brand for the little ones, which offers various beautiful products with a great sense of finish and craftsmanship.
The products are made in the most attractive designs that will immediately make you fall in love.
Whether you like classic items, colorful or attractive pieces, at Little Dutch you can go in any direction.
Little Dutch has a wide variety of products such as clothing, lamps, bedding, accessories, toys, full series of various items to decorate the baby or children's room in the most pleasant styles and more.
My favorite are these sleeping bags from the brand. Really very soft and such nice colors.
In terms of toys, I think so this cute wooden kitchen, again in those light pastel-like colors so that it fits nicely with my interior.
Little Dutch is a children's brand with passion
You can rightly say that Little Dutch is a brand that has been very well known for several years and is number one with many parents.
In recent years, the brand has achieved great success, both in the Netherlands and abroad.
This lifestyle brand for children has a great passion for creating the cutest and most colorful items that give a beautiful and trendy look.
All items and accessories designed by the enthusiastic Little Dutch team are designed with a number of fundamental values: they are functional, look attractive and are always finished in an original way.
The fact that all items can also be combined well is a fantastic bonus.
Little Dutch offers many attractive styles from which to choose, such as a serene and classic style, a cheerful and warm style, a style that gives a fresh and airy look and more.
The items are easy to combine - both within the current collection and with pieces from previous collections - so you can choose beautiful items without too much headache and combine them later.
Our favorite items from Little Dutch
The list of Little Dutch articles is really too long to discuss in detail, so we give a brief overview of our favorite, and special, articles below.
also look at the whole range of toys here to get an impression of what they all make.
Lamps
Good light is of course indispensable in a nursery or baby room, but it is not always well thought out.
At Little Dutch you can find beautiful lamps that spread the light in the room well and have a beautiful print.
With this you immediately build the basis of the look of the baby or children's room. By the way, these lamps are also not out of place in toddler and teenage rooms.
The hanging lamps are stylish and available in beautiful variants.
You have classic lamps with stars and various basic colors and there are hanging lamps for boys and girls with shapes like airplanes, roses, waves and whales, groves of trees and more.
These are also available in different colors. And the lamps give an extra effect.
At first glance, the lamps seem to be a 'normal' hanging lamp, but when you switch on the lamp, you see the theme appear.
This is always appreciated by the children. And it is an ideal diversion for parents who have to change children on a changing mat.
Bed linen and sleeping bags
As a parent, you want nothing more than that your child is safe and warm in his or her bed. And Little Dutch bedding certainly contributes to this.
It's a brand you can rely on.
The quality is so solid and in addition, the children really look like clouds of babies when they are surrounded by all that beauty in the crib, stroller or bed.
Little Dutch offers a lot of choice when it comes to bedding and sleeping bags. Of course there are different sizes available, but also different designs.
The sleeping bags are divided per season and this way you ensure that your child is nice and warm in his or her bed in the winter and not too hot in the summer.
You don't have to worry about blankets falling off and you can leave the room with peace of mind.
But such a changing mat is also super handy, and not that expensive at all:
(check out all bedding and sleeping bags)
I also have an article devoted entirely to it sleeping bags for your baby which you can read if you need more inspiration.
Wrap wraps
Little Dutch has many types of textiles - all made from the best cotton.
Before you got older you didn't even know that cotton was applicable in so many ways, let alone that you knew you needed it.
But how nice is it to have wonderful cloths that you can use as a wrap or as an extra sheet in a crib?
Or one that you hang over your shoulder after drinking the baby?
If you have a little one who 'mows' himself up all the time with those little arms, then it is very nice for parent and child to wrap the child in a large cloth.
Make sure you know what you are doing of course. But Little Dutch cloths are really made for it and also look very nice.
And many washes afterwards, you will see that the cloths only get softer and softer. The prints remain of the same quality.
The wraps are a favorite in our opinion, but what about a wide choice of washcloths, changing mats, bibs, changing pad covers, diaper bags and much more?
They are available in a variety of colors and with each design attention has been paid to comfort and convenience. The finish is also to get through a ring.
Playpen rug
And if you are going to look for a new playpen rug, know what you are getting into. There is a long line of options and these rugs are a perfect item in any home with small babies.
The kids are soft on the rug and this rug can easily be placed on the floor as a play mat.
Nice extra: you can put the rug in the washing machine. Ideal!
They have different playpen mats, again in those cute mint colors like this one here.
Toys
Little Dutch offers very friendly toys especially for babies and small children from about 1 to 3 years. This toy consists mainly of wood and is well put together.
Let your little one play quietly with small cars, vans, trucks, rattles, hammer bench, stacking blocks, block trains, motorways and more, without coming into contact with plastic.
A completely different approach than all the mass-produced toys from China today. Almost all toys are here that they sell.
There are so many more Little Dutch products that we are so enthusiastic about.
In any case, make sure that you buy an item with the products of Little Dutch that is firstly safe for your child, secondly looks very beautiful and thirdly has a pleasant price tag.
We understand the popularity of this fun children's brand very well!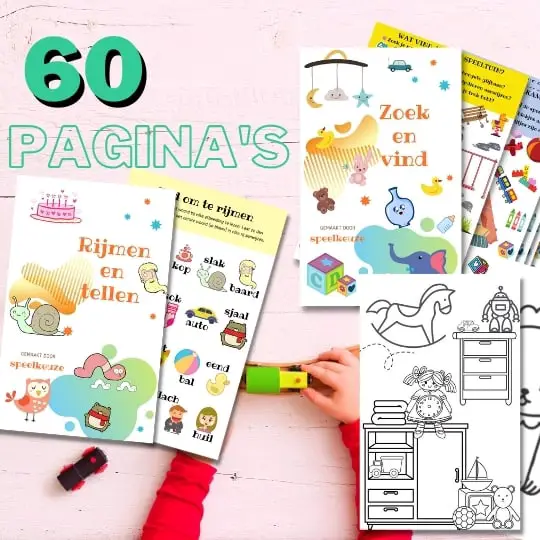 Always something to do for the holidays or rainy day?
Play Choice now has the ultimate activity book collection, with over 60 pages of fun coloring pages and educational puzzles.
Joost Nusselder, the founder of Speelkeuze.nl is a content marketer, father and loves trying out new toys. As a child he came into contact with everything related to games when his mother started the Tinnen Soldaat in Ede. Now he and his team create helpful blog articles to help loyal readers with fun play ideas.