I enjoy writing these articles for my readers, you guys. I don't accept payment for writing reviews, my opinion on products is my own, but if you find my recommendations helpful and you end up buying something through one of the links I may be able to receive a commission on that.
More information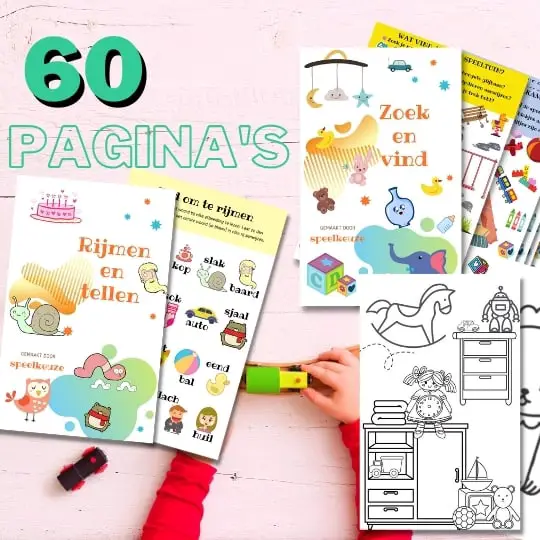 Always something to do for the holidays or rainy day?
Play Choice now has the ultimate activity book collection, with over 60 pages of fun coloring pages and educational puzzles.
Every year, more and more tablets come onto the market in many different shapes and sizes.
We understand better than anyone that you as a parent or family member of a child have no idea what exactly to choose.
What is the best children's tablet? Which model is right for my child? This all depends on several factors.
Of course, there are many tablets that do incredibly well, but not all tablets meet your needs as a parent and those of your child.
You can go for one of the best tablets, but suppose it is not intended for the age of the little one?
He or she may be too old or too young for a particular model.
Here we will make a comparison and highlight the popular XL models that have come out recently.
Especially for videos and editing photos and pictures, a larger screen is of course nice.
But what does this larger screen actually do with the tablet's performance? Is bigger really better?
Our favorites at a glance
Despite the qualities of the models with a slightly larger screen, they are not number one with us.
As our favorite, we have chosen again this Kurio tab Connect Telekids as the best choice because it meets more needs.
This is a model that has done a lot better than, for example, the Kurio Tab XL.
Our second choice is the this Kurio Tab Lite which is also a very qualitative model.
The brand Kuro has proven itself without a doubt and is currently at the top, yet the VTech tablets are also doing quite well.
The competition is very high and both brands are doing their best to win the battle every year.
However, it may be that especially the big screen is something that makes your little one happy.
As mentioned, for watching movies and especially editing images, a screen size of 10 inches or higher is often nice.
This gives a lot of surface for actions.
The best kids tablets in an overview
Here is our top 5 when it comes to tablets on the market right now.
Our favorites at the top, with further in the top 5 tablets with a larger screen that are also a good choice if this is mainly your focus.
However, with a larger screen, other performances can sometimes compromise.
When we look at the experiences of other users, for example, we have to conclude that a larger screen does not necessarily weigh up against the disadvantages that may come with the larger models, such as a slower system and less resistance to impact.
Why a large XL children's tablet is not the best
Although Kurio and Vtech great brands are for kids tablets and also have many specific settings, the larger XL models are simply too big and bulky for the smaller children.
They are good children's tablets in and of themselves.
Personally, I don't think sacrificing some robustness and speed due to the larger screens is not that big of a problem since you definitely want to have a sturdy protective cover around it and kids won't run many heavy games or apps, especially at the same time.
In terms of performance, the Vtech XL and Kurio XL are fine for your smaller child who wants a specific kid's tablet.
The VTech Storio Max XL 2.0 has a 7 inch screen, 8 GB of memory that can be expanded to 40 GB and a camera. It has a built-in Lithium battery, adapter, demo cartridge and USB cable.
It has a rubber edge that protects against bumps and falls.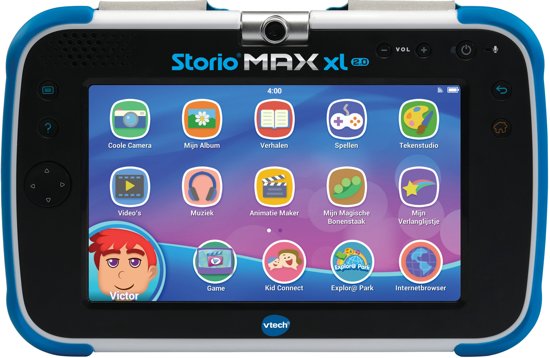 The Tab XL and Vtech XL screens: not suitable for small hands
Where it matters less is the size of the tablets.
By the time your child will appreciate and use such a large tablet well, in my opinion a specific children's tablet is no longer necessary and you better choose a real tablet, for example a Samsung that the whole family could use.
I have not yet been able to find a function for an XL size in a specific children's tablet and would therefore recommend a different model from Kurio for your little one and a family tablet or for your older children. iPad.
What makes the Kurio tablets so good?
The Kurio Tab Connect Telekids has an Android 6.0 system with a 7 inch screen, 16 GB memory and a 2-year manufacturer's warranty.
It comes with a micro USB cable and a power adapter. This tablet is waterproof and comes with an anti-impact cover.
Kurio Tab XL (and also the Vtech XL) are both great tablets, but given the above, I will discuss my two favorite children's tablets here.
What makes these tablets the best available at the moment?
The Kurio Tab Lite children's tablet
The Kurio Tab Lite has an Android 6.0 system with a 7 inch screen, 8 GB memory and a 2-year manufacturer's warranty.
It comes with a protective bumper in pink, blue or green, also a micro USB cable and a power adapter.
De Kurio Tab Lite children's tablet is an ideal tablet that meets many requirements. This tablet is very child-friendly, easy to operate, safe and can take a beating.
This tablet is equipped with the Kurio Genius internet filter system that provides ultimate care and control over what your little one does and sees on the internet.
Parents don't have to constantly monitor what their kids are up to.
It also has the setting to set a time limit and limit the time. This ensures that your little one does not spend too much time behind the screen.
The tablet comes with a protective bumper and you can choose between pink, blue or green colors.
The price is not too high for excellent quality.
The Kurio Tab Lite is suitable for ages between 3 and 10 years and has various apps and games suitable for different age categories.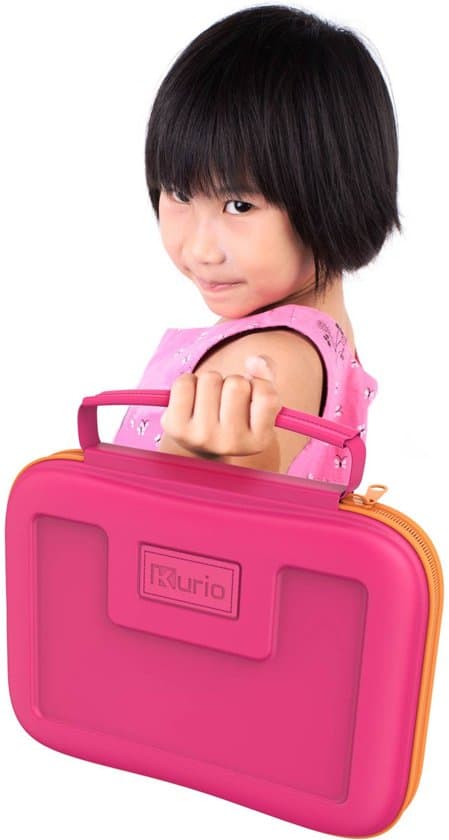 (view more images)
This tablet has a memory of 8 GB, but you can expand that to no less than 40 GB with a 32 GB SD card that you can buy separately.
It is definitely recommended to combine this tablet with the Kurio C14902 tablet case (available in blue or pink) for storing and protecting the tablet.
You can also use this tablet housing as a tablet stand.
With this, the position of the tablet will facilitate a better posture during use.
Kurio Tab XL has an Android 6.0 system with a 10.1 inch screen, 16 GB memory and a 2-year manufacturer's warranty.
It comes with a protective bumper. The tablet has Genius filter system and time limit settings.
Our favorite: Kurio Tab Connect Telekids kids tablet
The second tablet, the Kurio Tab Connect Telekids kids tablet, comes close to the Kurio Tab Lite for us.
For a slightly higher price you have almost the same qualities as those of the previous tablet.
This model has an internal memory of 16 GB which also makes this tablet very special. Another quality of this tablet is that it is waterproof.
This is nice with a children's tablet, which is often used at the kitchen table next to cups of lemonade.
The tablet comes with a nice cover that makes it resistant to all kinds of bumps and falls.
Like the previous model, this model is equipped with the Kurio Genius internet filter system.
Choosing the right tablet for your child
For example, if you as a parent want to have enough supervision over the activities of the tablet, it is best to find one that meets these requirements.
Is your child very busy? Then you can, for example, opt for a resistant tablet that can withstand some bumps.
Age plays a big role in choosing the most ideal tablet. But that's not all.
There are dozens of factors to consider when choosing the most ideal children's tablet.
Of course we can help you choose the best tablet and indicate which model meets certain needs.
It is almost common knowledge that VTech and Kurio are at the top of most.
These leading brands do their best every year to release the most ideal tablets that meet all needs.
The age category is an important factor
As we said, there are several factors to consider when choosing the most suitable tablet.
You cannot just choose a tablet because each model has a special target group.
Children's tablets have many different characteristics based on the age range.
For very young children under 2 years old, it is ideal to go for a fairly simple tablet with large buttons, bright colors and protection against heavy impacts.
For children under the age of 4 there are tablets that look practical as toys, think of various VTech models such as the VTech Storio 2.
Usually the number of possibilities is quite limited and a system of parental supervision not necessary as they can only install games and stories for kids.
For children from the age of 5, a too simple tablet can quickly be rejected, they want to discover things and not a simple tablet that limits all that.
There are models that offer more freedom to add different games and apps, but with a safe restriction.
There are tablets that contain parental controls to set restrictions for your child as a parent.
This gives your child access to new content that changes with age as he or she grows up.
It is especially important with YouTube adjust what your child can see.
From the age of 9, children can already perform advanced functions on a tablet.
The ideal in this case is to buy a standard tablet that is not restricted and install parental controls.
This allows the child to safely access useful programs such as for school.
Conclusion: bigger is not better
There are hundreds of different types of children's tablets.
For example, there are many brands that have released dozens of different models to try to meet all the most important personal needs.
There are many models that are unique in their kind and generate a lot of positive attention every year.
In addition, there are also models that do less well, these can be models from a brand that is well regarded.
It is therefore important that you study the tablet carefully before making a purchase.
We have been researching children's tablets to draw conclusions as to which one is best. As we said, we have emphasized the XL models.
But we also looked closely at whether these XL models also performed well in the test everywhere.
Unfortunately, the XL models are not the best choice for your child, but fortunately there are plenty of alternatives.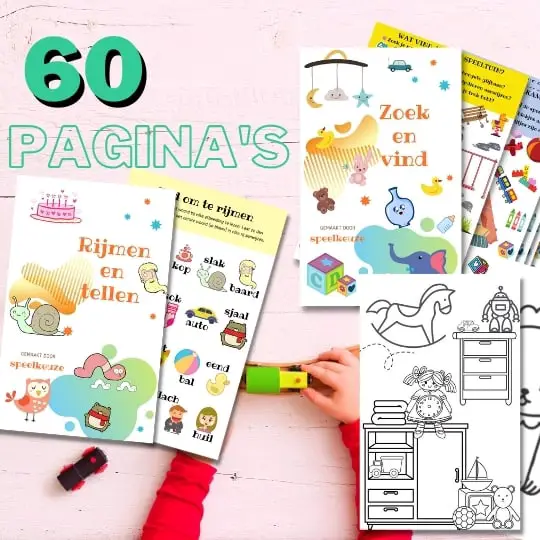 Always something to do for the holidays or rainy day?
Play Choice now has the ultimate activity book collection, with over 60 pages of fun coloring pages and educational puzzles.
Joost Nusselder, the founder of Speelkeuze.nl is a content marketer, father and loves trying out new toys. As a child he came into contact with everything related to games when his mother started the Tinnen Soldaat in Ede. Now he and his team create helpful blog articles to help loyal readers with fun play ideas.