I enjoy writing these articles for my readers, you guys. I don't accept payment for writing reviews, my opinion on products is my own, but if you find my recommendations helpful and you end up buying something through one of the links I may be able to receive a commission on that.
More information
The VTech Storio Max is a tablet made especially for children, with built-in "child-safe" Wi-Fi, video camera and player, MP3 functions and a lot of fun, educational and creative apps.
Unlike its rival Leapfrog's LeapPad, you can add your own movies and music to the Storio Max, which will interest parents.
In this article, I will review this Storio Max and assess how suitable it is for children.
There is also an engaging Kid Connect messaging tool that links with a parent's smartphone and tablet app.
It is a very nice tablet for younger children from 3 or 4 to about 8 years old and is here with a price tag of under € 130, - a good and educational investment.
On the downside, we found the tablet to be frustratingly slow to load games and apps, or even switch between them.
It is well built and available in the mandatory colors for kids' tablets, pink and blue.
The cover protects the screen when not in use and also serves as a kickstand for a better viewing angle when watching videos or photo slideshows.
Or you can remove the cover entirely if you want the more classic tablet look.
Short summary: should you buy the Vtech Storio Max 7?
Watch my summary as a video here, or read on for the text:
What I love about it is that it's a tablet, but it's not.
It is not intended for older children or for yourself to use, but specifically to introduce younger children to new technology that they will certainly use more later in life.
In any case, more than we have ever done before and it is only getting more.
But it is also not such a toy tablet that can only play a few tunes and a few dozen games.
Under the hood is a real Android operating system and a whole bio library of Vtech's own video and games. It is right in the middle of the toy and educational tablet segment.
He is sometimes a bit slow with loading, but it might also be good for teaching children patience.
And on the other hand, they will not often want to do too many heavy things at the same time, which means that things are not that bad.
There are some nice unique features like the wonder cam, the movie maker app and art studio that can keep your kids entertained for a long time.
Drawing, painting and working with stickers is always very good for my children. And there is plenty of content that you can download again.
Better than those toy tablets, it also has a built-in browser and wifi.
This is not child-friendly or cannot be set, it just has one child-friendly mode.
That's why it's not a tablet for both you and your child, but that's okay.
All in all, a very good tablet that is really for the kids.
It is at this time of writing € 129 (check the latest price here) and is packed with educational apps and videos that will entertain and teach your child too.
Perhaps a bit pricey for a tablet just for your child, but for the money full of features and unique child-friendly content.
It is not a full-fledged tablet that you would want to use yourself, that is something to keep in mind.
You'll want to buy the VTech Storio Max for ages 3-6 and it includes fun and creative games and educational content to keep them responsibly entertained.
Now let's look at the full review and features of the Vtech Storio Max.
For what age is the Storio Max suitable?
VTech believes that the Storio tablets are suitable for children aged 3 to 9 years.
We think kids 7 and up will find some of the included games a bit simplistic or childish for their then sophisticated taste, but for kids ages 3-6, the kid-specific tablets like the InnoTab and LeapPad are great choices.
Kids love to feel that this is their own device, instead of forever begging to borrow Mom or Dad's phone or tablet.
Android, but with its own sauce
The Storio Max is actually based on Android, but it has an interface designed for kids.
It is easy to use and features a 7-inch touchscreen (1.024 x 600 pixels) that can be operated with the finger or the supplied stylus.
The fact that it's powered by Android (4.2 if you need to know) means you can download over 200 teacher-approved Android games and don't be limited to VTech's own 650 software titles.
It still lacks the wealth of apps you get from a normal Android or iPad, and there are plenty of games featuring well-known kids' movies and TV shows.
Yes, there is a Frozen game (£ 4,99) and other stuff from the Disney / Pixar brand.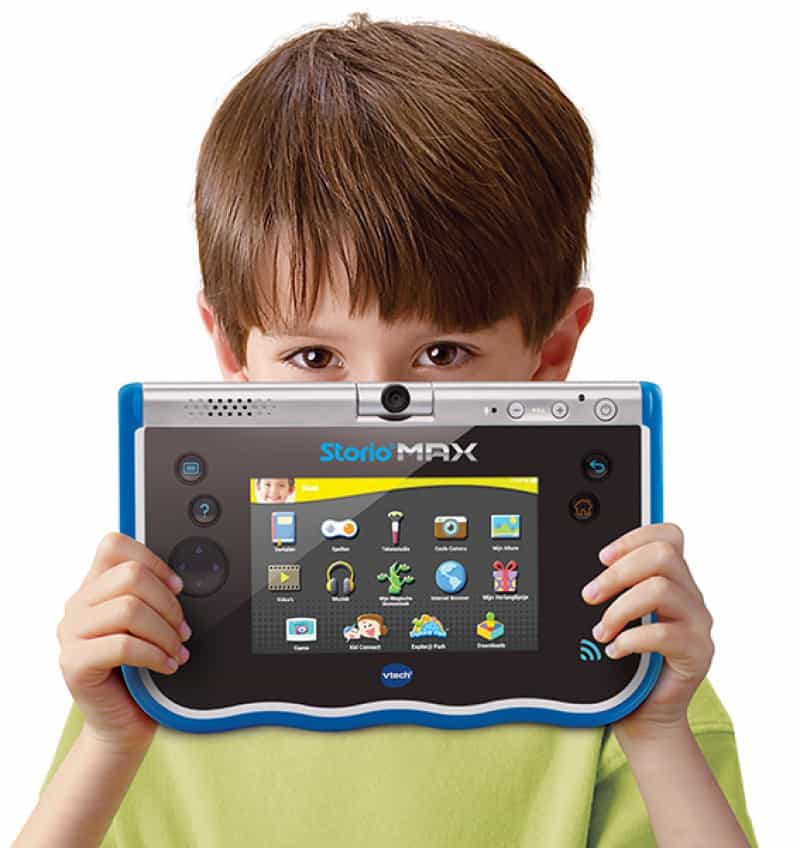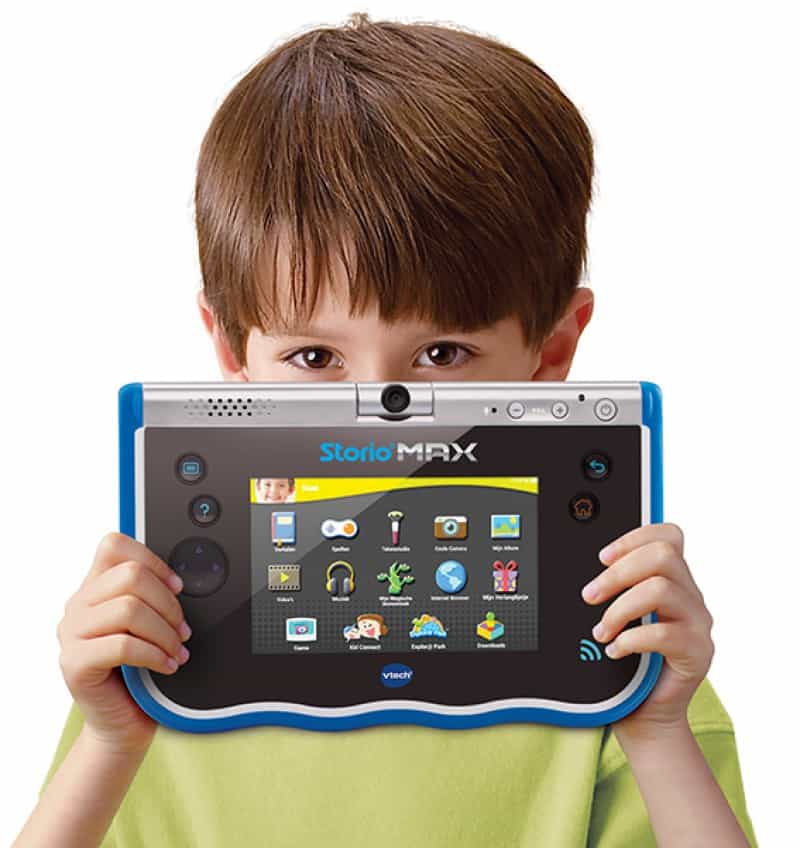 Pre-installed apps
It comes with 18 apps installed, two of which must be downloaded from VTech Learning Lodge's app store after registering.
The apps you get right away are the Wonder Cam Max, which lets kids create funny faces and add photo frames, more than 60 special effects and "kaleidoscopic creations".
The Movie Maker app is a lot of fun and will keep kids entertained. With adult supervision and guidance, this can be an interesting creative tool.
There is also an Art Studio for drawing, painting and adding stickers. Young children love to add a sticker as any parent can tell you.
The 2-megapixel camera is neat as it can pivot to take photos or video from both the front and the back.
Image quality isn't what you're used to from your compact camera or smartphone, but it's just about acceptable for kids to play with it.
This is also true for the LeapPad, by the way, and it would be nice if one day a kid's camera took some decent pictures.
The tablet has an internal storage capacity of 8 GB to keep all those photos, videos, music and apps.
We like the ability to expand this storage capacity up to 32 GB with a microSD card.
VTech download additional content
You can buy additional video content such as Charlie and Lola, Pingu, Octonauts, and some Disney shows, although these are not cheap.
There is an e-Reader with Story Dictionary, with which children can learn to read.
I would rather have more than one eBook with it, although there are also free books to download.
The built-in Wi-Fi means you can download games directly to the tablet instead of having to use a parent's PC, which has been frustrating for previous kids' tablets.
It is also there for Storio Max web browser.
Safe Internet browsing
VTech claims that the browser is "child safe" and that there are a lot of vetted websites for children to browse.
This makes it much more of an internet experience than its rival, the LeapPad from Leapfrog, which has a browser that's little more than a series of pretty random videos for kids to watch.
While we were extremely limited, we liked the LeapPad browser better than the InnoTab Max for better living up to the kid-safe emblem.
One of the pre-linked websites is the excellent HowStuffWork, which is full of fascinating facts that entertain and educate children, but also includes a chapter on sexual dysfunction.
While there is nothing obscene or pornographic, parents may prefer not to let their young people read about "How to Start Your Sex Life" or answer questions about "Herb Sex Boosters".
Obviously, such risks exist even on otherwise harmless websites like the above, so it's great that concerned parents can easily add or remove websites from any child's whitelist using the Web Browser Controls.
Unfortunately, some useful educational websites cannot be added because they require Javascript.
For example, we cannot make the Mathletics website work. This would have been a great addition to the Storio Max web browser.
Parents should remain vigilant when handing over their phone or tablet to their young children, unless because child can browse for inappropriate material unless they have parental controls in place.
The Storio Max's parent settings should make it easier to mitigate this risk.
Wifi on the Storio
One of the Wi-Fi features we really liked, is Kid Connect, where children can send and receive text and voice messages, photos, stickers and drawings to InnoTab friends and family members who install the Kid Connect app on their iPhone or Android smartphones.
Kid Connect also offers family group chat, multiplayer games and Family Bulletin features. The Kid Connect mobile app allows you to manage your child's contact list.
Older kids especially enjoy the messaging feature, although I found it confusing and had to ask another parent who had Storio helped.
Security is pretty good when a parent has to approve of every friend, and it's easy to use, even for a four-year-old.
Parental Settings
Parental settings include time settings so you can limit the amount of time your child can play with the tablet. This is an excellent idea.
Even with educational tablets like the Storio, parents have to limit the amount of time spent on such technology.
Read also: how much screen time is safe for kids
We also like that you can also connect it to your TV using a mini HDMI to HDMI cable - also known as an HDMI type A to type C cable.
However, you have to buy this separately.
The Storio MAX can use most cartridges designed for older InnoTab models.
However, due to the larger screen, you must first download updated versions to the tablet in order to play these older cartridges.
Vtech Storio Max 7 performance
We found the Storio Max 7 to be slow on loading (very slow at times), with the Loading icon spinning for frustratingly long times.
If you're used to a fast iPad or Android this will no doubt annoy you, although I think it teaches kids the value of patience!
Oddly, even the iOS and Android Kid Connect app mirrors the slow loading times.
Other apps include a clock, calculator, calendar, notes and music player.
With adult supervision, the VTech InnoTab Max helps your child with basic math (counting, addition, subtraction) and English (handwriting, spelling and reading).
Other games can improve a child's spatial sense, perception and pattern recognition.
Luckily, the battery is rechargeable (via the included micro USB cable), so it won't cost you a fortune in batteries.
VTech Learning games
However, downloading new games and apps can be expensive.
As with the LeapPad, additional software is not cheap, with new games averaging 3-5 euros, which is slightly cheaper than Leapfrog.
Should I buy the Vtech Storio Max 7?
Best suited for ages 3-6, the VTech Storio Max includes fun, creative games plus an excellent messaging feature that kids love.
Child-safe web browsing needs some parental controls, but is more comprehensive than rival Leapfrog's.
We found the Storio Max to be frustratingly slow to load, and the photo quality is just as bad as with any kids tech, but it's certainly a good choice for a kid's first tablet.
You can buy cheaply here at bol.com.
[Wl_faceted_search]
Start the conversation and teach them everything about safe internet use
Sign up now for the newsletter with a new theme every month and receive our free tips with "talking points for safe internet use" as the first email.
We will only use your email address for this newsletter and respect you privacy
Joost Nusselder, the founder of Speelkeuze.nl is a content marketer, father and loves trying out new toys. As a child, he came into contact with everything around games when his mother started the Tin Soldier in Ede. Since 2016, he and his team have been creating helpful blog articles to help loyal readers with fun play ideas.