Used children's clothing | 13 tips to help or earn
I enjoy writing these articles for my readers, you guys. I don't accept payment for writing reviews, my opinion on products is my own, but if you find my recommendations helpful and you end up buying something through one of the links I may be able to receive a commission on that.
More information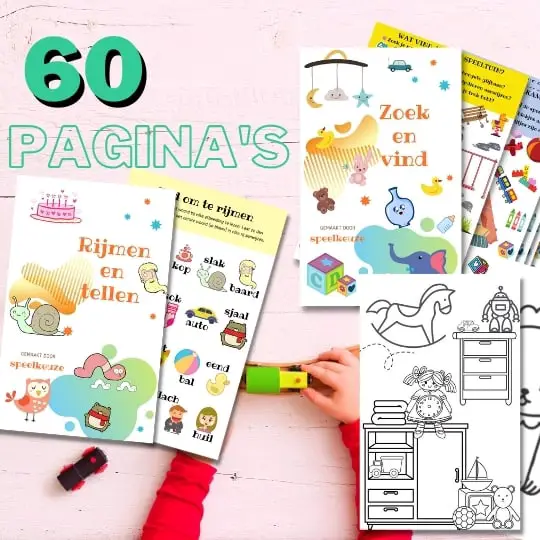 Always something to do for the holidays or rainy day?
Play Choice now has the ultimate activity book collection, with over 60 pages of fun coloring pages and educational puzzles.
Every parent knows the problem. The children are shooting up like mushrooms and before you know it they no longer fit those nice jeans or that nice summer jacket.
It is of course an eternal shame if clothing that is in principle still beautiful and good is simply discarded and thrown away. It is also really not of this time anymore.
Are you someone who likes to use the children's clothing of your children want to clean up and you still have to discover how you are going to do this, feel free to read on.
Do you want to buy second-hand clothes yourself, that's also possible, but read this article.
To be more aware of the possibilities of what to do with used, but still beautiful children's clothing, we have listed some options for you below.
Children's clothing sofa for a good cause
Would you like a tidy closet quickly and do you really just want to quickly get rid of all your children's old clothes and do you not necessarily need anything in return?
Then consider giving the clothes away. There are beautiful organizations in the Netherlands that ensure that the clothing ends up with people with a lesser financial position.
Those families are often very happy with the things you want to get rid of.
Check in advance what a foundation would like to receive.
For example, there are foundations that mainly focus on getting and passing on baby clothes and it would be a shame if you then hand in the old clothes of teenagers.
Foundations are often dependent on volunteers and donations, so if you are still in doubt what to do with those old clothes, you now have a good choice to make.
You really help someone else without having to put in a lot of effort yourself. Most foundations ensure that there are sufficient collection points.
Or you can look in your own municipality to see if there is a store where you can drop off the old clothes, such as in Haarlem of Amstelveen.
It goes too far, of course, for every municipality with a clothing bank here, but trust us that a simple Google search will show you a clothing bank near you where you can donate your clothes with a good feeling.
This way you not only make yourself happy with a tidy wardrobe, but also another family!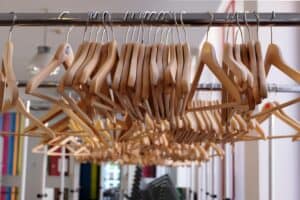 How do I give the old children's clothes to a thrift store?
You can of course also choose to bring the old clothes to a thrift store. Essentially, the thrift stores accept all kinds of second-hand goods, provided they are, of course, legal, healthy and safe.
The big difference between giving clothes away to the thrift store or to a clothing bank is that the thrift store in turn sells the stuff.
They won't ask a world price of course, but money will certainly have to be paid before someone else can take the stuff.
The decision is entirely up to you. While some people prefer that people get their old clothes for free, others are more satisfied if the things are sold on cheaply.
If you are someone who likes yourself too browsing a thrift store, consider giving away the clothes worn by your children and which have become too small. That way someone else can also find a nice treasure.
There are even children's thrift stores with really only used children's clothes and other used items for children, such as toys.
Such a store is of course not in every city, but it is in Wassenaar for example. It's definitely worth checking out if you do a day out in the area of ​​The Hague.
Where can I sell my old children's clothes?
Are you a bit more commercial-minded and do you actually not want to give away the clothes that your children have worn, but would you rather sell it?
Then you also have a few options in this case. You choose the best way for you and get started.
A few rules of thumb are important to know. In order to be able to sell the clothing properly and quickly, the clothing must look neat and clean.
Not only can you charge more for an item that's neatly ironed, but you'll also see it sell much faster. Not everyone wants to see through the folds of unironed clothing.
Buyers of second-hand clothing would like to have the impression that the clothing has been treated neatly by the first owner.
So wash the clothes before you put them on the market and yes, it takes some effort, but it pays off… iron the clothes too!
Do you already have an idea where you can sell the clothes? If not, we have a few good options for you.
Selling second-hand children's clothing from home
If you now choose to sell the clothes worn by your children from home, keep in mind that you will have to meet a lot with people.
So you will have to be home at regular intervals to hand over the clothes to the buyers. Of course, that's not a problem for everyone.
If you're at home often at all, it might just be that easy. You don't have to drag the overflowing bags of clothing from place to place.
Someone just comes to pick it up from you and you get paid for it.
You can of course also send clothing by post, but then you must have the opportunity to take the clothing away. Also research what it costs to ship clothes.
Many garments are bulky and must be packed in packages. It is therefore worth checking beforehand, because you want the buyer to pay for the costs, not yourself.
But how do people actually know that you have these clothes for sale? Of course you have to make a call somewhere or show the clothes.
Hanging a note at the supermarket is of course still possible, even if it is a bit old-fashioned, but you can reach a larger audience much faster via the internet.
Take nice pictures of the clothes. For example, also make sets of items of clothing that you know go well together and put them in the picture.
Try taking pictures of clothes on a hanger instead of laying them on the floor. This way the garments come into their own better.
Even better would be to use a mannequin…but not everyone has such a thing at home.
Make sure the light is good in the photo, daylight is best, because the colors of the clothes stand out so well.
And make packages of the clothes you sell. For example, do not put individual items of clothing on sale, but make, for example, packages of five to ten items of clothing in the same size and sell them as a whole.
This way you can get rid of all the clothes faster and the whole, especially if you have more clothes to sell, remains a bit more organized.
In addition, people are also more likely to choose the easy route. So if you already put together a nice package, they don't have to look any further or think about it for long. After all, you've already done that for them.
Packages usually consist of pants or skirts with leggings and tights. Or shirts and sweaters with matching trousers.
Winter and summer jackets are a bit more difficult to combine and it is therefore best to offer them as a single piece.
Now that you know how to promote the clothing, the question is where are you going to do that? As mentioned, putting up a note at the supermarket doesn't help.
Below are some options that will benefit you.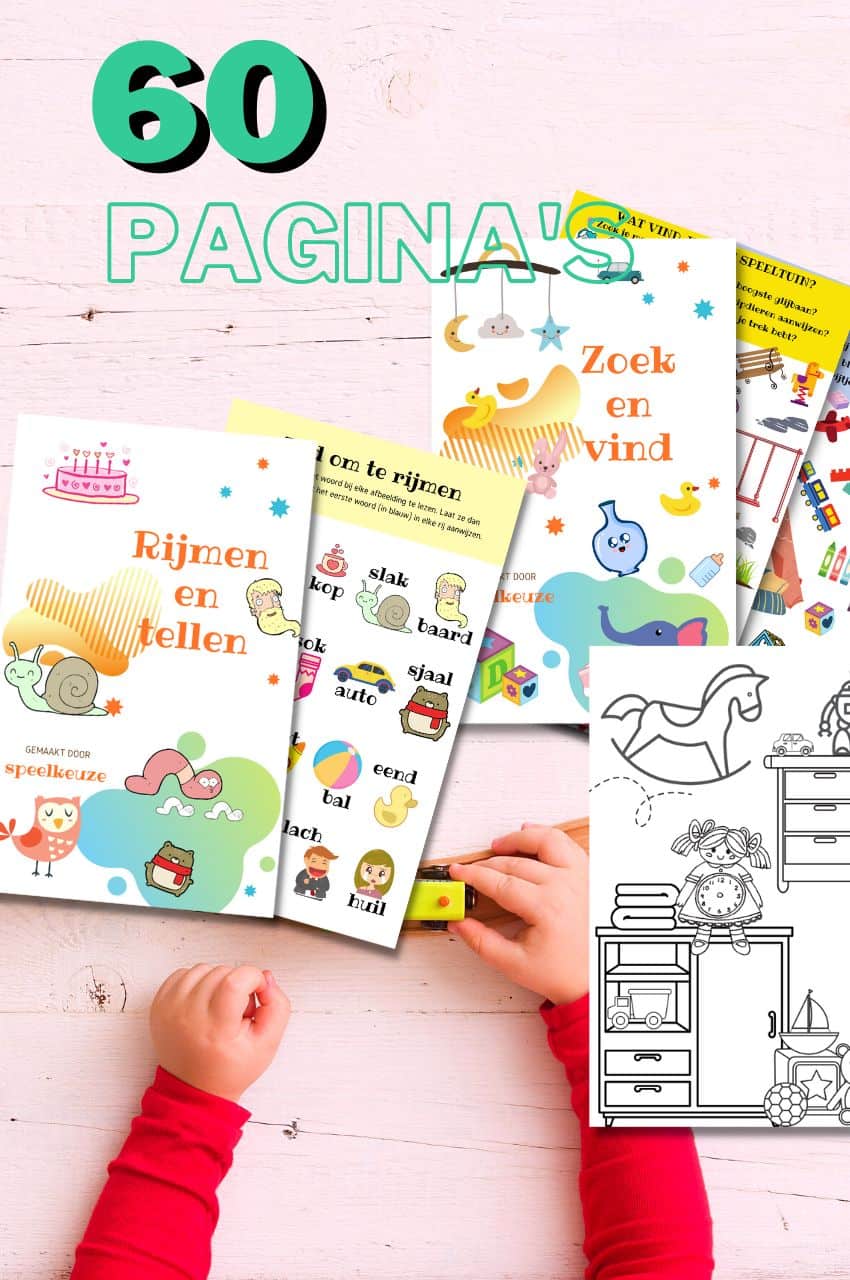 A play theme in your mailbox every month?
Fun play tips, activity books and more, with the first email being our free mini-guide "educational toys"
We will only use your email address for this newsletter and respect your privacy
Selling children's clothing online via the Internet
It should be clear that the internet offers solace in this case. But hey, that giant web, where do you start?
Especially if you have not done this before or if you yourself are not ingenious in looking for second-hand items on the internet, the whole thing can be quite overwhelming.
Do not fear! Anyone can do this, you too! Think of the ultimate goal: tidy closets and a full wallet.
How do I put my used children's clothing on the marketplace?
One of the best-known online sales points for second-hand items in the Netherlands is marktplaats. And posting an ad is also pretty straight forward.
You will initially have to create a profile or log in with your data from Facebook if you have one.
Your Facebook public profile will be shared with Marktplaats, but the fact that your Facebook data is already public will not be changed.
Once you are registered, Marktplaats will ask what you actually want to sell. In this case, children's clothing. Try to be as specific as possible in the title, the better people can find you.
Don't just write 'children's clothes' as the title, but add the words 'girl size 98' for example.
You then choose a section that in your opinion best suits what you are selling. Our tip is to choose the size as the heading. Do you offer multiple sizes?
Then create multiple advertisements and divide them per clothing size in order to have multiple sections.
In the next step you can add 24 photos. If you have a ton of clothes to sell, divide them into several ads.
It is more important to post beautiful photos of all clothing so that potential buyers can see what you offer, than not to post some clothing as a photo.
Take it from us, without a photo you won't sell the garments, or with a lot of luck.
Enter as broad a description as possible in the "description" field. Write that the clothing is beautiful, not broken, whether or not you have pets at home, whether there is smoking at home, how often something has been worn, etc. etc.
These are all points that will make your ad stand out and you will achieve results sooner. Take a moment to think about what you would like to read yourself when you are looking for, for example, children's clothing.
And check out the other ads! That way you quickly come to the conclusion what works and what doesn't.
And so you go through all the fields until you arrive at "place your ad" and voila, the clothing is online! Now just wait until you get an email or a phone call… a child can do the laundry ;-)
The ad will remain online for at least 28 days. If you have reached your goal and the old clothing has been sold, do not forget to remove the advertisement.
Even if you gradually sell parts of the offer, it is worth updating the advertisement. This prevents you from receiving emails about clothes that you no longer have in your closet at home.
How do I sell my used kids clothes on eBay?
Many people think that there are not many differences between Martkplaats and eBay, but that is not true.
Marketplace is a way to buy and sell locally.
eBay is an international platform, so when you create an account to put your ad online, you have access to and opportunities to place your ad on the international market.
You can also choose to place the ad locally.
And the biggest difference is that your eBay is an auction. So you set a starting price and from that point people can start bidding.
Marktplaats has a similar function, but at Martkplaats you can choose not to sell the clothing to a bidder if you do not agree with the bid. At eBay you are obliged to sell the clothing to the highest bidder.
In addition, eBay has a sales commission, which is a rate that you pay on the amount you receive. You pay this amount to eBay.
Advertisements on eBay are not free, as there are a placement fee. At Marktplaats not all advertisements are free, but you can at least offer children's clothing as an advertisement on the site for free.
There are even more differences to discover between Marktplaats and eBay. If you want to know more about those differences, you can read more here.
Anyway, you've finished your research and decided you want to post the listing on eBay. How do you proceed?
Create a profile or log in with your Facebook data if you have one.
Describe the clothing and add up to 12 photos. Again, just like on Marktplaats, describe the clothing as well as possible to attract the attention of potential buyers. Mention the brand, color, size, etc., even if it can be seen in the photo. People will use search options to search for certain keywords and if you wrote them in the ad, they will be able to find you better.
Offer your ad as an auction. And eBay itself gives an important tip: Consider offering free shipping. Buyers love to know what to pay for, and when free shipping is offered, they can be sure that there will be no more unexpected costs. Keep this in mind when determining the starting rate. After all, you don't want to lose out.
Put your ad online and the Great Waiting has started! Again, you will be notified by e-mail when someone makes a bid. Getting paid through eBay you can arrange it in different ways. In any case, choose a method that most people consider reliable. Think of PayPal, worldwide renowned and respected as a payment method.
Can I sell my old children's clothes through Facebook?
Not everyone knows this, but you can. There is a menu on the left side of your "Marketplace" screen where you can both search and place ads.
Would you like to place an ad? Then click on the blue button on the left side of your screen "Selling something".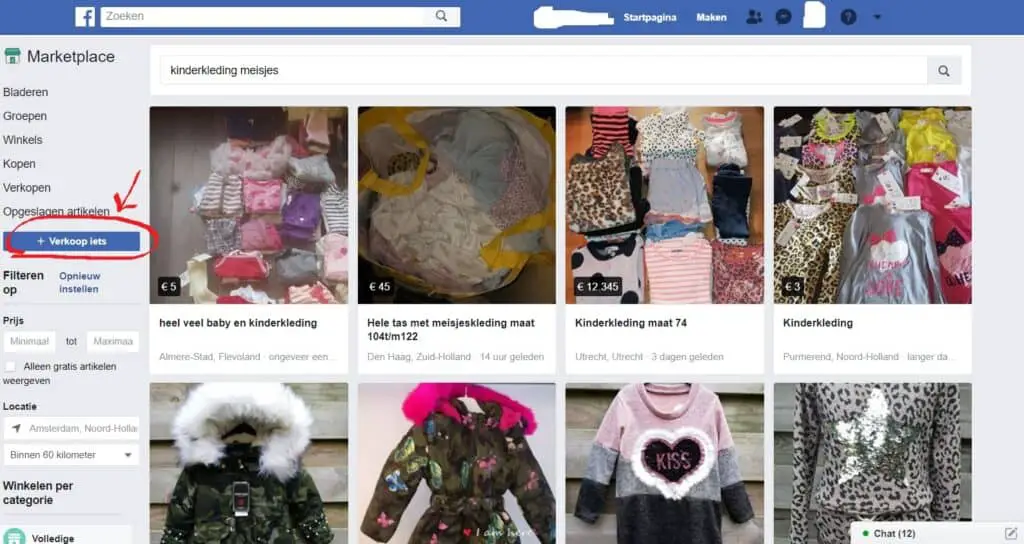 When you click on this you will see a small window. In the top line you have 100 words to describe what you want to sell.
Here, as with the other platforms, it also applies: be clear and also check your ad for spelling mistakes.
Then you choose the price, location and category. You can post 10 photos per ad on Facebook. Then click on "post" and your ad is online.
In this case, buyers do not approach you via e-mail but via Facebook Messenger. You must arrange the payment and delivery of the goods mutually when you are in contact with each other.
Is there an app that I can use to sell my old children's clothes?
There are countless apps on the market today that meet this need.
There are apps for the platforms described above such as Marktplaats or the thrift store, but you also have other apps that you may not know yet. We list our top 3 below.
The app that in our opinion should be the number one when it comes to buying and selling children's clothing Reshopper. This app is specifically aimed at the purchase and sale of second-hand children's items. Advertisements that are not directly related to children are therefore immediately removed by the administrator. Anyway, second-hand children's clothing is extremely suitable. And it is also really nice that the people who use this app also specifically search for stuff for children. So they do not "accidentally" pass your ad. In addition, the approach of the developers of this app is that you can see in your own living environment through this app what is offered in second-hand children's equipment. This way you keep it local and that is good for the environment! Offering your own stuff is also quick and easy to realize, because you only need your smartphone and the app.
Is a direct competitor of Marktplaats 2dehands.nl, both via the website and via the app. The app looks fresh and works easily, even for people who are not immediately very tech-savvy. In addition, you can refine the categories and potential buyers who are really looking for specific products will find you faster. And that works well if you want to get rid of your things a little faster.
Letgo just like reshopper, is an app that focuses on the possibilities of selling your stuff locally, in your own neighborhood. The app is very accessible and as soon as you are in contact with the buyer of the clothing, you can agree with him or her how the payment works. Most opt ​​for a cash settlement and the payment is made between these two parties, without the intervention of letgo.
How do I find a forum where I can offer second-hand children's clothing?
Forums are generally for discussing a topic and not for offering goods.
There are countless forums about selling and buying second-hand clothing and the topics usually deal with buying or selling second-hand (children's) clothing in general.
A well-known place for women to talk about this are, for example, forums of the well-known women's magazines, such as Vivaof dragon-fly.
We do not recommend selling your clothes through a forum. It is not a common way of selling clothes, because of this you will be more difficult to find and therefore more difficult to lose the clothes.
It is also possible that the forum administrator is not happy with your attempts to sell the clothing.
It is one good source of information. Many parents talk about their experiences with selling second-hand children's clothing on the various forums. You may be able to get useful information from it.
Standing at a flea market with my children's clothes
As you can imagine, with the internet you can reach many people at once, but you also spend some time placing the ad and communicating with potential buyers of the clothing.
Not everyone is interested in that. The flea markets are, of course, ideal for these clearers of the closets at home.
The whole of the Netherlands knows that you can get your fill at flea markets and there are really a lot of people walking past your stand looking for beautiful things and good bargains.
Special children's clothing and toys are always in demand, precisely because the little ones grow out of their clothes so quickly.
Most flea markets do not present themselves until the summer or spring. And be prepared that you may be less likely to sell a stack of winter clothing if it is 25 degrees outside at that time.
There are flea markets in the autumn and winter, but you have to be willing to deal with the cold and inclement weather yourself to sell your wares.
To a good overview of flea markets you can take a look on the internet. This way you can quickly find flea or flea markets in your area.
And do you like that flea market in Veenendaal so much, remember that you can combine this well with a nice outing for yourself.
At a flea market you have direct contact with the seller and you can negotiate faster. And with a bit of luck you will go home at the end of the day with a well-filled wallet and empty bags.
Or dive into the city looking for fun stuff for your own children.
Keep in mind that most flea markets charge a (usually modest) fee for the rent of the stall on the market.
Save it for the free market on King's Day
If you really want to have a typical Dutch day full of fun and a super nice atmosphere, then you have to wait until King's Day.
The same applies here as when standing on the street at a regular flea market, you are at the mercy of the weather conditions.
In addition, there is a lot of competition. Not only in terms of stuff, but also in terms of location. People often get up early to find the best spot.
If you want to start selling your used children's clothing on King's Day, then this list of tips handy to go through. Our most important tip: bring a chair!
You can choose to live in your own municipality or seek out the crowds more if you live outside the major cities.
Of course you can go to Amsterdam, Utrecht or Den Bosch and look for fun. Here you can find the top five free markets in the Netherlands.
Can I sell my children's clothes to a second-hand store?
Not all shops do this, but there are certainly shops that take over the clothes from you and you get a cash prize for the clothes that are sold.
Different stores use different systems. The rules of the relevant store can usually be read on their site, otherwise a visit to the store is a good idea.
Tutti-frutti in Amsterdam, for example, buys clothes and pays out when the item of clothing is sold. The amount you will receive is already fixed the moment you return the clothing to the store.
Such things can be found all over the country, such as in Sneek.
In general, the stores also pay close attention to the quality of the clothing and you cannot bring winter clothing in the spring and summer.
The case Second Lifestyle also pay attention to the brands of baby and children's clothing and thus ensure good quality of good clothing.
If you do go to one of their branches, for example in Amersfoort, with full bags that you leave behind with a good feeling, then treat yourself to a nice day out.
What is a children's clothing fair?
A children's clothing fair is a market full of second-hand clothes, toys and all kinds of other things that people like to sell.
The fairs are organized by an umbrella organization and you often pay an amount to have your own market stall at the fair.
Often the fairs are in and there is a general theme. Or the floor is divided into different neighborhoods with themes, making the whole a bit more organized than your average flea market.
You can use agendas of children's clothing fairs find on the internet where fairs are listed that will take place in the near future. Or you can search on Google for children's clothing fair + the name of your municipality.
This way you don't have to travel far, you can quickly get rid of a lot of clothes and you also benefit from the atmosphere that prevails at such a market.
We hope we have given you good ideas for selling or giving away your used children's clothing and that you feel like cleaning out and clearing those full closets.
We have tried to give you as complete an overview as possible.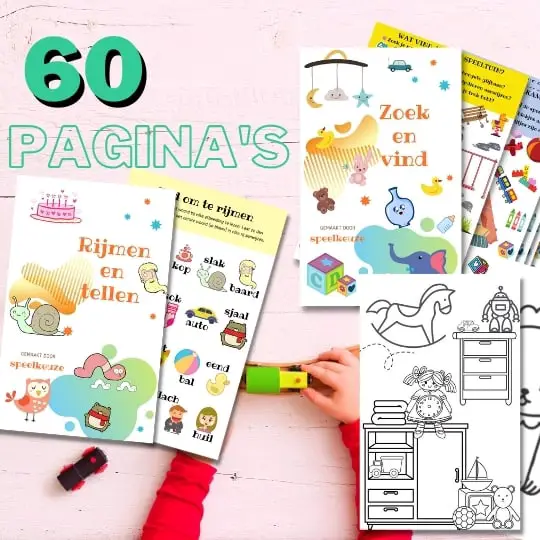 Always something to do for the holidays or rainy day?
Play Choice now has the ultimate activity book collection, with over 60 pages of fun coloring pages and educational puzzles.
Joost Nusselder, the founder of Speelkeuze.nl is a content marketer, father and loves trying out new toys. As a child he came into contact with everything related to games when his mother started the Tinnen Soldaat in Ede. Now he and his team create helpful blog articles to help loyal readers with fun play ideas.