What is a Montessori education for children?
I enjoy writing these articles for my readers, you guys. I don't accept payment for writing reviews, my opinion on products is my own, but if you find my recommendations helpful and you end up buying something through one of the links I may be able to receive a commission on that.
More information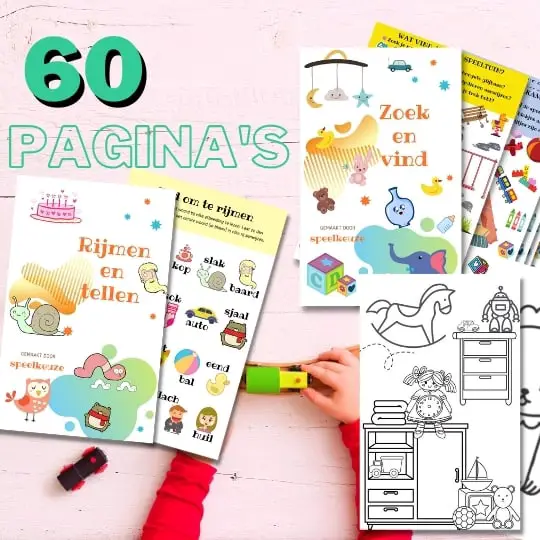 Always something to do for the holidays or rainy day?
Play Choice now has the ultimate activity book collection, with over 60 pages of fun coloring pages and educational puzzles.
Maria Montessori was one of the first female doctors in Italy. But she was also a pedagogue, anthropologist and teacher. You may know Montessori from the schools, or education. But what is it exactly?
Maria Montessori's world famous statement: 'Help me to do it myself' perfectly sums up what Montessori education entails. The starting point is that a child has a natural urge for self-development. The educators must first understand a child's needs and respond to them by providing the right environment and materials.
In this article I will tell you exactly how that translates into a healthy upbringing for children.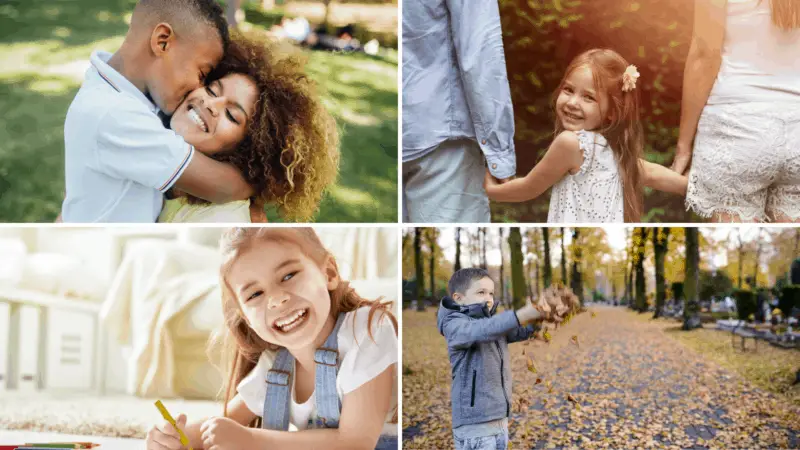 The first Dutch Montessori class started in 1916, following a visit by Maria to the Netherlands. There, children were free to choose their own work, depending on their individual stage of development.
In the Netherlands we liked this method and we enthusiastically founded many Montessori schools, and the Dutch factory that makes the original Montessori materials exports them all over the world.
But what exactly does giving a Montessori education at home mean? Read this article for all the answers to your Montessori questions!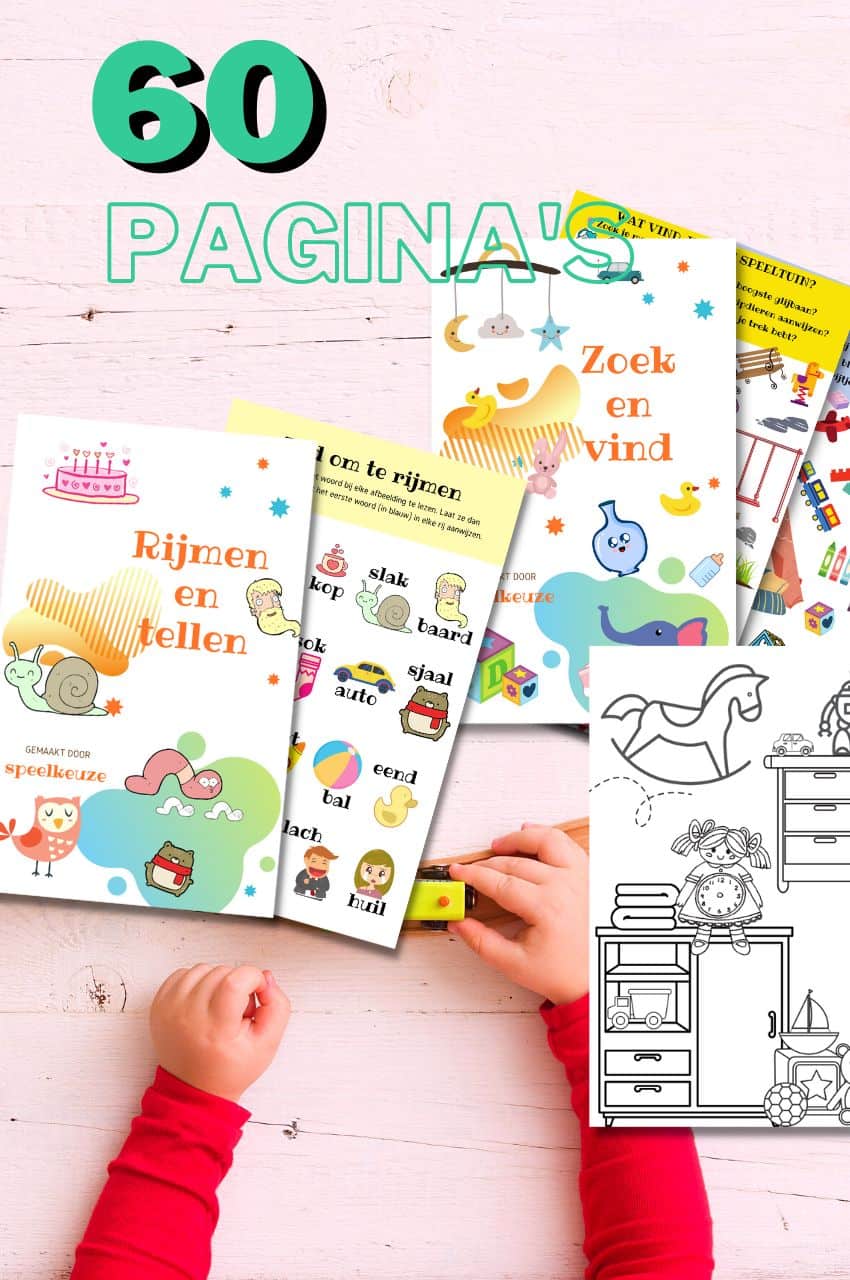 A play theme in your mailbox every month?
Fun play tips, activity books and more, with the first email being our free mini-guide "educational toys"
We will only use your email address for this newsletter and respect your privacy
What are the principles of Montessori?
Let's first look at the basic principles on which the Montessori philosophy is based:
Independence
Individualized learning
Freedom of movement and choice
Respect for the child
Intrinsic motivation
absorbent mind
Sensitive period
Raising the whole child
car education
Principle 1 – Independence
Children are able and willing to self-educate when given the right stimulus. The ultimate goal is independence.
You help your child grow if you are willing to help them to overcome, to be successful in everyday things, but certainly not by doing everything for them.
Principle 2 – Individualized Learning
Each child learns based on their unique stage of development, interests and needs. Educators follow the child's progress and support them in this.
Offering experiences that enhance their intellectual, physical, emotional and social development support is essential.
In addition to language and math, there are many practical things, such as sensory perception and culture. Virtually all aspects of development are considered equally important.
Principle 3 – Freedom of Movement and Choice
The basic idea is 'order in environment and mind'. A space where everything has a purpose and a place is great for a child. It helps to develop logical thought processes.
Within this space, children are free to follow their interests and learn at their own pace. They learn best when they are free to move, choose their own work and follow their interests.
Principle 4 – Respect for the child
Respect every child, respect their freedom to choose, to move, to correct themselves. Montessori educators treat children with genuine respect.
Principle 5 – Intrinsic motivation
Learning is its own reward. Children get a sense of accomplishment when they complete an activity and learn to do it themselves.
Principle 6 – absorbent mind
The first 6 years of life are crucial in a child's development. During this period, the child has a
'absorptive mind', the child absorbs information from his environment like a sponge.
During this period, children quickly develop an understanding of their culture and world, and lay the foundations of their intelligence and personality.
Principle 7 – Sensitive Period
Children go through specific stages in their development when they are most able to learn specific skills.
Characteristics of sensitive periods are: focus, dedication to a task, repetition, and long periods of concentration.
Principle 8 – Raising the Whole Child
This involves providing learning experiences that support intellectual, physical, emotional and social development.
The emphasis is not only on language and arithmetic, but also on practical life, sensory perception and culture.
Everything is intertwined in a natural way and are considered equally important.
Principle 9 – Automotive Education
Children are able and willing to educate themselves, provided they are given interesting learning incentives. Through educational and beautiful materials they are able to educate themselves.
Montessori educators/parents provide the prepared environment and encouragement.
Also read: Give compliments to your child | Expert advice & fun playing tips
What are the Montessori stages?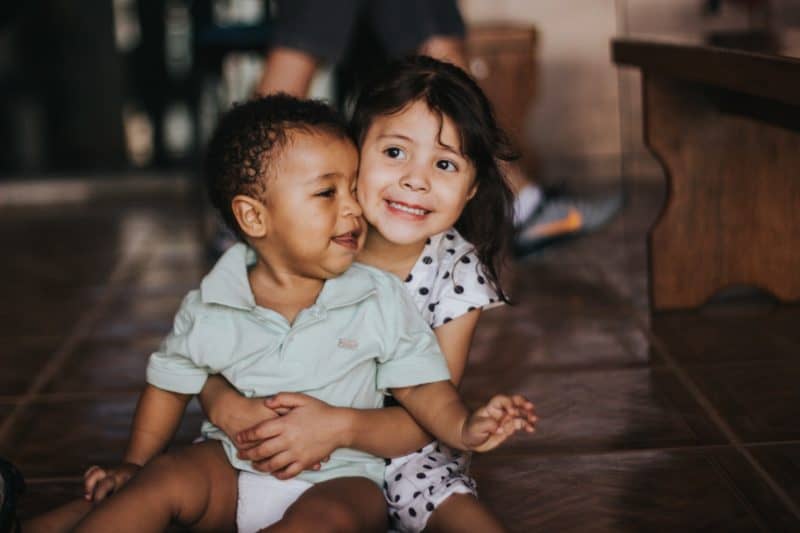 We can teach our children a new skill in three stages.
They will go up and down between these phases, until over time they have mastered a skill and it becomes a completely natural pattern of behavior for them.
Stage 1 – under 3 years old (babies, toddlers)
They are introduced to a new activity and need help to do the activity correctly.
For example, as a parent, you could help your child to fall asleep independently at night.
Getting a child to obey naturally is what Maria Montessori calls 'joyful obedience'.
It is only normal that your child falls back a few times to the first phase of the step-by-step plan and that is sometimes quite difficult. However, persevere and above all help him to move on.
Before our children can be obedient, they must first be able to control their own urges and needs.
Self-control is something that children younger than toddlers have trouble with in the beginning, really obeying the parents is difficult for a toddler.
Do you want to teach your child something new? Then he must first:
understand how to perform the required skills
feel encouraged to take action independently
also look at my complete milestones guide: playing and learning with your baby at 52 weeks
Stage 2 – between 3 and 6 years (toddlers, preschoolers)
Children have mastered the activity, but sometimes need a mnemonic to take the initiative.
Between 3 and 6 years, the child has control over his body and is ready to follow directions, especially of his own will. It is very helpful at this stage, and does not want to disappoint anyone.
The child has sensory experiences, perceives the environment and already knows many words.
Stage 3 – between 6 and 12 (also called "joyful obedience")
Children know what to do and do it easily, without asking.
Between the ages of 6 and 12 they develop their knowledge and gain insight into the culture in which they live. They become social and pay attention to things like norms, values ​​and rules.
The child has developed a high level of self-esteem by now.
He likes to make good choices on his own, but it's always good of you to observe how he handles these choices and, if necessary, adjust and encourage him.
Also read: How do children learn to play and socialize together?
How do you raise your children through the Montessori method?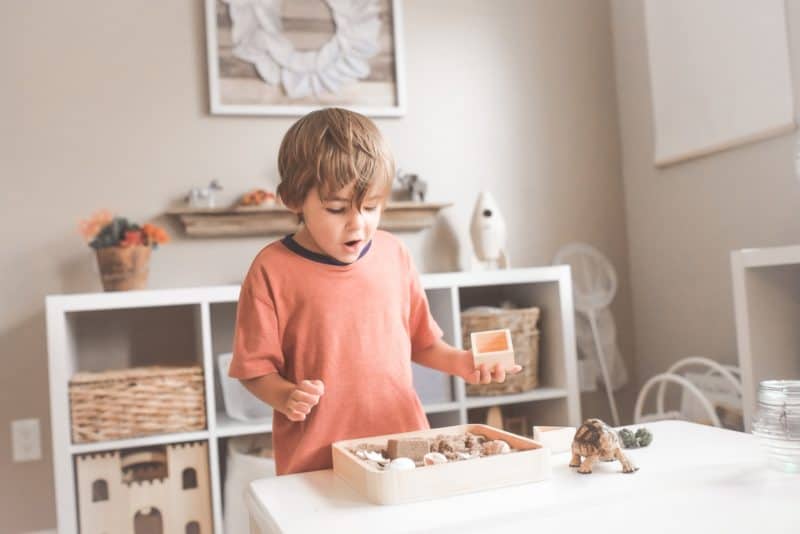 You want to raise your child very consciously by showing respect for each other in the family, as a parent you want the creativity of your little one and teach him to make his own decisions in complete freedom.
Then the Montessori method of parenting will suit you.
When raising in the Montessori philosophy you want your child to develop self-confidence, so:
always speak to your child the way you want to be spoken to and show respect for him
get the best toys that will use his creativity and that will stimulate him
Do you let your child decide for himself, but do you give him a few choices
try not to get banned too often
you ask your child to help you with daily activities
There are adults in this world who see the relationship between them and their child as an authoritarian one, in which the child must obey.
Decisions are then made at home for the child, without involving him, and let that be so important!
The point is that your child gains self-confidence throughout his life, partly by letting him do chores and making his mistakes.
Mention what is really not allowed and offer him one or two alternatives.
How do Montessori schools work?
In Montessori education – primary, secondary education, but also daycare centers – children must feel safe and be allowed to develop according to their social-emotional and personal growth.
Children learn to behave responsibly towards other children.
The task of the teacher at a Montessori school is helping children to work themselves. He should arouse the interest of students, encourage them and present the material.
The teacher must be a human being, sensitive and full of interest in his students.
In this way, during the primary school period, children become aware of themselves and their social role in their environment. Everyone treats each other with respect.
You don't hurt each other and you don't bully each other, there is no verbal abuse between them.
Everyone is addressed by their own name and everyone is responsible for a good atmosphere at school.
Communication and things like positive appreciation are important. This principle also applies to secondary Montessori education.
Montessori materials at school
The starting point of Maria Montessori is that all functions must be practiced, through mental and physical exercise, so that the child functions in its entirety.
Can you feel the child correctly? I think that is an important task that really belongs to this way of education.
Age guidelines are provided for each Montessori material and toys.
At school, the child works with specially designed Montessori teaching materials.
The focus is on fun (especially sensory) material that invites you to play and 'do it yourself'. The child will discover and experience things for himself.
For the young child, for example, inlay figures, letter boxes, scent tubes and a tactile box are very important toys.
also look at my post about the cutest toys with locks
What are the disadvantages of Montessori?
Of course there are a few disadvantages and maybe this system is suitable for one child and not another child.
Some children are assertive (sometimes even a bit too bossy) and show initiative more easily, while you see that other children do not dare to do so.
A few disadvantages of a Montessori approach:
your child often does not stay with the same group of children during primary school
children find it more difficult to get used to regular schools after a Montessori kindergarten
Not every child can handle a great deal of freedom
your child is no longer released completely, because the Education Inspectorate ensures that education everywhere meets the national level
the society and time we live in is competitive and unfortunately there is not always the idea of ​​sharing, giving, togetherness and kindness
The transition of the groups at primary school is different from that at regular primary school.
For example, often only a few children move on to the next group while the rest remain in place, so that a few children have to leave the 'old' group behind.
The Education Inspectorate also sets higher requirements than a few years ago. The Montessori schools are also obliged to take CITO tests, while this does not fit with the idea.
The child is therefore no longer completely released, because it must meet a certain level, especially in terms of reading, writing and arithmetic.
Fortunately, the connection with regular secondary education runs more smoothly, according to most teachers.
The Montessori method offers great freedom, and timid children may not find it easy.
Teachers note more than once that after the atmosphere that prevails in Montessori groups, the child can hardly get used to the rules of ordinary education.
Montessori bedroom
You would like to create a bedroom for your child according to the Montessori principles. Then you will have to adhere to a number of principles.
So I would like to give you 3 tips:
minimalism comes first, go for few toys and frills
make a bed on the floor
everything in the room must be accessible to your child
These 3 principles make or break the Montessori bedroom. Furthermore, of course, ensure a safe environment and make it something beautiful!
So a Montessori bed is a mattress without restrictive fencing, close enough to the floor for the child to get in and out of on their own.
A bed on the floor gives the child independence and responsibility for their environment at home.
What age is a Montessori bed for?
Parents usually move their child to a bed on the floor between 5-10 months of age, although some start as early as 2 months, preferably before your baby starts to roll over.
However, it is also fine to wait until your child is a toddler.
Montessori FAQs
Do Montessori students perform better?
Not necessarily, a study found that benefits have been seen in kindergartens in the US but not in secondary education in the Netherlands.
What are Montessori teachers called?
They are called 'leader' or 'leader' and usually by their first name, which has nothing to do with showing no respect for the teacher.
Is Hape a Montessori toy?
many toys from Hape's collection is indeed suitable as a Montessori toy
What are fun Montessori activities?
attach rubber bands over nails (stamped into a wooden board)
collecting shells
collecting leaves
music and dance
nature walk (possibly barefoot)
By now I have seen that a Montessori education is not about raising child prodigies. It's about making your child a happy and good person.
Also read: Pedagogy for parents | Is it something to learn for your family?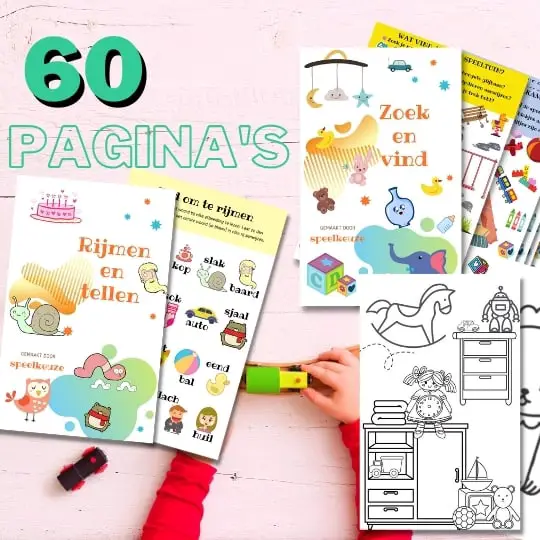 Always something to do for the holidays or rainy day?
Play Choice now has the ultimate activity book collection, with over 60 pages of fun coloring pages and educational puzzles.
Joost Nusselder, the founder of Speelkeuze.nl is a content marketer, father and loves trying out new toys. As a child he came into contact with everything related to games when his mother started the Tinnen Soldaat in Ede. Now he and his team create helpful blog articles to help loyal readers with fun play ideas.