When can a baby sit? Between 4-7 months + this is how you help
I enjoy writing these articles for my readers, you guys. I don't accept payment for writing reviews, my opinion on products is my own, but if you find my recommendations helpful and you end up buying something through one of the links I may be able to receive a commission on that.
More information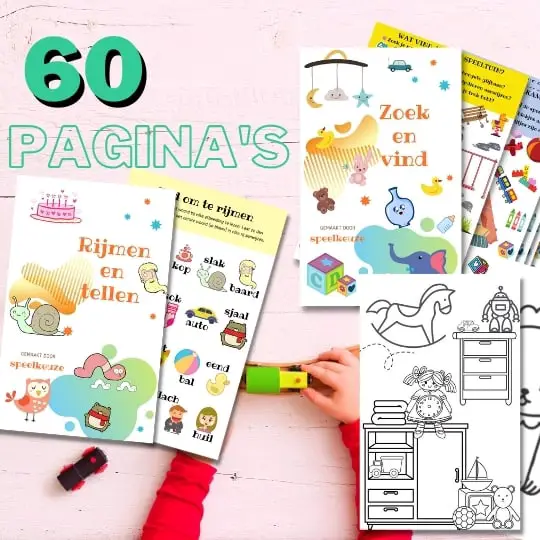 Always something to do for the holidays or rainy day?
Play Choice now has the ultimate activity book collection, with over 60 pages of fun coloring pages and educational puzzles.
Sitting independently gives you baby a new perspective on the world.
Once his back and neck muscles are strong enough to keep him upright and he knows where to put his legs so he doesn't fall over, it's only a matter of time until he continues to crawl, stand and walk.
In this article everything about when your baby will sit and tips for you to give him a hand.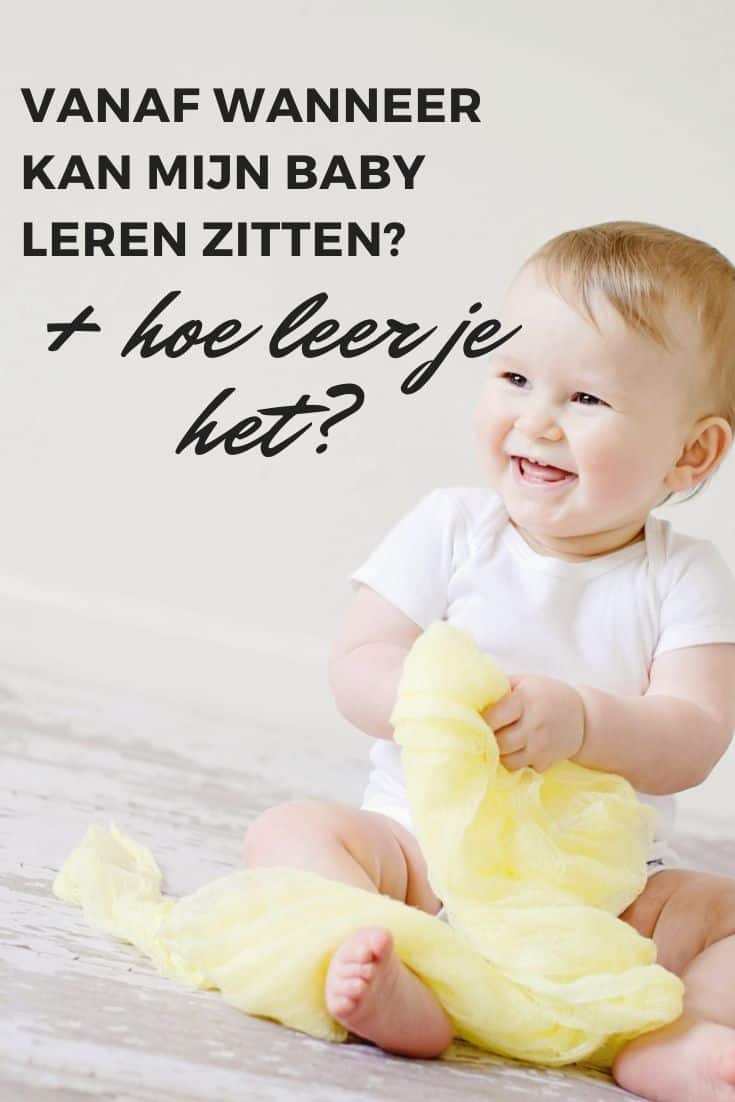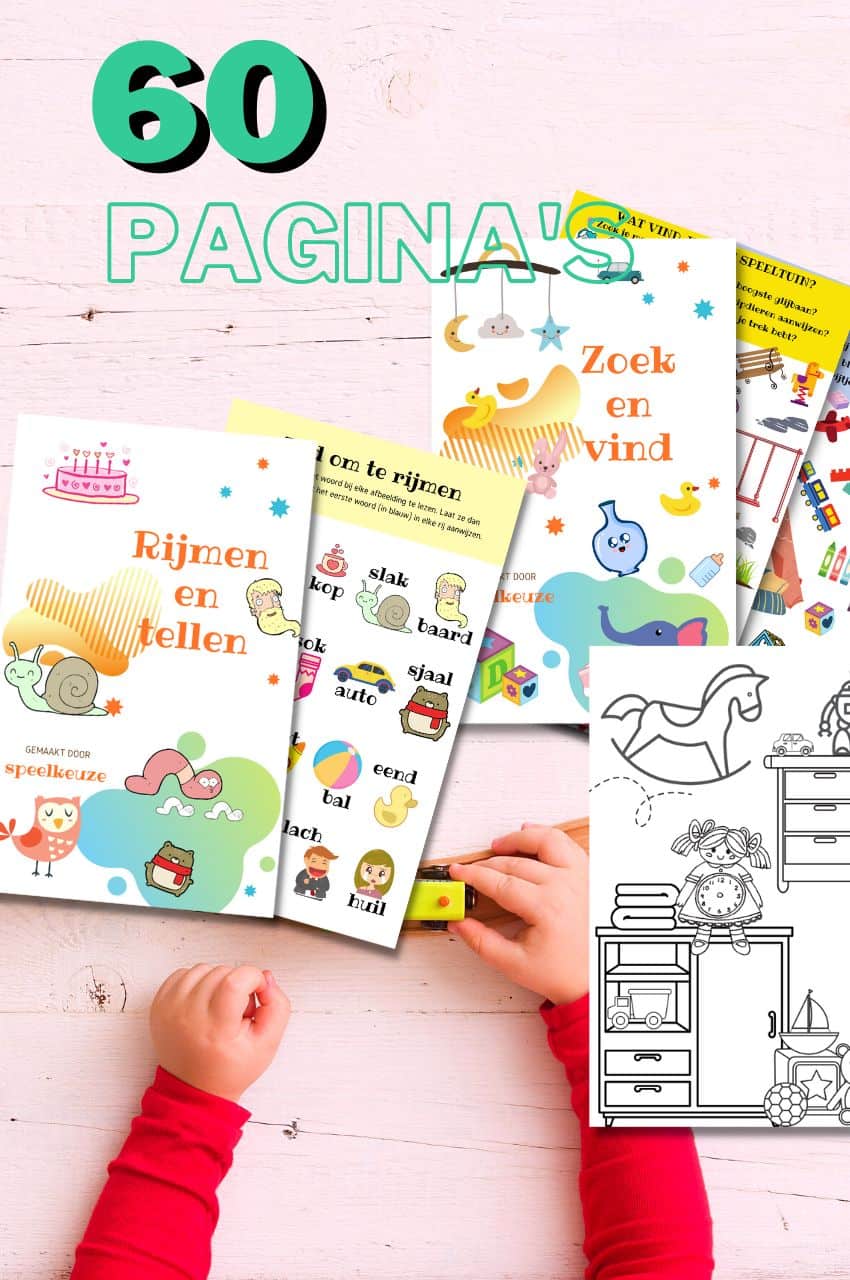 A play theme in your mailbox every month?
Fun play tips, activity books and more, with the first email being our free mini-guide "educational toys"
We will only use your email address for this newsletter and respect your privacy
At what age do babies sit up?
Your baby will likely learn to sit independently between the ages of 4 and 7 months.
Your baby will start to pick it up after controlling rolling over and holding his head up.
Most babies can sit properly without support for a few minutes by the time they are 8 months old (even babies who have mastered sitting will eventually fall over, often because they lose interest in sitting upright).
How can you teach your baby to sit up?
While you can keep your baby in a seated position almost from day one, true independent sitting doesn't begin until he is in control of the head.
From about 4 months, your baby's neck and head muscles will quickly strengthen and learn to hold his head up while lying on his stomach.
Then he will figure out how to put himself on his arms and keep his chest off the ground, sort of a mini pushup.
By 5 months, he may be able to sit unaided for a while, although you should stay close to support him and surround him with cushions to catch a possible fall.
Zappy Parents also has a nice video about it:
learn how to baby getting ready to hit a major developmental milestone: sit up straight.
Soon your baby will find out how to maintain balance while sitting by leaning forward on one or both arms in a tripod position.
After 7 months, he will likely be able to sit unsupported (freeing up his hands to explore), learning how to turn to reach a desired object while seated.
At this point, he can even get into a sitting position from his stomach by pushing on his arms.
By the time he's 8 months old, he'll probably be fine without support.
How to help your baby sit up
Lifting his head and chest will help your baby strengthen his neck muscles and develop the head control needed to sit upright.
You can help by encouraging him to play face down on the floor and then asking him to look up.
Using a clear toy that makes noise or a mirror is also a good way to make sure his hearing and vision are on the right track.
Once your baby is a fairly confident sitter, put toys and other intriguing objects just out of reach - they will keep his attention as he learns to balance with his arms.
As always, and especially when he's just learning to sit, stay close to your baby in case he falls - or wants to show off his newfound skills.
Also read: sleep training for your baby and toddler
Best Toys & Seats to help you sit
After months of sitting back, your little one will be all too excited about a change of position (look at me, mom!).
Sitting upright gives him a comprehensive view of the world and a chance to discover amazing things that inhabit his expanding universe.
Most babies will be able to sit with assistance between 3 and 5 months, either by propping themselves up on their hands or with a little support from you.
The more your baby practices with help, the more likely he is to try on his own without kissing or mom or dad's hands to support him.
A seat on the floor can be an excellent solution for you and your baby.
Floor seats support the baby so that he can play or take a different position.
And, best of all, they keep it stable, so you can do things like answer a few emails while keeping an eye on it.
When it comes to a seat on the floor, here are some options to look for:
Solid structure: it must hold the baby tightly.
Easy to cleanYou want one that's easy to wipe clean or with a pillow that can be thrown in the washing machine for quick cleaning.
Extra fun: some floor chairs have toys attached. These can help keep the baby occupied for those precious few minutes longer.
Versatility: some are growable and can be used as a newborn chair or converted into a booster seat.
Only use the floor chair on the floor!
It is possible for a fussy or extra squirming baby to overturn a ground chair, putting him at risk of falling if you put it on the table, for example.
Try not to keep the baby on the floor for more than 15 minutes, it is good to practice a little and get some assurance but not for the long haul.
Since the positioning can be a bit restrictive, these chairs can restrict the baby's natural movements, the same movements needed to build the muscle strength the baby needs to sit on their own.
Just like a walker when learning to walk (here we have the complete guide to walkers for when your baby is ready for the next phase).
Stay close to your baby while he is on the floor.
In addition to floor seats, there are many other fun devices to teach the baby to sit independently. View our favorite products below.
To be clear, what to expect can earn commissions from shopping links. Why rely on our product recommendations?
Best Classic Floor Seat To Help Babies Sit: Bumbo Floorseat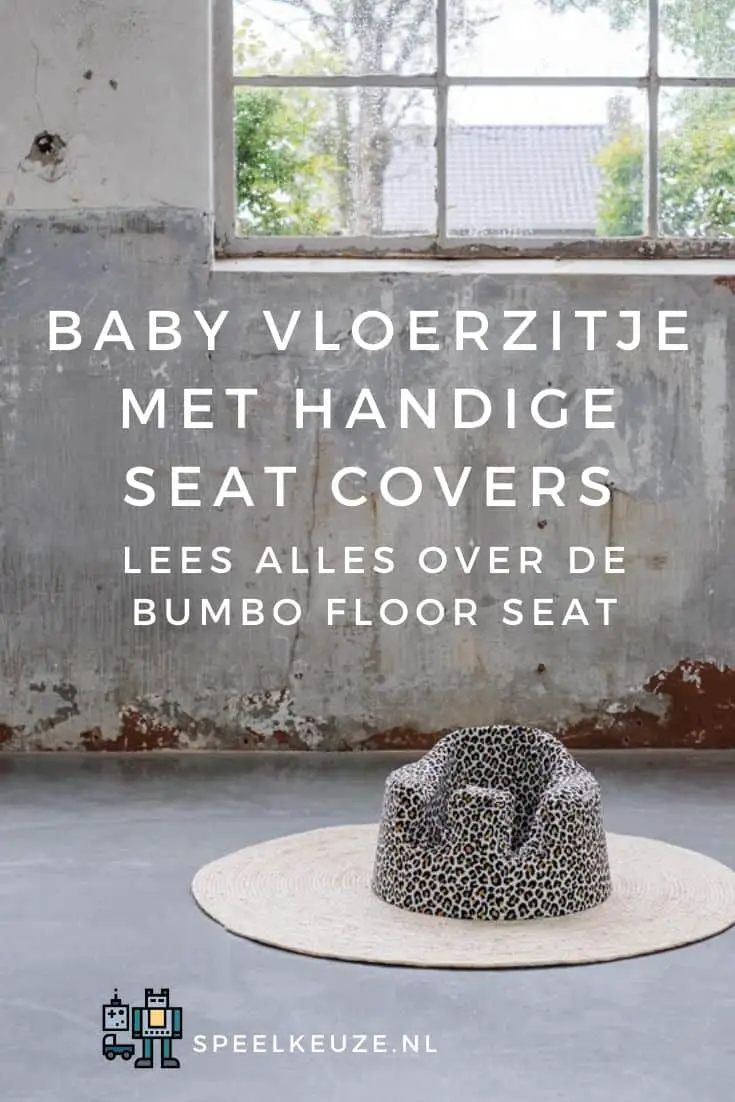 You can find this chair on many baby registry. Why?
It is designed to help baby sit up before he can, and the contoured design encourages him to maintain good posture.
Plus, it's non-slip and easy to wipe, plus you have lots of great seat covers for it so you can keep it clean with ease.
Most versatile article to help babies sit: Snoozzz nursing pillow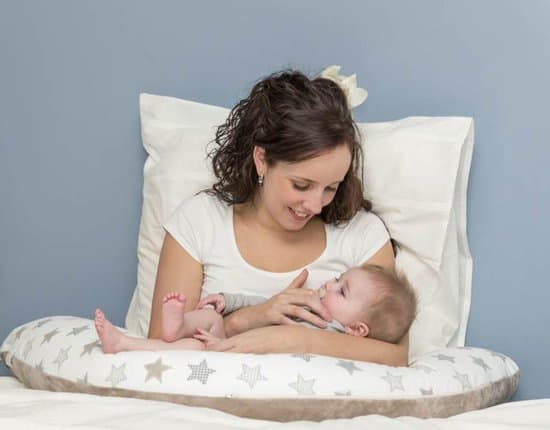 You may already have one for feeding, but a sturdy nursing pillow is also a very useful and safe aid to help your baby sit.
A nursing pillow is also an aid to tummy time and a pillow for babies working on their seated muscles.
The pillow gently supports your little one and prevents him from falling over, so choose a firm one like this one from Snoozzz.
Best Learning Table to Help Baby Sit: Fisher-Price Laugh and Learn Around Town Learning Table
Best toys to help baby sit: Vtech Baby Animal Friends Ferris Wheel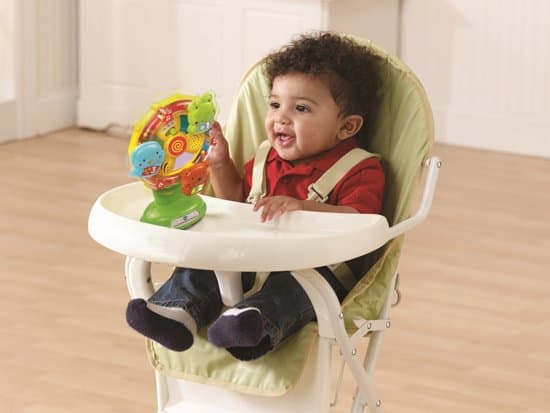 A bright toy that can stand firmly on any smooth, flat surface with the help of a strong suction cup.
It not only gets his attention and occupies him, but also stays put when he works on his hand-eye coordination by reaching, pulling and striking.
The Vtech Ferris Wheel has colorful creatures trapped inside, allowing the baby to connect sound to vision and textured dots to encourage tangible exploration.
Check the most current prices and availability here
Best play wheel to help baby sit: Vtech Baby my first steering wheel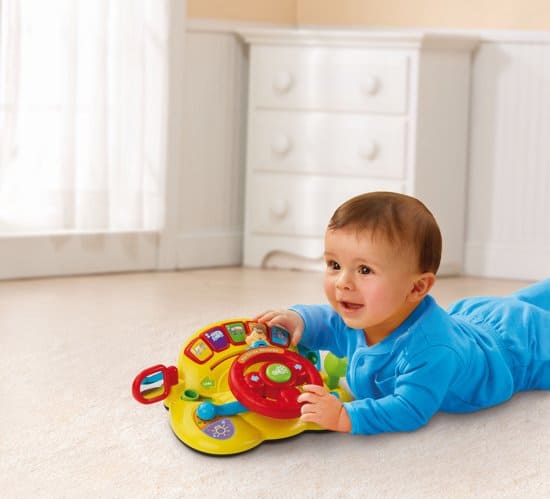 Something nice and low for your baby to reach while practicing sitting.
Your little one will love to sit while playing with this activity-packed steering wheel that he can turn to move the adorable puppy back and forth.
It features a gearshift and signal lever that activates lights and activates fun melodies.
When not in driving mode, the car-inspired toy also includes an animal and music mode, with over 60 songs, sounds and phrases.
Best booster seat to help baby sit: Infantino Discovery booster seat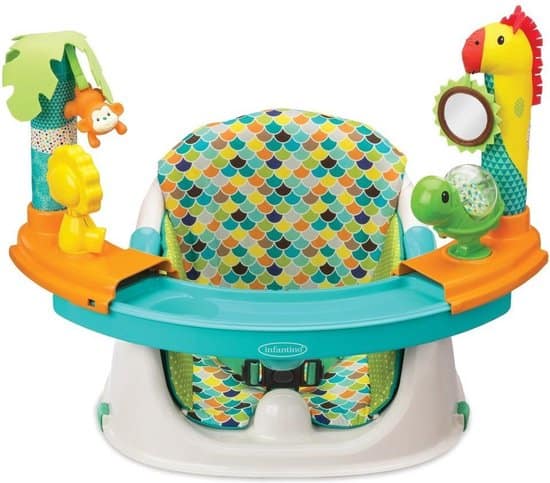 If you're the type of parent who would rather invest in baby products that can be used in more than one way (aren't we all?), You'll appreciate that this seated positioner can be used as a floor seat or booster seat.
The removable tray holds four sensory toys - and they're attached, so you never have to worry about them falling to the floor.
View the lowest prices here at bol.com
Softest seat to help baby sit: Infantino Prop-A-Pillar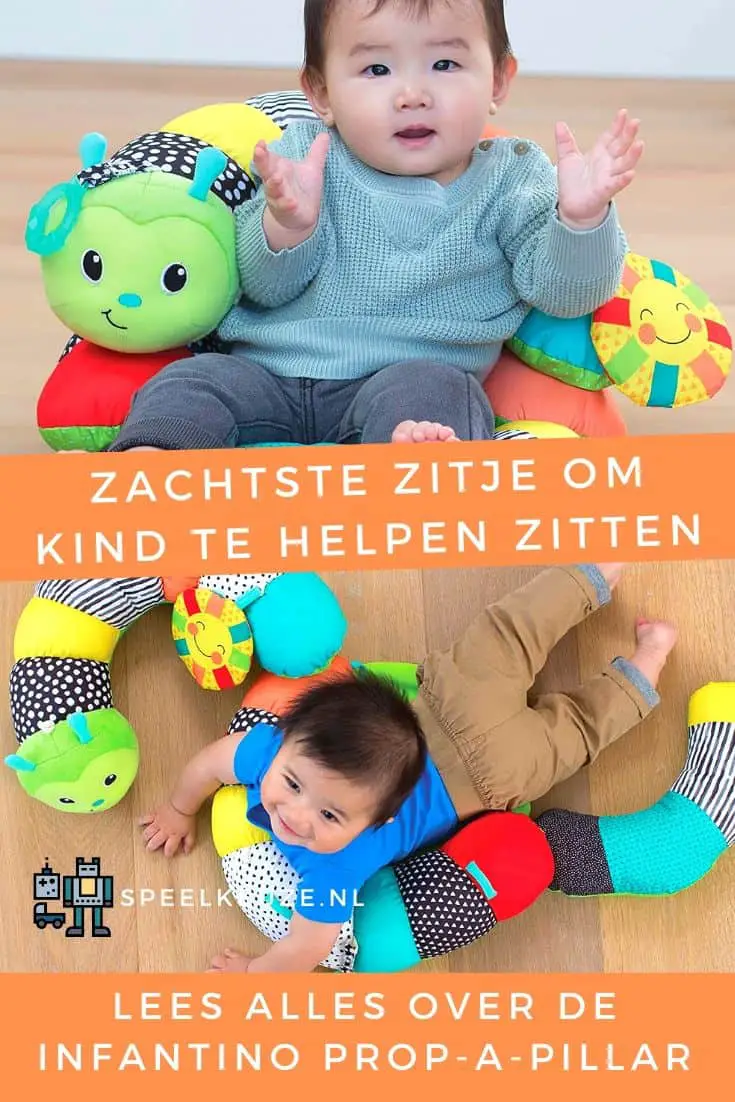 Shape this friendly caterpillar like the letter "S" for assisted tummy time to help the baby develop his head and neck muscles,
and then curl it up to a "C" to support the baby when it is ready to sit.
It also comes with two detachable toys.
Best seat on the floor: Fisher-Price Sit-Me-Up floor chair with tray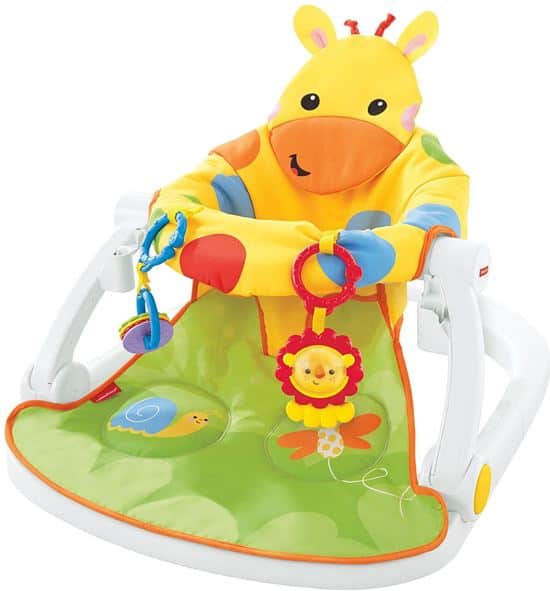 The colorful cheerful giraffe holds up your little one so that he can get a different view of the world around him.
He can play with the rattles and rattle on removable links, make the lion squeak when he kicks his foot and place other toys or books on the removable tray.
The seat is removable and machine washable and the whole thing folds up for easy storage.
What to do if your baby doesn't sit up
If your baby is unable to hold his head steadily by the time he is about 4 months old and has not started learning to put himself on his arms shortly afterwards or is unable to be unsupported for 9 months are seated, contact his doctor.
Babies develop skills differently, some faster than others, but head control is essential for independent sitting and sitting is the key to crawling, standing and learning to walk.
Keep in mind that premature babies may reach these and other milestones later than their peers.
After your baby is sitting up - what's next?
You can guess what will come after your baby finds out that he can come forward from a sitting position and balance on his hands and knees.
He can start on all fours as early as 6 or 7 months and creep up at the age of 10 months.
Your child is now both highly mobile and very curious, so child safety is very important.
By the way, most pediatricians recommend waiting until your baby is sitting with minimal support before starting on solid foods.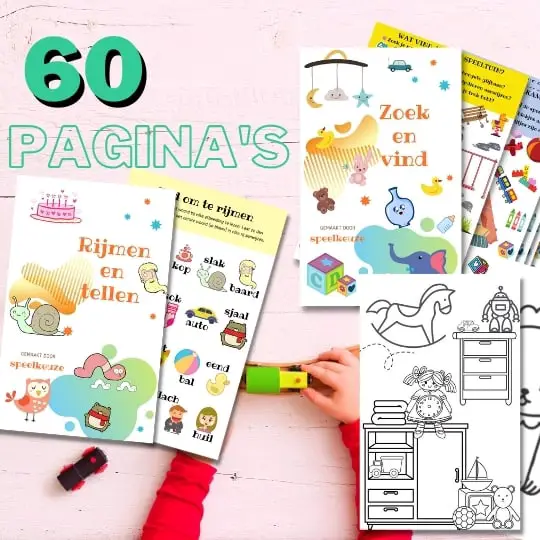 Always something to do for the holidays or rainy day?
Play Choice now has the ultimate activity book collection, with over 60 pages of fun coloring pages and educational puzzles.
Joost Nusselder, the founder of Speelkeuze.nl is a content marketer, father and loves trying out new toys. As a child he came into contact with everything related to games when his mother started the Tinnen Soldaat in Ede. Now he and his team create helpful blog articles to help loyal readers with fun play ideas.