When can a child play hopscotch? Everything about this motor milestone + play tips
I enjoy writing these articles for my readers, you guys. I don't accept payment for writing reviews, my opinion on products is my own, but if you find my recommendations helpful and you end up buying something through one of the links I may be able to receive a commission on that.
More information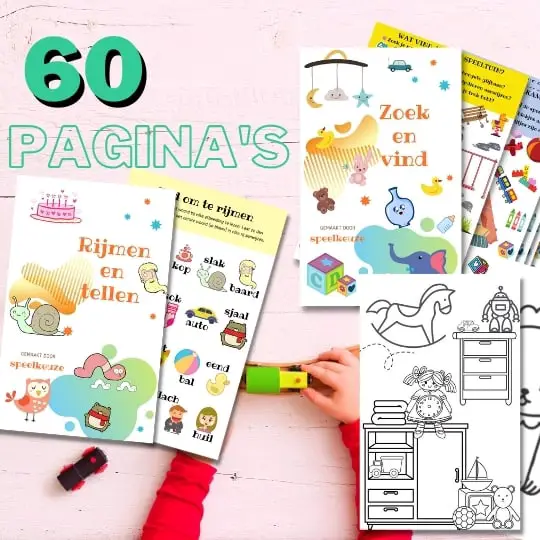 Always something to do for the holidays or rainy day?
Play Choice now has the ultimate activity book collection, with over 60 pages of fun coloring pages and educational puzzles.
Hopscotch; you must have done it often enough in your childhood!
Hopscotch is a fun game that children often enjoy. You could describe hopscotch as a playful way of jumping on one leg.
In fact, it is a combination of being able to jump well, knowing how to move your body on one leg to get off the ground for a while, and of course keeping balance (on one leg).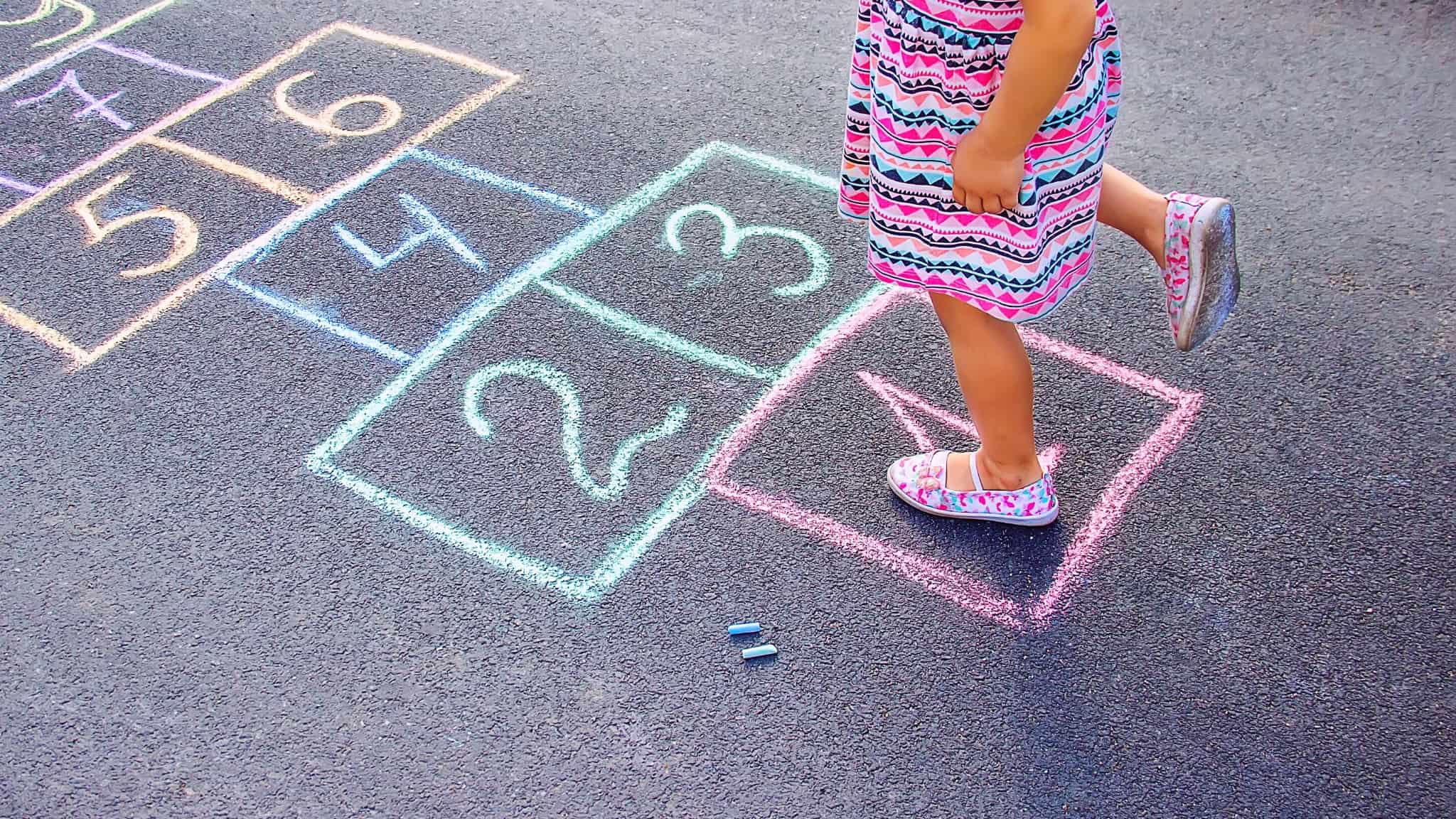 When can a child play hopscotch?
At the age of 3-4 years, a child may be able to jump and hop on one leg (canter) a few jumps. In the years that followed, hopscotch gets better and better as they continue to develop their motor skills. Balance, coordination and strength play an important role in this.
How does learning to play hopscotch progress over the years and what are fundamental motor skills? What skills does a child use to play hopscotch? What is a nice example of a hopscotch game and soft games can stimulate learning how to hop?
Read on to get answers to all these questions!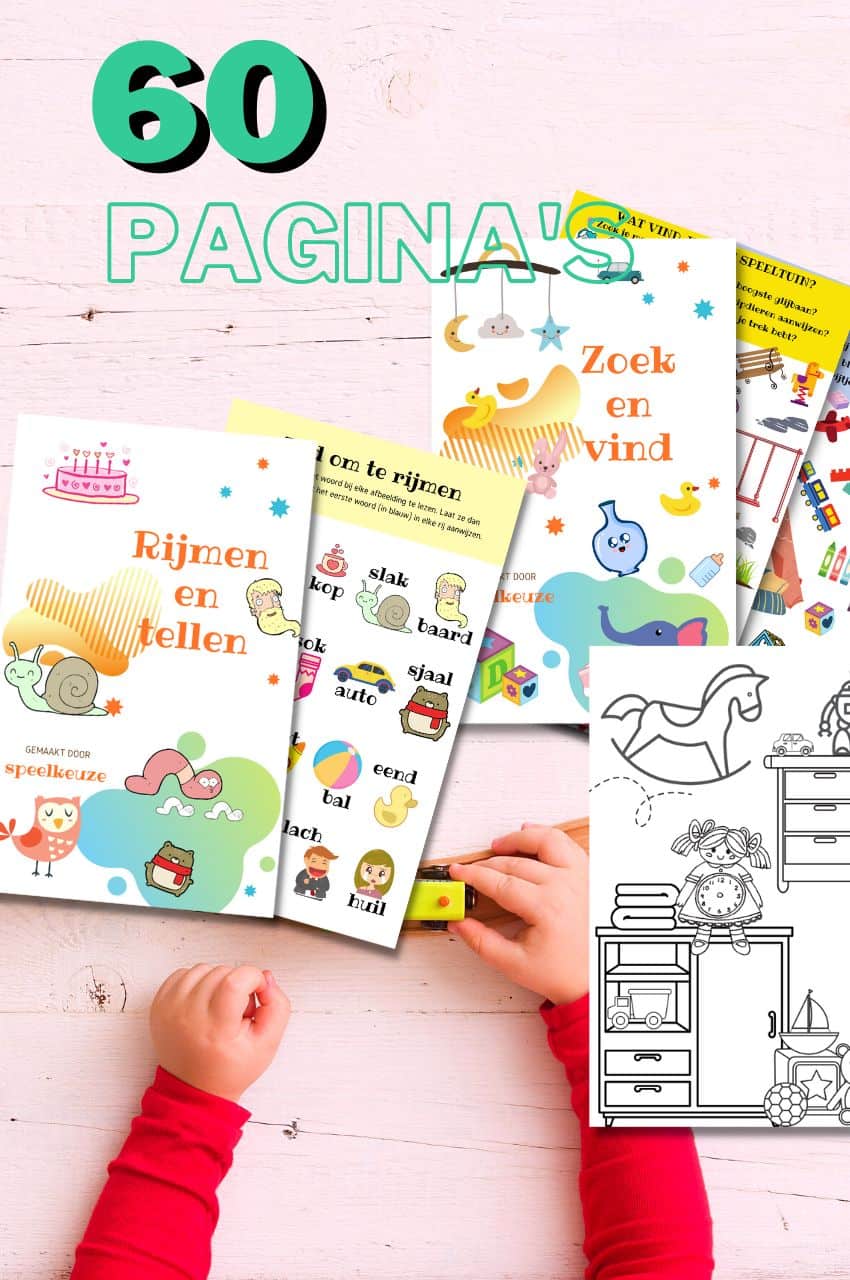 A play theme in your mailbox every month?
Fun play tips, activity books and more, with the first email being our free mini-guide "educational toys"
We will only use your email address for this newsletter and respect your privacy
What milestones are there for hopscotch?
A child will learn to sit, crawl, stand, walk and later hop. A child needs a lot of practice to master all those motor skills.
In the motor development phase of a child, the following milestones are generally observed in terms of hopscotch:
Between 2 and 3 years a child can land on the flat foot and jump with two legs.
At the age of 3-4 years, a child may be able to jump and hop on one leg (canter) a few jumps. They can stand on one leg for a while without falling over.
Between the ages of 4 and 5, hopscotch and hopscotch are already going well.
Between the ages of 5 and 6, a child can play hopscotch well, at least ten times.
Between the ages of 6 and 7, a child can hop on the non-preferred leg ten times.
Between the ages of 7 and 9, a child can jump about nine meters with 11 hops.
Between 9 and 10 years old, a child can bridge a distance of nine meters with 9 hops.
Between the ages of 11 and 13, a child can cover a distance of nine meters with 7 hops (11 years) and a distance of nine meters with 5-6 times of hopscotch (12-13 years).
As a parent, do not immediately worry if your child does not meet these standards. But it is important to keep an extra eye on the development of your child.
If you really notice that your child is lagging far behind his or her peers, it is probably wise to contact the doctor.
What are the basic gross motor skills?
Basic motor skills are movements that are a crucial part of motor skills.
The basic skills are balance, coordination and hand-eye coordination.
This gross motor skills can then be subdivided into the following skills:
stand still
balancing in motion
jumping (strength and coordination)
klimmen
head roll
throw and aim
bounce and catch
In hopscotch, a child must be able to balance in movement and jump. Balance, coordination and strength play an important role in this.
What ensures that a child can hop better and better?
Once children are familiar with balancing exercises, they can start hopscotch.
This can be done, for example, by having a child play hopscotch first with the help of two sticks, or by shaking your child's hand. It can also be practiced on the spot, by holding on to the wall for example.
A child learns to choose more targeted strategies and to adapt to the environment. Functions are increasingly integrated and automated.
Before a child can learn to hop, he must at least be familiar with standing on one leg (balance).
A child's motor skills, coordination and balance keep getting better, making hopscotch easier and more natural.
They will also be able to stay on one leg longer with time. Hopscotch will ensure that children also develop more strength in the legs and that the jumping ability is trained.
How does the game of hopscotch work?
The nice thing about hopscotch is that you can do it both alone and with others. There are several hopscotch games, one simpler than the other.
I will explain here the rules of the game of hopscotch that I loved to play as a child.
The point is that you first throw a stone or another object on the 1.
Did you hit the mark? Then you have to skip the 1 while hopping to the end number (for example 10), and then you hop back again.
When you arrive at number 2, pick up the stone at 1 and jump over the 1.
If you did this well, you can now try the 2. The idea remains the same: now you throw the stone on the two, and if that is successful, you jump on the 1, then on the 3 to the end.
Then you go back and from the 3 you pick up the stone at 2 and then you jump again to 1. The game continues until you have missed it! Then it is the turn of the other.
The game is won by whoever reaches 10 first (ie, has thrown the stone on the 10 and successfully came back and forth!).
This is just one of the many variants. You can also go without a brick and just hop from 1 to 10 in turn.
Don't have a hopscotch mat? Then you can draw a hopscotch very easily with sidewalk chalk like this one from Crayola or paint on the asphalt or pavement tiles: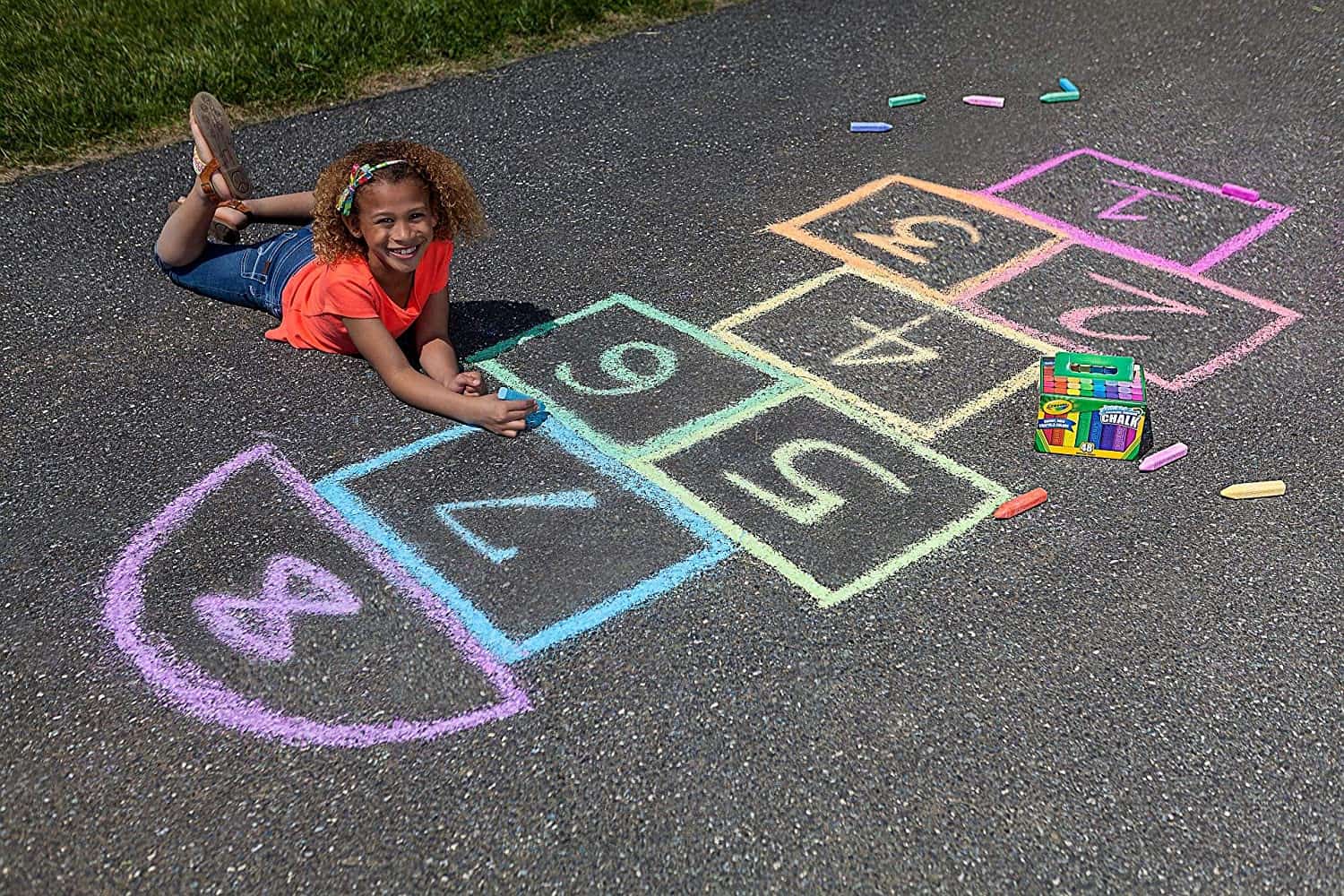 Which toys can encourage hopscotch?
I found some fun kids hopscotch mats online that I'd like to share with you.
These great hopscotch mats are guaranteed to invite you to play!
Nuobesty hopscotch puzzle mat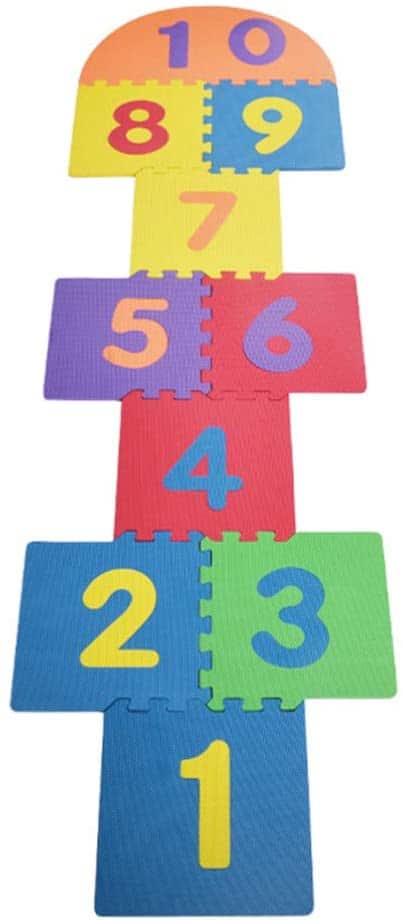 The NUOBESTY play mat keeps your child nice and active!
This hopscotch mat consists of separate puzzle pieces so you can easily take the mat with you everywhere. The mat is made of high quality material and will last a long time.
In addition, it is a safe product to play with.
Check prices and availability here
Jumping Rings hopscotch game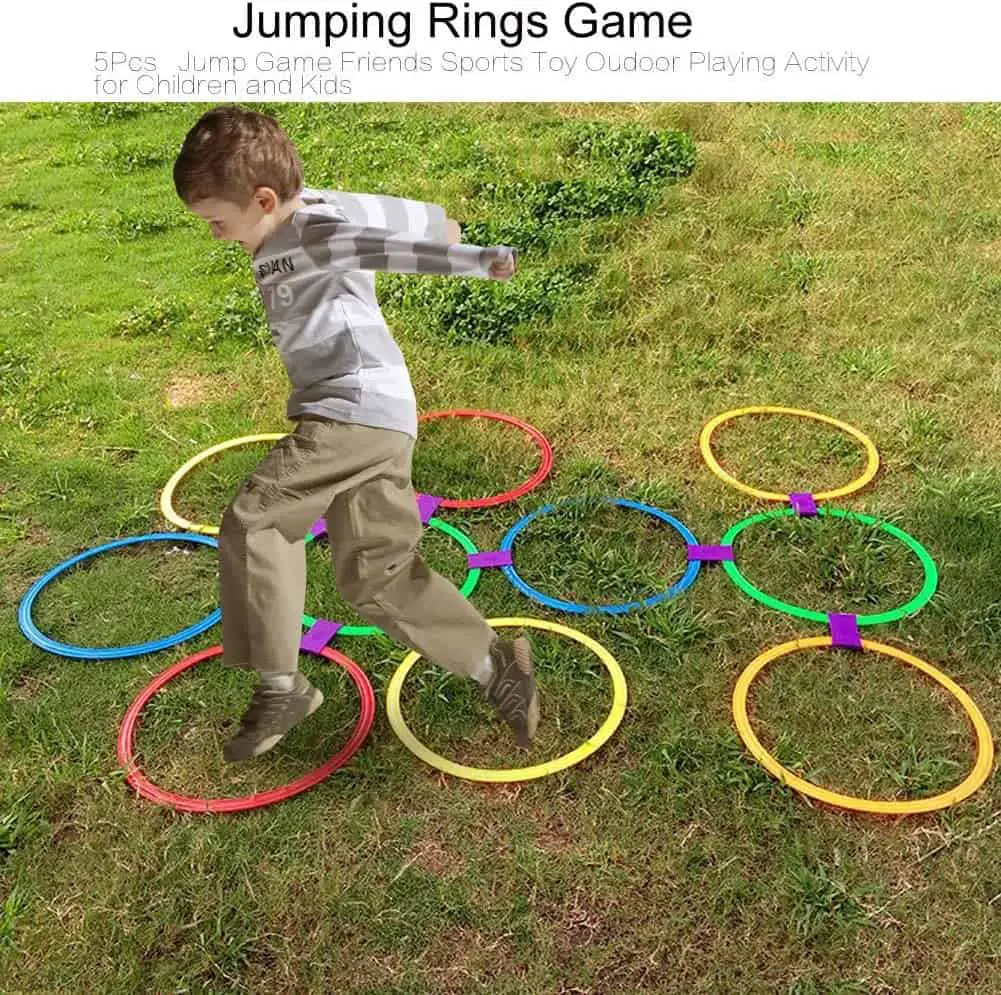 The Jumping Rings game allows for a lot of different hopscotch 'routes'!
With this toy you get five colored rings that you can attach to each other with the help of the supplied buckles.
The rings are made of the best (non-toxic) material and are also environmentally friendly and safe to use.
Check the latest prices here
Getmovin Sports Hopscotch Squares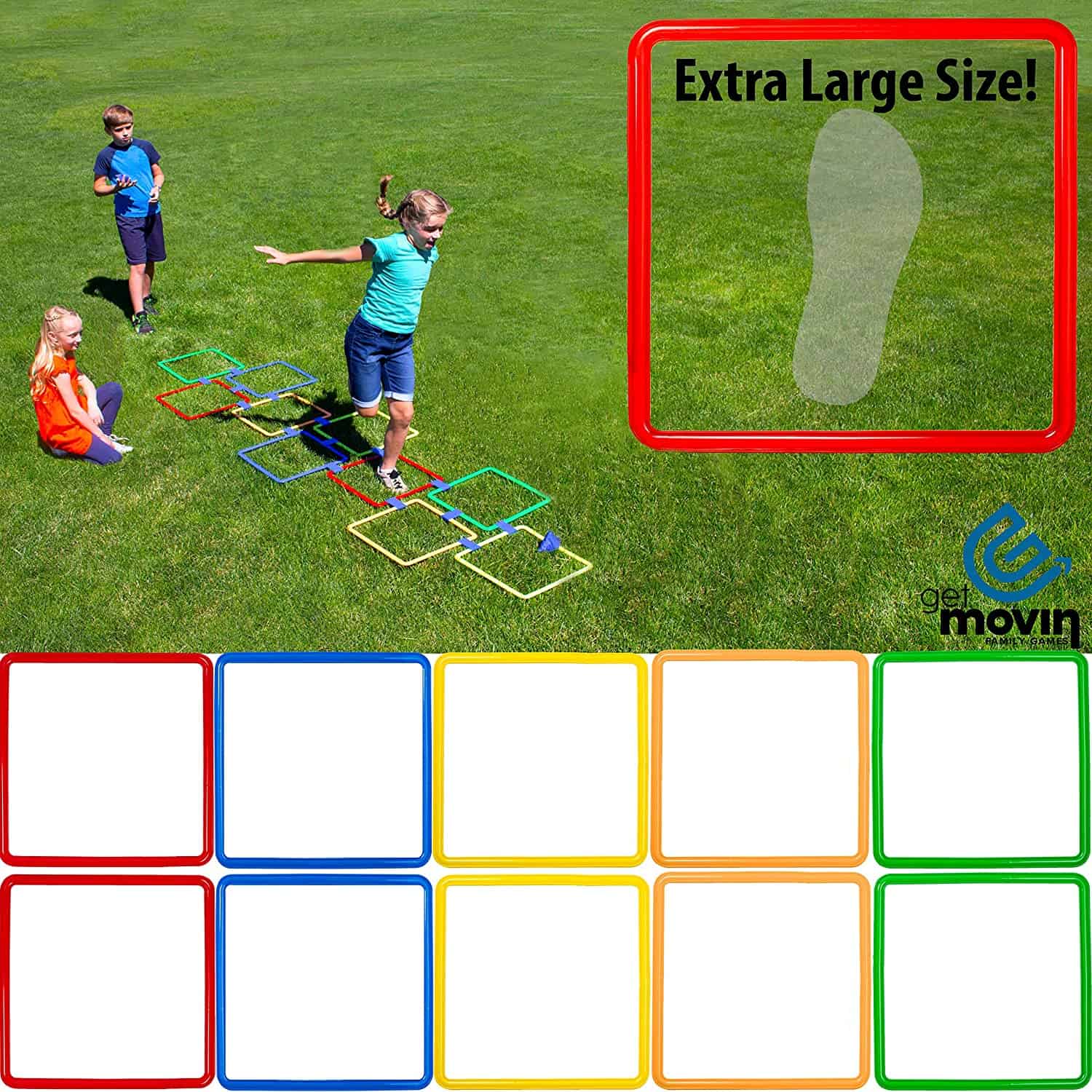 The Getmoving Spors Hopscotch Squares is a great playset for the real hopscotch enthusiast!
'Hopscotch' is also the English word for hopscotch.
You get 10 squares, 15 buckles (to connect the squares) and two 'beanbags' with this toy set.
You can use the beanbags to play the game 'ring toss'; put the rings down and try to aim with the beanbags in the rings!
With this set, the squares are extra large in size, so that older children and adults (with larger feet) can also hop along.
You can arrange the squares however you want and use them with or without connecting elements.
Besides hopscotch and 'ring toss', you can also use the squares for athletic training.
You can use the set both indoors and outdoors, because the squares are made of soft but durable plastic. The toys are also very easy to carry!
Check the latest prices here
Conclusion
So you see, plenty of reasons to learn hopscotch. Hopefully your child will soon hop around on one leg!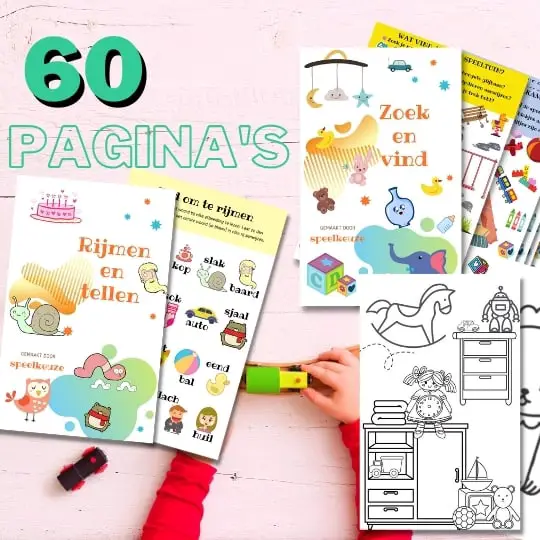 Always something to do for the holidays or rainy day?
Play Choice now has the ultimate activity book collection, with over 60 pages of fun coloring pages and educational puzzles.
Joost Nusselder, the founder of Speelkeuze.nl is a content marketer, father and loves trying out new toys. As a child he came into contact with everything related to games when his mother started the Tinnen Soldaat in Ede. Now he and his team create helpful blog articles to help loyal readers with fun play ideas.