Wooden toy kitchen: Top 12 rated play kitchens
I enjoy writing these articles for my readers, you guys. I don't accept payment for writing reviews, my opinion on products is my own, but if you find my recommendations helpful and you end up buying something through one of the links I may be able to receive a commission on that.
Further information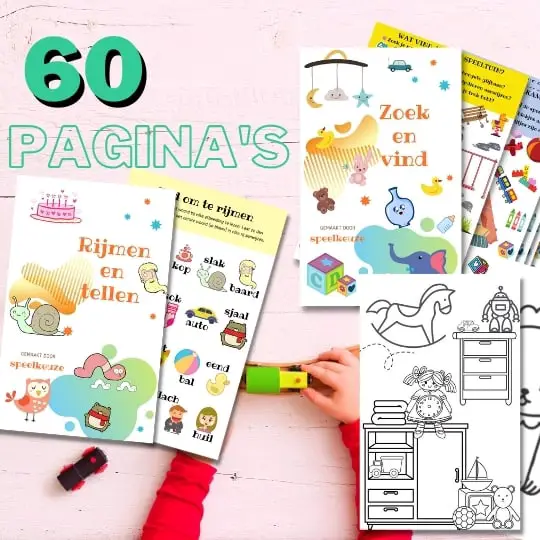 Always something to do for the holidays or rainy day?
Play Choice now has the ultimate activity book collection, with over 60 pages of fun coloring pages and educational puzzles.
If you're at the stage where your little one LOVES copying mom or dad cooking, you might just want to invest in a toy kitchen (not least because you'd otherwise lose your favorite pots and pans).
BUT….
What kind of design are you going for?
What is the age of your child and what fits with that?
How much do you want to spend?
That's why in this article I want to dwell on the BEST ones wooden kitchens for your little cook(chin).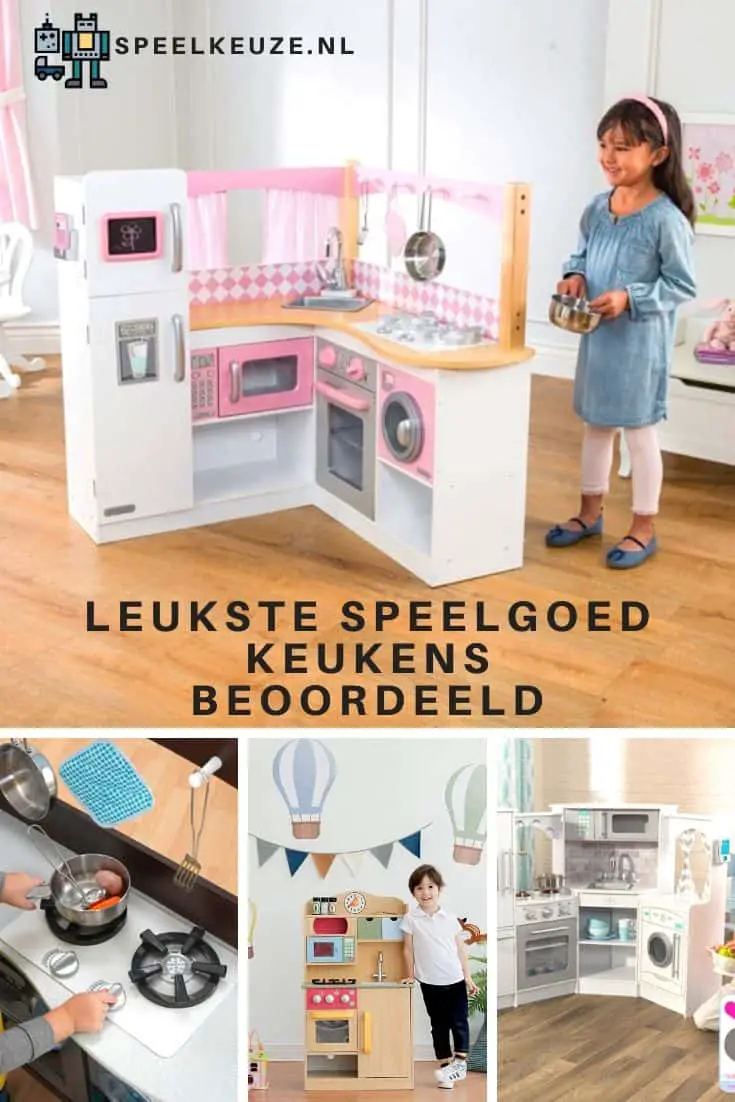 Many children love the idea of ​​cooking, and kitchens just keep getting better and better.
They have all the details that kids need to play their fantasy game with the real world. Some even have real lights and sounds.
The best I have tested is therefore this retro wooden play kitchen from New Classic Toys, because it has everything like buttons for light and sound and sturdy knobs that really click. PLUS, it's actually not that expensive at all!
But, there are more. And how do you find the best play kitchen for your child?
I've put together a list of our favorite play kitchens. There are small sets and large extended sets, let's take a quick look at the best play kitchens:
Check out the rest of the play kitchens in this video or read on for the full reviews: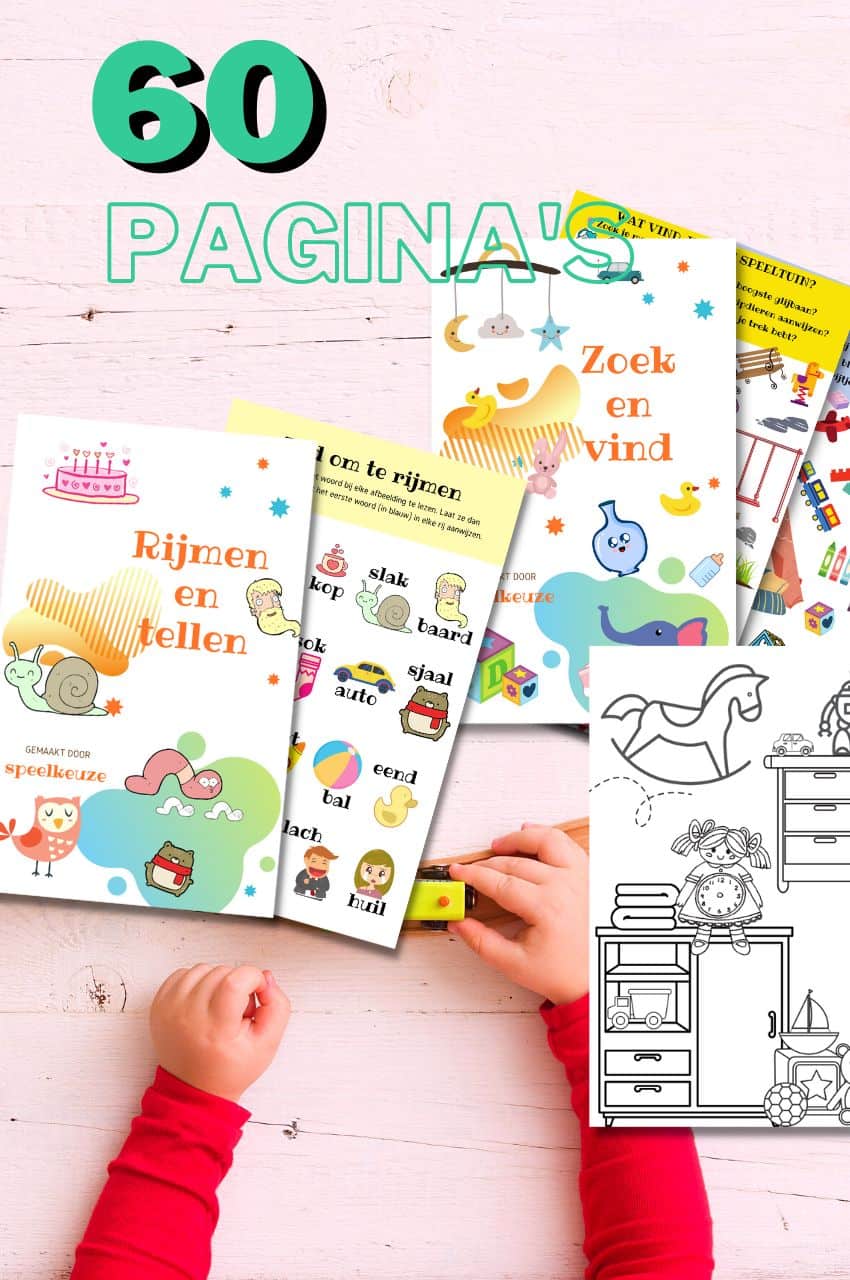 A play theme in your mailbox every month?
Fun play tips, activity books and more, with the first email being our free mini-guide "educational toys"
We will only use your email address for this newsletter and respect your privacy
Play kitchen buying guide
When choosing a suitable toy kitchen, you can consider the following:
Household appliances in the kitchen
There are play kitchens that have an oven and a flat surface. Some kitchens offer all the essential kitchen appliances in one kit.
Finally, some kitchens offer all appliances but in separate pieces so that you can expand them if necessary.
A small kitchen is good for children who want a space in the kitchen to cook next to you.
It doesn't take up much space and is a long way from the real oven. They are also good for travel.
You can even get kitchens so small that they sit on a table top with just a base reach and shelf.
Other styles include larger kitchens with a stove, oven, refrigerator, and other smaller appliances such as microwaves or dishwashers.
They are all one unit, but some are arranged at an angle to give you more devices with less length.
Other styles have separable parts. For example, the refrigerator can be separate from the stove.
It gives you a number of options for arranging things if you need to get creative with space but don't want to go for a small kitchen.
Size of the kitchen
The main factor limiting your decision is size.
It's a play kitchen, but some sets can still take up valuable space if there isn't much space where you live.
Your child may appreciate a simple oven and stove in the real kitchen if he or she likes to cook next to you.
On the other hand, if you have a finished basement play area, you may want to make it bigger and build a realistic looking kitchen with separate pieces and windows.
And it's not just the size of the floor space.
If your child is older or taller, some kitchens for kids are a little too low to give a realistic feel to the kitchen game.
You don't want your child to rise above the devices while they are trying to play.
Others are too big and elaborate for a younger child who cannot reach them yet.
What material is the play kitchen made of?
Plastic is lighter, of course. It is sometimes easier to clean. But fantasy toys for children must also be durable and provide tactile feedback.
Wooden playsets, or a combination of wood and other materials, give children the feeling that the playset is real. The set just feels more substantial.
Wooden playsets made from sustainable, responsibly sourced wood are best. These reduce chemicals used in composite wood.
If you plan to use your playset outdoors, wood may not be the best choice.
Outdoor kitchens are often plastic to withstand the elements, but most people use indoor play kitchens where the wood is safe from the elements.
Younger children can also appreciate the plastic surface that is easy to clean.
Accessories that you get
Some kitchens are all-in-one with play foods and accessories. Others only include the set itself.
If you're upgrading from an existing kitchen and your child already has all the accessories, that might not matter.
Otherwise it is an extra cost item on top of the purchase of the kitchenette.
If this is your child's first kitchen set, it might be a good idea to buy a complete set so it can be played right out of the box.
There are kitchen sets with cooking utensils, and some even contain food.
Best Wooden Toy Kitchen Reviewed
To help you decide what's best to buy, here's our pick of the best play kitchens out there.
Best price quality ratio: New Classic Toys play kitchen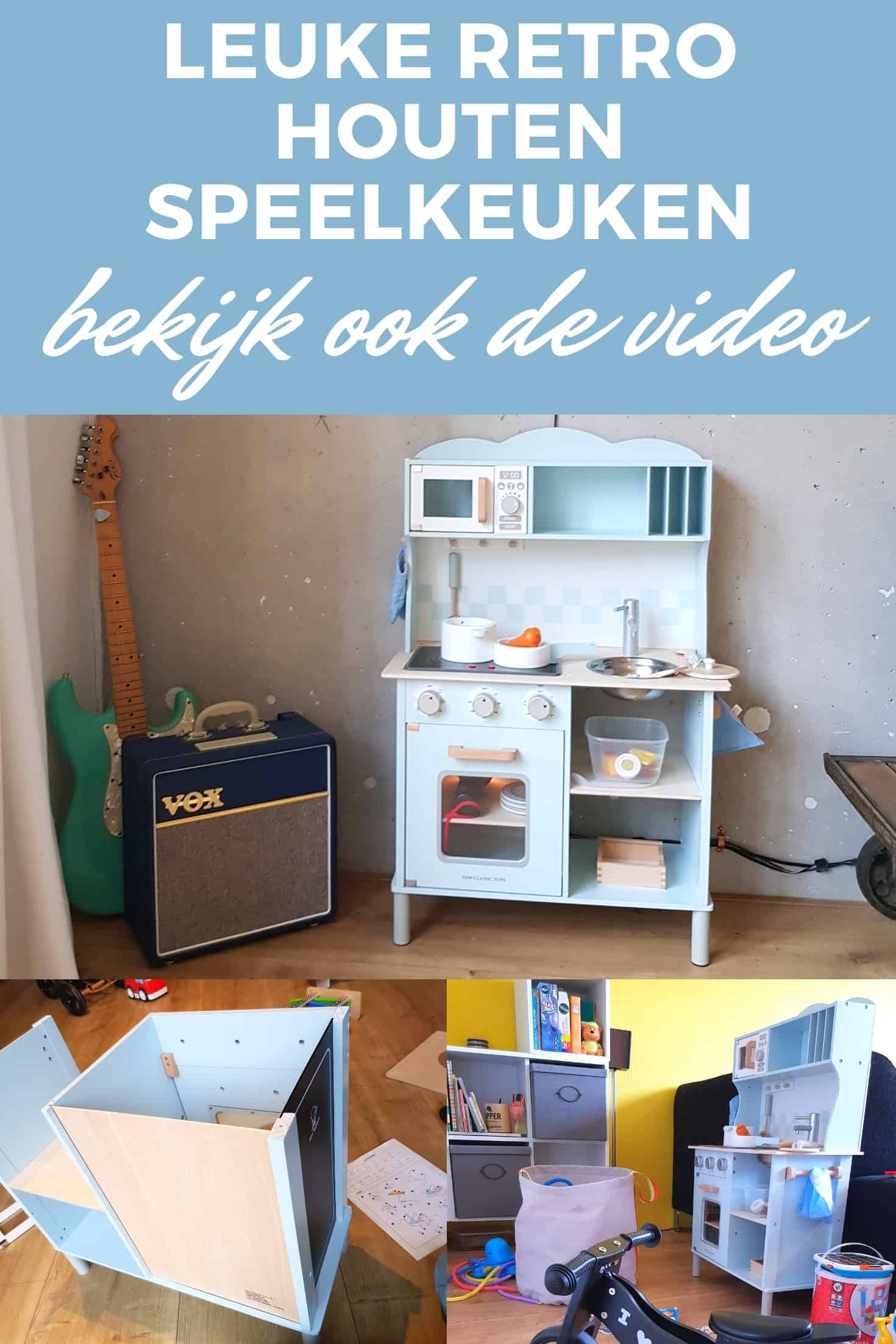 Suitable for children from 2 years
The nicest wooden children's kitchen I have found is this one from New Classic Toys, and not that expensive at all, making it the best value for money choice.
There is plenty to play with with the included pans, ladle, spatulas, pepper pot and salt set and even plates. A whole lot of accessories that you don't see in every kitchen, and all made of wood (except for the removable metal sink).
That gives it even more reason to offer the best value for money because you don't necessarily have to buy extra accessories, although treating vegetables like me further below makes it extra fun.
Where the kitchen excels in particular is in the solid rotary knobs of the oven that actually click so that you have the feeling that you are actually setting an oven setting.
Many kitchens, and especially the cheaper ones, have knobs that simply turn loose, with no tactile feeling, and that is less fun for fantasy play.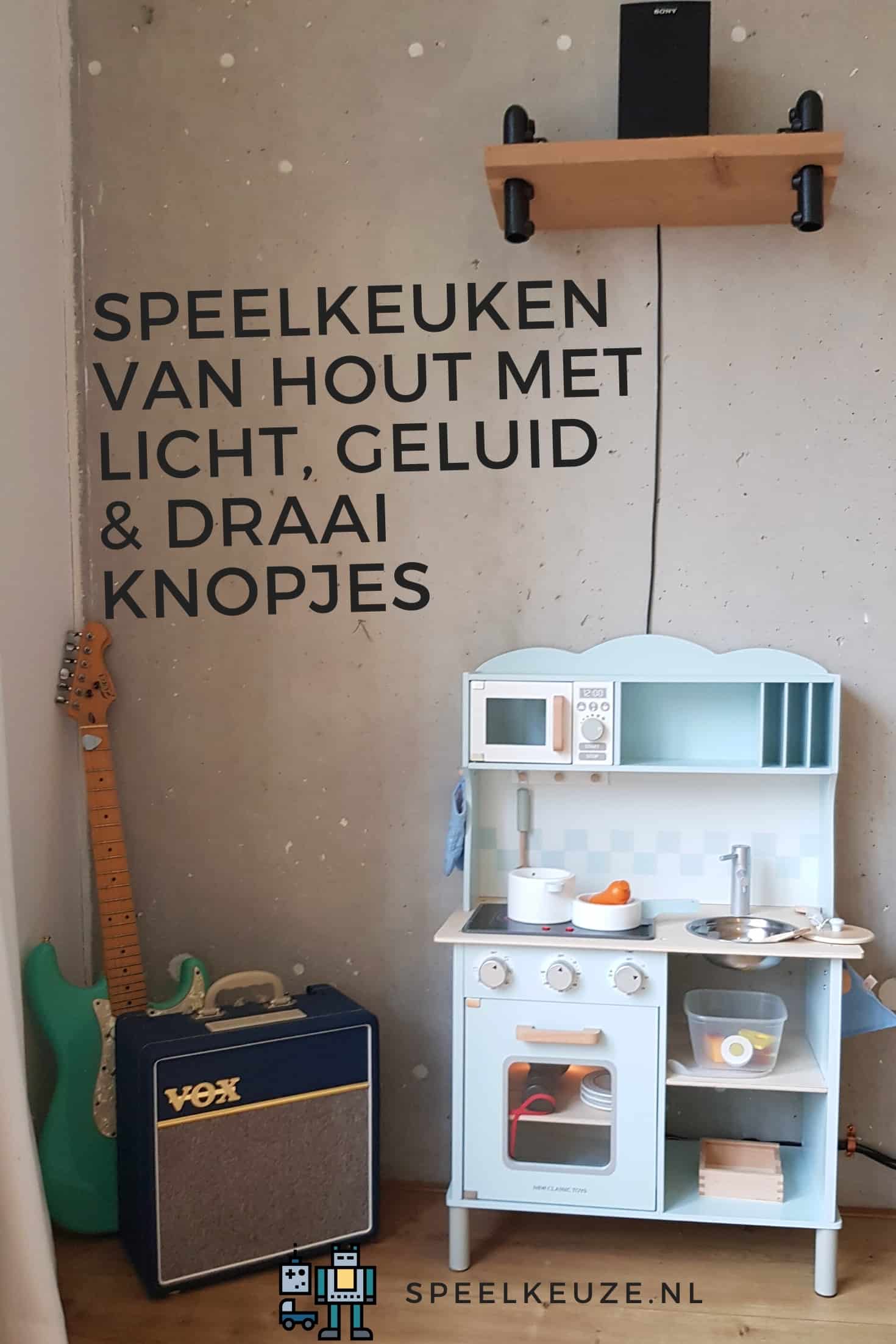 Furthermore, the burners on the stove can be turned on at the push of a button so that they light up and really produce a bubbling cooking sound, which is just that little bit more real when making delicious dishes.
Not too big, fits in a corner of the room like with our dad's (also retro) guitar and amplifier and still gives your child a lot of fun.
Best educational play kitchen: KidKraft Farm to Table
Age from 3 years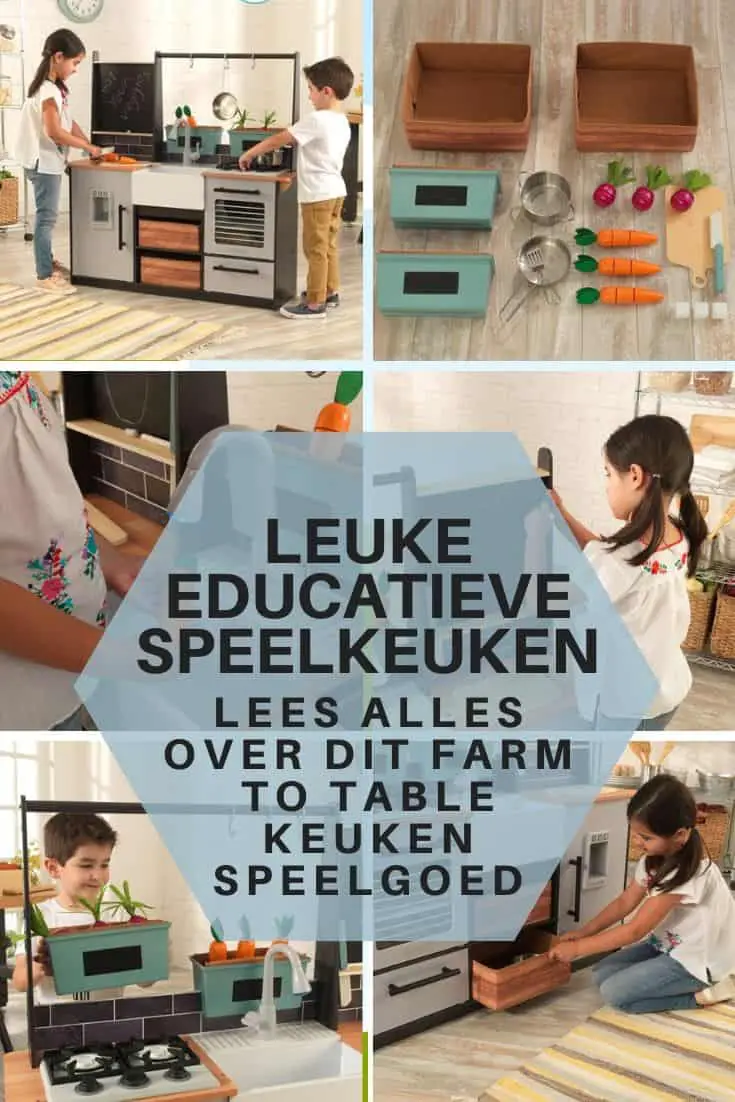 What it is: a great kitchen measuring 110 cm x 109 cm x 69 cm from Kidkraft.
It also has a window box of carrots and onions, plus a chopping board and wooden knife, fridge with ice maker that dispenses fake cubes, 2 storage chests and a blackboard.
So cute how Myra makes her own dishes with it in this video:
Why we love it: Kids especially like that it has lights too.
There is also a lot of detail in this kitchen, which makes it all special.
Parents choose this one because their kids kept playing amused for hours on end and really like the farm to table theme.
Check prices and availability here
Best Outdoor Play Kitchen: TP Muddy Madness
If you're looking more for an outdoor kitchen to make yummy mud pies without the hassle of cleaning it all up, I've found this TP Muddy Madness Mud Kitchen for you.
It is a durable wooden play kitchen that will also last a long time outside.
Suitable for children from 3 years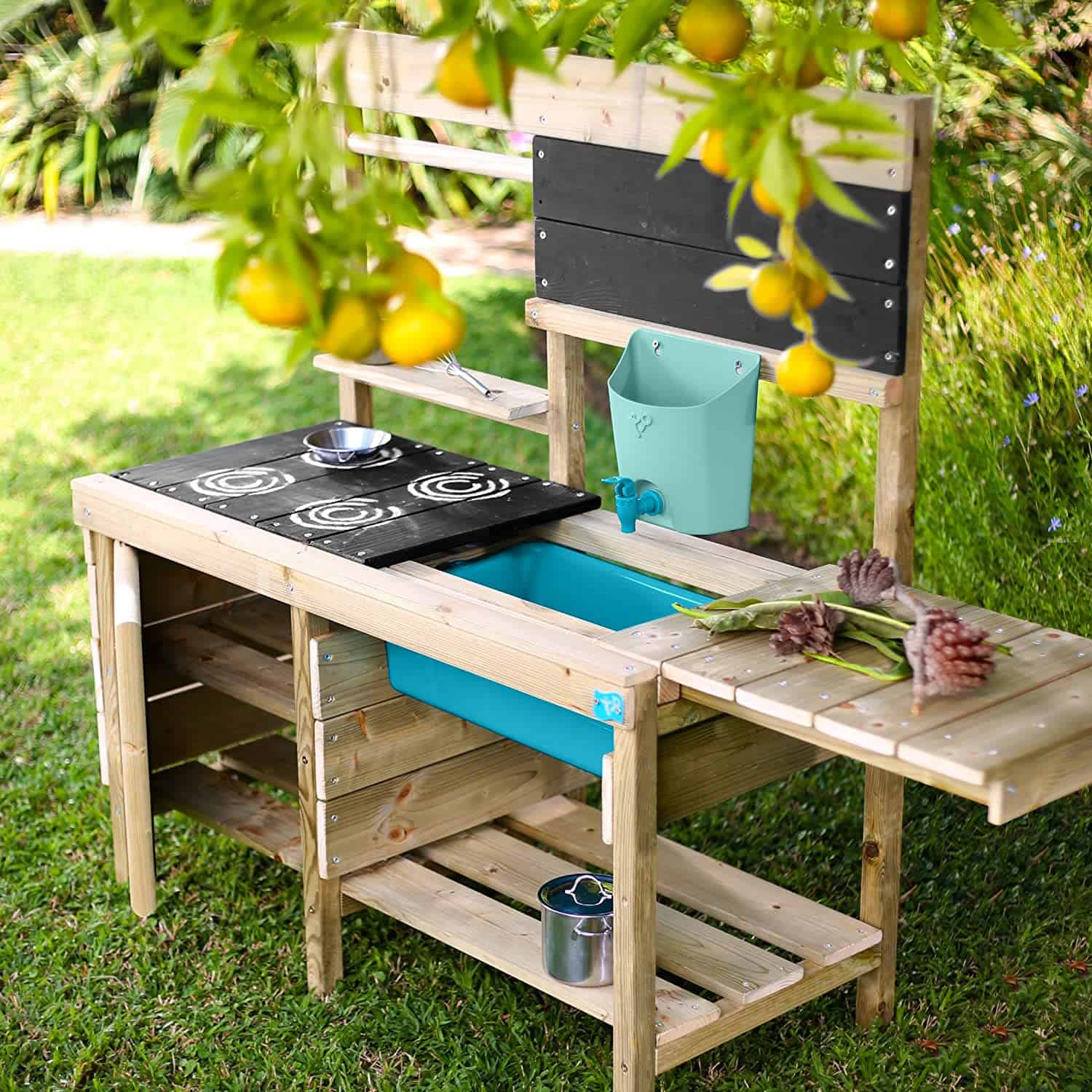 What it is: This wooden kid's kitchen/mud kitchen measures 108cm x 43cm x 369cm, and features an oven with opening door, removable sink, refillable faucet and tap.
Also included are some stainless steel pots and pans (or check out a few more like this one) and a mixing whisk. It takes about 1 hour to assemble.
Nice how children can play with mud outside:
Find kids it's nice because: They can mix mud in this outdoor play kitchen. It wipes clean easily and looks nice and clean even after being covered in dirt.
Children especially like the real running water from the dispenser. Plus the fact that it came with a set of pots and pans was a bonus for many too.
Best retro play kitchen: Small Foot Company
Age: 18+ months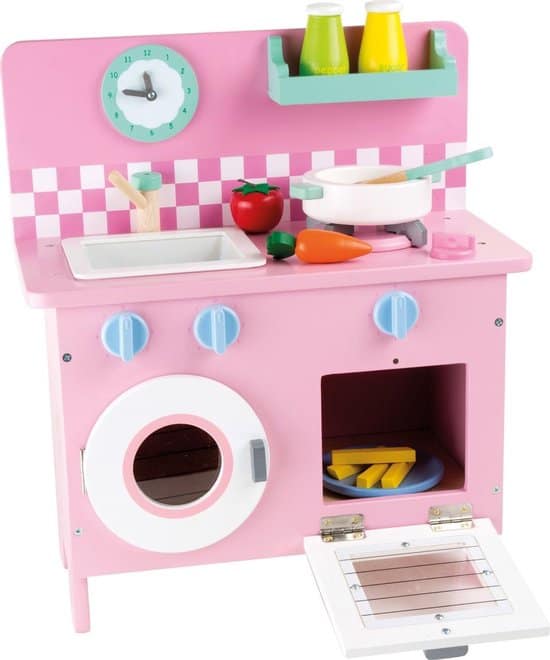 What is it: A compact build-it-yourself kitchen, with large play oven, sink, shelf, clock with movable hands and hob, measuring 62,2 cm (H) x 43 cm (W) x 12,6 cm (D).
Comes with a range of wooden accessories including a ladle, spatula, skillet and pan included.
Why we love it: This one is a real winner for its fun neutrals, sturdy build, kid-friendly height and, best of all, the clicking two-button cooktop.
It is an affordable set from Hape, yet fully equipped.
Cutest low toy kitchen: Tidlo Kitchen Station
Age from 3 years
What is it: Sturdy wooden kitchen, with play oven, sink and hob, measures 76 cm (H) x 50 cm (W) x 30 cm (D).
Comes with 9 other accessories including frying pan and kettle.
Why we love it: this handy little unit has the nicest accessories and I especially like the tea towel but also the salt and pepper pot.
And really an extra shoutout to the bold 80s black and red color scheme. A lot of fun for your child and nice to have at home.
Best foldable play kitchen: Small Foot Company Mobile
Suitable for 3 to 5 years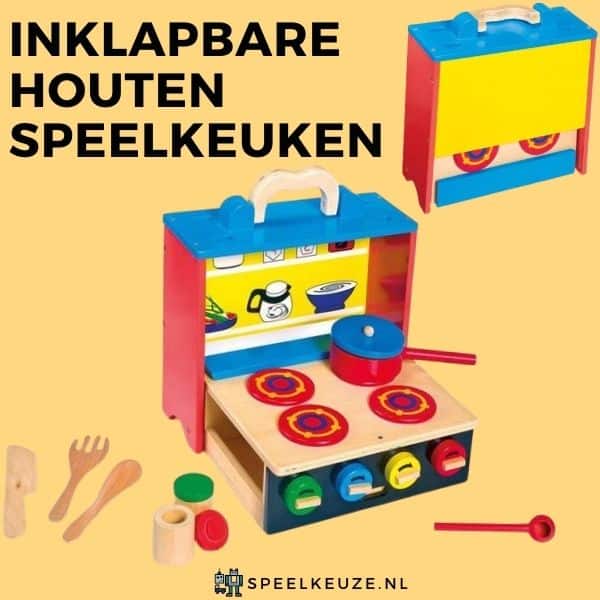 What is it: A wooden, compact sized folding kitchen with hob, pans, funny back plate and of course folds up into an easy to carry toy.
Why we love it: I really love the clever way this kitchen can be folded up.
So you can easily store this from Small Foot Company in even smaller places if you want without having to take it apart completely.
The wooden board and the beautiful range of accessories, including even play equipment, are also great fun so that the kids have something extra to play with.
Best Eco-Friendly Play Kitchen: Teamson Kids Little Chef
Teamson Kids' play kitchen is a classic wooden kitchen with an oven, a microwave, a sink and knobs for the working stove.
There is storage in the fridge area. It is a natural wood color with colorful accents.
Suitable for children from 3 years and older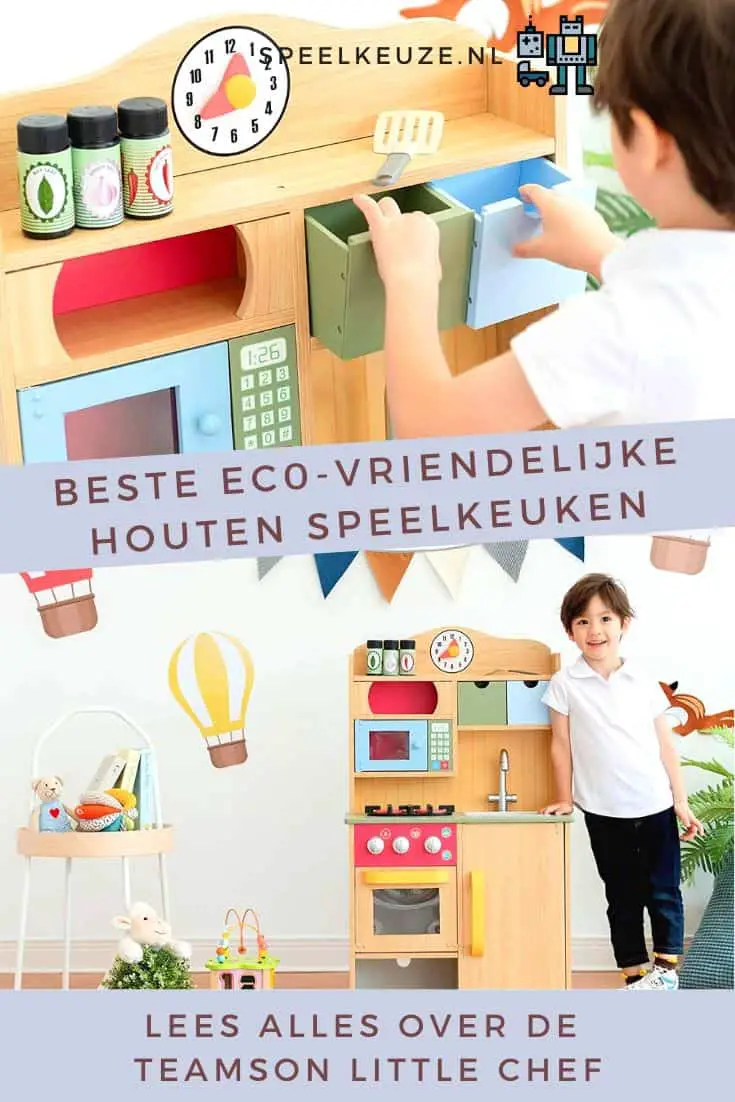 It comes with a few accessories, including a phone, spice shakers, and a spatula.
It is made with eco-friendly wood and non-toxic paints. In addition, the kitchen assembles in about 30 minutes.
One drawback is that there is no inner shelf for the fridge, which creates a lot of wasted space.
A middle shelf to add more storage would be nice.
Benefits:
The natural wood design is suitable for boys and girls
Eco-friendly wood
Easy to assemble
Cons:
No shelf in the fridge compartment
Check prices and availability here
Best Corner Kitchen Toy: Melissa & Doug Cook's Corner
Melissa & Doug's kitchen is a corner-style playset with an oven and refrigerator.
It has a detachable sink and a top shelf for more storage and is finished in natural wood with red and blue accents from non-toxic paints.
Suitable for children from 4 years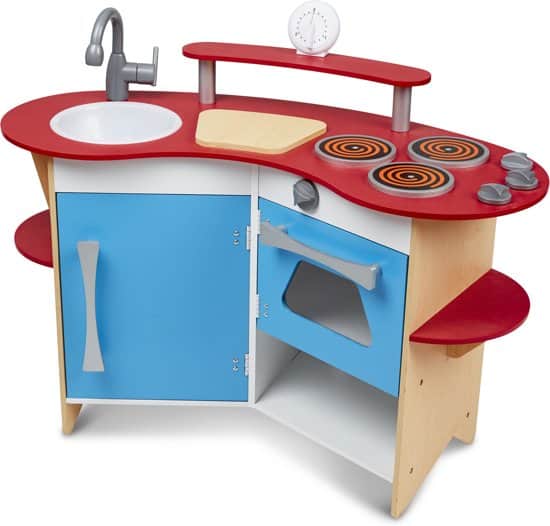 It comes with a real three minute timer and all the buttons can rotate for plenty of fantasy play.
The bowl pops out for your child to fill with water.
It offers children a little more space for their kitchen toys and two children can play next to each other.
It requires several hours of assembly. The pieces are clearly marked and the instructions are easy to read.
You may need an extra set of hands to get everything together.
Benefits:
Large bowl can accommodate more than one child
Corner style kitchen
Pleasant colors
Cons:
Check prices and availability here
Accessories we love
Add realism with this Melissa & Doug Deluxe Wooden Kitchen Accessory Set.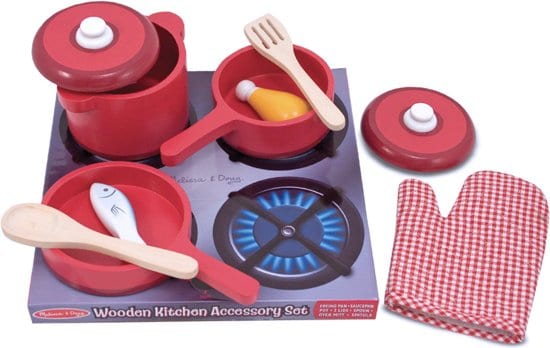 Best gas stove: Hape Gourmet Chef kitchen
Age from 2 years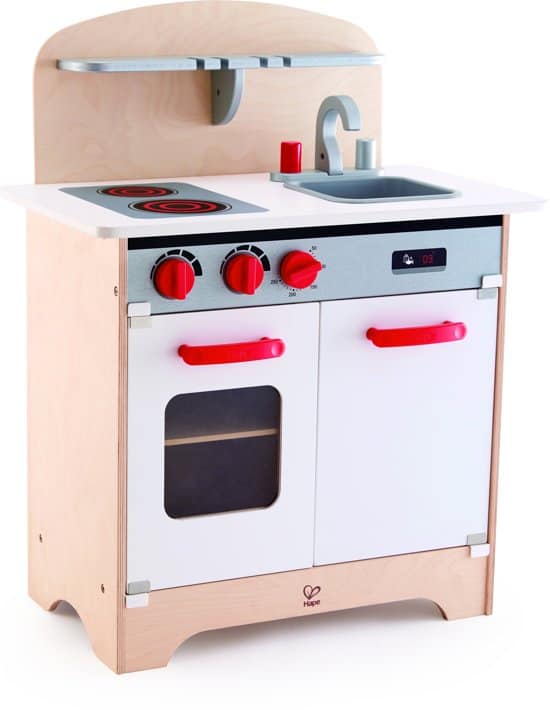 Hape's Gourmet kitchen set is a larger kitchen with an oven and electric hobs plus a cupboard and shelf for storage.
It has burners on top next to a sink. It is made of sustainably used materials and non-toxic paint and has no small parts to come loose.
The natural colors match many different decors.
Benefits:
Sustainably sourced wood and non-toxic paint
Traditional kitchen design
Cons:
Check the latest prices here
Cutest pink wooden kitchen: Kidkraft Vintage
Kidkraft's kitchen is a fun retro style kitchen with an oven, stove, sink, dishwasher and separate fridge / freezer.
It's a fun, realistic-looking kitchen with plenty of storage space and moving parts for fantasy play.
Age from 2 years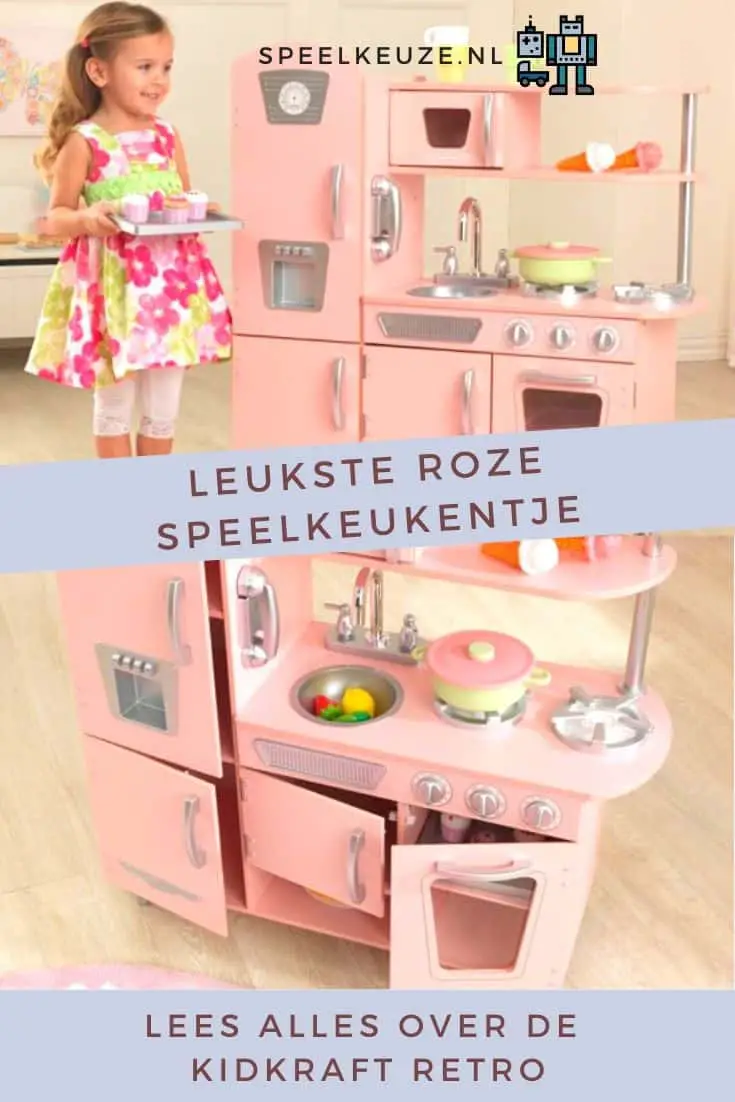 The sink can be removed (also a removable metal sink, as with the New Classic Toys play kitchen) and can be used for water games or for cleaning.
The set comes in several colors including fifties pink. It is large enough with two hobs so that several children can play at the same time.
The oven knobs make clicking noises when you turn them for a tactile response and realistic sound.
If you're dreaming of vintage kitchen spaces, the Kidkraft Vintage Kitchen will fit right in.
It's a classic color with a fridge / freezer, stove and oven, sink and microwave.
The knobs provide tactile feedback with clicks when you turn them.
There is storage above and below the sink, plus the fridge and freezer have shelving to keep other play items.
There is even a cordless phone over the sink.
It is made from sustainable wood and uses non-toxic paints and materials.
The decor goes well with most rooms, and it's on the small side at just under three feet tall and three feet wide.
This kitchen is suitable for younger children as there aren't many bells and whistles that can break off in the hands of a rambunctious toddler.
It's just big enough that two kids can play at the same time. If your child is taller or much older than five, it may be too small to fit.
However, it is well suited for younger children.
It doesn't come with food or cooking utensils so you'll have to build that up yourself.
It's a large profile, but the fridge is a separate piece, giving you more options for storage and placement.
Benefits:
Realistic design
Comes in many different colors
Fridge and kitchen are separate parts
Cons:
No accessories
Maybe too small for older children
Check the latest prices here
Best Modern Play Kitchen: KidKraft Uptown Espresso
KidKraft's kitchen is a modern take on an old classic.
This play kitchen is made of chrome and dark wood and is reminiscent of the gastronomic kitchens that nowadays appear in many showrooms and TV programs.
Suitable for children from 2 years
There is an oven with a working clear door as well as a storage shelf and raised burners on the stove.
The fridge is a full size fridge / freezer combination with a fake ice dispenser and a chalkboard space on the top door.
The dishwasher opens and closes, plus the sink is removed for water games.
It offers storage on a shelf above and has a towel rail, cordless phone hanger and hooks where the pans hang. The backsplash is a modern tile print.
It is large enough for several children to play at the same time, which will also give them social skills. It is composed of wood, plastic and some metal parts.
You need a large, dedicated space for this set as it is a single piece.
It is not delivered assembled, so plan to spend a few hours arranging and putting everything together.
Benefits:
Modern appearance
Realistic devices
Big enough for several children
Cons:
Check prices and availability here
Best Large Play Kitchen: KidKraft Grand Gourmet
's corner kitchen KidKraft is in a sweet, country kitchen style with white appliances and pink accents.
It features a dishwasher, an oven, a refrigerator and a microwave, but the furnishings make the kitchen look like the real thing, with windows over the sink.
Age from 2 years and can grow up to 8 years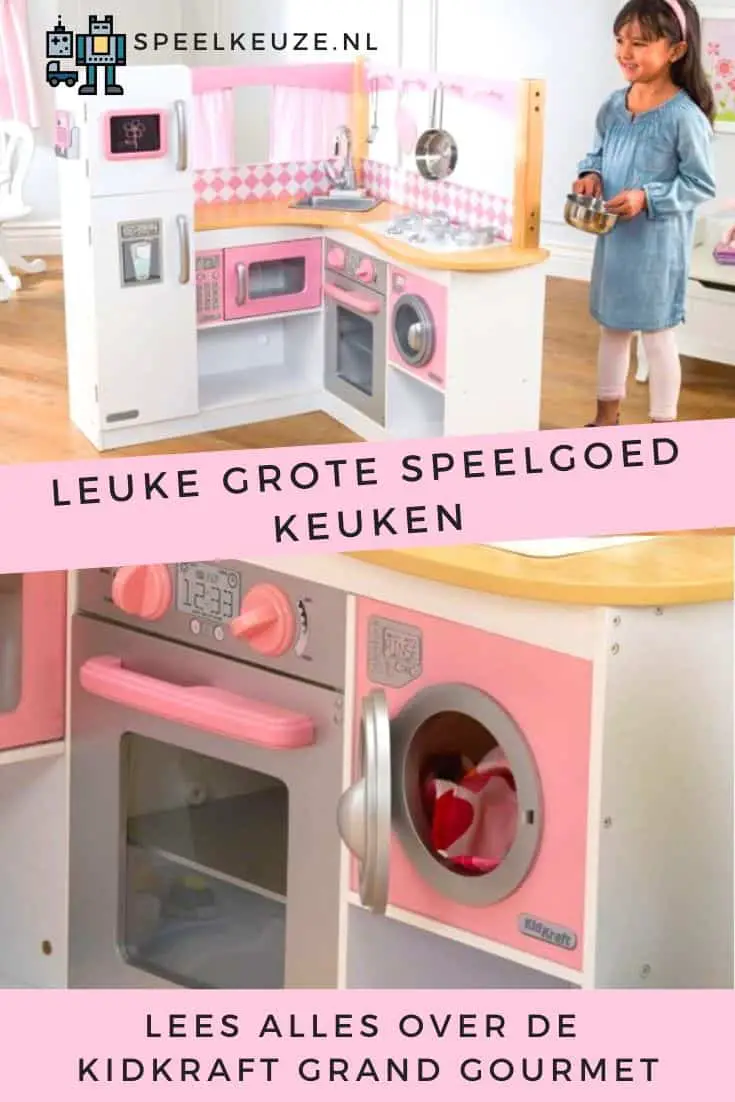 If you say clear door, you say Grand Gourmet as all doors open and there is a storage shelf under the microwave and dishwasher, plus in the fridge/freezer. Hooks hang above one of the windows for kitchen utensils.
It comes with four metal accessories, a pot and pan and two spatulas.
It's a corner-style kitchen, so placement in the house may not be very convenient for everyone. If you have a corner available it will be a good combination.
One drawback is that it is short. While it looks like a kitchen for older kids, the height can be uncomfortable for some.
Benefits:
Corner style with more appliances
Country style is cute design
Comes with standard cookware
Cons:
Check the latest prices here
Best play kitchen with light and sound: KidKraft Ultimate Corner Kitchen
If you have more space, this luxurious, large-scale kitchen is a good choice for small cooks.
With a modern design that mimics stainless steel and sturdy wood, this kitchen is sure to grow with your child.
Suitable for children from 3 years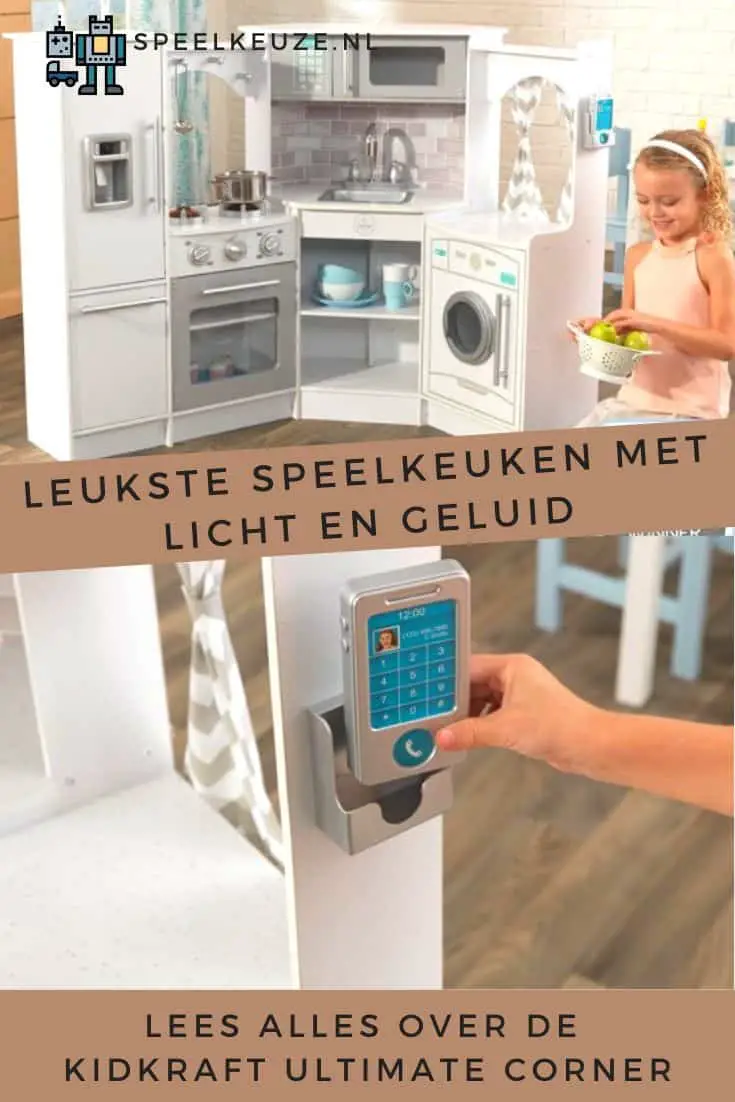 It has an oven, microwave, washing machine and refrigerator. Open and close all doors.
The kernels and ice maker light up for more realism. The rotary knobs also make noises when turned to the on position.
The arrangement also gives you two windows on either side of the microwave to open up the play area.
It is extensive, but you need a lot of space to accommodate it.
Benefits:
Realistic device set
Burners light up and make noise
The ice maker makes noises when a cup is placed under it
Cons:
Greater investment in space
Greater investment in money
Check prices and availability here
Best cutting fruit and vegetable sets: Small Foot Company
If you want to expand the fantasy game with fruits and vegetables that your kids can really cut open, then these different wooden sets from Small Foot Company are really nice to add to your kitchen: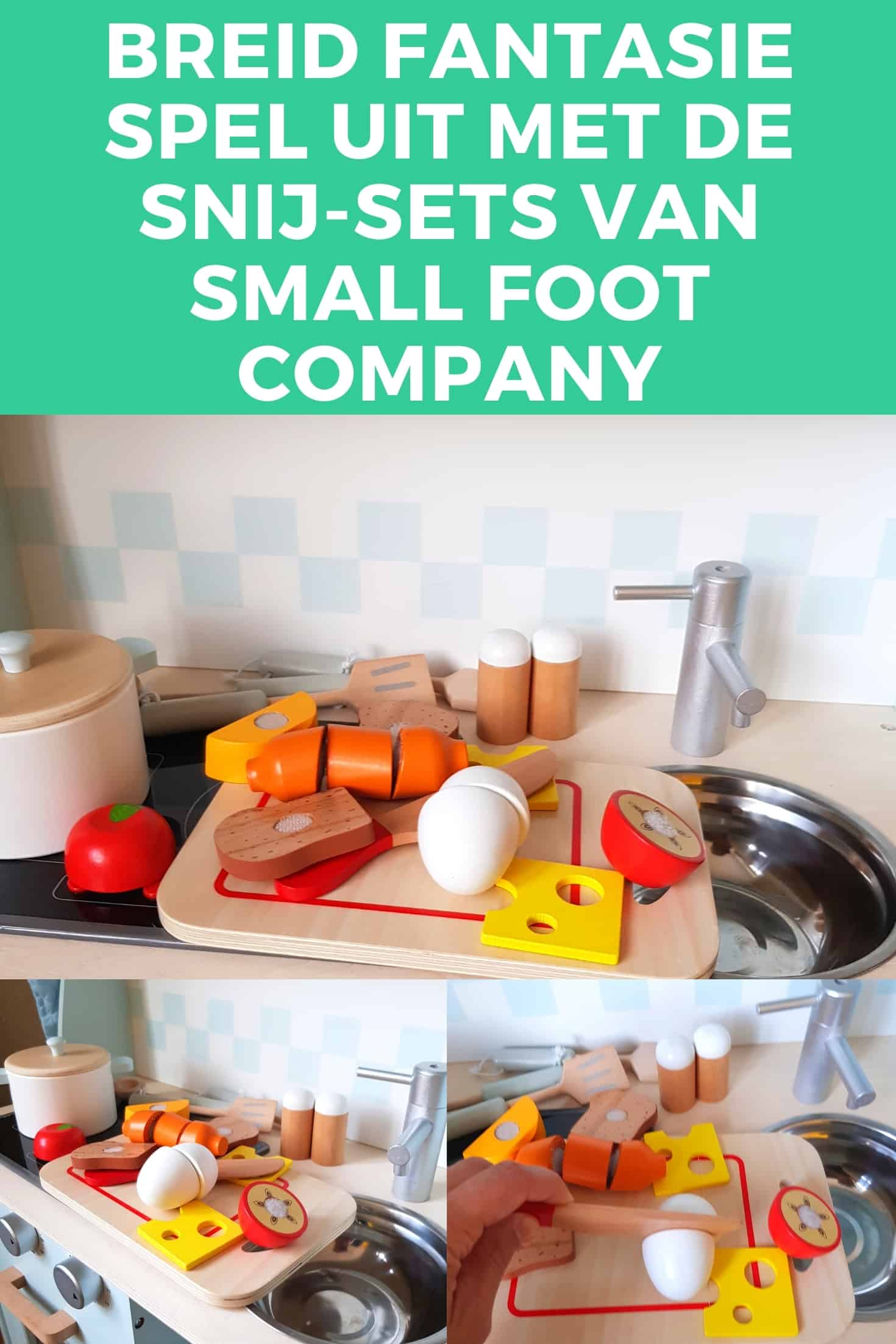 They are attached to each other with Velcro and you get a knife made of wood with which if you go through it with the knife, like with a boiled egg, you cut the Velcro off each other.
Just like cutting real food to prepare a tasty meal.
Why buy a play kitchen?
Fantasy play is essential for this the development of children. During fantasy play, they act out realistic situations to determine how they feel and what they think.
It is important that children try different roles while playing and they can discover a lot about themselves while playing.
Children at these ages watch what their parents are doing. They want to be like caring for siblings with dolls or caring for pets with stuffed animals.
Or walk through your house with one of these toy vacuum cleaners.
Ze play doctor (like with this fun toy) and teacher. Another crucial part of life for them revolves around the meals and the kitchen.
If they have their own space to play this part, they make an essential cognitive step.
Play kitchens are also open-ended toys. They encourage children to create and master the game rather than being told what to do.
A single purpose toy (like the alphabet) has its place, but an open-ended toy really takes advantage of a child's natural creativity.
Upgrade your own kitchen
If you find a kitchen that you love, but is on the pricey side, you can always add perks to a kitchen that is in your price range.
Many people add light to the microwave, oven and under the shelf to spice it up, for example.
You can paint wood to mimic any surface you like when buying a basic kitchen.
Some people also use real kitchen utensils, such as small egg pans to give to the child.
All these little details add a little flair to a mass-produced kitchen.
Conclusion
It takes more than just a nice stove to choose the right set. You need to balance your space with the features you need in a kitchen set.
Don't worry if the set isn't a scale model of a real kitchen.
Kids' imaginations are huge, and as long as you give them some tools to play, they can get started.
The most important thing to remember is that at some point your child may want to play with you.
It makes all the decisions about which kitchen is worth sitting down to eat the "breakfast" that your child has cooked just for you.
Did you have a play kitchen when you were growing up? What are your must-haves for a play kitchen for your kids? Let us know in the comments below.
Also nice for your child, check out the top rated dollhouses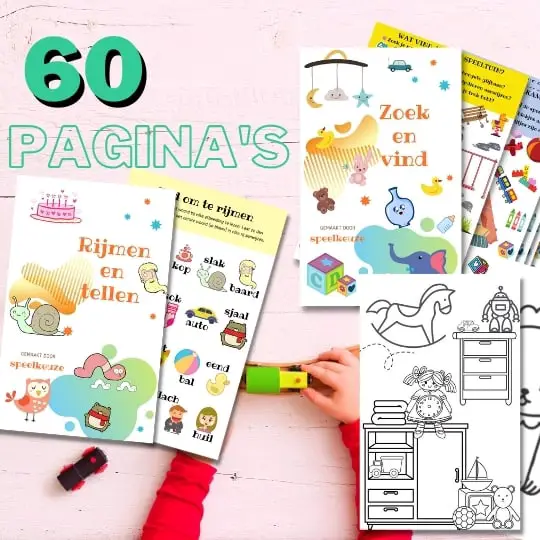 Always something to do for the holidays or rainy day?
Play Choice now has the ultimate activity book collection, with over 60 pages of fun coloring pages and educational puzzles.
Joost Nusselder, the founder of Speelkeuze.nl is a content marketer, father and loves trying out new toys. As a child he came into contact with everything related to games when his mother started the Tinnen Soldaat in Ede. Now he and his team create helpful blog articles to help loyal readers with fun play ideas.