Best toys for the holidays: 15 baby, toddler & preschool tips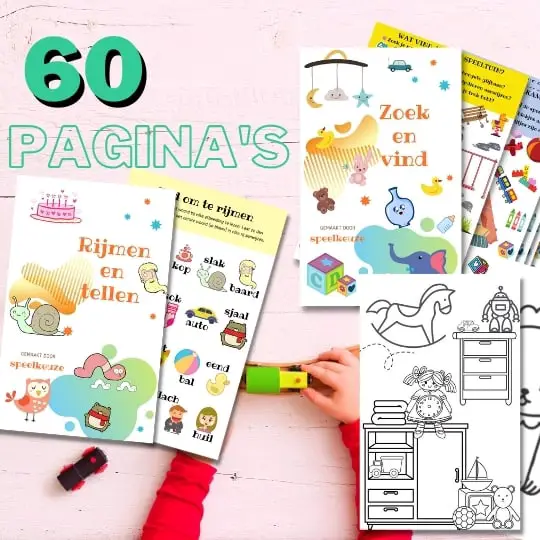 Always something to do for the holidays or rainy day?
Play Choice now has the ultimate activity book collection, with over 60 pages of fun coloring pages and educational puzzles.
YEAH! HOLIDAYS!
I wish I was already at the holiday address! But oh! First the long, LONG one travel yet to pass.
Okay, this is what you do. You choose toys that are as small as possible with as many functions and / or hours of fun as possible, and that is EXACTLY what this article is about.
The best activities to take with you are always activity or coloring books. The problem is they go up, they can scratch chairs and you have to take several with you, but these Water Wow coloring books from Melissa & Doug can be used again and again and they are fun for many ages.
In this article, I'll take you through the best toys for different age groups (baby, toddlers, and preschoolers) and have reviewed several fun activities and toys for you.
All of those things I took into consideration when compiling this monstrous list of holiday must-haves:
Best Holiday Toys for Babies, Toddlers and Toddlers Reviewed
If you're a parent who travels a lot or is someone who enjoys traveling, chances are you need some reliable toys to keep your baby or toddler occupied.
While your child is likely to enjoy the adventures you are on, there is bound to be a rainy day that simply isn't the most enjoyable way for a toddler to spend vacation time.
That's when toys come in handy.
We've put together a list of some of the best travel toys available for babies and toddlers.
These great time fillers are compact, easy to transport, fun, and most importantly, fully approved for babies. Check them out below!
Also read: the baby checklist for a stress-free holiday
These fun, portable and compact coloring pages from Melissa & Doug are the perfect solution for picky toddlers who don't like to travel.
Each board has a refillable water pen that is suitable for even the smallest hands of a toddler and can be gripped without any problems.
The best part? You can color these coloring pages wet and dry, so if a water pen isn't convenient for your toddler to use during the trip, (such as by car), he or she can still enjoy these pen and boards when they are dry!
Here MayandJC shows it in use:
Recommended for ages 3 and up, customers give the booklet a 4.4 out of 5 stars. For example, one said:
Very handy to be able to draw without mess, for example on the road or in a restaurant. The drawings are nice. The pen with water does leak a little, so it might be more convenient not to carry it full.
The Dimpl from Fat Brain Toys is one to consider if you want to take something with you that really, really takes up almost no space but is still a lot of fun to do.
If your child is between 1 and 2,5 years old, the Dimpl will certainly work.
They love to squeeze it and see how the bubbles, which feel soft and funny, pop up or down again with a loud plop.
Fun for quite a bit of entertainment during a long car ride or flight or to give a moment in a restaurant at your holiday destination while you wait for the food.
It is a very popular toy on Bol.com. For example, a customer says:
I bought this toy for a long plane ride (12 hours) with my 15 month old daughter. It was the perfect toy because it has no loose parts, and she loved it! It was challenging enough to keep her busy for a long time. When we got to our destination, she kept playing with it.
Some say that the side of the plastic toy comes off at some point, and we've had that too, but that was after quite a lot of use, so our son had more than enough fun with it for the money.
Sometimes attraction towards a toy that will tickle your child's senses is the perfect remedy for curing the travel blues.
This toy is especially suitable for babies, it is perfect for their age group, (toddlers have a hard time staying with this toy for more than a few minutes).
The descending bubbles have a soothing and hypnotic effect and it will keep your child entertained for hours! What's even better is that this is not a pointless task.
These gravity-fed bubbles calm your child's hyperactivity, soothe their fears, and even help them with their visual tracking skills.
It's also a small and portable toy, leaving you plenty of room in your suitcase or children's suitcase, for your own needs.
Age: 8 months and older
This plush "green" backpack is the perfect travel companion for toddlers who want to keep their hands busy.
More than just a comfortable and soft backpack, this Buckle Toy is a unique, attractive toy that aids in your toddler's development.
The bag is decorated with all kinds of different buckles and compartments, as well as an easy zipper, so it is also easy to take some extras with you when travelling.
Recommended for ages 1-4 and it gets a 4.7 out of 5 stars out of 1000+ reviews. As one customer said:
This was 'life saver' on our holiday flights with the little one. It kept him busy for a very long time, every time he clicked on the brightly colored straps and loosened them again. It's also a good size for him to snuggle up against when he's sleepy.
This way your child will not only keep himself busy, children will also secretly work on their math, cognitive, coordination and problem-solving skills.
These bright, festive hand toys make excellent travel puzzles for toddlers from 3 years old!
Not only will they grab your child's attention, but they will also keep hands busy. They will allow them to work on their creativity by turning these pieces into any shape they want.
The nice thing about this tangle toy is that it is of good quality, which is exactly what you would expect from a toy that can be taken apart and put back together again.
It gets a 4.3 out of 5 on bol.com and one customer said that it is endlessly fun and of good quality. Another customer found it disappointing for his son after a while and said:
'This is not as proclaimed as the solution for children with autism, concentration problems or for the gifted.
They are very small so they don't take up too much space in your child's travel bag, leaving you room to pack other items.
However, the toy is not suitable for children under 3 years old.
Soft, textured and fun, Captain Calamari from Lamaze is a great toy for babies who need a little extra stimulation while on the go.
Not only is this soft, velvety octopus a comfortable companion for your traveling baby, it's also a great chew toy and soothes the teething gums.
Your baby will love the clacking parts and the added mirroring feature that helps your baby learn to focus, track and explore!
The cleverly designed rings on the top and bottom of the octopus make the toy very travel-friendly.
It is one of the best-selling sensory hugs on bol.com and gets a 4.8 out of 5 stars out of more than 190 reviews.
For example, someone says that her 7-month-old daughter already had the Captain as her first toy in the playpen and she still loves it. The colors are beautiful and the black and white patterns are also very attractive for the very young. All Lamaze articles are always of very good quality and beautifully finished.
Others like it for a long car ride, with enough different accessories on the toy to keep it interesting. It's hard to find negative comments about it.
The toy is perfect to put on a bag, a backpack, a stroller or a car seat to attach, or to tuck in your bag so you can easily pull it out for your child's entertainment!
Safe for newborns and young toddlers.
Soft, playful, colorful and full of buckles to play with - what more could you want from the toy for a toddler?
Your little guy or girl will love this lively squishy toy for more than just its cuddly potential, it's an incredibly engaging toy too!
With plenty of kid-friendly buckles, zip pockets for play with and decorative shapes and numbers, your toddler will develop fine motor skills. He or she will improve cognition and even work on hand-eye coordination, but all your child picks up is simply the fun.
It is also one of the nicest toys to practice fine motor skills in our article here.
This toy is a great addition for a long or short ride. Just hang this buster on the stroller, the car seat, your bag or your backpack and go on an adventure!
Recommended for ages 1 to 4. It gets a 4.6 out of 5 stars with over 1.500 ratings, so it's a hugely popular companion.
One of the customers says:
'These are good quality toys. Brightly colored with a soft cushion, 6 buckles and a zipper. It's not as compact as I would have liked for traveling, but you can easily hook it onto the outside of a bag, suitcase or buggy. '
This super fun toy from Taf Toys is really baby specific and also incredibly car specific, so if you have a little baby still in a rear-facing car seat, this is a great travel must-have.
This toy features three hanging soft toy figures for your baby to grab, touch, rattle, invoke all their senses and keep them occupied.
It even includes a fun mirror to encourage movement and fun!
Recommended for children from 1 month. It gets 5 stars on bol.com, but that is only based on a single review that was very happy with it, his child enjoyed hours of fun with it.
Another Mellisa & Doug toy that made it to this list! This filled shape sorter is the perfect travel tag-along for babies and toddlers!
Little ones will love the colorful and stimulating game play, while older toddlers will get a kick out of matching the shapes, enjoy the 2 activity sides and play with the crinkled flaps with a printed graphic.
This toy is entertaining and cute, but more than that, it stimulates sensory skills, fine motor skills and development skills enormous!
With its soft, foldable sides you can easily stuff it into a suitcase or bag.
Recommended for children from 9 months to 3 years old
Best Holiday Toys for Toddlers Reviewed
Let's get started right away.
If you're traveling with preschoolers anytime soon, you probably don't have time to read my lengthy introduction with adorable anecdotes about how wonderfully my kids behaved while traveling. They were so sweet on our entertaining 8-hour plane trip to America!
You always need new things to keep your kids entertained on vacation, just like me, and you probably need them soon before you go. This selection can help.
A number of things are important for building with toys while traveling.
For example, it must be easy to carry and it should preferably not consist of pieces that are too small, so that they do not get lost right at the start of the journey.
For in the car I have noticed that it is important to simply bring enough construction toys, consisting of larger pieces.
Pieces will of course fall to the floor, but the kids won't panic if that happens because they can easily find them again. So do not bring construction toys that consist of small pieces.
Besides the fact that a fairly large amount of building toys / blocks are useful when traveling, it is also important to make sure that the materials are almost all the same. (not that they drop a specific part they need to complete their architectural masterpiece, as often with LEGO Factory).
We sometimes set a timer and see which creation each child can come up with during a certain time.
Customers give the set a 4.7 out of 5 stars on average out of more than 900 reviews.
You do have to pay attention to the age, which is why we have put it in the separate section for toddlers, because it is still too difficult for children that are too young.
One customer said:
'I bought this kit for a long car ride to take children aged 1, 3 and 5 years to keep busy. She got tired of the 1-year-old; the 3-year-old was playing with it for about 20 minutes, but the 5-year-old was busy with it for about 1,5 hours and later asked to play with it again.'
A large set of Wikki Stix works very well on a hard surface or even in the hand in the car, for example.
If you've never played with Wikki Stix before, stop reading and order them right now. They are SO fun and so addicting.
Your child can be creative by covering the windows of the holiday home, or the airplane or car windows with this fun set of window toys.
That brightens up any location and brings home a little bit of home from home.
Sticking a large number of reusable stickers is fun and there is a large surface to work on in the car or in your house.
The advantage of the reusable stickers is that they can always be taken anywhere, even if you visit multiple locations on vacation.
For even more fun, apply Squigz on the windows for even more 'window art'.
In the car they are so nice on the windows and once you have reached your destination they are great for restaurants, floors or bathtubs if you have them in your house or hotel.
However, if you have two children, I find it easier to buy two of those tubs so that you have a lot of material for each window.
We use the mini ones ourselves because they are so easy to carry, but they are small (recommended for ages 5 and up) so if you have a little one who still puts things in his mouth this is not a toy for him.
They currently have a lot of reviews and they are all very positive. It is written about the good quality and that it stimulates creativity.
But also that it does not stick to every surface, so you have to look for a good surface. In the shower the sticking of the toys shines best to go.
But there are also other variations of Squigz. Squigz also has a new version 2.0 that offers more versatility to build with.
I love the little drawing sets that fit nicely into a backpack or purse, but here are a few more options for a little more.
I love some drawing tablets (or even a kid's tablet if they're a little older) to take with you, even for shorter trips.
The kids can draw, write notes and use them as a play surface for other toys when they have to wait somewhere. There are very nice sets such as those from Dessineo.
Nice as a first introduction to drawing and certainly a challenge to take plenty of time on holiday.
Or things like handy drawing travel suitcases from Paw Patrol with everything in it to draw nicely, and of course easy to carry.
But the best thing to take with me is to draw these funny creatures with Clementoni's toys.
Etch-a-sketch is of course a classic, and it is especially fun for children who want to draw a lot and keep drawing, and more until they are drawn.
A magnetic drawing board such as the Clementoni Megasketcher is the perfect match because it is easy to wipe out and easy to start again.
Best Holiday Toys for School Kids Reviewed
No traditional puzzles with small pieces, of course not! A disaster with a road trip because everything gets lost.
I am talking about brain puzzles to take with you. For 6 to 10 year olds there are Perplexus puzzles. They are now making a small Perplexus mini which is a bit more suitable for 4 year olds and older.
Perplexus's puzzles get a 4.9 out of 5 out of nearly 30 reviews on bol.com, which is high, especially for a difficult game which can be frustrating.
But as one customer described it well:
'The smallest movement can already ensure that you are finished. Also very handy that there are 3 start-up places during the ride, so that you do not have to start over again. The finish is difficult to reach, but in any case you will not be finished soon!
The original is quite big so for traveling I would go for the mini Spin Master I think or something like the Gearheads.
Easier mazes are great for little ones and a puzzle with no loose pieces is a lot easier to carry around.
Go on a trip and construction toys is always a tricky combination. I remember from back in the day that once we got back home, we always lost a few pieces of a building set during the trip.
That is a shame and a shame, and sometimes you can no longer build the nicest things.
But Tegu has found something because they have nice building blocks with magnets in themso that they click together easily and are less likely to lose some.
The most handy set for traveling is the pocket pouch because you can use a set of blocks, very good for their spatial awareness, in a soft felt case where you can easily take them with you.
This way you always have them together and nothing can accidentally break in your bag.
We had taken the pocket pouch with us in the hand luggage on the plane to have something to build for the road without having to worry about losing anything.
Very nice as building blocks for a small, but for school children it is a challenging tangram puzzle. Very useful if you are traveling with different age groups.
What I, as well as the children, really enjoy during a car trip is the Car Seat Organizer with Tablet Holder for in the car. Ideal for storing everything.
Frequently asked questions about holiday toys
How do I entertain my kids on a road trip?
Turn your backseat into a movie theater, bring audiobooks, pack them a 'treasure box': Give them something at every stop.
Make snacking an activity, play (fun) educational games and plan pit stops in advance.
How do I entertain my toddler during a long car ride or flight?
Books. It's nice to create some reading time for the whole family. Take your favorite books from home or surprise the kids with a new book on the go.
What games can the children play on the go without toys?
The game 'I see, I see what you don't see' is always fun on the go. Both for young and older kids. Also 'I'm going on a trip and take with me' remains a fun memory game. Spotting license plates from different countries is interesting for children who are a bit older.
Whenever someone sees a yellow car, they have to say "Banana!" and earns a point. Whoever has the most points to the next stop wins.
Conclusion
So you see.
Going on holiday without toys is of course not possible and with the articles in our list for babies and toddlers or those for toddlers there is certainly something to keep your children busy while traveling.
Remember these points for holiday toys in particular and you're sure to be right:
not too small pieces
enough material to get through the whole holiday
reusable material is useful
of everything: building, puzzling, tinkering and drawing
not too big but durable
lightweight
Also nice for a holiday: one of them these really working digital toy cameras