My favorite parenting book: relaxed parents, happy children
I enjoy writing these articles for my readers, you guys. I don't accept payment for writing reviews, my opinion on products is my own, but if you find my recommendations helpful and you end up buying something through one of the links I may be able to receive a commission on that.
More information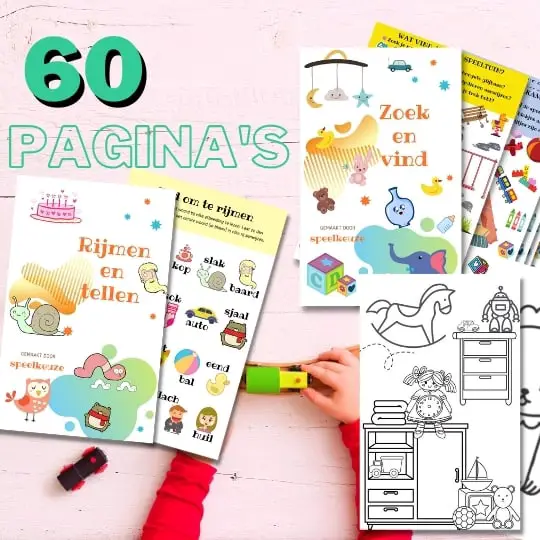 Always something to do for the holidays or rainy day?
Play Choice now has the ultimate activity book collection, with over 60 pages of fun coloring pages and educational puzzles.
"If you want to feel more confident and relaxed as a parent, this is the book for you. Dr. Laura helps you understand what drives your child's behavior and gives you the practical tools to change it. "
It is my favorite parenting book because it is so accessible, even I as a man can handle it, but my girlfriend thinks it is the end.
"If you see Dr. Having Laura Markham on your nightstand is like having an angel on your shoulder whispering useful secrets in your ear.
She shows us how to be more mindful and replenish ourselves so that we can give our children the best of ourselves.
Not what's left of us after a long day. "
That's Jack Canfield expressing his praise for the book in the book's foreword.
This is what Dr. Laura Markham herself talks about her book and why she wrote it.
She tells it in English, but the book is of course also available in Dutch:
The book can be quite confronting, and you will find out that you can adapt a lot to your behavior yourself.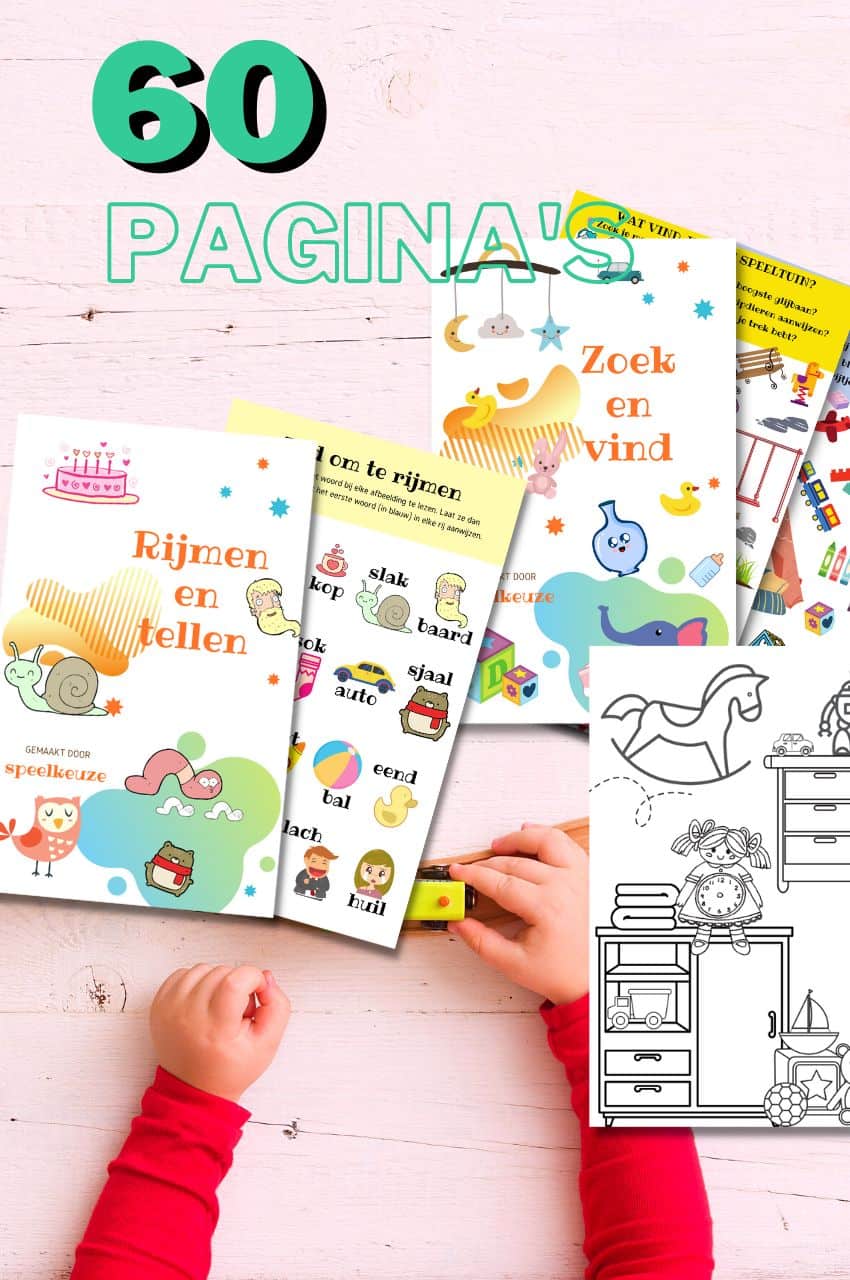 A play theme in your mailbox every month?
Fun play tips, activity books and more, with the first email being our free mini-guide "educational toys"
We will only use your email address for this newsletter and respect your privacy
This is what professionals say about it
How do you react when your kids don't behave? Dr. Markham says the best thing a parent can do is to control his or her emotions.
We are the adults, she reminds the parents, and the kids usually just act like kids.
This book appeals to parents who want the screaming to stop, and no longer want to rely on drastic discipline.
It is written for families who want to strengthen their connections and increase their respect for each other.
In short, we want our children to do as we ask without all the drama that comes with it.
She adapts her advice slightly for parents with children of different ages for babies, toddlers, preschoolers and children who have been attending school for a long time.
The tone of the tips is warm and cozy throughout, but I know its compassionate educator techniques work.
My husband is a master of these techniques and I am still learning.
Parents.com (by Kristen Kemp)
This is what parents say about it
Mother of a 2-year-old girl
I've become kind of a junkie of this parenting book since my daughter turned 15 months old and made me feel like I was starting to go nuts.
You know the type, she wants to hit the dog, I'm clearly saying no, then she'd look me in the eye and hit the dog anyway.
Anyway, I've read at least 12 parenting books since then and this book is definitely in my top 2.
My only caveat is that I come from a long line of screaming parents and I do my best, but sometimes my volume does go up a bit.
Dr. Markham learns to never raise your voice, and I try, but that's where my other top 2 book comes in: How To Talk So Kids Will Listen (Faber and Mazlish).
If you absolutely have to raise your voice, they describe how to do it without messing up your kids.
These books complement me quite a bit: Dr. Markham is the first step and How to Talk explains the details.
If you don't read other parenting books, read these two. I wish it had been published when my daughter was born!
J Peters
I'm only halfway through Chapter 3, but it's so slow because I have so many notes that I take along the way.
Great book to help you on a more peaceful path to nonviolent parenting.
S. van Diepen
What a beautiful book! It tells practical yet transformative ideas in an easy to understand way.
Fortunately, there is no judgment whatsoever in the pages, only compassion and real understanding for you as a parent.
If you want to find a way to become the parent you dreamed of when you first held your baby in your arms, this is the book.
Reviews at bol.com
The reviews at bol.com are also positive: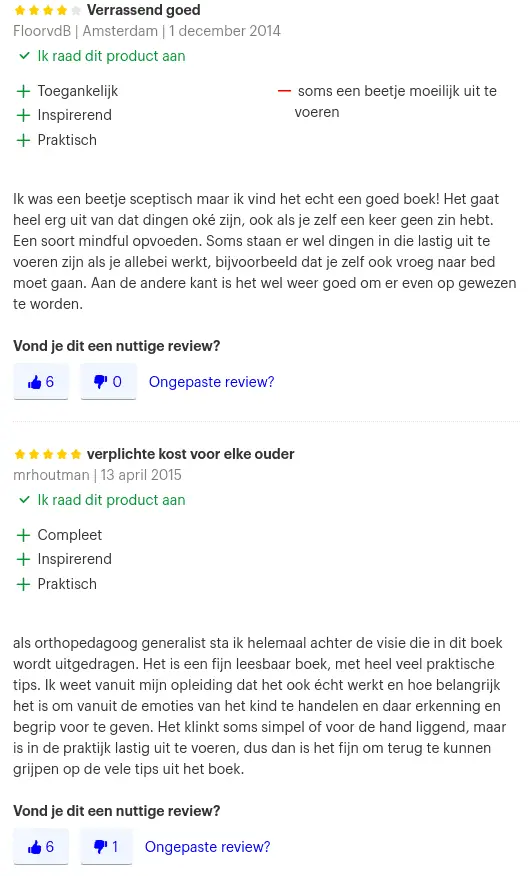 About relaxed parents, happy children
The book has quickly become an underground favorite. Readers post reviews on bol.com and Amazon attesting to the changes it brought their families and Dr. Thank Laura for the book.
What's so unusual about this book?
Dr. Laura Markham is a mother herself, so she understands how difficult parenting is and she knows how to turn science and theory into practical tips and scripts for busy parents.
Dr. Markham helps moms and dads feel and do better by giving them the love and support we all need to do our best. Most importantly, this book encourages rather than criticizes parents. I've read some books that make you feel like a complete idiot for how you do things. This book not only motivates you to improve as a parent, but also gives you the feeling that you can. She makes it so easy to enjoy parenting!
It is based on the latest research on brain development and clinical experience with parents, rather than just someone's opinion.
Dr. Laura Markham is as simple as it is effective. Her message: Fostering an emotional connection with your child creates real and lasting change.
When you have that vital bond, you don't have to threaten, whine, plead, bribe, or ever punish.
If you are tired of the power struggle, screaming and looking for the right "effect", look no further.
You are about to discover the practical tools you need to transform your parenting in a positive, proven way.
The book is for sale here at bol.com in Dutch version.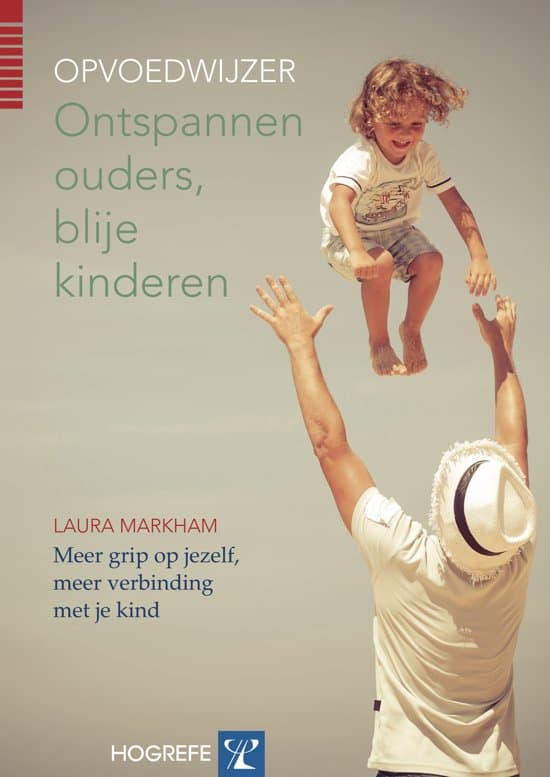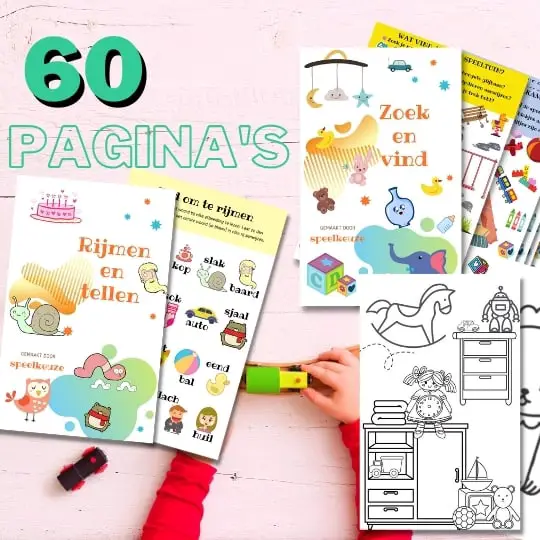 Always something to do for the holidays or rainy day?
Play Choice now has the ultimate activity book collection, with over 60 pages of fun coloring pages and educational puzzles.
Joost Nusselder, the founder of Speelkeuze.nl is a content marketer, father and loves trying out new toys. As a child he came into contact with everything related to games when his mother started the Tinnen Soldaat in Ede. Now he and his team create helpful blog articles to help loyal readers with fun play ideas.