Use Educational Value When Buying Toys: Hand to Mind and Learning
I enjoy writing these articles for my readers, you guys. I don't accept payment for writing reviews, my opinion on products is my own, but if you find my recommendations helpful and you end up buying something through one of the links I may be able to receive a commission on that.
More information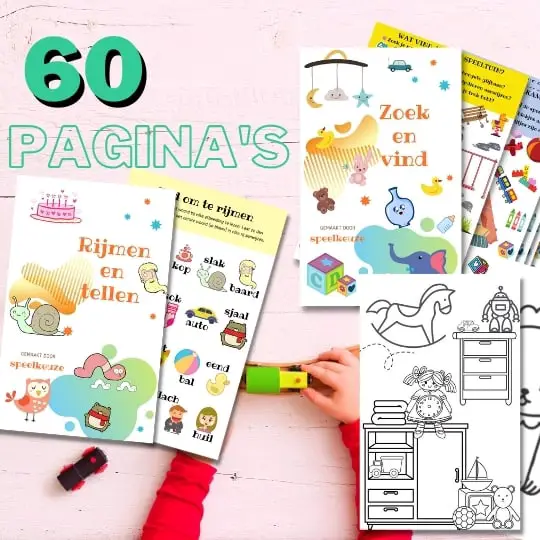 Always something to do for the holidays or rainy day?
Play Choice now has the ultimate activity book collection, with over 60 pages of fun coloring pages and educational puzzles.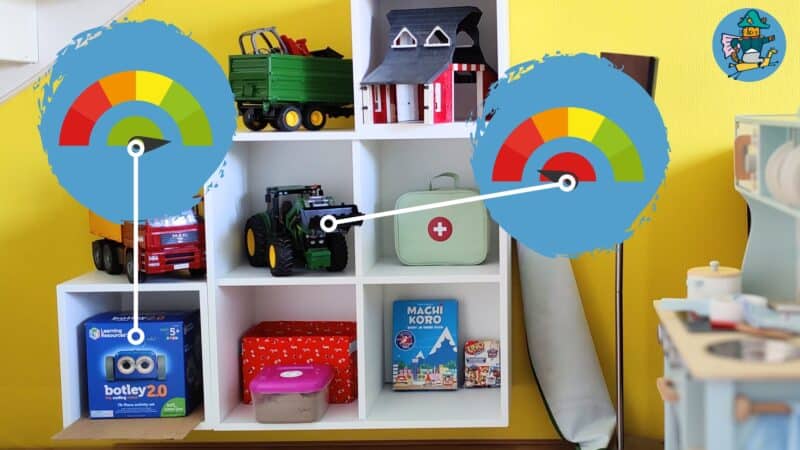 Educational value indicates the extent to which something contributes to learning and developing skills. Certain toys have more educational value than others when skills are taught more deeply or more quickly.
An educational toy differs from traditional toys in that it's made with a specific learning goal in mind. Buying educational toys alone doesn't automatically make them educational. Parents and teachers can help children learn by actively participating and asking questions.
When choosing educational toys, it's important to consider the specific learning goals and age of the child. Some popular types of educational toys include building sets, puzzles, and science toys. Companies such as LEGO and Melissa & Doug are at the forefront of educational toys.
Educational toys have evolved over time and now also offer more possibilities through technology. They can be used in classrooms and even by adults to stimulate different learning goals such as creativity, spatial awareness and problem-solving.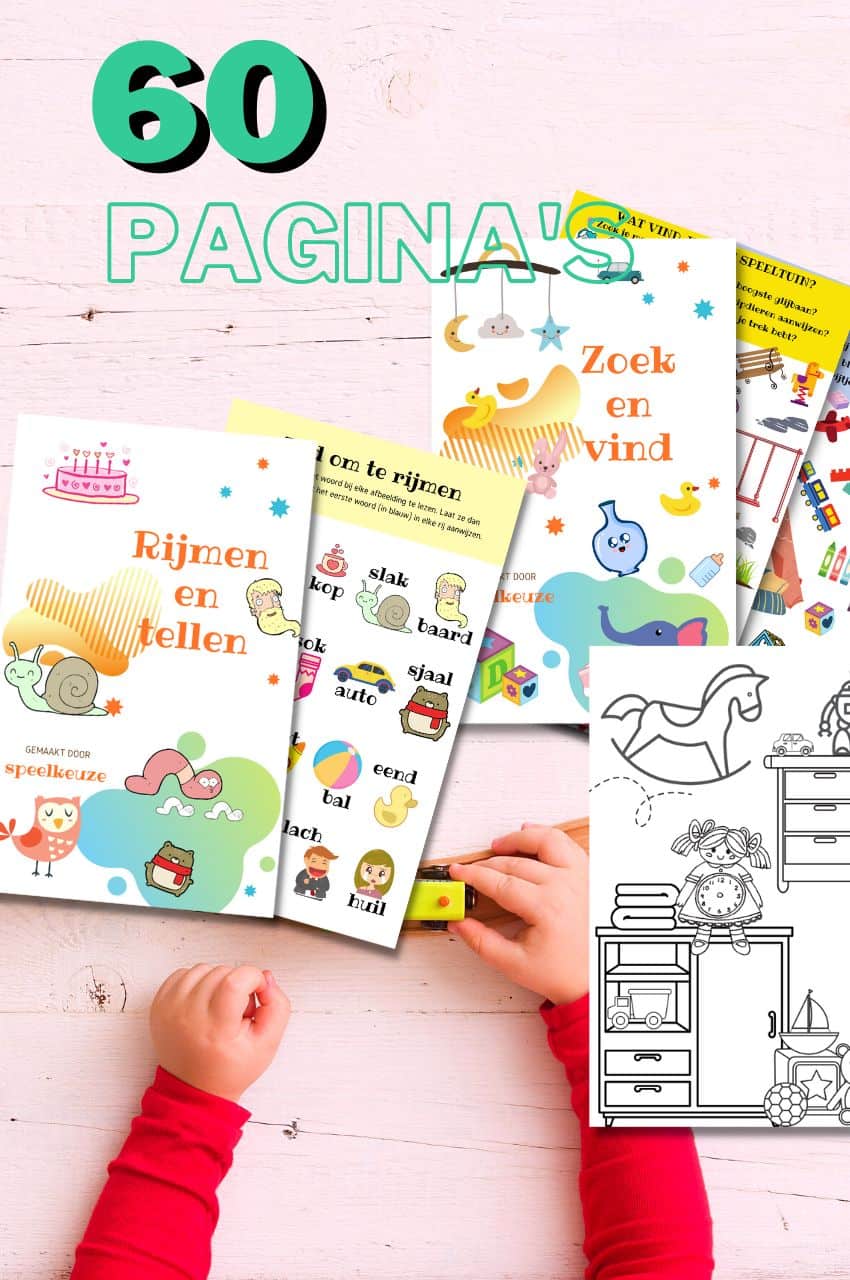 A play theme in your mailbox every month?
Fun play tips, activity books and more, with the first email being our free mini-guide "educational toys"
We will only use your email address for this newsletter and respect your privacy
What are Educational Toys?
Educational toys are specifically designed to help children develop certain skills. They're often focused on the age and environment of the child. It's therefore important to choose the educational toys that suit the developmental stage of the child.
The label "educational" on packaging usually has no specific meaning and there are no general accreditations for educational toys. There are STEAM accreditation programs such as those of FUNdamentally Children and the Toy Association.
These assess the educational value of toys on STEAM principles (science, technology, engineering, art, and math) and include excellent products that help children build skills. Some products carry one of these labels on the packaging.
The term "instructional toys" is often used interchangeably with educational toys and refers to toys that are intended to teach children something specific.
The most important way to choose educational toys is to look at the skills the toy can help develop.
How to choose educational toys to buy?
Many of today's best practices for choosing educational toys are still based on the checklist created in 1980 by Kesner, J. & Sunal, C. in the International Journal of Early Childhood.
First, the toys must be safe, affordable and developmentally appropriate, as stated by Glassy, ​​D. & Romano, J. (2003) in "Selecting appropriate toys for young children: the pediatrician's role". In addition, you can pay attention to the age and interests of the child, the quality and value of the toy, and seek advice from experts or reputable toy review sites.
It is also important to look at the certifications and the development-boosting properties of it educational toys.
What are the types of educational toys?
The main types of educational toys can be found in the list below.
Hand-to-mind toys: toys that promote hand-eye coordination and fine motor skills.
Hands-on toys: Toys that invite children to actively experiment and explore.
Computer toys: Toys that use technology and computers to provide educational activities.
STEM toys: toys aimed at promoting science, technology, engineering and math skills.
Montessori toys: toys that are based on the Montessori teaching method and help children develop independence and problem-solving skills.
Manipulative toys: Toys that invite children to manipulate and build, stimulating their creativity and spatial awareness.
Science Kits: Toys that allow children to perform science experiments and learn about various scientific concepts.
Robot kits: Toys that enable children to build and program their own robots, introducing them to technology and engineering.
Logic toys: toys that challenge children to think logically and solve problems.
Building and construction toys: there are many variants of educational building and construction toys such as LEGO, wooden blocks and even play sand and marble runs are included in this category of educational toys. It helps children to think creatively, it increases spatial awareness and helps to develop fine motor skills.
Puzzles: Ideal for developing cognitive skills. Puzzles also stimulate fine motor skills.
Creative toys: Educational toys that tap into the child's creativity and imagination can help the child express themselves better. In addition to motor skills, spatial orientation is also increased. When crafting, you often work with different shapes and sizes. Some of the aforementioned educational building games can also be seen as creative toys.
Toys for Learning Disabilities and Special Education: Toys specifically designed to support children with learning disabilities and special needs.
Educational toys have evolved from classic vintage wooden blocks to technological STEAM toys.
Are vintage learning toys as good as modern ones?
Both vintage and modern toys can stimulate learning. Vintage toys, such as building sets and model constructions, are popular for their simplicity and quality. They can help children develop building skills and spatial awareness. Modern toy sets are becoming increasingly complex in teaching specific skills.
Modern sets more often contain digital elements and can help children learn modern concepts, such as science and technology.
The development of toys has evolved over the past centuries. Today, there are technological advancements, such as programmable computers, that children can learn from.
What are the most prominent educational toy companies?
According to Fortune Business Insights, the following companies are the most prominent educational toy companies.
Mattel Inc.: specialized in the design, production and supply of toys, accessories and consumer products. The company is known for brands such as Barbie, UNO, Thomas & Friends, Hot Wheels, American Girl, MEGA and Masters of the Universe.
LEGO Group: signature product is a line of plastic building blocks that fit together. They have different collections like Duplo for young kids and Technics and Mindstorms for older kids. LEGO promotes children's creativity and problem-solving skills. The Frank Lloyd Wright LEGO sets in particular offer advantages, as they introduce children to architecture and design.
Melissa & Doug, LLC: portfolio includes toys, puzzles, cuddly toys, art & craft products and products for brain development. Their 'Let's Explore' collection encourages children to connect with nature and outdoor adventures through imaginative and creative play.
Ravensburger AG: wide range of educational products for children and adults, including board games, puzzles (3D and digital), books and art and craft kits. They also have a book publishing house that prints educational and entertainment books for children and adults.
Simba Dickie Group: various brands such as Simba, Dickie, Tamiya, Noris and more. They recently launched new products in conjunction with the preschool program Dino Ranc, including building sets, role-play sets and seasonal products.
TOMY Company, Ltd.: produces children's toys, mechanical and electronic games, card games, baby care products and arts and crafts products. They are also involved in merchandising of well-known brands and cooperate with Hasbro for the distribution of games in Japan.
JAKKS Pacific, Inc.: produces toys and stationery worldwide. They have a wide range of brands and products, including action figures, building sets, dolls, art activity sets and more, licensed from well-known brands such as Disney and Star Wars.
Goldlok Holdings (Guangdong) Co., Ltd.: Chinese company with a variety of products, including electric trains, remote-controlled airplanes, robot toys and more. They have a global reach and sell through various channels.
WowWee Group Limited: wide range of products including robotics, outdoor toys and interactive animatronic toy collections.
CocoMoco Kids: e-commerce startup from Delhi, India. They focus on selling educational games, children's furniture and party and gifts for children. Their product range includes board games, books and activity books.
I would like to add my own favorite brands that have been on the rise in recent years:
Magformers: Magformers is a newcomer to the market and is known for its magnetic building sets. These sets stimulate the imagination and spatial awareness of children.
Haba: Haba specializes in wooden educational toys for young children. Their products are aimed at developing motor skills and creativity.
Osmo: Osmo combines physical toys with digital technology to help children learn and solve problems. Their products are popular in classrooms around the world.
Learning Resources: Learning Resources offers educational games and materials designed to help children learn in a fun and interactive way.
Some companies specialize on a specific learning objective and are used in classrooms and homes around the world to educate or interest both children and adults.
What learning goals can educational toys have?
The 5 main learning goals of educational toys are: STEM/STEAM for technology and science, physical skills, cognitive skills, language and communication development and social and emotional development. In addition, there are numerous sub goals such as fine and gross motor skills and logic.
In addition, educational toys can have multiple learning goals at the same time. An example of this is a puzzle that develops a child's cognitive, problem-solving and physical skills respectively.
How do you educate with intellectual toys?
You can use intellectual toys to educate by holding students' attention longer. According to Featonby, D. (2005), toys are excellent for explaining forces, motion, and electricity.
Research by Leung, J. (1994) shows that toys, especially those with multiple components, serve well as aids to language training.
Early learning toys differ from those for primary school students in that they focus on different skills and classroom use may also differ from toys for home use.
Educational value is also an important factor in the quality of toys.
How do early learning preschool toys differ from those for elementary students?
Early learning toys for preschoolers focus on developing basic skills, promoting language and reasoning skills, and inviting imaginative play. They often include elements that require simple manipulation, such as wooden vehicles or sand toys.
On the other hand, toys for elementary school students target more advanced developmental milestones and align with specific educational frameworks. They can include digital components and tie in with the curriculum for subjects such as math, science, and art.
These toys sre designed to be more challenging and to suit the interests of elementary school age children.
What are the differences between didactic toys for schools and educational toys at home?
Educational toys for schools differ from educational toys for home use in that they are specifically designed to support learning in the classroom. Schools can use toys to supplement the curriculum and promote specific skills taught in the curriculum, such as language, art, social interaction and teamwork.
They're intended to stimulate individual children and reinforce concepts taught in the classroom.
On the other hand, educational toys for home use are often more focused on overall development, fun and engagement. It can include a wide range of skills and activities, such as fine and gross motor skills, complex thinking, and outdoor play.
They often require less instruction and are designed to allow children to learn and explore on their own.
How does educational value contribute to the quality of toys?
Educational value contributes to the quality of toys because a lot of attention has been paid to how children play with and learn from them. It helps develop skills both at school and beyond and offers a wide range of new learning opportunities.
Toys with educational value are of quality when they encourage children to learn, be creative and stimulate their curiosity. They also helps build confidence and develop motor and spatial skills.
What are educational toys for adults?
Educational toys for adults are those that can teach advanced concepts. Some toys made for teens can still be educational for adults, although there are toys specifically for adults.
Some examples are: wooden puzzles, mazes with marbles, magnetic fidget toys and robot kits.
These toy options can help adults learn in a fun and engaging way. They provide cognitive enhancement and can help improve balance, understand physics concepts, and explore STEM and robotics, for example.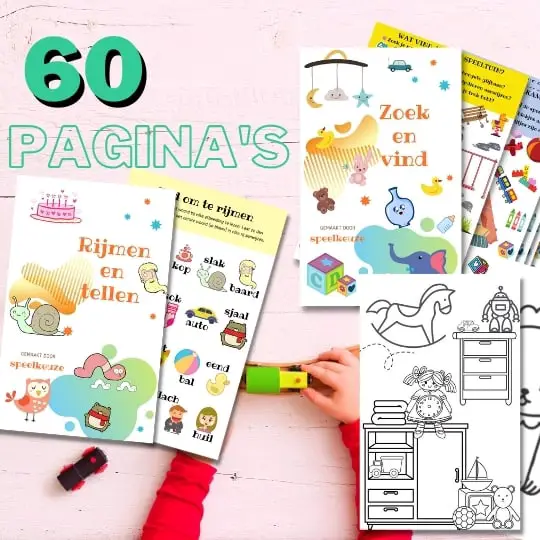 Always something to do for the holidays or rainy day?
Play Choice now has the ultimate activity book collection, with over 60 pages of fun coloring pages and educational puzzles.
Joost Nusselder, the founder of Speelkeuze.nl is a content marketer, father and loves trying out new toys. As a child he came into contact with everything related to games when his mother started the Tinnen Soldaat in Ede. Now he and his team create helpful blog articles to help loyal readers with fun play ideas.