Best travel games | Reviews with video for 2 people or more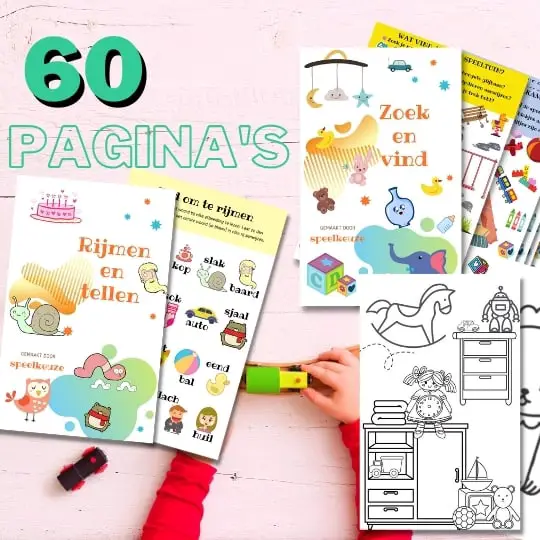 Always something to do for the holidays or rainy day?
Play Choice now has the ultimate activity book collection, with over 60 pages of fun coloring pages and educational puzzles.
We always make sure we have some of our best travel games with us, no matter which one travel we make.
Because travel isn't all about beautiful beaches and thrilling adventure.
Sometimes we need some downtime and relaxation. Other times we want to use it to loosen up a bit.
And believe it or not, there are plenty of situations where we even get quite bored (think travel delays).
We have always loved playing games.
So for us it's the perfect way to kill a few hours in an airport, have a good time after a long day of exploring, and even make new friends.
If you're wondering which one to have in your backpack, we've put together a list of the best travel games to take with you.
Also read my post about it the best games for children for in the car if you are planning a road trip with the kids.
How we chose the best travel games
The most important considerations for choosing a game to bring are the size, weight, and portability of the game.
All these mini travel games tick those boxes.
But most of all, to be considered one of the best travel games, they have to be a lot of fun to play!
This list is divided into useful categories depending on what you're looking for.
It covers the best travel board games, the best card games for travel, the best dice games and the best car games for relaxed play without having to bring anything.
Some are standalone mini travel games. Others require a standard deck of cards.
But many just need some willing players with a little imagination and fun.
Best travel games for 2 people
Sometimes you want to bring a nice game that you can easily play with 2 people, and not all of them are!
If you're traveling together, or if not everyone in your family likes a game, it can be helpful to keep a few of these on hand.
Piglets (Pass the Pigs)
This is a classic version of the old dice game "pigs" that uses miniature pigs instead of dice. It packs everything in a small plastic case making it one of the best travel games.
Playing style
Players take turns taking the pigs as a die. They win or lose points depending on how they land.
Positions include pig-themed names such as "Pig Out", "Trotter" and "Snouter".
Each combination means a different thing and can show players big wins or big losses.
Also read: the best dice games reviewed
One turn lasts until a player decides to stop and check in. That is unless they completely wipe out their current or total score before doing so.
If they stop in time to collect a score in turn, it is added to their total score.
Play then moves on to the next player and the first player to reach 100 points wins.
In this video you can see the way of playing in detail:
What makes it great
The element of luck keeps things tense as players have to decide when to stick or spin.
Yet there are still enough strategies and skills to make a difference.
Big highs and massive lows can take you from hero to zero and back again quickly.
Players: 2-6
Age: 8-99 years
Expect laughter with laughter
Running time: 30 minutes
Piglets are available here at bol.com
Four in a row travel edition
Four in a row travel edition is exactly the same as the classic game, only smaller.
This means it is the perfect size to travel with. One of the best travel games for 2 people.
Playing style
Each player starts with 21 checkers, one player takes red, the other yellow. You then take a stone in the play grid in turn.
The goal is to line up four of your checkers. This can be diagonal, vertical or horizontal.
But while you're trying to connect your four checkers, so is your opponent. They will also block your attempts at the same time.
What makes it great
It is easy to learn and fast to play, but can also be played with a certain strategy.
It requires a little concentration, but it is a great game to relax and unwind with that anyone can play.
It was also rumored to have been (incorrectly) invented by David Bowie! As if his legacy isn't amazing enough.
Players: 2
Age: 6-12 years
Expected: fast gameplay
Running time: 10 minutes
Jaipur
A game that requires strategy, skill and a bit of luck, Jaipur is all about buying low and selling high.
Playing style
You and your fellow player are the two most powerful traders in Jaipur.
But in order to get an invitation to the Maharaja court as its official dealer, you have to become the undisputed star.
To do this, you have to beat your opponent.
Each player starts the game with 5 cards in his hand, between them are three camels and two trading cards.
In turn, players can take one action: take cards or sell cards.
In general, to get what you really want, you have to sacrifice something that your opponent really wants.
This means you have to weigh up what you are going to provide the most value in the long run.
What makes it great
Jaipur is fast, exciting and constantly throws up small obstacles.
You can often see a player's personality in how they play - greedily gathering resources, slowly but steadily accumulating their rupees, or just acting cautiously.
This video (in English) shows you why it is such a fun choice for 2 players:
Players: 2
Age: 12-99 years
Expected: fast gameplay
Running time: 30 minutes
Best travel games for more people
When traveling with your children, there is not always something to do for them, if only when it rains that it pours.
Wise to always be a nice couple spell which is easy to play with several people.
Dobble
After being taught by our young cousin Dobble, we absolutely fell in love with it!
Once you play it you will understand why we include it at number one in our best travel games.
Playing style
Everyone played it like a kid and Dobble takes the premise and takes it to a whole new level. It's like "snap" on steroids.
There are five different travel card games in Dobble, all so simple that anyone can play it.
Each card has 8 images, each with a symbol that matches every other card.
Players all play at the same time to try to find the matching symbols and collect or pass cards to the opponent depending on which game you are playing.
You can have up to 8 players at the same time, but it is also one of the best travel games for 2 people.
Dobble is a great way to break language barriers if you meet other people on a trip that you want to play a game with because it is so easy to understand.
What makes it great
Dobble gets pretty rough. Yelling, jerking, and even hand-slapping are all inevitable when you get carried away with the excitement.
Undoubtedly one of the best mini travel games out there.
Players: 2-8
Age: 6-99 years (or the kids edition 4-11 years)
Expect loud roaring fun
Running time: 10 minutes
Dobble is available in normal edition and kids edition, check the most current prices here at bol.com
bananagrams
Calling all wordsmiths - if you're a fan of Scrabble or similar word games then you'll love Bananagrams.
It also comes in a cute banana-shaped carrying case that is perfect for tossing in your luggage. One of the most useful mini travel games.
Playing style
144 tiles with different letters (called the trusses) are placed face down on the playing surface.
Each player selects the same number of tiles, the exact number varies depending on the number of players.
They are placed face down in front of the respective players. There are still some left.
Once everyone has their tiles, everyone can "split" and the game begins. Players must then turn over all their tiles.
The goal is to get rid of all your tiles by creating words, but they should all be linked together like a crossword puzzle.
There are no turns, each player works on his own time as quickly as possible.
When a player uses up all of their letters, they take a new letter from the set and shout "peel".
This means that everyone who plays must also take an extra stone.
If a player wants to trade a bad tile, they can return it to the forest by calling "dump". In return, however, they have to take 3 more tiles.
Players cannot win until there are fewer tiles in the game than players.
Once this happens, the first player to use all of their tiles and shout "bananagrams" wins. That means all their words are legit.
If there are bad spellings, they will be crowned the "rotten banana" instead.
Here's how it works:
What makes it great
This game is easy to learn, fast to play, and highly addictive. You don't need to know long words, you just need to be able to string words together.
It's fun in small or large groups.
Players: 2+
Age: 7-99 years
Expected: fast gameplay
Running time: 5 minutes
Best travel games for the plane
A travel game for the plane has to meet a number of things.
You should probably be able to play it with the two of you, since you often only sit next to one person.
In addition, it must of course be easy to carry, so not be too big. You already have enough hand luggage that you have to carry.
It is also nice if it does not take too long so that you can quickly do it in between and clean up if you have a short flight and are going to land, or a longer flight and they always come with some drinks or snacks.
monopoly deal
Traditional Monopoly is not really a practical game to take with you when you travel. And let's face it, nobody likes it.
Come on strip away the nostalgia and you're left with a pretty ridiculous never-ending yawn feast. Certainly not suitable for traveling.
But the smart guys at Hasbro have turned one of the most iconic board games ever invented into an addictive and fast-paced card game.
Playing style
It retains the fun bits of traditional Monopoly, so you still play as a real estate tycoon trying to collect property sets.
You still have to come up with a kickass strategy, where you walk the line between increasing your bank balance and building your empire.
And you can still go from the king to the slum in a single bad turn.
But that's where the similarities end.
Collect property cards to complete sets and money cards to build your fortune as you build and steal your way to glory.
In this video the rules of the game in a nutshell:
What makes it great
Monopoly Deal is one of the best travel card games out there.
It's fast, exciting and we've met people of different nationalities who love to play all over the world.
Players: 2-5
Expected: fast gameplay
Running time: 15 minutes
Age: 8-99 years
monopoly deal can be purchased here at Amazon and also in other versions available here at bol.com
Hanabi
Ever wanted to design your own gigantic fireworks display? No? Me neither. Either way, this game will probably change your mind.
And you can easily play it from your hand so that it is also easy to do on the plane.
Playing style
Hanabi is a cooperative game, which if you are new to board games can be something new to you.
It means you work with the other players instead of competing with them to achieve a common goal.
This objective is to save a maho-active firework that is about to go horribly wrong.
Each player is dealt 4 or 5 cards, depending on the number of participants. The cards come in 5 colors with a number from 1-5.
Players must order them correctly in their colors from 1-5.
While this may sound simple, there is an added complication. Players cannot look at their own cards!
Instead, they should appear in their hand so that only the other players can see them.
Check out the rules of the game in this video:
What makes it great
Hanabi is unique and imaginative and more than likely like nothing you've ever played before.
Plus the fact that it's a cooperative game means that there are no losers or winners as such.
So it's perfect for those who are a bit too competitive to play normal games with new friends.
Players: 2-5
Age: 8-99 years
Expected: cooperative challenge
Running time: 30 minutes
Best travel games for adults
While many of the other choices are not only fun for kids, but also for adults to take with them, we've included a separate list of the best adult games here.
Secret hitler
Best with larger groups (the closer to 10 the funnier), Secret Hitler is a game of trickery, infiltration, and conspiracy.
Put on your poker face because you have to lie through your teeth to win.
Playing style
Players are secretly divided into two teams of fascists and liberals, while a player is cast as Hitler himself.
Liberals have the advantage of a majority, but they don't know each other's loyalty.
The fascists, on the other hand, know who the other fascists are and who Hitler is.
Hitler, meanwhile, starts without knowing who his allies or enemies are.
Everyone is trying to meet their agenda and gain power, fascist or liberal.
The way to do this is to win elections and pass legislation.
To do this you need to win allies and use them to win votes.
However, because everyone is trying to come to power, it can be difficult to figure out who is who.
Also, everyone is going to lie to make other players believe they are a liberal.
The game is won by the liberals if they implement five liberal policies or kill Hitler.
The fascists win by issuing six fascist political actions, or when Hitler is elected chancellor after three fascist policies have been plotted.
If you have time, check out this video of a game played for an idea of ​​the fun and intrigue involved:
What makes it great
Secret Hitler is all about cheating and convincing people that you are telling the truth.
Lying to your friends and family has never been so much fun, and it will make you see them in a new light.
It gets pretty loud and boisterous quickly, so be prepared for some lively play.
Players: 5-10
Age 18-99 years
Expect loud fun
Running time: 45 minutes
Secret Hitler is for sale here
What do you Meme?
Memes are now a normal part of everyday life and this game turns players into meme generators.
Even if you're not a funny IRL, playing What Do You Meme makes you feel like a comedian.
Playing style
Each player receives 10 meme cards with humorous captions. The stack of photos is placed in the center.
Each round, the picker can draw a photo card and place it in the holder.
It is then up to the other players to choose from their captions which one they think matches the best meme.
Once payers have chosen, all cards are placed in a pile and read by the picker.
They then get to choose the winner of the round for the cutest meme created.
The winner gets to keep the photo card, play continues until a player has a predetermined number of photo cards.
In this video you can see exactly what's in it and what the game is about to be the best meme ':
What makes it great
This game is strictly X-rated and just the written captions themselves are hilarious.
But when matched to the right picture, they have every player rolling over the ground.
This game will make you laugh all the time so that your cheeks are guaranteed to hurt at the end.
Players: 3-20
Age: 17-99 years
Expect: adult humor
Running time: 30-90 minutes
What do you Meme is available for purchase here
Unstable unicorns
Love unicorns? Love strategy? This is the game for you.
Funded by a massive $ 1,8 million kickstarter campaign, Unstable Unicorns has a cult following of enthusiasts.
Playing style
Your only goal is to build a complete army of unicorns to win. But to do this, you cannot play nice.
You have to betray your fellow players, destroy their armies and crush their dreams.
Players start with a single baby unicorn and 5 action cards.
Each turn consists of four fixed phases in which you lay cards to build your stable of unicorns, stop other people from playing, upgrade your stable, downgrade other people and create general chaos.
The winner will receive the brilliant title "Righteous Ruler of All Things Magical" and ultimate bragging rights.
What makes it great
Unicorns! Need I say more?
Ok, Ok, the game is unpredictable, the cards are hilarious and despite the cute unicorn theme, this game is about pure destruction.
It gets better with every game so you never get bored.
Players: 2-8
Age: 14-99 years
Expected: tense strategy and total destruction
Running time: 30 minutes
Unstable Unicorns is available here
Skull
Also known as Skull and Roses, a screen version of poker played with beautifully designed components. After one game you are addicted, we guarantee it.
Playing style
Each player has three round cards with a rose on it and one with a skull and an individual double-sided board.
Players take turns swapping a card of their choice on the game card face down, this continues until a player decides to take a challenge.
They do that by guessing how many roses they can turn over before hitting a skull.
If you get it right, flip the game board and flip your game board twice to win.
What makes it great
You have to fool others and calculate your way to victory in this straightforward game of bluffing.
It's about a combination of skills, memory and luck.
This is one of the best travel games that adults can play anywhere on their adventures.
Players: 3-6
Age: 10-99 years
Expected: fast gameplay
Running time: 30 minutes
Skull and Roses is available here
Best travel board games
It is also often nice to play a slightly more elaborate game while traveling, and often you end up with nice board games.
codenames
Codenames is fast becoming a classic and is a great game of teamwork and strategy. It is even a hit in our list of top rated board games.
You have to be on the same wavelength as your teammate (s) to have a chance of breaking the puzzle.
Prepare for laughter, frustration, and exultation (in equal measure).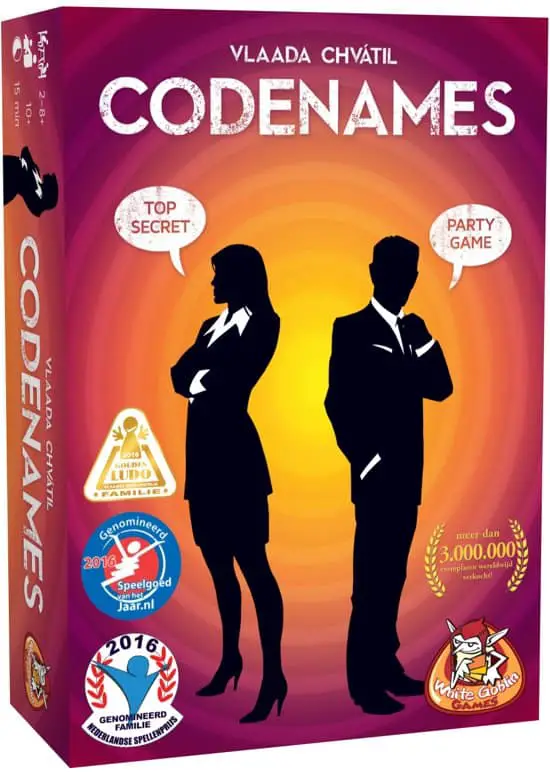 Playing style
The idea of ​​codenames is to be the first team to get in touch with all their secret agents. Players split up into two teams before selecting a spymaster.
The rival spymasters sit on the same side of the table, facing their respective henchmen / field workers.
25 code names are then randomly selected from the game and formatted in a 5 × 5 grid.
Next, a "key" card is chosen that reveals to the spymasters which of the agents in the grid belong to each side.
There are also a number of innocent bystanders among the officers. And there is a hit man you will want to avoid at all costs.
Spymasters work to enable their team to identify their own secret agents.
They do this by providing them with one word clues and a number.
The clues can link the code names of many agents, while the number tells the team how many are linked.
For example, if the spymaster says "bottle, 3," the team will know there are 3 agents with names that are somehow related to the word bottle.
Players then make a guess at the secret agents the spy man is trying to lead them to.
Selecting the wrong one can have dire consequences, and if you hit the hit man, the game is over.
The team wins to be the first to identify all of their secret agents.
What makes it great
While it may sound complicated, it is very simple and easy to follow while playing.
In essence, it's an association game and the espionage aspect just adds to the fun.
Seeing the random ways players' thoughts connect words can be hilarious, meaning the game is fun even when you're not doing well.
Players: 2-8 (best for 4-8)
Age: 10-99 years
Expected: tense strategy
Running time: 15 minutes
The different Codenames variants can be played separately without the need for a basic set, and are available here
Catan
Catan is nothing less than a contemporary classic board game. Loved by everyone from families to Silicon Valley execs, it makes one of the best travel games.
Wherever in the world you pronounce the Catan chest, you're likely to find a fellow fan.
Playing style
Each player is a settler who wants to establish his own outposts from scratch on the mythical island of Catan.
The island is represented by the board composed of 19 individual hexagons.
These can be placed in almost infinite combinations meaning you could play with a new board every time.
Each hexagon has a corresponding number of spaces on it.
Players take turns rolling two dice, and the number rolled allows the corresponding land tiles to produce resources. These could be:
brick
wol
ore
grain
or lumber
By collecting these resources in certain combinations, players can build their settlements.
You can also trade with other players if they have something you need. And watch out for the robber who stops production on the land tile he's on.
The goal of Catan is to obtain 10 victory points, which you collect mainly by building settlements or cities.
Bonus points are also awarded for various other achievements, such as the longest road or the largest army.
What makes it great
Catan is a game of strategy, cooperation and skill, but you still need the roll of the dice to make your success.
It is also the original "game for gamers" and helped start the whole board game phenomenon we have today.
Players: 3-4 (with expansion to 6 players)
Age: 10-99 years
Expected: tense strategy
Running time: 60 minutes
Catan is available in different variants and extensions. View them here
Sequence
Combine the best elements of poker, bingo, add a board and throw in a big dose of strategy. The result is Sequence, a classic game that is a lot of fun.
While there is a travel version, we recommend the standard version instead. While it is much smaller, the travel version is a limited condensed version which is nowhere near as good.
Playing style
Players are each dealt a certain number of cards, this changes depending on how many people are playing. The board has an assortment of cards printed on it.
As the name suggests, the object of the game is to create a series of 5 connected cards.
You do this by selecting a card from your hand on your turn and placing a marker on the corresponding card on the game board.
If you get 5 connected markers, you win the game.
What makes it great
There is a lot of strategy involved because you cannot simply focus on your own hand.
You have to watch your opponents and try to figure out where they are going to stop them. It's easy to pick up and exciting to play.
Players: 2-12
Age: 7-99 years
Expected: tense strategy
Running time: 30 minutes
Qwurkle Travel
Described as a cross between dominoes and scrabble, Qwirkle is a super simple game of pure strategy.
Anyone can play it, but not everyone can play well.
Playing style
Qwirkle's game consists of 108 separate tiles. Each has one of 6 different shapes printed on it in one of 6 different colors.
To start, each player randomly chooses 6 tiles from the tile bag.
Players take turns placing the linked tiles in rows and columns.
To do this you have to make series of the same shape or color with the tiles in your hands.
If it is a series of shapes, only one of each color can be displayed in each row.
If it is a set of colors, only one of each shape can be displayed in each row.
You can lay as many tiles as you want as long as they are all connected in a straight line.
Alternatively, you can use your go to swap your tiles with new ones from the bag.
At the end of each turn, take enough stones to return your hand to 6.
Scores are awarded after each turn, depending on how many tiles have been placed and how many columns they fall into.
Bonus points are given for completing full lines of 6 tiles.
The game ends when a player has used all of his tiles and there are no more in the bag to draw.
What makes it great
This game is incredibly easy to understand and get started.
However, once you start, you start to realize that there is a deceptively deep strategy that can be applied.
The satisfaction of building big scores can be addictive
Players: 2-4
Age: 8-99 years
Expected: tense strategy
Running time: 45 minutes
The travel edition of Qwirkle is available here at bol.com
Splendor
Be transported to the days of the European Renaissance as you become a merchant striving to amass a huge fortune.
Playing style
In Splendor, players compete to build the largest and most prestigious jewelry industry in Europe.
To do this you will need to collect raw gems that you can then use to finance the construction of mines.
But then you have to create ways to transport the gems, pay jewelers to cut and polish them, and also buy stores where you can sell them.
Develop your cards, collect the gem chips and watch your wealth soar.
With wealth, you can then attract nobles who will give you the prestige - and points - to win the game.
What makes it great
This game is easy to understand and the more you play the more you start to discover the intricacies.
Although very strategic, the game is still extremely fast with only 4 basic options for each player per turn.
Players: 2-4
Age: 10-99 years
Expected: tense strategy
Running time: 30 minutes
Splendor and the extension are available here
Best card games for travel
What could be easier than taking a set of cards with you when you travel? Takes up little space and can be played anywhere, often without a table.
Top Trumps - World Wildlife Fund
Top Trumps is old, simple and yet a lot of fun. There are endless versions from Star Wars to Harry Potter.
But this world nature fund variant is at the top of the list when it comes to the best travel games because of the animals and colorful places from different parts of the world.
Playing style
All cards in the pack are dealt to the players. Players then pick up their cards, holding them so that they can only see the top card.
The first player chooses a category from his card and reads it out along with the value next to it.
All other players take turns alternating the same value on their card.
The player with the highest value wins, takes all the cards that have been read and places them at the bottom of the pile.
Play continues until one player has all the cards.
What makes it great
This version of the classic game Top Trumps has a convenient travel method.
Not only will you have a lot of fun beating everyone, you'll also learn a few facts that can help you talk about the animals you encounter while traveling.
Players: 2+
Age: 5-99 years
Expected: fast gameplay
Running time: 2 minutes
The World Wildlife Fund version is available here. as view all Top Trumps versions here
Exploding Kittens
Players try to avoid being an exploding kitten in this wonderfully bizarre quickfire card game.
At the same time, depending on which cards you play, you can influence the game, putting your fellow players in trouble.
Playing style
Each player starts the game with 4 action cards and a diffuse card.
The remainder of the deck is placed face down in the center of the table and players take turns swapping cards.
If someone pulls an exploding kitten, they are out of the game. Unless they hold a diffuse card that allows them to disperse the bomb and keep going.
They can also place the Exploding Kitten Card anywhere in the deck wherever they want.
Action cards are played before players take the deck and can do various things.
These range from stealing cards from other players to previewing the top 3 cards in the deck.
Here's why you don't want to get the exploding kitten:
What makes it great
This game is incredibly easy to understand. You explode, you lose, you are the last person not to explode and you win.
The action cards speak for themselves and the fast paced gameplay keeps things moving fast.
Hard not to fall in love with the cool illustrations and crazy cards with names like "furry potato cat".
Players: 2-5 (with the party pack up to 10 players)
Age: 7-99 years
Expected: fast gameplay
Running time: 15 minutes
Forbidden Iceland
If you've ever wanted an Indiana Jones-style adventure, but prefer to do it from the armchair, the Forbidden Island is for you.
Playing style
Each player is an adventurer with a different skill, from a pilot to an engineer. Together they must rescue 4 hidden treasures from Forbidden Island.
However, the island itself is sinking fast which means you have to work quickly.
Each character's map has instructions on the back for what to do on your turn, making it super easy to follow.
Each turn allows a player to perform up to three actions, and each turn you will see the water levels rise on part of the island.
As the water levels rise, the tension of finding the treasure and getting off the island becomes more urgent.
Collaboration and problem-solving skills must be used in abundance.
What makes it great
Forbidden Island looks great with beautifully crafted components.
The cooperative aspect means that you play with your fellow gamers instead of them, which is refreshing.
The pace of the game increases as you play, making it fun and building and the consequences of your game more significant.
Thanks to the changing board, the game is different every time.
And of course the pirate / island theme is also great for your adventure holiday.
Players: 2-4
Age: 10-99 years
Expected: tense strategy
Running time: 30 minutes
Forbidden Iceland is available here from Amazon
Sushi Party
Just like conveyor belt sushi restaurants, Sushi Go's idea is to make a delicious sushi plate (more sushi toys here).
Don't forget the wasabi and don't skip a pudding!
Playing style
The cards are dealt at the start of the game, the number depends on the number of players.
The round begins with each player looking at their hand and choosing a card to play.
Once everyone has chosen, all players reveal the card they have chosen by placing it in front of them.
Players then pass the remainder of their hand to the player to their left. They then choose to keep a card from their new hand.
Play continues in this way until no one has any cards in hand indicating the end of the round.
At this stage, the played cards are added to each value worth several points.
You can also make combinations and increase scores by adding extra sushi to your sushi such as wasabi.
There are three rounds per game and the player with the highest score wins.
Here in this video the game explanation in more detail:
What makes it great
This game is as addictive as great sushi and will definitely leave you hungry for more.
It's fast, engaging and fun to play. However, beware that if you are a sushi aficionado, you will definitely have your favorite sushi roll after playing.
Players: 2-5
Age: 8-99 years
Expected: fast gameplay
Running time: 15 minutes
Sushi Party is available here at Wehkamp
Grandpa Beck's Cover your Assets
Cover Your Assets is a race to be the first player to become a millionaire. But forget to play fair, you're going to do it any way you can.
Playing style
Each player tries to be the first to collect a million dollar fortune. Of course you can save and collect and invest.
But it is much more fun to steal and cheat and betray your competitors on your way to the top.
But beware, because your belongings can also be taken away at any time. Fortunately, you can also steal from other players to reach that top.
Build your fortune by stacking piles of asset cards. These can be from family jewels to beautiful cars.
And stay on your guard, because your fellow players will have their eyes on your stacks as well.
What makes it great
You can go from winning to losing and vice versa in just a few hands.
This means it really isn't over until it's over and keeps all the players on their toes for the entire game.
Cover Your Assets can be an emotional rollercoaster with extreme highs and fast lows.
Players: 4-6
Expected: fast gameplay
Running time: 30 minutes
This travel game is available here at Amazon
Cards Against Humanity
This game definitely puts "grown up" in the best travel games for adults (or young adults, ages 16 and up). Trust us, it's strictly top shelf.
Playing style
It is a card game where the dealer reads out a phrase card they have chosen at random.
One or two words are missing from the sentence on it and the other players must complete the sentence by choosing the best one from a selection of options in their ten-card hand.
The winner is chosen by the dealer, so it's wise to consider their sense of humor and how easily they are offended.
Some cards are best described as depraved.
What makes it great
Probably the least politically correct card game ever invented. You're going to like it a lot or you're going to be terribly offended by Cards Against Humanity.
Many of the jokes come pretty close and will make even the most hardened of deviants shudder.
Oh, and on vacation you might want to play them in a cottage where other vacationers can't hear you.
Players: 4-20
Age: 16-99 years
Expect: adult humor
Running time: 45 minutes
UN
UNO has been around for almost 50 years, but it never gets old.
Playing style
There are 108 cards in a UNO deck and while most are number and suit, some are wildcards or "get" cards.
The basic idea is to remove your cards in front of someone else, as players take turns using it to put down or retrieve cards that match the suit or number on top of the pile.
There are missed turns, penalties and a whole host of strategies that can affect your ability to win, and don't forget to shout "UNO" if you are one card away from victory or you are blocked from the finish line.
What makes it great
Outrageous, colorful and full of unexpected smiles, you can easily lose hours to its suspense.
It is easy to pick up but difficult to fathom making it easily one of the best travel card games.
Players: 2-10
Age: 7-99 years (and the junior version even from toddlers of 3)
Expected: tense strategy
Game duration: 45 minutes
Five Crowns
If you are a fan of Rummy, you will love Five Crowns.
It's based on the same premise, but takes it to another level by adding an extra suit and a roaming wild card.
Playing style
The goal of Five Crowns is to have the lowest score after all 11 rounds have been played. To do this you need to create books and series of cards.
There are also wild cards that change each hand depending on the number of cards dealt, for example 3 cards dealt, 3 is the wildcard.
The game begins with one player picking up from the deck or the discard pile. After assessing their hand, they discard a card they don't want.
Players take turns taking a card until one or more players form a full hand of runs or books.
All cards in a player's hand that are not part of a run or book are then added together to produce a score at the end of each round.
Remember, you need the lowest score to win, so high scores suck!
What makes it great
This game is really easy to pick up and play, the rounds are fast but there is still a good amount of strategy you can use.
The farther you are, the higher the stake, even if you lose a few at the beginning, you can easily hit a few at a time.
Players: 1-7
Expected: fast gameplay
Game duration: 45 minutes
Five Crowns is available here at Amazon
Best travel card games playable with a standard deck of cards
We're not going anywhere without a stack of standard cards in our bag, but we found that you know very few games by heart, and many people have different rules for the same game.
Avoid that mistake by memorizing a few fun variations. We've written them down for you here.
In between, or outside
This can be played for money or chips. It's lightning fast and while it does require a little bit of skill, it largely comes down to chance.
Playing style
The game is played in turns with each player dealt a pair of cards with a gap in between.
That player then has to guess if the next card drawn will be numerically between those two cards.
To do this, a player says "in" or "out" and then the third card is drawn.
If they guess, their turn is over and the game moves to the next player. If they guess wrong, they have to put in money, or chips (or drink).
If the drawn card matches one of the cards already on the table, they must bet or give up (or drink) twice as much.
What makes it great
Most people haven't progressed far enough to turn the game in their favor.
This means that if you play it with a chip stake, often a lot of chips have to be given up by everyone. This makes it quite raw pretty quickly.
Players: 4+
Expected: Loud about losing your loot
Game duration: n / a
Ace on the Ace (Chase the Ace)
What could be more fun than watching everyone at the table drop out on your way to glory? Do you want to help playmates with every step while you are winning?
Playing style
The purpose of Ace over Ace is to avoid having the lowest card at the end of each round.
The game begins with the dealer dealing one card to each player including himself.
The first player to the left of the dealer starts and can look at his card before deciding whether to switch or keep.
If they choose to switch, they do so with the card of the player to their left.
If a player has a king, they can flip it and prevent the player to their right from trading.
As soon as the game returns to the dealer, everyone turns their card face up.
The dealer may not trade. However, if they choose not to keep, they can draw any card from the deck to try and get a higher card.
The person with the lowest card loses a life, the kings are the highest and the aces are low here.
If several people have the same low card, they all lose.
For the next round, the dealer's role turns to the player to the left of the previous dealer.
Generally, players start with three chips and lose one for each round they lose. The winner is the last person remaining to have chips.
What makes it great
This is a great game for large groups of people. It can be played as a drinking game instead of chips with the loser (s) drinking after each round.
This is a fantastic party starter and since there are only two options per game, the rounds go extremely fast.
Players: 3+
Expect: a cozy gaming table
Game duration: n / a
Bullshit
Convince people that the cards you discard are what you say they are to literally bluff your way to profit.
Playing style
The dealer deals out the full deck of cards to the players and don't worry if they aren't evenly distributed.
Some players may end up with more cards than others, but Bullshit doesn't matter.
The object of the game is to get rid of all your cards. Players take turns swapping one or more cards face down in a central stack.
This happens in a descending sequence that changes every turn. So player 1 must discard aces, then kings for the next player, then queens and so on.
At the same time as they are placed, players must indicate how many cards they discard. And this is where the fun begins.
Players can lie about what they put down. Actually, players have to lie about what they put down.
Since the cards must go consecutively, you often have to claim to have cards that you don't have to play.
If someone suspects foul play, they can call you out by saying 'bullshit'.
At this point, the player being challenged must reveal his cards. If they tell the truth, the challenger will take up the whole pile.
If they lie, it is they who get the big hand and have to start all over again.
First player to lose all cards wins.
What makes it great
You have a free license to fool people. The bolder you are with your falsehoods, the more fun it gets. Until you have to grab a huge stack.
Players: 2-10
Expect: a lot of lying and laughter
Game duration: n / a
Crazy Eights
Eights are good and help you get rid of the rest of your hand. That's what you have to do to be crowned the winner.
Playing style
Players are dealt 5 cards each unless there are only 2 players, in which case they are dealt 7 each.
The rest of the cards are placed face down as the draw pile. The goal is to be the first player to get rid of all your cards.
To begin with, the dealer turns over one card from the remaining deck. Each turn consists of a player discarding one of his cards.
However, it must match the previous card in type or number.
For example, if someone plays a 6 of clubs, the next player must play another 6 or another of clubs.
If that is not possible, they must remove one from the draw pile.
The exception to this is if you're holding an 8 that can be played on anything. Hence the name Crazy Eights.
Anyone who plays an 8 may also name the type of card (for example clubs) that the next player should play.
What makes it great
Easy to pick up and simple to explain, Crazy Eights can also be customized to add more strategy and difficulty.
For example, some variants contain 'special cards' that produce different actions.
For example, in some versions, a queen skips a move and an ace reverses the direction of play.
Crazy Eights is actually a smaller version of bullying, which sometimes lasts indefinitely because of the bullying cards that you have to take over and over again.
Players: 2-5
Expect: laughing pleasure
Game duration: 10 minutes
Old spinster
In the old days, an "spinster" was a woman who had remained unmarried for so long that it was unlikely that this would ever happen.
Despite its somewhat sexist connotations, this game relies on anyone striving to avoid destiny of being the last with one more card.
Playing style
The dealer adds a joker to the deck before dealing the whole package.
Players then sort their hand to identify pairs of cards they are holding. These are placed face up on the table.
The player to the dealer's left must then choose a card from the dealer's hand to put into his own hand. This continues with the player to their left and so on.
As soon as a player has a pair, he must place it face up on the table with the other pairs.
The game ends when one player is left with the lone joker (or "spinster"). Of course they are the loser.
What makes it great
That sinking feeling when you grab the spinster from your neighbor's hand is devastating.
But it's quickly overshadowed by the elation when the next player plucks it from your fingers.
Players: 2-8
Expect: breathing out relief
Game duration: 15 minutes
Read also our post about the best dice games. Also easy to take with you on a trip!
Fun travel games for in the car
Then there is that dreaded car ride. How do you enjoy yourself or your children during a long journey in the car?
Of course you can taking a children's tablet with you on vacation, but do you keep your kids entertained the whole ride? Maybe, but you also want some family entertainment.
With these games you get a long way, or well on the road:
Calling celebrities
Do you know many celebrities? Get ready to name names like never before in this fast paced word association game.
Playing style
The first player starts by saying a famous name that everyone would know.
The next player must think of another famous person whose name starts with the first letter of the last name.
If the first name has the same initial letter as the last name, for example Marilyn Monroe, the game reverses direction.
If a player can't come up with a name, it takes too long, or drops a name that no one knows, they lose.
What makes it great
The game has to be fast, so there are inevitably a lot of mistakes, the worse the better.
The random names people say can be hilarious too. Expect a lot of good oldies and B stars.
Players: 2+
Expect: shout loudly and maybe swear
Game duration: n / a
Just a minute
If you are the type to talk to everyone then this game might be for you. But can you stay on the topic for a whole minute?
Playing style
Someone (not the driver) sets a timer for a minute on their phone and becomes the chairman.
The first player then has 60 seconds to speak on a topic randomly selected by the chairman.
They have to do this without "hesitation, repetition or deviation" and the rest of the passengers are judges.
If they think the speaker is pausing for too long, stepping off the topic, or repeating a word, they can challenge it. The timer will stop when this happens.
If the challenge is deemed correct by the chairman, they get a point and take over the topic for the rest of the time.
If not correct, they lose a point and the original speaker continues.
The person who is the speaker at the end of the minute and completes it is awarded a point.
If a player manages to speak for the entire minute, they are awarded one more bonus point.
What makes it great
This game sounds super simple, but it is incredibly difficult! Speaking for a full minute without breaking the rules is next to impossible.
But the ways people try to win are hilarious, and the arguments about fighting can run pretty deep.
Players: 4+
Expected: a lot of talking and talking as a Brugman
Game duration: n / a
Three stories
Are you a big liar or do you own a horrible poker face?
Well, it doesn't really matter in this game, it's all about making up false stories that are less credible than the truth.
The more you can fool your fellow players, the greater the chance of winning.
Playing style
Players take turns taking three stories or "facts" (all about yourself, or as a family on other topics) that the other players don't know.
However, only one of the two must be true.
The other players must try to find out which is the real story and which are two lies. To get this, they may each ask two follow-up questions.
Each gambler gets a point and the first to a predetermined number of points is the winner.
What makes it great
This is a great way to get to know your fellow road trippers a lot better. And no matter how well you know them, you will learn some pretty surprising things.
This game quickly gets weird and has the whole car in a burst of laughter quickly.
Players: 2+
Expected: a lot of nonsense
Game duration: n / a
I know them
Do you see yourself as a bit of a storyteller?
This is a great game that will test your imagination when creating a story about someone you've never met or seen before.
Playing style
One player selects a passer-by in a car that you pass or someone standing by the road. Then they start telling a story about them.
Each player takes turns taking something fun or interesting to add.
Start with the basics like name, age and profession if you need to get in a bit, then work your way up to a full life story.
The more bizarre the backstory you create, the better. And when you pass them on the road again, you can't hold back your laughter.
What makes it great
There are no losers or winners, just a journey into the bizarre and confused minds of your fellow road travelers. This can continue as long as you are all still enjoying yourself.
Players: 2+
Expected: bizarre stories and a glimpse into people's lives
Game duration: n / a
Conclusion
Those are our picks for the best travel games, but do you have an alternative game that you think is perfect to pack in the backpack?
Which travel board games do you always carry with you on the road? Drop us a comment below and let us know!